Cross Checks:

Dale Hunter
November, 30, 2011
11/30/11
12:15
AM ET
WASHINGTON, D.C. -- If there is a poster team for firing your coach, it's the St. Louis Blues.
In 11 games since general manager Doug Armstrong shocked the hockey world by dispatching Davis Payne and installing veteran head coach Ken Hitchcock behind the bench, the Blues have been virtually unstoppable.
Tuesday night, they spoiled the NHL coaching debut of former Washington captain Dale Hunter by stealing a 2-1 victory over the Capitals that ran Hitchcock's record to 8-1-2 in St. Louis, a record that includes victories over top opponents like Pittsburgh (with Sidney Crosby in the lineup), Chicago, Detroit and Southeast Division-leading Florida.
"We played a heck of a hockey game," Hitchcock said after St. Louis limited the Caps to 11 shots through two periods and 19 overall. "We created a lot of scoring chances, we didn't give up anything in two periods. We created a lot for ourselves.
"We're starting to dial into playing the game the way we need to play to win hockey games."
[+] Enlarge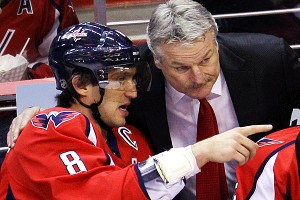 Rob Carr/Getty Images"You can't set a time frame to it," Dale Hunter said, "but I want them to get better and better every game. ... By watching them live now, we've got some stuff to work on."
All teams would fire their coaches if they thought they would be guaranteed the kind of run the Blues are on. But, that's not how life works. The reality is that when a general manager makes a move like George McPhee did Monday morning in dispatching Bruce Boudreau and installing Hunter, who had never coached a pro game of any kind before Tuesday, he does so with the understanding that the desired change may not be evident immediately, regardless of how seamless the transition has been in St. Louis.
"This is going to be a process," McPhee told ESPN.com during Tuesday's game.
"This is a team that's not playing with very much confidence right now."
The loss was the third straight for the struggling Capitals, who have now gone 5-10-1 since starting the season on a 7-0 tear.
Although the two teams have gone through the disruptive process of making a coaching change in recent days, the two dressing rooms represented the divergent paths such changes can produce.
In the Blues dressing room, there is talk of Hitchcock's calming influence, his ability to react quickly during the game and the team's unwavering belief in the game plan.
"When he sees us kind of straying from what we should be doing, he's been very quick to correct it," veteran defenseman Barret Jackman said.
"I think the biggest thing he's brought to our club is experience and a calming voice," said Alexander Steen, who drew an assist on the Blues' first goal.
"There's no panic button."
Tuesday's game was more of the same for an injury-depleted Blues team that came away with two points in what has historically been a very difficult building for visiting teams. The Blues have not surrendered more than three goals in a contest and have climbed to the top or close to the top of the league in most defensive categories.
"It doesn't matter who's in or who's out, when you play this well it's a good feeling," Hitchcock said.
In the wake of yet another loss, the discussion in the Caps' room was about moral victories, of the small steps they'll need to take to reverse a trend that has seen them plummet from the top of the Eastern Conference standings.
"We competed and we played smart," Hunter said.
Nicklas Backstrom gave the Caps a 1-0 lead off a nice feed from beleaguered captain Alex Ovechkin. T.J. Oshie tied the game before the end of the first period. Then midway through the second, Matt D'Agostini scored on a wraparound, and the Capitals were denied the rest of the way.
The Capitals did kill off four St. Louis power plays, including a 5-on-3 that was cut short by a Blues penalty. Late in the third period, they did pressure the Blues and netminder Jaroslav Halak, the man who stunned the Caps while in net for Montreal during a first-round upset of Washington in 2010.
It was more than a little ironic that with Washington netminder Tomas Vokoun on the bench for an extra attacker it was Ovechkin who had the final shot of the game, whistling a slapshot just wide as time ran out.
Ovechkin played just 16:46, although penalty issues in the second period contributed to a truncated amount of ice time.
"I thought he was pretty much out there a lot in the third," Hunter said.
Although he delivered a couple of decent hits, Ovechkin had just one shot on goal and the loss represented yet another home game without a goal for the former scoring champ who has tallied just once at Verizon Center this season.
Penguins-Capitals showdown
The spotlight on Ovechkin and the Caps won't grow much dimmer in the next 48 hours as red-hot Sidney Crosby and the Penguins come to town for the first clash between the two superstars since the Winter Classic.
For Hunter, though, that game will merely represent a second chance to try to get his new team pointed in a new direction, another step toward what he and the Capitals hope will be some kind of light at the end of the tunnel.
"I have a feeling games are going to be really tight like they were tonight," veteran Mike Knuble said.
"If we're going to err on a side, I think he wants us to stay on the side of caution, maybe live to fight another time and get the puck out. Don't step up and take a chance. If you do, don't be 50-50 or even be 80-20. If you're stepping up, you'd better be 100 percent you'll get that puck and you better get it or don't come back to the bench."
November, 29, 2011
11/29/11
2:42
PM ET
ARLINGTON, Va. -- There is perhaps no more curious place in sport than an NHL locker room the day after a coach has been fired.
The energy is different ... a little off, a little manic. A group of men who thrive on continuity and routine must now embrace a different vibe.
In the past, former Washington Capitals coach Bruce Boudreau often would meet with media while his team went through drills at the team's practice facility on game-day mornings. Boudreau, however, was nowhere to be seen Tuesday a day after being dismissed from his post.
Instead, former Washington captain Dale Hunter was on the ice and later met with players for some 45 minutes before speaking with media gathered to chronicle the start of the Hunter era.
"Just strange days," said Capitals veteran winger Mike Knuble. "That's part of the challenge. You do the best you can tonight. You just want to get yourself going and play the game. It's still a hockey game. It's a challenge to play for a new coach, and a lot of things have happened in the last 24 hours."
[+] Enlarge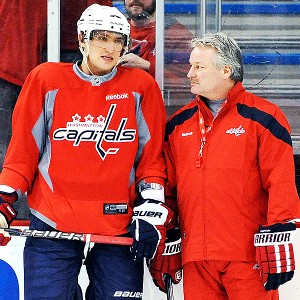 Patrick McDermott/Getty ImagesDale Hunter, right, will coach his first NHL game tonight with Alex Ovechkin and the Capitals.
So much the same, so much changed in the course of a day.
Hunter, the longtime owner and coach of the successful London Knights of the Ontario Hockey League, flew into town Monday with his one suitcase and one blue game suit -- "I only got one suit anyways," Hunter quipped -- and will coach his first NHL game Tuesday night against the St. Louis Blues.
And so begins the process of unlearning the old and learning the new, whatever that might entail in terms of philosophies and systems. "You don't get practice time," Knuble said.
That's generally not how these situations work.
The old coach has preached certain habits.
"Even if you don't agree with all those habits, you've got to change them slowly," Knuble said. "You can't just say, 'I don't like this, I don't like this, I don't like this; I like that, I don't like this.' I'm sure [Hunter is] keeping that to himself, and that's what you implement over time. Players, you kind of just go off the basics, play as well as you can. Some guys will thrive; some guys will struggle a little bit."
Along with tactical elements, there also will be the emotional component of having watched a coach lose his job in large part because a team with a wealth of talent couldn't continue to move forward. After a 7-0-0 start, the Capitals have been a miserable 5-9-1 since; in some ways, it is a record that flatters them given their curiously uneven play of late.
"It's a little weird, but at the same time, that's the situation, and I think with Dale's experience it can be really good," said Caps center Nicklas Backstrom, who leads the team with 25 points but is a
minus-6 on the season. "He knows a lot about hockey because he played the game, too, and he's been very successful in Ontario up there, and I think so far he seems good. Hopefully we can give him a win on his first night."
Backstrom agreed that the change represents a new chapter for a team that was tied with New Jersey for the eighth and final playoff berth in the East as of Tuesday morning.
"Absolutely. We've got to start winning hockey games. I think it's a really good thing to do, get a new voice in the locker room and stuff like that," he said. "Yeah, it's a new chapter. That's how it's going to be."
At one point during the morning skate, Hunter was chatting with captain Alex Ovechkin. The two-time Hart Trophy winner will be the focal point as this team struggles to regain its mojo. Hunter said he spoke with Ovechkin about the slumping power play but noted he'll be talking to all the players at some point.
As for whether Ovechkin can lead this team in the spirit of the rough-and-tumble Hunter, the new coach wasn't about to go down that road, at least not before his first game.
"You know something, there's always different captains," Hunter said. "I didn't score 50 goals, either, you know what I mean? A lot of captains, they lead on the ice, playing hard, hitting people and scoring goals, and some are more vocal in the dressing room. Everybody has to be their own type of captain and be a leader that way."
That said, it will be a shock if Ovechkin does not find himself with more ice time with which to prove he is still one of the game's elite players, something he has failed to show in the past 100 games or so.
"He's got to be a big part of the game every night if we intend to win, plus other guys, too," Hunter said. "But he'll be a big part, and in the dressing room, he's got to give these guys confidence, and we've got to be confident, and he's got to get everybody's confidence back."
Ovechkin said he understands that the coaching change represents a significant challenge for him and the rest of the leaders in the room.
"I think it's new for the whole team," Ovechkin said. "Bruce was here almost five years. ... Right now, it's a new challenge for us. You can see when we didn't play well what's going to happen. It's kind of a wake-up call for us, a huge wake-up call for us."
Does he take responsibility for the change?
"Of course. Again, it's not about one player," he said. "Of course I'm the leader of the team and I have to play better, I have to make some points, I have to score goals, but I try to do that. Sometimes it works; sometimes it [does] not."
In a few hours, the Hunter era will officially begin for the Capitals. The moment the puck drops, the memories of the Boudreau era will begin to fade. That's the nature of the business, no matter how callous that may be.
"Yeah, you feel bad for Bruce because you know he put a lot of time and his heart and soul in this team," Knuble said. "At the end of the day, he can walk out of here pretty proud that he gave everything he had. It's just kind of the way things worked out. As a player, you always have that twinge of guilt when a guy gets let go, that you had something to do with it, but at the same time, it's a new day and it's pro sports and you've got to keep going."
November, 28, 2011
11/28/11
4:48
PM ET
Washington captain Alex Ovechkin gives his take on coach Bruce Boudreau's firing.
November, 28, 2011
11/28/11
2:47
PM ET
If there's a coach who knows at least to some degree what Dale Hunter faces as he takes over a contending yet underachieving team, it's Todd McLellan.
The Sharks' head coach took over a talented club in San Jose in the summer of 2008, yet one that was looking to get over the playoff hump.
McLellan has helped take some heat off the Sharks, but back-to-back trips to the Western Conference finals still falls short of the ultimate goal in San Jose.
A conference final berth would be an improvement in Washington, where the Capitals have failed to get past the second round since 1998.
A November slump doomed coach Bruce Boudreau, so Hunter now inherits
Alex Ovechkin
's mercurial bunch. It's a daunting task that's somewhat similar to what McLellan faced three years ago.
"There's similarities and there's some differences in the two," McLellan told ESPN.com on Monday. "The similarities are the stage or the evolution of where the team is in; the expectations are high. They're looking to close the gap at the top end. They have mature players. They have some superstars that are in the prime of their careers. The fans' expectations are that they're not looking for growth, but rather they're looking for the finished product."
They're still looking for that finished product in San Jose, but they're much closer than they were before McLellan got there. They've knocked out the powerhouse
Detroit Red Wings
in back-to-back years -- no small achievement -- and captain
Joe Thornton
has played his best playoff hockey, one of the most notable improvements under McLellan.
Hunter's No. 1 challenge will be maximizing the all-world talent of Ovechkin and getting him back on track in the regular season but, more importantly, getting him to deliver even more come playoff time.
[+] Enlarge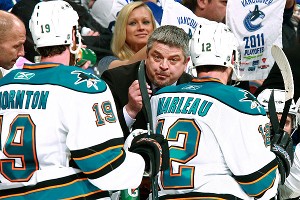 Jeff Vinnick/NHLI/Getty ImagesWhether Todd McLellan returns as coach of the underwhelming Sharks won't be determined until he meets with GM Doug Wilson.
Where the stories in San Jose and Washington diverge is the timing of the coaching changes.
"The differences are that I had a summer to prepare," McLellan said. "I got to know and create some relationships with some of the star players. Maybe Dale, as a former Capitals player, has those, I don't know."
For McLellan, that time in the summer was instrumental. He reached out to key players and indicated what was expected individually -- it was the basis for important relationships.
Hunter has none of that time; he'll have to forge those relationships on the go. Still, getting through to those key players will be critical if Hunter is to foster a different mindset.
"I remember taking Jumbo [Joe Thornton] for lunch, and we talked about a lot of things," McLellan said. "I had a relationship with Patty [Marleau] from our junior days, but I rekindled that." AHe had similar chats with
Dan Boyle
and
Rob Blake
.
It was about building trust with his players. And now that begins for Hunter in Washington.
November, 28, 2011
11/28/11
2:06
PM ET
When Washington Capitals GM George McPhee fired coach Bruce Boudreau on Monday morning and replaced him with hard-as-nails Dale Hunter, McPhee played his final card.
McPhee has handed over the keys to one of the league's most talented and successful teams (during the regular season, anyway) to a man who has never coached a single NHL game and has no experience coaching adults despite building and coaching a wildly successful major junior franchise with the London Knights of the Ontario Hockey League. McPhee has tinkered and toyed with this enigmatic Capitals lineup since bringing in Boudreau during Thanksgiving weekend in 2007 but has never quite hit on a combination that could translate terrific regular-season accomplishments into sustained postseason success.
Taking a chance on Hunter is in some ways an endgame then for McPhee. The move will mark the end of the team's confounding playoff futility or be the end of the line for the Capitals in their current form.
Now that McPhee has made this play, the team's direction will fall at the feet of its captain, Alex Ovechkin.
This doesn't mean the Caps' play of late (a 5-9-1 stretch since a blazing 7-0-0 start) is solely Ovechkin's fault. It's not. The defense has been hampered by the loss of Mike Green (who knew the oft-maligned puck-mover would be so critical to the Caps' success?) and the sudden aging of offseason free-agent acquisition Roman Hamrlik. The goaltending has been mostly average and often worse than that. As of Monday, the Caps were 29th in goals allowed per game and 21st on the penalty kill.
But where the rubber hits the road for this team is with No. 8.
[+] Enlarge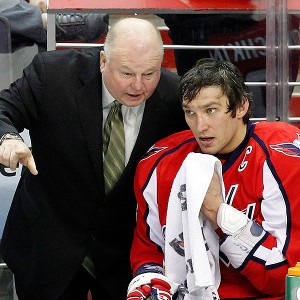 Geoff Burke/US PresswireCaps GM George McPhee said the players stopped listening to coach Bruce Boudreau.
Ovechkin has eight goals (38th in the league) and 17 points (54th). He has scored just once at home this season and is a minus-7. Perhaps most telling: He is averaging just 18:47 in ice time, 68th among NHL forwards. The team's franchise player isn't even leading the Caps' forwards in ice time (Brooks Laich is with 18:49).
One of the knocks on Boudreau after a series of disappointing playoff turns -- the last of which was a four-game sweep against the Tampa Bay Lightning in the second round this past spring -- was that he wasn't hard enough on his good players, that he cut guys like Ovechkin, Green, Alexander Semin and Nicklas Backstrom too much slack.
This season, Boudreau introduced a kind of meritocracy to the running of the Caps. In some ways, it was beautifully simple. If you worked hard, you got rewarded; if you didn't, you paid the price.
That shift in philosophy was never more evident than against Anaheim on Nov. 1, when Boudreau kept Ovechkin on the bench late in the game when the coach pulled his goaltender for an extra attacker. Instead, Boudreau chose to go with, among others, Jason Chimera, Joel Ward and Laich, the Caps' best line that evening. The Caps tied the game, and Ovechkin was on the bench when overtime started, although he did provide the principal assist on Backstrom's overtime winner.
Television cameras showed a ticked-off Ovechkin seething in the final moments of regulation and using a derogatory term against Boudreau. Was that the moment Boudreau lost the franchise player? If so, it speaks volumes about Ovechkin's character.
For years, Boudreau has staunchly defended Ovechkin, even when the star winger appeared to try to do too much in the playoffs and often came up short like the rest of his team.
So now that Boudreau has taken his exit, if you can't play for him, then who can you play for?
If the idea is hockey life will be somewhat easier under Hunter, that thinking seems to be plain wrong. It can only be guessed that one of Hunter's mandates when he takes over Tuesday night against the St. Louis Blues is that there will be no pampering of any Caps players, including their biggest star.
[+] Enlarge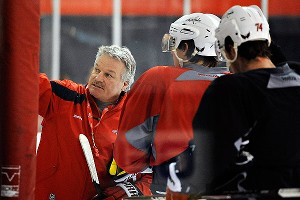 Patrick McDermott/Getty ImagesGM George McPhee on new Caps coach Dale Hunter: 'He knows two things, farming and hockey, and he's really good at both.'
This, needless to say, stands as a terrific challenge for Hunter. The NHL is not full of terrific junior-to-the-bigs success stories. Brent Sutter has been a disappointment since he made the coaching jump from a successful junior career to New Jersey and then Calgary. Peter DeBoer has never managed to get an NHL team to the playoffs after he was the hot coaching commodity coming out of juniors a couple of years ago. Even Guy Boucher, who guided Tampa Bay to Game 7 of last season's Eastern Conference finals, made a brief pit stop in the American Hockey League after building a solid résumé at the junior level.
If the learning curve will be steep for Hunter, what Ovechkin shows moving forward will be interesting. McPhee insisted Monday that Ovechkin will continue to be team captain (whether he deserves to be captain is a whole other issue). Maybe this change will be the catalyst for Ovechkin to return to the form of scoring championships and memorable drives to the net. Or maybe we'll see more of the same perimeter play, the fanned shots and lackadaisical back-checking.
Many have been quick to label Ovechkin as a "me first" player, a rare talent who lacks the leadership DNA and the kind of will to win that defines his peers, such as Chicago's Jonathan Toews or archrival Sidney Crosby. Toews and Crosby endured coaching changes (Crosby twice) before winning championships. In both cases, those changes had little to do with those players' production, either before or after the changes were made.
Even if McPhee told reporters that Monday's move wasn't singularly about Ovechkin but rather the entire team playing poorly, the star's waning production and inability to produce in Boudreau's system were likely contributing factors to the coaching change.
In that sense, the burden on Ovechkin to define himself as a player and leader, and not a coach killer, has never been greater than it is now.
November, 28, 2011
11/28/11
12:26
PM ET
Washington Capitals GM George McPhee spoke with local reporters today about the team's decision to fire coach Bruce Boudreau. He said players were no longer responding to Boudreau, adding that he did not seek players' counsel on the matter and it was solely a managerial decision.