October, 18, 2013
Oct 18
5:51
PM ET
By
ESPN.com staff
| ESPN.com
St. Louis Blues
forward
Maxim Lapierre
was suspended for five games for boarding
San Jose Sharks
defenseman
Dan Boyle
.
Lapierre will forefit $28,205.15 of his salary.
He was given a game misconduct for hitting Boyle from behind in the first period of San Jose's 6-2 road win Tuesday. Boyle was knocked out on the play and taken off the ice on a stretcher before spending the night in a hospital.
October, 16, 2013
Oct 16
11:31
AM ET
It didn't take long for the week's high-profile tilt between the unbeaten
San Jose Sharks
and unbeaten
St. Louis Blues
to turn ugly Tuesday. Early in the first period, Blues forward Max Lapierre sent veteran Sharks defensemen
Dan Boyle
head-first into the boards with a hit from behind. The hit left Boyle unconscious, and he was removed from the ice in St. Louis on a stretcher. Lapierre was ejected for the hit and will almost certainly be suspended for the dangerous play. Early reports indicate that Boyle's injuries aren't too severe, which, needless to say, represents the best outcome.
"I'm doing OK, thank you for your concern and support," Boyle said in a message directed at fans via ESPN.com's Pierre LeBrun from the St. Louis hospital where he spent the night. "Means a lot to me. I've never once taken this game or any of my fans for granted. Hope to be back soon."
We didn't like the hit by Sharks forward
Brent Burns
on
Brenden Morrow
later in the game that also could have produced a serious injury, and it was a bit of a disappointment to see Burns assessed only a minor penalty (Morrow did return to the game). In the end, the greatest statement was made by the Sharks, who used their skill to avenge Boyle's injury as they humbled the Blues 6-2, scoring three times with the man advantage. The Sharks also chased Blues goaltender
Jaroslav Halak
, who has been a key factor in the Blues' hot start, out after the second period. The game marked the first in a stretch that will see the Sharks play seven of eight on the road.
Kaleta's at it again:
The Lapierre hit on Boyle came just a few hours after the NHL suspended serial cheap-shot artist
Patrick Kaleta
of the
Buffalo Sabres
10 games for his latest transgression: A dirty, head-high hit on
Columbus Blue Jackets
defenseman
Jack Johnson
. By almost any measuring stick, 10 games is a heavy sentence -- almost any measuring stick except for a guy such as Kaleta, a player who is either too stupid to learn from his mistakes or too reckless to care. Given Kaleta's history, one wonders what number would have been appropriate. At some point, with players such as Kaleta, who has been fined or suspended six times in the last four seasons -- the most recent being last season when he drove
Brad Richards
head-first into the boards -- it would seem the threat of actually being unable to play the game anymore is the only real deterrent. We saw this happen with
Matt Cooke
when he was in Pittsburgh; the Penguins publicly said that unless Cooke changed his ways, he wouldn't be able to play with them. This happened after Cooke's last suspension, in the spring of 2011, after a hit on
New York Rangers
defenseman
Ryan McDonagh
. Cooke worked with the Pens' coaching staff during his suspension, which lasted through the first round of the 2011 playoffs, watched video and dedicated himself to changing his style of play. To date, he remains a shining example of players who can learn from their mistakes. It would be nice if we heard something similar from the Sabres, although we aren't holding our breath, given that ownership/management of NHL teams historically only worry about dangerous play when it's some other team's player who's playing outside the lines. We often criticize league disciplinarian
Brendan Shanahan
for what we've felt has been consistently lenient discipline for plays that have no place in the game. Yet the stakeholders, owners, general managers and players themselves remain, for the most part, mute on issues such as those created by guys such as Kaleta. Where is Buffalo owner Terry Pegula on Kaleta? Where is Buffalo GM Darcy Regier, a smart, thoughtful hockey man, on how his employee behaves? The Buffalo News reported that, even though the Sabres were playing Tuesday, neither Regier nor Kaleta would comment. Way to take responsibility. Shanahan could have, indeed,
should have
, given Kaleta 20 games and left his return open-ended, pending an end-of-suspension interview. But it would mean a lot more if the Sabres would come out and announce they will no longer employ a player such as Kaleta until he learns from his mistakes. Sadly, that's not likely to happen, so we remain skeptical this latest brush with the NHL law will change how Kaleta plays the game.
Not so fast, Avs:
An interesting experiment in fan reaction occurring in Denver where the
Colorado Avalanche
are
the
story of this young NHL season. With their 3-2 win over Dallas on Tuesday night, the Avs moved to a remarkable 6-0-0. The win marked their first home game after three impressive road wins, and yet the announced attendance at the Pepsi Center was 15,208, well below the capacity of 18,007. It reminded us of a conversation with Carolina GM Jim Rutherford during the 'Canes superlative 2005-06 season. The Hurricanes would go on to win their first Stanley Cup in June 2006, but during that regular season, the 'Canes' crowds remained soft in spite of the fact the team was one of the most entertaining in the league. Rutherford explained that on-ice success does not translate instantly into fan support. A kind of elasticity is at play; a team has to prove they have turned a corner before fans will consistently return to support them. In short, you don't repair a badly damaged fan base in the first month of a season even if the Avs appear to be on the track to redemption.
Giroux's Olympic goal is toast:
It's never too early for players to make a case for their respective Olympic teams. Likewise, it's never too early to start playing yourself right off the map. One has to wonder about the early-season struggles of the
Philadelphia Flyers
and how it might affect captain
Claude Giroux
and his bid to be named to the Canadian Olympic squad for the Sochi Games in February. A lock to make the team heading into the season, even though he missed the Canadian orientation camp with a golf-related hand injury, Giroux and the Flyers have been stuck in neutral since the season started. OK, that's being charitable. After blowing a third-period lead and losing 3-2 to Vancouver on Tuesday, the Flyers dropped to a woeful 1-6-0. Even the firing of head coach Peter Laviolette three games into the season hasn't helped, as the Flyers have managed only 10 goals. Giroux has yet to score and has just two assists, and with Canadian executive director
Steve Yzerman
and the Canadian selection committee already facing the onerous task of narrowing the talented Canadian forward contingent down, Giroux's tepid play further muddies the waters. Not to put too fine a point on it, but it's hard to believe there is any way Giroux makes this squad unless he mounts a significant renaissance in the next two months.
Reimer ain't backing down:
Nice statement game for netminder
James Reimer
, who appeared to have been frozen out of the Maple Leafs' goaltending equation after an early bad game combined with the strong play by newcomer
Jonathan Bernier
. Not so fast. Reimer was outstanding in stopping 36 of 37 shots as the red-hot Leafs moved to 6-1-0 with a 4-1 win over Minnesota on Tuesday. Those are exactly the kind of goaltending "issues" Toronto head coach Randy Carlyle likes to have.
Bruins are looking mediocre:
It's been interesting to watch the
Boston Bruins
through the first couple of weeks. There's something solid and reliable about the team GM Peter Chiarelli has built, and which for a number of years now has stolidly reflected the personality of head coach Claude Julien. That doesn't mean there haven't been hiccups early on, and maybe we didn't appreciate the transition that would be required after the Bruins lost
Jaromir Jagr
,
Nathan Horton
and
Tyler Seguin
through trades and free agency. Although the team continues to play well defensively, allowing just eight goals through their first five games, they've managed just 12 going the other way. The struggles continued Monday when the Bruins could not solve Detroit backup goalie
Jonas Gustavsson
during the matinee, losing 3-2 in spite of a long 5-on-3 and the fact the Red Wings did not have a single power play. Specifically, winger
Jarome Iginla
is struggling to find his place with the B's and has just one assist. If he hadn't struggled during the playoffs for Pittsburgh last spring, there wouldn't be much cause for concern, but in spite of prime ice time and a ton of power-play time, he's not hitting the mark, which has to be worrying for Julien et al. Not that Iginla is alone.
Patrice Bergeron
(one goal, one assist) and
Brad Marchand
(one goal) are also off to slow starts.
August, 26, 2013
Aug 26
6:41
PM ET
CALGARY, Alberta -- A little ball hockey, eh?
Team Canada took to the floor-covered ice Monday for "walk-through" practices, which is the coaching staff's unique solution to a tough situation given the inability to actually get on the ice for real practices.
The 45 players were split into two groups and ran around with their sticks in their hands playing out drills from the coaching staff while wearing track shorts, T-shirts and running shoes.
Kudos to head coach Mike Babcock for the clever solution for a tough predicament.
"I thought it was a real good day for us," Babcock said. "Obviously, I have never done this before. We've put a lot of planning into it. I spent a lot of time talking to people to gather the information -- [head coach] Tom Izzo in particular with Michigan State basketball. He talks about the walk-throughs, and [they are] part of the reason that he believes they've been to six Final Fours in the last 15 years. Todd Downing is a quarterback coach with the Lions. He talked about the plays they walk through each and every day and the muscle memory and the timing and spacing that's going on.
"This is a big sheet, and guys aren't used to it. It's even bigger when you can't move very fast, and you couldn't go very fast today. But I thought it was a good teaching tool. The other thing is when you've got 23 guys on your team, you usually got to teach 23 different ways. Everybody learns different, so when you see it on video, it's one way you see it. In a book, it's another way. You've got a posting on the wall, you walk through it again and then you talk about it. To me, what we're trying to do is get them to understand the way we're going to play, so it meets the comfort for them when they arrive in Sochi."
It's early, folks, but, for the heck of it, here were the lines:
Chris Kunitz
-
Sidney Crosby
-
Patrick Sharp
Eric Staal
-
Jonathan Toews
-
Rick Nash
Logan Couture
-
John Tavares
-
Steven Stamkos
Andrew Ladd
-
Ryan Getzlaf
-
Corey Perry
Jeff Carter
-
Mike Richards
-
Martin St. Louis
Milan Lucic
-
Matt Duchene
-
James Neal
Brad Marchand
-
Patrice Bergeron
-
Jordan Eberle
Taylor Hall
-
Jordan Staal
"Don't read anything into the lines," Babcock cautioned.
Joe Thornton
's absence from the camp (family illness) left Hall and Jordan Staal lined up with a University of Calgary player, Dylan Walchuk.
Talk about a thrill for the college player.
"I know. It's pretty sweet. Maybe I'll see myself on TV tonight if I get lucky," Walchuk said.
So much is going to play out over the next few months before Team Canada picks the team. It's hard to tell a whole lot from these lines when you consider that most of the line combinations at the camp four years ago didn't hold water come the Olympics in Vancouver four months later.
Still, there were some interesting looks Monday, such as Nash back on a line with Toews. That duo was Canada's most effective forward combo by the end of that gold-medal tournament in 2010, with Toews being named the tournament's top forward. So it's natural for the coaching staff to want to see those guys back together.
Crosby had his trusted
Pittsburgh Penguins
linemate Kunitz on his left side Monday, an obvious fit. I still think Kunitz is in tough to make the team, but if he lights it up in the fall like he did last season, he's got a shot, especially when you consider how difficult it was for the coaching staff in Vancouver to find players who could mesh with the world's top player.
"This is the best of the best," Kunitz said. "It's awesome. I've never been to an All-Star Game or one of these things. This is a great thing to be a part of, but if I want a chance to go to that team, I have to play my game and have as much success as I did last year moving on and have to earn my way on the team."
Sharp's inclusion on the line is also intriguing. He's a long shot for most people to make the team, although I would put him on the team if it were up to me. Sharp is a versatile player who can play all three forward positions, and, on a team that's going to have a lot of centers playing out of position on the wing, I think he'd be a valuable addition.
Whether or not Sharp was on the Crosby line for no other reason than
Claude Giroux
not being here in camp, who knows. But I like Sharp on that line.
But easily the most intriguing line Tuesday for me was Tavares between Couture and Stamkos. Wowsers. That's a young and talented combination, and Couture brings in a bit of defensive protection with his two-way game. That's a line I could certainly live with.
But again, so much will change between now and February.
To me, the locks on defense are
Alex Pietrangelo
,
Duncan Keith
,
Shea Weber
and
Drew Doughty
-- and perhaps
Jay Bouwmeester
. Then, the final three jobs are up for grabs among
P.K. Subban
,
Dan Boyle
,
Kris Letang
,
Marc-Edouard Vlasic
,
Marc Methot
and
Dan Hamhuis
.
Canada-Russia rivalry
Crosby is an avid hockey history student. It's not lost on him the chance at hand next February with the Olympic tournament staged in Russia, Canada's historical hockey rival.
Not since the famous 1972 Summit Series between Canada and the former Soviet Union has there been a more meaningful game played in Russia between the two rivals played than if the two countries tangle next February.
"I can remember being 15 in Shattuck [Minn.], and J.P. Parise was there, and I remember some of the stories he would tell," Crosby said. "I was always kind of wondering if I'd even have a chance to play in Russia and, up to this point, I haven't. To have that opportunity and knowing the history is there to be part of that would be definitely very special. It's something we're all well aware of and want to make happen."
Wayne Gretzky has often said that one of his regrets in his career was not having a chance to play an important international game in Russia. The Great One was part of those great Canada Cup games against the former Soviet Union, but those games were always held in Canada.
"That's a pretty special opportunity for those Canadian players if they get to play Russia in Sochi," Gretzky told ESPN.com Sunday.
Old man Boyle
The gray speckles on Boyle's beard reveal the veteran defenseman's experience in this camp. At 37, the
San Jose Sharks
blueliner is the second-oldest player here in camp behind only St. Louis.
"I've got a lot of D-men telling me that I was their favorite D-man growing up,'' Boyle chuckled Monday. "I'm sure I'll be asked about my age from here on in. It bothers me, but what can you do? I play with guys who are 25 who are icing their backs. It's not always about age. Look at Marty."
Don't be fooled, though. Boyle can still play at this level, and he'll be an interesting decision for Team Canada. He's an asset on the big ice, and his experience is important, too. But the Canadian management staff will watch him carefully in the opening months of the NHL season to make sure they don't see any signs of slowing down.
"I know the experts haven't picked me to make the team," Boyle laughed, using his fingers to show quotation marks around the word experts. "I don't put too much thought into that. I've been doing this my whole career, being counted out forever. I'm probably not expected [to make it], but, obviously, I'd love to be part of it. I know what I can bring to this team."
Team Canada will have some new faces on its roster, and having some experience in the room will be important.
"I think so, too," Boyle said. "Oddly enough, the gold-medal game in Vancouver was the calmest I was in the whole tournament. I was more nervous in the preliminary games. I watched the gold-medal game again a few months ago, and I was happy [with his performance]. I think you need that. I think that's where experience comes in."
Smith cuts hair
Barely recognizable Monday was goalie
Mike Smith
. Gone was his long hair.
What's up with that?
"I'm 31 years old with two kids. Time to grow up," he chuckled.
Smith has a solid shot of making this team. Of interest is that he was invited here by Team Canada GM
Steve Yzerman
, whom he played for in Tampa Bay before getting waived and leaving via free agency. Yzerman had hoped to re-sign Smith, but he chose to go to Phoenix.
But as far as Smith is concerned, he left on good terms.
"When I left, there weren't any hard feelings," he said. "I hadn't really deserved the chance to stick around. There were bumps along the road in Tampa, and I never really found my niche. I went to Phoenix and developed more into the guy I thought I could be. But the way it was handled in Tampa was first class. Steve and the whole organization handled it with the most respect they could give me. I'm fortunate for that."
Keith looking for more glory
He's got two Stanley Cup rings, and now he's aiming for a second Olympic gold medal.
Star blueliner Keith is far from satisfied with his current haul.
"They're both very special experiences," Keith said Monday. "When you win a Stanley Cup, I dreamed about that sort of thing when I was a kid. To be able to do that after a long season and a long grind is definitely rewarding. At the same time, when you play on an Olympic team, you're representing your country, and it's a huge honor in itself to have that jersey on. To win an Olympic gold medal, it means you're the best team in the world at that time. It's a special feeling.
"They're both special. They're both unique feelings. Any time you win a championship, it's the best feeling in the world. I mean, a win's a win, right?"
Keith was partnered with Weber in Monday's walk-through/ball hockey practice.
Bouwmeester's back
Bouwmeester was part of Canada's Olympic team in 2006 but was passed over for 2010.
Now he wants back in.
"You'd like to be there," he said Monday. "That's the goal for everyone. I think you learn from that. From that, you learn it's a process, and you can't worry about it. If you're picked and get to go, great. But there are a lot of great players."
It could be an exciting year for him. His
St. Louis Blues
were picked by The Hockey News to win the Stanley Cup, to which Bouwmeester responded Monday:
"I guess that's better than being on the bottom. I think the Toronto Blue Jays were picked to win the World Series, weren't they? I wouldn't put a lot of faith into it."
Ouch, Jays fans.
Still, the Blues are definitely a team that's knocking at the door.
"We're still fairly young, but everybody's kinda past that learning stage," Bouwmeester said. "You've got a group that's probably going to be together at least a few years, at least the majority of guys. It seems like a good opportunity."
May, 29, 2013
May 29
1:34
AM ET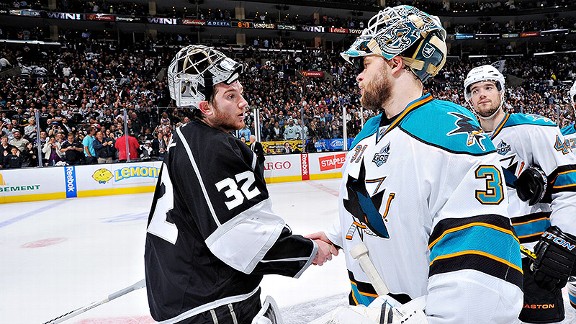 Andrew D. Bernstein/Getty ImagesAntti Niemi and the Sharks aren't happy about their season's end, but they still stood tall in 2013.
LOS ANGELES -- You were in the wrong dressing room here Tuesday night if you were looking for anyone to acknowledge what the
San Jose Sharks
achieved this season.
No, in the visitors' room at Staples Center, there were only looks of despair and heartbreak after a hard-fought series with the
Los Angeles Kings
ended with a Game 7 loss.
Logan Couture
sat dejectedly in his stall, looking into space as if hoping to wake up from a nightmare.
"It's heartbreaking. It's tough," Couture said. "It's been a long year. We battled hard to get to where we were. We made some changes and played a good first round, then forced, I think, the best team in the league to seven games and almost beat them in their building. It's tough to take."
"We played our hearts out, and that's all you can ask of each other," added captain Joe Thornton.
This was a team that was headed absolutely nowhere in February. The Sharks couldn't score, they couldn't skate and they didn't look like a team worthy of a playoff berth, which is why GM Doug Wilson took honest stock back then of what he had and decided it was time to "reset" his roster, planting the seeds for the eventual trades of veterans
Douglas Murray
,
Ryane Clowe
and
Michal Handzus
.
They were all pending unrestricted free agents after the season, and Wilson had seen enough of his team midway through the season to know he had to get younger and faster. Years of contending had had its impact. It was time to remold the group, a process which will continue in the offseason.
But at that time, about the last thing anybody in San Jose truly believed was that they'd end up just one win away from the Western Conference finals.
"Definitely credit to the guys for turning this thing around because it was looking pretty dark and ugly for a while," veteran blueliner
Dan Boyle
said.
A strange thing happened in early April after Murray, Handzus and Clowe were dealt away: The team came together and started winning games.
Feeding off a sense that nobody believed in them, the Sharks molded into a tight-knit group that felt it could prove people wrong. The team did so by upsetting Vancouver in the opening round -- in four straight games no less -- and impressed in the manner in which they took the Kings to the very end.
The loss of
Raffi Torres
to suspension after Game 1 against the Kings was a factor, Boyle said.
"We had to shift our lines a little bit after losing Raffi, and I think that hurt us a little bit," Boyle said. "We had
[Joe] Pavelski
on the third line in the first round and that gave us a balanced scoring attack. With Raffi out, Pavs went up [to Couture's line]. It's not the way we were playing in the last month and a half."
Couture acknowledged afterward that he had been playing on an injured ankle he suffered in Game 3 -- a game in which he returned to score in OT -- which required an injection every game just to play. But he refused to use that as an excuse.
"I was able to play 100 percent," Couture said, his face buried in his hands.
Top blueliner
Marc-Edouard Vlasic
also gutted it out, confirming to me after Game 7 that he'd been playing with a hairline fracture in his right foot since Game 4, which required freezing the nerves in his foot before playing.
"But lots of guys in this room were playing hurt, just like the Kings," Vlasic said. "It's no excuse."
So what now? Thornton and Boyle both have one year left on their contracts. Are they part of Wilson's roster reset, which will continue this summer? Or do both vets, or only one of them, stay on?
"It's tough to look at the future right now," Boyle said. "We'll see what happens this summer, but obviously we have something going well with this team."
Thornton and Boyle were both terrific in these playoffs, and you wonder just how badly they wanted this given where they see the team heading.
"It's disappointing right now," Thornton said. "We were just having so much fun. It's disappointing that it has to end, because we were really enjoying this. It's a tough way to finish."
The Sharks know they've got special players in Couture, Pavelski,
Antti Niemi
and Vlasic, plus up-and-comers in
Justin Braun
and
Matt Irwin
. They should remain a competitive team.
But it's a team that needs more depth, too. They didn't get a single goal from any of their bottom-six forwards -- not counting Pavelski, who moved up a line -- in two playoff rounds. Tough to win when you're counting so hard on your top players all the time.
All in all, though, considering how the season looked in February and March, it's hard not to feel somewhat satisfied if you're a Sharks fan in the end. This isn't a team that folded under expectations. It's a team that achieved more than was expected from them this time around.
May, 28, 2013
May 28
3:39
PM ET
LOS ANGELES -- Game 7.
It explains itself.
No matter how many you've played, it's special unto itself.
"If you don't get butterflies, there's something wrong with you," said
Los Angeles Kings
veteran
Justin Williams
, who is 3-0 in Game 7s in his career with seven points (3 goals, 4 assists).
"But at the same time, control the butterflies, be calm, be confident; that's how we aim to approach it," Williams added after the morning skate at Staples Center.
Williams remembers how he felt before Game 7 of the 2006 Stanley Cup finals; his
Carolina Hurricanes
had lost two straight to the
Edmonton Oilers
before finally finishing them off at home.
"We had lost Game 5 on a short-handed overtime goal, and then we got completely embarrassed in Game 6 [in Edmonton]. It wasn't even close," Williams said. "So, obviously, we had to regroup, refocus and maintain. Just like everyone says, 'Hey, if you could play one game for the Stanley Cup, you guys would take it at the start of the year.' That was the approach. I don't think I slept that day, but I was ready to play."
Loose Sharks
On Tuesday morning, the
San Jose Sharks
players were loose and relaxed again at the pregame skate.
It may mean nothing come game's end Tuesday night, but it's unmistakable that the Sharks are acting like they're playing with house money.
"This team really does have a lot of fun with each other; we've really just enjoyed this run and we want to continue it after tonight," Sharks captain
Joe Thornton
said after the morning skate.
Veteran defenseman
Dan Boyle
says it's a different feeling this year for the Sharks, who didn't enter the playoffs under the weight of expectations.
"For many years we've been picked [to go far] and people get disappointed year in and year out. This year it's been the other way around, where we weren't picked to win the first series [against the
Vancouver Canucks
] and we weren't picked to win this one," Boyle said. "It's a different situation for us. Whether that's good or bad, we'll see. But not a lot of people thought we would be here at this point."
Less than two months ago, the Sharks were in the process of trading away three veteran players:
Ryane Clowe
,
Michal Handzus
and
Douglas Murray
. And if the team had kept losing, who knows who else would have been gone.
"We were probably a couple of losses away from a big blowup; a couple of us were mentioned in trade rumors," Boyle said. "We just stuck through it, came together as a team and have played very well since we made a couple of those deals."
Ever since that day, the Sharks have played as if every day was a bonus for them. Which is why coach Todd McLellan said he's not planning any big speech before Game 7.
"There are still things we need to address, but there isn't a rah-rah speech that's going to go on," McLellan said. "They're motivating themselves, they're playing for each other. There's nothing more powerful in sport than when a group of people come together and play for each other. If they have to play because the coach is motivating them, I don't think we'll be successful."
Williams, though, downplayed San Jose's underdog role. After all, he said, these teams were separated by only one point in the standings this season.
"You can say anything to make yourself think whatever you want," Williams said. "In here, we don't care. Underdog? They're a successful hockey team, and so are we. You want to finish your season with a win. If you don't, you get a sour taste for the summer, and we don't want that tonight."
Sutter demands more of LWs
Kings coach Darryl Sutter pointed to production -- or, rather, a lack thereof -- from the team's left wingers as an issue heading into Game 7.
"We need more from our left side, period," Sutter said Tuesday morning. "We've got two even-strength goals in the whole playoffs from our left side. When you're talking about lines, that's one of our three that aren't pulling their weight."
Captain
Dustin Brown
played left wing on the top line with
Anze Kopitar
until two games ago, when he was shifted to right wing on the third line and scored his team's lone goal from that spot Sunday. He has three goals in 12 playoff games.
Sutter's message was probably directed more toward left wingers
Dustin Penner
(two goals in 12 games) and
Dwight King
(no goals in 12 games).
First goal means something
The team scoring first in this series is 6-0. Scoring first seems to calm that team down and allow it to set the tone. It looms large heading into Game 7.
"Both teams rely heavily on their goaltenders, so I think getting that first goal kind of calms both benches down," Thornton said. "I think it's 70 percent in these playoffs -- if you score the first goal, that team wins. So it's going to be huge for us tonight."
Jumbo huge
Asked what the Sharks were doing well against them in this series, Brown pointed to one specific player: Thornton.
"He's been a pretty dominant force throughout the series," Brown said. "He is really good on the offensive side of the puck. I think that's probably been the biggest part of the series for them is No. 19. From our blue line in, he's been really big and really hard. He's so big and strong, and then you add his skill level into it, it's a tough combo to defend. I think guys have battled hard against him, but he's been effective."
Western parity
Both second-round series in the Western Conference need seventh games to decide them, a fact Sutter felt was reflective of the competition in the West.
"Look at it, our conference has four teams going to Game 7," Sutter said. "It tells you how good the conference is and how close the teams are. That's clear. There's not a top to bottom, and it's probably the way it should be.
"The teams are really, really close."
May, 23, 2013
May 23
3:58
PM ET
LOS ANGELES -- The Kings' new forward lines were still a go at the pregame skate Thursday morning, meaning captain
Dustin Brown
and star center
Anze Kopitar
were on different units.
If the morning lines stand for Game 5 Thursday night, Kopitar will start with
Kyle Clifford
and
Justin Williams
, and Brown will be on the third line with
Trevor Lewis
and
Dwight King
.
"When you score two goals in 120 minutes, you got to mix it around," Brown said after the morning skate. "With Kinger and Lewis, they're both really hard-working guys with pretty good skill low. They have that two-man cycle game down pat. For us, it should be about simplifying our game, getting it into their zone and cycling. The important thing, and I mentioned this to Lewy and Kinger: it's one thing to cycle; we have to bring pucks to the net when we have the opportunity. Sometimes that's just bearing down, dropping your shoulder and going. With the size and skill we have on this line, that should be our goal."
For Clifford, it's a big promotion from the fourth line to Kopitar's line.
"It's definitely a big role, I just have to play my game, keep it simple and not change anything," Clifford said.
Dustin Penner
remained with
Mike Richards
and
Jeff Carter
, Penner having joined that duo midway through Game 4 in San Jose -- although Penner's promotion to that line doesn't mean Kings coach Darryl Sutter is completely satisfied with his play in this series.
"We need a bigger, heavier game from Dustin Penner. Very simple," Sutter said.
Stoll update
Jarret Stoll
is still not close to playing -- he hasn't even resumed skating -- but there was some news reported by Sutter on Thursday morning.
"He rode the bike yesterday for a few minutes," Sutter said. "He'll do that again today. It is protocol. Is it progress? It is if it's good today [how he feels on the bike ride]."
Sharks at Staples
The Kings have won 12 straight at home, where they're a comfortable bunch. What do the Sharks have to do to get traction here?
"I think we can build off of Game 2; we played a good enough game to win here," center
Logan Couture
said. "Obviously we took a couple of penalties at the end of that game that cost us. I think we played a really good road game that night. Hopefully we can build off that."
Veteran defenseman
Dan Boyle
agreed.
"It's important for us not to be complacent, not to be satisfied with what we've done so far," he said. "I've seen it in the past, I've been on teams where you come back a little bit in the series and then there's a letdown, you almost exhale for a second. I just think this team needs to keep going on what we've done over the past four games. We just need to keep going."
Better starts
The Sharks have had better starts three games in a row, and that's something the Kings were keying on heading into Game 5.
"I think it's based on your top guys," Sutter said. "I know we keep coming back to that, but if you look at how especially their top two lines early have been really good, we've had to sort of weed into that. That's the challenge for those groups."
The Sharks know the Kings were preparing for a big start and have also talked about that heading into Game 5.
"The first 5-7 minutes are going to be important for our team," San Jose coach Todd McLellan said. "We're going to have to get on our toes and make sure that we're aggressive and try to play those minutes in their end. I think they'll try to make the start a focal point on their behalf. We have to be prepared for it."
May, 22, 2013
May 22
9:55
PM ET
EL SEGUNDO, Calif. -- The next day often matters just as much as the game itself when it comes to a player returning to the ice after a lengthy absence.
Los Angeles Kings
defenseman
Matt Greene
gave it a thumbs-up Wednesday.
"I feel pretty good all things considered," Greene said after practice.
The veteran played his first game of the playoffs Tuesday night, when the San Jose Sharks defeated the Kings 2-1 in Game 4 to tie their West semifinal series 2-2. Greene was noticeably trying to get involved physically early on.
"That's the easiest thing -- get a hit, take a hit. It gets you in the game," said Greene.
Los Angeles coach Darryl Sutter had hinted Tuesday morning that Greene might be close to ready, talking about how he trusted veteran players more because they understood the difference between being injured and being hurt.
I asked Greene on Wednesday how the decision to play came about.
"Everybody wants to play right now," said Greene. "Sometimes maybe it's good that doctors step in there and tell you maybe you can't. But it was a combination of everything: I was feeling better, doctors OK'ing it and Darryl finding a spot in the lineup."
I'd count on Greene playing again Thursday night. At least given how Sutter rated Greene's performance in Game 4.
"I think Greener had trouble a little with the pace early, [his] competitiveness kept him in it, and as the game went on he played better. Which is refreshing to see," said Sutter.
Respect for the Kings
Back in San Jose, where the Sharks practiced before flying to L.A., it was clear the underdogs knew what is awaiting them in Game 5.
"They're a great team. You know, they're the champs," said Sharks captain
Joe Thornton
. "They've been good on home ice all year, but we feel like our game is getting better and better. Each series, it just keeps getting better. We have to go into L.A. and win one now."
The Kings outshot the Sharks 14-2 in the third period Tuesday night in a rally that felt just short.
"I think last game showed, as well as we played, that they just stick around," said defenseman
Dan Boyle
. "I think that's one of their strengths -- in the games or the periods that they could easily be down three goals, they find a way to just kind of stick around long enough to the point that a couple of late goals win games. I think they're a good, balanced team."
The Sharks have won two straight, but they don't believe they've seized momentum.
"In the playoffs, you turn the page after a win or a loss," said Boyle. "I don't believe in momentum that much come playoff time."
Added
Patrick Marleau
: "It's only good if you re-establish your game early on in the next game. You've gotta continue it, I guess. You can't sit back and rest on it."
The Kings have won 12 straight at home, a well-known fact in the Sharks' dressing room.
"Their record proves they're a pretty darn good team there," said Sharks coach Todd McLellan. "They have been for a number of years. The energy that they gather from their fans is a factor, as well. We know that, for us to accomplish our goal, we have to take something away from them in their building.
"This crack is our first chance at it, and it could be our last, so may as well do what we can right off the bat."
Quick in the middle again
One storyline that won't go away is how the Sharks will deal with Kings netminder
Jonathan Quick
and the aggressive manner in which Quick comes out to the top of his crease to stop pucks.
Quick has complained about contact from Sharks players, and it's a flash point in this series with on-ice officials fully on the lookout for it.
"The thing that kind of bugs me about him -- I don't know if I should say it -- is a little embellishment every now and then," Sharks winger
T.J. Galiardi
said Wednesday of Quick. "You skate by and you don't even touch him or you barely even touch him and he's throwing his hands in the air. But it's playoffs. Everyone is trying to draw a penalty. Whatever."
Galiardi himself has been accused of diving. But in this case, the Sharks winger says to just look at video of Quick for the proof.
"You guys see it," said Galiardi. "With video, something we like to say around here is, 'The ball don't lie.' It's an old basketball term. When you watch video, the video doesn't lie.
"When I'm skating by and I barely touch him and he's throwing his hands in the air, it's kind of one of those things -- he looks bad on video, not me."
March, 20, 2013
Mar 20
5:55
PM ET
With the trade deadline now two weeks away and teams narrowing their wish lists, the Rangers find themselves in a similar spot as most playoff hopefuls in coveting a top-four defenseman.
Ideally, the Rangers would like a right-handed defenseman who could help on the power play as well as bolster a blue line that is currently without
Marc Staal
. This need has been a long-standing one, actually. The Blueshirts have been seeking, and unable to find, a player that fits this bill since
Michael Sauer
was injured last year.
They now have one in particular on their radar.
A source confirmed what
ESPN.com's Pierre LeBrun mentioned earlier this week
, that the Rangers have interest in
San Jose Sharks
defenseman
Dan Boyle
.
The 36-year-old veteran, who has four goals and eight assists in 26 games for the Sharks, appeals to the Rangers as a smooth skater who can move the puck and improve the power play, and also one that can log heavy minutes. Boyle leads the Sharks with 23:21 in ice time per game, an important element in the wake of Staal's absence.
Staal averaged 24:27 per game before being sidelined with an eye injury that has him on the shelf indefinitely.
The Sharks are in eighth place heading into Wednesday's match against Edmonton and, although it does not appear that
GM Doug Wilson desires a massive shake-up
, it is believed that Boyle and a handful of other players are available at the right price.
Boyle is not a rental, either, but a source indicated to ESPNNewYork.com that the Rangers are not opposed to adding a player with years remaining on his contract if he's a good fit. Boyle has one year remaining after this season on a 6-year, $40 million deal that comes with an annual cap hit of $6.66 million.
The question is whether the Rangers are willing to match the Sharks' asking price. It is believed that San Jose wants to add some youth to its lineup without a complete overhaul, but the Rangers are reluctant to part with any of the team's young "core" players for Boyle.
And, if the Rangers were to take on Boyle's significant cap hit -- especially considering that the cap will lower dramatically next season -- the Sharks would have to be willing to take money back.
That leaves one obvious candidate:
Marian Gaborik
, who has been dogged by trade rumors for weeks.
Though the 31-year-old sniper is coming off a 41-goal season, the Rangers are open to moving him. Gaborik has been inconsistent this season and he carries a hefty price tag -- a cap hit of $7.5 million for one more year after this season -- but he could add some speed to the Sharks' lineup.
Of course, this is all for naught if Boyle spurns the idea of a deal. He does have a limited no-trade clause, although it is not immediately clear whether the Rangers are on the list of eight teams to which he would not accept a trade.
Boyle was asked about the trade rumors Wednesday morning and made it clear he wanted to stay put.
"This is where I want to be. I don't want to be anywhere else," Boyle told CSNBayArea.com's Kevin Kurz Wednesday morning in Edmonton. "It's not fun to hear that."
Unfortunately for Boyle, he will probably hear more and more as the deadline nears.
March, 19, 2013
Mar 19
8:42
PM ET
TORONTO -- The NHL's 30 general managers gather here Wednesday, exactly two weeks before the trade deadline.
It's a chance to push along some conversations that need to go to the next level.
The signing of
Corey Perry
by the
Anaheim Ducks
certainly sent shock waves through the league in the sense that many teams figured he would hit the open market in July and therefore potentially be in play before April 3.
Not so, which means contenders who had their eye on Perry as a possibility must now scratch him off their short list.
The
Boston Bruins
were one of those teams that were going to inquire about Perry had he been put on the market. Another name believed to be on Boston's list, as I reported last month, is
Daniel Alfredsson
, but with the
Ottawa Senators
' miraculous refusal to fall out of the playoff race despite injuries to almost all their top players, the B's are likely going to have to scratch his name off the list -- unless Ottawa has a dramatic downfall in the next two weeks, which seems unlikely.
So, now what for Boston?
Jarome Iginla
is a possibility, depending on the price.
The Bruins aren't going to overpay before April 3 just to say they did something.
Jaromir Jagr
and
Brenden Morrow
are possibilities as well, depending on what the
Dallas Stars
decide to do with both UFAs-to-be. At this point, I would suggest there's a stronger chance Morrow moves than Jagr; the Stars, I hear, are undecided yet on what to do with No. 68 and lot will depend on the offers they get and where they are in the standings come April 3.
The Bruins have been tracking Morrow, a hard-nosed, character player who, while slowed down by age, is still a terrific add-on for a contender.
The Stars will tread carefully here with Morrow, the respected team captain who has played his heart out for them. Morrow has a no-trade clause, and this will be about seeing what he wants to do in the end, seeing if he wants to go join an elite contender or not.
In the end, I think the Bruins are content to do nothing if there isn't anything that makes sense for them. They like their team a lot, although adding a blueliner is also on the list of things to do.
More scuttlebutt from around the league:
• Speaking of the Stars,
Derek Roy
is another name to watch. Like Jagr and Morrow, he's UFA after the season. Contract talks between Roy and the Stars haven't gone anywhere at this point, so he's a possibility to move. Again, Dallas will need to weigh where it is in the standings before being willing to do that.
Crazy thought from one NHL team executive Tuesday: Would the Flyers make a pitch to bring Jagr back to Philadelphia to play with
Claude Giroux
? Seems odd for the Flyers -- who aren't in a playoff spot -- to make a play for a rental player. But Jagr was such a good fit for Giroux last season ... Stranger things have happened.
• With Perry signed, the Ducks can focus on adding a player before April 3. Anaheim, I'm told, is sniffing around for a No. 2 center. The Ducks would have been in the mix on
Stephen Weiss
had he not needed season-ending wrist surgery. Derek Roy is on Anaheim's radar, but it's not clear whether both Western Conference rivals would find the right match in a deal.
And you can forget those
Bobby Ryan
trade rumors that surfaced as soon as Perry signed Monday night. I'm told the Ducks have no intention of shopping Ryan and feel just fine carrying his $5.1 million salary into next season along with the new deals signed by Perry and
Ryan Getzlaf
.
• The
New York Rangers
have been on the lookout for a top-four, right-handed defenseman and a source told me Tuesday that the Blueshirts have interest in veteran
Dan Boyle
from the Sharks. There's an obvious connection there, with Rangers head coach John Tortorella having coached Boyle in Tampa Bay when the Lightning won the Stanley Cup in 2004.
• My TSN colleague Bob McKenzie reported Tuesday night during our Insider Trading segment on TSN in Canada that he believes the ball is now rolling on the Iginla trade discussion front, at least in terms of the team and the player communicating the possibility of moving him. Boston, Pittsburgh, L.A. and Detroit, to me, are the teams that make the most sense and are clubs I know that have interest in Iginla. But can the Flames find a fit that makes sense both for them as an organization and for Iginla to feel comfortable enough to waive his no-trade clause? We shall see. A Flames front office source declined comment even off-the-record Tuesday night, which tells you what a delicate situation this is.
• Word on the street is the
Calgary Flames
will move
Jay Bouwmeester
(who has one more year on his deal) only if they get blown away by a really strong offer. St. Louis and Detroit are among several teams with interest in Bouwmeester, but it doesn't appear like he's going to move unless a team really spends high.
• The Ottawa Senators had given thought to dealing
Sergei Gonchar
before the April 3 trade deadline because he's a UFA after the season and they thought they might be out of the running with all the injuries. Instead, the Sens have stuck around in the playoff race and Gonchar has played well, enough that Ottawa, I'm told, is thinking it might keep him around.
March, 18, 2013
Mar 18
11:56
AM ET
The
San Jose Sharks
have played the second-most playoff games, behind only Detroit, since 2004, when a nine-year run as a contender began with a trip to the conference finals.
Because that run hasn't produced a championship -- although three conference finals appearances (2004, 2010, 2011) is nothing to scoff at -- the Sharks organization has ever quite got the kind of credit it deserves for having produced a contender year in and year out for so long, despite not being a big-market team and not having those big-market tools such as burying bad contracts in the minors or buying out underperforming players.
They've had to use many low draft picks to produce players, which they have. And GM Doug Wilson has been bold on both the trade and free-agent market when he's had to be, reeling in the likes of
Joe Thornton
,
Dan Boyle
,
Brent Burns
and
Antti Niemi
over the years.
But all good teams need a reset, and that moment is coming for this Sharks club. A roller-coaster season has revealed a club that, while on many nights has shown it can still compete with the best teams, other nights has shown itself worn down as well.
This team needs some tweaking, a fresh coat of paint.
You're not going to see a full rebuild in San Jose. It's a market that despite years and years of sellouts probably wouldn't support a full bottoming-out and redressing of the roster. In fact, the last time the Sharks missed the playoffs, in 2002-03, it's believed the club lost around 3,000 season-ticket holders the following offseason.
And because there are already some young and in-prime core players in place -- such as Niemi, Burns,
Logan Couture
,
Joe Pavelski
,
Marc-Edouard Vlasic
,
Justin Braun
,
Matt Irwin
and 2012 first-rounder Tomas Hertl -- it doesn't need a full, Edmonton-like rebuild.
But it needs something. And that something is coming, whether it's one or two moves before the April 3 trade deadline or more moves in the offseason.
The delicate dance here is that the Sharks are still sitting in a playoff spot (eighth place) -- although, in the crazy Western standings, that spot can change from night to night, as only four points separated sixth from 12th on Monday morning.
The Sharks might want to recoup draft picks and younger assets, without damaging their roster too much for this season.
Sources around the NHL tell ESPN.com that Wilson has listened on several of his players. And he's never been shy to act, one of the league's more active traders over the past decade.
Boyle, 36, could possibly be on the move either before April 3 or this summer as part of that roster tweaking. He's a name I've heard from other teams. He's got one more season left on his deal that pays him $6.66 million.
He'd be a valuable addition to a contender, that's for sure. And while I'm not sure people still consider the
New York Rangers
contenders or not, he's that top-four, right-handed D-man the Blueshirts could sure use.
Martin Havlat
is another name being bandied about. He's never quite fit in with San Jose despite being exactly what the Sharks needed when they got him -- more speed on the wings. The 31-year-old has two more years on his contract (at $5 million per) past this season. Again, he doesn't necessarily have to be moved now -- it can wait for the offseason. He also has a full no-move clause in his deal, so it would be up to him if he went anywhere.
But two players the Sharks must decide on before April 3 are
Ryane Clowe
and
Douglas Murray
-- two warriors of the Sharks' contending teams of the past decade, but both also on expiring contracts and UFA-eligible after the season. The Sharks have talked contract with Clowe's representative, but there hasn't been a deal and the clock is ticking. He might fetch a decent sum even as a rental player, given how rare power forwards of his skill set are ever available. And although he's had a disappointing season, he'd be a big-time playoff ingredient to add for a contender.
Know this: Whatever the Sharks decide to do, they saw this day coming. They've been planning for a long time that they would need to refresh their roster around this time. That's why they've got only $27 million committed in salaries past the 2013-14 season, which affords them the roster/payroll flexibility to tweak away over the next two years.
What will be intriguing is how they go about it. Because the plan is to remain competitive while they're doing it. And that's no easy chore.
October, 16, 2012
10/16/12
10:10
AM ET
By
Sarah Goldstein
| ESPN.com
December, 6, 2011
12/06/11
12:16
PM ET
Realignment reaction dominated the late entries in the weekly Rant Blog, and that's terrific. Most of the reaction from readers actually has been mostly positive, but we did find some negative feedback. Let's take a look:
---
ksitar2727: Dear, LeBrun, I liked everything about the realignment except for the fact that the top 4 teams from each conference make the playoffs. The 2 western conferences have to battle with 8 teams apiece. The 2 Eastern Conferences have it easy where each conference will have a team that will potentially be a below .500 team and still make the playoffs. In my opinion it would be better to have the top 3 teams from each conference qualify automatically and then let the 4 remaining spots go to the teams with the best records (kind of like wild cards in the NFL). That is the only problem with the new realignment. On a positive note, My Wings finally get a break!

ngehrke: The new realignment is ridiculous, the teams in the conferences with only 7 teams have a better shot at making the playoffs, what's up with that?
My take:
This is pretty much the single biggest criticism. The math obviously favors two conferences over two others. No one seemed to care in the 1980s when there were six teams in the Patrick Division (Pittsburgh, Philadelphia, Washington, N.Y. Rangers, N.Y. Islanders, New Jersey) and yet only five teams in each of the Adams (Montreal, Quebec, Buffalo, Boston, Hartford), Smythe (Edmonton, Calgary, Vancouver, Winnipeg, Los Angeles) and Norris (Toronto, Chicago, St. Louis, Minnesota, Detroit) Divisions. And like the old Norris Division of the '80s, there's always the concern that the fourth-place team in one weak conference will make the playoffs over a better fifth-place team in another. That's now back in play. The benefit, of course, is those great divisional rivalries that were born out of those '80s playoff series between the same teams year after year: Think Edmonton-Calgary, Montreal-Boston, etc.
The other thing to keep in mind is that there's always the possibility -- way down the road -- that the NHL expands by two more teams to even out the conferences. As well, don't forget Phoenix. It was smart to put the Coyotes in one of the two eight-team conferences because now if the league is forced to re-locate the Yotes next season, it has the flexibility of dropping them in one of the two seven-team conferences without batting an eye or making any other team move.
---
townsend1000: Why did the Wings have to stay in the West? I am so tired of trying to watch games at 10:30 local time.
My take:
For sure a move all the way east would be been the top option for the Red Wings, but I can tell they're quite satisfied with what transpired. Remember that one of the major changes in this realignment is that the schedule matrix was revamped so that every team in the league will play all other teams in the league at least twice (home and away) a year. That's huge and it's something the Red Wings were lobbying hard for behind the scenes. It means less travel to the West Coast and more to the East. In the end, you have to stop thinking about the league as East and West conferences. That will no longer exist once this realignment comes to fruition. There are now four conferences and the travel is spread out more evenly. Detroit is fine with this.
"When we heard Atlanta was moving to Winnipeg, our initial thought internally was that we wanted to go east," Wings GM Ken Holland told me over the phone from Pebble Beach, Calif., on Tuesday morning. "But as we went along, we realized there were more teams with issues than just us. Gary [Bettman] did a tremendous job to find a solution that appeased most of the teams. As we looked at this four-conference format, we realized we got every team in our building that our fans want to see. We make only one trip to Western Canada and one trip to California a year. And we get more games in prime time for television. The bottom line is that we're happy. From a competitive standpoint and from our fans' standpoint, we're happy.''
---
OHasia: Pierre, how worried should I be about the Blackhawks' defense? I know, I know, they are sitting near the top of the conference, but watching this leaky defense is strange and foreign to me. The offense scores on a whim, their 5 on 5 is top notch, but by golly, we can't keep the opposing team out of our zone. There are silly turnovers, lackluster board battles. I don't know how they'll make it anywhere in the post-season with this trend.
My take:
A worthwhile comment there, my friend. The Hawks as of Tuesday morning were 21st in goals against per game and 28th on the penalty kill. The two clubs that finished 1-2 in goals against per game last regular season? None other than Vancouver and Boston, the two eventual Cup finalists. So tightening up will indeed be a priority for the Hawks. They can certainly play better team defense but you also have to put some of the blame on sophomore goalie Corey Crawford. His 3.00 goals-against average is 30th among the 40 netminders ranked among goalie leaders, and his .896 save percentage is 34th. Not good enough. But again, he's not alone in this. The Hawks are not playing well defensively as a team. Beefing up the blue line will be a priority for the Hawks before Feb. 27.
---
Rwoodwell000: Why at times does Ilya Kovalchuk look like one of the top players in the world and at other times like he doesn't even belong in the AHL? Just in the Minnesota game he fans on a shot from the point Heatley goes and buries it and then he just trips over the blue line and Minnesota scores again for two unassisted goals in about 5 minutes. Finally later in that game he works his magic in the offensive zone fires a shot and scores. I do not get it, it's sickening. Any thoughts about this?
My take:
He has always been a total enigma to me. I know from talking to people who know him well that he's misunderstood. He truly cares about winning. But to have his kind of talent and have only six goals in 20 games this season (plus a minus-11 rating) is truly mind-boggling. From day one, his signing in New Jersey never truly fit. His linemates often look like they're forcing passes to him. He should have taken less money and gone to Los Angeles in the summer of 2010. I think he would have found better chemistry with Anze Kopitar, much like he had with Marc Savard in Atlanta.
---
[+] Enlarge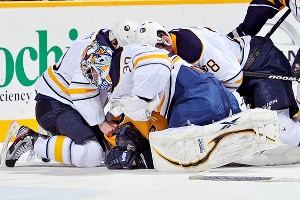 Frederick Breedon/Getty ImagesWhat will come of Jordin Tootoo's hit on Ryan Miller?
jjg0257: Sabres fan here and I actually feel bad for Shanahan right now. Even though Tootoo's hit on Miller was far less of a "running the goalie" type hit than the Lucic hit, Shanahan is going to feel obligated to suspend him. If the Lucic hit never happened, Tootoo doesn't get a 5 minute major and probably never gets a hearing. Shanahan blew it on the Lucic hit because Bruins don't get disciplined and now he's got no choice on Tootoo. But let me be clear: Tootoo definitely could have avoided his dive into Miller. Erhoff knocks the puck away from him right before he makes his cut. And just ask Ryan Kesler how to avoid hitting a goalie.
My take: Brendan Shanahan was slated to deliver his verdict Tuesday regarding Jordin Tootoo. One of the key elements that I believe Shanahan looked at when reviewing this play was that Tootoo got a five-minute major for charging, not a minor for goalie interference. There's a big difference there. The major for charging suggests a greater level of intent on Tootoo's part -- at least that's what I believe the league thinks. Because of that, the league will feel a suspension is warranted. But it's a hot-potato issue, given that Miller was involved in the original incident this season that spawned the GMs to talk about goalie safety. The decision will have political overtones regardless of the decision.
.
---
prashanthiyer: Mandatory Visors. So many players this week took pucks, sticks and blows to the head and it's only a matter of time before we have a career-ending injury. We saw the seriousness with Manny Malholtra and his gruesome eye injury, and it can happen again and can be much more serious. Put on a visor and use the grandfather rule to allow people in.
My take:
Completely agree, and have been on record saying so for many years. It's up to the NHL Players' Association. It continues to get feedback from its membership every year, and every year the union says there's not enough support to implement it. It drives me crazy. Luckily the wearing of visors is up every year. The NHLPA says the use of visors is at an all-time high, 68 percent. The day can't come fast enough when we see 100 percent of the players wearing them.
---
badstar82: How long until we can expect to see what the Capitals will look like under their new coach? Dale Hunters system can't simply be installed overnight. I realize this, and the two wobbly games after his arrival are evidence of that, so at what point do fans get the green light to start getting dissatisfied if this team doesn't get it together?
My take:
Never mind Caps fans being dissatisfied if this doesn't turn around, what about the GM? My belief is that unless the Caps get going soon enough, George McPhee will being working the phones hard to make roster changes.
---
bleed_teal13: The Sharks are a defensive disaster! They can't kill a penalty to save their lives, and their star blueliner, Dan Boyle, seems to be approaching terminal velocity as he's falling from the graces of the teal faithful. He is costing San Jose games as he struggles to keep pace with opposing offenses, commits penalties and puts his awful PK on the ice. It's evident he's on the back side of his career, but the Sharks need to trade him for some youth while he still has some value.
My take:
Trading Dan Boyle doesn't make sense. He's struggling right now, but history shows his game will turn around. What's alarming, though, is the team's PK -- ranked dead last in the NHL. That's unacceptable for a Stanley Cup contender. Manny Malhotra was a big loss a few years ago in that department. I didn't like San Jose's third/fourth lines to begin the season. I think the Sharks need to look at the trade market before Feb. 27 to add some veteran checkers with a reliable performance record on the PK. That's the area where I think this team could improve the most.
---
bbmaggiemay: You know it's coming. How could NHL ignore Jimmy Howard on NHL All Star vote. A write-in candidate. Seriously? He has been a top-10 goalie two years running. Much like Osgood, if you have a great team playing in front of you then you don't reserve respect? Red Wing goalies are the Rodney Dangerfield of the NHL. Your thoughts?
My take:
Completely agree that Howard should have been put on All-Star ballot. He's having the best season of his career right now. That's why I had him as one of my five Vezina Trophy candidates at the quarter-pole.
February, 9, 2011
2/09/11
12:03
PM ET
On the morning of Jan. 14, the San Jose Sharks hit rock bottom after losing their sixth straight game the night before and the standings showed the Dallas Stars with a 10-point lead atop the Pacific Division.
Another division title was the last thing on the collective minds of the stupefied Sharks. Just making the playoffs was in question for last season's Western Conference finalists.
Fast forward to Wednesday, and the sizzling Sharks are now just one point behind the Stars for the division lead. I'm not sure star blueliner Dan Boyle even knew that when I mentioned it to him Tuesday night following his team's 2-0 road win against Washington.
[+] Enlarge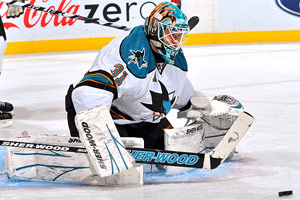 Steve Babineau/NBAE/Getty ImagesAntti Niemi has two straight shutouts for the Sharks.
"You know what, I try not to look at the standings," Boyle told ESPN.com over the phone. "We did a lot of damage with the six losses in a row. That was a pretty tough time for our team. We did some damage then, and now with this streak, we're just scratching back up to the surface as far as getting out of it.
"As well as we've played, we know there's 30-odd games to go and we can't afford a long losing streak."
Some folks were more than happy to close the curtains on the Sharks during that six-game losing streak, but San Jose is 8-1-1 in its past 10 contests. And with the Stars dropping five of their past six games, the Pacific race has been reopened, and not just for the Stars and Sharks. The Coyotes are just one point back of the Sharks, the Ducks one point back of the Coyotes, and the surging Kings just two points behind Anaheim. It's the only division in hockey where all five teams have 60 or more points in the standings and with the best shot of seeing all five clubs make the dance.
But back to the Sharks. Just how exactly does one explain a six-game losing streak followed by an 8-1-1 run?
"I really don't know, because we haven't changed one thing as far as X's and O's are concerned," said Boyle, who scored his team's second goal Tuesday night. "Everything's the same. I just think we're finding ways to win. We're executing and we're not letting those one or two mistakes kill us like we did in the first half of the season."
I think the Sharks are back for a number of reasons. Joe Pavelski has stepped it up after a disappointing first half. He was so important for them last spring. I also think the blue-line corps as a whole has improved. Fewer turnovers back there. In goal, Cup-winning goalie Antti Niemi has finally come into his own after struggling to adapt to his new surroundings in the first half. His posted his second straight shutout Tuesday night.
"Yeah, confidence is contagious, individually," Boyle said. "You can see some guys are more confident with the puck, which comes when you're winning hockey games. And certainly our goalie is looking much more confident now than he did in the first half. It's a combination of him making key saves at the key time, and the forwards and D-men are clearing rebounds."
The streaking Sharks take their act to Columbus on Wednesday night, where the Blue Jackets are coming off a huge 4-1 win against a depleted Pittsburgh squad Tuesday night and are 5-2-0 in their past seven games as they try to keep their hopes alive. There's never an easy game in the Western Conference.
To steal a storyline from Washington, perhaps all of San Jose's first-half adversity will pay off come the spring given that the Sharks have walked through the regular season seemingly untouched the past few seasons.
"You don't want to cut it too close,'' Boyle said about the adversity being a blessing. "But maybe for some of the younger guys ... it'll give them experience in terms of some of the things they'll face come playoff time, whether that's being behind in a game or a series. Hopefully."