Cross Checks:

Dan Carcillo
March, 7, 2013
3/07/13
9:46
AM ET
By
ESPN Stats & Information
| ESPN.com
Blackhawks 3, Avalanche 2
* Blackhawks: extend NHL-record streak for games with a point to start season to 24 games (21-0-3)
* Blackhawks: have earned at least one point in last 30 regular season games dating back to last season (2nd-longest such streak in NHL history)
* Blackhawks: won 11 straight games (extends franchise record)
* Dan Carcillo (CHI): scores go-ahead goal with 50 seconds left in regulation (1st goal of season)
Most Consecutive Games with a Point, NHL History
1979-80 Flyers 35
2011-13 Blackhawks 30<<
1977-78 Canadiens 28
>>Active
Most Wins after Trailing, This Season
Blackhawks 12<<
Ducks 10
Maple Leafs 8
Hurricanes 7
Senators 7
>>Includes 3-2 win Wednesday vs Avalanche
FROM ELIAS SPORTS BUREAU: The Blackhawks extended their winning streak to 11 games with a 3–2 victory against the Avalanche. Eight of the Blackhawks' wins during their streak have been by a one-goal margin (including two in overtime and two via shootouts), one was by two goals and two by three goals. Chicago is the second team in NHL history to win 11 consecutive games in one season with none of the wins by more than three goals. The other team with an 11-game streak of that kind was the
San Jose Sharks
in 2007–08 (Feb. 21–March 14).
FROM ELIAS SPORTS BUREAU:
Ray Emery
set one NHL record and one Blackhawks team record with his win over Colorado. He's the first goaltender in NHL history to win his first ten decisions in one season and the first netminder in Chicago franchise history to record ten consecutive wins at any point in a season. Glenn Hall's streak of nine straight wins in 1966–67 had been the Blackhawks record until Emery bested it on Wednesday night.
Flames 4, Sharks 1
*
Jarome Iginla
(CGY): Goal (7), assist; 6 goals in past 5 games
* Flames: have won 4 straight home games
* Flames: 2nd win in past 7 games (2-3-2)
* Sharks: 2-6-1 in past 9 road games
FROM ELIAS SPORTS BUREAU:
Miikka Kiprusoff
recorded his 16th win against his former team, the Sharks, in Calgary's win on Wednesday. The only active goaltender with as many wins against a former team is
Jean-Sebastien Giguere
, with 17 against Calgary.
Maple Leafs 5, Senators 4
* Maple Leafs: 4-1 in last 5 home games (16/17 on penalty kills)
*
James Reimer
(TOR): 6-1-1 in his career vs Senators
* Senators: 1-7-2 in last 10 road games
FROM ELIAS SPORTS BUREAU:
Phil Kessel
matched his season high for points in one game when he scored one goal and assisted on two others in the Maple Leafs' 5–4 win over the Senators. Kessel has scored 21 goals in 40 games against Ottawa in his seven seasons in the NHL. That's the most goals that any player has scored versus the Senators over that span. Nineteen of Kessel's goals against Ottawa have come in the last five seasons (25 games).
Ducks 2, Coyotes 0
*
Ryan Getzlaf
(ANA): goal, assist (13 points in last 7 games)
*
Jonas Hiller
(ANA): 1st shutout this season (allowed 4 goals in previous game, also vs Coyotes)
* Ducks: won 3 straight home games vs Coyotes (outscored Coyotes 12-3)
* Ducks: won 9 straight home games
February, 3, 2012
2/03/12
11:42
AM ET
Tim Gleason
was a man in demand.
Philadelphia, Boston, Chicago, Nashville and Detroit were just some on a long list of the teams that were believed to have some level of interest in the rugged defenseman.
Slated for unrestricted free agency on July 1, he was an obvious target for playoff-bound contenders, and the trade rumors were hard to ignore.
"I was pretty much going somewhere every day," Gleason laughed Thursday night in a chat with ESPN.com.
Hurricanes GM Jim Rutherford knew he could get very good value for Gleason, but he wrestled with the thought of having to replace him next year.
[+] Enlarge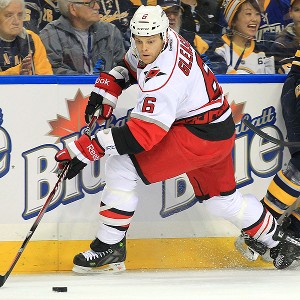 Kevin Hoffman/US Presswire "The last 10-15 games, we're moving in the right direction," Tim Gleason says of his decision to stay in Carolina. "We're in every game. It's only going to get better I believe."
"Despite what the rumors were, I don't think at any time we had made a decision we definitely wouldn't keep him," Rutherford told ESPN.com Thursday night. "As we studied it, we just felt if we let him go that he'd be hard to replace. So we met during the All-Star break and we're able to get something done."
Said Gleason of the four-year, $16 million extension announced Monday: "It got done pretty quickly."
The deal includes a no-trade clause for the first two seasons of the deal, but it doesn't kick in until July 1. Because of that, Gleason's veteran agent, Pat Morris of Newport Sports, protected his client by getting in writing Rutherford's assurance that he wouldn't move Gleason between now and July 1.
Rutherford looked Gleason right in the eye and promised him as much.
"I shook Jimmy's hand, it was a promise," Gleason said. "You have to respect that, obviously. Jim is well respected by myself and my family. We were happy to get the negotiations finished."
The grass can often look greener in pro sports. Gleason knew some of the teams rumored to want his services had a serious shot at winning a Cup. But he said he the Canes are turning things around, and he wants to stick around for it.
"The last 10-15 games, we're moving in the right direction," Gleason said. "We're in every game. It's only going to get better I believe. That was part of my decision."
The other part? Gleason and his family have been in Raleigh since 2006. It's home now.
"I've been here for a while and you get to know people inside and outside of hockey," he said. "Friendships are hard to find here and there around the hockey world. We're happy here."
Red Wings' shopping list
The
Detroit Red Wings
remain on the hunt for a top-six forward, but I'm not so sure they're as keen on Oilers winger
Ales Hemsky
as they were earlier this season.
I was told Friday that now they're more inclined to try to pick up a forward who has more edge to his game.
Forward
Tuomo Ruutu
of the
Carolina Hurricanes
is one of several names on the Wings' short list. But, will he be available in the end? The Hurricanes could always pull a Gleason with Ruutu and talk extension with the forward before deciding whether to trade him.
The Wings are like many of the contenders right now, they haven't done anything because the buyers outnumber the sellers on the trade market.
As for Hemsky (UFA on July 1), I believe Los Angeles and Nashville still have interest in him.
I wrote earlier Friday that perhaps
Dominic Moore
would be another name the Wings were interested in, completely forgetting
the history between the Moore family
and
Todd Bertuzzi
. Scratch that idea.
Schneider's future
Cory Schneider
's trade value continues to soar with each and every impressive performance.
But judging from what sources around the league are telling ESPN.com, I would be stunned if the
Vancouver Canucks
moved him before Feb. 27.
It's not impossible, but my understanding is that the Canucks would have to be absolutely blown away by an offer.
My sense is that the Canucks are more than happy to have a 1-A and 1-B situation in goal with
Roberto Luongo
and Schneider entering the playoffs, giving themselves tremendous insurance should Luongo either get injured or struggle.
Come summer, the Canucks can revisit their situation in goal and capitalize on their depth on the trade market.
I also think it's brilliant that coach Alain Vigneault started Schneider for a key game in Boston earlier this season, as well as in this past week's win over the rival Blackhawks. It gives Vigneault the necessary confidence to know that if he has to go to Schneider in a playoff game, he can do so without worry.
Jagr's extension talks
The Flyers and Jaromir Jagr's agent, Petr Svoboda, had preliminary conversations last month about a possible extension.
Jagr wanted some time to think about things before getting back to the Flyers.
"I'll be talking to [Flyers GM] Paul Holmgren again within a week probably," Svoboda told ESPN.com Wednesday.
Jagr, who turns 40 on Feb. 15, signed a one-year, $3.3 million deal last summer. He'll be an unrestricted free agent on July 1, but there's obvious interest in staying in Philadelphia if both sides can come to agreement.
"It's a good situation for him there," Svoboda said.
Blackhawks not done
Chicago's acquisition of veteran center
Brendan Morrison
doesn't mean the Blackhawks are done before the trade deadline.
The Hawks, I'm told, would like to acquire a defenseman to play on their third pairing. After allowing eight goals in Edmonton on Thursday night to sit 25th in goals against in the league entering the weekend, help on defense should indeed be a priority.
And despite getting Morrison, they'd still be willing to add a forward, one with grit. With the rugged
Daniel Carcillo
out for the season, they'd like a little sandpaper in any forward they acquire.
Predators' recent success
One of the reasons for Nashville's torrid run of late might surprise some, given that people assume defense to be the team's top priority. Fact is, the Preds were middle of the pack in early January in goals against but have really tightened up over the past month.
"Defensively we've been much better than we were earlier in the year," Preds coach Barry Trotz told ESPN.com this week.
Trotz also pointed to the leadership on the team as a major contributing factor.
"The young guys are playing more like poised veterans, and the veterans are doing a really [good] job in terms of helping them out," Trotz said.
"Our core of leaders is as strong as it's ever been here in terms of character and work ethic. Also in terms of accountability to teach others, they don't take any days off; they're very professional."
January, 5, 2012
1/05/12
3:35
PM ET
By
ESPN Stats
and
Information
| ESPN.com
Rene Bourque
(5 games) of the Flames and Dan Carcillo (7 games) of the Blackhawks were each suspended for on-ice incidents in recent games. Both have been suspended for the 2nd time this season. Bourque and Carcillo join
Raffi Torres
,
Patrick Kaleta
and
Andy Sutton
as players who have been fined and/or suspended for multiple incidents this season.
Bourque's suspension is the 11th time this season a player has been fined or suspended for a hit to the head. Carcillo's was the 7th for a boarding incident, but just the 2nd that resulted in a suspension.
Most Common Suspension with Reason, This Season
Hit to head, 11
Hit from behind, 8
Boarding, 7
High sticking, 4
Charging, 4
The Cost
Bourque's is the 4th incident by a Flames player which has resulted in a fine/suspension, tied with the Sabres for the most in the NHL. Carcillo owns both of the Blackhawks reasons for fine/suspensions this season.
Bourque will lose $203,252.05 in salary based on his suspension. He forfeits salary based on the number of games in the season because he's a repeat offender. It's the 3rd-highest amount of money lost because of a suspension this season. The Sutton and Wisniewski suspensions listed above are the 2 incidents which saw the most salary lost.
That brings the total games suspended for on-ice incidents during preseason/regular season to 96
The total money lost is $1,673,259.82.
January, 5, 2012
1/05/12
11:09
AM ET
Scott Burnside and Craig Custance today drop the gloves on inadequate suspensions and the rumors as the trade deadline approaches. Go!
BURNSIDE:
Good day, Mr. Custance. Always a pleasure to hang out with you as we did in Philadelphia. Not a pleasure, however, to see that NHL players still don't get it, do they? At least guys like
Rene Bourque
and
Dan Carcillo
, who were both suspended by the NHL on Wednesday. Both Carcillo, of the
Chicago Blackhawks
, and Bourque, of the
Calgary Flames
, are multiple meatheads in that they have both been suspended -- Bourque earlier this season -- and are considered multiple offenders. But what troubles me is that if, as league disciplinarian
Brendan Shanahan
told us early in this season, one of his main mandates as prescribed by the league's GMs was to weed out the guys who don't learn their lesson, why are we still seeing single-digit suspensions? For me this is where the league says one thing but does another. Carcillo is a marginal player at best, and his hit on
Tom Gilbert
was dangerous, so why not give him 10 games? Why not 20? Bourque's hit was even more egregious in my mind. He went out of his way to elbow an unsuspecting
Nicklas Backstrom
in the head in the neutral zone and now Backstrom is out with what might be a concussion. It's not enough
Sidney Crosby
remains out with a concussion? Or
Alexander Steen
or
Chris Pronger
or ... shall I continue? Bourque has talent. But earlier this year, he rammed
Brent Seabrook
from behind and earned a two-game suspension. Learned his lesson? Guess not. What are the Capitals' chances of making the playoffs, let alone going on a long playoff run, without Backstrom, one of the top centers in the game? How is the league served by a five-game suspension? It's not. Repeating within a few weeks of an earlier suspension should open the door to 10, 15, 20 games. Want to clean up the game? Then clean it up, don't sweep the dirt into a pile and leave it for others to step in.
CUSTANCE:
Wow, not much to add there, Scott. You came out firing today. You know who I feel bad for in all of this?
James Wisniewski
. He gets hammered to start the season, a suspension that cost him half a million dollars ("The financial cost was absurd," he told me right before returning to the lineup) and that suspension derailed the Blue Jackets' season. At the time, I was OK with it because it looked like this was where justice was headed in the NHL, especially since Wisniewski had a history. But you're right, the message hasn't been consistent. I was stunned when I heard that Bourque's hearing wasn't in person. I assumed that would be a five-game minimum. That's not a hockey play, and now one of the best young talents in the league is sidelined -- a sentence written far too often the past couple of years. Hey, on the bright side, they're naming All-Star Game starters today. What? That doesn't interest you? One thing that really interested me from last night were comments from Anaheim, where Bob Murray is clearly agitated after losing again and told the great Helene Elliott that only
Teemu Selanne
and
Saku Koivu
are safe. Can you imagine the stampede of GMs scrambling to call about
Ryan Getzlaf
and
Corey Perry
?
BURNSIDE:
Yes, what started with such promise as far as the league's efforts to curtail needless violence has once again fallen into a quagmire of inconsistency. At least there is now video to accompany the decisions, although I had no idea George Orwell was still available to write the text. But your point on the Ducks is a good one and raises some interesting possibilities as we head toward the trade deadline at the end of February. I think there will be a few GMs like Bob Murray who have a lot of money tied up in long-term deals and figure it might be worth it to cut bait in advance of a new collective bargaining agreement that some believe might include some sort of salary amnesty in terms of buying out contracts. For instance, if you think you might buy out Corey Perry or Ryan Getzlaf anyway, why not see what the market might produce in terms of top assets and draft picks? And you're right, if you're Detroit or another top team that's going to have some cap space, those kinds of players would certainly draw a lot of attention and should make for a lot of action over the next eight weeks. Now, there's always a team that tries to get ahead of the curve before the trade frenzy really sets in. Any guesses who might move first?
CUSTANCE:
To me, it would have to be a team with a little more desperation. You know guys like Paul Holmgren and Ken Holland are going to be aggressive at the trade deadline, but I don't get the sense they're in a hurry. But if you're Steve Yzerman and the
Tampa Bay Lightning
and you still think you can make the playoffs this season, you don't want to wait until February to find out. It was around this time last year when he added
Dwayne Roloson
, and the Lightning could certainly use another boost in goal or on defense. And what about the Predators? We've been so wrapped up in what they're going to do with their two franchise defensemen, but I wouldn't be surprised if GM David Poile found a way to add some offense in an attempt to further try to convince both guys to stick around. Another team at a crucial point in their season is the
Los Angeles Kings
. Their big move was a coaching change, so I suspect GM Dean Lombardi will let that roster settle a bit before making any additions. We chatted about the Kings' strong start under Darryl Sutter yesterday. "If you're going to do something this drastic, you think long and hard about it. I think making trades, draft choices, these type of things are difficult but the decision on when to change your coach is the most difficult," he said. "It's a grueling process mentally." The Kings are emerging from the grueling process quite well and
Jonathan Quick
called the entire thing a wake-up call for the players. Which team do you see making a roster move sooner rather than later?
BURNSIDE:
Well, I was just plain wrong -- so far -- on the impact I expected Darryl Sutter to have. And good for Dean Lombardi for getting it right with his gut call. And having spoken to Lombardi shortly before the firing, I know he was reluctant to make any moves before he knew what kind of team he had; no sense spending assets to bring in offensive help if your core isn't deserving of the expenditure. Now that they're back in contention (they were in eighth as of Thursday morning but just a point back of San Jose, which sits atop the Pacific Division) I wouldn't be surprised if Lombardi looks for some help up front. What about
Ales Hemsky
, who isn't my cup of tea but for a rental might be attractive to a team like the Kings or Wings? Lots of talk earlier about
Alexander Semin
, who will be a UFA this summer, and his value has actually gone up with the Caps' strong play of late. Would George McPhee move Semin if he thought he could add another piece somewhere else? Much will depend on Backstrom's ability to get back in the lineup as to what the Caps' plans entail. I wouldn't be surprised to see the Canucks try to add another defensive piece. I remember GM Mike Gillis talking at the start of the final that his goal was to have as many NHL-ready defensemen as possible. In the end he still was a tiny bit short, but expect him to try to follow a similar mantra heading into this trade deadline. And I like your take on the Preds as David Poile enters one of the most challenging trade deadline periods of his tenure in Nashville.
CUSTANCE:
There's going to be a lot of general managers looking to add depth on defense, with Gillis' Canucks from last season a shining example as to why you need a good seven or eight NHL defensemen at your disposal if you want to make a long NHL run. Looking back at the Capitals' problems last spring, their lack of depth on defense might have been the biggest issue, and I'm sure George McPhee won't let that happen again. As for tonight, there's a load of games with one that really jumps out at me -- the rematch of the 2010 Stanley Cup finals between the Flyers and Blackhawks. We can watch how the Flyers' goalie situation unfolds against the powerhouse Blackhawks, then tune into HBO and relive the experience of the Winter Classic in the final "24/7" episode. Good thing we didn't have cameras following us around in Philly. Great time as always at the Winter Classic. And great chatting with you, Scotty.
January, 4, 2012
1/04/12
8:48
PM ET
Chicago Blackhawks
forward Dan Carcillo has been suspended for 7 games for his boarding penalty against the
Edmonton Oilers
.
NHL discipline czar Brendan Shanahan explains the ruling here (video courtesy of the NHL):