March, 4, 2013
3/04/13
1:03
PM ET
It is tough enough to take as it is, seeing the star goalie of your team go down.
But for
Carolina Hurricanes
backup netminder
Dan Ellis
, what's eating at him even more is that he was supposed to start Sunday when Ward was injured.
"The way in which he went down when he's covering your start for you because you're not feeling well, it just stinks to see your partner go down in a situation like that," Ellis told ESPN.com on Monday.
Flu-ridden, Ellis figured it was better that Ward should go against Florida on Sunday.
"I wasn't feeling well at all," Ellis said. "I knew Cam was feeling and playing really well, I just figured it was probably better putting the healthy guy in. Now you wish you would have found a way to get through it."
As it turns out, Ellis played the last half of the game after Ward was injured. Now Ellis, 32, will be counted on even more with Ward out six to eight weeks with an MCL injury.
"It's a good opportunity to play some games but at the expense of losing a guy like Cam, it's definitely got a bittersweet type of feeling to it," Ellis said. "You never like to see your partner go down. But I've got to go out there now and pick up where Cam left off."
That four-point lead at the top of the Southeast Division for the Hurricanes will be severely tested after the news about Ward on Monday.
What's unusual for Carolina is that Ward has been just so durable over the years (fourth most games played by a goalie in the NHL since the start of 2006-07), the Canes aren't used to playing without him.
"He's played through injuries and he's been a healthy guy that's given us a lot of games and obviously carried our team at times," veteran Carolina GM Jim Rutherford told ESPN.com on Monday. "So he will be missed. It's just part of our game that you have to deal with."
Ellis has experience as a No. 1 netminder from his days in Nashville. Also, with Anaheim in 2010-11, he became the starter for the injured
Jonas Hiller
.
"It was similar when I was traded to Anaheim when Hiller was out," Ellis said. "I've been given this opportunity in the past. You just want to draw on your past experience from Nashville and Anaheim and go out there and give your team a chance to win every night."
Ellis has rock-solid numbers this season as the backup: a .923 save percentage and 2.53 goals-against average.
Youngster
Justin Peters
has been terrific with Charlotte of the AHL, posting a .921 save percentage and 2.29 goals-against average, and will be the backup.
"It's tough for any team, you can never fully replace your No. 1 guy," Rutherford said. "But we have two capable guys. Peters has had an outstanding season in the American Hockey League."
Rutherford might be on the lookout for goalie depth at the AHL level but don't expect any big goalie trade otherwise. Ward will be back, the Hurricanes just have to survive until then.
Carolina continues, however, to look for help on defense. That's been the main area of focus for a while now and if/when the Hurricanes make a deal, it will likely be for a defenseman.
Panthers hobbling
Meanwhile, in South Florida, there's no truth to the rumor Dale Tallon is coming out of retirement to play.
But the GM of the Panthers is running out of bodies, that's for sure.
Jose Theodore
,
Dmitry Kulikov
and
Scottie Upshall
were all injured Saturday and joined a group that already included
Mike Weaver
,
Kris Versteeg
and
Ed Jovanovski
on the sidelines.
It's not clear yet how long Theodore, Kulikov and Upshall will be out, although it's expected Theodore (groin) is a long-term situation.
"We don't have any firm results yet on anybody, they are getting checked today, we'll have more to say tomorrow," Tallon told ESPN.com on Monday.
Theodore is a sizable loss as the No. 1 netminder, but the reality is that the Panthers were eventually this season going to hand the reins over to 23-year-old
Jacob Markstrom
in net anyway. He's going to be their No. 1 netminder when next season opens. Instead, he gets his shot now.
The Panthers, a surprise playoff team last season, have yet to ice a healthy roster this season and it doesn't bode well for the rest of the season.
"We got off to a bad start; first game of the season, we had six guys out and second game of the season we had four guys out, we've had 4-5 guys out every game almost all year," Tallon said. "Now, we've 6-7 guys out. It's just how it is. The good news, our kids are good.
[Jonathan] Huberdeau
is lighting it up. Every day he's getting better and better.
[Peter] Mueller
has been outstanding and so is
[Drew] Shore
.
[Erik] Gudbranson
was good yesterday. So you know, we look at the bright side."
Huberdeau has indeed been incredible to watch.
The Panthers are last in the East, although five points out of the last playoff spot isn't the end of the world.
"We're still not out of it; we need to get on a little bit of a roll. It's going to be hard to do obviously with our lineup decimated by injuries," Tallon said.
Realistically, the injuries will likely force the GM's hand, in my opinion. It's pretty close to white-flag time. I would look for the Panthers to take calls on some veterans in the not too distant future and turn the page to focus on youth.
Oilers grab some grit
The Leafs moved rugged winger
Mike Brown
to the Oilers on Monday for a conditional 2014 fourth-round pick, which becomes a third-rounder if Edmonton makes the playoffs this season.
It was a tough move for GM Dave Nonis, who liked what Brown brought but, in the end, the return of
Matt Frattin
from injury forced a roster decision. This came down to keeping Brown or
Frazer McLaren
and the latter is a bigger dude who can take on the big guys in this league. Brown is game but more of a middleweight. Mind you, Brown is also a better skater.
The Oilers are in dire need of grit up front. The young Edmonton team is getting pushed around. The Oilers are dead last in the NHL with four fighting majors (Toronto leads the league with 24).
Lots of skill on this Oilers team, but very little sandpaper. Brown will bring that, but I suspect the Oilers aren't done trying to toughen up between now and next season.
March, 1, 2011
3/01/11
8:01
PM ET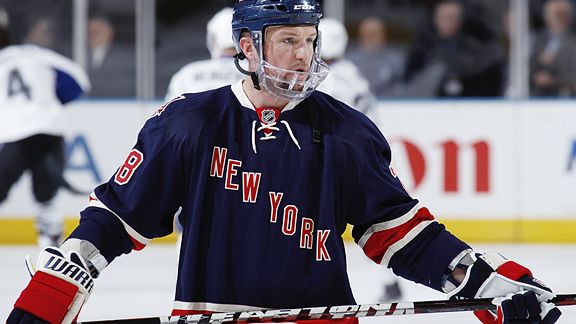 Scott Levy/Getty ImagesNo longer wearing the 'C' for the Panthers, Bryan McCabe may get a chance to play his first playoff game since 2004.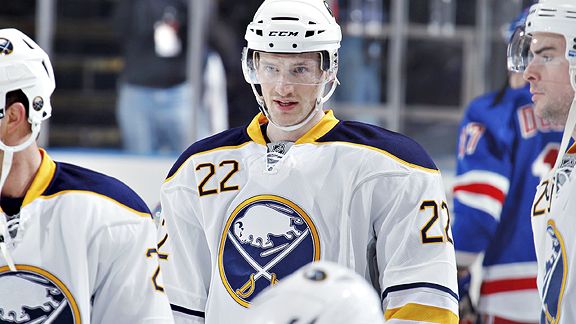 Scott Levy/Getty ImagesBrad Boyes gets to know his new Sabres teammates after getting traded by the Blues.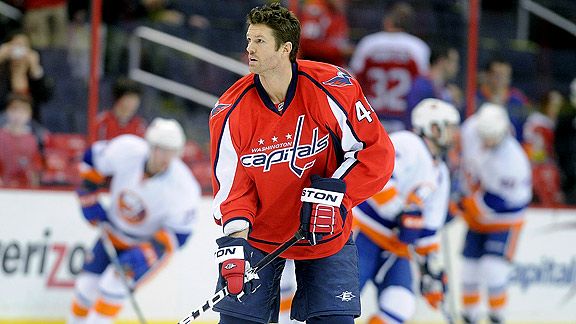 Greg Fiume/Getty ImagesJason Arnott waived his no-trade clause in order to be traded to the Capitals.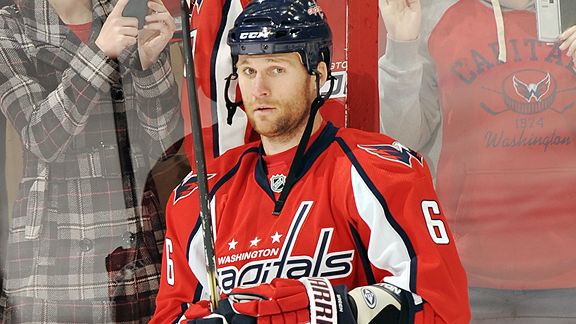 Mitchell Layton/Getty ImagesDennis Wideman gets his first look at the Washington crowd as a member of the Capitals.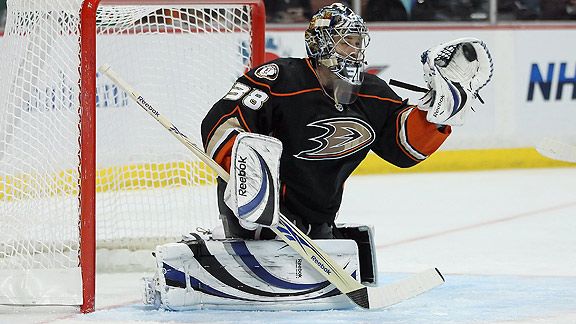 Jeff Gross/Getty ImagesStill wearing his pads in Tampa Bay colors, Dan Ellis took his place in net for the Ducks.
February, 24, 2011
2/24/11
2:51
PM ET
Scott Burnside and Pierre LeBrun break down today's deals, including the Pens' acquisition of Alexei Kovalev, the Ducks-Lightning goalie swap and Montreal's move to add more D:
Burnside: Another busy morning in the NHL. It's further proof that you and I are destined to spend most of our time in Bristol next week with our feet up drinking cappuccinos!
First, the Anaheim Ducks tried to stem the bleeding in goal by acquiring Dan Ellis from Tampa Bay in exchange for Curtis McElhinney. Then, Pittsburgh picked up enigmatic winger Alexei Kovalev from Ottawa for a conditional seventh-round pick.
I'm sure Ottawa fans would suggest a 12th-round pick might have been better value for Kovalev given how big a disappointment he's been in Ottawa, but this move works for both clubs. Ottawa gets out from under the remainder of Kovalev's $5 million deal (they picked up Marek Svatos off waivers presumably to fill that gap), while the Penguins get a forward who can help on the power play and recently showed in Montreal a couple of years ago that he can still deliver the goods in the playoffs (he has 14 points in his past 16 playoff games).
If Sidney Crosby returns to the Pens' lineup, Kovalev and James Neal (acquired from Dallas on Monday) provide a potentially significant upgrade on the wings. If Crosby doesn't come back and the Pens are one and done, GM Ray Shero hasn't exposed himself to long-term contract headaches.
LeBrun: You and I both speculated about Kovalev's possible return to Pittsburgh because it just made so much sense. As I reported Saturday, Shero phoned Ottawa over the weekend and showed even more interest. Since Kovalev is set to become an unrestricted free agent July 1, I agree Shero has taken zero risk here.
By the way, that seventh-round pick becomes a sixth-round pick if the Pens win a playoff round and Kovalev plays at least 50 percent of the games in that round. Complicated, I know.
Shero has loaded up on the wings with Neal and Kovalev; now he just needs a certain superstar center back in the lineup! But there is still no timetable for Crosby's return. The good news for Pens fans was the reacquisition of Kovalev; the bad news was blueliner Brooks Orpik will be gone "approximately" four weeks with a broken finger.
Burnside: Yes, things are looking pretty tenuous in Pittsburgh, which is too bad given how hard coach Dan Bylsma has that squad playing. Terrific game against San Jose last night, but once again not nearly enough finish. They will certainly need Neal and Kovalev to make an immediate impact.
Speaking of which, it was an interesting move by Anaheim GM Bob Murray, who is fast seeing his overachieving team free fall out of the Western Conference playoff race. It just goes to show you how important goalie Jonas Hiller has been to the Ducks. But with Hiller sidelined with some sort of lightheadedness issue (his comments to reporters suggest something along the lines of vertigo), Murray had to decide whether to make some sort of move.
Adding Dan Ellis may not seem like much given how he struggled at times in Tampa Bay, which prompted GM Steve Yzerman to acquire Dwayne Roloson on Jan. 1. But Ellis has some playoff experience from his Nashville days; while he has another year left on his deal at $1.5 million, it's not a huge risk moving forward. Murray and coach Randy Carlyle now have to decide whether to roll the dice with Ellis, who has played in only five games since Jan. 9, or go with the recently signed Ray Emery, who is hoping to come back from a career-ending hip injury. Wow.
Tough times for a Ducks team that has defied the odds to stay in the playoff hunt.
[+] Enlarge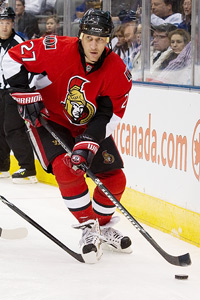 Nick Turchiaro/Icon SMIAlexei Kovalev previously played for the Penguins from 1998 through the 2002-03 season.
LeBrun: Hiller was taking shots in practice today, so hopefully that's a good sign; but kudos to Murray for getting insurance in Ellis. From a Tampa Bay perspective, this was about clearing cap space for next season. I think the Lightning want a cheaper backup than someone making $1.5 million. In the meantime, Yzerman put goalie Mike Smith on re-entry waivers Thursday. If he clears Friday, he'll be the backup to Roloson. If another team claims Smith at half the price, McElhinney becomes the backup. Either way, none of those goalies are under contract past this season, so Yzerman is free to reshape his net if need be. If Roloson plays well in the playoffs, I think Yzerman will try to re-sign him.
Burnside: Back to Pittsburgh for a second. With Orpik essentially out until the start of the playoffs with a broken finger, will Shero look to add another piece along the blue line? What about Craig Rivet?
As you noted on Twitter, you're expecting Rivet, who cleared waivers at noon Thursday, to be put on re-entry waivers. He is making $3.5 million, so the Pens would only be responsible for the remaining amount, and he will be a UFA this summer. Here's another option. With the Avs looking to rebuild their foundation, does Shero take a run at John-Michael Liles, who has another year left on his deal ($4.2 million cap hit)? Liles isn't very physical, so not sure if that's what Shero is looking for. And there's always Chris Phillips, pending whether he will waive his no-movement clause, let alone go to Pittsburgh with his former teammate Mr. Kovalev. Still more shoes to drop on this one, I think.
LeBrun: A source told me this afternoon the Penguins are shopping for another defenseman, although it won't be Liles. In the meantime, the Montreal Canadiens picked up veteran defenseman Brent Sopel and forward Nigel Dawes from the Atlanta Thrashers for minor league prospect Ben Maxwell and a 2011 fourth-round pick.
The move comes after the Habs recently picked up another blueliner in Paul Mara. With both D-men, the Habs have simply added depth. D-man Jaroslav Spacek (knee) remains out, while Josh Gorges (knee) is out for the season.
Sopel is earning $2 million this season and will be an unrestricted free agent July 1. I give the team credit for not overpaying for a bigger-name rental. They're not going win the Cup this season, so I wouldn't be trading away high-valued assets.
Sopel is a good penalty-kill man and shot blocker: two things the Habs have missed dearly since Gorges was knocked out of the lineup.
December, 24, 2010
12/24/10
10:27
AM ET

Stock Up
Corey Perry, Anaheim Ducks
The Ducks are hanging around the edge of the playoff picture in the Western Conference (they were tied for eighth as of the holiday break), due in large part to the production of their big line: Perry,
Bobby Ryan
and
Ryan Getzlaf
. Perry has been on fire lately with 13 points in eight games. He has scored seven times during this stretch and has moved into sixth in the scoring race with 41 points.
Dan Ellis, Tampa Bay Lightning
This has been an up-and-down year for the Lightning netminder, from his missteps on Twitter to complaining about Oilers rookie Linus Omark's shootout etiquette. But with colleague
Mike Smith
injured, the burden of keeping the Lightning in the playoff hunt in the Eastern Conference has fallen solely to Ellis, and he has responded nicely. The Lightning entered the holiday break atop the Southeast Division, and they are 3-0-2 in Ellis' last five outings. He was particularly good in a shootout victory over the
New York Rangers
that went 11 rounds on Thursday evening.

Stock Down
David Booth, Florida Panthers
The Cats hit the holiday break with a big win over the
Buffalo Sabres
but were still eight points out of the last playoff berth in the Eastern Conference. You have to wonder if former scoring star Booth is ever going to get right after last year's brutal hit by Philadelphia captain
Mike Richards
. Booth has one goal and one assist in his last seven games and just eight goals on the season.
Nathan Horton, Boston Bruins
Speaking of former Panthers, are the Boston Bruins finding out what the Florida Panthers knew from season after season of disappointment with Horton? After getting off to a good start with his new team, Horton has stalled offensively. He has one goal and one assist in his last seven games and saw his ice time limited to just 15:27 in Thursday's 4-1 win over Atlanta. The big winger has three goals in his last 18 outings for the B's.
December, 13, 2010
12/13/10
11:33
AM ET

1. Omark's shootout spin
Just asking, but what is worse, the guy who plows straight ahead on a shootout and fires high and wide or into a goalie's pads or the guy who dares convention, spins around and scores the game-winning goal? Well, sadly, if you ask Tampa netminder Dan Ellis or many other high hockey foreheads, it's apparently the latter. Only in hockey, where people always trot out "the code" and "respect" when something appears that is slightly out of the box, can the daring spin-a-rama move by Edmonton rookie Linus Omark that resulted in the game-winning shootout goal over Tampa become a national talking point. I thought this was entertainment, people?
In the aftermath of the game, Ellis immediately carped that the move (for the record Omark did his spin about a mile away from Ellis, although it clearly discombobulated the Lightning netminder) showed a lack of respect. Lack of respect for whom exactly? The fans? We're guessing they liked it. For Ellis? Well, Omark, 23, showed the same amount of respect most shooters have for Ellis, which is to say little given the netminder's bloated 3.23 GAA and pedestrian .876 save percentage.
In Canada, the birthplace of "the code" and "respect," there was condemnation of "the move" and we're told that a number of GMs didn't like it on principle. Wonder if those GMs look out on any empty seats in their respective buildings? Hope not. In a season that will see HBO shine an uncommon light on the game, isn't it time to embrace players like Omark as opposed to worrying about some long-tired hockey gobbledygook?

2. Capitals facing adversity
We agree wholeheartedly with our colleague Pierre LeBrun who suggested in Saturday's blog that perhaps there was a silver lining to the Washington Capitals' recent woes. Better to face this kind of adversity in December or January than in April, especially given how easily things came to the Caps last year during a franchise-best regular season. The Caps seemed incapable of responding to adversity in the playoffs, as they were upset by the eighth-seeded Montreal Canadiens in the first round. We believe this still to be true, even in the wake of Sunday's 7-0 thrashing at the hands of the New York Rangers.
The Caps are too good a team not to bounce back, even though they are winless in six straight games. The one area that may be giving GM George McPhee pause is his goaltending situation. Perhaps, like the rest of the squad, his young netminders, Semyon Varlamov and Michal Neuvirth, are just in a midseason funk. Maybe. But what if they aren't? There is no question that their level of play right now isn't good enough to support a long playoff run. Neuvirth started the season on fire but has not won in almost a month. Varlamov has shown himself to be injury-prone and has lost three straight since returning to action, including allowing all seven goals on just 20 shots in Sunday's whitewash.
McPhee has plenty of time to mull over his options, but one would think either Neuvirth or Varlamov has to put together a string of consistent starts in the coming weeks to negate the possibility that McPhee will be shopping for a veteran netminder to shore up the goaltending situation. Florida Panthers netminder Tomas Vokoun, about to become an unrestricted free agent next summer, immediately comes to mind. Or how about Dwayne Roloson on Long Island?

3. Habs' handling of Subban
Speaking of players daring to show some personality, the Montreal Canadiens' handling of outgoing rookie defenseman P.K. Subban illustrates a fascinating clash of cultures. Head coach Jacques Martin has made bland an art form while GM Pierre Gauthier is positively ghost-like in terms of his profile. Now take Subban, confident (cocky?), honest and available to the media. Now we can only hope that Martin found Subban's play wanting in making him a healthy scratch for three games and that he wasn't trying to modify his personality.
No question Subban makes mistakes. He plays a high-risk, high-reward kind of game. A miscue cost the Canadiens in an overtime loss against Edmonton after which Subban watched the game in place of the more conservative Yannick Weber, who, to his credit, has been rock-solid when given the chance to play for a Montreal team that is among the top defensive clubs in the NHL. Hard to argue with the results of Martin's moves even if we question the motives behind them.
Coincidence or not, the Canadiens were beaten by Detroit in Subban's first game back in the lineup. He was minus-3 in just 17:15 of ice time in Saturday's loss to lowly Toronto. Hmm. Maybe Martin was on to something after all.
Although the personalities are completely different, the Subban benching brought to mind Jordan Staal's rookie year in Pittsburgh. The rookie had just turned 18 and there were some who thought he should have been returned to junior hockey. Staal played modest minutes early in the season and then head coach Michel Therrien made Staal a healthy scratch (just one game, mind you), prompting further criticism of the team's handling of the young player. As it turned out, Therrien and GM Ray Shero knew what they were doing as Staal remained with the club the entire season, finished with 29 goals and was a rookie of the year finalist.

4. Kovalev's complaining
It was interesting listening to Ottawa Senators forward Alexei Kovalev talk about the mountains of disrespect that have been heaped on his undeserving shoulders throughout his career. Made us think of the old cartoon character, Richie Rich, poor little rich boy. Boo hoo. Kovalev, as everyone knows, has the ability to be a game-breaker, a difference-maker. And as anyone who's watched him for more than 10 minutes the last four or five years knows, that ability reveals itself only sporadically.
The Senators' decision to sign him away from Montreal in the summer of 2009, giving him $10 million over two years, may be one of the most significant personnel gaffes this side of Ilya Kovalchuk. Kovalev has split time being injured and playing like he doesn't care. Kovalev believes he's once again being made a scapegoat by embattled head coach Cory Clouston, who bumped him for a short time to the Sens' fourth line. Clouston, who has been unflinching in his assessment of Kovalev's lack of production, would like to see Kovalev work up a sweat doing something other than depositing his check in the bank.
But here's the interesting part of the equation: The Senators do not look at all like a playoff team, sitting seven points out of a playoff spot Monday morning with no games in hand and just three wins in their last 10 games. Even though Kovalev's cap hit of $5 million will be a stumbling block, we're guessing he will draw attention as we near the Feb. 28 trade deadline. The longer the Dallas Stars stay in the playoff mix and thus limiting the chances Brad Richards will be on the market in February, the more attractive the often unattractive Kovalev is going to look. Pittsburgh, where Kovalev once scored 44 goals, will undoubtedly be looking to add some offensive jump to the wings as they have the last three trade deadlines. Los Angeles has cap room and assets and will likewise need more offensive juice to keep up with San Jose, Detroit and Chicago in the West.
For all his personality quirks ("why is everybody always picking on me?" seems to be Kovalev's personal mantra), Kovalev has a knack for delivering in the postseason. In 22 post-lockout playoff games, Kovalev has scored 11 times and added 10 assists. That's not chump change, my friends. Think he might look OK playing alongside Anze Kopitar or Sidney Crosby or Evgeni Malkin come mid-April? We're guessing that some GM is going to answer "yes" to that question.

5. Evolution of Letang
Lots of nostalgia buffs are ready to hand over the Norris Trophy to Mr. Norris Nicklas Lidstrom, as the Red Wings great is having an age-defying season with 22 points in 28 games and averaging 23:48 a night in ice time for the top-ranked Wings. But this year's Norris race is shaping up to be the most interesting one in a long time. Shea Weber and Drew Doughty, players thought to be heir apparent to the defensive hardware, have endured injury and/or slow starts to the season. Meanwhile, players like Dustin Byfuglien in Atlanta, John-Michael Liles in Colorado and Lubomir Visnovsky in Anaheim are making a case for consideration.
But we are most interested in the evolution of Kris Letang in Pittsburgh. With the departure of Sergei Gonchar to Ottawa and the acquisition of Paul Martin and Zbynek Michalek in the offseason, one wondered if Letang would get lost in the shuffle. The answer has been an emphatic no. Playing mostly with Brooks Orpik, Letang, 23, has helped fill the void left by Gonchar offensively while impressing with his defensive game as well. As of Monday, Letang was tied for second among defensemen with 26 points. He is averaging 23:01 a night in ice time and the Pens rank a surprising third in the league in goals allowed per game.
After a recent game in which Letang skated more than 26 minutes, he jokingly told GM Ray Shero he could have gone for 40 or more.
"The guy can probably play 40 minutes. He's such an incredible skater," Shero told ESPN.com.
Although not physically imposing, Letang's agility and strength, which allow him to dig out pucks and make smart passes out of the Penguins' zone, have been impressive.
"Most important, he's got great, great hands," Shero said. "He's just a really confident player right now. He's playing an all-around game now. He's really stepped up."
November, 30, 2010
11/30/10
10:10
PM ET
TORONTO -- A tying goal by Martin St. Louis with 8.7 seconds left in the third period. A rifle of a wrist shot by Simon Gagne in overtime. Another inspiring victory for the surprising Tampa Bay Lightning.
It's a thrill a minute with this team, a club vastly improved over last season thanks to the hiring of GM Steve Yzerman and coach Guy Boucher.
Did we mention Steven Stamkos? My pal Scott Burnside covered that story from head to toe last week.
And so, I'm here to touch on a worrisome trouble spot in the underbelly of an otherwise-wonderful story by the Lightning so far this season.
[+] Enlarge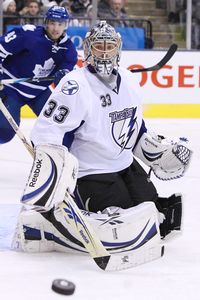 AP Photo/The Canadian Press/Darren CalabreseDan Ellis made 22 saves on Tuesday night as the Lightning rallied to beat the Leafs in OT.
The shots in Tuesday night's 4-3 overtime win were 39-25 for the Bolts. They've been outshot in only eight of 25 games this season. The Lightning have a penalty-killing unit ranked in the top five in the NHL and overall give up the second-fewest shots per game in the league. Numbers to die for if you're an NHL coaching staff.
And yet, they're ranked 29th in the league in goals against per game.
Say what?
Boucher gave me a knowing look and sly smile Tuesday when I put those numbers to him. If I were a mind reader, I'm pretty sure his thought bubble would have read: "Why do you think that is, Einstein, we're not getting enough saves."
Instead, the rookie NHL bench boss chose his words carefully without hiding the truth.
"We've had great nights with our goaltenders, but it's the consistency we're after right now," Boucher said. "They know it. They're very aware of the fact that they've had moments where they haven't been as sharp as they can be. We've had moments where they were great. We know we have good goaltenders but we just want them to reach that consistency."
It's not that the Tampa goalie tandem of Dan Ellis and Mike Smith, who have split time pretty evenly, has been terrible. You really can't fault Ellis on any of Toronto's three goals Tuesday night. It's just that ... the Bolts feel they could get a few more saves at key times. They've had some solid moments, as Boucher said. But both have save percentages under. 900.
There's room for improvement.
"Absolutely," Ellis told ESPN.com. "I think you're always looking to improve yourself. We're both working with the goalie coach to fine-tune some things. It doesn't seem like we're letting in a consistent type of goal. A lot of them, when we look at them, there are big breakdowns. But when there is a breakdown, you need your goalie to come up with that big save."
Smith more recently had a nice run, winning four in a row while stopping almost everything in sight. Then he got bombed Friday afternoon in Washington.
"I was going pretty good before the Washington game," Smith said. "I'm still riding high with confidence. One loss doesn't mean you can beat yourself up about it. It happens, and you have to move on.
"You look at the last five games I've played, I'm 4-1," he added. "If I do that the rest of the season, I think we'll be in pretty good shape by the end of the year. You can't beat your head in the wall because you lost one game."
As much as the Lightning are riding the heart-stopping play of Stamkos and St. Louis, the fact is, the play of Smith and Ellis over the final 57 games of the regular season will likely be the deciding factor as to whether the team hangs on to a playoff spot.
"They can do it," Boucher said of his goalies' abilities.
There's a lot at stake. There's the first-year GM to win over. Ellis is signed through next season, while Smith is an unrestricted free agent July 1. Yzerman isn't hamstrung by these two contracts.
"You want to prove yourself," said Ellis, signed for $1.5 million a season. "You want to gain their confidence and respect and show that you can go out there consistently and put good games to together. It's happened in small spurts but not long enough spurts. That's the goal right now is to get on a consistent track and provide the team with good goaltending, which gives the team a chance to win every night. And when the team isn't there, you want to be able to steal a game or two."
Smith is earning $2.2 million in the last year of his deal.
"It's a huge year for me, for a lot of guys," Smith said. "It's a new owner, a new general manager, and a new coaching staff. So you have to win these guys over. You have to come to the rink every day, be professional, work hard, try to get better. At the end of the day, that's all you can do is get into games, play as well as you can and the decision will be up to them at the end of the season."
And by the way, Ellis stoned Leafs center Tyler Bozak late in the third period with Tampa still down 3-2. Turns out that was a pretty important save. Something to build on, perhaps.
September, 19, 2010
9/19/10
6:56
PM ET
BRANDON, Fla. -- At the end of Sunday's scrimmage, an entertaining tilt decided in a shootout,
Tampa Bay Lightning
netminders
Dan Ellis
and
Mike Smith
found themselves nose to nose with each other at center ice, prodding each other in the face mask with their catching gloves.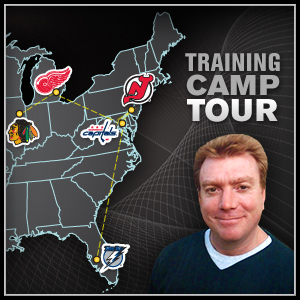 Watching Ellis and Smith joust good-naturedly with each other may reinforce the notion that competition begets animosity, that to compete with you is to hate you. Or at least disregard you.
Not so, at least not in the case of these two longtime friends.
Make no mistake, the Lightning's goaltending situation promises to be one of the more compelling storylines for a team from whom much is expected this season.
With new ownership and new management led by GM
Steve Yzerman
, and an offense that looks, on paper, to be as potent as most in the Eastern Conference, the team's goaltending may be the factor that ultimately determines success or failure.
And make no mistake, both goaltenders have much to prove here in Tampa Bay.
Smith was acquired from Dallas at the 2008 trade deadline to become the goaltender of the future in Tampa. But a concussion derailed his first full season and last season he gave way to
Antero Niittymaki
as the Lightning's starter.
"Obviously last year was not a good year for me," Smith said in an interview after Sunday's scrimmage. "I know that. I have to improve on that."
In the final year of his contract in Tampa Bay, this season looms as a seminal one for the 28-year-old Smith.
"I think it's probably the biggest year of my career. I know I can be a good goaltender," he said.
Ellis, meanwhile, was signed a two-year deal as a free agent this summer. Yzerman saw Ellis at his finest as a member of the
Nashville Predators
during the 2008 playoffs, when the Predators nearly knocked out Yzerman's Red Wings.
Still, Ellis could not assume the No. 1 role with the Preds as top prospect
Pekka Rinne
became "the man" in Nashville, making Ellis superfluous. Now, he is in Tampa to prove he's got the game to be a No. 1 NHL netminder.
To do so, of course, he will have to outplay his old friend. The two netminders were both
Dallas Stars
prospects and met in Utah during the 2002-03 season. In 2005-06, they shared the goaltending duties in Iowa with the Stars' AHL affiliate. They shared time between the pipes, but also lived in the same community in town.
"It was one of my most fun years, in the AHL, maybe in my whole career," Smith said.
"We hit it off right away. We've always been good buds," Ellis added.
It may seem incongruous to think that the man who sits across from you and wants to take your job may also be your friend. Yet the two insist it is not just possible, it is the reality.
"I look at it as a bonus. We're here to help each other out," Ellis said. "You're competing against other teams. You're not competing against your teammates."
Smith concurs. He noted that when he was named to the NHL's all-rookie team in 2006-07, he was playing alongside his good friend
Marty Turco
.
"It's was a very healthy situation," Smith said. "I think it can work to your advantage more than against you."
The Lightning are banking on the fact the two friends will not only continue to get along, but also combine for enough wins to push the Bolts back into the postseason.