Cross Checks:

Daniel Briere
June, 30, 2014
Jun 30
3:22
PM ET
We admit we've had a soft spot for
P.A. Parenteau
for a number of years. We've enjoyed our infrequent chats with him and, more importantly, have admired his never-say-die attitude toward his career.
The 31-year-old native of Hull, Quebec, was drafted 264th overall in the 2001 draft by Anaheim and then traded to Chicago, for whom he played just five games. Then he went to the
New York Rangers
for 22 games before the
New York Islanders
signed him as a free agent.
Parenteau blossomed on Long Island into a solid, productive forward with 20-plus-goal potential. The Isles curiously eschewed a chance to keep him in the fold (how often has that been said of the misguided franchise?), and Parenteau signed a four-year deal with Colorado in summer 2012. But there were persistent rumors the Avs were looking to move him over the past year or so. And so it was that Monday afternoon, Parenteau returned to the Eastern Conference when Montreal acquired him and a fifth-round draft pick in next June's draft for veteran center
Daniel Briere
.
Parenteau has two years left on his deal with a $4 million cap hit, and he should get an opportunity to play top-six minutes and earn some power-play time for coach Michel Therrien as GM Marc Bergevin continues to massage the Habs' lineup. It's believed that, along with Briere's departure, captain
Brian Gionta
will not return. It's also a given that
Thomas Vanek
, acquired at the deadline, won't be back.
Briere, meanwhile, never quite fit in the way he'd hoped when he signed a two-year deal with the Canadiens last summer. The 36-year-old had just 13 goals for the Habs and found his role was significantly reduced by the end of the regular season and in the playoffs. But although he was playing down in the lineup, he showed once again why he is considered a top-money player when he chipped in three goals and seven assists in 16 postseason games as the Habs made a surprise appearance in the Eastern Conference finals.
Given the Avs' first-round collapse against Minnesota, where they failed to hold 2-0 and 3-2 series leads, the addition of Briere can be seen as part of the big-picture plan to make the Avs into a playoff force. The Avs possess tremendous potential with
Nathan MacKinnon
,
Gabriel Landeskog
,
Tyson Barrie
and
Ryan O'Reilly
-- all 23 or younger. But there is the issue of balancing that youthfulness with some veteran stability, and Briere, who was an important veteran presence with young players in Philadelphia before moving on to the Habs, should bring that element to the Avs' locker room.
One has to wonder whether the addition of a center is also an insurance policy for the Avs against the real possibility that center
Paul Stastny
will sign elsewhere as an unrestricted free agent.
October, 4, 2013
10/04/13
11:50
PM ET
By
Sarah Goldstein
| ESPN.com
In 2007,
Daniel Briere
passed on playing for the
Montreal Canadiens
to sign an eight-year, $52 million deal with the
Philadelphia Flyers
.
Briere helped lead the Flyers to the Stanley Cup finals in 2010, posting 12 goals and 18 assists in 23 playoff games. He took younger players under his wing, even letting some of them live with him and his three sons. And he became a fan favorite in Philadelphia.
[+] Enlarge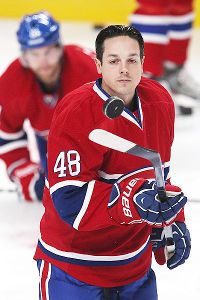 Jean-Yves Ahern/USA TODAY SportsDaniel Briere will be getting paid by both sides on Saturday when the Habs play the Flyers.
But his time in the City of Brotherly Love ended this offseason when the Flyers used a compliance buyout on the final two seasons of his deal.
On Saturday, Briere gets a chance to face his old team on his own turf.
"[The scheduling] makes it a little bit easier on the preparation, because for me -- because personally -- it's not a normal game," Briere said, according to the
Montreal Gazette
. "You're facing your ex-teammates. I have a lot of friends there. It'll be a little tougher, but I really believe that playing it in Montreal makes it a little easier."
Briere added that it will be weird to play against his friends, but only until the puck drops.
"I'm facing guys I was with for a lot of years," Briere told reporters on a conference call, according to the
Philadelphia Inquirer
. "... It's kind of a weird feeling. You're excited to see them, but it's also weird to have to face them. We all know when the puck drops, it gets competitive. And these guys are the same way -- they're not going to give me an inch out there."
The Flyers'
Sean Couturier
was also placing special attention to Saturday's game against his former teammate, mentor and housemate.
"I was with him almost 24/7, so it should be a special game for both of us," Couturier said, according to the Philadelphia paper. "... Since day one, he kind of took me under his wing and adopted me, and I felt like a big brother for his boys. It was a fun experience, to be sure."
If you were expecting Briere to have hard feelings, guess again.
Briere thinks everything worked out for the best since the Gatineau, Quebec, native now plays for the team he cheered for as a child.
"There's no extra friction with the Flyers because of it," he said, according to the Montreal Gazette. "They treated me with a lot of class. It's reality. It's part of the game. They were within their rights. On my side, it turned out really well. I get to play for my childhood team. I'm not sure it turns out so great for every player."
September, 4, 2013
9/04/13
10:24
AM ET
By
Sarah Goldstein
| ESPN.com
Daniel Briere
got an early look at what it is like playing in Montreal when he was swarmed by reporters at the Canadiens annual charity golf tournament on Tuesday.
Briere said he had been "warned that it was going to be something a little different," but the media attention was still "very impressive,"
according to the Montreal Gazette
.
The lifelong Canadiens fan also talked about how excited he is to play his first home game in Montreal.
"Wearing that jersey, coming out onto the ice will be a big thrill and something that I've been thinking about -- not just the last two months -- but something that I've always dreamed that I would have the chance to do at some point in my career," Briere said, according to the report.
The center signed a two-year, $8 million deal with the Canadiens in July. He said he is getting recognized a bit more than he is used to, but it is all part of the game.
"That's what we play the game for. If nobody recognizes you, it's not a good sign. I think I'm prepared for it," Briere said, according to the paper.
July, 4, 2013
7/04/13
8:58
PM ET
In the end,
Daniel Briere
followed his heart.
There were competitive offers from the
Nashville Predators
and
New Jersey Devils
, but the allure of finally playing for the
Montreal Canadiens
could not be passed up by the French-Canadian veteran forward.
In summer 2007, Briere spurned the Habs for Philadelphia, and the fans at the Bell Centre routinely booed him during his games in Montreal.
All is forgotten now.
The key for Habs GM
Marc Bergevin
, who turned his attention aggressively toward Briere about two days ago, was the term. One of the reasons Bergevin lost out on
Vincent Lecavalier
and won't be able to get unrestricted free agent
Ryane Clowe
is that he doesn't want to get locked into long-term, UFA deals.
At two years and $8 million, the term is perfect for Bergevin, who believes he has some young, promising talent in the system that isn't quite ready yet. Players such as Briere can help bridge the gap.
Speaking of Clowe, the Habs were willing to do a short-term deal with him, but it's believed the UFA power forward wants to get a bit more security and who can blame him. Keep an eye on the Devils; I believe they are the front-runners for Clowe.
The Devils need a replacement for power forward
David Clarkson
, who has drawn a ton of interest as the headliner in this year's UFA crop, including from Ottawa, Toronto and Edmonton.
Elsewhere:
•
Ray Emery
is likely leaving Chicago, where he loved it, to procure a job that will give him a bigger role. He's not going to get that behind
Corey Crawford
with the Blackhawks. Philadelphia and Edmonton are among the teams that have reached out, and I think the Flyers are the odds-on favorite to get him, with Emery and the Flyers comfortable with each other after their time spent together before. If the Flyers do get him, Emery will compete for starts with
Steve Mason
.
•
Daniel Alfredsson
has three real choices in front of him: stay in Ottawa, join Boston or join Detroit. Multiple teams reached out to him, but the Bruins and Red Wings are really the only options if he were to leave the Senators. The Swedish connections run deep with Detroit (
Niklas Kronwall
,
Henrik Zetterberg
). Alfredsson spoke directly to both the Bruins' and Red Wings' front office Thursday to gain more information. I still believe he likely stays in Ottawa, but it's interesting to see how much Alfredsson is deliberating on all this.
• The Predators lost out on Briere -- and not just him. A source told ESPN.com that Nashville had also spoken to Boston about
Tyler Seguin
before the Bruins shipped him to Dallas in a blockbuster deal Thursday. Nashville needs to find offense somewhere.
July, 4, 2013
7/04/13
11:55
AM ET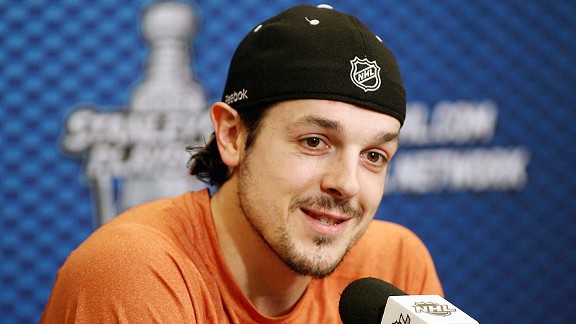 Len Redkoles/NHLI/Getty ImagesDanny Briere could be getting a call today from his new employer.
Is this the day for Danny B?
Sources have told ESPN.com that bought-out unrestricted free agent
Danny Briere
cut his list of suitors to three teams late Wednesday night, which I believe to be New Jersey, Montreal and Nashville.
All three have compelling selling points for the veteran forward. The Canadiens provide an obvious allure for a French-Canadian such as Briere. If he does sign with the Habs, it would turn those boos at the Bell Centre into cheers after he spurned Montreal's offer years ago for Philadelphia's and Habs fans never forgave him.
Nashville is a terrific place to live. I'm stunned more free agents don't go there. It would be top five on my list of places for a player to ply his trade. Fantastic town, solid organization and, oh yeah, the Preds desperately need offense.
The Devils also need offense, and New Jersey would offer the one thing Montreal and Nashville could not: proximity to Briere's children, who will remain in Philadelphia.
And so we shall see. Whichever team gets him acquires a clutch performer, especially come playoff time. And he's a great teammate.
Elsewhere:
• My money is on UFA center
Tyler Bozak
staying in Toronto, but until the Maple Leafs meet that magic number, other teams have called, including Dallas, Detroit, Anaheim, St. Louis and Calgary. Bozak, who found great chemistry with
Phil Kessel
last season, is looking for a five-year deal or more. In the Red Wings' case, I think Bozak is more of a Plan B if they can't get UFA center
Stephen Weiss
. I think the Stars are very interested in Bozak, and Weiss for that matter.
• Don't expect a final decision from UFA blueliner
Rob Scuderi
until Friday. Sources say Scuderi got a real nice offer from the Kings on Tuesday night, but the veteran player wanted to see what was out there on the market with the 48-hour window for talking to other teams opening Wednesday. He has done that, hearing from several East Coast teams. Basically, if Scuderi does leave the Kings, he's going to the East. It would not surprise me if Pittsburgh was among the teams that called about Scuderi. The Pens know him well from his previous playing days in Pittsburgh.
• The Wings have kicked tires all over the place, I hear, getting a sense of the marketplace. They've checked in on Weiss and Bozak plus
Jarome Iginla
,
Brenden Morrow
,
Daniel Alfredsson
et al, all the while keeping tabs on their own free agents Dan Cleary,
Damien Brunner
and
Valtteri Filppula
. It could go all kinds of different ways in Detroit on Friday when the market opens.
• UFA power forward
Ryane Clowe
's preference is to stay on the East Coast, and I think he's zeroed in on some options; the Devils are among several teams with serious interest. Expect him to sign Friday, the first day of the market opening.
• Bought-out UFA
Mike Komisarek
is going to be a bargain-basement addition and is generating sizable attention because of that cheap price tag.
• TSN colleague Darren Dreger is hearing there is action on Blackhawks goalie
Ray Emery
. The Flyers, Isles and Oilers are believed to be chasing. The Hawks are also in discussions to re-sign Emery, Dreger is hearing.
January, 14, 2011
1/14/11
10:31
AM ET

Stock Up
Danny Briere, Philadelphia Flyers
Take that, NHL Hockey Ops. After being snubbed by the NHL for inclusion in the All-Star Game in Raleigh later this month, Danny Briere continues to run red-hot for the Eastern Conference-leading Philadelphia Flyers. He had a goal, his 23rd of the season, and an assist in Thursday's 7-5 loss to Boston, and now has points in five straight games. In his past eight games, Briere has seven goals and seven assists. Pretty good for a guy not good enough to go to the All-Star Game.
Tuomo Ruutu, Carolina Hurricanes
The Canes dropped a 3-2 decision to Buffalo on Thursday night, but Tuomo Ruutu kept up his recent torrid pace, adding his 12th goal of the season on the power play. He has goals in three straight games and points in four straight to help keep the Canes within shouting distance of the playoffs in the Eastern Conference.

Stock Down
John-Michael Liles, Colorado Avalanche
It's been a difficult time for the youthful Avalanche as they try to hang onto a playoff berth in the Western Conference. One of the reasons for the team's strong start was the impressive point production of veteran defenseman John-Michael Liles. After a torrid start, though, Liles has managed just two points in his past 12 games for the Avs. As for goals, he has gone 17 straight without pushing one across.
Brooks Laich, Washington Capitals
One of the things that made the Caps such a dynamic offensive squad last season was the depth of scoring. Brooks Laich was the leader of a second line that most often featured talented yet streaky Alexander Semin, and Laich topped the 20-goal mark for the third straight season. Now he's on pace for about 15 goals this season and has gone 11 straight without a goal.
November, 1, 2010
11/01/10
4:12
PM ET

1. Briere's suspension
The NHL on Monday handed down a three-game suspension to Danny Briere after he gave New York Islanders forward Frans Nielsen a shot to the head with his stick in the waning minutes of the Flyers' 6-1 rout Saturday.
The two players were jawing at each other before the draw and Briere then swing his stick cross-check-like and grazed Nielsen's noggin. Despite the "five games minimum" howls from some in the hockey media, I must admit I could have gone either way on this one.
I didn't like the league's assessment that Jordin Tootoo's flying hit on Carlo Colaiacovo late in the Blues' victory over Nashville on Thursday night was justly penalized on the ice (major for charging) and warranted no supplemental discipline. Having seen the league's handling of that incident, I believed the same standard could have been used on Briere. Both Briere and Tootoo have histories of being suspended and both plays were reckless, but neither Colaiacovo nor Nielsen was seriously injured. Briere was issued a major for the stick infraction and thrown out of the game.
Bottom line for those who think the league plays favorites with its talented players: The Briere suspension reiterates that inconsistency in discipline doesn't take into account how many goals a player has (Briere leads the Flyers with six); inconsistency is just a fact of life with the league as it tries to figure out what the line is between "a bad thing" and "a really bad thing."

2. Blue-line Byfuglien
There was a lot of discussion about how the Atlanta Thrashers were planning to use former Chicago power forward Dustin Byfuglien after they acquired him from the defending Cup champion Chicago Blackhawks in the offseason.
GM Rick Dudley spoke with Byfuglien's stepfather, a former teammate and roommate of Dudley's from the World Hockey Association, and was told Byfuglien preferred playing on the back end. Despite his success as a forward, the Thrashers were intrigued by Byfuglien's size, shot and mobility, and hoped his presence on the blue line would complement an improving group of defensemen.
"He was moved to forward out of necessity," Dudley told ESPN.com on Monday. The fact he played well at forward "didn't mean that he couldn't play defense," the GM added.
So far, the experiment is paying dividends for the improving Thrashers. Byfuglien leads the NHL with three game winners, including a spectacular end-to-end rush against Buffalo on Friday night. He leads all defensemen in shots and is averaging 22:13 a night in ice time, playing mostly with former all-rookie team member Tobias Enstrom. The two have combined for 20 points in this young season.
"Buff is a difference-maker," Dudley said. "I'm not going to say he's perfect defensively, but he's getting better."
So are the Thrashers. They have collected points in four straight games (2-0-2) and are 5-4-2 overall.

3. Don't forget the Sabres
Much of the early-season attention has been focused on the New Jersey Devils' woes, and with good reason. Heading into Monday's tilt against Vancouver, they are a league-worst 3-8-1. Yet, hiding in the shadows of the Devils' miserable start are the Buffalo Sabres, who aren't much better off with the first month of the NHL season in the books. The Sabres (3-7-2) are riding a three-game winless streak and have been outscored 14-6 over that stretch.
Even with defending Vezina Trophy winner Ryan Miller in goal, the Sabres are 23rd in goals allowed per game and are 27th on the penalty kill. On the other side of the puck, the Sabres aren't faring much better (22nd in goals per game and 20th on the power play).
Over the past couple of years, much of the discussion about the Sabres' woes has centered on personnel, especially after they were bounced in the first round of the playoffs last season. And certainly the Sabres have seemingly suffered from an acute leadership void since the departure of players like Daniel Briere, Chris Drury, Brian Campbell and Jay McKee, among others.
The team has been ultraconservative in its approach to free agents, preferring to wait on the development of homegrown talent like Thomas Vanek, Derek Roy, Drew Stafford and defending rookie of the year Tyler Myers. Thus far, Myers has struggled in his sophomore campaign. He has been a healthy scratch and has committed a series of defensive gaffes, including being stripped of the puck and giving up a short-handed goal against Dallas on Saturday.
But beyond the personnel, the Sabres may also be victims of the league catching up to their style of play. Coming out of the lockout, Buffalo coach Lindy Ruff and his staff found a way to attack the offensive zone with speed that, combined with a talented roster, made the Sabres one of the most dynamic teams in the NHL.
"The game has changed. Teams don't play it the way they did a year ago," Ruff said during a recent chat with reporters. "I saw from two years ago where there was maybe three or four teams playing the same. Now, probably in the East, you've got 13 teams that are defending the rush the same way, which has changed."
Sadly for the Sabres, they haven't managed to stay ahead of that learning curve.

4. Gotta have backup
The face of goaltending in the NHL is changing before our very eyes. Philosophies are now divided over whether a team is better off allocating precious cap space to a topflight goaltender like Roberto Luongo or Martin Brodeur, or putting that money in team defense or scoring and spending less on competent (if not lower-profile) goaltending.
Last season, the Blackhawks and Flyers showed that low-profile netminding can get you to the Cup finals. Detroit won a Cup behind Chris Osgood in 2008 and then went to Game 7 of the finals the next season against Philadelphia with a goaltender often given little regard around the league.
This season, we are seeing more evidence that regardless of which side of the goaltending fence you favor, having a capable backup is crucial and, conversely, the lack thereof can spell big trouble.
Montreal's Carey Price and Dallas' Kari Lehtonen have combined to play in 19 games this season, but both their backups (Alex Auld and Andrew Raycroft) came on to provide important relief last week. Auld allowed just one goal in his first start of the season as the Habs topped the Islanders, while Raycroft helped the Stars stop a three-game slide with a 34-stop shutout of the Buffalo Sabres.
Without Craig Anderson, who's hurt in Colorado, Peter Budaj is going to have to carry the freight, and the perennial backup has played well thus far with a 3-0-1 record. The best example of a backup making a difference can be found in Pittsburgh, where Brent Johnson has turned in a sparkling 5-0-1 record with 1.16 GAA and .960 save percentage while starter Marc-Andre Fleury works out some kinks in his game.
It hasn't always worked out perfectly for the backups and their squads, though. Martin Biron got a win against Toronto, but looked soft in a loss to Atlanta last week. So, Rangers coach John Tortorella went with Henrik Lundqvist in back-to-back games even though Lundqvist had lost the first one to Carolina. It turned out to be a good move as Lundqvist shut out Toronto on Saturday (hey, who doesn't shut out the Leafs these days?). Calgary backup Henrik Karlsson earned a win in his first NHL game while giving Miikka Kiprusoff a rest, but then was ineffective in a 6-5 loss against Colorado.

5. The 'other' Sedin
Hovering in the shadows of last season's superlative effort by Vancouver Canucks forward Henrik Sedin -- a 112-point campaign that saw him take home the NHL scoring title and the Hart Trophy as league MVP -- was his brother Daniel. Although he suffered a foot injury that limited him to 63 games, the "other" Sedin collected 29 goals and 85 points.
So much for the shadows. So far this season, Daniel Sedin has managed to collect at least a point in every Canucks game with seven goals and 12 points. Not that Henrik has been any slouch -- he's just a point behind with 11. But after that, things drop off pretty quickly for the Canucks, who don't have any other player with more than six points.
Should the Sedins continue to produce at this level (they began the week just outside the top 10 in league point production), it will be interesting to see if they split the vote when it comes time to pick an NHL MVP next spring.
As for Daniel's point streak, he has a long way to go to match the all-time points streak from the start of a season -- that was 51 games by Wayne Gretzky in 1983-84.