Cross Checks:

Daniel Winnik
February, 16, 2015
Feb 16
2:13
PM ET
The
Toronto Maple Leafs
will continue to get lots of bidders on winger
Daniel Winnik
between now and March 2.
Listing the teams that don't want him might be easier than zeroing in on the teams that are interested in the pending unrestricted free agent who is having a terrific season with lowly Toronto.
But it's worth noting that the
Winnipeg Jets
are looking for a top-nine forward, and they tried to sign Winnik last summer when he was an unrestricted free agent ... just saying.
We mentioned last week that Pittsburgh is also among the teams interested in Winnik. But again, it's a long list.
February, 12, 2015
Feb 12
3:35
PM ET
The
Pittsburgh Penguins
already have picked up top-line winger
David Perron
and fourth-line center
Maxim Lapierre
, but they're likely not done.
Word is the Pens could still add both a piece up front and on the back end -- or at least one of them.
[+] Enlarge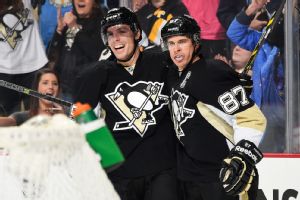 Joe Sargent/NHLI/Getty Images)The Penguins made a few moves early, but they hope to add another piece before March 2.
Among the forwards Pittsburgh is keeping a close on these days are
Toronto Maple Leafs
teammates
Daniel Winnik
and
Mike Santorelli
. Both are pending unrestricted free agents headed out the door and both carry cheap cap hits, which is very important to a cap-tight team such as Pittsburgh.
Thing is, they're hardly alone in eyeing one of those two players for just that reason. It's believed the Leafs are asking for a second-round pick for each of those players, a fairly high price that some teams are balking at right now, but given the interest, they just might get it from somebody.
On defense, I think the Pens would like to add a bit more experience if they can swing it. Those on their radar include
Cody Franson
,
Jeff Petry
and, to a lesser degree,
Scott Hannan
and
Jan Hejda
.
If Marc Methot doesn't re-sign with the
Ottawa Senators
, he'd be another guy to throw on the list, although the competition would be fierce for his services.
February, 9, 2015
Feb 9
5:16
PM ET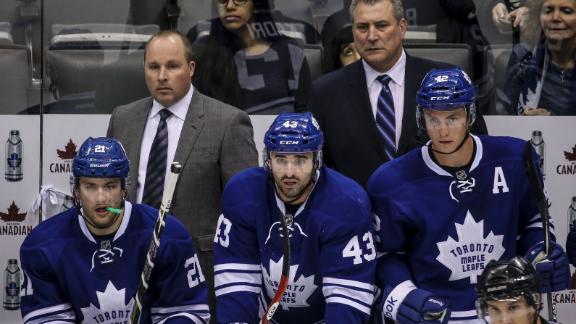 TORONTO -- For a fleeting moment last summer,
Cody Franson
thought he had possibly been traded to the
Montreal Canadiens
until the rumored deal got kiboshed by
Josh Gorges
via his no-trade clause.
The near-trade experience will serve the
Toronto Maple Leafs
' defenseman well when the real thing very likely happens between now and the March 2 trade deadline.
"That was an interesting process, going through that one," Franson said with a smile Monday after practice when asked about the near trade. "That was as close to a rumor as I've gotten without having it actually happen. Having gone through that process has helped me out even more for this."
Franson is going to be dealt by the down-and-out Maple Leafs unless there's a dramatic shift in contract talks, which neither side seems to believe will happen, as the gap in both terms and salary were sizeable when talks were held last week.
It makes almost no sense for the Leafs, hampered by a number of anchor-like, long-term contracts, to be handing out another six- or seven-year deal, even if Franson actually has been one of their better players and is just 27 years old.
But the Leafs just can't do that, they need to add flexibility to the payroll as they begin making changes to this team over the next few months.
[+] Enlarge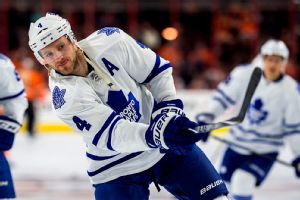 Icon Sportswire/AP ImagesCody Franson will likely be traded, as he can get a larger contract on the free-agent market than the Leafs are willing to hand out.
And for Franson, on the cusp of becoming a first-time unrestricted free agent, it's crazy to take a three-year deal with the Leafs when there will be a contract twice that length offered on July 1.
All of which leads to a likely trade.
Franson chuckled when asked if he knew that he was named TSN's most likely Leaf to be moved ahead of March 2.
"Yes, so I've been told," Franson said. "It's one of those things, no matter how hard you try to distance yourself, you hear those types of things. I'm hopeful that's not the case. But I knew coming into this year there would be this kind of speculation going on if something wasn't done contractually. It's part of the business. It's something you just have to be able to handle."
Franson has already generated sizeable interest from other teams and will continue to do so as a top-four, right-handed blueliner. Those guys are in huge demand.
Joining a contender can also help him boost his contract value for July 1 if he is solid in the playoffs for his new team.
The notion of making himself more marketable that way, however, is not what's on his mind.
"You know what, I try not to look at it like that," Franson said. "I'm trying to play as best I can to help this team win. At the end of the day, this is where I want to be and I'm hopeful to be here. Toronto is a great place when you're winning, and that's where we're trying to get to. It's been a tough month for all of us in here, we've all felt the weight of the losses."
Toronto's season was sunk by an 11-game winless streak (0-10-1), which was snapped with Saturday's win over the
Edmonton Oilers
. The Leafs players are all saying otherwise, only because they have to for public consumption. Deep down they know they're cooked and that the only mystery left is how many bodies are moved out of the dressing room.
The pending unrestricted free agents on the team understand what's likely coming.
"I've been through it before," said Leafs winger
Daniel Winnik
, traded twice before in his NHL career. "I woke up the morning of the trade deadline [in 2012] and saw I was, like, No. 4 on the trade-bait list. So I knew I was probably going."
Winnik, on a one-year deal paying $1.3 million, has been a solid contributor for Toronto and will be appealing not only for his solid two-way play, but also because of his cheap cap hit.
With the Leafs pretty much out of it, he understands why he might be moved.
"Completely," Winnik said. "Everyone knows if they're on an expiring deal and they're UFA, they're a candidate to be traded even if the team likes him. I understand that aspect of us UFA guys getting moved."
Still, having his name mentioned in trade rumors is not ideal.
"I try not to [pay attention], but don't get me wrong, it's tough; it's all over Twitter and stuff," Winnik said. "You obviously see some of the things, but you have to just ignore them and take them for what they are: They're rumors."
Mike Santorelli
, on a one-year, $1.5 million deal, is another pending unrestricted free agent generating interest. The Rangers and Canucks (where he played last year) were among several clubs who have him on their radar.
"What's going to happen is what's going to happen, I can't control it," Santorelli said with a shrug on Monday.
The Leafs reached out to Santorelli's agent last week, and it's believed what was communicated from agent J.P. Barry is that they would re-sign if they got three years and about $3 million a year. That appears to be too rich for Toronto's blood at this point. Again, about the last thing the Leafs should be doing is furthering tying their hands with their payroll.
Santorelli played well last season in Vancouver before getting hurt and has been a spark plug for a disappointing Leafs team this season, a 200-foot guy who has versatility, which is why playoff-bound teams are interested in picking him up.
"Honestly, I think my game has taken a step forward since last year," Santorelli said. "Last season was a bounce-back year for me, and I think I've carried that over. That's the mindset, I just want to keep getting better."
He knows he's possibly going to end this season on another team, just like several of his teammates.
There's a nervous tension in this Leafs dressing room as the trade deadline approaches. Everyone knows his time might come. They've given management no other hand to play but as sellers.
And here's the thing, the roster could get even more of a face-lift in the offseason, never mind what happens between now and March 2.
September, 10, 2014
9/10/14
7:54
PM ET
After a dramatic, late-season tailspin that transfixed hockey's biggest market, the
Toronto Maple Leafs
made some sweeping changes over the summer.
Surprisingly, the move many people expected -- the dismissal of coach Randy Carlyle -- didn't happen. Instead, the Leafs brought in Hall of Famer
Brendan Shanahan
as team president, axed Carlyle's assistants and added to their front office with analytics wunderkind Kyle Dubas, who will serve as an assistant GM following a devastating season during which the team was constantly hammered for its poor puck-possession statistics.
How does that all add up? Former Leafs goaltender
Glenn Healy
said the team appears primed for a culture change, starting with the added personnel that includes a crop of players who come with a hard-nosed, Western Conference pedigree.
The Leafs signed forwards
Mike Santorelli
,
Daniel Winnik
,
David Booth
,
Matt Frattin
and
Leo Komarov
(the latter two on their second tour as Leafs) in free agency this summer.
[+] Enlarge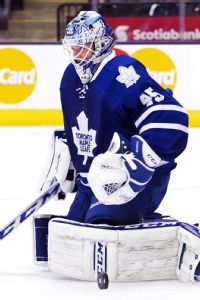 AP Photo/The Canadian Press/Nathan DenetteJonathan Bernier should give the Leafs a steady presence in goal this season.
"I think they have certainly reshaped their team in a huge way," Healy told ESPN.com in a recent phone conversation. "They've added some players, particularly in the bottom-six position, to give them more balance and more depth. The players they picked up are Western Conference players. They've reshaped their focus."
Healy thinks they've also bolstered their defense -- the Leafs acquired
Roman Polak
via trade and added
Stephane Robidas
in free agency -- a necessity given the fact they spent too much time in their own end "whether that was systems [related] or execution."
Healy thinks they have more mobile, puck-moving players who should help in terms of lessening the load on captain
Dion Phaneuf
and star forward
Phil Kessel
, who played monster minutes throughout the season only to see their productivity decline when they needed it most.
That drop-off wasn't exclusive to those two, considering the entire team seemed to wilt down the stretch to fall in stunning fashion out of a playoff spot.
"Look at their season. The first 60 games is a glorious dance. The last bunch of games, the club falls right off the cliff. Whether or not there's not enough depth or too many minutes, or an inability to compete when games really matter, that is their focus," Healy said of the team's need to maintain some semblance of consistency.
Should the Leafs falter and get off to a slow start, Carlyle might be on a short leash.
"[Shanahan] brought in a guy like Steve Spott -- he's going to be an NHL coach," Healy said. "Randy's got some heat on him a little bit. He looks 10 feet to the right and there's an NHL coach. That's a big difference."
That said, Healy thinks Carlyle can be successful if those around him can reinforce his message with a different mode of delivery.
"I think Randy is a good coach. You don't win a Stanley Cup without having that ability to get it. He gets it. The shortfall he had was the other assistant coaches were the same voice as Randy," said Healy, who spent 15 years in the NHL, four with the Leafs.
"Any time a player comes off the ice, the message has to put him in a good spot mentally so he can affect the game on the next shift. If there's that constant yelling, constant overcorrection, at some point, as a player, you throw your hands in the air."
Healy thinks Shanahan's influence can be a steadying one and that his addition will pay dividends for the club.
"Brendan is a guy who is a proven winner," said Healy, who has worked as a successful broadcaster for both the CBC and TSN since retirement. "He's seen great organizations and how they were built. This isn't new to him. He has spent the past number of years watching hockey games as the league's discipline chief."
Beyond the front-office fortification, Healy thinks having the goaltending position solidified heading into camp should be a huge plus. Though the team has been plagued by goaltending controversy in recent years, the Leafs will enter this season with a clear-cut No. 1 goaltender in
Jonathan Bernier
.
Bernier had an impressive 2013-14 season, posting a 26-19-7 record with a .922 save percentage, though he was hampered by injury in the last month of the regular season.
"He's a quality goaltender for sure," Healy said. "I think what the Leafs need from him is that same level of quality, and he can't have an injury."
Should that happen, the Leafs should be able to earn a postseason berth. But in order for the club to make significant strides, that cannot be enough. Healy insists the standard must be much higher in Toronto.
"Making the playoffs, that's lovely, but that truly can't be your goal," Healy said. "Good teams expect to make the playoffs. Boston is not thinking about making the playoffs. They're thinking about lifting the Stanley Cup."
April, 21, 2014
4/21/14
11:31
PM ET
By
Richard Durrett
| ESPN.com
DALLAS -- The
Dallas Stars
earned their first playoff victory since 2008, beating the
Anaheim Ducks
, 3-0. It was the Stars' first home game of the series, played in front of a sellout crowd of 19,120.
Some quick thoughts:
How it happened:
The Stars got goals late in both the first and second periods.
Jamie Benn
, the Stars' second-leading goal scorer in the regular season, scored after
Shawn Horcoff
's shot from the left circle hit the pads of Ducks goalie
Frederik Andersen
and came right out to Benn on the right circle and he deposited it in the net. The goal was scored with 35 seconds left in the first period, allowing Dallas to take some momentum into the dressing room.
The teams were physical in the second period and both had some scoring chances. But it wasn't until the clock got under three minutes left that the Stars expanded their lead.
Tyler Seguin
's speed and puck-handling created the opportunity. He skated into the zone and left it for Valeri Nichuskin, who managed to get the puck through Andersen.
Dallas added another insurance goal midway through the third period.
What it means:
The Stars earned their first shutout since April 10, 2008, at Anaheim in Game 1 of the first-round and in the process are back in the series. It was an opportunity lost for the Ducks to take a stranglehold in the series. The result also guarantees that the series will go back to Anaheim for Game 5 on Friday.
Player of the game:
Kari Lehtonen
was terrific when it mattered most. He made several key saves on some point-blank chances, including
Saku Koivu
and
Nick Bonino
early in the second period. That kept it a 1-0 game and the Stars were able to add to it later in the period. Lehtonen was in a good rhythm and not afraid to come out and challenge shots. And he saw a lot of them. The Ducks vastly outshot the Stars, but just couldn't get anything past Lehtonen, even when they got some traffic in front of him. He made 37 saves, earned his first playoff victory and did so in a shutout.
Stat of the game:
The Stars' penalty kill was 5-for-5 and became a big momentum-booster for Stars goals late in the first and second periods. The Stars didn't allow rebound chances, blocked shots and Lehtonen was able to keep everything out. The Ducks haven't had a power-play goal since Game 1.
Injured defenseman:
Stephane Robidas
fractured his right leg early in the second period after getting tangled up with
Ryan Garbutt
in front of the Ducks' net. It's the same leg Robidas fractured in November when he was with Dallas, causing him to miss four months.
What's next:
Game 4 is Wednesday at 8 p.m. ET at American Airlines Center before the series shifts back to Anaheim for Game 5 on Friday.
January, 24, 2013
1/24/13
11:13
AM ET
When I catch up with unlikely scoring sensation
Daniel Winnik
by phone, he is buying towels and sheets for his new beachfront apartment. No word on whether he's searching for a motif that shows a man with his arms raised in celebration over his head. If such a design were available, it would be apropos.
As the
Anaheim Ducks
prepare for a sold-out home opener Friday night at the Honda Center against Vancouver, they are looking to equal a franchise record with a third straight win to start the season. The only other time they managed to go 3-0 out of the gate was in 2006-07, when they went on to win the Stanley Cup.
The fact the Ducks opened this shortened season with two road wins was because, in no small part, of the contributions from the gritty Winnik and new linemates
Andrew Cogliano
and
Saku Koivu
.
From the moment coach Bruce Boudreau threw the three together in an abbreviated training camp, they began to score. Didn't matter whether it was line rushes or scrimmages, they clicked.
"It was just instant chemistry," Winnik told ESPN.com amid trying to furnish his new digs.
The result has been a veritable fountain of offense for Winnik, who has four goals and an assist on the season, putting him among the league leaders in goals and points. The trio, meanwhile, has combined for five goals, nine assists and a plus-15.
Winnik bounced between Phoenix, which drafted him 265th overall in 2004, Colorado and San Jose the past three years before signing a two-year deal with the Ducks in the offseason.
When the offer was first made, Winnik said he felt there was going to be a good fit with the Ducks.
The Mississauga, Ontario, native has known Cogliano for years. The two share an agent, Pat Morris, and work out together in Toronto in the offseason. When Winnik was playing at the University of New Hampshire and Cogliano was at the University of Michigan, the two kept in regular touch, so there is a level of comfort between them on and off the ice.
Longtime NHL netminder Brian Hayward, now a broadcast analyst for the Ducks, said he thinks Winnik is the perfect complement to what Cogliano and Koivu bring to the mix. While Cogliano has great outside speed and Koivu uses lateral movement to buy himself time in the offensive zone, Winnik has been a straight-line-to-the-net presence.
"It's exactly what they need. He's a powerful skater," Hayward told ESPN.com. "He's making really good plays. If he continues to go to the net with the aggressiveness he's shown in the first two games he's going to continue to get points."
Two of Winnik's goals have been beauties, Hayward said while another went in off a defenseman's butt and another off his foot. But that's what happens when you're in the right part of the ice.
Still, Winnik admitted the early goal production has done wonders for his confidence.
"I've had some years where it's taken a while to score and the weight of not scoring starts to build," he said.
Last season, for instance, it took Winnik 31 games to get his fourth goal, a stretch that included a 17-game goal-less drought.
"I don't think I expected to get out to this start," Winnik said. "I don't think anyone did."
Boudreau said the reason for the trio's success isn't much of a mystery.
"I knew Daniel's reputation, and I knew that he was mostly a defensive forward but they worked so hard together," Boudreau told ESPN.com. "They're outworking their opponents."
For a team desperate for a good start, the production from its third line has been a godsend.
"It's the most important thing," Boudreau said. Any successful team, let alone a championship team, has at least three lines that can hurt an opponent offensively. "It puts so much pressure on the other teams' coaching staffs to match."
So now what?
Yes, everyone is a bit surprised at Winnik's production, but Boudreau told him this week not to think of it as luck, a fluke or something that has to end.
"I told him not to think, 'This isn't supposed to happen,'" Boudreau said. "I said, 'Keep pushing the envelope.'"
He told Winnik about players who find their scoring groove later in their careers and never give it up.
"Once they get it, it stays part of your DNA," the coach said.
Boudreau had a player like that in Washington named
Mike Knuble
, who, after struggling early in his career, recorded eight straight seasons of 20 goals or more.
"I think of a guy like Charlie Simmer," Boudreau said of the former Kings great. "I bet if we keep throwing out names we'll come up with lots of guys."
Daniel Winnik?
We're about to find out.
January, 22, 2013
1/22/13
10:38
AM ET
By
ESPN Stats & Information
| ESPN.com
Ducks 5, Flames 4
*
Daniel Winnik
(ANA): 2 goals (4), assist (multi-goal games in both games this season; had just 1 in his 1st 5 NHL seasons)
*
Ryan Getzlaf
(ANA): 2 goals (2); 4 points in 2 games this season (2 G, 2 A)
*
Curtis Glencross
(CGY): 2 goals (2), assist (had 2 multi-goal games all of last season)
Red Wings 4, Blue Jackets 3 (SO)
*
Damien Brunner
(DET): scored only goal of shootout (8th player to attempt); 1st career shootout goal
*
Pavel Datsyuk
(DET): goal, assist (6 points in last 3 games vs Blue Jackets)
* Red Wings: 0-7 on power play (0-11 on power play in 2 games this season)
* FROM ELIAS: Pavel Datsyuk, who scored one goal and assisted on another in the Red Wings' shootout win at Columbus, is the all-time leader in points (64) and assists (43) against the Blue Jackets. Datysuk's 21 goals vs Columbus tie him with
Teemu Selanne
for fourth-most all-time, behind co-leaders
Jarome Iginla
,
Patrick Sharp
and
Keith Tkachuk
(24 goals each).
Senators 4, Panthers 0
*
Craig Anderson
(OTT): 31 saves; 20th career shutout (allowed 1 goal in 2 games this season)
*
Kyle Turris
(OTT): 2 goals (3); 5th career multi-goal game (never had hat trick)
* Senators: 6th straight home win vs Panthers
Sabres 2, Maple Leafs 1
* Sabres: snap 5-game losing streak in road games vs Maple Leafs
*
Jason Pominville
(BUF): goal, assist (5 points in his 1st 2 games this season)
*
Ryan Miller
(BUF): 34 saves; 1st win in last 7 road starts vs Maple Leafs
Blues 4, Predators 3 (SO)
* Blues: 3rd straight win over Predators
*
Vladimir Tarasenko
(STL): goal (3), 2 assists; 5 points in 1st 2 career NHL games
*
Patric Hornqvist
(NSH): goal, 2 assists; ties career high with 3 points
Bruins 2, Jets 1 (SO)
* Bruins: 11th straight home win over Jets franchise (last loss was March 2007)
*
Tuukka Rask
(BOS): 26 saves, allowed 1 goal in both starts this season (both Bruins wins)
*
Brad Marchand
(BOS): goal (1); had career-high 28 goals last season
Islanders 4, Lightning 3
* Islanders: 4th straight home win over Lightning
*
John Tavares
(NYI): 2 assists; 9 points in last 5 games vs Lightning
*
Steven Stamkos
(TB): goal, assist; 5-game point streak vs Islanders (5 G, 3 A on streak)
* FROM ELIAS:
Vincent Lecavalier
, the No. 1 overall pick in the 1998 draft, played his 1000th regular-season game on Monday. Lecavalier, who's spent his entire career with Tampa Bay, is the 5th player to be selected with the top pick in the draft then play at least 1,000 games for the team that chose him: Gilbert Perreault (Sabres, 1191 games), Denis Potvin (Islanders, 1060),
Mike Modano
(Stars, 1459) and
Chris Phillips
(Senators, 1027).