Cross Checks:

Darcy Kuemper
October, 13, 2014
10/13/14
12:11
PM ET
By
From the NHL
| ESPN.com
Montreal Canadiens
center
Tomas Plekanec
,
Minnesota Wild
goaltender
Darcy Kuemper
and
Pittsburgh Penguins
center
Sidney Crosby
have been named the NHL's "Three Stars" for the week ending Oct. 12.
FIRST STAR – TOMAS PLEKANEC, C, MONTREAL CANADIENS
Plekanec tied for the League lead with four goals (4-1—5), helping the Canadiens pick up a trio of road wins to open the season with a 3-0-0 record for the first time since 2005-06. He began the season with two goals, including the game-winner with 42.9 seconds remaining in regulation, in a 4-3 victory over the
Toronto Maple Leafs
Oct. 8. Plekanec then scored Montreal's lone regulation goal in a 2-1 shootout win over the
Washington Capitals
Oct. 9. He closed the week with 1-1—2 in a 4-3 shootout victory over the
Philadelphia Flyers
Oct. 11, marking his first three-game goal streak since Oct. 25-29, 2010 (3-1—4). The 31-year-old Kladno, Czech Republic, native is playing in his 10th full NHL season and has compiled 180-264—444 over 682 regular-season games.
SECOND STAR – DARCY KUEMPER, G, MINNESOTA WILD
Kuemper stopped all 46 shots he faced in helping the Wild become the fifth team since 1943-44 to begin a season with consecutive shutouts (a feat also accomplished last week by the
San Jose Sharks
). He recorded 16 saves in a 5-0 triumph over the
Colorado Avalanche
Oct. 9 and then completed the home-and-home sweep with 30 stops in a 3-0 win Oct. 11. According to the Elias Sports Bureau, the 24-year-old Saskatoon, Sask., native is the youngest goaltender in NHL history to post shutouts in each of his team's first two games of a season. A sixth-round pick (161st overall) by the Wild in the 2009 NHL Draft, Kuemper has a 15-10-4 record with a 2.22 goals-against average, .919 save percentage and four shutouts in 34 career regular-season appearances.
THIRD STAR – SIDNEY CROSBY, C, PITTSBURGH PENGUINS
Crosby shared the League lead with six points (3-3—6) and four power-play points (2-2—4) in lifting the Penguins to a pair of victories to open the season. He posted 2-1—3 in a 6-4 win over the
Anaheim Ducks
Oct. 9, marking his third consecutive home opener with a goal and stretching his career totals in home openers to 7-6—13 (9 GP). Crosby then added 1-2—3 in a 5-2 triumph over the Toronto Maple Leafs Oct. 11. According to the Elias Sports Bureau, he is the first Penguins player to record at least three points in each of the team's first two games of a season since 1995-96, when
Ron Francis
,
Jaromir Jagr
and
Mario Lemieux
each did so. The reigning Hart and Art Ross Trophy winner, Crosby has compiled 277-498—775 in 552 regular-season games since being selected first overall by the Penguins in the 2005 NHL Draft.
September, 4, 2014
9/04/14
9:58
AM ET
It's no secret what topic will be dominating the headlines when the
Minnesota Wild
open training camp later this month.
Despite making a significant step this spring -- advancing to the second round of the 2014 Stanley Cup playoffs and taking the
Chicago Blackhawks
to six games in the Western Conference semifinals -- the Wild head into the upcoming season with one big question on everyone's mind: Who will be their starting goaltender?
Wild head coach Mike Yeo has stated publicly that the team will enter training camp with all three netminders who made starts last season:
Josh Harding
,
Niklas Backstrom
and
Darcy Kuemper
.
Harding had a sensational start to the season but was sidelined indefinitely in January while continuing to battle multiple sclerosis. Backstrom was hampered by a groin injury. Kuemper entered as an unproven youngster, but he impressed quite a few people.
[+] Enlarge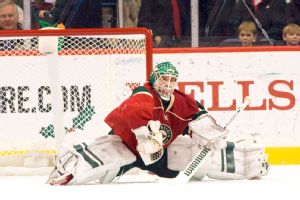 Marilyn Indahl/USA TODAY SportsJosh Harding's sensational start was sidelined by his battle with multiple sclerosis, but the Wild's goalie is said to be in an "excellent place right now."
Yes, the situation remains fluid and no one can quite predict how it will play out, but there isn't reason for panic, according to former Wild captain
Wes Walz
.
"That's going to be a topic around here, especially as training camp rolls around, but I'm not nearly as concerned with the goaltending scenario as most people," Walz told ESPN.com in a recent phone conversation.
Why is that? Walz said that, from the people he has spoken with, Harding is reportedly in an "excellent place right now." Moreover, he believes Backstrom is in much better shape following the second surgery to repair his groin issues. And Walz was thoroughly impressed by what he noticed in Kuemper last season, saying that the 24-year-old has "tremendous potential."
If Kuemper begins the season with the team's AHL affiliate in Des Moines, Iowa, and Harding and Backstrom are healthy to start the season, the club should be in good shape.
"If those two start the season, I think both goaltenders will be among top 10 in the league," said Walz, who now works as an analyst for Fox Sports North on Wild broadcasts.
Walz thinks the biggest challenge for the Wild is not defending the net, but filling it.
"It's not a secret that every team in the NHL needs guys that can finish around the net and guys that can score. If you watch all six of our [playoff] games against Chicago, I would say that in five of six of those, they outchanced and outplayed [Chicago], but they had a very difficult time finishing, whether that be 5-on-5 or in the slot on the power play," Walz said. "That was kind of the theme even throughout the season."
Enter
Thomas Vanek
, whom the Wild inked to a three-year, $19.5 million deal as one of the top unrestricted free agents this summer.
Walz thinks that the two-time 40-goal scorer will provide a huge boost to the Wild's offense, as well as to their power-play unit.
"Signing the biggest fish on the market as far as a guy who can potentially score 40 goals was an outstanding move," Walz said. "I'm very excited about the term of the deal. Not sure you want to lock in for a guy that is getting a little older -- six, seven years could potentially throw a noose around the organization -- but the money is good, the term is fair and you get a guy who is a right-handed shot in the middle of the power play."
Walz felt that was a dynamic that the Wild really missed on their man-advantage, which finished 17th in the league. Walz concedes that Vanek, a former standout at the University of Minnesota, may have to deal with added pressure playing back home, but that he will also come into training camp with something to prove following a disappointing run in the playoffs with Montreal last spring.
Whether he was placed in a position to succeed or whether he just plain underperformed, Vanek must be itching to make a statement early this season.
"I'm sure he's going to want to come here and prove everyone wrong," Walz said.
Joining Vanek is a loaded crop of young players that includes
Mikael Granlund
,
Nino Niederreiter
and
Charlie Coyle
. But asked about which "kid" he is most intrigued to see compete this season, Walz had an unequivocal answer that some people may find surprising:
Erik Haula
Though Haula played a good chunk of last season in the minors, he was "absolutely outstanding" when called up. Walz even ventured to say that he may have been one of the team's most consistent performers down the stretch.
Walz, who played seven seasons for the Wild and served two seasons as an assistant coach for the
Tampa Bay Lightning
, said he recognizes some elements of Haula's game that remind him of himself as a young player.
He thinks Haula has a great opportunity to become a standout NHL player.
"He's a checking center, a great penalty-killer, he's smart away from the puck, very cerebral and coachable," Walz said. "You can't teach the way he can skate. He's got another gear on the ice and when he hits it, it brings people out of their seats."
Walz saw the way Haula earned more and more trust from Yeo last season, and he expects him to pick up where he left off to continue his progression.
As for the rest of the team, Walz has no doubt the Wild will again be a playoff team, but considering the absurd level of competition in the Central Division, this season will test the club's mettle, no doubt.
"It's gonna be a grind right from day one," Walz said. "It's going to be paramount you don't get into five-or-six game skids. It's going to be important to try to get out of those. The teams that get out of those little funks are the teams that are gonna make it into the playoffs."
May, 2, 2014
5/02/14
3:09
PM ET
CHICAGO - The Minesota Wild had three goalies on the ice for their morning skate on Friday, none of whom were rookie
Darcy Kuemper
, who remains day-to-day with an upper-body injury suffered in Game 7 against the
Colorado Avalanche
.
Veteran
Ilya Bryzgalov
will get the start in Game 1 for the Wild against the
Chicago Blackhawks
, like he did in the first round against the Avalanche before getting swapped out for Kuemper as the Minnesota goalie rotation continues moving.
"It's been crazy," said Wild forward
Dany Heatley
. "But everybody who has gone in has played well."
Bryzgalov picked up the Game 7 win in relief of Kuemper to improve his postseason stats to 1-2 with an .826 save percentage. In 41 career playoff games with the Ducks, Coyotes and Wild, Bryzgalov is 18-21 with a .905 save percentage.
He'll be backed up by
John Curry
, the 30-year-old Minnesota native who has played in six career NHL games. According to Mike Yeo, Kuemper isn't in Chicago and continues to get checked out by team doctors.
The wildcard in this series could be
Josh Harding
, who is practicing with the team but is considered by Yeo a longshot to get playing time in this series. Harding hasn't played since December 31 while battling multiple sclerosis.
"[It's] get him on the ice and get him back to being part of the group and helping out a little bit with practice," Yeo said. "I have to figure out exactly what the rules are, to be honest with you. I don't even know. For me, I'm not even considering it right now. If there's an absolute emergency or there's a desperate situation we find ourselves in we'll be prepared for that."
As for Heatley, he practiced with the first power play unit, his role continuing to expand after being a healthy scratch early on this postseason. His ice time grew from 10:41 in his playoff debut in Game 3 against the Avalanche to 16:58 in the overtime finale. He had five points in the last three games of that series.
"For me, this is the most Dany Heatley that we've seen all year," Yeo said. "He's just handled things so well all year. It's been real impressive to watch."
March, 3, 2014
3/03/14
1:09
PM ET
From the official NHL release:
FRANZEN, HENRIQUE AND KUEMPER NAMED NHL 'THREE STARS' OF THE WEEK
NEW YORK (March 3, 2014) –
Detroit Red Wings
right wing
Johan Franzen
,
New Jersey Devils
center
Adam Henrique
and
Minnesota Wild
goaltender
Darcy Kuemper
have been named the NHL's "Three Stars" for the week ending March 2.
FIRST STAR – JOHAN FRANZEN, RW, DETROIT RED WINGS
Franzen posted 3-2—5 in two games to lead the Red Wings (28-20-12, 68
points) to a pair of road wins following the Olympic break, helping the club maintain the second Wild Card position in the Eastern Conference. He assisted on both goals in a 2-1 victory over the
Montreal Canadiens
Feb.
26, including the primary helper on Gustav Nyquist's overtime winner with
27.3 seconds remaining. Franzen then recorded three goals, including the game-winner, for his sixth career hat trick – and first since Nov. 8, 2011 – in a 6-1 triumph over the
Ottawa Senators
Feb. 27. The 34-year-old Vetlanda, Sweden, native ranks fifth on the Red Wings in scoring despite missing 27 games due to injury, tallying 12-16—28 in 33 appearances.
SECOND STAR – ADAM HENRIQUE, C, NEW JERSEY DEVILS
Henrique recorded three consecutive multi-point games, sharing the League lead in goals (4), points (6) and power-play goals (2) to power the Devils (26-23-13, 65 points) to two wins in three starts. He tallied two goals – including his ninth career game-winner and eighth career shorthanded marker – for his first multi-goal performance since March 13, 2013, in a 5-2 victory over the
Columbus Blue Jackets
Feb. 27. Henrique then collected 1-1—2 in each of the next two games: a 6-1 triumph over the
New York Islanders
March 1 and a 4-2 loss to the
San Jose Sharks
March 2.
The 24-year-old Brantford, Ont., native ranks third on the Devils with
18-15—33 in 62 games this season, including a team-leading seven power-play goals and two shorthanded tallies.
THIRD STAR – DARCY KUEMPER, G, MINNESOTA WILD
Kuemper stopped 51 of the 52 shots he faced to post a 2-0-0 record with a 0.48 goals-against average, .981 save percentage and one shutout, helping the Wild (33-21-7, 73 points) remain in the first Wild Card spot in the Western Conference. He made 21 saves for his second career shutout in a
3-0 victory over the
Edmonton Oilers
Feb. 27. Kuemper then recorded 30 saves – and denied all seven shootout attempts he faced – to pick up a 2-1 win over the
Vancouver Canucks
Feb. 28. The 23-year-old Saskatoon, Sask., native has appeared in 17 games this season (including 14 consecutive starts), compiling a 10-3-2 record with a 2.20 goals-against average and .924 save percentage.
March, 3, 2014
3/03/14
9:50
AM ET
The big fish is gone in
Ryan Miller
but he likely won't be the only goalie traded in the next few days.
For starters, what becomes of the NHL's all-time winningest netminder?
The
Minnesota Wild
seem like the perfect fit for
Martin Brodeur
, who no doubt would welcome being reunited with old New Jersey pal
Zach Parise
.
The Wild have been getting solid goaltending from rookie
Darcy Kuemper
and he looks like he can be a No. 1. But what if he falters, as some rookies do, or gets hurt?
Niklas Backstrom
has been battling injuries all season and is unreliable.
Josh Harding
was fantastic until his MS flared up again. You feel for him, by the way.
But the Wild are playoff-bound and need assurances in net.
They looked in on Buffalo before Miller was ultimately traded to St. Louis. I never felt the Wild were ready to get into that kind of blockbuster.
But Brodeur or, possibly,
Jaroslav Halak
(now in Buffalo) are both UFAs July 1 and present certainly smaller investments in terms of what it would take to get them.
Thing is, we still haven't heard from Papa Lou in all this, have we? Veteran Devils GM Lou Lamoriello has kept his intentions rather quiet on what he's going to do with Brodeur, a Hall of Fame backup to Devils starter
Cory Schneider
. This is a delicate one, for sure. Brodeur is the most important player in Devils history.
On the outside looking in, it just feels to me as if Brodeur is ready to move on. He certainly hasn't shied away from the subject all season long, but always adding that only if Lamoriello felt it was the right thing to do.
To me, it's clear Minnesota would top Brodeur's list. He's got a shot to play games alongside Kuemper plus, aside from the Parise connection, there's the fact Brodeur's twins are at Shattuck St. Mary's school there.
It all ties up in a nice bow, really.
But first, Lamoriello has to want to make the move. Secondly, I don't think the Wild are interested in breaking the bank in terms of what it's going to take to get a goalie in.
So if Halak is cheaper ...
Plus, there are other goalie options. You've got
Viktor Fasth
in Anaheim, who I believe is available,
Tim Thomas
in Florida,
Justin Peters
in Carolina,
Ilya Bryzgalov
in Edmonton et al.
A source this past weekend simply told me the Wild were kicking tires on different goalie options.
Still, none of those guys above carry the buzz of acquiring the NHL's all-time wins leader in Brodeur.
The latest on Callahan
Sources confirm that
Ryan Callahan
has softened somewhat of late in his contract demands, but as of Monday morning he's still not close to a deal with the Rangers.
Recently, the Rangers captain dropped his term request from seven years, which had been a major sticking point, to six years, sources confirmed.
But the money he's asking, somewhere just south of $6.5 million, a source said, remains too much money for the Rangers, who I believe would do a six-year, $6 million per year contract.
Doesn't seem as though they're that far apart at this point. But if that remaining gap doesn't close further over the next couple of days, the Rangers seem intent to trade him.
Just doesn't seem right to see Callahan wear another uniform. Hopefully both sides can further reduce this gap.