Cross Checks:

Darryl Sutter
June, 13, 2013
Jun 13
9:17
PM ET
CHICAGO -- Who took the "power" out of power play?
The man advantage sure hasn't lived up to its name the past few years, at least when it comes to having an impact for championship teams.
The past two Stanley Cup winners, the
Boston Bruins
in 2011 and
Los Angeles Kings
in 2012, struggled on the power play, but it didn't at all prevent them from winning it all.
And regardless of whether the Bruins or the
Chicago Blackhawks
win this season, it sure won't be because of their power play.
So what gives?
"I really think the penalty-killing units have improved a lot," star Bruins center
Patrice Bergeron
, a key cog on both the penalty kill and power play, said in French on Thursday. "And honestly, I just think there's less room out there. I also think it's more than just one thing, there's a number of reasons why it's happened.
"But in the playoffs, the focus is really on defense. It's a cliché, but teams that win championships know how to play defensively and teams continue to improve in that area."
To wit:
The Bruins right now are at a 16.7 percent success rate (8-for-48), ninth best out of the 16 playoff teams; the Hawks have struggled even more, going 7-for-54 (13 percent).
It just follows the recent trend. That 2011 Bruins team was a woeful 11.4 percent (10-for-88), while last year's Kings checked in at 12.8 percent (12-for-94), 14th among playoff teams.
"But you know what? In the deciding game last year we scored three goals on it, so believe me it can still score big goals for you at important times," Kings head coach Darryl Sutter told ESPN.com over the phone Thursday. "But there's a few things. One, fewer penalties called in the playoffs so therefore fewer chances.
"The other thing is, you practice the power play so much during the regular season, and then you get to the playoffs and your top players need some time off between games, so you don't practice the power play quite as much. That's a factor."
By not practicing it as much, perhaps the power play gets out of rhythm. What matters the most, though, is that the Kings last year still won the special-teams battle when it mattered most, just as Boston did against Vancouver in 2011.
It's not how many power-play goals you score, it's whether you score more than the other team.
The numbers don't tell the whole story, either. Some power plays still generate momentum even if there's no goal scored, as long as the team threatened on them. Players can feed off that when 5-on-5 play resumes.
[+] Enlarge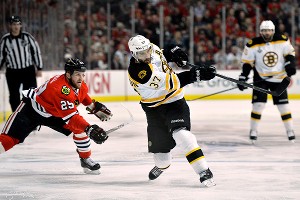 Brian Babineau/Getty ImagesPatrice Bergeron has some ideas, shared by others, about why power-play production is down during the postseason.
"Yes, you talk a lot about that as a team, just making sure you get as many good looks as possible so that it carries over," said Sutter. "We almost talk more about that than actually scoring."
On the flip side, a power play that doesn't generate anything at all, sort of like what Chicago has struggled with recently, can deflate a team for a few shifts.
Ray Ferraro
made his living on the power play during his NHL playing career, and the TSN analyst said the concern is that if you go too long struggling on the man advantage it may affect you mentally.
"You have to be careful not to let an ineffective power play seep into the rest of your game and frustrate you," Ferraro said Thursday.
And for the Hawks, that's the danger right now if they let their power-play woes continue. Their 5-on-3 power play in Game 1 versus Boston was as bad as we've seen in a while in that situation. No creativity, the players way too stationary.
"Our power play in the last series and last night hasn't shown the production that's needed or is going to be necessary going forward," Chicago head coach Joel Quenneville said Thursday. "We're still going to have to rely on it at some point to ignite us. That's what we're talking about.
"We're disappointed with the 5-on-3 last night. Want to make sure you don't lose the momentum of the game."
When you have a lineup that boasts the likes of
Jonathan Toews
,
Marian Hossa
,
Patrick Kane
,
Patrick Sharp
and
Duncan Keith
, not being able to score on the power play is a real head-scratcher.
"I know in 2010, we had a great power play, it was huge to helping us win," Kane said Thursday. "We've had stretches throughout the postseason where we've moved it around pretty well. Sometimes you just can't find the back of the net. I think maybe another reason is it seems power plays are down throughout the year and in the postseason for whatever reason. When you do get the man advantage, you're not in a complete rhythm when you get out there.
"For whatever reason, the past two teams to win, even us and Boston this year, haven't had great power plays. It's something we want to improve and feel we can help our game even more if we can keep it going."
Quenneville is in the same frame of mind as Bergeron. Give credit where credit is due, said the Hawks coach.
"I don't know if it's the power plays that are struggling or the penalty killing has been more effective or efficient," Quenneville said. "You look at teams, Boston when they won it, their penalty killing was outstanding. Special teams are always critical. I think they can make the difference."
Indeed, another trend linking the 2011 Bruins, 2012 Kings and both Boston and Chicago clubs this year is an excellent penalty kill.
The Hawks are first in the playoffs at a remarkable 93.4 percent rate, having killed 57 of 61 power plays
The Bruins are fifth at 87.3 percent, killing 48 of 55 PPs
The 2012 Kings tied for tops in the playoffs at 92.1 percent, killing 70 of 76 PPs
The 2011 Bruins were at 84.4 percent, killing 81 of 96 power plays, but noticeably improved in that area as the playoffs went along, famously capping their year by shutting down a loaded Vancouver power play in the Cup finals.
I vividly recall a conversation with Ken Hitchcock before last season's playoffs in which the
St. Louis Blues
head coach made the point that he has always believed the power play was overrated in terms of its impact on postseason games. Hitchcock felt 5-on-5 and the penalty kill were what really mattered.
The rest of the coaching fraternity is clearly on the same page.
When I asked Bruins coach Claude Julien about this topic Thursday at his off-day news conference, he sounded like a man capable of teaching a university class on the subject.
"I think if you look at teams sometimes that have great power-play percentages in the playoffs, they get them early in the playoffs," began Julien. "But as the playoffs move on, you do so much homework on the other team's power play. Like for us, we could go back three rounds, looking at Chicago's power play, and vice versa. Plus, the more you play them, the more you make adjustments as you go on.
"I think it's a normal trend, has absolutely nothing to do with the team not being able to score more than the penalty kill doing a great job," he continued. "When you see guys like [injured center Gregory] Campbell throwing himself in front of a shot
like he did, you're seeing guys go above and beyond what they do in the regular season to prevent a goal.
"To me, it's a normal thing. Even when we played Vancouver, they had such a good power play. By the time they got to the final, they couldn't score either. Yeah, you give your team credit. But also the fact that you've been able to scout them and play them, and just as the game goes on is another thing. To me, I've always been one of those proponents, that more often your 5-on-5 play is what is going to decide a game.
"When you play 50 minutes or so 5-on-5, that should be more of a determining factor than six minutes on a power play," Julien concluded.
Amen to that.
May, 28, 2013
May 28
3:39
PM ET
LOS ANGELES -- Game 7.
It explains itself.
No matter how many you've played, it's special unto itself.
"If you don't get butterflies, there's something wrong with you," said
Los Angeles Kings
veteran
Justin Williams
, who is 3-0 in Game 7s in his career with seven points (3 goals, 4 assists).
"But at the same time, control the butterflies, be calm, be confident; that's how we aim to approach it," Williams added after the morning skate at Staples Center.
Williams remembers how he felt before Game 7 of the 2006 Stanley Cup finals; his
Carolina Hurricanes
had lost two straight to the
Edmonton Oilers
before finally finishing them off at home.
"We had lost Game 5 on a short-handed overtime goal, and then we got completely embarrassed in Game 6 [in Edmonton]. It wasn't even close," Williams said. "So, obviously, we had to regroup, refocus and maintain. Just like everyone says, 'Hey, if you could play one game for the Stanley Cup, you guys would take it at the start of the year.' That was the approach. I don't think I slept that day, but I was ready to play."
Loose Sharks
On Tuesday morning, the
San Jose Sharks
players were loose and relaxed again at the pregame skate.
It may mean nothing come game's end Tuesday night, but it's unmistakable that the Sharks are acting like they're playing with house money.
"This team really does have a lot of fun with each other; we've really just enjoyed this run and we want to continue it after tonight," Sharks captain
Joe Thornton
said after the morning skate.
Veteran defenseman
Dan Boyle
says it's a different feeling this year for the Sharks, who didn't enter the playoffs under the weight of expectations.
"For many years we've been picked [to go far] and people get disappointed year in and year out. This year it's been the other way around, where we weren't picked to win the first series [against the
Vancouver Canucks
] and we weren't picked to win this one," Boyle said. "It's a different situation for us. Whether that's good or bad, we'll see. But not a lot of people thought we would be here at this point."
Less than two months ago, the Sharks were in the process of trading away three veteran players:
Ryane Clowe
,
Michal Handzus
and
Douglas Murray
. And if the team had kept losing, who knows who else would have been gone.
"We were probably a couple of losses away from a big blowup; a couple of us were mentioned in trade rumors," Boyle said. "We just stuck through it, came together as a team and have played very well since we made a couple of those deals."
Ever since that day, the Sharks have played as if every day was a bonus for them. Which is why coach Todd McLellan said he's not planning any big speech before Game 7.
"There are still things we need to address, but there isn't a rah-rah speech that's going to go on," McLellan said. "They're motivating themselves, they're playing for each other. There's nothing more powerful in sport than when a group of people come together and play for each other. If they have to play because the coach is motivating them, I don't think we'll be successful."
Williams, though, downplayed San Jose's underdog role. After all, he said, these teams were separated by only one point in the standings this season.
"You can say anything to make yourself think whatever you want," Williams said. "In here, we don't care. Underdog? They're a successful hockey team, and so are we. You want to finish your season with a win. If you don't, you get a sour taste for the summer, and we don't want that tonight."
Sutter demands more of LWs
Kings coach Darryl Sutter pointed to production -- or, rather, a lack thereof -- from the team's left wingers as an issue heading into Game 7.
"We need more from our left side, period," Sutter said Tuesday morning. "We've got two even-strength goals in the whole playoffs from our left side. When you're talking about lines, that's one of our three that aren't pulling their weight."
Captain
Dustin Brown
played left wing on the top line with
Anze Kopitar
until two games ago, when he was shifted to right wing on the third line and scored his team's lone goal from that spot Sunday. He has three goals in 12 playoff games.
Sutter's message was probably directed more toward left wingers
Dustin Penner
(two goals in 12 games) and
Dwight King
(no goals in 12 games).
First goal means something
The team scoring first in this series is 6-0. Scoring first seems to calm that team down and allow it to set the tone. It looms large heading into Game 7.
"Both teams rely heavily on their goaltenders, so I think getting that first goal kind of calms both benches down," Thornton said. "I think it's 70 percent in these playoffs -- if you score the first goal, that team wins. So it's going to be huge for us tonight."
Jumbo huge
Asked what the Sharks were doing well against them in this series, Brown pointed to one specific player: Thornton.
"He's been a pretty dominant force throughout the series," Brown said. "He is really good on the offensive side of the puck. I think that's probably been the biggest part of the series for them is No. 19. From our blue line in, he's been really big and really hard. He's so big and strong, and then you add his skill level into it, it's a tough combo to defend. I think guys have battled hard against him, but he's been effective."
Western parity
Both second-round series in the Western Conference need seventh games to decide them, a fact Sutter felt was reflective of the competition in the West.
"Look at it, our conference has four teams going to Game 7," Sutter said. "It tells you how good the conference is and how close the teams are. That's clear. There's not a top to bottom, and it's probably the way it should be.
"The teams are really, really close."
May, 23, 2013
May 23
3:58
PM ET
LOS ANGELES -- The Kings' new forward lines were still a go at the pregame skate Thursday morning, meaning captain
Dustin Brown
and star center
Anze Kopitar
were on different units.
If the morning lines stand for Game 5 Thursday night, Kopitar will start with
Kyle Clifford
and
Justin Williams
, and Brown will be on the third line with
Trevor Lewis
and
Dwight King
.
"When you score two goals in 120 minutes, you got to mix it around," Brown said after the morning skate. "With Kinger and Lewis, they're both really hard-working guys with pretty good skill low. They have that two-man cycle game down pat. For us, it should be about simplifying our game, getting it into their zone and cycling. The important thing, and I mentioned this to Lewy and Kinger: it's one thing to cycle; we have to bring pucks to the net when we have the opportunity. Sometimes that's just bearing down, dropping your shoulder and going. With the size and skill we have on this line, that should be our goal."
For Clifford, it's a big promotion from the fourth line to Kopitar's line.
"It's definitely a big role, I just have to play my game, keep it simple and not change anything," Clifford said.
Dustin Penner
remained with
Mike Richards
and
Jeff Carter
, Penner having joined that duo midway through Game 4 in San Jose -- although Penner's promotion to that line doesn't mean Kings coach Darryl Sutter is completely satisfied with his play in this series.
"We need a bigger, heavier game from Dustin Penner. Very simple," Sutter said.
Stoll update
Jarret Stoll
is still not close to playing -- he hasn't even resumed skating -- but there was some news reported by Sutter on Thursday morning.
"He rode the bike yesterday for a few minutes," Sutter said. "He'll do that again today. It is protocol. Is it progress? It is if it's good today [how he feels on the bike ride]."
Sharks at Staples
The Kings have won 12 straight at home, where they're a comfortable bunch. What do the Sharks have to do to get traction here?
"I think we can build off of Game 2; we played a good enough game to win here," center
Logan Couture
said. "Obviously we took a couple of penalties at the end of that game that cost us. I think we played a really good road game that night. Hopefully we can build off that."
Veteran defenseman
Dan Boyle
agreed.
"It's important for us not to be complacent, not to be satisfied with what we've done so far," he said. "I've seen it in the past, I've been on teams where you come back a little bit in the series and then there's a letdown, you almost exhale for a second. I just think this team needs to keep going on what we've done over the past four games. We just need to keep going."
Better starts
The Sharks have had better starts three games in a row, and that's something the Kings were keying on heading into Game 5.
"I think it's based on your top guys," Sutter said. "I know we keep coming back to that, but if you look at how especially their top two lines early have been really good, we've had to sort of weed into that. That's the challenge for those groups."
The Sharks know the Kings were preparing for a big start and have also talked about that heading into Game 5.
"The first 5-7 minutes are going to be important for our team," San Jose coach Todd McLellan said. "We're going to have to get on our toes and make sure that we're aggressive and try to play those minutes in their end. I think they'll try to make the start a focal point on their behalf. We have to be prepared for it."
May, 22, 2013
May 22
7:43
PM ET
EL SEGUNDO, Calif. -- There's a reason no team has won back-to-back Stanley Cup titles since the
Detroit Red Wings
in 1997 and '98:
It's damn tough.
Reproducing the hunger and drive to go all-out over two months is mighty difficult. Once a player has done it, he realizes how much sacrifice it takes. He remembers what his body feels like at the end of it.
Two-time Stanley Cup champion
Justin Williams
knows that all too well.
"The parity of the league makes it a lot tougher. It's hard [to repeat]," Williams said Wednesday after he and the
Los Angeles Kings
practiced. "It is a hard grind getting 16 wins throughout a postseason. But the trick is to make sure you have the same hunger that drove you last year, because you have won.
"That next Stanley Cup should be your favorite one. That's what we're finding here, that's what we're looking for. And there are teams in our way. We're still in a good spot."
The reigning Cup champion Kings do indeed control their fate despite having lost two straight to the
San Jose Sharks
and sitting in a 2-2 tie in the Western Conference semifinals. It's now a best-of-three series with two of those three games at home, where the Kings have dominated of late, winning 12 straight.
"We won the last game of the regular season for a reason," star center
Anze Kopitar
said. "We got to make it count."
It certainly isn't coming easily this spring for the Kings, who steamrolled through the playoffs last spring like the 1987
Edmonton Oilers
.
Los Angeles was healthy and dominant a year ago, barely facing any adversity in going up 3-0 in all four series. It was silly, really.
Now the Kings get to experience the playoffs like normal contenders. You know, where you lose a game here and there. And lose a player here and there.
They're finding out that repeating is awfully tough.
"The physical part is obviously huge, but just the highs and lows that you go through, you got to be ready for that in your head," Kopitar said. "Last year we had a lot more highs than we had lows. This time it's a little bit different. Mentally, it's challenging. You have to take it as a new day and prepare that way."
This a good test for the Kings, who have character and guts. It would be a shock if they didn't raise their game to another level in Game 5 on Thursday at Staples Center.
This team still has the hunger.
"Absolutely, absolutely," said Williams, who appears to be playing banged up in this series. "We're professionals, we're here for a reason. That Stanley Cup, the big, silver jug, is the pinnacle of success in our professional life. Regardless of whether you've won it once, twice, five times, come playoff time that's all you want."
It won't all be solved between the ears, though.
There are X's-and-O's issues, too.
"We've just got to get more O-zone time and less D-zone. It's simple," said veteran defenseman
Matt Greene
, who got his first good look at the issues Tuesday night in his first game of this postseason.
"They're a cycle team just like us, and the more they're in our zone, the less we're establishing our game plan and doing what we want behind their defensemen. That's it. It's pretty simple," Greene said. "There's no magic here. We just need more offensive-zone time."
The Kings haven't generated enough offensive pressure in this series. At least not the kind we're accustomed to seeing from them.
To that end, head coach Darryl Sutter took his blender out Wednesday, shuffling the deck on his lines, at least for practice.
Captain
Dustin Brown
was off Kopitar's line and found himself on the third line with
Trevor Lewis
and
Dwight King
. Replacing Brown on Kopitar's line with Williams was
Kyle Clifford
.
Dustin Penner
skated with
Mike Richards
and
Jeff Carter
, after Penner replaced King on that unit midway through Game 4.
"Quite honestly last night as the night went on we used a lot of different guys," Sutter said Wednesday when asked about the line changes. "Trying to get something going and generate a little bit more with some of our top guys."
The Brown-Kopitar-Williams unit just hasn't delivered enough. That's a big part of the issues, especially when you think back to both Brown and Kopitar generating playoff MVP votes last season.
"Quite honestly as a line, they've been struggling for two series, if you look at it," Sutter said.
It's clear that the coach isn't satisfied with too many of his forwards' production, other than Richards and Carter.
"I think we need four lines with some balance because really other than Richie and Jeff, we really haven't been able to play anybody to give us a little bit of energy and continuity," Sutter said.
The veteran Kings coach leaned back on the bench he was sitting on at this team's practice facility Wednesday and pointed out to the assembled reporters where this deadlocked series basically stands.
"The score is now 8-7 four games in, and we're winning 8-7," Sutter said.
In other words: They knew they were in for a fight with the Sharks, they're not surprised, they're not panicking, and they've got home-ice advantage.
The road to glory isn't so smoothly paved this year. A win Thursday night, however, would get the Kings back on track.
May, 21, 2013
May 21
4:23
PM ET
SAN JOSE, Calif. -- Both the
Kings
and
Sharks
were mulling lineup decisions Tuesday morning after the pregame skates.
For Los Angeles, coach Darryl Sutter would not confirm whether winger
Kyle Clifford
would return for Game 4 on Tuesday night.
"There hasn't been any announcement that I'm aware of that he's coming back," Sutter said when asked about Clifford.
Clifford, who has been out since May 8 with an undisclosed injury, skated on a line with
Colin Fraser
and
Brad Richardson
in practice Monday and sounded afterward like he thought he was playing.
But this is the playoffs, and gamesmanship with lineups is a daily activity.
On defense, veteran
Matt Greene
-- who played in only five games in the regular season after missing two months recovering from back surgery -- hasn't played in the postseason, although he did take warm-ups before Game 3.
Sutter was asked Tuesday morning what it would take for him to feel comfortable playing Greene, who was a key last spring in the Kings' Cup run.
"We had him in warm-up the other night, and that's the direction you go," Sutter said. "Practice, contact, game-day skates, warm-up, that's always what you try and do. You're more inclined with veteran guys ... there's young guys that you have to push; the difference between injured and hurt, that's something you have to explain sometimes. But with the older guys, the veterans, guys that you trust, there's a point where they make that decision because they know what it takes."
For San Jose, the re-injured
Martin Havlat
and the suspended
Raffi Torres
leave the Sharks with few options for their lineup ahead of Game 4.
Expect
Tim Kennedy
as a fourth-line center or
Jason Demers
as a seventh defenseman/fourth-line winger. The latter seems more likely.
"Still an option for us," Sharks coach Todd McLellan said. "We can put Demers in and play him both at forward and the back end, and rotate him around. That would allow us to maybe overplay or use someone else on the fourth line a little bit more, whether it's Jumbo or Patty or whoever it might be. So it's certainly an option."
Demers said Tuesday morning that he was told by the coaching staff simply to be "ready" in case he gets the call. Demers did play some forward three years ago in the conference finals against the
Chicago Blackhawks
, so it's not foreign to him.
But McLellan dismissed the notion that because the Sharks have had success with
Brent Burns
moving from defense to forward, perhaps they can get lucky with Demers as well.
"No, it's two completely different cases," McLellan said. "We can't get into making this a habit. Burnsy has played there before, he's played well there before. Jason has played up in some games when we've needed forwards, but Burnsy is a separate case, a special case."
Quick contact
Sutter on Monday said he had some concern that his goaltender came into more contact with opposing players in Game 3 than did San Jose's goalie.
That's a veteran coach's way of getting the attention of referees before Game 4, hoping officials will call goalie interference when applicable.
"He plays on top of the crease," Sutter said Tuesday of Quick when asked about his concerns. "I'm not whining or bitching or anything, but it's just that he plays on the top of the crease, and the last two series we play against goalies who play more in the blue paint. So, what is the rule?"
The Sharks absolutely want to continue to get into
Jonathan Quick
's face as much as possible.
"Within the rules, you want to get into his way," Sharks winger
T.J. Galiardi
said. "I think with him, he wants to come out to the ringette line. If he comes out that far, I wish he was fair game. That would be great if that's how it worked because he's out all the time. He's doing just as much as we are, little jabs here and there. He gave his blocker to the face of Burnsy. ... But we're going to get in there. You can't let him be comfortable."
Kopitar line
Sutter on Sunday essentially called out his top line, saying the Kings needed more production from
Anze Kopitar
,
Dustin Brown
and
Justin Williams
.
"We know that," Kopitar said Tuesday morning. "We take pride in our production and our game and it's not to a level where we need to be. We're going to have to crank it up."
December, 29, 2011
12/29/11
12:10
PM ET
Scott Burnside and Pierre LeBrun discuss how the Kings have improved under new coach Darryl Sutter and the rivalry between the two Pennsylvania teams.
BURNSIDE:
Good day, my friend, and top of the New Year to you and yours. It's not quite time for New Year's resolutions, but maybe I should consider rethinking my view of the coaching change in Los Angeles. With Darryl Sutter behind the bench, the Kings aren't necessarily channeling the 1976
Montreal Canadiens
, but they are coming up with the points.
Wednesday night was the team's most impressive win under its new head coach, a 2-0 effort against the top team in the Western Conference -- the
Chicago Blackhawks
. Sutter is coaxing a little more production out of his lineup as
Trent Hunter
and
Jarret Stoll
got the markers and
Jonathan Quick
was outstanding. The win moved the Kings into a tie for the final playoff berth in the West, and they have yet to lose in regulation since Sutter took over. Who knew? Not me, that's for sure. You, of course, thought the move was a brilliant one for general manager Dean Lombardi so, as much as it pains me, I tip my cap to you.
As you know, I am in Pittsburgh, so what do you make of the renewal of state rivalries tonight?
LEBRUN:
Well it's early yet, the Kings having played only four games (3-0-1) under Sutter, but yes, this is pretty much what I anticipated with his arrival. This was too good a lineup to be underachieving as much as it was. Sutter's track record as a coach suggests he squeezes the most out of a roster, and so far that's just what he's done.
Winning in Chicago will do wonders for that team's confidence. Quick had to be outstanding, especially in the third period, when the powerhouse Blackhawks came on like gangbusters and outshot the Kings 18-10. Quick shut the door for his NHL-leading fifth shutout. And as much as Rangers fans complain to me that
Henrik Lundqvist
doesn't get enough national attention for his merit as a Vezina contender, I think it's Kings fans who have the most to complain about, because I don't think Quick gets nearly the kind of credit he deserves for putting up yet another terrific season. He's top five in the NHL in my opinion. And mark my words, the Kings will make the playoffs.
Speaking of the playoffs, the Flyers and Penguins clash tonight in Pittsburgh, where you arrived yesterday (loved your
Sidney Crosby
piece, it was strong) and wouldn't it be great to see these two Pennsylvania rivals hook up again next spring? We'll settle at least for tonight's return by
Jaromir Jagr
, who after talking to Pittsburgh for a number of weeks (as well as Detroit) surprised everyone by signing with the Flyers last July. Have to think he'll be hearing a few boos tonight.
BURNSIDE:
Gee, I hate it when you're right. And worse, I hate it when you offer me praise after being right. My New Year's resolution (or one of them) is to be more gracious. (Good luck with that, I say to myself.) Not sure I'd put Quick in my top five, but I will acknowledge that in a very disappointing first half, especially offensively, he has been a lone bright light. And you may be right about the playoffs. But you also know that just making the postseason won't be enough for ownership in L.A. given the money they've invested in that franchise and the importance of being a real player in the crowded sports and entertainment landscape on the left coast.
But on to the game here in Pittsburgh tonight. I would suggest Jaromir Jagr has been one of the surprise feel-good stories of the first half. Who knew what the 39-year-old had left in the tank, yet he's on pace for a point-a-game season, and listening to coach Peter Laviolette yesterday and GM Paul Holmgren earlier in the season, you have to be impressed with the leadership role the five-time scoring champ has assumed in a team that is without its captain for the rest of the season. For all his quirkiness, Jagr remains both a rare talent and a guy who works tirelessly at his craft. Good for him for coming back regardless of the jersey he's wearing and proving doubters wrong.
Should be a great atmosphere at the Consol Energy Center tonight, and Jagr will no doubt get booed lustily. Curious, though, to see how they react to
Max Talbot
, the 2009 Stanley Cup hero who returns as well for his first game in Pittsburgh since signing a big deal with the hated Flyers this summer.
LEBRUN:
I don't blame Talbot one bit for taking a better financial offer. Gritty, two-way checkers like him are going to have one, maybe two, chances in their career to cash in. I know Penguins fans talk about his lack of loyalty, etc., but if you were in his shoes, with a one-time chance at making the most money in your career, knowing as we all do now more than ever that you're one hit away from it all being over, you'd understand why he left. He went from making $1.05 million last season in Pittsburgh to $1.75 million on average per season on a five-year deal in Philly. That's both a big raise plus long-term security for Talbot. I can't imagine anyone not understanding that. Will he get booed tonight as well? I suppose so. He was a tremendously popular player in Pittsburgh and the fans hated seeing him sign with the rival Flyers.
Speaking of rivals, how about that clash last night in San Jose between the Sharks and
Vancouver Canucks
? The repeat of last spring's Western Conference finals lived up to billing with a monster of a game.
Andrew Ebbett
tipped in
Kevin Bieksa
's point shot in overtime for a 3-2 win, but the Sharks were full value in this one to have at least gotten a point, having outshot the Canucks 16-4 in the third period. Great tilt between two Cup contenders. And I think it was important for the Sharks -- who have been inconsistent this season -- to have performed like they did last night, to show they can still play with a red-hot powerhouse like Vancouver. Great tilt last night in San Jose.
BURNSIDE:
I know that you have your computer set to the "default" mode in the fall when you make your Stanley Cup predictions and that default key has a Sharks logo on it. But I'd be a lot more impressed with the Pacific Division leaders if they actually won a few games (OK, they won four in a row before losing to Anaheim -- huh? -- and the Canucks).
Still, they should be able to sleepwalk their way to the division crown given the offensive outage in Los Angeles and Anaheim's season-long slump. But before we close, I'd be interested in your take on the Ron Wilson contract extension in Toronto. The Leafs, beaten by the
Florida Panthers
in their last outing on Tuesday, are a mediocre team at best and anyone who thinks extending Wilson's contract is anything but window dressing is using spoiled maple syrup. Is there any doubt that GM Brian Burke will have to fire Wilson if the Leafs, just one point out of ninth in the Eastern Conference, fail to make the playoffs for the seventh straight year?
LEBRUN:
Given the deep pockets at Maple Leaf Sports and Entertainment, a contract extension doesn't manufacture the kind of job security it does in other markets, that's for sure. I think your assessment of the Leafs as a mediocre team is a little harsh, although if you mean that to say they'll be in a dogfight for one of the final two playoff spots in the Eastern Conference, then I agree with you. That's the way it was supposed to be from the beginning, but a torrid October gave some Leafs fans false hope that the club could actually challenge for the Northeast Division lead. Not so. Still, I see some improvement in this club from a year ago, and while the late run for a playoff spot last season I believe was a mirage born out of having the pressure turned off when everyone gave up on them last February, this season the Leafs are hanging in there with the pressure still on. Oh, but that penalty killing. It's been a story for a few years here in Toronto. They're dead last in the NHL right now, killing only 72.7 percent of opposing power plays. No way they make the playoffs unless they improve in that area.
Well my friend, I will see you in Philadelphia tomorrow morning as we get set to cover the Winter Classic weekend together leading up to the big game Monday afternoon. Talk then.
December, 23, 2011
12/23/11
11:35
AM ET
Scott Burnside and Pierre LeBrun assess the Darryl Sutter regime in L.A., the surging Canucks and the future of the Flames.
Burnside:
Ho, ho, ho, my friend. Well, time for the final Daily Debate before the NHL's Christmas break. Love that there's a heavy schedule Friday evening to send us into yule bliss with 22 of the 30 teams in action and loads of meaningful games. For me, I'm curious to see how the L.A. Kings fare in Game 2 of the Darryl Sutter era. The Kings nabbed two badly needed points in Sutter's debut but let's put their 3-2 shootout victory Thursday night in perspective: It was against the lowly
Anaheim Ducks
. Still, a win's a win, but I think the real test for Sutter and his low-scoring troops begins tonight in San Jose.
The Sharks technically lead the Pacific Division but are tied in points with Dallas and Phoenix at 39. Guess what? If the Kings win in regulation, they'll pull within a point of the Sharks. Go figure. As bad as the Kings have been -- and it's been plenty bad on the left coast -- they're that close to being right back in the hunt. Getting
Mike Richards
back -- he scored the Kings' first goal Thursday -- is likely as big, if not a bigger factor, in the Kings' long-term chances of making the playoffs than Sutter's influence. But we'll get a much better sense tonight of which direction this team might be headed.
LeBrun:
The Sharks have three games in hand on Los Angeles, but it is somewhat stunning that despite the Kings' disappointing first half, they still have the division lead within their grasp. No team in the Pacific has really found its groove this season. The return of Richards, as you mentioned, is gigantic for them. I thought he was their best forward before he got injured. He's the kind of two-way, gritty player who Darryl Sutter will absolutely make his go-to guy. I would expect Richards' ice time to increase under the new coach.
With Richards back in the lineup, the Kings, once again, have their 1-2 punch at center with he and
Anze Kopitar
, which affords Sutter so much more flexibility in matchups. When you're playing a loaded team like San Jose, for example, that's critical when the Sharks can come at you with
Joe Thornton
,
Logan Couture
and
Michal Handzus
down the middle. Of course, that was exactly the point when GM Dean Lombardi traded for Richards in the offseason. He looked at the top teams in the West such as San Jose, Vancouver, Detroit and Chicago and knew he needed more than one elite center to compete. Now that Richards is back, the Kings can indeed compete.
Burnside:
Well, we'll see whether the Kings can compete or not. As you know, I'm not sold on the Sutter hire as the panacea that some believe it will be. But no question, Richards is the catalyst for the team. He was leading the team in goals scored when he went down with a head injury.
Another pre-Christmas tilt I'm looking forward to is Washington's visit to New Jersey. The Caps have shown glimpses of breaking out of their season-long funk with four wins in their past six outings. Alexander Ovechkin has looked more Ovie-like in recent games and scored a big goal against Nashville in their last win. For me, though, the Caps can't start entertaining a playoff berth, let alone a sustained playoff run, until the goaltending stabilizes.
Michal Neuvirth
is expected to start again for the Caps against the Devils, and it looks like Dale Hunter's giving the youngster a chance to carve out a niche as the team's starter. The Caps still rank 23rd in goals allowed per game, but Neuvirth has won three of his past five starts and allowed more than two goals just once in his past six appearances. Like the Kings, the Caps could return to the playoff picture with a regulation win over the surprising Devils (and pending the outcome of the Winnipeg game).
LeBrun:
In the Caps' 4-1 win over visiting Nashville, they finally looked at ease under
Dale Hunter
. One game hardly makes a trend, but that as good as they've looked under the new coach, playing a fluid and aggressive game and not showing any of the indecision and hesitance that I saw in the previous games after Hunter took over.
Meanwhile, we don't have to guess whether Vancouver is on a roll. The red-hot Canucks, winners of 12 of their past 15 games, can take over the Northwest Division lead with a win over rival Calgary tonight. The Canucks are getting some breaks go their way as well. I mentioned this on air at TSN here in Canada on Thursday night, but Terry Gregson, the NHL's director of officiating, told me that Alexander Edler's goal Wednesday night against Detroit, upon further review, should not have counted. Gregson's feeling is that Wings goalie
Jimmy Howard
did not have a chance to make a save after
Jannik Hansen
crashed into him.
Gregson discussed it with the on-ice officials from that game. In the end, Gregson (and I agree with him) said it should have been no penalty, no goal -- just a faceoff. That's little solace to the Wings, of course, since it doesn't change the 4-2 score from that night. Even worse, Detroit followed that up with a 3-2 loss at Calgary last night with backup
Ty Conklin
in net. Conklin barely has played this season, and I don't think head coach Mike Babcock has a whole lot of confidence in him. My suspicion is that GM Ken Holland might look at who's out there closer to the Feb. 27 trade deadline to see if there's an upgrade available.
Burnside:
That Vancouver/Calgary game is interesting because, a little like the Kings, I think it's going to reveal whether the Flames are really going to be a player in the playoff discussion or whether they're going to simply hover in that 11-14 range in the standings. The Flames are coming off a big win over Detroit, as you noted, and are 5-2-2 in their past nine games. A win over Vancouver would not only move them to within a point of eighth place (pending other outcomes of course), but it also would be a huge statement for a team that many of us have been dismissive of for much of the season. Funny, I reached out to GM Jay Feaster about a week ago to talk about the team's improved play and he respectfully begged off, saying he didn't want to be discussing the team's upswing when they still weren't in the playoff bracket.
With
Jarome Iginla
edging toward the 500-goal plateau -- he has 497 -- there's finally some good news around the Flames. I'll give you a quick guess as to who's leading the team in scoring, though: the oft-maligned
Olli Jokinen
, who is riding a five-game point streak and who has 13 points in his past nine games. One thing is for sure, if the Flames fall out of the playoff picture: You can bet Feaster will be fielding lots of calls on Mr. Jokinen leading up to the trade deadline. Your thoughts? And before I close my end of this debate, I want to wish you and your family a very merry holiday, my friend. The same goes for all our readers, too.
LeBrun:
I don't want to be a Grinch, but I still don't believe in the Flames. I don't think there's any way they make the playoffs this season. Their current flirtation with a playoff appearance temporarily masks the real work that awaits Feaster. This roster needs a drastic, offseason overhaul. Luckily for Feaster, he has 13 expiring contracts on payroll, nine players slated for unrestricted free agency led by the likes of Jokinen,
Lee Stempniak
and
Scott Hannan
and four players who will be restricted, including
Mikael Backlund
and
Blake Comeau
. In short, it finally gives Feaster the kind of roster flexibility next summer to make real changes. But that's a long time away still.
Merry Christmas, Scotty. Look forward to seeing you in Philadelphia next week for the Winter Classic.
December, 22, 2011
12/22/11
11:34
AM ET
Craig Custance and Pierre LeBrun discuss another controversial hit, a confounding move by a certain coach and the high-flyin' Canucks.
Custance:
Hey, Pierre. Hope you're not feeling as groggy as I am this morning after a late night of watching hockey. But last night was an entertaining one in the NHL. Let's start with
Claude Giroux
's triumphant return to the ice, where he provided further proof that the world of concussions is a highly unpredictable one. He missed just four games with his concussion, and you couldn't tell he missed any time with the way he played. He finished with four points, again establishing himself as the favorite in the Art Ross Trophy race. The fascinating thing was watching his recovery unfold on HBO during another great episode of "24/7."
Too bad we can't say the same for
Chris Pronger
's recovery, a storyline that has been noticeably absent for most of the series.
The most intense game of the night came later between the Red Wings and Canucks, a matchup I'd love to see rekindled in the playoffs. Lots of debate about
Niklas Kronwall
's hit on
Ryan Kesler
. Kronwall clearly left his feet, but it didn't look like Kesler's head was targeted. Maybe I've spent too much time in Detroit, but I didn't have an issue with the hit, although Kronwall needs to stop leaping into guys. Kesler's biggest issue was that Kronwall refused to drop the gloves after the hit, but that's another debate altogether.
There was more than just one incident.
Jimmy Howard
went after
Jannik Hansen
after he felt he was interfered with. I know this is a touchy subject with Howard, who doesn't think he gets the same protection opposing goalies get against
Tomas Holmstrom
. But what a win for the Canucks, who have now won three straight and are one point behind Minnesota. It won't be long until we forget their slow start, don't you think?
LeBrun:
If we get Wings-Canucks in the playoffs, Craig, count me in. You and I can collect the air miles together and cover what would be one heck of a series based on last night's thriller. I'm a huge Ryan Kesler fan, but I think he's dead wrong on saying Niklas Kronwall had to drop to gloves after that big hit. It was clean in my opinion, and there's no need for a fight because of that. It's annoying to me that today's players feel a fight is warranted whenever there's a loud hit -- even if it's clean. A fantastic game, though, and the Canucks are on a roll and then some, having won 12 of their past 15 games. And if you're the
Minnesota Wild
, you better get ready to hand over the penthouse keys in the Northwest Division, because there's no way you're staying there for much longer.
Of note,
Roberto Luongo
was sensational last night, and it seems like those days when Canucks fans were booing him are long gone. Bobby Lu is back. Vancouver and Boston, last spring's Cup finalists, are on serious rolls. So much for the Cup finals hangover.
Meanwhile, in Dallas, the pride of Hearst, Ontario, did indeed return in glorious style with a four-point night, although the highlight of the game -- unfortunately -- seems to be the incident between
Steve Ott
of the Stars and Flyers coach Peter Laviolette. The way I see it, they're both at fault. Ott went out of his way to step in front of Laviolette (did he know the HBO cameras were in the rink?), but I also think Laviolette should have either waited for the Stars to walk through or walked across the rink like most other visiting coaches usually do.
Either way, I know NHL executive vice president Colin Campbell was investigating the matter this morning. We'll see if anything comes of it either in the form of fines or at least warnings to both teams. Laviolette declined comment via text this morning when I asked him for his take on it.
Custance:
I have a feeling Laviolette's phrase "Typical Montreal" following a couple no-calls against the Canadiens will catch on. Maybe he should follow it up with "Typical Ott."
It's pretty impressive when you can get under the skin of the opposing coach like that, but good for Laviolette for taking the high road after the game rather than digging a deeper hole. I don't think Laviolette left his feet when he gave Ott a shove on the way past him, so I think he's safe.
It's a big win for the Flyers who have been suspect since the Pronger news emerged. They are now back on top in the Eastern Conference, setting up a nice showdown against the Rangers on Friday. But let's not get ahead of ourselves.
I wanted to touch on one more game, since the Avalanche are suddenly unstoppable at home, winning again last night against the Blues. I had a good chat with Blues GM Doug Armstrong before the game about St. Louis' success under Ken Hitchcock. The players have completely bought in.
"They understand that if they follow the game plan and responsibilities, they have a good chance to have success," Armstrong said. "They're tired of losing. We're ready to go to a different level."
That's what makes Colorado's win last night over the Blues that much more impressive. The Blues are motivated, playing well, got 39 shots on
Jean-Sebastien Giguere
, and it still wasn't enough. That's now seven straight wins at home for Colorado, and they're quality wins, beating teams like the Blues, Flyers, Capitals, Red Wings and Sharks. Should we call off the Joe Sacco watch?
LeBrun:
The Avs are playing their best hockey since early October, no question. That should definitely buy Sacco some time, although I wonder how he felt the other day when
Patrick Roy
specifically mentioned Montreal
and
Colorado as possible landing spots for him next year as an NHL coach. Um, Patrick, you do know that Joe Sacco still coaches there, right? Oh man, Roy is a beauty. But for the Avs, they've now won seven straight at home, and that's key for Sacco.
One thing about GMs and team presidents I've talked to over the years in this job, is that they hate when their teams lose at home. They can be terrible on the road, but it's unacceptable to lose a string of games at home like Colorado did earlier in the season.
You mentioned Giguere getting the win again last night. He's started three straight games over
Semyon Varlamov
-- whom the Avs gave up a first-round pick for last summer. But the veteran Giguere, who finally appears healthy, has been the man of late.
"Right now, it's not too much of decision because Giggy is playing so well, we've won games, we're getting results," Sacco told the Denver Post.
Custance:
Wouldn't it be something if Giguere ended up saving the Avs from sending a lottery pick to the Capitals in the Varlamov trade?
I remember talking to Giguere earlier this season, and he said he was still adjusting to the role of being a goalie mentor at this point in his career rather than the No. 1 guy. If he keeps playing like this, he'll hold that top spot.
As for tonight's games, we finally get to see the debut of Darryl Sutter as the head coach of the Kings. Dean Lombardi is betting on someone he knows well to turn around the stumbling Kings, saying yesterday that he thinks Sutter is entering the prime of his coaching career.
"I really believe the best is yet to come," Lombardi said.
I'm not so sure, but we'll soon find out. Sutter said he watched the past five Kings games live on television, and that Lombardi sent him seven games on tape going to the start of the season. Perhaps in analyzing those 12 games, Sutter can solve the team's scoring issues. It may be as simple as plugging
Mike Richards
back into the lineup. Richards has been cleared to play following his own concussion recovery, so if he can pull a Claude Giroux, the Kings should be all set.
But we've learned a couple things this year: One, there's no guarantee of success when you return to the ice following a concussion. And two, despite Hitchcock's success, a new coach doesn't automatically equal wins. The Kings' opponents tonight, the Ducks, are proof of that.
LeBrun:
I'm thoroughly in the minority on this one, but I think hiring Sutter in L.A. was brilliant. You look at what he did in maximizing talent in Calgary, San Jose and Chicago as a head coach, and I think it's exactly what the Kings need to wake up an underachieving roster. There are players on that Kings roster who need a little tough love, and they're about to get it.
Another great night to sit back and watch some great games, Mr. Custance. So why not do just that?
Have a great holiday, Craig. I'll be back tomorrow with Scott Burnside.
December, 15, 2011
12/15/11
11:51
AM ET
Scott Burnside and Craig Custance debate whether
Ray Emery
is the answer in Chicago and whether the Kings will start playing up to their potential.
Burnside:
Good day, my friend. While waiting for the profanity-fest that is "24/7" to come on, I watched with great interest Wednesday's tilt between the top two teams in the Western Conference, Minnesota and Chicago. Great, great game. Blackhawks were up 2-0, Wild tied it and Hawks go up in the third before the Wild tied it on a delayed penalty. Chicago ended up with the extra point in a shootout, thanks to a wonderful move by
Patrick Kane
. Love or hate the shootout, fans got their money's worth from this one. Watching, I was again reminded of just how deep the Blackhawks are offensively. Kane,
Jonathan Toews
(for my money, the Hart Trophy winner in waiting),
Marian Hossa
,
Patrick Sharp
,
Duncan Keith
, on and on it goes. The Hawks are fourth in the league and second behind Vancouver in the Western Conference in goals per game.
But (and you knew a "but" was coming, didn't you?) curious about how the goaltending is going to play out. Emery made his third straight start for the Hawks and got his third straight win. He was good in the third. The tying goal went off defenseman
Nick Leddy
and Emery stopped both shootout attempts by the Wild. Overall he is an impressive 7-1-2 for the Hawks. Coach Joel Quenneville is saying all the predictable things about letting Emery roll when he's hot, but you wonder about how this will shake down.
Corey Crawford
emerged last season as a guy that looked like he might be the goaltending future in Chicago. There's enough firepower here for another long playoff run as the Hawks look to be settling once again into the upper echelons of the conference. But is Emery the guy to do that?
Custance:
I love your skepticism, Scotty, it's what makes you a great journalist. When I was in Chicago earlier this week, Quenneville said exactly what you alluded to concerning his goalie situation.
"I think it's a healthy situation," Quenneville said. "Ray's playing well [and] deserves to keep going."
I tend to give Quenneville the benefit of the doubt on this one. I think what we're seeing right now is a backup goalie who is on a nice run, but ultimately this job will find its way back to Crawford, who the Blackhawks committed to long term with a three-year, $8 million contract.
But I'd much rather be in the Blackhawks' position than in Washington's, where the Capitals are struggling to find anybody consistent in goal. Stan Bowman was smart to take a risk on Emery, and it's paying off. Don't forget, he was signed to a professional tryout this summer and has had to earn everything he's getting. I remember talking to Emery about the situation in September, and he really liked the idea of playing for the Blackhawks, a team he rightly identified as one loaded with talent. Basically, he said it was up to him to make the best of a potentially great opportunity, and we're seeing it come to fruition right now. But if I had to bet, I'm still predicting Crawford as the starter in Game 1 of the playoffs. You?
Burnside:
I am not down on Emery at all. In fact, I have all kinds of time for a guy that has gone through as much as Emery has over the past five years or so and still managed to keep his eye on the prize. Remember, the Ducks don't make the playoffs last season without Emery's solid play down the stretch. And the Hawks are one of the teams that put the lie to the myth that you need extraordinary goaltending to win a Cup.
Antti Niemi
was good but not great in guiding the Hawks to the '10 final and then only ordinary, but it was enough to beat Philly in six. Could Emery and Crawford combine to get the Blackhawks back to the Promised Land? Why not. But to your question, I won't be surprised if Crawford is the guy between the pipes when the dust clears in mid-April, but given Quenneville's history, it also wouldn't surprise me to see Emery get more than mop-up action once the playoffs begin.
My question is this: Does the prolonged time on the bench have an adverse effect on Crawford right now? I guess if you're as mentally tough as you need to be to be a top-flight NHL netminder, it shouldn't. We'll see.
Speaking of waiting to see, it must be fun in that Los Angeles dressing room now, listening to
John Stevens
plan the next contest while
everyone and his dog figures the Kings are just waiting until Darryl Sutter gets his boots cleaned off and the gate to the back forty locked up before he takes over. Not a pretty situation no matter how you cut it.
Custance:
No, it's not. I've long been a supporter of Dean Lombardi and his game plan in Los Angeles. I appreciated his patience in building that team the right way, from the goaltender forward. He has two potentially great young goalies. When
Drew Doughty
plays up to his abilities, that is a promising young defense. I loved the
Mike Richards
addition, and Lombardi's refusal to overpay for
Ilya Kovalchuk
. Sure, he'd like to have the
Dustin Penner
trade back, but Lombardi has mostly executed his rebuild remarkably well.
But I don't get this. He's supposed to address the media soon, so maybe he can help shed some light into his coaching strategy, but right now I'm having a hard time understanding it.
Why put Stevens and the team through this uncomfortable purgatory? I understand wanting to make a change, but why not give Stevens a chance to right the ship before setting things in motion to land Sutter? It's not like people were banging down the barn door to hire Sutter. If it doesn't work with Stevens, you can still make that hire.
In the West, every point is crucial, and these are huge points the Kings are missing out on. The Kings are still just three points outside a playoff spot, but who in the top eight are you removing to put them back in? The Sharks? The Predators? The Blues? It's going to be a battle for the Kings, who need this situation resolved sooner rather than later.
Burnside:
Well, I've already actually penned a column questioning the hiring of Sutter, should it come to pass (this is like promoting a new television show, no?), but I don't quite get it, either. As we saw the other night with the Bruins shutting out the Kings in their first game after Terry Murray was fired, this isn't all a coaching issue. In fact, coaching may be the least of this team's concerns right now. For me, it's gut-check time for a team that looks from the outside like it has all kinds of character and leadership, but inside, it appears to have little.
Where is
Dustin Brown
, the captain on this? I know he's a quiet, understated kind of guy, but time to step up, no? He has a paltry five
goals.
Justin Williams
? Hello. And Drew Doughty, gee, was that extra few hundred-thousand dollars you demanded on your new contract worth it? What a colossal mess that whole contract situation turned out to be for a team that looked like it was ready to join the big boys in the conference but right now is dead last in goals scored and dead last in stepping up.
This is a Kings team that has not scored more than two goals in nine straight games. Yikes. Talked to Lombardi last week just before he fired Murray, and he was talking about the team's confidence -- or lack thereof.
Can a coach instill confidence? I guess so. Or more to the point, for whoever is standing behind the Kings' bench, that has to be Priority 1. A tall order no matter who it turns out to be.
Custance:
The Kings play in Columbus Thursday, which may help in the confidence department. The Blue Jackets have won just six times at home this season, which is tied for the lowest total in the conference. But it's still not an automatic win. The Blue Jackets are coming off an impressive shootout win over the Canucks on Tuesday and have shown signs of life this month.
Regardless of who is behind the bench, the Kings need this one because it doesn't get any easier. They travel to Detroit to play the hot Red Wings on Saturday, and Monday's game in Toronto is no gimme, either. After that comes two off days, which may be the time the Kings implement a new system if a complete regime change is on the way. The bottom line, as Lombardi has pointed out, is that it's on the players. If the players you mentioned can emerge from this tough stretch a mentally stronger team, that may be the positive that comes out of all of this. Now, it's on them. Have a good one, Scott.