Cross Checks:

Dave Bolland
June, 30, 2014
Jun 30
1:16
PM ET
The NHL's all-time winningest netminder was intrigued on the eve of free agency, wondering exactly where he'll end up.
"I'm excited and intrigued to see some of the options [that] will be laid out in front of me,"
Martin Brodeur
told ESPN.com on Monday. "It's something that's new to me; it's going to be fun."
Technically, Brodeur did in fact enter free agency two years ago, but that was really just because it took Devils GM Lou Lamoriello some time to come around on the idea of a two-year deal.
This time, it's for real. Brodeur is almost surely changing teams, something Devils fans probably never thought they would see in their lifetime. But Brodeur is eager for a new challenge before he wraps up an incredible career. He's got one of the sport's big-time agents in Pat Brisson of CAA Sports.
[+] Enlarge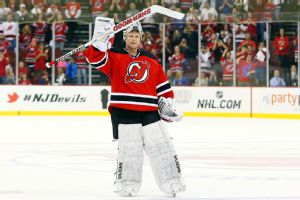 Ed Mulholland/USA TODAY SportsMartin Brodeur is ready to say goodbye to New Jersey and begin a new chapter in his career.
"We'll see what noon [ET] tomorrow will bring," Brodeur said. "I'm just sitting back and letting Pat do his thing."
Brodeur is willing to look at different types of fits.
"It depends on the opportunity," Brodeur said. "I'm pretty open-minded about things. For me, this is a year that's going to be a challenge for me regardless of where I land, first because it'll be in a different organization, second because it'll be a new [role]. It's something where I think I'm just going to really enjoy the game and not worry about carrying a team. I'm just going to be a piece of the puzzle for a team, hopefully."
Whether that's mentoring a young starting goalie or even helping a more established starter, Brodeur is ready to be that guy.
"It'll be fun for me just to see what the opportunities are," he said. "But I'm open-minded, whether it's a team with a good young goalie or being in a spot where I've got a chance to win a Stanley Cup again ... just look forward to seeing what's out there."
Brodeur also knows it may not happen on Day 1 of free agency for him. He needs to patient as Brisson works out the market for him.
Maple Leafs president Brendan Shanahan publicly stated over the weekend Toronto had some interest, although I don't think there's much money to spend there. Not to mention
James Reimer
hasn't been traded yet.
What about Tampa Bay? It needs a backup goalie. Just a thought.
What now for Tampa?
The
Tampa Bay Lightning
shed $5.65 million in cap space Sunday night with their three trades, fueling no end of speculation that the club was going to be quite active come Tuesday. Perhaps ... but this is about Tampa creating roster/payroll flexibility moving forward whether that's for signing a player or two come Tuesday or for having that space to do something over the next few months.
"It gives us some options," Lightning GM Steve Yzerman told ESPN.com on Monday. "Really, prior to yesterday, other than trying to sign a backup goaltender, we really weren't in a position to do anything at all. And we may end up doing nothing [Tuesday] other than signing a backup goaltender, but we'd like to explore [the free-agent market]."
Yzerman pointed to possibilities both up front and on defense.
"We'd like to get potentially a center or maybe a winger," said Yzerman. "And then, we have seven defensemen signed and we'd like to carry eight. Depending on fit and contract, whether it's a really expensive guy or a low-end one-way, we'll try to add one more defenseman."
Yzerman said he'd prefer a right-handed defenseman. The Bolts GM would not discuss specific names, but sources have confirmed Tampa's interest in UFA blueliner
Matt Niskanen
as well as veteran
Dan Boyle
, among others.
Tampa joins the likes of Detroit, Toronto, Montreal and the
New York Rangers
on the list of teams interested in Boyle, as well as places where he would be happy to sign, according to a source.
Niskanen, well, he's wanted by nearly everyone. He could fetch north of $6 million a year on the open market Tuesday. I don't believe Tampa will bid like crazy; the deal would have to make sense for them.
Around the market
Speaking of Niskanen, likely the most sought-after blueliner on the market Tuesday, his agent, Neil Sheehy, was busy Monday trying to pare down the long, long list of teams interested in signing his client.

"We are narrowing the list to a workable number today. I can't say how many but rather a workable number," Sheehy said via email.

Brad Richards is set for free agency for the second time in his career. Bought out by the New York Rangers, the veteran center would be a valuable addition at the right price. His leadership was on full display during New York's playoff run and his hands are still capable of helping any power play. Reached via text Monday, Richards didn't want to comment, saying he wanted to keep a low profile on the eve of the market opening.
Paul Stastny's agent, Matt Keator, was working Monday to shorten the list of suitors. Some 15 teams showed interest since the speaking window opened. Keator said Monday morning it was time to work it down to a more workable list, planning to speak with Stastny to identify the top suitors, which another source suggested would include St. Louis. Colorado, of course, also would remain in the mix right to the end, either way.

The Stastny situation continues to affect the Jason Spezza trade scenario to some degree, most notably with the Blues' interest in both players. One source did suggest Monday that the Dallas Stars might renew their exploration of the Spezza situation. As I reported Saturday, the Stars have talked to San Jose about Joe Thornton, but either way would like to pick up another top-end center.
About eight to 10 teams have circled back to the Thomas Vanek camp with interest. Minnesota, of course, is one of those teams, although as we reported last week, the Wild have expressed to Vanek's camp that they won't do a long-term deal. Despite that, Minnesota remains very much part of Vanek's wish list, although where exactly he ends up Tuesday remains to be seen. Sounds like he'll have to decide between a shorter-term deal in Minnesota (where he really wants to play) or a bigger offer elsewhere. Meanwhile, Vanek met with Wild coach Mike Yeo on Sunday, a source confirmed, to talk about his possible fit.
After Josh Gorges refused to accept a trade the Toronto, the Habs must either find a trading partner with one of the 15 teams on Gorges' approved teams list or put him on waivers, my TSN colleague Bob McKenzie reported earlier today. Will the prospect of going on waivers convince Gorges to take the trade to the Leafs?
Jussi Jokinen hits the market Tuesday as it appears the Penguins won't be re-signing him.

A source told ESPN.com that Jokinen's camp offered to re-sign for $4 million a year, a raise over the $3 million he made this past season, but the cap-challenged Penguins feel it's too much money.

Jokinen's agent, Todd Diamond, wouldn't divulge those kinds of details, only to say he still hoped to hear back from Pittsburgh before the market opened Tuesday.

"Our last conversation was that they would get back to us, but we haven't heard back yet," Diamond said Monday morning.

"We have three or four other teams that we've spoken to. But I think with these potential trades possibly happening [Jason Spezza, etc], that may also create more interest for Jussi and other players in his position. It's a pretty fluid situation right now."

Diamond also represents forward Leo Komarov, who wants to return to the NHL after a year in Russia. The former Maple Leafs forward played well in the Olympics for bronze-medal winner Finland, and there's a lot of interest in him, according to Diamond.

"I don't have enough fingers to count how many teams have called," said Diamond. "He's a very popular player right now. He's 27 and brings lots to the table."

Speaking of interest, there's plenty as well apparently in Martin Havlat, who became an unrestricted free agent after the San Jose Sharks bought him out. A source told ESPN.com approximately 10 teams have called on him since he was bought out. The long list of injuries have minimized his impact over the past few years, but at the right price, there are teams that can't help but wonder if getting him on the rebound would be a nice bargain and a solid gamble if he can stay healthy.

TSN's Darren Dreger reported Monday that the Maple Leafs would make one more push on pending UFA center David Bolland, but it wouldn't be more than five years or above $5 million a year. Not sure that's going to get it done.

Pending UFA winger Radim Vrbata has seven or eight teams on his trail, although the Coyotes remain in the mix. It was expected agent Rich Evans and the Coyotes would talk again Monday at some point.
March, 25, 2014
Mar 25
10:25
PM ET
Ryan Miller
was just the perfect fit for the
St. Louis Blues
at the trade deadline -- few people would argue that. The question is will he be the perfect fit past this season?
The Blues certainly hope so. They've already made it clear to Miller and his agent, Mike Liut, that they intend to aggressively try to re-sign the goalie after the season, hoping the former Vezina Trophy winner will stay on board.
There are some who felt the Blues would wait to see how Miller performed in the playoffs before making that decision, but not so. They've already decided they want to keep him but won't begin contract talks until after the year is over.
It wouldn't surprise me if Miller gives it some serious thought. St. Louis is an awfully popular city with players, and the Blues will be a contender for a few more years to come.
On the flip side, July 1 isn't that far away and he's never been on the open market.
He's been linked rumor-wise in the past to Anaheim in part because Miller's wife is an actress in Los Angeles and the netminder works out in Southern California every summer.
But the Ducks have
Frederik Andersen
and
John Gibson
-- two young netminders they're very high on -- plus, who knows what happens with
Jonas Hiller
(UFA on July 1).
Senators high on Hemsky
Speaking of rental players, winger
Ales Hemsky
has been a really nice addition so far in Ottawa despite the Senators' overall struggles this month.
The Senators have seen enough of the Czech winger that they're planning to reach out in the near future to Hemsky's camp to see if there's any interest in talking extension. The money would have to make sense for budget-conscious Ottawa, but the club has interest in making his stay long-term.
Vanek's plans unchanged
Thomas Vanek
has loved his time in Montreal so far, saying his hat trick versus Colorado was one of the most exciting moments in his career.
Having said that, in talking with Vanek's agent Stephen Bartlett on Tuesday, he reiterated that at this point nothing has changed in terms of the plan to go to the July 1 market. Obviously, Vanek could always have a change of heart if the Habs provide him a magical spring run and he finds it just too hard to leave (like
Alex Kovalev
did a decade ago), but right now the plan hasn't deviated. It's what Vanek told the Sabres last summer, it's what he told the Islanders this season.
Leafs' Bolland using experience
Maple Leafs center
Dave Bolland
played in his third game back Tuesday night, versus the Blues, after missing nearly the entire season with an Achilles' injury, and his return comes with his team in a deep slide.
He's not shied away from using his two-time Cup-winning experience from his days in Chicago to voice his knowledge to a young Leafs team during this tough time.
"Having gone through two Stanley Cup finals and winning, there's experience that comes with that, and if I can help some young guys out that haven't been through it -- maybe not a whole lecture in front of the team, but just saying a few words to a few guys," Bolland said Tuesday morning. "It helps give the guys a jump, maybe."
June, 27, 2013
6/27/13
10:36
PM ET
The
Kris Letang
camp notified the
Pittsburgh Penguins
on Thursday evening that it was turning down an eight-year extension offer worth around $56 million, a source told ESPN.com.
A source also told ESPN.com that the Letang camp counter-offered with a long-term deal south of $8 million a year and that it was deemed too rich by the Pens.
Where it goes from here remains unclear. Perhaps another offer will come, or the rejection could spur Pens GM Ray Shero into finally putting the All-Star defenseman on the trade market.
Letang has one year left on his deal, which pays him $3.5 million. Only 26, he'd be in huge demand on the UFA market. If Shero decides to move him, the list of teams wanting a top-end defenseman like Letang would be through the roof.
Elsewhere:
• Contract talks have gone on in earnest the past few days between
Bryan Bickell
's camp and the
Chicago Blackhawks
. Bickell is a pending UFA.
• Teams already have reached out to
Vincent Lecavalier
's camp, on the same day he was bought out by the
Tampa Bay Lightning
. Although Lecavalier can't sign with anyone until July 5, the league confirmed to ESPN.com that his camp is allowed to talk to teams now because he's been bought out.
• Spoke with an executive from an opposing team earlier Thursday who said the Blackhawks have made center
Dave Bolland
available for trade. Doesn't mean they'll move him, but they're listening ...
June, 19, 2013
6/19/13
12:47
PM ET
BOSTON -- Joel Quenneville held off judgment of
Dave Bolland
's performance in Game 3 on the Stanley Cup finals on Monday, but a day later the
Chicago Blackhawks
coach said he expects more from Bolland.
Bolland was whistled for a game-high three penalties, was robbed of the puck in the Blackhawks' zone to set up the Bruins' first goal, won 1-of-8 faceoffs, had one just hit and had a minus-2 rating in the Blackhawks' 2-0 loss on Monday.
"Yeah, one of those nights, rough night," Quenneville said at TD Garden on Tuesday. "Certainly can't take three (penalties). I think you've got to be smarter about it when you do take one, that maybe you put yourself in that spot again. Let's make sure we learn from that."
Bolland had trouble staying out of the penalty box early in the playoffs when he had three multi-penalty games against the
Detroit Red Wings
in the Western Conference semifinals, but he had since limited those trips. He was called for two penalties in the last nine games leading up to Game 3 on Monday.
Bolland, who didn't speak to reporters after the game, wasn't sure why he committed three penalties in Game 3 when he spoke with the media on Tuesday.
"Maybe could have been too aggressive," Bolland said. "It's a fast game. You're always moving your feet. You're always trying to get pucks off guys. It's the way things go."
Bolland's Game 3 struggles came after he played his best game of the playoffs in Game 1 of the Stanley Cup finals. He had a goal and an assist in the Blackhawks' 4-3 triple-overtime win over the Bruins in Game 1. It was Bolland's first goal and first multi-point game of the playoffs.
Bolland believes the key to improving his play in Game 4 on Wednesday is being better with his puck possession.
"I think I have to bring a lot more in Game 4, for sure," Bolland said. "I think for myself bringing that puck to the net. What I do with that puck down low is the main thing. It's just not throwing the puck away and just throwing it in front of the net. I think we have that confidence down low, and we have to take the puck to the net."
June, 18, 2013
6/18/13
2:00
AM ET
BOSTON -- The
Chicago Blackhawks
can point to plenty of reasons for their 2-0 loss Monday to the
Boston Bruins
in Game 3 of the Stanley Cup finals, but coach Joel Quenneville put his finger on two specific areas -- faceoffs and power plays.
The Blackhawks wasted all five of their power-play chances in Game 3 and extended their goal-less streak to 20 consecutive power plays, including all 11 in the finals.
June, 18, 2013
6/18/13
12:26
AM ET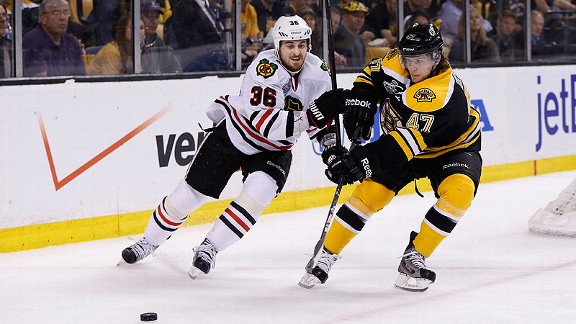 Greg M. Cooper/USA TODAY SportsDave Bolland had a game to forget Monday as he was whistled for three penalties in a 2-0 loss.
BOSTON -- Game 1 of the Stanley Cup finals was undoubtedly
Chicago Blackhawks
forward
Dave Bolland
's best game of the playoffs.
Less than a week later, Game 3 may have been his worst.
Bolland was whistled for a game-high three penalties, was robbed of the puck in the Hawks' zone to set up Boston's first goal, won 1-of-8 faceoffs, had one just hit and had a minus-2 rating in the Blackhawks' 2-0 loss.
Bolland's first penalty, a cross-checking call, gave the Bruins their first power play of the game at 12:00 of the second period. With 11 seconds left on Bolland's penalty, Blackhawks defenseman
Niklas Hjalmarsson
was sent to the box for tripping. The Blackhawks killed off the 5-on-3 opportunity, but Bolland was unable to return to the defensive zone before the Bruins'
Patrice Bergeron
scored to put the Bruins ahead 2-0.
Blackhawks coach Joel Quenneville wouldn't comment on Bolland specifically after the loss, but he thought the power-play goal was costly.
"Haven't talked to him yet," Quenneville said of Bolland. "We'll reassess and reevaluate the game. Certainly I liked our first [period.] Didn't mind our third [period.] Lost a lot of momentum on their first goal. Five-on-three situation was something, that was the game. We got to make sure that every play is critical, every shift is important, value being out there and doing the right thing. Managing the puck is kind of what we're talking about on those situations."
Bolland had accumulated a number of penalties early in the playoffs, but he had done a better job in that area as of late. Monday marked his first multi-penalty games since compiling three multi-penalty games against the
Detroit Red Wings
in the Western Conference semifinals. He has nine penalties and 18 penalty minutes in 14 playoff games.
Bolland missed the opening round due to a lower-body injury.
Quenneville had praised Bolland's play after Game 1 when Bolland had a goal and an assist in the Blackhawks' 4-3 triple-overtime win. It was Bolland's first goal and his first multi-point game of the playoffs. Bolland was also a factor late in the Western Conference finals against the
Los Angeles Kings
with a few key hits.
Bolland was requested by the media after the game, but he was not made available before the locker room was closed.
June, 14, 2013
6/14/13
9:26
PM ET
CHICAGO -- OK, they got their day of rest and then got back on the ice. The
Chicago Blackhawks
and
Boston Bruins
say the effects of their triple-overtime thriller in Game 1 of the Stanley Cup finals is in the past.
Yes, some legs felt like "jelly" -- as
Dave Bolland
put it -- during Friday's practices but by Saturday night the scene should be set for another great ride.
"It was a great start,"
Duncan Keith
said. "I think we're looking for the same kind of start in the second game. We want to put the pressure on them, hit them hard."
Who remembers the start to Game 1?
But Keith is right, the Hawks came out with a good pace to their game which provided a chance at a few hits. It got everyone involved and at least set the tone for a decent first period. But the Bruins were the ones to take the lead after one although we know they gave it back rather quickly in the third period. Back and forth things went until Bolland and
Andrew Shaw
's heroics.
So what adjustments will be made for Saturday?
June, 13, 2013
6/13/13
7:36
PM ET
CHICAGO --
Marian Hossa
figured it was around 3 a.m. Thursday before the adrenaline finally seeped out his body and allowed him to fall asleep.
Which made his neighbor's home improvement activities a few hours later a rude reminder of Hossa's long night at the office.
"Woke up early. I think my neighbor decide he was going to drill in the morning. That was unpleasant," Hossa told reporters who gathered at the United Center some 13 hours after he and the Blackhawks had completed a monumental comeback and defeated the
Boston Bruins
4-3 in triple overtime to win Game 1 of the Stanley Cup finals.
"You know, hopefully he is going to get the message for next time, he won't drill," Hossa quipped. "Feel a little tired today."
In general, we're against having an extra day off during a playoff series. For the most part, the elongated break taxes players and fans and the media covering the series. Too much time covering the same old ground, too little hockey.
But in this case there was pretty much universal agreement from both teams that having Game 2 scheduled for Saturday night in Chicago was the perfect tonic for the Game 1 marathon.
And so instead of a day of thumb-twiddling, Thursday was a day of reflection and recovery after a game that took 112:08 to sort out before
Michal Rozsival
's point shot deflected first off
Dave Bolland
and then
Andrew Shaw
, and past
Tuukka Rask
to give the Blackhawks the win.
[+] Enlarge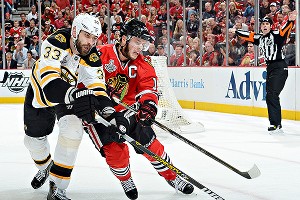 Bill Smith/NHLI/Getty ImagesZdeno Chara and Jonathan Toews leaned on each other for nearly six full periods, making an extra day off before Game 2 a blessing.
Players from both teams described the behind-the-scenes frenzy in the respective dressing rooms in overtime as trainers and other team staff worked to make sandwiches, prepare drinks, and get dry jerseys, gloves and other garments ready as the players came in after each of the overtime sessions.
Portable dryers, hair dryers and anything else that could help in the drying process were employed.
"It's a long game. You know, I think guys were really focused on getting drinks in their system. Guys were eating stuff. Guys were changing out of wet equipment and all that," Chicago defenseman
Brent Seabrook
said. "We got a great equipment staff, great trainers that give us every opportunity to get good things in our body, taking care of drying equipment out, drying skates and stuff like that."
"Everybody in overtime was running for us whatever we needed. It was unbelievable," added Hossa.
"Seems like we had more trainers than the players in the dressing room at that time. So that was nice to see," he said. "Basically anything we asked for we got. So we are pretty lucky."
Neither team skated on Thursday, understandable given the rigors of Game 1. And the extra day off will help both squads internalize all that took place, all of the missed opportunities, all of the fortunate and unfortunate bounces.
Naturally, that's a process that should be easier for the Blackhawks after having won a game in which they trailed 2-0 and 3-1. Still, as
Patrick Kane
pointed out, having come back that way, it would have been tough to swallow had they lost.
"It's one of those games being down 3-1, you come back to tie it 3-3, you feel like something was left on the
table if you didn't come back and win it," Kane said. "It's definitely a good feeling winning in the third overtime when it does go that long. Huge win, for sure."
The Bruins, of course, will make the more interesting case study, having uncharacteristically blown those leads and then being unable to close the deal in overtime in spite of a handful of glittering chances.
"Yeah, there's no question that it's a tough loss. At the same time, it was a game that could have gone either way," said Boston defenseman
Adam McQuaid
. "Take the positives from it. Today is a new day. We kind of start over and just have to get ready for Game 2."
Indeed, if there is a team that is built to turn away from such a gut-wrenching loss, it's the Boston Bruins.
This battle-tested team two years ago dropped the first two games of its opening-round playoff series against Montreal at home, then won that series in seven games. Later in 2011 the Bruins lost the first two games of the finals to Vancouver, then won that series in seven games to claim their first Stanley Cup since 1972.
"We've been through a lot," head coach Claude Julien said Thursday at a press briefing at the team's downtown hotel. "I don't think much is going to rattle our team. We're a pretty resilient group of guys. We live in the moment. This was a game we all know that it could have gone either way. Both teams had great chances and we could be sitting here today up 1-0 as easily as we are down 1-0.
"Wasting our time thinking about what could have and should have been is a lot of wasted energy," Julien said. "What's done is done."
Funny how the game goes sometimes.
In Game 1 the two teams went hammer and tong at each other for the equivalent of almost two regulation games, and yet some of the most pivotal moments seemed to come down to plain old luck.
Both the tying and winning goals came on deflections. Still, no one on the Boston side was suggesting the Bruins had been the victims of bad luck. Nor were they lamenting the missed opportunities or breakdowns.
"Ah, that doesn't matter. You'd drive yourself crazy at this point. I might have when I was 22 or something like that, but at this point it was out of my mind on the next shift," said Boston defenseman
Andrew Ference
, who inadvertently had the tying goal go in off his skate at the side of the Boston net in the third period.
"At this point you almost kind of shake your head at it and say, 'What can you do?' You hope somewhere down the line you shoot one off of one of their feet. That's the way playoffs go," Ference said. "There are certain plays you can control and there are certain plays you wouldn't change a single thing you did and the puck goes in. I'm not wasting any energy thinking about that."
June, 13, 2013
6/13/13
2:59
AM ET
CHICAGO -- You wouldn't be wrong to think
Chicago Blackhawks
forwards
Andrew Shaw
and
Dave Bolland
have similar on-ice demeanors. Bolland made his name agitating opponents in the playoffs, and now Shaw is doing the same.
But both have some skill as well.
The two combined for a double deflection of a
Michal Rozsival
shot to end a triple-overtime thriller, winning 4-3 over the
Boston Bruins
in Game 1 of the Stanley Cup finals Wednesday. It was the second of two goals for the two linemates, and it was well into Thursday before Shaw spoke of them.
"Emotions are high but too exhausted right now to express it," Shaw said after the marathon game.
June, 1, 2013
6/01/13
10:11
PM ET
CHICAGO --
Mike Richards
appeared a little dazed after getting hammered by Blackhawks center
Dave Bolland
late in Game 1 of the Western Conference finals, although not enough to prevent him from giving a piece of his mind to the refs.
The Kings center yelled at the refs that it was an elbow. No penalty was called on Bolland.
Here's the video of the hit
.
Every play that's even remotely controversial gets reviewed by the player safety group in New York, but a source confirmed to ESPN.com that this one was reviewed but that no hearing was forthcoming.
Bolland felt afterward that it was a clean hit.
"I came through and followed my check. It happens," said Bolland. "... I hit him with my back, my shoulder, I had my elbow down, who knows, right? It's hockey. It's a game where you hit. There's contact. I don't know what else to say."
Bolland seemed surprised to be asked about it.
"It's a quick game, it's a hard-hitting game," said Bolland. "It's just the way it is. It's the way the game goes. You get hit. It happens. It's happened to me."
Richards left without talking to media. Kings head coach Darryl Sutter said he hadn't yet seen the hit.
September, 4, 2012
9/04/12
9:10
AM ET
By
Sarah Goldstein
| ESPN.com
November, 1, 2011
11/01/11
12:36
PM ET
When it comes to ranting, you puck heads never disappoint. Let's take a look this week:
harry2299:: Pierre, being a Kings fan I can't have too much to gripe about as they've looked pretty strong to start the season, but there are two things I need to vent about. First, I've watched every game and Dustin Penner has been INVISIBLE. I make a point to watch him when he's on the ice and he seems to be skating aimlessly at the blue line in the defensive zone or turning the puck over when it happens to find him. I read before the season he was devoted to being in shape for this season after Lombardi called him out is he a lost cause? Also, what is it gonna take for Slava Voynov to earn a spot in the Kings lineup? He tore it up in Manchester last season and in his brief call up this year looked poised and ready for the NHL. Thanks. Less
[+] Enlarge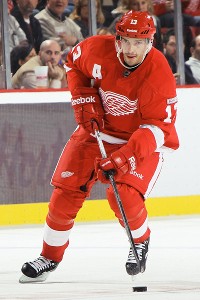 Dave Reginek/NHLI/Getty ImagesThe Wings will need Pavel Datsyuk to turn it on if they hope to win the West again.
kingscrash23: Pierre, is there or has there ever been a bigger waste of space then Dustin Penner?? He should never, EVER cash one of his checks. He doesn't earn a dime of his money. His complete lack of effort and intensity is painful to watch. He plainly just doesn't care. Jonathan Bernier?? Man, he has been overrated since day one. … gotta be the dumbest goalie in the league. He's been playing how long and still can't figure out don't kick rebounds into the slot, stop swimmin outta control and get pucks to the corner if ya don't stop em!! Penner, Bernier, Drewiski and a pick to CBJ for Carter and Mason and bring back Slava. … what's the kid gotta do to stay??
My take:
Two Penner rants! With one assist in nine games, Penner is off to the worst kind of start. It is indeed tough to figure this guy out. If there's ever a season you'd look for him to bounce back, it's this one: He actually devoted himself more to working out this summer under the watchful eye of the Kings. He's in a contract year, eligible to be an unrestricted free agent July 1, and coach Terry Murray handed him the keys to success by starting Penner on a line with
Anze Kopitar
to begin the season. And even that didn't help. It really is a head-scratcher because Penner loves living in SoCal, so you would think he would be doing anything he can to stay there. It's only a month into the season, but so far the results aren't promising. I don't see the Kings keeping him around past this season unless there's a drastic turnaround in his play.
Still, the Kings see a player who wants to improve and has the potential to help the team.
"He's working through some injuries but is learning to work,'' Murray told ESPN.com via text Tuesday. "He needs to get closer to the net; he's looking to pass the puck into it.''
---
tj703: It is really hard to actually complain with the last 20 years the Wings have given me as a fan. However, the compete level has been pretty embarrassing in this four-game losing streak. The call up of Nyquist is a good sign; I hope Tatar shows up in Detroit soon as well. This letting guys come along slowly makes sense when people are working hard for their jobs. Bertuzzi, Holmstrom and Hudler aren't really doing that. They also need to sit Cleary, his upper body injury is hampering him. It wouldn't be terrible to see Holland pull a trade or two and shake up the locker room again. It might help Mike Babcock get his message across.
My take:
Wings fans have high standards after two-plus decades of being the NHL's model franchise. This is still a very good team, but gone are the days of being that much better than the rest. The NHL's salary-cap system has achieved what it wanted seven years ago -- evening out the talent bases across the league. Look at the standings today; they're so close. It's a total crapshoot. Wings fans don't want to hear that, but it's the truth. All you can hope for is to get into the playoffs again, which the Wings will, and then take your chances from there.
Having said all that, the Wings can play much better than they have of late. No better poster boy for that than the incredibly talented
Pavel Datsyuk
-- who is minus-8 in his past six games. You know that trend isn't going to continue. His name isn't on the Selke Trophy three times for no reason. Take a deep breath, Wings fans. Your team isn't this bad.
---
xcirclex: So Dave Bolland is back from a preseason injury and has racked up 5 goals and leads the league with 2 short-handers. The question is: Why is his name never mentioned when Selke trophy conversations take place? I have a hard time thinking of a forward who has been more in the limelight when defensive play becomes critical (i.e., the playoffs).

Especially after Henrik Sedin's legendary "just another player" remarks prior to the 7-2 drubbing in Game 4 last year. A series where post-Bolland, the Sedin's racked up a combined 5 points and a -13 +/-, while Bolland finished with 6 points and a +6. You can go back to the year prior for more of the same.
My take:
I'm a huge Dave Bolland fan (you may remember I chose him for my daily video blog during 2010 Stanley Cup finals). Probably the biggest reason Bolland hasn't garnered Selke attention in previous seasons is because
Jonathan Toews
is on his team. You saw what Toews did at the 2010 Vancouver Olympics. There are few better two-way players in the entire NHL than Toews. And that right there is what hurts Bolland's chances. But perhaps if he keeps this up he'll get more recognition this season. He certainly deserves it. He's a courageous shot-blocker and a tenacious puck-battler and drives the opposition batty. One of my favorite players in the NHL -- bar none.
---
Alpamayo91: Pierre, normally your highest-paid player should be your last concern in terms of performance. However, what to do with Scott Gomez? Plekanec-Desharnaies-Eller-Nokelainen have definitely given life to the Montreal forwards. Can you buy back such contract? Can you send him to Hamilton? Or do you keep him for the sake of depth (MTL has no other center should one of those above get injured) and risk ruining the chemistry? Can you play such contract on a 3rd or 4th line?
My take:
An NHL scout recently told me about Scott Gomez: "You know, if that guy made $2 million, they'd love him in Montreal.'' That's because Gomez does hustle. He works his butt off. Problem is, his cap hit is $7.35 million, and there's two more seasons after this year on that deal (in real life, his salary dips to $5.5 million next season and $4.5 million in the final year). His production has never lived up to that monster contract. I see two options for the Habs: 1) Next summer a team finds itself desperate to get to the cap floor and needs a contract with a big cap hit but not a big salary. As I mentioned above, Gomez's salary actually dips next season, even though his cap hit remains high. 2) In the new collective bargaining agreement next year, the NHL possibly allows once again for a one-time buyout window, where it doesn't count against the salary cap. Bingo.
---
joedirt113: Fire the coach, trade Lucic, Marshand needs to go, Krejci overperformed, Chiarelli traded out best prospect for that bum Kaberle, Pouliot aka "the biggest disappointment in league history", they drafted Seguin with a congenial hip what the heck? and McQuaid is a pylon. Those are all the words of wisdom in the office today. Rewind back to game 70 of the 2010-2011 season to replay panic...prior to winning the cup. Hmmm the lifecycle of a Boston sports fan. Julien has gone from goat to hero, to goat in a period of 4 months.
My take
: Yes, I do agree B's fans need to take a deep breath. Look at Montreal last week. Habs fans were ready to burn down the city before three straight wins calmed everyone down. The Bruins do have some issues. I think some of their players did not come ready for this season, but overall I still believe in the Cup champs and their ability to make the playoffs and contend this season. If this doesn't turn around soon, the GM has cap room and flexibility to force change. He won't sit on his hands, believe me.
---
JanneyShanny: What in the world happened to Jaroslav Halak? More importantly, why have the St. Louis Blues not put a solid goalie between the pipes for a full season since Grant Fuhr? With the inevitability of Brian Elliott not keeping up this pace; it looks like the Blues are in for another year of mediocre goaltending, which usually leads to a disappointing spot in the standings.
My take:
I still think Halak will bounce back, but I will share this with you: When the
Montreal Canadiens
decided to trade Halak and keep
Carey Price
-- a decision that was highly criticized and polarizing in hockey-made Montreal -- a source told me that the Habs' front office had zero hesitation in its decision. It was Price all the way, without a moment's hesitation, despite Halak's heroic 2010 playoffs. The feeling was that though Halak was a very good goalie, Price had the potential to be a great one. So far that decision by the Habs has been spot on.
---
kevin23610: Winter Classic ISSUE; I'm tired if people pushing this event down our throats as something that "promotes" the game. If they're doing this to promote the game then why does it cost SO much to go to? It cost an AVERAGE Flyers season ticket holder (and I'm sure It's VERY comparable to the other places it's been held) $502 dollars just to get mediocre seats. It would cost Joe Blow, on average, about $400 a ticket just to see the game. I don't think this is even in the realm of a reasonable price. This will only get people with high disposable incomes and (already) hardcore avid fans to the games, NOT newcomers. This is just another hockey game on TV to the "on the fence" fans. If you put aside the GREED and made it affordable enough then the on the fence fans might actually come out and have the game mean something to them. Seems to me this is more for the pocket-lining of team owners and TV advertising revenues than it is for the fans.
My take:
The NHL views the Winter Classic as its Super Bowl experience. Hence, the ticket prices. Let's be honest, the moment the outdoor game became a huge hit in Buffalo you knew the league was going to maximize its potential and rake in everything it could before the event got stale (which will happen one day). So yes, the average fan is getting gouged. No surprise there.