Cross Checks:

Dennis Seidenberg
June, 16, 2013
6/16/13
2:08
AM ET
CHICAGO -- First the
Chicago Blackhawks
lost momentum, then they lost the lead and finally the game, falling 2-1 in overtime to the
Boston Bruins
in Game 2 of the Stanley Cup finals on Saturday.

The first 20 minutes were vintage Hawks. Speed with the puck and shots on net. A lot of them. Only one of 19 got past Bruins goalie
Tuukka Rask
, though. That came back to haunt them.
"When you score a goal and are playing the way we were playing in the first period, you need to find a way to sustain that, and we didn't quite do that tonight,"
Jonathan Toews
said.
Nineteen shots in the first period were more than the Hawks had the rest of the game. They finished with just 34 on the night. The shots dried up and so did the scoring chances. Slowly, Boston took the momentum away.
"The message was basically to wake up," Bruins defenseman
Dennis Seidenberg
said. "We really slept through the first period and didn't play very well."
June, 7, 2011
6/07/11
2:47
AM ET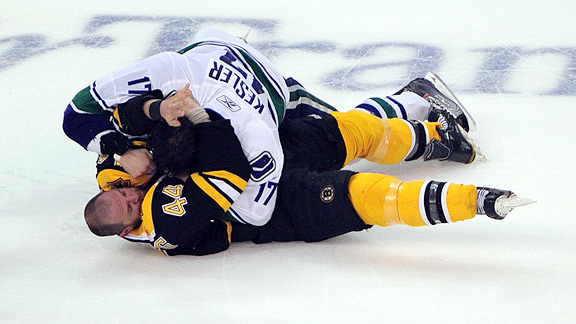 Michael Ivins/US PresswireThe game got ugly in the third period with nine 10-minute misconduct penalties handed out. Ryan Kesler and Dennis Seidenberg both received five-minute majors for fighting and 10-minute misconducts.
BOSTON -- The Bruins and Canucks combined for 125 minutes in penalties on Monday night, including one fight between Vancouver forward Ryan Kesler and Boston defenseman Dennis Seidenberg.
It could hardly be called an epic.
"It was just a scrum and we just fought, I mean tried to fight. It wasn't really a fight. Nothing really happened there, just the heat of the moment," said Seidenberg.


The "fight" lasted a couple of seconds and concluded with the pair falling to the ice and Kesler still trying to land a couple of blows.
"I don't know how to fight. It just happened," Seidenberg said with a grin.
As for Kesler still trying to connect even after they were on the ice, Seidenberg didn't seem too upset.
"I guess everybody can make their own opinion about that and nothing really happened, so I don't really care."
As for his last fight, it was in October of this season when Ottawa tough guy Chris Neil buried him.
"It was kind of lopsided, too. I guess I'm going to have to start learning how to fight," Seidenberg said.
March, 23, 2010
3/23/10
11:22
PM ET
ATLANTA -- Got to figure Boston GM Peter Chiarelli wasn't the most popular guy in Boston after the NHL's trade deadline. His team was hovering around the playoff bubble, it couldn't score, and when the dust cleared on March 3, Chiarelli had added who?
Dennis Seidenberg? Who's that?
Three weeks later, we're guessing more Bruins fans are watching No. 44 and saying, "Hey, that dude looks pretty good out there."
Three weeks after the trade deadline and with less than three weeks in the regular season, Chiarelli is still holding onto all those draft picks. And it turns out, all the Boston GM did in acquiring the big blueliner from Florida is add a top-two defenseman who is logging more than 23 minutes a night for a Bruins team that opened up a three-point lead over Atlanta for the eighth and final playoff berth in the Eastern Conference with a 4-0 win Tuesday.
For much of the time since his arrival, Seidenberg has been paired with the Bruins' big man, captain Zdeno Chara. On Tuesday, no skater on either team matched Seidenberg's 25:05 in ice time.
"Dennis is just such a steady player and a steady defenseman," Chara said Tuesday after the Bruins had also moved to within a point of Montreal and Philadelphia with 10 games to play.
"He's just a smart player with the puck," said Chara, noting Seidenberg isn't afraid to play physical and is also quick to get the puck to the net. "And he's getting rewarded for that."
So are the Bruins, who gave up Byron Bitz, Craig Weller and a second-round draft pick to acquire Seidenberg and Matt Bartkowski.
Seidenberg, playing for his fifth NHL team, registered an assist on the Bruins' first goal Tuesday and now has six assists in his past eight games. He also leads the NHL in blocked shots.
Seidenberg, 28, told ESPN.com he's found the transition to Boston to be surprisingly smooth. He's also pretty pleased to be playing with an Original Six team. "They've just taken me in," he said of his teammates.
Not that he was a complete stranger.
Seidenberg and Bruins forward Marco Sturm played together in Vancouver for the German national team. It was the second Olympic Games in which the two have played together. Seidenberg also helped set up the overtime winner for Carolina against Boston in Game 7 of their second-round series last spring. Not that he brings that up often in the dressing room.
Bruins coach Claude Julien put it simply after Tuesday's game: "We always knew he's good in big games, and these are big games. He's been a great addition for us."
Not that Bruins fans ever had any doubt. Right?