Cross Checks:

Derek Stepan
June, 14, 2014
Jun 14
2:37
AM ET
LOS ANGELES -- This is what heartbreak looks like: a stunned
Derek Stepan
with his stare fixed on the ground, arms folded on his knees, shoulders sagging in the moments after defeat.
Henrik Lundqvist
clasping his tape-laced fingers behind his neck, bowing his head in a locker room that was staggeringly silent.
Dan Girardi
, unmoving in his stall, sitting stoically in his sweat-soaked jersey.
"I have nowhere to go. No hurry now," Girardi said. "Just kept it on. No reason. I just -- just hanging onto it, I guess. Hanging onto the last moments here."
There were so many poignant moments to remember for the
New York Rangers
throughout what was a remarkable postseason run. So much to be proud of, yet all those fond memories were difficult to summon in the wake of the team's season-ending loss to the
Los Angeles Kings
in Game 5 of the Stanley Cup finals on Friday night.
[+] Enlarge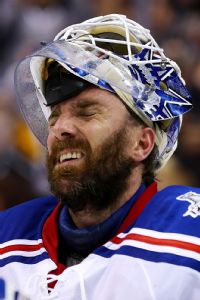 Bruce Bennett/Getty ImagesThe Rangers' playoff run ended with a Game 5, double-overtime loss to the Kings.
Those moments will be recalled in a few days' time. They'll probably be rehashed many times throughout what will feel like a long, endless summer. Down the road, years from now, those memories will be shared over beers, laughs, maybe even some tears, too. There will be a sense of pride.
But not now.
"There will be. Not tonight, but there will be," said veteran
Brad Richards
, the Rangers' de facto captain. "Tonight's not a night to reminisce, but there will be a time this summer when you look back at what an amazing run it was. Has to be amazing to get this far. Things have to come together. No one will ever know, except for us, how fun it was and how we came together. You lose three overtime games in the final. It's hard to explain."
It was already tough for the Rangers to articulate, to put into words just how exactly they were feeling physically, mentally and emotionally after a beautifully chaotic and drama-filled double-overtime game that ended with
Alec Martinez
's game winner.
Some tried to explain what it was like.
"Empty," said defenseman
Anton Stralman
, who had a particularly strong postseason. "Emptiness, I think."
Marc Staal
, as steady as any player in that room, both on or off the ice, made no effort to conceal his anguish.
"It's the worst feeling you can have as a hockey player," said Staal, which is not hollow hyperbole coming from a player who has suffered through a pair of frightening, career-threatening injuries in recent years.
Maybe the worst part for all of those involved is that the group will never again get a chance with the team constituted as it currently stands. Richards has likely played his last game as a Ranger, with a potential buyout looming.
Rick Nash
, with another disappointing postseason performance, might not be long for Broadway. The team has six impending unrestricted free agents and several key restricted free agents to get under contract as well.
It will not be the same group of players come training camp this fall.
"Who knows if we're going to have another crack at this? We might not get another crack at this opportunity," Girardi said, almost unbelieving. "That's why it hurts, I think, that much more."
It will also sting, for some time, for the Rangers to look back on a series that went five games but was riddled with squandered leads, missed opportunities and some odd outcomes.
The Rangers played better in the games they lost than in their sole victory in Game 4. The Kings erased leads, rallied back, showed resilience. The Rangers never even really felt like they settled into their game. They dropped the first three games and seemed shell-shocked by their position.
"It felt like we closed our eyes and opened them and we were down three-nothing [in the series]," Staal said.
But the Rangers salvaged pride in Game 4, avoiding a sweep on home ice at Madison Square Garden, and they should have left the handshake line with their heads held high as well.
They left every ounce of effort on that Staples Center ice Friday night in what was maybe the most riveting stretch of playoff hockey this spring, maybe ever. There was not a single moment to mentally adjust, no time to take a deep breath. Just end-to-end, do-or-die hockey in its purest form. It was wildly entertaining, captivating and absolutely mesmerizing.
Both teams had their chances, great chances, to end the game in each overtime period. There was
Ryan McDonagh
's shot off the post and
Tyler Toffoli
's crossbar shot in the first period. There was Nash's shot directed at an open net, foiled only by a sliver of shaft of Kings defenseman
Slava Voynov
's stick in the next. Lundqvist was superb the whole way through, denying every Grade-A chance that passed his crease for his second outing of 40 saves or more, but it was just one juicy rebound surrendered that ended up in the back of their net.
Martinez buried the chance, a play that seemed to unfold in slow motion, if only because it signaled the end to a game that many hoped would just keep going. It was that good.
Coach Alain Vigneault, talking to just a smattering of reporters with the muffled sounds of victory music lingering in the background, lauded his club for its heart.
"You go into this hoping you don't regret anything," Vigneault said. "We put it out there. We gave our best shot, our best effort. Three games here all went to OT. What can I say?"
There was not much to say, after all. But there will be time to think and reflect.
Defenseman
John Moore
, finally showered and dressed in his suit, paused on his way out of the dressing room. There was a television monitor in the barren hallway, and he took a brief glance at the Kings celebrating their Stanley Cup win with friends and family on the ice.
He looked away and kept walking.
It's too painful in the immediate aftermath, but they will remember this run -- the team's first Stanley Cup appearance in 20 years.
It was special, even in defeat.
"It's definitely worth it. Worth every second, these two months," Richards said. "Right now, you're just sort of speechless."
June, 11, 2014
Jun 11
11:06
PM ET
NEW YORK -- No brooms necessary at Madison Square Garden on Wednesday night.
Nope, the
New York Rangers
salvaged some pride and eked out a win against the
Los Angeles Kings
in Game 4 of the Stanley Cup finals, avoiding a sweep and sending the series back to L.A. with their 2-1 victory.
Even though the Blueshirts were outplayed through large stretches in Wednesday's game, goaltender
Henrik Lundqvist
was at his very best, delivering a phenomenal 40-save performance when the Rangers needed it most.
Falling behind 2-0 for the third time this series, the Kings still dominated and outpossessed the Rangers by a wide margin in Game 4, but Lundqvist unilaterally prevented L.A. from taking the Cup home with them on their flight back to California.
Lundqvist, who was bested by Kings netminder
Jonathan Quick
in Game 3, made one particularly outstanding save, robbing
Jeff Carter
on a solo breakaway in the second period to preserve a precarious one-goal lead.
The Kings were relentless in peppering the King himself in the third period -- the Rangers did not register a single shot on goal for almost 13 minutes -- but the steady Swede wasn't ready for the Rangers' summer to begin. Two frenzied, goal-mouth scrambles in the final minutes of the game had Rangers fans biting their nails, but Lundqvist had a little help from
Derek Stepan
with the puck sitting on the goal line with just more than a minute left. Stepan batted it out of the crease to stop L.A. from tying it up.
The Rangers avoided elimination and now find themselves trailing 3-1, a difficult task but far from impossible. Earlier this spring, the Rangers erased a 3-1 series deficit in the second round against the
Pittsburgh Penguins
.
Rough series:
Defenseman
Dan Girardi
is having a series he'd like to forget, with a few particularly costly blunders that have ended up in the Rangers' net. The 30-year-old blueliner, the goat in the Rangers' Game 1 loss in L.A., made one glaring gaffe in the second period that gave the Kings bench new life. Girardi gave the puck away at the blue line (it was not immediately clear whether his stick broke or not) and Kings captain
Dustin Brown
made a beautiful move, deking backhand to forehand six times, to beat Lundqvist on a breakaway and cut the Rangers' lead in half to 2-1.
First strike:
It wasn't technically a power-play goal, but
Benoit Pouliot
's expert redirection of
John Moore
's shot at 7:25 gave the Rangers a 1-0 lead in the first period just as
Willie Mitchell
's high-sticking penalty expired. Heading into Wednesday's action, the Rangers were 1-for-14 on the man advantage after being blanked on six power-play attempts in Game 2 Monday night. Pouliot's goal was his fifth of the postseason, and he remains one of the team's most enticing unrestricted free agents set to hit the market July 1. Despite his propensity for taking ill-advised, offensive-zone penalties, Pouliot has had an impressive regular and postseason. Both he and defenseman
Anton Stralman
appear to be setting themselves up for a nice payday soon.
Shaking things up:
After sustaining three straight losses to the Kings, coach Alain Vigneault opted to shake up his lineup with a few changes Wednesday night. The most notable was his decision to demote veteran center, and de facto captain,
Brad Richards
to fourth-line duty while using
Dominic Moore
on a line with
Chris Kreider
and
Martin St. Louis
.
Carl Hagelin
earned himself a promotion to the first line with Stepan and
Rick Nash
. Vigneault also elected to scratch winger
Daniel Carcillo
, who is now eligible to play after serving a six-game suspension incurred in the Eastern Conference finals. Though Carcillo took pregame warm-ups, gritty fourth-liner
Derek Dorsett
remained in the lineup instead.
May, 30, 2014
May 30
1:32
AM ET
NEW YORK --
Derek Stepan
still can't even eat solid food. He won't be indulging in anything of the sort for at least another six weeks. He's still not sure if he'll be able to eat the meal at his own wedding this summer. He's learned to get acquainted with the blender, and he's willing to get creative.
Broken jaw and all, he's headed to the Stanley Cup finals.
[+] Enlarge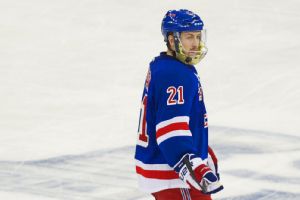 AP ImagesDerek Stepan can't even eat solid food yet, but he still played a critical role in sending the Rangers to the Stanley Cup finals.
The 23-year-old center has become another one of hockey's prime examples of toughness personified, as he returned to the
New York Rangers
lineup in Game 5, just four days after undergoing surgery to have a plate inserted into his jaw, and played a critical role in helping the club advance to its first Stanley Cup final appearance since 1994.
All the pain and discomfort since he sustained the suspension-earning hit from
Brandon Prust
all seemed worth it to Stepan, who still couldn't help but smile when recounting the final moments of the team's 1-0 win in Game 6 against the
Montreal Canadiens
.
"That's a cool feeling," he said. "I've been here four years and I've never had a feeling quite like that. That's something I won't forget for sure."
Stepan, who notched two goals in his first game back from injury in game 5 on Tuesday, lauded the team's medical staff for helping him get back into the series. He said that he had to adjust to the hulking, bright green facial protector attached to his helmet, but got used to it after a few days.
As of now, he's feeling all right. About as good as anyone else in the playoffs, it seems.
"Yeah, not too bad," he said.
The euphoria of victory was enough to leave Stepan in a forgiving mood at least. After the game, he seemed to harbor no ill will towards his former teammate Prust, who was slapped with a two-game ban for the hit that broke Stepan's jaw.
"I'm not going to hold it against him," Stepan said, "He feels bad about it, he knows it was late. We'll just move on."
• • •
Rangers defenseman
Marc Staal
said he didn't know what to do when the Prince of Wales trophy was awarded at center-ice after the Rangers' Eastern Conference final victory. He deferred to the team's elder statesman, and de facto captain,
Brad Richards
.
Richards told him not to touch it.
Back in 2004, when the 33-year-old veteran won a Stanley Cup Championship with Tampa Bay along with teammate
Martin St. Louis
, he was instructed not to touch it, as per hockey superstition.
Since it worked out so well for them 10 years ago, he continued to heed the ritual.
"Well, I just -- Marty and I have been there,
[Daniel] Carcillo
, unfortunately, just wasn't dressed, so we didn't put his opinion in, but no one else was dressed that's been there. We won it without touching it, and it was instructed that way when we won," Richards explained. "If half the team was there, maybe we would have had more debate on the ice, but it wasn't much debate. We're not doing it, and that's where we went with it."
May, 28, 2014
May 28
1:15
AM ET
MONTREAL -- Though the
New York Rangers
will likely want to discard Game 5, and purge that mistake-riddled, goal-glutted defeat from memory completely, there was at least one bright spot.
Derek Stepan
, just four days removed from undergoing surgery to repair his broken jaw, returned to the lineup, hulking facial protector and all, and delivered a superb performance despite the team's otherwise sloppy and uncharacteristically unstructured play.
[+] Enlarge
Richard Wolowicz/Getty ImagesDerek Stepan scored twice in Game 5.
Cleared just hours before Tuesday's game, Stepan was back without any signs of discomfort or reluctance. Sporting a bright yellow facial protector affixed to his helmet, Stepan lined up for the opening faceoff and never looked like a guy who has been eating his meals through a straw the past few days, since sustaining the injury on a hit from ex-teammate
Brandon Prust
.
On his first goal, Stepan's shot was an innocuous one, fired from the high slot, but it beat
Montreal Canadiens
netminder
Dustin Tokarski
and knotted the game at 1 at 10:44 of the first period. His second goal of the night helped lead the team's charge in erasing a 4-1 deficit during the middle frame.
"If there was a positive, the fact that he was able to, under those conditions, play such a strong game," Vigneault said. "That whole line was good tonight, and we need to get the rest of our group to play the same way."
With Stepan back centering his regular linemates, the Rangers' top trio was its most effective.
Chris Kreider
finished with a team-high four points (one goal and three assists).
Rick Nash
finished with a goal and an assist.
The production of those three players will be vital to the Rangers in their attempt to close out this series against the Canadiens. They'll get their second crack at it Thursday night (8 ET), when they host the Habs for Game 6 at home at Madison Square Garden.
Stepan was not available to the media after the game, but his teammates recognized both his toughness and his skill in making an impact in his comeback Tuesday night.
"It says a lot about his character and his willingness to want to come out and help the team," defenseman
Dan Girardi
said. "He played a great game tonight and it's just unfortunate we couldn't get the win with him in the lineup."
May, 27, 2014
May 27
1:30
PM ET
Do the Montreal Canadiens have enough left to rally against the New York Rangers? Pierre LeBrun and Katie Strang weigh in from Montreal.
LEBRUN:
Katie, we are separated this morning as the Canadiens, as always, had their morning skate at their suburban practice facility in Brossard, Quebec, while the Rangers were at the Bell Centre. And, once again, nothing boring about either session. Where I was, in Brossard, there was quite the buzz after injured star goalie
Carey Price
took to the ice for about a half hour in full equipment with goalie coach Stephane Waite and head athletic therapist Graham Rynbend before his team's morning skate. Here's the
video of it
, courtesy of my friends at TSN.
Head coach Michel Therrien, however, quickly and sternly doused any hopes for Habs fans to see their favorite man back in action in the Eastern Conference finals.
"He's not going to play in that series," Therrien said. "He's not going to play."
While speaking in French, Therrien made it just as clear.
"Our team realizes that when Carey was hurt, it meant he would not play in this series," he said. "There's a process that's in place for his return, but it won't be in the coming days. We don't want to be thinking about another series because we have a hell of a big game to play tonight."
Later, when he mentioned there was no way for Price to play in Game 5 or Game 6, I followed up in French and asked Therrien: What about Game 7?
"He's not playing in this series," Therrien responded again.
So unless this is all a smoke screen for the Rangers' benefit, we have to take the Habs' coach at his word -- no Price comeback in this series.
Katie, while we were talking to Therrien, we saw your tweets coming out of the Bell Centre on
Derek Stepan
. What say you?
STRANG:
I have to admit, dear Pierre, that I do hate when we are separated, but it's a worthy cause this morning with all the news and injury intrigue coming out of both rinks. Indeed, it was an interesting pregame skate for the Rangers, as top-line center Stepan emerged from the dressing room and took the ice wearing a big, honking facial protector affixed to his helmet. Stepan had suffered a broken jaw in Game 3 and had surgery afterward.
As I watched Stepan take line rushes, where he centered
Chris Kreider
and
Rick Nash
, he sure looked ready to play. But Rangers coach Alain Vigneault reasonably tempered the optimism over his return with a dose of caution.
Vigneault said the team will huddle with its medical staff Tuesday afternoon to gauge how Stepan reacted to practice, how he feels energywise (nutrition is a concern, remember, as he is on a soft-food diet right now), and whether he can play without further risk of exacerbating or aggravating the injury.
Essentially, the decision is out of Stepan's hands, as it should be, because we know the 23-year-old center has to be champing at the bit to get back in the lineup.
"The only way he's going to play tonight is if he gets full medical clearance," Vigneault said. "This is not going to be up to him. It's going to be up to our medical staff to make sure that they feel he can play. There's a lot of things that have to fall into place for him to play tonight."
If he can't go, the Rangers have a pair of Swedes -- Oscar Lindberg and
Jesper Fast
-- at their disposal, but I still sense that we will see Stepan play in Game 5 at the Bell Centre. This hasn't been mentioned often, but Stepan has been an iron man for the Rangers; Game 4 of this series was the first match he missed in his entire four-year tenure as a New York Ranger.
Assuming Stepan comes back, maybe that's just the boost the Rangers need to close out the series against what is sure to be a desperate Habs team hell-bent on keeping its Stanley Cup hopes alive. There has been a ton of talk in the past few days about the Rangers' not wanting to give Montreal any hope, not even one iota of belief. They know, in large part because they found themselves in Montreal's situation during the last round, that just one win can completely change the complexion of the series.
And the Habs are no stranger to that sort of dramatic turnaround, either, having accomplished the feat back in 2010, as you so astutely pointed out in your off-day blog Monday. What do you think? Can they muster that magic again?
LEBRUN:
Katie, for what it's worth, there was a pretty positive vibe around that Montreal team this morning.
Maybe it's the knowledge they came back from 3-2 down to the best team in the conference and beat the
Boston Bruins
, but the Habs sounded very confident that this series was far from over.
"Honestly, I think this is where we play our best hockey," Canadiens winger
Dale Weise
said this morning. "We saw that against Boston and we saw that in Game 3; I liked our game there. Nothing matters in the past, and we're only worried about coming out in the first period tonight and having a good start. I think we're excited in here as a group. I think our building's going to be rocking tonight. This is not an easy place to come and play."
Then Weise later added: "This is far from over. We've got to win three games in a row and that's obviously difficult, but it's not impossible. If any group can do it, I'm pretty positive this group is one that can do it."
Scoring first Tuesday night would help bring alive the loudest arena in the NHL. That's certainly what the Habs hope to accomplish.
"This is obviously the best place in the world in the playoffs," Weise said. "The building's the loudest; it's exciting anywhere you go on the streets. You can feel the buzz. This is a fun group, and obviously we want to keep this thing going."
See you tonight at the Bell Centre, Katie!
December, 24, 2013
12/24/13
9:36
AM ET
Bruins 6, Predators 2
* Jarome Iginla of Boston had two goals (10), his second multi-goal game this season and the 96th of his career.
* The Bruins are 7-2-0 in their last nine games, and their six goals are a season high.
* Boston coach Claude Julien recorded his 400th win, 31st all-time.
* Craig Smith of Nashville has two goals (10), his third multi-goal game this season and the fourth of his career.

Ducks 3, Capitals 2
* The Ducks extend their team-record win streak to nine games, the longest active streak in the league and the longest by a team this season.
* Anahaeim's streak is the longest in the NHL since the Penguins won 15 straight from March 2-30 of last season.
* Hampus Lindholm of the Ducks scored the game-winner with 5:36 remaining in the third period, after the Ducks trailed 2-0 in the first.
* Washington's Alex Ovechkin had five shots but no goals, snapping his four-game goal streak.

Flames 4, Blues 3 (CGY wins SO, 1-0)
* Joe Colborne of Calgary scored the game-deciding SO goal.
* The Flames' Mark Giordano scored a PP goal (5) with five seconds left in regulation to tie game.

Blackhawks 5, Devils 2
* Chicago's Patrick Sharp scored two goals (18), his third multi-goal game this season (29th career).
* Patrick Kane of the Blackhawks had a goal (22), extending his point streak to 12 games (7 G, 14 A).
* The Blackhawks are 6-1-1 in their last eight games.

Rangers 2, Maple Leafs 1 (NYR wins SO, 2-1)
* Derek Stepan of the Rangers scored the game-deciding SO goal.
* Toronto's Nazem Kadri tallied the game-tying goal (11) with 1:24 remaining in the third.
* The Rangers have won two straight after going 1-4-2 in their previous seven games.
FROM ELIAS: Rangers goaltender Cam Talbot recorded a 2–1 shootout win over the Maple Leafs at Madison Square Garden on Monday, 24 hours after he notched a 4–1 win against Minnesota at MSG. Talbot is the first Rangers goaltender other than Henrik Lundqvist to win games on consecutive days since Kevin Weekes on Nov 1–2, 2006, and he's the first Rangers netminder other than Lundqvist to do that while allowing no more than one goal in each game since Mike Richter on Oct. 30–31, 1993.

Senators 5, Penguins 0
* The Penguins had their seven-game win streak snapped (first loss since Dec. 7 at Boston).
* Erik Karlsson of Ottawa had a goal (10) and two assists, tying his season-high of three points.
* The Senators' Craig Anderson notched 27 saves and his second shutout this season (24th career).
* Pittsburgh's Sidney Crosby had two shots and no points, ending his 10-game point streak.

September, 26, 2013
9/26/13
2:28
PM ET
Even though there was a collective cringe Monday night when Rangers general manager
Glen Sather took to the team-owned airwaves
and criticized unsigned restricted free agent
Derek Stepan
-- what many interpreted as a clear sign that negotiations would become increasingly nasty and drawn out -- the 23-year-old agreed to terms just a few days later on a
modest two-year deal
.
[+] Enlarge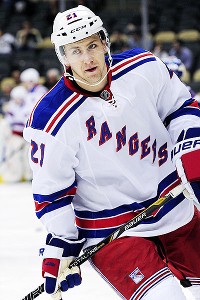 Icon/SMIDerek Stepan and the Rangers agreed to a two-year deal.
That deal, which a source confirmed to ESPNNewYork.com is worth a total of $6.15 million over two years, is a steal considering Stepan's worth to the team.
Although unfortunate, Sather's comments Monday night (he instructed Stepan to be "wiser" about the decision and even dropped the word "fool" into the conversation), were a reflection of the team's leverage in the protracted situation.
For one, Stepan had no arbitration rights. Furthermore, it wasn't like the Rangers had oodles of cash to drop on the 23-year-old pivot, especially considering the somewhat surprising decision by the team NOT to buy out
Brad Richards
' contract this summer. The team also knew that the possibility of sitting out any portion of the season had to be an unappealing one to Stepan, even more so with his Olympic candidacy at stake.
So the Rangers held firm on sticking around the $3 million average annual value (Stepan's comes in just north of that at $3.075 million per year) and got their probable first-line center under contract with a very team-friendly deal -- one that is very likely to be considered under value market for the dynamic youngster.
Though Stepan missed valuable time in training camp with the Rangers, who are learning a new system under coach Alain Vigneault, he will be available for the team's season opener Oct. 3 against the
Phoenix Coyotes
. Not having him in the lineup could have been a disaster for the Rangers with captain
Ryan Callahan
and fellow top-six forward
Carl Hagelin
unlikely to play (both players are coming off shoulder surgery this summer and are expected to miss at least the first few weeks).
Because of those absences in the lineup, and the uncertainty about Richards' ability to bounce back after an atrocious 2013 season, Stepan's presence is of the utmost importance to the Rangers' success this season.
The former University of Wisconsin standout led the team in scoring with 18 goals and 44 points in 48 games last season, and the Rangers will count on him to be a consistent playmaker and contributor again this season.
Stepan probably will not see any preseason action -- he is expected to fly to New York on Thursday night to rejoin the team when they return from the West Coast -- so he may be a little behind, but as the Rangers can surely attest, a rusty Stepan is far better than no Stepan at all.
August, 26, 2013
8/26/13
4:16
PM ET
ARLINGTON, Va. -- Injuries are always going to play havoc with the selection of Olympic rosters no matter which country is involved, but the U.S. management team will be paying close attention to the health of center
Ryan Kesler
. When he's been healthy and at his best, Kesler has proved he's a dominant player, a difference-maker. But the former Frank J. Selke Trophy winner as the game's top two-way forward has struggled with a variety of injuries over the past couple of years. He is finally healthy.
"I'm good. Finally. Two years," he said Monday.
The injuries and the time spent recovering from them took their toll on the Vancouver Canuck.
"Mentally tough. It wasn't fun, especially this time around when you go through 10 months of rehab and break your foot on your first game back, that was tough to take. But it makes you stronger as a person. I'm healthy now and finally able to enjoy a summer with no rehab," said Kesler, who played in only 17 regular-season games after the lockout.
Not only is Kesler hoping to parlay good health into Olympic success, he's also looking forward to getting the
Canucks
back on a Stanley Cup track after two straight first-round playoff exits.
The Canucks were swept by San Jose this past spring, and it cost Alain Vigneault his job as head coach. He was replaced by John Tortorella, who was an assistant coach with the U.S. Olympic team four years ago.
"We have the same core. Obviously we know what that core can do," Kesler said. "I think we're going to have a new identity this year. Obviously a new coach behind the bench. He's going to coach a little differently than our last coach, and that's good sometimes. Sometimes you need change and a fresh face to energize your group."
"I've played for Torts a little bit, and we all know what he's all about."
Looking for luck
If there is one player attending the U.S. orientation camp who could use a little Olympic karma, it's Pittsburgh defenseman
Paul Martin
.
As a young player with the
New Jersey Devils
, Martin was selected to the so-called taxi squad for the 2006 Olympics in Torino. He,
Matt Cullen
and
Hal Gill
were in Italy in case of injury but did not stay in the athletes' village and were in many ways isolated from the rest of the U.S. team.
Four years later, a virtual lock to make the 2010 team, Martin was struck by a puck early in the season and broke his forearm.
"Bill Guerin missed the net by six feet and hit me with the puck," Martin said.
Initially the prognosis was that he would be out eight weeks, but that stretched to 10 or 11. Then the doctors worried the arm wasn't healing properly, so Martin ended up at a specialist who ordered surgery the next day.
Even then, with pins and plates in his arm, Martin was hopeful he would heal in time to make the trip to Vancouver. But slowly it became clear it wasn't going to happen.
"It was tough," Martin said. "As far as disappointment and frustration as far as an athlete goes, that has been my toughest thing to get over so far in my career. I didn't have expectations as far as was I going to be on the team. But I think when you realize that that opportunity's there and you get named but you can't do it, it was a tough pill to swallow, and I struggled with it for a while."
After a dreadful 2011-12 season, Martin rebounded last season to the kind of form that made him a shoo-in for the Vancouver team. He and defense partner
Brooks Orpik
were tasked with shutting down opposing teams' top lines every night and were key penalty-killing specialists, while Martin was also an effective member of the Pens' power-play unit.
Orpik was a member of the 2010 Olympic team and is also an invitee to the orientation camp.
"I think it definitely helps," Martin said. "I think there is that comfort factor there. Especially after the year last year, I think we found our identity again and especially me. He's so easy to play with, and obviously he played in the last Olympics and with the coaching staff that we have, I'm very familiar with."
At 32 years old, Martin is a realist. He knows he must take advantage of this opportunity, as it might well be the last chance at playing in an Olympics.
"I'm really excited about this opportunity and the chance to play. Wherever it might be, right side, left side, I just want to play," the Minneapolis native said.
"I just want to go."
Where to keep a medal
One member of the Vancouver team who is at the orientation camp has a special place for his silver medal.
"It's tucked away. I've been meaning to put it in a safe, but it's in this fake stack of books, but it opens up. It's not really books, it opens up," forward
Zach Parise
said.
Does he take it out and look at it sometimes?
"Yeah, I had to bring it out. I don't just at night grab it and sit on the couch and look at it, but I had to bring it out to New York a couple of weeks ago. I guess that was kind of the first time in a year or two that I'd looked at it. It's cool to have," Parise said.
Starting strong
One thing U.S. GM David Poile has made clear is that players who play well at the start of the season will be doing themselves a favor as far as making the final roster. Knowing that they are being scrutinized by the management team that includes NHL GMs Stan Bowman, Dale Tallon, Dean Lombardi, Ray Shero and Paul Holmgren along with former GMs Brian Burke and Don Waddell may be a bit unnerving, especially for the younger players.
"It's hard to not think about it. The best way to do it is just try not to think about it," said
New York Rangers
center
Derek Stepan
, who is looking to play in his first Olympics.
"It's definitely not going to be easy at all."
Building the sport
St. Louis Blues
captain
David Backes
said he still runs into people who talk about the 2010 gold-medal game and how important the game was to them. He said he believes that NHL players being in the Olympics is important for growing interest in the game, not just in the United States but around the world.
"If you watched that gold-medal game and didn't get turned on to hockey, I don't know if the game's for you," Backes said.
Rising star
One member of the 2010 team who saw his stock rise in recent months is the
Colorado Avalanche
's
Paul Stastny
, who was a dynamo for the U.S. at the world championships with 15 points, second among all players as the U.S. won a surprise bronze medal.
After he reached a career-high 79 points in 2009-10, Stastny's production has declined, but he said he's hoping to carry over the same style of play that gave his success at the world championships.
"I think I just will try and play the way I did there. Kind of just play at ease again and just have fun," Stastny said.
Early in a player's career, he plays with nothing to lose, Stastny noted. "Then sometimes maybe you put a little bit too much pressure on yourself when things aren't going well," he said.
With a new coach in former Avalanche star
Patrick Roy
and new management under former Avs captain Joe Sakic, Stastny said there's a different buzz around the team, and he's looking forward to being part of that.
"I think it's just that sense of urgency, that passion. There was already that feeling going on all summer," he said.
June, 26, 2013
6/26/13
9:35
PM ET
Sunday's whirlwind draft, reduced to one day because of the lockout-shortened season, will be a busy day for the Rangers.
Though New York does not have a pick until the third round, GM Glen Sather has plenty of other important business to attend to, including locking up franchise goaltender
Henrik Lundqvist
.
Talks for a long-term extension for the former Vezina Trophy winner have not yet begun, though the two sides are expected to begin contract discussions this weekend.
"I will be speaking with Glen Sather at the Draft concerning an agenda for Henrik's status," Lundqvist's agent Don Meehan told ESPNNewYork.com via email on Wednesday.
Lundqvist cannot even officially ink an extension until July -- the 31-year-old netminder won't become an unrestricted free agent next summer -- though Lundqvist's camp, Newport Sports, and Sather can forge the parameters of an agreement beforehand.
The Rangers also have three other key restricted free agents to sign this summer in forwards
Derek Stepan
,
Carl Hagelin
and defenseman
Ryan McDonagh
.
Reps for all three have confirmed to ESPNNewYork.com that discussions have commenced, though those talks have yet to progress beyond preliminary discussions.
April, 30, 2013
4/30/13
9:26
PM ET
GREENBURGH, N.Y. -- There were times during the first half of this season that Rangers coach John Tortorella wondered if
Derek Stepan
was fit to handle the responsibilities of the team's second-line center.
Now?
The 22-year-old pivot is the unequivocal choice to center the team's top line between speedy winger
Carl Hagelin
and captain
Ryan Callahan
.
"He's a 22-year-old guy that I use in every freaking situation," Tortorella said of Stepan. "He has proven to all of us that he has taken a huge step this year."
[+] Enlarge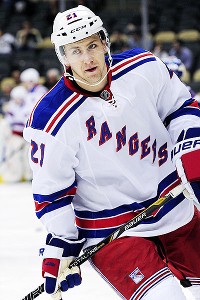 Icon/SMIDerek Stepan delivered eight goals and 11 assists during a big April.
Goaltender
Henrik Lundqvist
was voted the team's MVP of the regular season, but among forwards, Stepan has been the team's most dynamic and consistent performer.
The Rangers, and Stepan, hope that continues once the playoffs begin with a first-round matchup against the Capitals on Thursday.
"That's what we'd like to do, obviously," Stepan said. "The way we're playing as a team, we'd like to carry that over. As a team, we've gotten better. You can just see it. We control games more."
In his third year as a pro, Stepan finished the regular season strong with eight goals (including three game-winners), 19 points and a plus-14 rating in the month of April, good enough to earn him accolades as the NHL's third star.
The Rangers will need him to sustain a high level of production if they are to contend with a supremely talented cast of offensive players for the Capitals in Round 1 of the playoffs.
"I am totally confident that he's going to be able to handle the things going into this playoff series," Tortorella said.
Stepan finished with one goal and nine points in 20 playoff games for the Rangers last spring. He recorded four assists in the team's second-round series against the Capitals.
But this year he plays a decidedly more important role as the catalyst to the team's offense, which heads into the postseason with an improved 2.62 goals per game (15th, NHL) following a stretch in which the Rangers were ranked dead last.
Beyond his versatility -- Stepan kills penalties and plays up front on the team's first power-play unit -- his greatest asset may be that he makes those around him better.
Linemate Ryan Callahan is riding a seven-game points streak (five goals, six assists) heading into the playoffs, while
Rick Nash
(now on a line with
Mats Zuccarello
and
Brad Richards
) played some of his best hockey to date while flanking Stepan on the right.
"I definitely had a good month. I felt good going into games. I was playing with a good confidence level," Stepan said. "Whoever I was playing with, I seem to develop chemistry with quick and those guys seemed to help quite a bit wherever I was. When you build chemistry like that it, helps your game."
Despite his youth, Stepan is practically a grizzled vet in the sense that he is preparing to face the Capitals for the third consecutive postseason.
He'll draw upon that experience but he knows that, once playoffs come, it's hard to know what to expect.
"You've been through it now and you get that aspect of it, but every playoffs is gonna be new and it's gonna be exciting," Stepan said. "It's gonna have a different feel to it."
April, 29, 2013
4/29/13
1:05
PM ET
From the official NHL release:
OVECHKIN, ELLIOTT AND STEPAN NAMED NHL 'THREE STARS' FOR APRIL
NEW YORK (April 29, 2013) –
Washington Capitals
right wing
Alex Ovechkin
,
St. Louis Blues
goaltender
Brian Elliott
and
New York Rangers
center
Derek Stepan
have been named the NHL's "Three Stars" for the month of April.
FIRST STAR – ALEX OVECHKIN, RW, WASHINGTON CAPITALS
Ovechkin led the League with 14 goals and 22 points in 13 games as the Capitals posted an 11-1-1 record en route to their fifth Southeast Division title in the last six years. He scored in nine of his 13 games, including four multi-goal efforts and his 12th career hat trick April 6 at Florida, and totaled eight multi-point performances. Ovechkin recorded his 30th goal of the season April 20 at Montreal, becoming the ninth player in League history to score 30 or more goals in each of his first eight seasons. His 32nd and final goal of the season came in his 600th NHL game April 25 vs. Winnipeg, giving him 371 for his career – the eighth-most by any player in League history through their first 600 games. Ovechkin's 14 goals set an April record and spurred the 27-year-old Moscow native to his third Maurice "Rocket" Richard Trophy, awarded to the League's top goal-scorer. He played in all 48 games for the Capitals this season, finishing third in the NHL with 56 points and first with 16 power-play goals and 27 power-play points.
SECOND STAR – BRIAN ELLIOTT, G, ST. LOUIS BLUES
Elliott posted an 11-2-0 record, 1.28 goals-against average, .948 save percentage and three shutouts in 13 games to help the Blues secure the fourth seed in the Western Conference. He allowed one goal or fewer in 10 of his 13 appearances, including the final three games of the season, and posted three consecutive shutouts – all on the road – April 7 at Detroit, April 9 at Nashville and April 11 at Minnesota. Elliott's 11 April wins established a Blues record (including the postseason) and his three straight shutouts equaled a franchise mark he tied last year (March 22-27).
The 28-year-old Newmarket, Ont., native played in 24 games this season, compiling a 14-8-1 record with a 2.28 goals-against average and .907 save percentage.
THIRD STAR – DEREK STEPAN, C, NEW YORK RANGERS
Stepan finished second among skaters with 19 points (8-11—19) and recorded a +14 rating in 14 games as the Rangers clinched their third consecutive playoff berth and the sixth seed in the Eastern Conference. He registered points in 12 of 14 his games, including seven multi-point efforts, and tallied three game-winning goals – April 1 vs. Winnipeg, April
21 vs. New Jersey and April 27 vs. New Jersey. The 22-year-old Hastings, Minn., native played in all 48 games for the Rangers this season and led the team in assists (26), points (44), plus/minus (+25) and game-winning goals (6).