Cross Checks:

Devin Setoguchi
March, 21, 2013
3/21/13
11:18
AM ET
It was the first week of February, and the
Minnesota Wild
had lost three straight games to fall to 4-5-1.
It wasn't what the passionate fans in the State of Hockey were expecting after a hype-filled offseason last summer fueled by the high-priced signings of
Ryan Suter
and
Zach Parise
.
More troublesome was that they had seen this movie before: the team not scoring goals.
People wondered whether GM Chuck Fletcher's plan was flawed, whether head coach Mike Yeo was still the right choice.
You know, all the silly knee-jerk stuff you get when things aren't going well.
Fletcher resisted any panic moves. He didn't trade slumping
Devin Setoguchi
, as many Wild fans had viewed as a needed shakeup at the time. The GM didn't do anything rash. He simply thought his team needed more time to come together after turning over half his roster in half a year and having only a short training camp before the lockout-shortened season.
Patience was key early on.
"I think that's true any year, but certainly this year when you look at a six-day training camp, the first 2-3 weeks of the season are like a training camp, only the games are real," Fletcher told ESPN.com Thursday. "We knew it would take some time to come together as a group, and we still have areas we want to work on and find more consistency. But early on, we just needed time to gel. We have a lot of character in our room and a very good coaching staff. When you have those components, typically they'll find a way to work."
Lo and behold, a 13-5-2 run since that three-game losing streak to open February has quieted critics, a stretch that was highlighted this week by tough wins in Vancouver and Detroit.
"Mike and the coaches deserve a lot of credit," Fletcher said. "There was a lot of scrutiny early. They stuck to their guns. They stayed on their plan. The players are buying in and executing now. I think what you're seeing now is confidence among the players that if we play the way we want to play, we have a chance to be successful every night. It's an amazing thing when you see belief in what you're doing and you see the growing confidence among all the players."
The Wild appear to be for real.
"They're a good team, not in the top five in the league, but in that next group," a Western Conference scout from another club said. "Good goaltending, the defense has improved with Suter and [Jonas] Brodin. And they have the capability to score on the power play."
Suter has been insanely good. He could win the Norris Trophy. The rookie Brodin is going to be a stud in this league and at 19 is already looking comfortable on the top pairing with Suter.
Still, Fletcher isn't breathing easy. Only six points separate third from 10th in the Western Conference as of Thursday morning, and while Minny has a two-point lead over the Canucks for the Northwest Division lead, the Wild GM sees nothing but a dog fight ahead over the stretch run.
"With the exception of Chicago and Anaheim, who have run away with it amazingly on our side, for the rest of us it's up and down, and it's 13 teams competing for six spots. It's tough," Fletcher said.
Right now, he sees this a total team effort. Of course the star free agents, Suter and Parise, have been terrific, but everyone is contributing. The goaltending has been strong, the blue line rock solid and the offense -- yes, the offense ! -- has been clicking.
The key has been the arrival of a second line, mainly featuring Setoguchi and
Matt Cullen
. While Setoguchi has been on fire, with six goals in his past five games, old man Cullen has been a great story, with 11 points (1-10) in his past 11 games.
"He had a lot of rotating linemates for the first part of the year," Fletcher said of Cullen, 36. "He's really found a comfort level with Devin Setoguchi. Matt is working hard at both ends of the ice, he's got a really strong two-way game right now. He's all over the ice, winning battles, playing penalty kill/power play, and he's just an overall quality hockey player."
Cullen is among four pending UFAs on the club, and at this point, you wonder why not try to re-sign him for another year or two. But for now, Fletcher said he wants to wait until the offseason to figure that out.
"With all our UFAs, we're just going to wait until the end of the year and let things play out," Fletcher said. "I don't think there's any sense in complicating things right now. We have a good focus. We'll have plenty of time at the end of the year to sit down with our UFAs and get their thoughts and give them our thoughts. I don't see any urgency right now to do anything there."
As for the April 3 trade deadline, despite the ascension up the standings and the likelihood of a playoff appearance, don't expect the Wild to get into the rental market. Fletcher points to the fact there are only 12 regular-season games after the trade deadline, less than a normal season, which minimizes the impact of a rental player. If the Wild make a trade, it will be for a player who will be around past this season; in other words, a traditional deal.
"If it's just a pending UFA coming in on a rental basis, it's extremely difficult to justify paying a high price for just 12 games in the regular season and whatever happens after," Fletcher said. "Having said that, we're like every team, we've been talking to teams all year to see what's available, we're certainly open to a hockey trade if it makes us better."
A top-four blueliner and/or a top-six forward with size would be the wish list for the Wild. Neither is easy to get, so it might be more of an offseason development, but Minnesota will keep looking in case between now and April 3.
March, 6, 2013
3/06/13
9:53
AM ET
By
ESPN Stats & Information
| ESPN.com
Blackhawks 5, Wild 3
* Blackhawks: 23 straight games with point to start season
* Blackhawks: won 10 straight (franchise record)
*
Bryan Bickell
(CHI): 2 goals (5); 1st career multi-goal game
*
Devin Setoguchi
(MIN): Goal (5); 5-game point streak
* FROM ELIAS:
Brandon Saad
scored one goal and set up two more in the Blackhawks' four-goal first period against Minnesota on Tuesday night. Saad was the first Chicago rookie to record three points in the first period of a game since November 30, 2007, when
Jonathan Toews
tallied one goal and two assists in the opening 20 minutes of a game against Phoenix.
Most Consecutive Games with a Point, NHL History
1979-80 Flyers 35
2011-13 Blackhawks 29
1977-78 Canadiens 28
Longest Win Streaks In Shortened Seasons Among 4 Major Sports
MLB '95 Red Sox 12
NBA '11-12 Spurs & '98-99 Jazz 11
NHL '12-13 Blackhawks 10
NFL '87 Saints 9

Longest Winning Streaks In Shortened NHL Seasons (1994-95 and 2012-13)
2012-13 Blackhawks 10
1994-95 Flyers 9
1994-95 Flyers 8

Islanders 6, Canadiens 3
* Canadiens: 1st NHL team to score 20,000 all-time goals (3rd goal was 20,000)
* 6 different players scored for Islanders; 6 goals tied for most they've ever scored vs Canadiens
* Islanders won 3 straight vs Canadiens
* Canadiens: 1st regulation loss since February 9th

Kings 6, Blues 4
* LA: trailed 4-1 in 2nd period
* LA: won 7 of last 8 games
* LA: won 6 straight home games
* Jake Muzzin LA: 2 goals, 1 assist; had 2 career goals in 28 games

Capitals 4, Bruins 3 (F/OT)
* Bruins: led 3-0 at end of 1st period
* Capitals: 4-1-0 last 5 games
* Eric Fehr (WSH): season-high 3 points (Game-winning Goal, 2 Assists)
* Tuukka Rask (BOS): 4 GA in each of last 2 starts
* FROM ELIAS: Before Tuesday's loss, Boston was 89–1–0 since the start of the 2008–2009 season in games in which it led by at least three goals, and not one of those games even reached overtime.
* FROM ELIAS: Eric Fehr scored the first overtime goal of his NHL career to complete the Capitals' comeback from a 3–0 deficit and earn them a 4–3 win over the Bruins. It was the eighth time in the last five seasons that Washington won a game in which it trailed by three or more goals. The only other team with more than four such wins over that span is the Thrashers/Jets with six.

Panthers 4, Jets 1
* Brian Campbell (FLA): Assist; 3 goals, 5 assists in past 5 games
* Jacob Markstrom (FLA): stopped 20 of 21 shots; 1st win this season
* Panthers: 3-0-2 in past 5 home games vs Jets
* Jets: outshot Panthers 21-20
* FROM ELIAS: Panthers rookie Jonathan Huberdeau scored his second penalty-shot goal of the season in Florida's 4 –1 win over the Jets. Huberdeau, who scored on a penalty shot on February 21 at Philadelphia, is the second rookie in NHL history to score two penalty-shot goals in one season. The first was David Vyborny, who did that for the Blue Jackets in 2000–2001, their inaugural season in the NHL.

Rangers 4, Flyers 2
* Rick Nash (NYR): 2 goals (6,7); has 5 goals and 6 assists during 7-game point streak (1st multi-goal game of the season)
* Ryan Callahan (NYR): 2 goals (6,7); 1st multi-goal game of the season
* Rangers: have won 6 straight home meetings
* Jakub Voracek (PHI): goal (10), assist in 24th game; scored 10th goal in his 56th game last season (17 points (7G, 10A) in past 9 games)
* FROM ELIAS: Rick Nash scored a pair of third-period goals to lead the Rangers to a 4–2 win over the Flyers on Tuesday night. Nash has scored seven goals this season and they have all come in the third period. He is the first player in Rangers history whose first seven goals of a season were all third-period tallies.

Red Wings 2, Avalanche 1
* Johan Franzen (DET): 1st goal in last 7 games
* Jimmy Howard (DET): 36 saves, 1 goal allowed (stopped 69 of 71 shots in last 2 games combined)
* Red Wings: 3-0-1 in last 4 home games (outscored opponents 15-5)
* Avalanche: 1-2-3 in last 6 games (2-for-19 on PP)

Hurricanes 4, Sabres 3
* Hurricanes: complete 3-game sweep of season series vs Sabres
* Hurricanes: on 4-game win streak overall
* Alexander Semin (CAR): Goal (6), 2 assists
* Cody Hodgson (BUF): 2 goals (10)

Blue Jackets 4, Oilers 3 (SO)
* Vinny Prospal (CBJ): goal, assist (3-game goal streak, 4-game point streak)
* Sergei Bobrovsky (CBJ): stopped all 21 shots after replacing Steve Mason (allowed 3 goals on 8 shots)
* Blue Jackets: earned point in season-high 4 straight games

Lightning 5, Devils 2
* Lightning: snapped 5-game losing streak
* Nate Thompson (TB): 1st multi-goal game of career
* Devils: 0-5-1 in last 6 games
* Johan Hedberg (NJ): allowed at least 3 goals in 6 of 10 games started this season (0-5-1 in those games)

Sharks 3, Canucks 2 (SO)
* Sharks: 3-0-1 in last 4 games
* Brad Stuart (SJ): 2 assists (entered game with only 1 assist on season)
* Canucks : 1-3-1 in last 5 games (0-13 on power play)
* Henrik Sedin (VAN): goal (4) (point in 5 straight games)
February, 6, 2013
2/06/13
3:51
PM ET
The NHL rescinded a pair of Rule 48 match penalties over the past week, and it makes you wonder what else can be done to help the refs on the ice get the call right the first time.
Unlike most people, I'm not singling out the refs. The game is faster than ever. Trying to identify illegal checks to the head at that speed isn't going to be an exact science.
Let's also be fair to say that the refs are trying to protect the players -- hits to the head have been a huge topic over the past five years -- so they have been perhaps a little too aggressive this season, but the intent is the right one.
Yes,
David Backes
' match penalty Friday in Detroit was bogus, and so was
Andrew Desjardins
' penalty Tuesday night. Neither hit was to the head. Both match penalties were ultimately rescinded by the NHL after the fact, but little good that did for St. Louis and San Jose, respectively.
So there's a lot at stake in a league where the standings are so tight.
But you're always going to have human error at play because of the speed of the game.
Solution? Here's an idea I've heard that has some merit: Why not have a third ref who watches the game from the press box with access to HD replay, etc.? He could review, on the spot, all the controversial calls and help reverse them in obvious cases like Backes and Desjardins, communicating directly to the refs just like the war room does on goal reviews.
The downside? It further slows down the game, which goal reviews already do.
But it's something worth thinking about.
Another idea that's already finding new life after being bandied about in years past is the merit of a coach's challenge, where a coach could ask for a penalty to be reviewed. Two NHL head coaches reached out to me this week and suggested it's time to renew that debate.
I don't mind it but prefer the first idea. My fear with the coach's challenge is that coaches would want to challenge anything near the end of a game out of desperation. The first idea involves a neutral person.
Caps looking?
So what do you do if you're the 2-7-1
Washington Capitals
?
Well, you start working the phones.
Sources around the league indicate that indeed Caps GM George McPhee has begun to do just that.
That doesn't mean anything will materialize -- the trade market hasn't really got buzzing yet with teams too eager to move parts -- but at the very least, the word on the street is that McPhee is inquiring to see what's out there.
If he does do anything, I'm guessing he deals from his blue-line depth to pick up a forward who can help bolster a sagging offense that is producing just 2.3 goals per game (24th in the NHL as of Wednesday morning).
There was lots of buzz over the weekend when Vancouver's one-two front-office punch of Mike Gillis and Laurence Gilman showed up in Washington for a game against Pittsburgh. But my understanding is that the Caps aren't interested in
Roberto Luongo
, as his contract is too much to take on.
I think the hope in Washington is that Caps netminders
Michal Neuvirth
and
Braden Holtby
can snap out of it on their own. Given how well Holtby played last season, that's not an unfounded desire.
Three things need to happen for the Caps to get going:
1. Get more saves from their goalies.
2. Get
Alex Ovechkin
to wake up.
3. Get
Brooks Laich
back in the lineup.
Laich was at practice again Wednesday. Although it's not clear when he'll be back, it shouldn't be too much longer. He's one of those glue guys in this lineup, and his return should have a nice impact.
Wild changes
One of the NHL's top lines early in the season has been altered, with
Dany Heatley
removed from Minnesota's No. 1 unit Wednesday in practice.
Heatley skated on the second line with
Matt Cullen
and
Pierre-Marc Bouchard
, while rookie
Charlie Coyle
got the big promotion with the big dogs
Mikko Koivu
and
Zach Parise
.
I applaud the move by coach Mike Yeo because his team has been way too reliant on the top unit early in this season. Yeo cautioned to local media Wednesday that these moves weren't written in stone, but I'm betting come Thursday's game against the
Vancouver Canucks
he goes with these changes.
The Wild need to get production from other lines, so this might balance out the scoring a little. Of course, the move is also happening because Heatley has struggled. Perhaps new linemates will get him going again.
Winger
Devin Setoguchi
(zero goals in nine games) and highly touted rookie
Mikael Granlund
(one goal in nine games) both began the season on the second line but struggled mightily.
Since scoring a career-high 31 goals in 2008-09 in San Jose, the 26-year-old Setoguchi hasn't been able to get back to that plateau, putting up 20 goals in 2009-10, 22 goals in 2010-11 in his final season in San Jose and 19 goals last season with the Wild.
It makes you wonder if the Wild wouldn't be willing to move him. But I was told Wednesday that the team isn't ready to do that yet. They need to score goals and view him as part of that solution whenever he gets his game back on track.
January, 18, 2012
1/18/12
8:59
PM ET
TORONTO --
Devin Setoguchi
slammed his stick on the ice in disgust Wednesday, his face wrought in frustration.
He might as well have been speaking for the entire
Minnesota Wild
organization.
With two wins in their past 16 games (2-10-4), the once NHL-leading Wild are hanging on for their playoff lives while trying to preserve their wits.
"The only way to get out of this is to believe in the guys in the room and believe in yourself," a composed Setoguchi told ESPN.com after practice. "You have to get that confidence in you. Right now we're a group with injuries, which is never an excuse, but everyone needs to step up and be better. And that includes myself, the guys that are looked at for scoring -- that's a big piece of the puzzle we're looking for right now.''
There's certainly extra pressure on a sniper such as Setoguchi. The Wild have scored more than two goals only three times during this 16-game free-fall, massive injuries depleting their ranks, including dropping three of their top six forwards (
Mikko Koivu
,
Guillaume Latendresse
and
Pierre-Marc Bouchard
).
Setoguchi has two goals in his past 11 games. Linemate
Dany Heatley
has four goals in his past 16 games. There's almost no secondary scoring behind them -- the Wild are 29th in the NHL in offense -- which puts even more pressure on the two first-line wingers.
Hence, when Setoguchi missed the net on a drill at the Maple Leafs' suburban practice facility Wednesday, he flashed some anger.
"We're having a tough time scoring goals right now,'' Setoguchi said. "If you want to score in games, you have to try and score in practice. When they're not going in, in practice, you're like ... well, you try not to get frustrated.''
Desperate times call for desperate measures.
Warren Peters
, he of the 62 career NHL games, was centering the top line Wednesday between Heatley and Setoguchi.
"We're ready to experiment; we're ready to try some things,'' coach Mike Yeo explained after practice. "The status quo is not what we're looking for right now.''
Fresh off a 5-1 pasting Tuesday night in Philadelphia, the Wild held a team meeting before practice Wednesday. Right now, the psychological battle is as daunting as the X's and O's.
"It's huge,'' said Yeo, a terrific hire by the Wild last summer. "That's what we talked about today before practice. I wanted to get the players to talk about it as well. Right now, if something bad happens, the wheels fall off. We get away from what it is we're supposed to do. The thing is, I know everybody cares and everybody really wants to do the right thing. But we have to channel that the right way. We can't have guys having individual efforts and trying to compensate for personnel being out or something bad happening in the game -- because that's when things spiral out of control for you.''
This is the biggest challenge yet in Yeo's rookie head-coaching season. He told ESPN.com on Wednesday that he's exchanged text messages with his former coaching partner
Dan Bylsma
in Pittsburgh. After all, both coaches can draw parallels with their challenges that come with trying to overcome injuries.
The Wild hook up with the Maple Leafs here in Toronto on Thursday night in a game that pits two anxious teams, the local squad having lost three games in a row to sit outside a playoff spot in the East. The first goal will be huge. The Leafs are facing the most pressure they've felt all season after falling out of a playoff spot. The Wild, meanwhile, are a fragile bunch, to say the least.
"It's tough right now," Heatley said Wednesday. "We said it when things were going good: Teams go through good and bad stretches. We're in the midst of a real bad one. Obviously we're pretty banged up, but we need to find a way to win some games.''
The GM is doing his best to try to lend a helping hand. Chuck Fletcher said Wednesday he already was planning on trying to add offense via trade back when his team was healthy, let alone with the ensuing injuries. Now with the Wild's top player, Koivu, going down, Fletcher has ramped up those efforts. But finding a top-six forward is a challenge.
As I reported in my weekend notebook last week,
Vaclav Prospal
of the Blue Jackets, a UFA on July 1, could be a target for Minnesota since Fletcher has a history with him. Other forwards who generally could be on the move before Feb. 27 include
Ales Hemsky
in Edmonton,
Kristian Huselius
and
Antoine Vermette
in Columbus,
Brad Boyes
in Buffalo and
Tuomo Ruutu
in Carolina, just to name a few.
"It's not easy just to go out and get an impact player in January,'' Fletcher said. "There's a lot of teams [and] people competing for similar assets, too. We'll see what happens. I'll try to do something if it makes sense. If it's not there, I'm not going to force it.''
For the Wild, the hope is that this dark period will strengthen them in the long run. Coming out of this rut, they hope, will make them a stronger group.
"We believe in each other,'' Heatley said. "We know we can win games together. It's another opportunity tomorrow night.''
And you try to find motivation wherever you can find it.
"Everyone who wrote about us at the start of the year, saying we'd be in last place, they're smiling, I'm sure, right now,'' Setoguchi said. "We can use that as motivation. We were first overall [in mid-December]; we know what we need to do. We're in a funk, but we believe in here.
"We're still in a playoff spot, which is hard to believe after the last 16-17 games,'' Setoguchi added. "Right now it's playoff hockey for us. It starts now.''
Pierre LeBrun covers the NHL for ESPN.com.
November, 10, 2011
11/10/11
3:07
PM ET
We are trained to look for winners and losers when teams make big trades, but the Minnesota Wild and San Jose Sharks may just be winners in the moves they made together this past offseason.
Three trades involving big names between the two clubs from June to August seem to be helping. The Wild and Sharks were a combined 16-7-4 heading into Thursday night's meeting between the two teams at HP Pavilion.
"This is the way deals should work," Sharks GM Doug Wilson told ESPN.com on Thursday.
"I truly believed both teams could benefit from these trades, and certainly early on it appears both teams have," Wild GM Chuck Fletcher told us.
[+] Enlarge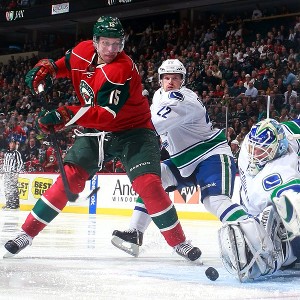 Bruce Kluckhohn/Getty ImagesDany Heatley leads the Wild with 10 points in 14 games.
Let's review the moves:
• On June 24 before the first round of the NHL draft in Minnesota, the Wild sent star blueliner Brent Burns to San Jose in exchange for winger Devin Setoguchi, prospect Charlie Coyle and a key piece: a first-round pick that night (which became center Zach Phillips from Saint John of the QMJHL).
• On July 3, the Wild and Sharks exchanged star wingers with Martin Havlat going to San Jose and Dany Heatley heading to Minnesota.
• On Aug. 7, Minnesota traded injured forward James Sheppard to San Jose in exchange for a third-round pick in 2013.
From San Jose's perspective, the moves were meant to inch the Sharks closer to a Stanley Cup after back-to-back conference finals appearances. In Burns, they acquired the marquee top-four blueliner they craved (one that's going to be around for a long time). In Havlat, they got a winger with more speed than Heatley, an element that was lacking last season. And although Havlat missed the first four games of the season with a shoulder injury, he is easing his way back into form.
"To get that type of defenseman at 26 is very rare, so that's why we felt we had to be aggressive," said Wilson.
So far, so good; the Sharks look locked and loaded for another spring run.
"You can't underestimate the roles of Joe Pavelski and Logan Couture in all this, and our belief that they could take on bigger roles this season," said Wilson. "Plus, we added Michal Handzus for the third line, which was important."
The trades were a little trickier from Minnesota's perspective. The Wild were coming off another disappointing season, the third straight without a trip to the playoffs. Something big had to be done. The intent was to get better now, but also for the future. That was a more difficult challenge, but Fletcher pulled it off.
"I thought we were treading water, at best," Fletcher said of his frame of mind late last season. "In order to compete, both in the short and long term, we needed to make moves."
The Burns deal netted him a lot of future assets, plus an immediate impact winger in Setoguchi.
"By trading Brent Burns, who was clearly our most marketable commodity, and a great player, we got the opportunity to get three young, quality assets for one player, and we felt in our position we had no choice to make that deal," said Fletcher.
It surprised no one that the Wild traded Havlat; it was a move both the player and team were happy to support. The Czech winger just never fit in well in Minnesota, and after his agent publicly complained about his ice time under former coach Todd Richards last season, you knew his future with the Wild was in doubt. Heatley didn't have a strong postseason with the Sharks, so they were willing to move him if it meant upgrading their speed on the wings.
"It's not often you trade a 30-year-old All-Star, left shot, right-winger for a 30-year-old, left shot, right-winger," Fletcher said with a chuckle. "It was purely a hockey trade."
Heatley had balked at a trade to Edmonton a few years ago after asking for a trade out of Ottawa, but Fletcher knew the winger was OK with Minnesota.
"I had discussions with [Senators GM] Bryan Murray a few years ago about Heatley and there was never any suggestion at that point that it would be an issue if there were a trade with Minnesota,'' said Fletcher.
In the end, both clubs addressed their needs; and in a salary-cap era when trades are more difficult to pull off, hats off to both GMs for finding a way.
"I have great respect for Chuck," said Wilson. "He shared his position with us and what he was trying to accomplish. He was very open about it. These deals helped both organizations."
Heatley leads the Wild in scoring with 10 points (5-5) in 14 games.
"He's worked hard, he's a plus player, we're seeing a player that's getting more and more comfortable with each game and he's starting to get more and more scoring chances and starting to get more and more chemistry and cohesion with his linemates, which now are Mikko Koivu and Guillaume Latendresse," said Fletcher. "I fully expect once we get to the 20-25 game mark, he'll be an even more comfortable player than he is now.'"
Overall, however, the Wild still only rank 26th in the NHL in goals per game. Their winnings ways are largely from their second-best defensive record.
"We expect more and we need more from out top two lines on a consistent basis," said Fletcher. "The biggest issue so far has been the power play [ranked 25th]. I liked what I saw Tuesday night in Calgary, but our power play overall has been below average. We're going to need to score more goals to continue to compete with the best teams in the West. No question."
October, 19, 2011
10/19/11
12:29
PM ET

1. Surprising Stars? Maybe we shouldn't be surprised
Maybe it was the loss of former playoff MVP Brad Richards to free agency, or the uncertainty surrounding the team's ownership, or the way the Dallas Stars collapsed down the stretch last season. But it was somehow easy to dismiss the team as the 2011-12 season approached.
Well, the Stars have roared to a 5-1-0 record and a share of top spot in the Western Conference in the early stages of the new season.
GM Joe Nieuwendyk pointed out that the Stars weren't exactly chopped liver with 95 points in 2010-11 (tied for the most points recorded by a team that failed to make the playoffs).
Yes, Richards signed as a free agent with the New York Rangers, but the Stars added Stanley Cup winner Michael Ryder and reclamation project Sheldon Souray, who was banished by Edmonton and spent last season in the American Hockey League. Souray has been terrific early on, and his five points tie him for the team lead with Mike Ribeiro, Steve Ott and Jamie Benn.
"You don't lose that big shot even if you've been out of the league for a year," Nieuwendyk told ESPN.com.
The Stars GM, a Hall of Fame player, knows firsthand Souray has a bit of a mean streak, and that mean streak has been on display for the Stars, who have allowed just 13 goals in six games. Perhaps most important, Souray doesn't have to be all things to all people, a burden he carried in his last two stops in Montreal and Edmonton (where he signed big-dollar contracts).
Ryder, too, has been a pleasant surprise, Stars rookie coach Glen Gulutzan told ESPN.com. Ryder had scored in two straight games but was also on the ice in the waning moments of Tuesday's 3-2 road win in Columbus.
"He's another guy that doesn't have the weight of the world on his shoulders," Gulutzan said. "His two-way game has surprised me, too."
Even with the early success, the Stars have struggled to attract crowds (the fall remains the domain of the Dallas Cowboys, college football and the World Series-bound Texas Rangers). But if, as expected, ownership is stabilized in the near future and the Stars keep playing as they have, they're going to be hard to ignore in Dallas and around the NHL.
"Hopefully our story will get out there," Nieuwendyk said.

2. Buffalo's latest rookie sensation
Buffalo Sabres red-hot rookie Luke Adam has seen this movie before.
After just one American Hockey League game last season, he was asked by reporters if he had it in him to follow in the path of two Sabres prospects, Nathan Gerbe and Tyler Ennis, who had earned top rookie honors the previous two seasons.
"That was after my first professional hockey game," Adam recalled with a laugh in an interview this week. Now, after going on to win top rookie honors in the AHL, the easy-going forward is answering similar questions about his ability to follow up Tyler Myers' rookie exploits in 2010 and take home the Calder Trophy as the NHL's top rookie.
"The guys have given me a little rookie razzing. It's cool," Adam said after posting three goals and three assists in his first five games for the 4-1-0 Buffalo Sabres.
It may appear as though the 21-year-old Adam has fallen out of nowhere to assume a share of the rookie scoring lead ahead of more high-profile first-year players such as No. 1 overall pick Ryan Nugent-Hopkins of Edmonton and Gabriel Landeskog of the Avs, but his production probably shouldn't come as a surprise. Adam was tied for the AHL rookie lead in goals, points and plus-minus, despite playing in just 57 games for Portland. Adam also got a taste of NHL life. He was called up six times last season, and his stays in Buffalo ranged from one day to one month.
Those periodic stays proved invaluable, and by the end of training camp, Adam wasn't just on the bubble to make the team, he was playing first-line minutes with Thomas Vanek and Jason Pominville.
The big winger's father, Russ Adam, was a Windsor native who played eight NHL games with the Toronto Maple Leafs in the early 1980s. He moved to Newfoundland to play senior hockey, and there he met and married Adam's mother, who owns a hair salon.
"He went there for two weeks, and 25 years later, he's still there," Adam said of his father.
Adam said he understands it's early for any talk of trophies. "There's lots of work to be done," he said.
Still, he wouldn't mind following in the steps of fellow Newfoundlanders Dan Cleary, who became the first Newfoundlander to bring home the Cup in 2008, and Ryder, who won a Cup with Boston last season.

3. The importance of Ryan Kesler
You don't have to go too far into the stats to figure out that Ryan Kesler is not just a key piece of the Vancouver Canucks' machinery, but maybe the key piece.
Take a look at the Canucks' penalty-killing unit.
Last season, the Canucks had the best penalty-killing squad in the Western Conference and were tied for second in the league with Washington (Pittsburgh was No. 1). The Canucks have stutter-stepped out of the gate with a 2-3-1 record following a 4-0 home loss to the Rangers on Tuesday. It was Kesler's first game back after nursing a sore hip from offseason surgery, and the defending Frank J. Selke Trophy winner played 19:02.
Without Kesler in the lineup, the Canucks' penalty kill had struggled, allowing six goals on 25 attempts and giving them the 26th-ranked unit in the NHL heading into action Tuesday night.
Although the Canucks somehow managed to give up four goals on 19 shots, they didn't give up a power-play marker Tuesday, and it will be a shock if Kesler's return doesn't spark a move up the standings for last season's Presidents' Trophy winners.
Big picture, no matter how often coaches try to talk around the issue, the biggest challenge in sports is to turn a long Stanley Cup playoffs run into a strong start the following season. The teams that reached the conference finals this past spring -- Boston, Tampa, Vancouver and San Jose -- have a combined 6-13-3 record and have allowed 70 goals so far.
No one is suggesting these teams can't right the ship; it would still be a major shock if all four didn't return to the playoffs. But it does help put the feat that Detroit and Pittsburgh accomplished -- reaching back-to-back Stanley Cup finals in 2008 and 2009 -- into perspective.

4. No payoff yet in Minnesota
Having spent some time with the Minnesota Wild during training camp, we got a sense of the anticipation for this season. We can also understand the angst Wild fans may be feeling because this new season is suddenly looking much like many other previous seasons in the State of Hockey.
Despite the addition of offensive sparkplugs Dany Heatley and Devin Setoguchi, the Wild are 2-2-2, including a disappointing 4-2 home loss Tuesday against a Pittsburgh Penguins team that was without Sidney Crosby, Evgeni Malkin, Tyler Kennedy, Kris Letang and Brooks Orpik.
Perhaps most disappointing for the Wild and rookie coach Mike Yeo is that the team's big line of Mikko Koivu, Heatley and Setoguchi has fizzled. The three have combined for three goals, one by Heatley and two by Setoguchi.
Part of the rationale for trading Martin Havlat to San Jose (he is out with a shoulder injury, by the way) for Heatley was to try to jumpstart Koivu's offensive production. It hasn't worked out. The big line was broken up during Tuesday's loss, with Setoguchi playing a bit with Matt Cullen and Guillaume Latendresse. Setoguchi leads the team with 20 shots, and Heatley has 17, but the pair needs to be doing more as front-line players.
The Wild have scored just 14 times and the power play ranks 18th with three goals. The unit was 0-for-5 against the Pens on Tuesday.
Without better production from the Wild's big three -- whether they play together or not -- Wild fans can once again kiss the playoffs goodbye.

5. The Turris-Coyotes stalemate continues ...
There is an interesting game of brinkmanship being played out in the desert as the Phoenix Coyotes continue to hold firm on their position that they will not trade disgruntled prospect Kyle Turris.
League sources told ESPN.com that Turris, the third overall pick in the 2007 draft, is looking for a three-year deal worth an average of slightly more than $4 million annually or a two-year deal worth slightly more than $3 million.
Those numbers would put Turris in the same high-rent district as James van Riemsdyk, who signed a six-year extension worth an average of $4.25 million with the Philadelphia Flyers before training camp. Another young player from that draft class who recently signed a new deal is Logan Couture, who signed a two-year extension at $2.875 million annually, a price tag that is generally considered a bargain for the San Jose Sharks.
The key part of the equation is that those have been Turris' demands of the Coyotes. Would he sign for less somewhere else? Almost certainly he would. A source familiar with the situation said money isn't the issue and Turris would sign a deal moments after being traded, if the Coyotes decided to move the young center. We have also been told at least half a dozen teams have made inquiries about Turris' availability.
But what is Turris' value? He has managed to score just 19 goals in 131 NHL games spread mostly over two seasons and has shown little to suggest he could become a player like van Riemsdyk or Couture, let alone Patrick Kane, who was the top pick in that 2007 draft year.
If Coyotes GM Don Maloney could add a young NHL-ready player to the roster (and we are told NHL teams are prepared to part with NHL-ready prospects), does he owe it to the Coyotes to move an unproductive asset in Turris for someone that will actually appear in the team's lineup? Or does Maloney stick to his guns and keep the top prospect and hope Turris signs before Dec. 1 and proves himself?
If Turris isn't signed somewhere by Dec. 1, he cannot play this season. That would be a terrible waste for the team and Turris if that's how it plays out.
July, 11, 2011
7/11/11
6:14
PM ET
This past season,
Devin Setoguchi
had three goals and one assist in four games against the
Minnesota Wild
.
"I always liked to play the Wild for some reason," Setoguchi said Monday, according to the Wild's website. "I seemed to always be able to score."
Now he looks to replicate that scoring touch for the Wild, and he will have former
San Jose Sharks
teammate
Dany Heatley
there to help him.
The Wild acquired Setoguchi on the first day of the NHL draft in a trade that sent
Brent Burns
to the Sharks. A little more than a week later, the Wild sent
Martin Havlat
to San Jose for Heatley.
"It's a sense of a fresh start," Heatley said. "You get a little excitement, and I know Seto's excited as well."
Setoguchi was especially looking forward to the chance to play in a state that cares so much about hockey.
"We were talking the last couple days about how excited we are to be here to be a part of such a big hockey state," Setoguchi said. "It feels like I'm back in Canada playing junior hockey. [Minnesota's] like the 14th province of Canada."
The two forwards have one focus going into the 2011-12 season: scoring goals.
"I think I can score goals," Heatley said. "I've always been a goal scorer, and I think that's what I'm expected to do here. I think we both bring that to this team."
"You're going to find that I'm just going to shoot the puck," Setoguchi said, agreeing with his teammate. "I get the puck, I shoot it. I don't hold on to it. I don't make sweet plays with it. I just shoot it."
The Wild are scheduled to open the season Oct. 8 against the
Columbus Blue Jackets
. They'll face the Sharks on Nov. 10 in San Jose.
Video courtesy of NHL.com
June, 24, 2011
6/24/11
10:31
PM ET
HOME OFFICE, Toronto -- When we last saw the San Jose Sharks in the Western Conference finals, we left Rogers Arena in Vancouver thinking they had to make acquiring a top-four defenseman their top priority in the offseason.
Well, that didn't take long.
Silky smooth offensive blueliner Brent Burns was acquired by the Sharks on Friday night, as San Jose sent winger Devin Setoguchi, Charlie Coyle and its first-round pick (28th overall) to the Wild. Minnesota also traded its 2012 second-round pick as part of the deal.
Burns has top-two talent on defense, and really strengthens a group that includes Dan Boyle, Douglas Murray, Marc-Edouard Vlasic, Jason Demers and Justin Braun. Burns brings speed and quickness, elements that were noticeably missing (outside of Boyle) against the Canucks in the West finals, especially with Demers injured.
On the surface, it looks like the Sharks gave up a lot, but top-four, puck-moving blueliners who are 26 years old don't come cheap. Burns has one year left on his deal, which carries a $3.55 million cap hit. His agent is Ron Salcer, who clashed with the Wild on Marian Gaborik. Wild GM Chuck Fletcher saw where this was headed and decided to get terrific value one year out.
"The two hardest things to acquire in this business are center men and defensemen, and we're fortunate to be very strong down the middle," Sharks GM Doug Wilson told reporters at the draft in St. Paul, Minn. "We've been looking for a while to add defensemen. ... When this type of guy does become available, it comes at a cost, and you don't want to fill one hole and create another. We feel we're a better hockey team today."
The blockbuster comes only one day after Setoguchi signed a $9 million, three-year extension with the Sharks. He even held a media conference call. Wilson insisted he did not know he was going to trade him when he signed him.
"We didn't negotiate with Devin with the purpose of trading him. I can guarantee you that," Wilson us over the phone Friday night after the deal.
For the Wild, they get a much-needed injection of offense after placing 26th in goals this past season. Setoguchi had 22 goals in the regular season for the Sharks and was clutch in adding seven playoff goals in 18 games. He scored a career-high 31 goals in 2008-09 but now must prove he can perform without all-world playmaker Joe Thornton.
Still, given where the Burns dossier was likely headed, Fletcher did a good job here.
We like this trade for both teams.
ESPN.com's Scott Burnside contributed to this report.
December, 16, 2010
12/16/10
3:06
PM ET
The Feb. 28 trade deadline is creeping up on us, isn't it?
Colorado and Boston have made a few trades since the start of the season, and the Avalanche are the big winners so far (Tomas Fleischmann is on fire for them).
But otherwise, it's been predictably quiet. The salary cap and parity in the standings are forcing teams to wait until closer to the deadline to make their moves. Keep in mind there's also a holiday NHL trade freeze from Dec. 19-27 (starts Sunday).
Let's take a look at 10 players who could possibly move before Feb. 28. Repeat could; this doesn't mean they will move.

The Stars' leading scorer has been dynamite so far this season and is an unrestricted free agent July 1. Tough call for Stars GM Joe Nieuwendyk. His team sat third in the Western Conference as of Thursday morning, although only three points clear of ninth. Where he sits in the days leading up to Feb. 28 will have some bearing on his decision.
Nieuwendyk wants to re-sign Richards and remove that tough trade decision come Feb. 28. The young GM is hoping to sit down with Tony Tavares at some point after he's named Dallas' new team president to convince him to keep Richards past this season. Keep in mind Richards has a no-movement clause, so he controls his fate.

It's about saving money now in Florida, and there's little chance the rebuilding Panthers will be re-signing the veteran goalie. He has a $5.7 million cap hit this season, which is an easier pill to swallow come Feb. 28 because most of the salary has been paid. Look for GM Dale Tallon to see what's out there, but keep in mind Vokoun has a no-movement clause. He would be a big-time addition to a playoff-bound team looking for an upgrade in goal.

Kaberle's agent, Rick Curran, told ESPN.com last week that his client wasn't looking to go anywhere this season. Kaberle has a no-trade clause. He's also UFA on July 1 and clearly doesn't seem to fit in Toronto's future plans. Unless Kaberle and Curran have a change of heart (which is possible closer to the deadline), the Leafs may their asset for nothing after the season. Best chance for Toronto is a big-time contender calls just before Feb. 28 and entices Kaberle into a Cup run.

Lupul has looked good since his return from a long-term injury. That's good news for the Ducks, who could possibly try to move him in exchange for help on defense. The Ducks have nice depth up front and can afford to lose a solid forward like Lupul. But he's not UFA and he has two more seasons left on his deal that pays him $4.25 million per season, so teams may shy away.

Set to become UFA on July 1, the veteran, mercurial winger will be 38 years old once the trade deadline rolls around. His days in Ottawa won't extend past this season, that's almost for sure. GM Bryan Murray insists he's not shopping Kovalev, despite the player's public feud with coach Cory Clouston. But if the Sens are out of it come February, Kovalev (earning $5 million) might be moved, although he's in control with a no-movement clause.

Again, this depends greatly on whether the Sabres will have worked themselves back into the playoff bubble come the last week of February. Connolly, earning $4.5 million, is UFA on July 1, and given his inconsistent performance this season (13 points in 23 games) the Sabres likely aren't interested in bringing him back. He could be a nice addition for a playoff-bound team needing a power-play boost.

The 36-year-old center, earning $4.5 million, has a no-movement clause, but given how things are going in Newark these days we can't imagine that being much of an issue. UFA on July 1, Arnott has Stanley Cup-winning experience and could be a valuable commodity for teams looking for another key ingredient.

The 35-year-old Devils captain is earning $2.8 million this season and will be UFA on July 1. Does he want to go down with the sinking ship or re-energize with a playoff-bound team? Up to him. The Team USA captain would be a big-time addition in the grit and character department for a playoff-bound team. I love him as a fit on teams such as Los Angeles, Montreal or Vancouver. He could help any playoff team. But would Devils GM Lou Lamoriello move one of his favorite players?

Two years removed from a career-high 31 goals, the 23-year-old winger has disappointed and frustrated the coaching staff in San Jose. He has two goals in 22 games this season, having also missed time with injury. He's earning $1.8 million this season and is a restricted free agent come July 1. The Sharks could target a top-four blueliner before the deadline. Could they move Setoguchi to make room for such a move? They don't have to trade him, since they have all their 2011 draft picks in hand and some terrific prospects in the minors. But we know other teams covet Setoguchi.

There has been a lot of attention on Kaberle, but here's a top-four blueliner who had 46 points last season. Earning $4 million this season, he's UFA on July 1. He's the type of puck-moving, power-play blueliner that's always in demand. Of course, he'd only be available if the Hurricanes aren't close to a playoff spot come Feb. 28. Erik Cole, Jussi Jokinen and Chad LaRose are among other UFAs the Hurricanes have on their roster. If they fall out of playoff contention, some of them may move.