Cross Checks:

Dion Phaneuf
September, 10, 2014
Sep 10
7:54
PM ET
After a dramatic, late-season tailspin that transfixed hockey's biggest market, the
Toronto Maple Leafs
made some sweeping changes over the summer.
Surprisingly, the move many people expected -- the dismissal of coach Randy Carlyle -- didn't happen. Instead, the Leafs brought in Hall of Famer
Brendan Shanahan
as team president, axed Carlyle's assistants and added to their front office with analytics wunderkind Kyle Dubas, who will serve as an assistant GM following a devastating season during which the team was constantly hammered for its poor puck-possession statistics.
How does that all add up? Former Leafs goaltender
Glenn Healy
said the team appears primed for a culture change, starting with the added personnel that includes a crop of players who come with a hard-nosed, Western Conference pedigree.
The Leafs signed forwards
Mike Santorelli
,
Daniel Winnik
,
David Booth
,
Matt Frattin
and
Leo Komarov
(the latter two on their second tour as Leafs) in free agency this summer.
[+] Enlarge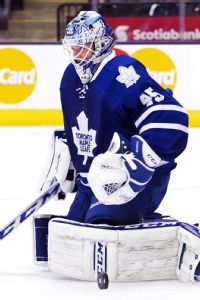 AP Photo/The Canadian Press/Nathan DenetteJonathan Bernier should give the Leafs a steady presence in goal this season.
"I think they have certainly reshaped their team in a huge way," Healy told ESPN.com in a recent phone conversation. "They've added some players, particularly in the bottom-six position, to give them more balance and more depth. The players they picked up are Western Conference players. They've reshaped their focus."
Healy thinks they've also bolstered their defense -- the Leafs acquired
Roman Polak
via trade and added
Stephane Robidas
in free agency -- a necessity given the fact they spent too much time in their own end "whether that was systems [related] or execution."
Healy thinks they have more mobile, puck-moving players who should help in terms of lessening the load on captain
Dion Phaneuf
and star forward
Phil Kessel
, who played monster minutes throughout the season only to see their productivity decline when they needed it most.
That drop-off wasn't exclusive to those two, considering the entire team seemed to wilt down the stretch to fall in stunning fashion out of a playoff spot.
"Look at their season. The first 60 games is a glorious dance. The last bunch of games, the club falls right off the cliff. Whether or not there's not enough depth or too many minutes, or an inability to compete when games really matter, that is their focus," Healy said of the team's need to maintain some semblance of consistency.
Should the Leafs falter and get off to a slow start, Carlyle might be on a short leash.
"[Shanahan] brought in a guy like Steve Spott -- he's going to be an NHL coach," Healy said. "Randy's got some heat on him a little bit. He looks 10 feet to the right and there's an NHL coach. That's a big difference."
That said, Healy thinks Carlyle can be successful if those around him can reinforce his message with a different mode of delivery.
"I think Randy is a good coach. You don't win a Stanley Cup without having that ability to get it. He gets it. The shortfall he had was the other assistant coaches were the same voice as Randy," said Healy, who spent 15 years in the NHL, four with the Leafs.
"Any time a player comes off the ice, the message has to put him in a good spot mentally so he can affect the game on the next shift. If there's that constant yelling, constant overcorrection, at some point, as a player, you throw your hands in the air."
Healy thinks Shanahan's influence can be a steadying one and that his addition will pay dividends for the club.
"Brendan is a guy who is a proven winner," said Healy, who has worked as a successful broadcaster for both the CBC and TSN since retirement. "He's seen great organizations and how they were built. This isn't new to him. He has spent the past number of years watching hockey games as the league's discipline chief."
Beyond the front-office fortification, Healy thinks having the goaltending position solidified heading into camp should be a huge plus. Though the team has been plagued by goaltending controversy in recent years, the Leafs will enter this season with a clear-cut No. 1 goaltender in
Jonathan Bernier
.
Bernier had an impressive 2013-14 season, posting a 26-19-7 record with a .922 save percentage, though he was hampered by injury in the last month of the regular season.
"He's a quality goaltender for sure," Healy said. "I think what the Leafs need from him is that same level of quality, and he can't have an injury."
Should that happen, the Leafs should be able to earn a postseason berth. But in order for the club to make significant strides, that cannot be enough. Healy insists the standard must be much higher in Toronto.
"Making the playoffs, that's lovely, but that truly can't be your goal," Healy said. "Good teams expect to make the playoffs. Boston is not thinking about making the playoffs. They're thinking about lifting the Stanley Cup."
October, 29, 2013
10/29/13
5:52
PM ET
More wrinkles emerged Tuesday from the
Thomas Vanek
-
Matt Moulson
blockbuster trade.
As I
tweeted on Tuesday afternoon
, the first-round pick the Islanders sent the Sabres has a condition attached to it: If that pick is in the top 10 come June, the Isles have the option to defer the pick to 2015.
It's an insurance policy of sorts for the Islanders.
The Sabres are guaranteed a first-round pick either way, though.
It will be an interesting choice for Isles GM Garth Snow: Does he defer to 2015 thinking that pick won't be as good, showing confidence that his team can continue to grow into a better squad; or does he risk giving away the potential first overall pick in the draft involving phenom Connor McDavid?
I don't think the Islanders are in any danger of being a lottery team anytime soon as they've been for many years, but with injuries in today's NHL, one never knows.
Personally, I'm not sure I'd ever trade a first-round pick in 2015 given that it's McDavid's draft year. You're talking about the kid most scouts say is the next
Sidney Crosby
.
Another detail from the Vanek deal reported first by my TSN colleague Bob McKenzie: the Sabres are eating about $1.4 million of Vanek's salary in the trade.
All of this makes the deal more understandable from the Islanders' point of view, but still a good haul for Sabres GM Darcy Regier, as well.
"He's going to get a first-rounder for Moulson for sure in March," an NHL team executive said on Tuesday. "It's great value."
PHANEUF TALKS
Very preliminary talks are under way between the Maple Leafs and
Dion Phaneuf
's camp, but no numbers have been exchanged yet, a source told ESPN.com on Tuesday.
Phaneuf will be an unrestricted free agent after the season and is currently earning $6.5 million a year.
Anything north of $7 million a year, I would think, would be too rich for the Leafs. But we shall see ...
STARS' BLUE-LINE FUTURE
The No. 1 focus in Dallas over the course of time will be turning over their blue-line corps. While I hear that GM Jim Nill has called around the league to see what's out there, the noticeable change will likely come from within when younger players are ready to be promoted.
Jamie Oleksiak
, Jyrki Jokipakka and Patrik Nemeth are continuing their AHL development, but I suspect (whether it's via injuries to the NHL club or simply second-half call-ups) you're going to see at least one of them before the end of the season. John Klingberg went back to Sweden to play this season, but he's another player who will likely get a crack at the NHL roster next season.
Getting rid of some of the current Stars blue-liners won't be easy, if at all doable.
Alex Goligoski
had a brutal start to the season, but with two more years on his deal after this season at a $4.6 million cap hit, it's hard to see which team would take that.
VRBATA'S FUTURE
Coyotes leading scorer
Radim Vrbata
, who entered Tuesday night's game with 12 points (5-7) in 12 games, is an unrestricted free agent after the season.
The Coyotes held talks with his camp before the season but nothing materialized and the player indicated he wanted to shelve things for now to focus on hockey.
That doesn't necessarily mean the Coyotes won't circle back before the end of the season to see what it would take to get him to re-sign. He's in the final season of a three-year deal that paid him $3 million per season.
October, 1, 2013
10/01/13
1:51
PM ET
MONTREAL -- Before the Maple Leafs were going to throw numbers out at his agents, GM Dave Nonis needed to first hear from
Phil Kessel
that he wanted to stay in Toronto for a long time.
Nonis wanted that commitment, face-to-face, before he was going to get serious in contract talks with Newport Sports. He got the answer he wanted from the Team USA Olympic winger in a meeting last week, which gave the Leafs' GM the trigger he needed to get the ball rolling with agent Wade Arnott.
"I said this before camp, we weren't about to throw any money at any player, Phil included, until we were sure, I was comfortable, that he wanted to stay in Toronto," Nonis said at a noon-hour news conference at the Bell Centre. "He brought up to me last week how important it was to stay. And that's when we started negotiations."
"I want to finish my career here," Kessel said at the same news conference. "It would be a great city to win in, and we're going to do whatever we can to make that happen."
Don't underestimate Toronto's ability to re-sign center
Tyler Bozak
on July 5 as a major factor in Kessel staying put. The two linemates are very close friends off the ice; heck, they live together. Had Bozak walked, and he did test free agency before circling back to the Leafs, it might have hampered Toronto's ability to re-sign Kessel.
Having said that, talks didn't get going with Kessel for real until last week after the Nonis-Kessel meeting.
With Kessel's self-imposed deadline of opening night acting as the pressure point because the star player didn't want to discuss an extension during the season, both sides came together Tuesday morning on a $64 million, eight-year contract.
For one, the Leafs shared Kessel's desire not to have this drag into the season. There was concern that it would affect his production on the ice as his contractual future hung over him.
So there was mutual interest in seeing this done.
Many will believe it's too much money for Kessel, but the numbers, at least, suggest otherwise:
• Only Kessel and
Steven Stamkos
were among the top 10 scorers in the NHL each of the past two seasons.
• Only Stamkos,
Evgeni Malkin
and
Claude Giroux
have more points than Kessel over the past two seasons.
• And only Stamkos,
Alex Ovechkin
and
Corey Perry
have more goals than Kessel over the past three years.
Kessel's $8 million cap hit in the new deal is still less than Giroux's new deal ($8.275M), Perry's ($8.625M) and Ryan Getzlaf's ($8.25M), the three contracts brought up the most in negotiations by Kessel's camp.
"He's had several great years, that's something some people overlook," Nonis said. "If you look at his goal totals and his point totals over the past few years, he's up there with some pretty elite players."
But perhaps most importantly for the Leafs was Kessel's playoff performance last season, when he proved he could step up in the clutch and was terrific against Boston in a seven-game first-round loss.
That erased any concern that the Leafs' front office might have had about building a team around Kessel.
"It certainly opened some eyes," Nonis said of that series.
So now the attention turns to Leafs captain
Dion Phaneuf
, whose contract will expire after the season. But unlike Kessel, the star blueliner doesn't care if talks go into the season. As he pointed out to ESPN.com on Tuesday morning, the last contract he signed was done during the season with the
Calgary Flames
, so it's not new territory.
Phaneuf said he'll leave it with his Newport Sports agents Don Meehan and Craig Oster, knowing they'll figure something out with Nonis.
"They'll get together and talk, they'll handle it," a totally relaxed Phaneuf said.
If anything, Phaneuf was more excited for his teammate's big signing. Which perhaps, in some ways, affects how he viewed his future with the Leafs.
"I really like what we're doing here, what direction the team is headed in," Phaneuf said. "Phil is a huge signing for us. It's great news. He's one of the top forwards in the game, such an important guy for us. He's really elevated his game the last few years. This is great."
Kessel's deal includes $22.5 million in signing-bonus money that's spread over the first four years of the deal and the last two years of the contract. Of interest, his last two years of his deal carry only a $1 million salary, and the rest is bonus money, protected against a possible lockout because bonus money gets paid out regardless, whereas salaries do not in the event of another lockout.
Crease conundrum
One of the hot topics all season for Toronto will be goaltending, with newly acquired
Jonathan Bernier
trying to unseat incumbent
James Reimer
as starter.
The two have stalls next to each other in the visitors dressing room at the Bell Centre, but only one of them was smiling Tuesday morning.
Reimer was thrilled to be getting the opening night nod in net, while Bernier -- while saying all the right things -- did admit he was a bit disappointed, citing that family and friends would be on hand in his hometown. He'll very likely start Wednesday night in Philadelphia as the Leafs play back-to-back, but it's obvious that Bernier would have loved to start in his native province on Tuesday night.
May, 5, 2013
5/05/13
9:42
PM ET
BOSTON -- With just under eight minutes left in regulation of the Maple Leafs' 4-2 win in Game 2 on Saturday, Leafs captain
Dion Phaneuf
lined up Bruins winger
Daniel Paille
for a hit along the boards in the neutral zone after Paille received a pass and passed the puck ahead.
On Sunday as the Bruins were boarding their bus for the airport to fly to Toronto for Games 3 and 4 Monday and Wednesday, Steve Conroy of the Boston Herald and Joe Haggerty of CSNNE.com caught up with Paille, and the Bruins winger didn't hold back on his assessment of the play.
"I haven't seen the video, but I know my head got hit. I'm not sure if it was shoulder or arm, or anything," said Paille. "He's a big hitter. I stood up and didn't fall. I think that's a big reason why [there was no penalty or suspension]."
At first glance it appeared to be an elbow to Paille's head, but in
slow motion
, it appears that it was Phaneuf's shoulder that made contact with Paille's head.
Bruins defenseman
Andrew Ference
was suspended one game for an elbow to Leafs forward
Mikhail Grabovski
in Game 1, although there was no penalty on that play, either. The league cited principal contact to the head as a reason for the suspension, so there was plenty of debate on the Internet on Saturday night and Sunday, suggesting that the same could be said for Phaneuf's hit on Paille. However, the league decided to not even review it.
"Plays like that are called [a penalty] normally. Not always, but normally," Paille said. "During a game when a play like that isn't called you get frustrated by it. It's just something that you can't control. You just want to move on and worry about the next game. It was frustrating at the moment, and it was something that caught us off guard."
September, 4, 2012
9/04/12
9:10
AM ET
By
Sarah Goldstein
| ESPN.com
April, 6, 2012
4/06/12
10:17
AM ET
By
Elias Sports Bureau
| ESPN.com
•
Dion Phaneuf
scored with 59 seconds left in overtime to give the Maple Leafs a 3–2 victory against the Lightning. It was the fourth overtime goal of his NHL career and only the second OT goal by a Toronto defenseman over the last three seasons. Phaneuf scored the other one as well, on April 10, 2010, at Montreal.
•
Matt Read
's tiebreaking goal with 4:21 left in the third period was the game winner for the Flyers in their 2–1 victory against the Sabres. It was Read's 10th third-period goal this season, tying him with
Cody Hodgson
for the league high among rookies. Read is the first Flyers rookie to reach double figures in third-period goals in one season since
Jeff Carter
scored 10 in 2005–06.
•
Brooks Laich
's goal was the game winner for the Capitals in their 4–2 victory over the Panthers, that coupled with Buffalo's loss to the Flyers clinched a playoff spot for Washington. (Florida also wrapped up a playoff berth as a result of the Sabres' loss.) It was Laich's third goal in six games against the Panthers this season and his 10th career goal versus Florida, matching his highest total against one team. Laich has also scored 10 goals versus the Bruins.
•
Evgeni Malkin
scored one goal and assisted on another in the Penguins' win over the Rangers in Pittsburgh. It was the seventh straight Penguins home game in which Malkin has scored at least two points. That's the longest streak of consecutive multiple-point games on home ice by an NHL player since 1995–96, when
Jaromir Jagr
had a nine-game streak for Pittsburgh.
• The Penguins' 5–2 win over the Rangers marked the 10th consecutive game in which Pittsburgh has scored at least three goals. That's the longest such streak in the NHL this season, topping a nine-game run by the Canucks (Nov. 23–Dec. 10). It's the Penguins' longest stretch of games scoring three goals or more since an 11-game streak in February-March 2009.
• Rookie
Anton Khudobin
, making his debut for the Bruins, stopped all but one of the Senators' 45 shots on goal to lead Boston to a 3–1 win at Ottawa. Khudobin's 44 saves were the most in one game by a Bruins rookie since Feb. 21, 1987, when
Bill Ranford
posted a 45-save 1–0 shutout win against the North Stars in Minnesota.
•
Martin Brodeur
and the Devils eked out a 2–1 victory over the Red Wings at Joe Louis Arena. It was only the second win for Brodeur in nine career regular-season games at Detroit, and it was his first win there since a 2–0 shutout on Nov. 6, 1996. Brodeur lost all six games he played at "the Joe" in the interim, allowing at least three goals in each game. Of course, Brodeur won both games he played in Detroit during the Devils' four-game sweep of the Red Wings in the 1995 Stanley Cup finals.
January, 6, 2012
1/06/12
11:07
AM ET
By
Associated Press
| ESPN.com
The
Ottawa Senators
are assured of having at least four familiar faces on the ice when they host the NHL All-Star game this month.
Defenseman
Erik Karlsson
led all vote-getters in fan balloting, and captain
Daniel Alfredsson
and fellow forwards
Milan Michalek
and
Jason Spezza
also were elected for the game on Jan. 29.
The NHL said Thursday they will be joined by Toronto defenseman
Dion Phaneuf
and
Boston Bruins
goalie
Tim Thomas
in this year's game.
Here is a look at the final voting tallies:
Forwards
1. Daniel Alfredsson - 897,055
2. Jason Spezza - 817,483
3. Milan Michalek - 743,977
4.
Phil Kessel
- 701,833
5.
Joffrey Lupul
- 520,843
6.
Sidney Crosby
- 504,393
7.
Claude Giroux
- 385,253
8.
Jonathan Toews
- 341,419
9.
Pavel Datsyuk
- 313,783
10.
Evgeni Malkin
- 303,726
11.
Jaromir Jagr
- 255,178
12.
Patrick Kane
- 244,136
13.
James Neal
- 230,848
14.
Henrik Zetterberg
- 206,852
15.
Marian Hossa
- 206,852
16.
Steven Stamkos
- 185,342
17.
Jordan Eberle
- 184,036
18.
Alex Ovechkin
- 182,920
19.
Daniel Sedin
- 180,636
20.
Jordan Staal
- 166,527
21.
Henrik Sedin
- 165,044
22.
Patrick Sharp
- 164,218
23.
Ryan Kesler
- 152,005
24.
Danny Briere
- 149,130
25.
Taylor Hall
- 141,366
26.
Patrice Bergeron
- 138,580
27.
Marian Gaborik
- 133,374
28. *
Tyler Seguin
- 121,135
29.
Milan Lucic
- 118,015
30.
Thomas Vanek
- 102,582
31.
Ryan Smyth
- 101,399
32.
Mike Cammalleri
- 99,963
33.
Anze Kopitar
- 92,229
34.
Tomas Plekanec
- 89,596
35.
Teemu Selanne
- 89,113
36.
Brad Richards
- 86,001
37.
Joe Thornton
- 85,314
38.
Joe Pavelski
- 84,405
39.
Jeff Skinner
- 84,063
40.
Martin St. Louis
- 79,278
41.
Matt Duchene
- 76,451
42.
Nicklas Backstrom
- 75,661
43.
Patrick Marleau
- 74,284
44. *
Ryan Nugent-Hopkins
- 73,908
45.
Jarome Iginla
- 70,570
46.
Jason Pominville
- 67,005
47.
Zach Parise
- 63,611
48.
Jamie Benn
- 62,840
49.
David Backes
- 62,420
50.
Mike Richards
- 58,794
Defensemen
1. Erik Karlsson - 939,591
2. Dion Phaneuf - 614,933
3.
Sergei Gonchar
- 603,628
4.
Nicklas Lidstrom
- 476,979
5.
Zdeno Chara
- 463,650
6.
Kris Letang
- 452,979
7.
John-Michael Liles
- 401,096
8.
Duncan Keith
- 295,033
9.
Shea Weber
- 261,597
10.
Brent Seabrook
- 230,472
11.
P.K. Subban
- 226,272
12.
Niklas Kronwall
- 198,859
13.
Kimmo Timonen
- 195,334
14.
Chris Pronger
- 176,367
15.
Alexander Edler
- 167,794
16.
Dustin Byfuglien
- 149,405
17.
Drew Doughty
- 115,404
18.
Dan Boyle
- 114,816
19.
Brent Burns
- 91,434
20.
Brian Campbell
- 88,654
21.
Mike Green
- 88,019
22.
Marc Staal
- 87,902
23.
Ryan Whitney
- 86,781
24.
Sheldon Souray
- 84,597
25. *
Dan Girardi
- 78,411
26.
Tyler Myers
- 72,360
27.
Alex Pietrangelo
- 68,881
28.
Jack Johnson
- 66,498
29.
Ryan Suter
- 60,525
30. *
Brooks Orpik
- 58,814
Goaltenders
1. Tim Thomas - 626,540
2.
James Reimer
- 498,075
3.
Marc-Andre Fleury
- 424,619
4.
Carey Price
- 251,395
5.
Henrik Lundqvist
- 209,943
6. *
Jimmy Howard
- 192,685
7.
Nikolai Khabibulin
- 185,354
8.
Pekka Rinne
- 171,179
9.
Ilya Bryzgalov
- 166,647
10.
Roberto Luongo
- 166,391
11.
Jonathan Quick
- 118,174
12.
Martin Brodeur
- 102,672
13. *
Corey Crawford
- 99,264
14.
Ryan Miller
- 97,626
15. *
Craig Anderson
- 79,064
16.
Kari Lehtonen
- 78,735
17.
Tomas Vokoun
- 59,325
18.
Jaroslav Halak
- 50,168
19. *
Brian Elliott
- 46,245
20.
Cam Ward
- 44,037
* - Write-in candidate
November, 2, 2011
11/02/11
4:00
PM ET
This week, we take a look at the early candidates for the Norris Trophy, and we've got a few surprises here:

Where would the Penguins be without him so far this season, given all the big names who have missed time through injury on this club? He plays in all key situations and is gold at both ends of the ice.

No wonder Darryl Sutter got shown the door in Calgary last season. The Leafs' trade with the Flames from a few years ago is looking like a total steal. Phaneuf has been a demon at all facets of the game and is a big reason for Toronto's quick start in October.

Let's face it, it's his trophy to lose this season. Ask most NHL GMs and they'll tell you Weber is their top-ranked blueliner. But with five points in 11 games to start the season, he has another level to go.

Edler was only one point off the defenseman scoring lead as of Wednesday morning but brings so much more than that to the plate.

He plays against the top offensive line from the opposing team every night and still manages to produce offensively. Underrated as ever.
Honorable mentions: Erik Karlsson, Ottawa; Sheldon Souray, Dallas; Ryan Suter, Nashville; Nicklas Lidstrom, Detroit; Duncan Keith, Chicago.
January, 31, 2010
1/31/10
5:34
PM ET
TORONTO -- People in these parts still remember where they were that day, 18 Januarys ago, when the Toronto Maple Leafs acquired Doug Gilmour from the Calgary Flames.
It was a franchise-altering blockbuster by former GM Cliff Fletcher that will go down as one of the greatest deals by the Leafs, a move that would pave the way for a pair of spring runs no one here will ever forget, either.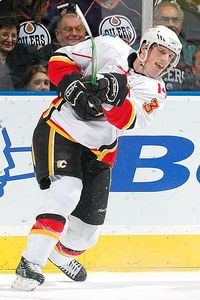 Andy Devlin/NHLI/Getty ImagesLeafs GM Brian Burke on Dion Phaneuf: "This is a guy that likes it crude and likes it black and blue, and that's how we want him to play."
On Sunday, it was current Leafs GM Brian Burke who pulled off the jaw-dropping trade, a seven-player deal with Calgary that has the potential to finally put this franchise back on the right track. Toronto acquired Dion Phaneuf, right winger Fredrik Sjostrom and defenseman Keith Aulie in exchange for defenseman Ian White, center Matt Stajan, left winger Niklas Hagman and right winger Jamal Mayers.
"Putting a seven-player deal together today is unbelievably difficult," Fletcher, now a senior adviser with the Leafs, told ESPN.com on Sunday. "Back when I did that deal with Calgary, there were no financial considerations at all. It was just players for players. This was so much difficult. But we think today we got a player we can really build around in Dion Phaneuf."
The Leafs' shakeup Sunday also included a deal with the Ducks, in which Toronto acquired goalie Jean-Sebastien Giguere for Jason Blake and Vesa Toskala.
But forget all the other players that changed teams in Calgary, Toronto and Anaheim -- this trade is really all about one player, Phaneuf.
"Phaneuf is a gamble, but if he hits, they will win this deal huge," a GM who requested anonymity told ESPN.com on Sunday.
"It's about getting an A-lister, and Burkie did that today," added another unnamed GM.
Now he's got two.
"In the last four months, we've added Phil Kessel, who is an elite player, and Dion Phaneuf, who I view as an elite player," Burke told a packed news conference at Air Canada Centre. "So I think it's a very important day for us."
Listen, Phaneuf doesn't arrive without question marks. He has yet to match the 20 goals from his rookie season in 2005-06 and his exit couldn't come fast enough for members of the Calgary media, who thought he was overrated. But a pair of 17-goal campaigns is a reminder that his potential hasn't gone away -- he's a bona fide offensive blueliner with a physical game that had Burke drooling from the first day he thought he might have a shot at him.
"This is a guy that likes it crude and likes it black and blue, and that's how we want him to play," said Burke.
At first, Burke's advances to Flames GM Darryl Sutter got the cold shoulder. Sutter, as he told me earlier this month, had no desire to move Phaneuf. But an ensuing nine-game winless streak changed all that. The pressure was on for Sutter to make a move, and Burke made sure to exploit that.
This is why Burke was brought in to run this sad-sack franchise -- because he had the reputation and acumen of a GM who could pull off these types of moves. Kessel was also a big acquisition, but a move that right now looks decidedly tilted in favor of the Bruins thanks to a pair of first-round picks going Boston's way, and the June 2010 pick looking like a top-three overall selection.
But there isn't a sense that Burke overpaid this time around. No offense to Stajan, Hagman, Mayers and White, but they are complementary players.
The kicker in all this is some people believe the prospect Toronto got in the deal, the 6-foot-6, 20-year-old defenseman Aulie, is headed for a good NHL career. "He's going to play 15 years in the NHL," said one NHL executive Sunday.
But again, this trade is about Phaneuf, and about Burke showing once again he loves stud blueliners. He added Mike Komisarek and Francois Beauchemin this past summer via free agency. Throw in incumbent Tomas Kaberle, and you've got an impressive top four. Remember Burke's blue line on the Cup-champion Anaheim squad from 2007: Scott Niedermayer, Chris Pronger and Beauchemin.
"My philosophy is building from the net out," said Burke. "It's like pitching in baseball. If you don't have good defensemen, you're not going to win, it doesn't matter how good your forwards are. And it's been a hallmark of all my teams. I try to build up the defense, and that's exactly what happened here today. We added an elite defenseman and a guy that plays our kind of hockey."
The second trade Sunday is of lesser importance, but it does shore up Toronto's goaltending for the next year and a half. Giguere, in my mind, remains a top-level netminder; he's 32, not 38. But his $7 million price tag for next season scared off everyone else in the NHL ever since the Ducks first made him available in June.
Give Ducks GM Bob Murray a ton of credit here; from what I'm told, he stayed on Toronto's tail all season long, urging them to give this some thought. The hook all along was Giguere would be reunited with goalie coach Francois Allaire here in Toronto and could provide Jonas Gustavsson excellent mentorship. After all, it worked in Anaheim with Jonas Hiller.
As I first speculated back in November, the plan was sound, but the Leafs balked at the $7 million salary for next season. Once Anaheim was willing to take back money, things changed. Toronto would have preferred to send Jeff Finger back in the deal along with Toskala, but the Ducks asked for Blake instead. Fair enough. Done deal.
Here's why the Giguere deal is also possibly a good thing for Toronto: The Leafs have no desire to be 29th in the standings again next season. They want Giguere to win games for them. The Bruins, after all, also have Toronto's first-round pick next season. Hence, Giguere has a useful short-term role here.
So, six players emptied their dressing room stalls at the Air Canada Centre on Sunday, and Burke is still working the phones.
"We're still open for business. We're not done," Burke said.
Suddenly hot winger Alexei Ponikarovsky is garnering more and more attention, and he's an unrestricted free agent July 1. He's a goner. So are a few more Leafs. Those deals, however, won't have the impact of Sunday's acquisition of Phaneuf.
This is a franchise that last hosted an NHL playoff game in April 2004. The playoff drought will be at least six seasons and counting. The Cup drought will be 43 years and counting.
On Sunday, what the die-hard members of Leaf Nation finally got for the first time in a long, long time, was hope.