Cross Checks:

Dominic Moore
January, 9, 2013
Jan 9
8:42
PM ET
Statement from Dominic Moore:

"On behalf of my family, I'd like to express our deep appreciation for the overwhelming care and sympathy we have received since my wife's passing on Monday. The example Katie displayed throughout her life and in particular during her illness is a source of continued strength and inspiration for us all, as is the love and support of those around us. In lieu of flowers, donations can be made to the future Katie Moore foundation at katiemoore.org."

January, 8, 2013
Jan 8
8:08
PM ET
By
ESPN.com news services
| ESPN.com
The wife of
Dominic Moore
died Monday after a nine-month battle with liver cancer, according to the Sharks.
Moore missed San Jose's final two playoff games last April to be with his wife, Katie Moore, shortly after she was diagnosed with a rare form of liver cancer.
At that time, Dominic Moore released a statement to explain his wife's condition: "Towards the end of the 2011-12 season, my wife, Katie, began feeling ill. We visited with local doctors, who suggested running a variety of tests to ascertain the cause of the issue. Ultimately, Katie was diagnosed with a rare liver cancer and it was recommended that she undergo surgery, which took place in California in April.
"While it was disappointing to not be able to compete with my Sharks teammates in the playoffs, my wife's condition and care come first and I want to thank the Sharks organization, my teammates and their families for the love and support that has been shown to Katie and I during this difficult time."
Dominic Moore was acquired by San Jose last February in a deal with Tampa Bay. He is currently an unrestricted free agent.
The Sharks offered their condolences to the Moore family.
"The courage that she showed during her illness is an inspiration to everyone who knew her. You will all be in our thoughts and prayers," said a release by the team.
The NHL players' association also expressed their sympathy for Katie Moore's family: "All players and staff are deeply saddened by the passing of Katie Moore. Katie fought her battle with courage and conviction, and she will be greatly missed. At this difficult time, our thoughts and prayers go out to Dominic Moore and the Urbanic family, as well as Katie's many friends."
The Associated Press contributed to this report.
June, 5, 2012
6/05/12
4:18
PM ET
Dominic Moore
's impact as a trade deadline pickup wasn't what the Sharks had expected and now we know why.
Sadly, as Moore revealed through the team Tuesday, the veteran center was hit with a bombshell just before the playoffs. On Tuesday, Moore released a statement through the Sharks:
"There have been a lot of questions and concerns raised since it was revealed that I had to miss several games of the Sharks-Blues playoff series due to a family matter and I wanted to update extended family, friends, and former teammates on our situation.
"Towards the end of the 2011-12 season, my wife, Katie, began feeling ill. We visited with local doctors, who suggested running a variety of tests to ascertain the cause of the issue. Ultimately, Katie was diagnosed with a rare liver cancer and it was recommended that she undergo surgery, which took place in California in April.
"While it was disappointing to not be able to compete with my Sharks teammates in the playoffs, my wife's condition and care come first and I want to thank the Sharks organization, my teammates and their families for the love and support that has been shown to Katie and I during this difficult time.
"We continue to pursue the best treatment and care for Katie."
Here's hoping for all the best for Moore and his wife, Katie.
February, 23, 2012
2/23/12
1:34
PM ET
TORONTO -- The
San Jose Sharks
have had their reality check. Now we'll see if they're going to do something about it in the last quarter of the season.
On autopilot for much of the season as the Pacific Division leaders, a sudden stumble that has seen the Sharks win only two of their past nine games has them sitting just four points out of the danger zone in the Western Conference.
"We're in a fight to make the playoffs right now," captain
Joe Thornton
said Thursday after the morning skate at Air Canada Centre.
"We had been pretty consistent until this point," Sharks winger
Ryane Clowe
told ESPN.com. "We're in a tough rut now. We've been leading the division pretty much the whole year but we need to realize we're just a couple of points from the playoffs. We haven't been playing really desperate lately, that's for sure. But I think we have a really good grasp on our team and we feel confident we'll finish the season strong and get on a good streak here."
The perennial Cup contenders and back-to-back Western Conference finalists could use a little goaltending, that's for sure.
Antti Niemi
has really struggled of late, but you have to assume the 2010 Stanley Cup champion will shake it off at some point.
Thornton refused to blame the goaltending.
"We don't blame anybody," the star center said. "We've been giving up too many Grade A chances. Both our goaltenders have been playing well all year. We've got to give them some support with coming down low, blocking shots and doing the little things to not let those Grade A chances happen so much."
Whether their GM will add another piece or two over the next few days remains to be seen. Doug Wilson made a nice acquisition in third-line center
Dominic Moore
last week and Wilson might not be done. Injury updates about star winger
Martin Havlat
and top-four blue-liner
Douglas Murray
will influence his decision ahead of Monday's 3 p.m. ET trade deadline. If he gets bad news on either player, my guess is he will step up his efforts to land a player for that position. If the updates are positives, maybe he stands pat.
And what about
Rick Nash
? The Sharks won't admit it, but sources confirm to ESPN.com they've had a few chats with the
Columbus Blue Jackets
regarding their for-sale captain. Nash has San Jose high on his list of destinations because he played in Davos, Switzerland, with Thornton during the lockout season.
It's believed the opening demand from the Jackets began with Sharks center
Logan Couture
. And that sound you heard was the Sharks hanging up the phone. There is absolutely zero chance the Sharks would trade Couture. I'm not even sure they'd want to trade Couture for Nash one-for-one, let alone make him part of a package.
And so, unless the Jackets' demands dramatically lower over the next few days, it seems like Nash is either Broadway-bound, L.A.-bound or stuck in Columbus for the rest of the season.
The players in the Sharks' room can't escape the trade talk, especially since they've been in hockey-crazed Toronto the last few days.
"I liked us picking up Dominic Moore, I think that's going to help us," Clowe said. "Other than that, it's hard to say what else will happen. We're pretty confident in our team as is."
The bottom line is the Sharks need to get their game back to where it needs to be if they have any chance of making a run for the third spring in a row.
"You don't want to limp into the playoffs," Thornton said. "You want to be playing good hockey. We've got 24 games left, so we have to play some good hockey to get there."
February, 16, 2012
2/16/12
8:56
PM ET
If I had to wager, I'd say the
New York Rangers
and
Los Angeles Kings
are the most likely new homes for
Rick Nash
if there's a pre-deadline deal.
But there's certainly an Original Six team that would like Nash's services if this were June and not February -- the
Detroit Red Wings
.
I also believe Nash would love to play for the Wings, but the odds of him landing in Hockeytown before Feb. 27 are not great whatsoever.
The factors:
Nash's $7.8 million cap hit is too large for Detroit to absorb now unless the Red Wings give up roster players that they don't want to get rid of.
The optics of the Blue Jackets moving Nash to the hated Red Wings are brutal for fans in Columbus. At the very least, the Jackets would make the divisional rivals pay more than most other teams in the mix, not wanting to have Nash parade around in the Central for the next six years.
The Wings are loathe to mess with the chemistry and equilibrium they've established as the first-place team in the West and that's exactly what would happen given that the Jackets are seeking three to five assets in any Nash trade they make.
Nash enjoyed playing for Wings head coach Mike Babcock at the 2010 Olympics, and I can tell you Babcock was a huge fan of his at the Vancouver Games. Also, Detroit would not only represent a chance to win every year for Nash, it would be a short flight or a 4½-hour drive from his native Brampton, Ontario (north of Toronto).
Let's say Nash does survive this deadline and becomes a June transaction. Here's the question you have to ask yourself if you're Detroit: Do you spend assets to get Nash or do you wait until July 1 and take a run at Zach Parise, for whom you wouldn't have to give up assets? Tough call, especially since there's no guarantee that Parise won't re-sign with New Jersey or sign with another of the many suitors there will be July 1.
Bottom line? If Nash moves before the Feb. 27 deadline, it almost surely won't be to Detroit.
I like the Rangers and Kings as front-runners both in their desire to acquire Nash and their ability to deliver on the assets the Blue Jackets require.
I'd list Toronto, San Jose, Vancouver and Philadelphia as wild cards on the Nash front.
But an offseason trade? That might be a different story for a lot of teams, including Detroit.
Moore's move to San Jose
The Lightning are clearly in selling mode, announcing earlier Thursday that they are sitting
Pavel Kubina
until they move him and trading
Dominic Moore
to San Jose later in the day. Both are unrestricted free agents on July 1.
This is a terrific pickup by the Sharks. Moore gives the Sharks a versatile player who can play on either the second or third line, kill penalties and help the Sharks in the faceoff circle.
Moore has also raised his level of play the past two playoff years -- reaching the conference finals with Montreal in 2010 and with Tampa last spring and playing well during both runs. He's a gritty, smart player.
The Lightning and Moore's agent, Larry Kelly, held contract talks the past few weeks but never could bridge the gap.
In the end, however, GM
Steve Yzerman
is saying this season's roster wasn't nearly good enough to keep intact, as Kubina will soon be following Moore through the exit in Tampa. More changes are coming.
As for Kubina, he must deliver a list of five teams to Yzerman that he'd be willing to be traded according to the terms of his limited no-trade clause.
Kubina's agent Petr Svoboda told ESPN.com Thursday night that a list had not yet been determined and that they had seven days to provide it. It is not expected to take that long to deliver it to Tampa. Svoboda said he was planning to meet with Yzerman on Friday to continue the dialogue.
Grossman to Philadelphia
The Flyers got their defenseman when they picked up
Nicklas Grossman
from the
Dallas Stars
on Thursday in exchange for second- and third-round picks.
Philadelphia had long been looking for one since losing
Chris Pronger
for the season. And as I had
speculated a few weeks ago in a Rumblings blog
, Grossman is a blueliner that the Flyers had eyed.
"He's a No. 4 defenseman," former Stars head coach Marc Crawford, who coached Grossman in Dallas, told ESPN.com Thursday night. "He's one of the few guys that were available on the market that you look at and feel he can play against top guys."
Grossman is slated for unrestricted free agency on July 1. The Stars had talked about an extension with his camp but never came close.
Stars GM
Joe Nieuwendyk
told ESPN.com that he feels he has good depth at the blue line position throughout the organization and that the team couldn't pass up getting two good assets for Grossman.
Does this mean the Stars are sellers?
"No, it doesn't mean we're sellers," Nieuwendyk said. "It means we're active. We're trying to make this team better."
As for the Flyers, I wouldn't rule out the possibility of the team adding another defenseman on top of Grossman. I don't sense they're done yet.
Kings looking for offensive upgrade
Interesting that the more you talk to teams around the league, the more you hear the name of Kings blueliner
Jack Johnson
being available if it means L.A. can seriously upgrade its offense via a first-line forward.
Johnson is in the first season of a seven-year, $30.5 million contract.
Young backup goalie
Jonathan Bernier
is another name out there. No surprise there given the Vezina-worthy emergence of
Jonathan Quick
.
Both Johnson and Bernier, in my opinion, would be part of any deal involving Rick Nash.
One NHL team executive wondered to ESPN.com this week if the Kings struck out on Nash whether Jackets teammate
Jeff Carter
would be the consolation prize. Perhaps. I believe the Jackets and Kings talked about Carter way before the Nash situation ever came into play this week.
Capitals waiting on Backstrom
The
Washington Capitals
have taken a look at Jackets forward
Antoine Vermette
, among other players, but it's not yet clear if they'll be active or not before the deadline.
The key factor in all this is the health of star center
Nicklas Backstrom
, still out with a concussion. The Caps want to see how he is feeling closer to Feb. 27 before deciding whether or not they'll make a move.
Senators' prospects a no-go
The Senators have looked around the league and made calls regarding a forward, but the asking price is more often than not one of Ottawa's top prospects. And that's a no-go.
"I'm not doing that, I can tell you that," Sens GM Bryan Murray told ESPN.com Thursday. "I'm not looking for a short-term fix."
The Senators still have their eye on the big picture, which is to continue with their plan of developing a young and talented team. No shortcuts.
Still, if a top-six winger with an expiring contract is available without requiring the Sens to give up the farm, Murray will look at it.
"I'd be OK with a rental if it was the right price," said Murray.
No Premiere Games?
It's very possible that the Premiere Games will not get scheduled next season, from what I'm told, because of the labor uncertainty with the collective bargaining agreement expiring Sept. 15. No final decision has been taken in that regard, but at this point it doesn't look promising.
The NHL has had regular-season games every year across the pond since September 2007, when the
Anaheim Ducks
and Los Angeles Kings tangled in London. Since then, regular-season games have been played in Stockholm, Helsinki, Prague and Berlin.
But it appears very possible that there won't be NHL games in Europe next fall.
Temporary salary cap
In what has been a vastly under-the-radar story, a buzz item among NHL GMs these days is how they're going to approach this summer with what will be a higher but temporary salary cap number.
Confused?
The collective bargaining agreement doesn't expire until Sept. 15 at midnight ET.
But NHL teams have to conduct business under this current CBA until then. As per the current system, the salary cap is once again expected to rise as of June 30 from the current $64.3 million upper limit to as high as $68 million to $69 million, according to guesstimates from some team executives.
That new cap number will exist only from June 30 to whenever a new CBA comes into effect.
The obvious issue is that most teams believe the cap will go down in the new CBA as owners try to scale back the players' percentage of revenues (the players will have a mighty say in that, however).
So, you could have a situation where the cap is around $69 million for the summer and then much lower come the fall with a new CBA (again, the players will have a say in that).
This will force teams to come up with their own internal cap number based solely on guesswork this summer, because the last thing a team wants is to have a $69 million payroll on Aug. 30 and then be told it needs to shed a chunk of it come the new CBA in the fall.
Either way, just another wrinkle for this summer's free-agent market.
January, 31, 2012
1/31/12
10:59
AM ET
Craig Custance of ESPN The Magazine and Insider and ESPN.com's Pierre LeBrun, fresh off a snowy weekend in Ottawa, are back and ready to handle the hot topics. Here we go!
CUSTANCE:
Hello, Pierre! What a weekend, eh? Great time at the All-Star Game in Ottawa, where the city and its fans put on a heck of a show. Lots of passion for hockey in that city led to great moments, including multiple standing ovations for
Daniel Alfredsson
. Busy weekend, too, with off-ice news surrounding
Tim Thomas
,
Ryan Suter
and
Sidney Crosby
. But thankfully, we're playing hockey real games again Tuesday night. Thirteen games in all on tap, and there are plenty of big ones to look at.
I wrote about it in my Insider blog, but Tuesday night's schedule kicks off some important games for franchises that aren't clearly identified as buyers or sellers before the trade deadline. The Lightning host the Capitals and entered the break on a four-game win streak. They must keep winning if they want to stay in the playoff hunt.
"We're not in the position we want to be in, we're out of the playoffs looking in," Lightning star
Steven Stamkos
said when we chatted over the weekend. "We don't want our team broken up because of where we are in the standings."
The Capitals have been awful on the road this season and are still without key players
Alex Ovechkin
(suspension),
Mike Green
(injured groin) and
Nicklas Backstrom
(concussion), making this a very winnable must-win game for Tampa. You think it's too late for the Lightning to make a run?
LEBRUN:
Yes, I do believe it's too little, too late for the Bolts. Not only are they nine points out, but they've also got four teams to climb over to sit in the eighth spot. Three-point games in this league just make the math incredibly difficult for teams to make up that gap in the final two and a half months. You saw massive second-half runs by New Jersey, Toronto and Calgary last season, but they all fell short. According to
Sportsclubstats.com
, Tampa has a 5.4 percent chance of making the playoffs. So at some point, Lightning GM Steve Yzerman will have to begin selling. One player who could be of real use to a playoff-bound club is center
Dominic Moore
, whose two-way play is a welcome addition. He was effective for Montreal in the spring of 2010 and for Tampa in last year's playoffs. He'll be an unrestricted free agent July 1 and would be a good rental pickup.
CUSTANCE:
Agreed. He's the ultimate rental pickup for a contender. You don't have to give up the farm, but he can win you games in the postseason.
"Those are the type of players who help you win in the playoffs," Stamkos said. "He has the experience, he's been deep in the playoffs before."
Moore had four goals during Montreal's run to the conference finals in 2010 and came up even bigger for Tampa last season, registering 11 points in 18 playoff games for the Lightning. Tampa's third line of Moore,
Sean Bergenheim
and
Steve Downie
was a big reason the Lightning got out of the first round against the Penguins, with Moore setting up Bergenheim twice with no-look passes. It was fun to watch, but I agree, chances are we won't see a repeat performance out of the Lightning.
The Ducks are another streaking team that still hopes to have a chance of staying in the playoff race. The Ducks' odds are even higher playing in the West, and they travel to Phoenix for a big game Tuesday against the Coyotes, who are one of a large group of teams fighting for that No. 8 spot. What the Ducks have that the Lightning don't is goaltending.
Jonas Hiller
seems to have found his game, and January has been his best month of the season. In January, he is 6-2-1 with a .942 save percentage. As you know, Bruce Boudreau has guided a team on an unlikely run to make the playoffs before.
LEBRUN:
I feel for Ducks GM Bob Murray. Where was this level of play two months ago when the season was still salvageable? I just can't see the Ducks bridging that gap. All this run is doing is ruining Anaheim's draft pick for June. Unless Anaheim somehow gets back into the race, the Ducks will be sellers come the trade deadline. One name to keep an eye on is veteran blueliner
Lubomir Visnovsky
. He's got another year left on his deal past this season at a $5.6 million cap hit -- maybe too rich for most teams -- however, his actual salary next season drops to $3 million. He remains an effective power-play quarterback. Another player possibly on the move from the Ducks is veteran winger
Jason Blake
, who is slated for unrestricted free agency July 1. He's had a resurgence of late and could be a good spark-plug addition for a playoff-bound team.
CUSTANCE:
If it makes Ducks fans feel better, they're still 28th in the league, so the Fail for Nail [Yakupov] campaign isn't quite dead yet. Problem is, there's too much pride and talent on that team compared to some of the others at the bottom of the standings.
A couple of other things to watch Tuesday: A huge test for the Senators, who entered the break on a three-game losing streak. They were one of the biggest surprises of the first half of the season, and here comes a big test for them in the second. They travel to Boston to take on the Bruins, who have dominated the Senators lately, winning six consecutive against Ottawa.
I also have to mention Detroit visit to Calgary on Tuesday night, because the Flames plan to honor the late Brad McCrimmon, who had a huge impact on both franchises. During warm-ups, Calgary will wear jerseys with McCrimmon's name and number on the back. Players will wear a logo honoring McCrimmon on their helmets as well. Should be a special night for a special person.
LEBRUN:
Kudos to the Flames organization for doing that. That's a beautiful gesture. Of course, once the puck drops, this is a big game for the Flames, who begin the stretch run three points out of a playoff spot in a race with Minnesota, Colorado, Dallas and Phoenix all vying for that eighth and final spot in the Western Conference. The Flames have played the most road games (28) of any team in the West, so a friendlier schedule over the final two and a half months should help their chances.
Enjoy the action tonight, Craig.
November, 10, 2011
11/10/11
12:56
AM ET
For those hockey fans who thought they saw the end of civilization as we know it in the early stages of Wednesday's interesting tilt between the Philadelphia Flyers and the Tampa Bay Lightning, uh, take a page from the Flyers/Lightning playbook and relax.
Or, as the Flyers did in the face of a passive 1-3-1 Tampa Bay defense at the start of the game, just stand still and breathe deeply. And breathe. And breathe.
OK, you get it.
The curious moments of the Lightning's 2-1 overtime victory -- twice in the opening five minutes, Philly held the puck in its own end, trying to get the Lightning to break up their 1-3-1 formation -- had social media types and commentators venting as though the glowing puck had made a sudden comeback and the NHL was contemplating a return to Atlanta.
[+] Enlarge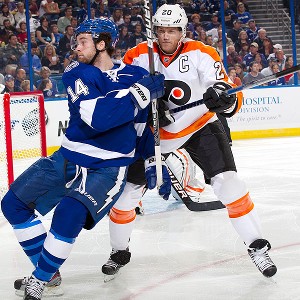 Scott Audette/NHLI via Getty ImagesFlyers captain Chris Pronger returned to the lineup Wednesday after missing six games with an eye injury.
Just for a minute, let's not take ourselves too seriously.
Officials immediately explained to both teams that the puck needed to keep moving or they would blow the play dead. NHL officials told ESPN.com there is nothing in the league's rulebooks that would further penalize a team; but anyone who thinks having 10 guys go rigor mortis is going to happen every night, well, those same people also likely think the Columbus Blue Jackets are on the right track.
Of course, there will now be debates about whether a penalty should be imposed for inertia. Go ahead. It will be called about as often as the so-called "Sean Avery penalty" that was rushed into existence after he did his stick shimmy in front of Martin Brodeur in the playoffs.
Those who seemed shocked by the Lightning's more passive 1-3-1 defense early on (presumably to counter the Flyers' league-best offense) obviously hadn't seen much of the Lightning's four-game sweep of the Washington Capitals in the second round last season. The Lightning used patience and timely scoring to defeat the top team in the Eastern Conference, a strategy that was no different Wednesday night.
"We didn't do anything different than we do all the time," Tampa Bay forward Dominic Moore told ESPN.com after the game. "[The Flyers' reaction at the start of the game] was not really that big of a deal. Every team has strategies that they try out."
The momentary game of freeze tag overshadowed what was a pretty interesting game.
Philadelphia captain Chris Pronger returned to action for the first time since suffering a potentially serious eye injury on Oct. 24 against Toronto. He played 16:17, almost a third of which was spent in the penalty box (two minor penalties), kind of what you would expect from the big man in his first game back.
Scott Hartnell continued his impressive offensive stretch, tipping in a point shot midway through the second period to help the Flyers finally deliver on the power play after coming up dry the past three games (it was his fourth goal in the past six games). The goal gave the Flyers a 1-0 lead.
Although it looked like the Flyers' game plan might yield a victory, Tampa Bay defenseman Marc-Andre Bergeron continued his torrid scoring pace, tying the score at 1 before the eight-minute mark of the third period with a shot that eluded Flyers netminder Ilya Bryzgalov. Bergeron, deemed too much of a defensive liability to be an everyday NHLer in previous stops, has found a home in Tampa Bay and his goal gave him the lead among NHL defensemen with 16 points.
Lightning rookie Brett Connolly scored the winning goal in overtime and now has three goals in his past four games. It was a little poetic justice after he muffed a glorious chance late in the third period. But the real work on the goal was done by Moore, who drove the net and allowed Connolly to put home the rebound.
The game also featured solid performances from two netminders who have seen their ups and downs this season.
Although the Lightning ended up outshooting the Flyers 24-15, Tampa netminder Dwayne Roloson was especially sharp late in regulation and in overtime.
"Rolie was very sharp," Moore said. "Sometimes it's actually harder when you're not getting a ton of shots."