Cross Checks:

Drew Doughty
October, 23, 2013
Oct 23
1:57
PM ET
Watch a game at the Bell Centre with a blindfold on and you'll know who has the puck by the buzz in the crowd. As the sense of anticipation grows, you picture people getting out of their seats, waiting to see what happens next.
By then, you know that defenseman
P.K. Subban
is on one of those rushes up the ice. It's one thing to watch on TV, but it's a different sensory experience to be in the rink itself.
When it's one of the better rushes that electrifies the crowd, the chants of "P.K., P.K., P.K." come cascading down from the rafters of the Bell Centre.
The reigning Norris Trophy winner, who once again leads all NHL defensemen in scoring early this season with 11 points (2-9) in nine games, has tried to tone down some of the antics that aggravated traditional hockey people when he entered the league. But at the end of the day, he only knows how to play the game one way.
[+] Enlarge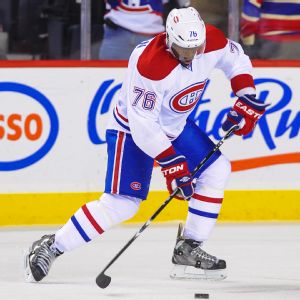 Derek Leung/Getty ImagesP.K. Subban's work with the puck excites Montreal fans, but his style rubs some others the wrong way.
"I still play the same game that I played when I was 16 years old in Belleville [OHL]," Subban told ESPN.com this week. "The difference now is that I'm 24, not 16; I'm into my fourth NHL season, I have some experience under my belt, I've played for multiple coaches now, I'm just a little bit older and that helps you.
"But in terms of how I play my game, I haven't changed much. I've grown as a person, I think I've matured a little bit, and I still have more maturing to do just like most players, especially young players. But I still play the game like I always have."
He's a polarizing figure, to be sure. Bring up his name with hockey people around the league and you get two extremes in opinions. Some absolutely love his explosive game and the way he backs up opposing teams and impacts games, while some old-school folks don't appreciate what they believe is an over-the-top, "flamboyant" demeanor on the ice, as one scout put it to ESPN.com.
His Norris Trophy nod last season created mixed reactions around the league. There are people who believe
Ryan Suter
should have won, pointing out in particular that Subban didn't kill a lot of penalties last season and didn't have the kind of all-around season that Suter had in Minnesota.
On the other hand, it's hardly new territory that a blueliner with a big offensive season won the Norris; that's often been the case in the past. But there's no question the last thing Subban himself expected was a Norris Trophy so early in his career.
"You know what, I didn't [expect it], I have to be honest with you," 24-year-old Subban said. "Especially last year, the first game of the year comes and I'm sitting on my couch without a contract. The last thing on my mind was that I was going to come back and win the Norris. But when I look at it, and look at my preparation for last season, I believe I prepared better than most players.
"Even though I missed the first two weeks of the season, I was in tip-top shape," Subban continued. "I worked out twice a day, skating every day, throughout the whole lockout. I was in peak condition. When I hit the ice, I'm sure a lot of people thought I would be coming in out of shape because I was sitting at home waiting for my contract and that I wouldn't be sharp; they were wrong, I was sharp and I was ready and I was in good shape."
Subban tied for the NHL lead among defensemen with 38 points (11-27) in 42 games while sporting a plus-12 rating and playing 23:14 a game. He missed the first six games of the season because of a contract dispute with the Habs, one in which the dividing line was Subban wanting a long-term deal and general manager Marc Bergevin standing firm that Subban's second contract would be a short one, just like
Carey Price
and
Max Pacioretty
.
Both Price and Pacioretty signed two-year deals out of their entry-level years before getting longer-term security with their third contracts. In the end, Subban also submitted.
The flip side now is that Subban and powerful agent Don Meehan of Newport Sports will have a Norris Trophy under their belt when the two-year deal expires after this season. The Newport firm has negotiated long-term deals for other young blueliners such as
Drew Doughty
($7 million per year),
Erik Karlsson
($6.5 million) and
Alex Pietrangelo
($6.5 million), so you can imagine where the conversation will begin when the two sides get serious in talks.
[+] Enlarge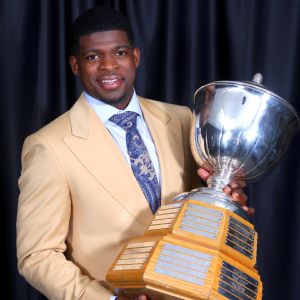 Tasos Katopodis/Getty ImagesWinning the Norris Trophy could soon give Subban millions more reasons to smile.
"To be honest with you, I'm just focused on playing hockey and not worrying about anything," Subban said. "I don't know what the plan is from the hockey team's perspective, I haven't heard much. But at the end of the day, it's something I don't really think about too much. I have more than enough trust in Donnie to make sure something is put in place that we're comfortable with.
"But we've got lots of time for that. At the end of the day, my focus has to be on hockey. If Montreal comes to me with something, then we'll sit and talk. As of right now, I'm just focused on hockey and I haven't heard much. And this is probably the most I've said about it all year. I'm just going to continue to play."
There's another debate percolating around Subban, too, involving his potential place on Team Canada.
"Geez, he's an awful good player. I don't know how he's not on that team," one Western Conference team executive said.
On one hand, how can you not want a player with his dynamic skating ability on the larger international ice? On the flip side, there's concern among some about Subban's high-risk style of play in a tournament where the smallest mistakes can be the difference between winning and losing.
At play as well is the ridiculous depth Team Canada has to choose from when it comes to right-handed defensemen: Dougthy, Pietrangelo and
Shea Weber
to start with, then
Kris Letang
,
Dan Boyle
,
Brent Seabrook
and
Mike Green
, among others.
Certainly, Subban fits right in that discussion near the top choices.
"It's a good problem to have if you're Team Canada," Subban said. "They have so many players to pick from. Obviously I want to be on the team, I've won gold medals while playing for my country before [world juniors], all I can do is hope for it. But there's a lot of great players to choose from."
All things being equal, it seems hard to imagine that if Subban is leading all NHL blueliners in scoring, or close to it, come mid-December, that he won't somehow be among the eight D-men in Sochi for Canada.
"At the end of the day, Steve Yzerman has played a long time in the NHL, he's one of the most respected players to play the game, he's had a great career, and he's a very smart and intelligent individual," Subban said. "All I can do is play my game, do the best that I can, and hope that I get the opportunity to represent my country.
"A lot of people will say to me, 'Well, P.K., you won the Norris Trophy, there's no way you can't be on the team.' Well, at the end of the day, I don't make those decisions, I don't look into those things. All I can do is help my team win every night and hopefully I get noticed. I don't pick the team."
And Subban insists it won't affect his play one iota.
"I don't have many distractions," Subban said. "Would there have been a bigger distraction last year than coming in six games late with our team 5-1 and I'm back from a contract negotiation? I'm sure you can imagine what the distractions would have been in Montreal at that point. But it never bothered me.
"I highly doubt that the selection of Team Canada will bother me, either."
Subban does know for sure that there's nowhere else he'd rather be.
"It's a very special place playing in Montreal," he said. "It doesn't matter how my day went or how I felt coming to the rink. The moment we come out to start the game, it's like you're in a different world. It's unbelievable. It's a feeling you can only experience playing in Montreal. Every time I step on that ice it gives me energy."
April, 12, 2013
Apr 12
4:03
PM ET
The molten desire to become a pro athlete in spite of any and all obstacles isn't necessarily part of a person's DNA.
Sometimes it has to be coaxed out of him.
Sometimes that desire, that commitment, is like a flickering flame that has to be poked and prodded before it becomes something that throws real heat.
Sometimes, as in the case of a player like
Los Angeles Kings
defenseman
Jake Muzzin
.
Named the league's rookie of the month for March, Muzzin illustrates that there is no textbook case for how to become an NHL player, no tried and true calendar for when the switch gets thrown.
"I always believed I could play here and be here," Muzzin told ESPN.com in a recent interview.
It's just that his belief was sometimes at odds with such characteristics as work ethic and focus, as well as things that are out of a person's control, like drafts and injury.
Muzzin has been able to reconcile all of those competing elements to become an important -- dare we say crucial? -- part of the Kings' Stanley Cup defense, even if he acknowledged that he has not followed the traditional route to the NHL, not by a long shot.
Born to blue-collar parents in the farming community of Woodstock, Ontario, not far from London, Muzzin missed an entire year of junior hockey because of back problems that eventually required surgery. He played 37 games the following season, in 2006-07, and the
Pittsburgh Penguins
saw enough in the big defenseman that they took him in the fifth round of the 2007 draft.
Two years later, though, Muzzin wasn't able to come to an agreement with the Penguins on a contract and went back into the draft.
The 24-year-old acknowledged that he was in a period when he wasn't yet a "full-time" hockey player or fully engaged in the process of becoming one.
As is often the case when players find themselves on the draft carousel a second time, no one took a chance and Muzzin became a free agent. But after a strong over-age year in the Ontario Hockey League with Sault Ste. Marie, where he collected 67 points in 64 games, Muzzin started attracting attention from a number of NHL teams.
Muzzin signed with the Kings in the summer of 2010 and played 11 games with the club in 2010-11, but for the most part he was consigned to the team's American Hockey League affiliate in Manchester for the last two seasons.
When he joined the Kings, Muzzin said he felt he had something to prove and that it was a conversation with his parents that helped get him to that point mentally.
After being passed over in his second draft opportunity, Muzzin had to consider what else life might have in store for him. He began looking at applications for colleges.
"But I was like, 'I do not want to go to school. I want to play hockey,'" Muzzin said.
Fine, his parents told him. But if he was going to be a hockey player, he had to treat it like a job. He was a man now and not a kid, they said, and he had to make the sacrifices necessary if hockey was going to be his life.
It was a message that hit home for Muzzin, who had seen the sacrifices his parents made to make sure he got the opportunities to pursue a hockey career.
"The drive was there," he said.
Still, Muzzin is a great illustration of the idea that desire isn't enough, no matter what the movies tell us. In fact, when he first went to Manchester, there were lots of instances where coaches and management had to push Muzzin to fully take advantage of his skills.
"I don't know if Jake understood how important it was to be at his best every day," Kings assistant GM
Ron Hextall
told ESPN.com recently. "There were a lot of little things he was kind of letting go by the wayside."
If the Kings were at a different point in their evolution, perhaps it wouldn't have mattered so much what Muzzin did or didn't do at the AHL level. Maybe they could have lived with the inevitable mistakes that young defensemen make as they try to make the jump to the NHL. But the Kings are no longer that team.
"Every mistake is magnified much more so than for forwards," Hextall said. "There's a lot of little things to learn. There's a lot of things people don't understand from the outside.
"Where we're at as a team, we can't afford to have those mistakes. He's done a great job since he's been called up, though."
With
Willie Mitchell
and
Matt Greene
, two key members of the Kings' Cup-winning blue line, out for the long term with injuries, Muzzin's ascension this season has been critical for coach Darryl Sutter in spreading out the ice time.
Most specifically, Muzzin's abilities to play on the power play and log quality minutes have given Sutter the freedom to deploy former Norris Trophy finalist
Drew Doughty
more often against opposing team's top lines while killing penalties as well. Muzzin's six goals are tops among L.A. defensemen and tied for first among first-year blueliners. In his last 19 games, Muzzin has logged at least 19 minutes in ice time 15 times. His 14 points are fourth among rookie defensemen.
"We were looking, we were waiting for someone to step up, and it's been Muzz," Hextall said.
Doughty, alongside whom Muzzin has played for long stretches this season, credits Muzzin for helping maintain balance along the Kings' blue line.
"Muzz opens up some things for me with those two big guys out," Doughty said.
Give the Kings credit for sticking with Muzzin, one NHL personnel director told ESPN.com.
"His progress was questionable, and he looked unstable early this year when NHL started," he said. "I saw him more recently, and he found the confidence needed because they kept feeding him ice time in important situations. Now it looks like they have a big body, smart D-man who can play top-four minutes. Skating is not pretty, but size and smarts are NHL, so he gets the job done."
Another NHL team executive familiar with Muzzin said there were similar concerns about his foot speed and mobility early on but added that he was always a popular player.
"He's just an enjoyable kid to be around," the executive told ESPN.com. "He turned out to be a marathoner rather than a sprinter."
Muzzin's father works in a local factory, and his mother works as an accountant for a local business. After a recent game in which Muzzin felt he hadn't played well, he was talking to his father, who told his son how proud he was of his accomplishments.
Talk about perspective.
"It's nice to hear," Muzzin said. "And it's nice to have the chance to make him happy."
June, 3, 2012
6/03/12
1:49
AM ET
NEWARK, N.J. -- Drew Doughty's goal in the first period won't soon be forgotten in Stanley Cup finals history.
"Great play," said Kings head coach Darryl Sutter. "It's a 200-foot play. It's one of those coast-to-coast things. Win or lose tonight, that's a great play."
Doughty deked through three Devils players before beating
Martin Brodeur
with a wrist shot. It elicited memories of Scott Niedermayer's end-to-end goal in the 1995 Cup finals for the Devils.
"I actually remember Niedermayer when he played in New Jersey having a couple of end-to-enders," said Doughty. "He was an unbelievable player here and everywhere he played. And I always wanted to emulate myself after him and he scored some highlight-reel goals I'll always remember."
September, 28, 2011
9/28/11
9:12
PM ET
Bryan McCabe remains unsigned and the stars would really have to align for him to pack his bags at this point.
That's not to say it's not going to happen, but he's settled in South Florida with his family and the kids are in school, so it would need to be a really tempting offer.
A source told ESPN.com that a Western Conference team showed interest within the past week, but it wasn't something that interested the defenseman. He's made plenty of money in his career and has nothing to prove to anyone. If he does sign with a club this season, it has to be a super fit for him.
A source told ESPN.com Wednesday that the New York Rangers are scouring the market looking for help at defense, but they're not interested in bringing back McCabe at this point.
Predators' contract talks
Netminder Pekka Rinne and defenseman Ryan Suter are slated to become unrestricted free agents July 1 and the Predators have no interest in seeing that happen. GM David Poile met with Suter's agent, Neil Sheehy, last weekend and Rinne's agent, Jay Grossman, last week in New York to move talks along on an extension. The Preds will be aggressive in trying to get a deal done on both fronts.
Just like Ilya Kovalchuk's contract talks with Atlanta two years ago were an ongoing story, this has the potential to be the same in Nashville. And that's not even to mention franchise blueliner and captain Shea Weber, who is set to become a restricted free agent this summer. He can't walk free like Rinne and Suter, but it remains a hugely important negotiation that will also draw lots of attention.
Because he signed a one-year deal last summer after going to arbitration, Weber can't sign a new contract until January at the earliest. In the meantime, Weber and his agent, Kevin Epp, will sit back and see how things play out with Suter/Rinne, as well as look at how the team fares this season. All will be factors in Weber's next move.
Doughty update
There haven't been any talks between the Kings and Drew Doughty's veteran agent, Don Meehan, since the eve of camp. But given owner Tim Leiweke's comments to Helene Elliott of the L.A. Times this week and the urgency behind them, it's our guess the NHL club will likely reach out soon to Newport Sports (Meehan's firm) and try to take one last stab at it.
The Kings don't have a choice to try again. It's a big season for them; they want to contend and they need Doughty to do that.
Burke on Simmonds ruling
Toronto Maple Leafs GM Brian Burke, who has become an important voice on gay issues, said he is OK with the league's decision not to discipline Flyers forward Wayne Simmonds.
When asked about it after a recent preseason game, Rangers forward Sean Avery said Simmonds used a homophobic slur toward him on the ice.
"It's like banned substances; you can't suspend a player for using a drug that isn't among the list of banned substances," Burke told ESPN.com. "In this case, we didn't have a rule about homophobic slurs, so you can't suspend Simmonds. But now that the league put out that statement and put players on notice that any future homophobic slur will be punishable, I think that was a real important day for the NHL. It has to stop."
Burke also said he would address the issue with his own players before the regular season begins next week.
Leafs' trade talk
The Leafs' newfound depth, especially on defense, has the club working the phones to see if there's any interest in some of their players. Defenseman Carl Gunnarsson and center Tyler Bozak are among the names that have been discussed, but as of Wednesday, we're told nothing was close with any team. The Leafs could also start the season with eight defensemen on their roster.
Kronwall and the Red Wings
Contract talks are well under way between the Red Wings and star blueliner Niklas Kronwall, who is eligible to become UFA on July 1. Both camps spoke this week. My colleague at TSN, Darren Dreger, also reports the Kronwall camp is looking for a long-term, front-loaded deal similar to what Christian Ehrhoff signed with Buffalo.
Sabres' front-loaded deals
We've encountered some grumbling from a few NHL team executives about the Buffalo Sabres' front-loaded contracts with Ehrhoff and Tyler Myers.
Ehrhoff will earn $18 million of his $40 million, 10-year deal over the next two years. Similarly, Myers' new extension calls for him to earn $12 million of his $38.5 million, seven-year extension in the first year.
"I'm sorry, but that's killing this industry," one NHL GM, requesting anonymity, told ESPN.com. "We have to stop those front-loaded contracts in the next system."
The Sabres didn't break any rules. Other well-heeled clubs have done the same, but mid- to small-market clubs are frustrated, feeling that front-loaded deals have squeezed them out of the free-agent market.
NHLPA's fall tour
Union chief Donald Fehr has begun the NHL Players' Association's annual fall tour. Over the next two months, he'll meet with all 30 teams with the CBA at the top of the agenda. He began his tour last week and so far has met with players on the Flyers, Islanders, Lightning, Panthers and Canadiens.
Emery's future
Ray Emery is slated to get his first full start of the preseason Friday. His performance will go a long way in helping the Blackhawks decide whether they sign the camp invite to a one-year NHL contract to be their backup this season or cut ties and give youngster Alexander Salak the job instead.
September, 19, 2011
9/19/11
6:04
PM ET
EL SEGUNDO, Calif. -- Kings head coach Terry Murray stressed Monday that
Jonathan Quick
is the No. 1 goalie on his team after a standout year last season. But he also opened the door a little in saying the emerging
Jonathan Bernier
has a chance to push.
We asked once again, just to be clear, whether the Kings coach was saying that he would go with the hot hand in goal.
"That is what I'm saying yes," Murray said. "Quick is our No. 1 guy and, every game he played last year, he was outstanding. You know how every point and every game is in this league, the ones in the first quarter are just as important point-wise as the second quarter. So I'm going to go with the guy that's playing really well. Quick will be the starting goaltender coming out of training camp and that's how we'll deal with it moving forward."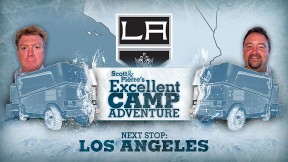 ESPN.com
Murray said last year at this time, he penciled in which goalie would start from the start of the season through Christmas. This time around, he's left it more open. Quick is already a proven No. 1 netminder; Bernier is franchise goalie material. This is a great problem to have if you're an NHL team, but it still warrants monitoring as the season goes on.
Still no Doughty
Day 4 of Kings' camp and still no
Drew Doughty
as the defenseman remained unsigned.
With each passing day, the concern intensifies in terms of planning for the Kings.
"I've been through it before with other players in the past," said Murray. "Some have turned out to be the right decision to miss training camp and get the deal done and come in in great shape and ready to go. And a couple of other guys I remember it's a concern coming back in after missing a lot of time with your teammates and practice and the extra work that we do with the skating.
"But the bottom line is, I have to get the team ready to play. I have players on the ice that are getting themselves in that position, they're hungry. We've got a bunch of young guys here that are looking for an opening and want to play. If Drew Doughty is not able to get signed right away, then I have to find that player that is going to take up some of those minutes."
Rumors in cyberspace over the weekend had the Kings in talks to trade Doughty. General manager Dean Lombardi laughed Monday when asked about that.
"I'm not trading Drew Doughty," Lombardi said. "He's going to be a franchise player."
Murray added that contract negotiations are all part of the business.
"Hey, I miss Drew Doughty, believe me," said the Kings coach. "He's a great player. He's going to be here one day. I miss him here in the locker room because he always has a smile on his face, he's a happy guy to be around. But this is the way the business is. And I understand it is a business, so I hold no animosity towards Drew Doughty whatsoever. When he comes in, I'm going to give him a big hug and say, 'Let's get ready to play hockey.'"
Stoll's visor
It was notieable on Monday that
Jarret Stoll
was wearing a visor. While he has never worn one in his pro career, Stoll said he would try to stick with it after the scary eye injury Canucks forward
Manny Malhotra
suffered last season.
"I'm already used to it," he said.
Stoll said he had a few close calls last season, which was another factor in his decision. Not to mention his mom bugging him to wear one, he said with a chuckle.
September, 14, 2011
9/14/11
2:57
PM ET
Contract talks with restricted free agents have hit high gear with the start training camps days away, as is always the case in these situations.
Players get antsy and teams don't want their players to miss the start of camp, which often bridges the gap in talks.
[+] Enlarge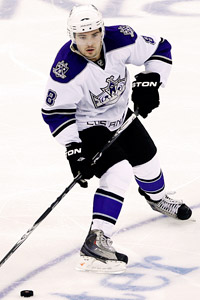 Ed Mulholland/US PresswireDoughty led the Kings in average ice time (25 minutes, 39 seconds) this past season and was plus-13, fourth-best on the team.
Drew Doughty
and the Kings remained at an impasse Wednesday, but that can change with one phone call. Sources told ESPN.com that the Kings won't pay Doughty more than the $6.8 million
Anze Kopitar
makes on average per season.
Further, Bob McKenzie of TSN reported late Tuesday night that the Kings won't do a deal for less than seven years.
In a nutshell, both term and salary remain an issue. But like I said, it just takes one phone call.
• (
Updated 5:07 p.m.
-- The
Jets agreed to a new deal with Zach Bogosian
worth $5 million over two years, a source told ESPN.com)
Zach Bogosian
's agent Bob Murray continues to chat with
Winnipeg Jets
GM Kevin Cheveldayoff on Wednesday.
"We've spoken today, will chat again later this afternoon, and we're going to try to move it forward," Murray told ESPN.com Wednesday afternoon.
While neither Cheveldayoff nor Murray would divulge any more details, it's believed the two sides are working on a short-term deal, not a long-term deal like many young RFAs are signing this summer.
The thinking here, in all likelihood, is that Bogosian can raise his game to another level in the next few years and then get a better contract next time around. At the same time, the Jets aren't exactly sure what they have in Bogosian right now so a short-term deal makes sense for them.
• RFA center
Kyle Turris
and the
Phoenix Coyotes
weren't any closer in talks on Wednesday.
"No movement on the Turris contract ... We are planning to start training camp without him," Coyotes GM Don Maloney told ESPN.com via email.
• The
Toronto Maple Leafs
and RFA blueliner
Luke Schenn
said nothing Wednesday, but it's believed both sides were getting closer to agreeing to a new deal.
"No comment," Leafs GM Brian Burke told ESPN.com.
•
As we reported earlier Wednesday
, the
Buffalo Sabres
and young star blueliner
Tyler Myers
are close to agreeing on a seven-year deal, which will pay the towering defenseman an average of $5.5 million per season starting next season. He's got one more year on his entry-level deal.
August, 26, 2011
8/26/11
2:06
PM ET
Three weeks from now the doors will open on NHL training camps with physicals and the first on-ice sessions. Will some of the game's biggest stars and emerging young players be ready to go? Here's a look at some names that may or may not be ready to begin that journey.
Every day there seems to be a new rumor about Crosby's status for training camp, his ability to be ready for the season opener on Oct. 6 or whether he should retire completely. Bottom line for all the speculators and diviners of the truth is that no one knows where Crosby will be in three weeks or beyond. General manager Ray Shero told the Pittsburgh Post-Gazette's Shelly Anderson Thursday Crosby is waiting for results from concussion specialists he saw in Georgia and Michigan, and they will make a plan moving forward. Shero did say Crosby has been on the ice this week in Nova Scotia and continues to work out. Crosby is expected to be in Pittsburgh when camp starts, Shero told the paper, but who knows if he will be on the ice. The only thing that is certain is that no one who's writing or speculating about Crosby has any real idea about the star center's future regardless of how definitive reports may have sounded.
The Chicago star's surgically repaired wrist may not be healing at exactly the rate that the team had hoped, as Kane told a Toronto radio station recently he wasn't sure about being ready for the start of camp. Kane did say he was optimistic he'd be ready when the season starts. The Blackhawks will be looking to avoid the tepid start to last season that saw them scrambling to make the playoffs on the final day of the regular season then bowing out to top seed Vancouver in seven games in the first round of the playoffs. Having a healthy Kane, who was second on the Hawks with 27 goals and 73 points this past season, will be crucial to getting the Hawks back to contender status.
The man who most folks expect to be named the captain of the Flyers is still recovering from offseason back surgery and a wrist injury that limited his effectiveness during the playoffs last spring. Pronger told reporters earlier in August that he was behind schedule in his rehab from both the back and hand injuries and wasn't sure about his availability for training camp. But GM Paul Holmgren, speaking to reporters Thursday after introducing new netminder
Ilya Bryzgalov
, remained confident that Pronger would be ready when the Flyers open the season against the Stanley Cup champion
Boston Bruins
on Oct. 6, even if he isn't ready for the start of camp.
[+] Enlarge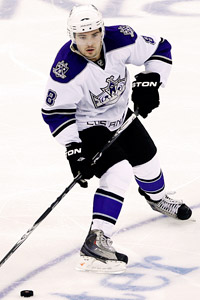 Ed Mulholland/US PresswireDrew Doughty and his representatives haven't talked to the Kings in almost a month.
No, the former Norris Trophy nominee isn't injured, but his availability for the start of the Kings' training camp remains uncertain, thanks to a stalemate in contract talks. Doughty and his representatives haven't talked to the Kings in almost a month and the blue-chip defenseman will not attend camp until a contract is signed, agent Don Meehan told ESPN.com.
Much of the offseason discussion about the Oilers has focused on winger
Taylor Hall
and his recovery from an ankle injury that cut short his rookie season. Hall appears to be fine and ready to roll. But the bigger issue for an Oilers team hoping to make a surprise jump into the Western Conference playoff fray is the rehabilitation of Ryan Whitney from an ankle injury that derailed a breakout year for the big defenseman. Whitney had 27 points in 35 games for the Oilers at the time of his injury, and head coach Tom Renney told ESPN.com this week Whitney is their best blueliner and emerging into an important leader for the young Oilers. Whitney said in an interview that he had a minor setback in his recovery a couple of weeks ago but has no doubt he can return to the level of play he delivered a year ago.
"I know I can be the type of player I was in the first half of last year," Whitney said.
Lots of turnover in New Jersey, where new coach Pete DeBoer will be evaluating a handful of young defenders to make the Devils' opening-night roster. Among those candidates will be Taormina, who made the Devils out of camp a year ago but was lost to two non-displaced fractures to his ankle in mid-November. The former Providence College player whose puck-moving skills will be important to a rebuilding Devils team underwent surgery in January but took part in the team's prospect camp in July and should be ready to go when the Devils open camp.
Most observers give the Avs little chance of making the playoffs this season, but if they're going to surprise, it'll likely be with the help of a healthy Peter Mueller. Acquired from Phoenix at the 2010 trade deadline, Mueller made an immediate impact with 20 points in 15 games before missing the rest of the season with a concussion. He then missed all of the 2010-11 season after suffering another concussion in the team's first exhibition game. He told Adrian Dater of the Denver Post he's excited to put the concussion issues behind him. Mueller is expected to take team physicals on Sept. 16 and hit the ice the following day.
Speaking of the specter of concussions that continues to hover over the NHL, the Blues announced earlier this month that David Perron, who missed the rest of the season after being clipped by San Jose's
Joe Thornton
in early November, will not be ready for the start of training camp. Further, GM Doug Armstrong told Jeremy Rutherford of the St. Louis Post-Dispatch that they were not counting on Perron for the start of the regular season, even though he was making some progress in his rehabilitation. Armstrong confirmed by email Friday that there has been no change to those plans.
The skilled center played in just two games for the
Nashville Predators
last season, and the risk that concussion issues would persist were enough for the dollar-conscious Preds to move Lombardi and his $3.5 million price tag for the next two seasons to the Leafs. GM Brian Burke told ESPN.com Friday it's too early to tell whether Lombardi will be ready for camp, although he said clearance to take part in camp workouts is a "distinct possibility." Likewise, the potential for Lombardi to join the Leafs for the start of the season is a distinct possibility, Burke wrote in an email.
The Ducks' netminder was enjoying a breakout year before suffering vertigo after All-Star weekend last January. He told reporters recently that those symptoms have disappeared and he is expecting to be ready to go for the Ducks' training camp. His progress will be key to helping the Ducks return to the playoffs. Hiller won 26 games for the Ducks and boasted an impressive .924 save percentage in spite of the fact he appeared in just three games after the All-Star break.
July, 21, 2011
7/21/11
1:36
PM ET
So, was anyone outside of the frenzied faithful in Philadelphia surprised when Tampa Bay GM
Steve Yzerman
announced the Lightning had inked star winger
Steven Stamkos
to a five-year deal?
No?
Didn't think so.
In spite of weeks of rumors and impassioned wishes from other markets -- most notably Philadelphia, where the Flyers made the curious move of announcing they were not going to extend an offer sheet to the restricted free agent -- Stamkos' return to Tampa was a forgone conclusion.
It is the same with Los Angeles defenseman
Drew Doughty
, although clearly he is not as far along in the process.
Would 29 other teams love to have Doughty, one of the most promising defenders of the next generation of NHL stars, on their roster?
[+] Enlarge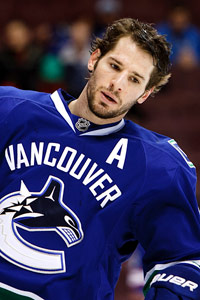 Bob Frid/Icon SMIImagine the ramifications for both franchises had the Flyers been just a little more aggressive and been successful in acquiring Ryan Kesler?
Of course.
Will you see any team present an offer sheet in an effort to make it happen?
No.
Why?
Well, the answer is pretty obvious -- because it's futile.
It has been that way throughout the history of the offer sheet, and it remains so even though the salary cap and internal budgets suggest these are fertile times for plundering other teams' players.
"For me, offer sheets as a way of acquiring players has never proven fruitful," former Calgary GM Craig Button, now a national analyst, told ESPN.com this week.
Since the mid-1990s, Button noted, "no star player has come close to moving."
Even when teams didn't have scads of money -- like when Chicago tried to poach
Keith Tkachuk
from Winnipeg in 1995 -- the home team has simply exercised its right to match an offer sheet.
More recently, the
Edmonton Oilers
tried to pry
Thomas Vanek
away from the then-cash-challenged Sabres, but Buffalo GM Darcy Regier swallowed hard and matched the Oilers' seven-year, $50 million offer.
While the Flyers clearly went through the process of figuring out what kind of offer sheet might work for Stamkos and how it might impact their already-reconstructed team, in the end GM Paul Holmgren didn't bother.
The process has proven to be "cost-prohibitive and fruitless because teams are saying we're not letting that guy go," Button said.
Button said there is a way to use the offer sheet as a mechanism to improve, and the Flyers came close to doing that a few years back.
Instead of targeting established players like Stamkos or Vanek -- the Oilers settled for Vanek-lite, er, well, not so light, but a lesser player in
Dustin Penner
, whom they signed away from the
Anaheim Ducks
-- Button suggests that targeting the emerging player is the best use of the offer sheet.
"I think teams approach it in the wrong way," Button said.
The Flyers did that in September 2006 in identifying former first-round draft pick
Ryan Kesler
of the
Vancouver Canucks
. They put in a one-year offer sheet for $1.9 million on Kesler, but the Canucks matched.
Button wonders what would have happened if the Flyers had sweetened the pot on their offer so that instead of a second-round draft pick, the Canucks would have received a first-round pick and a third-round pick.
Kesler was still just a prospect at that point, not the Frank J. Selke winner he is now. The Canucks weren't happy at having to shell out the $1.9 million. Would they have balked at paying more for Kesler at that point in his career and figured they were just as far ahead in taking another first-round pick?
Imagine the ramifications for both franchises if the Flyers had been just a little more aggressive and been successful in acquiring a player who is now one of the top forwards in the game?
While there's been much discussion this offseason about the potential for offer sheets for stars like Stamkos, Doughty or
Zach Parise
and
Shea Weber
-- before the Devils and Predators opted for salary arbitration as a way of circumventing this possibility -- Button wonders about other players who may have a lower profile but could prove to be difference-makers.
What about
T.J. Oshie
, who signed a one-year, $2.35 million deal with the Blues recently?
The Blues have ownership issues. If a team had gone beyond $3.13 million on an offer sheet with significantly longer terms, would the Blues have matched, or taken a first-round pick and third-round pick as compensation?
Button was likewise curious about
Karl Alzner
, who signed a cap-friendly two-year deal with a $1.285 million cap hit.
Alzner logs a ton of ice time, plays against opposing teams' top players, and has Rod Langway potential. If you're an opposing GM, would you give up a series of picks (including a first-round pick) to have a Langway-type player for the next five or six years?
Perhaps the Caps would have matched, but maybe not.
"To me, that guy was Karl Alzner," Button said.
There are others.
What about Los Angeles forward
Trevor Lewis
, who signed a two-year deal with a $725,000 cap hit?
He's 24 years old, so why not take a chance on him with an offer sheet that pays him perhaps twice as much, a figure that might have been too much for the Kings to contemplate matching but would have cost the signing team just a second-round pick?
"I call it the fast-forward effect," Button said. "It's not like you're putting it [the money and picks] on a 37-year-old guy."
If a team was bold enough to identify an emerging young player every year, "you'd jump the queue by five years," Button predicted.
Still, under the current cap system that forces teams to spend at least $48.3 million this season, Carolina GM Jim Rutherford doesn't expect there to be a proliferation of offer sheets.
The same issues still exist, Rutherford told ESPN.com, and that is the likelihood that teams will almost always match an offer sheet.
If there wasn't a salary-cap floor or if the floor didn't force teams to spend as much as is the case now, perhaps there would be more offer sheets, Rutherford said.
But given the current situation, with players hitting unrestricted free agency in their mid-20s and the need to keep young assets in the fold, Rutherford said he doesn't expect to see much change when it comes to offer sheets.
November, 20, 2010
11/20/10
9:08
PM ET
Is there a more compelling contract negotiation this season than Steven Stamkos and the Tampa Bay Lightning?
How much will it cost to sign a player that will challenge for the Hart, Art Ross and Rocket Richard trophies?
Gulp.
Contract talks officially began Nov. 9, and I suspect it's going to be a long process. Lightning GM Steve Yzerman and veteran agent Don Meehan of Newport Sports are slated to chat again over the next week.
"We had an initial meeting with Newport Sports, just an introductory meeting," Yzerman told ESPN.com Friday. "But the one thing is, we're not going to regularly give updates on the process and where we are. We just felt it's the best thing for Steven so he doesn't have to read about it or comment about it every time. It'll take as long as it takes, but we're both committed to trying to get a deal that makes sense for everybody involved."
Wisely, neither side wants this thing played out in the media. The last thing anyone wants is to see Stamkos distracted by it.
So where does it go from here? How much is enough to get a deal done?
My guess is that in a perfect world, Tampa would love to do a Jonathan Toews/Patrick Kane type of deal ($6.3 million cap hit), although Newport Sports, and who can blame them, might be thinking more along the lines of a Sidney Crosby ($8.7 million cap hit) or Alex Ovechkin ($9.5 million cap hit) deal.
Listen, Yzerman knows he has to pony up. But I think part of his sales pitch will be similar to what you've seen in Philadelphia, where the Flyers signed their core players to reasonable deals. The sales pitch is about icing a competitive team. Whatever Stamkos signs for, he basically determines the rest of the team around him. That's the thing about a cap system.
Regardless of what happens, it's going to be fascinating. You've got a big-time agent, a brilliant young GM and a rising superstar needing a new deal.
Doughty talks not begun
Well, you can't mention Stamkos and not the player taken right after him in the 2008 NHL entry draft,
Drew Doughty
, right? I wrote a few weeks ago that the Kings were drawing up different contract proposals for Doughty's camp. Talks, as far as I can tell, still haven't begun, but one thing I was told Friday is that the Kings at this point are leaning toward a short-term deal instead of the multiyear deals you usually see for these young stars; the reason being that the Kings are weary of the uncertainty of the next CBA. I don't think you can rule out a long-term deal, because, after all, it all depends on the money, but short term is where the Kings are leaning right now.
Iginla rumors not substantiated
Nice to see
Calgary Flames
captain
Jarome Iginla
with a hat trick Friday night, it's been a tough year for him. Trade rumors this past week involving the Kings spread like wildfire in cyberspace. Judging from what I was told by people in the know, the Flames and Kings never spoke, so it appears those rumors were just that.
One thing to keep in mind with all these trade rumors is that the Flames, as of Friday, have not once approached Iginla's agent and they would need to since Iginla has a no-trade clause.
Also, a Flames source told my Hot Stove colleague Eric Francis of the Calgary Sun that Iginla was told by the team he would not be traded.
Of course, stranger things have happened and, as I first reported last month, Iginla remains very much part of the Kings' wish list approaching the Feb. 28 trade deadline.
Should Iggy not be an option because the Flames insist on not moving him, then you wonder what else is out there for L.A., which has the most cap room of the Cup contenders. I think Patrik Elias or Jamie Langenbrunner could be options from New Jersey, as well as Marco Sturm of the Bruins.
The Kings have the cap room, and they want to add a significant forward if they can.
Savard's return raises salary cap questions
Great news that
Marc Savard
is on the mend from a concussion that threatened his career.
"He's cleared for controlled contact," Bruins GM Peter Chiarelli told ESPN.com Saturday. "He has a couple of more tests this week. Obviously he has to get back up to playing speed but he's past that first conditioning test which we had for him and that was a big hurdle. He's coming hard."
It's still unclear when exactly he'll return, but once he does, Chiarelli has work to do to get the Bruins under the salary cap.
"Yes, we're going to have to make a transaction or maybe two to be cap-compliant," he said. "I'm not naming any names, there's speculation on a lot of guys, but I've been pretty open about having to do it. Guys recognize that it's a business. I hope to do it in the least obtrusive way, but we'll see what happens."
He won't name names, but I will: Andrew Ference, Marco Sturm (back in December), Blake Wheeler and Michael Ryder. I think those are all possibilities. Ryder was always considered the most obvious target entering the season, but the one thing I'll tell you is that the veteran winger has played so well I think he's made the Bruins think harder about it. I'm not saying Ryder won't be moved, I'm just saying it's not the no-brainer it once was.
Goalies Tim Thomas and Tuukka Rask? They're not going anywhere. The Bruins love their goalie depth and don't want to mess with it.
Sticking with Savard, interesting to see his comments Saturday regarding Colin Campbell. Savard also spoke with Campbell's son, Gregory Campbell, on Friday and relayed to him that there were no hard feelings whatsoever. Tells you a lot about Savard's character that his priority is the Bruins and he doesn't want any distractions as he makes his way back.
Markov being evaluated Tuesday
Star Habs blueliner
Andrei Markov
will see Dr. Tony Miniaci of the Cleveland Clinic on Tuesday.
"They waited for the swelling to subside, they're going to get a more definite assessment of him," Markov's agent ,Don Meehan, told ESPN.com Friday. "Once they do that, the doctors will convene and determine what course of action he will take."
They've been waiting for the swelling to go down in his injured right knee to take a proper look at it. It's a huge meeting because it'll determine whether Markov needs surgery or can simply rehab. Obviously surgery would mean a much longer absence.
Canes hope White stays
An absolutely great trade in my mind this past week by the
Carolina Hurricanes
in getting defenseman
Ian White
from Calgary. They got the best player in the deal. Now the team hopes to have him longer than this season. He's an UFA July 1.
"I'd like to sign him but it's our team policy that we don't do that during the season," Hurricanes GM Jim Rutherford told ESPN.com Saturday. "We'll deal with his contract when the season is over, just like the other free agents on the team. But I've been a huge fan of Ian White his whole career. He comes to play hard every night. We were really looking for a guy to play top-four minutes and we found him."
Rutherford actually reached out to the Flames in September, that's how long they've been eying White. Once the Flames signed top blueliner Mark Giordano to an extension in October, which along with other long-term deals on their blue line spelled the eventual exit for White, Rutherford phoned back to stress his interest in White. That's when talks really got cooking.
October, 30, 2010
10/30/10
9:06
PM ET
Two of the highest profile restricted free agents this summer would certainly be Steven Stamkos and Drew Doughty, both of whom will see their entry-level contracts expire.
How time flies. Wasn't it just yesterday in June 2008 that they went 1-2 in the NHL entry draft?
In any case, their respective NHL teams will work to make sure they never get to restricted free agency.
The Tampa Bay Lightning, a source told ESPN.com Saturday, will approach Stamkos' representation "within the next couple of weeks" to kick-start contract talks with the NHL's leading scorer.
The Los Angeles Kings, meanwhile, have been drafting and analyzing different contract extension models, which they'll present to Dougthy and a number of their other free agents in the not-too-distant future, another source said Friday.
Interestingly, both young superstars are represented by the same player agency firm, Don Meehan's Newport Sports.
In both cases, I think the hope was that the process would have begun over the summer, but I believe the Ilya Kovalchuk saga postponed things as teams around the league kept a close eye on how that all turned out and the implications of the CBA amendment regarding long-term contracts.
Kings have eyes for Iginla?
Sticking with the Kings, it's well understood around NHL circles that since Los Angeles didn't spend the money it had budgeted for Kovalchuk last summer, there is indeed room in the budget and under the salary cap for an important acquisition before the Feb. 28 trade deadline. I believe
Jarome Iginla
is among the list of players the Kings have in mind.
[+] Enlarge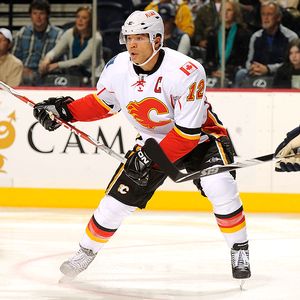 John Russell/NHLI via Getty ImagesJarome Iginla is signed with the Flames for two more seasons at $7 million per year and has a no-movement clause.
That would go along with the character-type guys the Kings have added over the last two years, players like
Ryan Smyth
and
Willie Mitchell
. At this point, I don't see any indication at all that the Flames would even entertain the thought of moving him. But I bring all this up given the stories out of Calgary this week regarding a possible rift between the Flames captain and the head coach (which was denied by both in the papers).
Iginla is signed for two more seasons at $7 million per year and also has a no-movement clause, so he controls his fate.
Of course, Smyth also had a no-movement clause in his contract, but the Kings persisted for almost a year before getting him out of Colorado in the summer of 2009. Food for thought ...
Leafs refuse to rush Kadri
As the Maple Leafs continue to work the phones in the search of scoring help, some Toronto fans and media wonder why the team doesn't just call up highly touted prospect
Nazem Kadri
from the AHL.
On Saturday, the team instead called up forward Christian Hanson.
I asked Leafs GM Brian Burke on Saturday about the feeling from some fans and media that they should call up Kadri.
"No, we will not rush Kadri," Burke said. "He's still very much on a learning curve. Look up how many games [Ryan] Getzlaf and [Corey] Perry played in the AHL [when Burke was GM in Anaheim]. Bobby Ryan spent parts of two seasons in the AHL. So I don't rush guys. I want to get Kadri ready to play 10 years in the NHL, not 10 games."
Crosby holds players-only meeting
The Penguins, 5-5-1 before Saturday night's game in Carolina, held a players-only meeting Friday night after lossing to Philly. I spoke to a Pittsburgh player about it Saturday, and he said the message was that everyone needed to get on the same page, that the team has very high standards and the effort through Friday night was not nearly good enough. In my books, that's big-time leadership from captain
Sidney Crosby
. Most teams wouldn't bat an eye at a .500 start, but Crosby wants to nip something in the bud before it snowballs.
Coach's challenge debate
You saw Scott Burnside and I debate it in our
Friday Faceoff video
, but the idea of a "coach's challenge," like in the NFL, is garnering attention in hockey circles. It's come to light after last Tuesday night's controversial winning goal by
Colton Orr
in which in the Maple Leafs tough guy bowled over Panthers goalie
Scott Clemmensen
before the puck was shot in. Panthers GM Dale Tallon then spent the week wondering whether a coach's challenge video review would work well in the NHL to eliminate botched calls like Orr's goal.
A majority of NHL coaches polled by TSN's Darren Dreger this past week supported the idea but with limitations.
Tallon told ESPN.com via text message Saturday that he's "probably" going to table the idea for the Nov. 9 GMs meeting in Toronto.
The problem with the idea is where exactly does it end? Could a coach challenge an off-side call or an icing call? A line would have to be drawn.
Last March at their meetings, interestingly, GMs examined the idea of video replay for four-minute high-sticking calls but ultimately decided it wasn't worth pursuing. Two years ago, one NHL GM tabled the idea of extending the current jurisdiction of video replay so that it included goalie interference when it didn't generate enough support in the group.
But, this leads to a possible alternative to instituting an NFL-style coach's challenge. Why not just expand the powers of video replay with the war room in Toronto? If that were the case, the war room could have called down last Tuesday night to advise that Orr's goal should not have counted.
And here's a third alternative: one NHL referee, who requested anonymity, told ESPN.com via email Saturday that he'd like to see on-ice officials have the ability to watch video in-game (just like NFL referees). So in the case of a controversial play like Orr's goal, at least he could watch the video himself before dropping the puck at center ice.
Finally, here's another thought: There are 1,230 games in an NHL regular season. How many plays like Orr's goal are we really going to see? Is there the risk of overreacting to an one-off occurrence?
Guerin contemplates front-office future
As veteran winger
Bill Guerin
continues to contemplate his playing future, he spent the weekend alongside
Tom Fitzgerald
, assistant to the GM in Pittsburgh. Guerin was getting a look at whether there's a future for him in either coaching or scouting or player development and perhaps even with the Penguins.
Shanahan looks to change All-Star Game
League executive
Brendan Shanahan
has spent months polling people all over the industry in the hope of finding some good ideas to improve the All-Star Game. He's talked to players, broadcasters, fans -- you name it.
He's come up with something, although he wouldn't tell me Friday. I don't expect any radical changes but rather some interesting nuances to improve what's there.
His focus has been on trying to find what makes players so competitive, for example, when they play a shinny game at the end of practice or even a ping-pong game between teammates. The players often get hugely competitive even in those settings. So how do you carry those natural competitive traits over to the NHL All-Star Game?
"For some reason, that's missing in the All-Star Game until there's three minutes to go," Shanahan said. "How do we capture those competitive juices?"
Rob Blake, who has yet to be formally announced as an NHL hire by the league office, has helped Shanahan with the project.
Kings honor Norstrom
In a classy move, the Kings honored former standout defenseman
Mattias Norstrom
in a pregame ceremony Saturday night. Norstrom played 780 games as a King, the second-most ever for a blueliner in Los Angeles behind only Blake. Norstrom was also captain of the team for seven seasons, and, in my view, one of the league's vastly underrated players during his heyday.
September, 20, 2010
9/20/10
9:27
PM ET
EL SEGUNDO, Calif. -- When you see them on the ice together as a pairing, you wonder if you aren't watching the makings of one of the NHL's great defensive tandems for the 2010-11 season.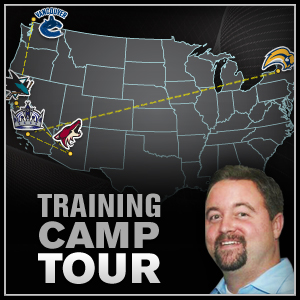 Free-agent newcomer Willie Mitchell was again skating alongside blueliner phenom Drew Doughty at Kings training camp Monday, a fit that makes so much sense.
"Mitchell and Doughty -- I really like the look," Kings coach Terry Murray said Monday between on-ice sessions at the team's practice facility. "A great veteran player in Mitchell, a defensive guy who's really a solid character person, is going to help push Doughty along."
Mitchell, the towering, shutdown D-man, plus Doughty, the offensive wizard and puck mover and ... voila! You have the Kings' top pairing.
"A perfect fit for a guy like Doughty," Kings GM Dean Lombardi told ESPN.com on Monday.
Lombardi's eyes rarely shifted away from the ice surface while he discussed his team with ESPN.com. His excitement for the Mitchell signing is unmistakable; so much so that, while he would never say it out loud, I'm convinced Lombardi would be more excited about signing Mitchell even if Ilya Kovalchuk had become a King this summer. Seriously.
But Mitchell's addition doesn't come without risk. The 33-year-old hasn't played a game since mid-January after Evgeni Malkin pushed him headfirst into the boards. The ensuing concussion problems ended the rearguard's season with the Canucks and even delayed his free-agent pursuit as his recovery went into the summer.
"There's always a risk, we certainly did our due diligence, but we felt what he could bring to the team outweighed the risk," said Lombardi, who greatly values the elements Mitchell brings, on and off the ice.
So far so good at camp for Mitchell.
"I feel real good, really good," Mitchell told ESPN.com. "It's been a long time. It's exciting. It's fun to get out there and do something you're so passionate about and you love so much. And second of all, you get motivated being around new people, some good young players. Just the change of scenery really motivates people."
His old team in Vancouver showed interest in retaining him; but after the Canucks added Keith Ballard and Dan Hamhuis earlier in the offseason, there really wasn't much room left in Vancouver. Mitchell confirmed Monday that Los Angeles, San Jose, Washington and Vancouver were the four teams seriously in the bidding for his services.
"It was a really tough decision. I really respected the fact Washington and San Jose brought me in. They didn't have to do that," said Mitchell. "They showed me around their cities. It was like a college recruiting trip."
In the end, he chose the Kings, who signed him to a two-year, $7 million deal on Aug. 25. I also suspect neither San Jose nor Washington was willing to go past one season on any deal.
"This is a good fit here," said Mitchell. "This is a good young team that's growing."
What impressed Lombardi this summer was how Mitchell handled free agency. When July 1 came and the money was being doled out on the first day of the open market, Mitchell and his agent quietly informed suitors they weren't willing to talk yet. Mitchell wanted to make sure he was 100 percent recovered before beginning to negotiate with teams.
"I don't know how many guys would do that because it could have been easy for a guy to say, 'There's a good chance I'll be healthy' and there's no question he would have had some bidding on him," said Lombardi. "But the way he did it, 'I've got to get healthy,' that's impressive."
Mitchell likely cost himself at least $1.5 million a year by skipping early July's free-agent bonanza, but he said he doesn't care.
"I wanted to go about it the right way," said Mitchell. "I didn't think it would be fair to me or fair to a team to go in there and sign with a team and maybe have a relapse. Then I'm not ready and a GM ties up money in a player and they're screwed. I thought that would be the best way to go about things and so far it's been correct. Everything has gone according to plan. I just can't wait for a game."
A game.
It's been nine months since Mitchell played in a game. It's been a long recovery.
"It's tough to describe what it's like to go through that," said Mitchell. "It is a journey. You learn a lot about yourself."
There is no timetable for players who recover from serious head injuries. Mitchell is friends with Minnesota Twins first baseman Justin Morneau, who is currently still out with post-concussion issues.
"He's having a long journey with it," said Mitchell. "We talk all the time."
For Mitchell, the long road back will be complete Oct. 9, when the Kings open a regular season bursting with high expectations. In a twist of irony, the Kings open at Vancouver, Mitchell's old haunts.
"It's going to be great," said Mitchell. "By no means was it a bad departure from Vancouver. I had a great time there. I have a lot of great friends there in the city and on the team. And they've got a good hockey club, a great hockey club. ... But I won't lie, I want to win that game."
So much of the Kings' offseason has been about the one that got away in Kovalchuk. But if Mitchell stays healthy this season, revisionist history will suggest it was the summer Los Angeles found Doughty's perfect fit.
January, 27, 2010
1/27/10
11:51
AM ET
TORONTO -- The puck was on his stick for a fleeting moment, his one-timer a thing of beauty. His 10th goal of the season Tuesday night was nothing but a blur to Toronto Maple Leafs goalie Jonas Gustavsson.
Drew Doughty makes it look so effortless, it's mind-boggling to think he just turned 20 last month.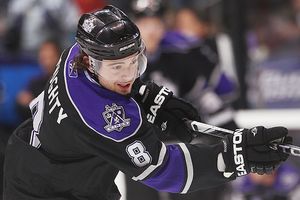 Bruce Bennett/Getty ImagesThe Kings drafted Drew Doughty with the second overall pick in the 2008 NHL draft.
"What he's got, you can't teach," Los Angeles Kings GM Dean Lombardi told ESPN.com.
What he's got is 40 points (10-30) in 52 games, good for fifth among NHL defensemen in scoring, and a plus-15 rating to boot.
"His poise level and the subtleties, I mean, you ask me what it feels like to have him on our team, No. 1, it's comforting, and No. 2, we feel pretty lucky to watch him every night," said Lombardi. "These guys don't grow on trees."
The Kings' GM was just getting started. He had many things to say about the wonder boy blueliner he chose second overall in the 2008 NHL draft. Hockey fans that live in the Eastern time zone likely don't fully know what all the fuss is about, since the Kings play most of their games so late at night (I get paid to watch hockey, so it's been a delight to stay up and watch Mr. Doughty play the past season and half).
When executive director Steve Yzerman made Doughty his final pick on defense for the Canadian Olympic team Dec. 30, the secret was out of the bag. Doughty beat out studs such as Mike Green and Jay Bouwmeester, and Kings coach Terry Murray said no one should blink at that.
"The impact that he's had for our hockey club right from the first day of training camp to right now is tremendous," Murray said. "He's going to be on the Olympic team and he's not going to disappoint anybody. He has tremendous composure. He has a great ability to recognize the situation when something big has to happen; he can make it happen. I'm very excited for him."
The Olympics? That was the last thing on Doughty's mind in September 2008, when he was trying to make the jump from the Ontario Hockey League to the NHL. He laughed when I asked him what he would have said if someone told him then that he'd be playing in the 2010 Olympics.
"I probably would have said, 'There's no chance,'" Doughty said Tuesday. "Going into my first camp, I didn't even know if I would make the Kings. Being a big part of that team last year was a surprise to me, as well. Now being named to the Olympic team, I still can't really believe that it happened. I'm just so excited about it."
And he belongs. Everything about him suggests he won't buckle under the pressure in Vancouver.
"I've gotten to know Drew real well the last year and half and I see what he can do," said 38-year-old Kings blueliner Sean O'Donnell. "People have asked me whether he can play against the best players in the world in the Olympics, and I say, 'Well, he plays the best players every night, that's who he's matched up against.' Going against [Evgeni] Malkin and [Alex] Ovechkin and [Henrik] Zetterberg and [Pavel] Datsyuk, he's been doing that already."
Doughty is already doing it at a higher level than when he broke in 17 months ago. The learning curve is weekly for this player.
"I've become a better all-around defenseman in my own zone," Doughty said, not cocky but matter-of-factly. "I'm starting to shut down the other team's best players and doing well at that. I'm jumping into the offense, my point production has improved this year. I think just overall in every area I've improved."
I apologize ahead of the time for the hyperbole, but an NHL scout recently told me Doughty was a "right-handed Scott Niedermayer in the making."
O'Donnell just happens to have played with both players, so I asked him.
"If I was playing one game in the last 10 years and I could only take one guy, it would be Scott Niedermayer," said O'Donnell. "So that's a lot on a kid that just turned 20. At the same time, he does have some of the same tendencies. He doesn't get rattled after making a mistake. He has that ability as well to shake that first forechecker, and next thing you know he's gliding up the ice.
"I don't remember exactly what Scotty was like at 20, but it's a nice comparison to have at this age," added O'Donnell. "Some of the same qualities are there and obviously it would be a great thing if he ends up having a career like him."
Most young players would shrivel after hearing such lofty comparisons to stars they grew up watching. But Murray said that's not the case with Doughty.
"He's not overwhelmed by hearing those comparables," said the Kings' coach.
Lombardi said it's because Doughty is a grounded individual, courtesy of terrific parents and a great family environment growing up in London, Ontario, two hours west of Toronto. That calm demeanor was on full display the first day of training camp in September 2008.
"I can't get over the first training camp last year when he gets on the ice and it's like, 'Well OK, I'm here, let's get this thing going and start playing the games,'" said Murray. "He was so relaxed and composed and fit in well with the veteran players."
A common observation with this young and talented Kings team is all they're missing is a superstar-type presence to further excite the Los Angeles market. Well, they've already got one right under their nose, even if they don't fully realize it yet.
"I remember talking to him at the draft. 'You want to be a King, well, they haven't won in 40 years. We'll take you with this pick, but some day, you'll be responsible for winning,'" recalled Lombardi. "The great ones all take that challenge in all sports. The great players are truly, truly judged by wins and losses. There truly aren't that many great athletes that play the game with only that in mind, and I think he's that type of kid. You see it during times in a game when he recognizes that he has to take matters in his own hands."
On Tuesday in Toronto, Doughty's 10th goal triggered a $212,500 performance bonus in his entry-level contract. He smiled when I asked him about it after the game. Oh yeah, he knew, but he didn't want to make a big deal of it.
What do they say? Act like you've been there before? Doughty has figured that one out.