Cross Checks:

Dustin Byfuglien
January, 10, 2014
Jan 10
4:47
PM ET
Well, well, Big Buff back up front, eh?
Bring out the 2010 Stanley Cup Chicago flashbacks.
Roberto Luongo
may not sleep now for a while, but
Dustin Byfuglien
is back at forward after playing on defense the past three and a half years.
At least for now, anyway.
Winnipeg Jets
coach Claude Noel is dealing with injuries and a slumping squad, so this is his way to switch things up. Byfuglien will be on the top line with
Andrew Ladd
and
Bryan Little
for Saturday's game against the
Columbus Blue Jackets
.
[+] Enlarge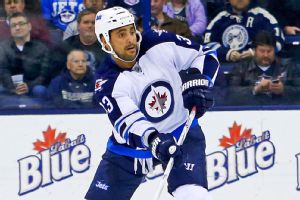 Kirk Irwin/Getty ImagesDustin Byfuglien has a minus-16 rating while averaging 26:03 of ice time on the Jets' blue line.
"We've got some guys banged up, so does everybody, but we've also got guys who haven't got on the scoreboard for quite some time," Noel told ESPN.com on Friday. "My group is kind of stuck to a certain degree. I'm just trying to unclog this thing.
"The other thing is he's an impact player who's hard to handle in a lot of areas; he can help us there. It's a change that might be a breath of fresh air. Will it last long? I don't know. We'll take it game by game for now and see where it goes."
Byfuglien will remain on the point on the power play, so the switch is for even strength purposes. Noel tried this very briefly midgame last season.
"We went down this road last year just for a little bit, the end of a period in one game and the end of a period in another game as well. ... It really hasn't been revisited until now," Noel said. "I had a conversation with him a couple of days ago just about some things and his play, this and that, and this came up."
Byfuglien hasn't been a full-time forward since he was so effective at it in the spring of 2010, helping the Blackhawks win the Cup. He switched to defense once traded to Atlanta that summer, in part because he made it clear that's where he felt more natural and where he prefers playing.
Oh, but was he ever good up front in the spring of 2010.
"He was hard to handle that whole playoff. He scored 11 goals [in 22 playoff games], and he was a factor in helping them win," Noel said. "But he hasn't done it much since then. So we'll see where this goes."
Quite frankly, with the Jets on a four-game losing streak in the midst of a season that has them last in the Central Division, why not try something like this? What is there to lose?
It's not like Byfuglien was having a stellar defensive season on the blue line, as underlined by his minus-16 rating, worst on the Jets.
Heck, if anything, it might take the attention away from the constant frustration and anger seeping into a group that has been losing too many games. It can be a deflective measure.
"That's not why I'm doing it. It's just about trying to win games," Noel said. "But if it happens to bring us a breath of fresh air, fine. But it's really about trying to change things."
This means breaking up the top line.
Blake Wheeler
moved to a line with
Devin Setoguchi
and
Olli Jokinen
at practice Friday after playing most of the past few years with Ladd and Little.
"Once in a while you need to break them up," Noel said of the Ladd-Little-Wheeler line. "I'm not thinking they won't be back together because they've had really good chemistry.
"But for now, we're just trying to get some things going with our whole group."
Gagner on market?
Front-office sources from other teams around the league confirm that center
Sam Gagner
is available in Edmonton.
He's a better player, to be sure, than what he's shown this season, after a broken jaw in preseason set him back. But he has a contract that makes you blink a little: two more years after this season with a $4.8 million cap hit. His salary actually jumps to $5 million next season and in the final year.
Perhaps more troublesome is the early asking price that the Oilers are apparently looking for.
"They want a top-four D or a power forward. Not sure they can get that for Gagner," said one front-office source. "If they want that, maybe they need to put one of the other kids on the block."
I certainly don't blame Oilers GM Craig MacTavish for possibly trying to move Gagner or another forward from his top-nine group. That's where his strength is, and he's got holes everywhere else. More importantly, it's been a nightmare season, and he can't just sit on his hands and wait out the season without trying to shake things up.
All the power to him if he can net what he wants for Gagner.
Tim Murray in Buffalo
It's going to be interesting how new Sabres GM Tim Murray proceeds on the coaching front in Buffalo.
No doubt his new boss
Pat LaFontaine
would have hinted strongly to Murray that he's very fond of interim head coach Ted Nolan.
And certainly I think Murray will give the Nolan experiment a fair shake.
But it's hard not to think that in the back of his mind he doesn't have thoughts of
Luke Richardson
joining him from AHL Binghamton, where the two have had a strong relationship the past few years.
January, 23, 2013
1/23/13
11:37
AM ET
Two road games don't make a season but for the
Winnipeg Jets
, this week's performance in Boston and Washington carries extra meaning.
We're talking about a team that last season was so hard to beat at home in front of their boisterous fans, going 23-13-5. But talk about night and day, once they left the MTS Centre, they were just 14-22-5 on the road -- 27th in the NHL -- a major reason they failed to make the playoffs.
According the research done by
Dirk Hoag on his blog
Jan. 13, the Jets as expected will travel the most in the Eastern Conference this season at 27,431 miles, which is also eighth overall in the NHL. So it's pretty obvious how important a decent road record will be.
It was talked about in exit meetings and in preseason chats. The Jets needed to elevate their play on the road in order to have any chance at making the postseason.
A hard-fought, 2-1 shootout loss in Boston on Monday and an impressive 4-2 win in Washington on Tuesday night is just what the Jets needed to it going this season.
"There's been so much emphasis on it," Jets head coach Claude Noel told ESPN.com Wednesday. "What really pleases me is that our players obviously gave it some thought over the summer. We talked about it at the end of the year, we talked about it before, and I can see with the way they're playing they're way more conscientious of how we play. A lot of players told me after we came back [after the lockout] when I asked them for their thoughts on our road play, some of them thought it was between the ears. Which was good because to me that's a focus factor, a managing details factor, and getting prepared. So it's something that's attainable."
It was a shootout loss but the single point earned in Boston on Monday set the tone.
"The Boston game, we knew it would be a heavy game with a hard opponent," said Noel. "We look at their lineup, it's quite imposing. I thought the players took a big step there and made a statement to each other about how they were going to play there. If we were going to make changes [on how they play on the road], it had to start right there. And I thought the Boston game was real good game from an effort and checking level. That team checks you into the ground. If you're not prepared, they can hurt you. So I was really happy."
Back-to-back games, 3 games in four nights, no problem. Washington's home opener? No problem, either. A 4-2 win Tuesday in a game that the Jets handled from start to finish.
"So these are all good signs, we just have to keep it going," Noel said.
Blue-liner
Tobias Enstrom
is off to a flying start with four assists in three games while averaging 26:36 minutes a game. He's been effective at both ends of the ice.
"Enstrom's been real good," said Noel. "We had a good conversation with him at the end of the year. He's a guy that has to be comfortable with where he is. There was a lot of new stuff last year. I think his game was OK last year, but I thought he had more to give. He's a passionate, quiet player. He has a real drive to win. We're starting to see more of that 'A' game that we saw last year but didn't see enough."
Dustin Byfuglien
completes Winnipeg's top defense pairing with Enstrom and he's also been terrific so far, leading the team with 27:09 minutes per game adding three points (1-2) in three games.
"He's been consistent. Buff has that gunslinger game, and he's keeping it under wraps," said Noel. "And he has to. If it gets outside the lines, you don't know where you're going. It can be both great and bad. He's been more in control. And those two guys have taken a heavy load."
The Jets are missing top-four blue-liner
Zach Bogosian
, who is recovering from wrist surgery. Noel said mid-February was the earliest Bogosian would be back. That puts more pressure on the Enstrom-Byfuglien pairing to log big minutes at the top;
Mark Stuart
has pushed up from his normal No. 5 role and is playing with
Ron Hainsey
on the second pairing, leaving
Grant Clitsome
and rookie
Paul Postma
as the third pair. Bogosian's absence is significant and will really put stress on this group over the next month. This wasn't a group that was overly deep on defense to begin with.
Which, as always, puts pressure on the last line of defense.
Ondrej Pavelec
is sporting a .929 save percentage in three starts and was huge in Boston and Washington.
"The play of Pavelec, he's been getting better every game," said Noel. "He was good in Boston and was superb last night in Washington. He was in really good position last night. [Goalie coach]
Wade Flaherty
has done a real good job with him."
September, 28, 2012
9/28/12
11:13
AM ET
By
Sarah Goldstein
| ESPN.com
July, 23, 2012
7/23/12
9:54
AM ET
February, 4, 2011
2/04/11
3:33
PM ET

Stock up
Max Pacioretty, Montreal Canadiens: My colleague Pierre LeBrun talked with Habs captain Brian Gionta this week about the team's bounce-back efforts after a soft January. One of the players making a big impact is call-up Max Pacioretty, who has three goals and three assists in his past six games. The 22nd overall pick in 2007 will make life a little difficult for management when Mike Cammalleri returns from injury, but Pacioretty has impressed. He has been playing mostly with Gionta and Tomas Plekanec on the Habs' top line, as Montreal continues to battle Boston for the top spot in the Northeast Division.
Pierre-Marc Bouchard, Minnesota Wild: We have done a lot of talking about headshots and concussions and will continue to do so for the rest of the season and beyond. But it's always nice to write about a player coming back after such a trauma. One of the reasons the Minnesota Wild woke up in seventh place in the Western Conference on Friday is because of Pierre-Marc Bouchard. He has returned to form after missing 104 straight games recovering from concussion issues and has eight points in his past seven games, including a two-point effort in a big win against Colorado on Thursday. The Wild, meanwhile, have won six of seven.

Stock down
Dustin Byfuglien, Atlanta Thrashers: If you're wondering why all of the Norris Trophy talk has died down for former Chicago power forward Dustin Byfuglien, it may have something to do with the fact the big man has failed to deliver one single point in his past 12 outings. After looking like some crazy hybrid of Larry Robinson and Bobby Orr for the first half of the season, Byfuglien has had zero impact, at least in a positive way, in recent games. Yes, he misses defense partner Tobias Enstrom (broken finger), but the Thrashers need Byfuglien to return to form or they can kiss the playoffs goodbye (again).
Kari Lehtonen, Dallas Stars: Speaking of the Thrashers, former Atlanta franchise netminder Kari Lehtonen has been a rock for the surprising Stars this season, but the rock is showing some signs of cracking of late. Lehtonen has lost three of his past four starts and allowed 14 goals in those three losses, including a 6-3 loss against Boston on Thursday night in which Lehtonen came on in relief of Andrew Raycroft and gave up three goals. The Stars still lead the Pacific Division, but the issue with Lehtonen has always been one of durability and consistency. Can he continue to be the rock the Stars need him to be? Looks like we're starting to find out.
November, 26, 2010
11/26/10
11:27
AM ET
Steven Stamkos is the story of the opening quarter pole. The goal-a-game wunderkind has become an inspiring model of what hard work and dedication, combined with oodles of talent, can yield on the ice. But surprising? Not that much after last season's shared Rocket Richard honors with Sidney Crosby.
Here's a list of the 10 players that have so far surprised the hockey world (and feel free to come up with others!):

The newly named Thrashers captain is easily on pace to eclipse his career high of 49 points with Chicago two seasons ago, putting up 23 points (8-15) in 22 games as of Friday morning. Atlanta knew it was getting solid two-way game, leadership, character and toughness in Ladd, but did it count on him leading the team in scoring?

The Jackets have had a lot of surprising performances but I keyed on this lad, who is playing top-four minutes while posting the second-best plus-minus on the team. Jackets GM Scott Howson also singled him out a few weeks ago to ESPN.com as a player who has delivered more than expected.

It's safe to say no one had the 30-year-old leading all NHL blueliners in scoring at the quarter pole; combined with a plus-11 rating, he's been dynamite. Not bad for a guy seemingly always involved in trade rumors every season.

OK, of all the choices at hand before the season, would any Kings fan have predicted Williams would be leading the team in scoring at Thanksgiving? Three straight injury-riddled seasons made you wonder if the former 76-point scorer could ever get it together again, but this season he's been the Williams of old. Here's hoping he stays healthy.

We're happy he's playing again after that scary early-season collapse, and he's been out of this world since his return. As of Friday morning, the goalie's .942 save percentage and 1.84 GAA are both third in the league (he never had a GAA under 3.00 before in his NHL career).

The 25-year-old had 12 goals combined in three previous NHL seasons. He had 10 as of Friday morning. What the heck is going on? For starters, he worked on his skating with former world pairs figure skating champion Barb Underhill in the offseason, as recounted in a nice "Hockey Night in Canada" feature by my pal Elliotte Friedman in October.



That a former Vezina Trophy winner is having a great season is hardly a surprise on its own. But let's be honest -- when Tuukka Rask earned the No. 1 job last season, few people thought he'd ever relinquish it, especially with Thomas on the north side of 35. But surprise, surprise, indeed. Thomas told ESPN.com earlier this season that offseason hip surgery, along with a mental recharge, helped him get reenergized for this season. At 11-1-1 with a league-leading .955 save percentage, what else can you say?

Look back to most season previews in September and click on Montreal. Not too many people figured Price could fill Jaroslav Halak's skates after the Slovak's sensational (some would say miraculous) playoff performance last season. The pressure on Price this fall in one of hockey's biggest fishbowls was out of this world. And what does he do? Exceed anyone's expectations, except perhaps his own. Leading the NHL in wins at Thanksgiving? Raise your hand if you honestly predicted that would happen.

The naysayers were aplenty when the Thrashers announced before camp that Byfuglien would play defense this season. Why move this past spring's clutch power forward to defense? Made no sense, the critics said. Well, Byfuglien isn't going to turn into Rod Langway anytime soon in the defensive zone, but ranking second in the league among blueliners in scoring while playing quality minutes and not being a minus easily qualifies him as a nice surprise (unless, of course, you are GM Rick Dudley, coach Craig Ramsay or Byfuglien himself).

Flyers center Danny Briere remembers first seeing the Russian at a skate with Flyers teammates before camp.
"At first I had no clue who that goalie was. Then we started taking penalty shots at the end of the practice. We couldn't score on him," Briere said with a laugh. "I was like, 'Who's this junior kid?' Then we realized who he was and that he'd likely start the season in [AHL] Adirondack."
With Michael Leighton out due to injury, Bob the Goalie made his North American debut to open the NHL season. And with a 12-3-1 record at Thanksgiving, that is a surprise!
November, 1, 2010
11/01/10
4:12
PM ET

1. Briere's suspension
The NHL on Monday handed down a three-game suspension to Danny Briere after he gave New York Islanders forward Frans Nielsen a shot to the head with his stick in the waning minutes of the Flyers' 6-1 rout Saturday.
The two players were jawing at each other before the draw and Briere then swing his stick cross-check-like and grazed Nielsen's noggin. Despite the "five games minimum" howls from some in the hockey media, I must admit I could have gone either way on this one.
I didn't like the league's assessment that Jordin Tootoo's flying hit on Carlo Colaiacovo late in the Blues' victory over Nashville on Thursday night was justly penalized on the ice (major for charging) and warranted no supplemental discipline. Having seen the league's handling of that incident, I believed the same standard could have been used on Briere. Both Briere and Tootoo have histories of being suspended and both plays were reckless, but neither Colaiacovo nor Nielsen was seriously injured. Briere was issued a major for the stick infraction and thrown out of the game.
Bottom line for those who think the league plays favorites with its talented players: The Briere suspension reiterates that inconsistency in discipline doesn't take into account how many goals a player has (Briere leads the Flyers with six); inconsistency is just a fact of life with the league as it tries to figure out what the line is between "a bad thing" and "a really bad thing."

2. Blue-line Byfuglien
There was a lot of discussion about how the Atlanta Thrashers were planning to use former Chicago power forward Dustin Byfuglien after they acquired him from the defending Cup champion Chicago Blackhawks in the offseason.
GM Rick Dudley spoke with Byfuglien's stepfather, a former teammate and roommate of Dudley's from the World Hockey Association, and was told Byfuglien preferred playing on the back end. Despite his success as a forward, the Thrashers were intrigued by Byfuglien's size, shot and mobility, and hoped his presence on the blue line would complement an improving group of defensemen.
"He was moved to forward out of necessity," Dudley told ESPN.com on Monday. The fact he played well at forward "didn't mean that he couldn't play defense," the GM added.
So far, the experiment is paying dividends for the improving Thrashers. Byfuglien leads the NHL with three game winners, including a spectacular end-to-end rush against Buffalo on Friday night. He leads all defensemen in shots and is averaging 22:13 a night in ice time, playing mostly with former all-rookie team member Tobias Enstrom. The two have combined for 20 points in this young season.
"Buff is a difference-maker," Dudley said. "I'm not going to say he's perfect defensively, but he's getting better."
So are the Thrashers. They have collected points in four straight games (2-0-2) and are 5-4-2 overall.

3. Don't forget the Sabres
Much of the early-season attention has been focused on the New Jersey Devils' woes, and with good reason. Heading into Monday's tilt against Vancouver, they are a league-worst 3-8-1. Yet, hiding in the shadows of the Devils' miserable start are the Buffalo Sabres, who aren't much better off with the first month of the NHL season in the books. The Sabres (3-7-2) are riding a three-game winless streak and have been outscored 14-6 over that stretch.
Even with defending Vezina Trophy winner Ryan Miller in goal, the Sabres are 23rd in goals allowed per game and are 27th on the penalty kill. On the other side of the puck, the Sabres aren't faring much better (22nd in goals per game and 20th on the power play).
Over the past couple of years, much of the discussion about the Sabres' woes has centered on personnel, especially after they were bounced in the first round of the playoffs last season. And certainly the Sabres have seemingly suffered from an acute leadership void since the departure of players like Daniel Briere, Chris Drury, Brian Campbell and Jay McKee, among others.
The team has been ultraconservative in its approach to free agents, preferring to wait on the development of homegrown talent like Thomas Vanek, Derek Roy, Drew Stafford and defending rookie of the year Tyler Myers. Thus far, Myers has struggled in his sophomore campaign. He has been a healthy scratch and has committed a series of defensive gaffes, including being stripped of the puck and giving up a short-handed goal against Dallas on Saturday.
But beyond the personnel, the Sabres may also be victims of the league catching up to their style of play. Coming out of the lockout, Buffalo coach Lindy Ruff and his staff found a way to attack the offensive zone with speed that, combined with a talented roster, made the Sabres one of the most dynamic teams in the NHL.
"The game has changed. Teams don't play it the way they did a year ago," Ruff said during a recent chat with reporters. "I saw from two years ago where there was maybe three or four teams playing the same. Now, probably in the East, you've got 13 teams that are defending the rush the same way, which has changed."
Sadly for the Sabres, they haven't managed to stay ahead of that learning curve.

4. Gotta have backup
The face of goaltending in the NHL is changing before our very eyes. Philosophies are now divided over whether a team is better off allocating precious cap space to a topflight goaltender like Roberto Luongo or Martin Brodeur, or putting that money in team defense or scoring and spending less on competent (if not lower-profile) goaltending.
Last season, the Blackhawks and Flyers showed that low-profile netminding can get you to the Cup finals. Detroit won a Cup behind Chris Osgood in 2008 and then went to Game 7 of the finals the next season against Philadelphia with a goaltender often given little regard around the league.
This season, we are seeing more evidence that regardless of which side of the goaltending fence you favor, having a capable backup is crucial and, conversely, the lack thereof can spell big trouble.
Montreal's Carey Price and Dallas' Kari Lehtonen have combined to play in 19 games this season, but both their backups (Alex Auld and Andrew Raycroft) came on to provide important relief last week. Auld allowed just one goal in his first start of the season as the Habs topped the Islanders, while Raycroft helped the Stars stop a three-game slide with a 34-stop shutout of the Buffalo Sabres.
Without Craig Anderson, who's hurt in Colorado, Peter Budaj is going to have to carry the freight, and the perennial backup has played well thus far with a 3-0-1 record. The best example of a backup making a difference can be found in Pittsburgh, where Brent Johnson has turned in a sparkling 5-0-1 record with 1.16 GAA and .960 save percentage while starter Marc-Andre Fleury works out some kinks in his game.
It hasn't always worked out perfectly for the backups and their squads, though. Martin Biron got a win against Toronto, but looked soft in a loss to Atlanta last week. So, Rangers coach John Tortorella went with Henrik Lundqvist in back-to-back games even though Lundqvist had lost the first one to Carolina. It turned out to be a good move as Lundqvist shut out Toronto on Saturday (hey, who doesn't shut out the Leafs these days?). Calgary backup Henrik Karlsson earned a win in his first NHL game while giving Miikka Kiprusoff a rest, but then was ineffective in a 6-5 loss against Colorado.

5. The 'other' Sedin
Hovering in the shadows of last season's superlative effort by Vancouver Canucks forward Henrik Sedin -- a 112-point campaign that saw him take home the NHL scoring title and the Hart Trophy as league MVP -- was his brother Daniel. Although he suffered a foot injury that limited him to 63 games, the "other" Sedin collected 29 goals and 85 points.
So much for the shadows. So far this season, Daniel Sedin has managed to collect at least a point in every Canucks game with seven goals and 12 points. Not that Henrik has been any slouch -- he's just a point behind with 11. But after that, things drop off pretty quickly for the Canucks, who don't have any other player with more than six points.
Should the Sedins continue to produce at this level (they began the week just outside the top 10 in league point production), it will be interesting to see if they split the vote when it comes time to pick an NHL MVP next spring.
As for Daniel's point streak, he has a long way to go to match the all-time points streak from the start of a season -- that was 51 games by Wayne Gretzky in 1983-84.
October, 5, 2010
10/05/10
3:05
PM ET
The experiment is over, at least for now, in Anaheim. It was over quickly in Phoenix. But it's still going on in Atlanta.
The experiment, that is, of switching a player from his natural position. When camps opened around the league last month, Bobby Ryan in Anaheim and Wojtek Wolski in Phoenix shifted from wing to center. Both are now back at wing.
"We still feel that Bobby is capable of playing that position, but we just didn't feel it worked out right now," Ducks coach Randy Carlyle told ESPN.com on Tuesday. "We're shelving it. It'll be on the side for now, but don't be surprised if you see him back there at some point."
[+] Enlarge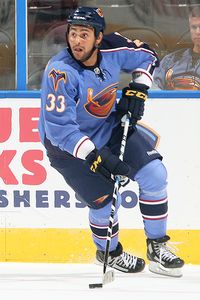 Scott Cunningham/Getty ImagesDustin Byfuglien will start the new season on defense for the Thrashers.
In Atlanta, the experiment remains. Hulking
Dustin Byfuglien
, who made his name on the defending Stanley Cup champion
Chicago Blackhawks
as a power winger, begins the regular season on the blue line.
"And he wants to be a defenseman," Thrashers GM Rick Dudley told ESPN.com on Tuesday. "To be honest with you, what's a 265-pound defenseman who can score somewhere from 10 to 20 goals worth?
"I think he's an inordinate talent," Dudley added. "I think Dustin Byfuglien can be a star in the National Hockey League anywhere he wants to play. And the truth is, when you plug Dustin on defense for our team, we have a very good top 5-6. You take him out, and it's a little less good."
It is, after all, the position Byfuglien was playing when Chicago drafted him seven years ago. Dudley oversaw his development while in the Blackhawks' front office and saw him play at both positions. When Dudley got wind in the offseason that defense is really where Byfuglien wants to play, he talked with coach Craig Ramsay and they decided to give it a try.
"He played two [preseason] games on defense before getting the hip pointer and played very well," Dudley said. "At the end of the day, if we desperately need him up front, he's more than willing to go back. But I told him if he came to camp ready, we would give him an opportunity to play defense. Everybody was onside with it, and so far it's been successful."
Byfuglien was pressed into action on defense when the Hawks began the playoffs last spring, when blue-line injuries, most notably to Brian Campbell, made it necessary. The result was a mixed bag.
"You have to remember, he hadn't played there in a long time," Dudley said. "It's a lot different going right into a game without having played it for a year or two. Now he's had training camp. He's comfortable there now. ...
"I can't predict the future, but right now we're very happy with him."
In Anaheim, Ryan will begin the season on the top line playing left wing, flanking Ryan Getzlaf and Corey Perry. Just a week ago, the Ducks were still thinking hard about beginning the season with Ryan as the second-line center and Saku Koivu on the third line, the idea being that a one-two-three punch of Getzlaf-Ryan-Koivu down the middle would give the Ducks a more balanced offense over three lines. The Ducks also thought Ryan would move his feet more skating at center.
"Everybody loves the concept of having your big men down the middle," Carlyle said. "The thought was having Bobby Ryan play center, right behind Ryan Getzlaf down the middle, and Bobby did play a bit of center for us near the end of the year when Getzlaf was hurt. So it wasn't something that was out of left field. But we felt he wasn't playing at the level that we're accustomed to, so we thought we'd move him back [to wing] and get him comfortable again."
(Koivu will center the second line to begin the season between old pal Teemu Selanne and veteran Jason Blake.)
Maybe it's just me, but it seems easier for a center to shift to wing rather than vice versa. That's why I think Evgeni Malkin won't have any issue if he does indeed play most of the season at wing instead of his natural center position in Pittsburgh. It's why Philadelphia's Jeff Carter, a natural center, can bounce back and forth between wing and the middle. But when a natural winger shifts to center, suddenly he absorbs more defensive responsibilities, especially down low in his own end, and has to cover more ice. It's a bigger adjustment.
"Usually, 90 percent of the time, your center is your low-support forward," Carlyle said. "Some teams, historically, when they have small center-ice men, might designate their bigger winger to play down low. But it doesn't happen too much in the NHL."
So, when a winger like Ryan shifts to center, it's a whole new world down low in the defensive zone.
I applaud the Ducks for trying it. In the end, the more versatile your lineup can be, the better.
The Coyotes, meanwhile, didn't think they had to move Wolski when all was said and done. They were concerned about their depth down the middle after the offseason losses of Matthew Lombardi and Robert Lang, so Wolski saw some time at center early in camp.
"Our situation with Wolski was a couple of things," Coyotes coach Dave Tippett told ESPN.com via e-mail from Europe on Tuesday. "1, when we talked about trying him at center, we had not yet signed [Eric] Belanger, and 2, we wanted to see where [Kyle] Turris was at. Turris had a very good camp and Wolski felt more comfortable at wing, so we ended the experiment. With Hanzal, Belanger, Fiddler and Turris at center, Wolski gives us a top-six left winger."
So that's that. But it wasn't a wasted experiment. Should the Coyotes get hammered down the middle with injuries this season, at least they know they can move Wolski in the middle. Ditto in Anaheim, where Carlyle will keep that card in his back pocket with Ryan.