Cross Checks:

Dwayne Roloson
July, 27, 2011
7/27/11
1:47
PM ET
Of all the dizzying offseason moves -- coaches appearing out of nowhere, defensemen coming here, centers parachuting in over there -- are there any moves that have more potential for impact than the movement of goaltenders?
Take last season when San Jose first signed
Antero Niittymaki
and then added another Finn in
Antti Niemi
after Chicago walked away from an arbitrator's decision.
Niemi picked up where he'd left off in 2010 by leading the Sharks to a second straight Western Conference final this past spring.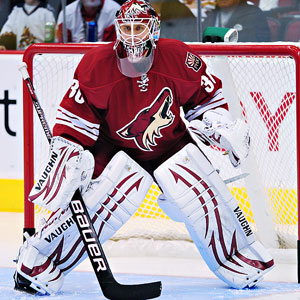 Matt Kartozian/US PresswireIs Ilya Bryzgalov the netminder who will solve all of the Flyers' problems?
Chicago, meanwhile, added veteran
Marty Turco
a year ago in the hopes of supplying enough veteran savvy to get back to the promised land.
It didn't work out that way as Turco was supplanted by rookie
Corey Crawford
and the Hawks snuck into the playoffs on the final evening of the regular season but were ousted in the first round by Vancouver.
The revamped
Tampa Bay Lightning
thought former Nashville netminder
Dan Ellis
might be the answer last summer. He wasn't. So rookie GM
Steve Yzerman
brought in veteran
Dwayne Roloson
on Jan. 1 and ultimately shipped Ellis to Anaheim as the Bolts marched to the seventh game of the Eastern Conference finals.
Atlanta brought in veteran
Chris Mason
a year ago, but Mason couldn't deliver the goods when
Ondrej Pavelec
was injured, and the Thrashers faded out of sight and right into Winnipeg.
The
Montreal Canadiens
' 2010 playoff hero,
Jaroslav Halak
, was dealt to St. Louis last offseason, and the Blues signed Halak to a four-year deal. But the injury-plagued Blues fell short of the playoffs and Halak was only average.
This offseason has featured a number of teams making significant goaltending changes in the hopes those changes will yield playoff success or pay even greater postseason dividends. Here's a look:
Well, there's a shocker. The Flyers' goaltending carousel tops the list of offseason goalie moves. After using three goalies during their 11-game playoff run this past spring that ended with a shocking sweep at the hands of the
Boston Bruins
, owner Ed Snider declared he had enough, and GM Paul Holmgren went out and brought in the top free-agent netminder on the market: Ilya Bryzgalov.
The enigmatic Russian was a finalist for the Vezina Trophy in 2010 but his play was rather ordinary this past spring against Detroit as the Coyotes were swept by the Red Wings in the first round. Bryzgalov allowed 17 goals in four games and turned in a pedestrian .879 save percentage.
True, it's hard to compare the Coyotes, a hard-working but talent-strapped team, with the Flyers. Even with
Mike Richards
,
Jeff Carter
and
Ville Leino
among the departed, this is still a deep and powerful offensive squad with a terrific blue line, assuming that
Chris Pronger
returns to good health.
But gee, nine years, $51 million including $10 million this coming season is an awful lot of faith for a goaltender who's appeared in a total of 27 NHL postseason games.
Pressure? Bryzgalov is about to enter the mother of all goaltending pressure cookers.
Can he stand the heat? Or does he melt like a plastic souvenir stick?
Let's stay with the Russians for a moment, shall we?
If Bryzgalov represents the biggest offseason goaltending move, then the Avs' acquisition of former Washington netminder Semyon Varlamov on July 1 ranks as the most curious.
Varlamov was a restricted free agent who had fallen to third on the Caps' depth chart behind other newbies
Michal Neuvirth
and
Braden Holtby
. Disgruntled with his lot in life in the nation's capital, Varlamov was making noise about playing in the KHL this season when the Avs dealt a first-round and second-round pick to Washington for Varlamov.
That's a big roll of the dice for GM Greg Sherman, who eschewed going after established veteran
Tomas Vokoun
to make the play for Varlamov, who has a history of injury and has not yet established himself as a franchise-type netminder.
When he's been healthy, Varlamov has put up good to great numbers -- 2.23 GAA and .924 save percentage in 27 appearances this past season -- but his durability remains a significant issue for an Avalanche team that was the runaway worst team in goals allowed per game this past season.
A number of NHL sources contacted by ESPN.com believe Washington GM George McPhee took the Avs to the woodshed and may end up with a lottery pick for a goaltender who was virtually off the radar for the Caps.
The Avs are banking, instead, that they've found their goaltender of the future.
Those are the gambles that can directly effect job security.
The Avs also signed veteran free agent and former Stanley Cup winner
Jean-Sebastien Giguere
to battle with Varlamov for playing time in Denver.
Not only did McPhee add (steal?) assets in moving Varlamov, he managed a day later to add the second-best goaltender on the market for a pittance. Tomas Vokoun looked like he'd be a terrific fit in Denver, but the Avs never made an offer to the veteran. Instead, Vokoun signed a one-year deal with the Caps for $1.5 million. Holy bargain basement.
Now, many have overstated Vokoun's potential to get the Caps over the proverbial playoff hump, but the fact still remains Vokoun is very much an unknown when it comes to playoff netminding. And since the talented Caps are all about the playoffs, the jury will be out on this signing until the spring. Still, Vokoun put up good numbers with a Florida team that struggled offensively. In four years in South Florida, Vokoun's save percentage ranged from .919 to .926. Impressive.
He'll get a lot more run support in Washington and coach Bruce Boudreau has already tabbed him as the No. 1 guy ahead of Neuvirth given Vokoun's experience.
Still, Vokoun has appeared in just 11 NHL playoff games and really has very little playoff experience at any level. Does it matter? We'll let you know come mid-April.
Dwayne Roloson, Tampa Bay Lightning
Roloson didn't actually go anywhere, of course. And it wasn't all that surprising that Yzerman signed Roloson to a one-year deal worth $3 million even though Roloson will turn 42 during the second week of the regular season.
Roloson proved in the playoffs that even though he might have the occasional wobble he is as mentally tough as anyone in the business. His duel with eventual playoff MVP
Tim Thomas
in Game 7 of the Eastern Conference finals was a classic.
Yzerman did go for a little more stability in the backup role, though, bringing in
Mathieu Garon
, who has toiled in relative anonymity for years in Edmonton, L.A., Pittsburgh and Columbus but has always delivered quality starts when asked. One has to imagine he'll be asked to carry a bigger load working with Roloson, but the two should make for a solid tandem and the Lightning should again be a playoff team in the East.
We admit to having a soft spot for the big netminder who was mentored early on by Turco in Dallas and might have saved his NHL career with a couple of terrific performances for the Lightning during the playoffs.
At one point last season, Smith had been waived and sent to the minors but was given another chance by Yzerman, and Smith repaid that with hard work, a great attitude and quality performances in relief of Roloson.
With Bryzgalov off to Philadelphia, the Coyotes were in the market for a new No. 1 netminder and goaltending coach
Sean Burke
convinced GM Don Maloney that he could replicate his success with Bryzgalov with Smith, whom they signed to a two-year deal.
Smith will also be reunited with coach Dave Tippett, for whom he played in Dallas.
Smith is highly motivated and seems to be in a position to marry a top technical game with a mental side that has taken some time to mature. If he can put them both together, maybe the Coyotes won't miss Bryzgalov as much as most people expect they will.
The Panthers did make a couple of overtures to Vokoun in the days leading up to free agency in an effort to keep him in the fold, but when the money started flying on July 1, GM Dale Tallon wanted to make sure he found himself a No. 1 netminder to go with his re-made Panthers lineup.
Now critics will suggest Tallon never quite got there, but signing the former Hart Trophy and Vezina Trophy winner gave Tallon a guy who has actually compiled a pretty impressive body of work the past few years. Two seasons ago Theodore went 30-7-7 for the Capitals. In his last 24 starts that season, Theodore did not lose in regulation (he was pulled in one game, but Varlamov took the loss).
This past year, he was 15-11-3 for an offensively challenged
Minnesota Wild
team. Yes, Theodore was given the hook in his last two playoff series for the Caps in 2009 and 2010, but the Panthers are a team that hasn't played a playoff game since 2000, so let's not put the blocker ahead of the puck (or something like that).
Theodore will turn 35 on the eve of training camp and, like many of the new-look Panthers, Theodore has lots to prove and maybe more than a little to give.
May, 26, 2011
5/26/11
8:35
PM ET
BOSTON -- The Tampa Bay Lightning are preparing for Game 7 as though Sean Bergenheim, a key depth player with nine playoff goals this spring, will miss his second consecutive game.
"Well, he's seeing our doctors again today, and he's going to have another evaluation tonight and tomorrow morning, and we'll see," Tampa Bay coach Guy Boucher said Thursday afternoon in Boston. "But right now, it doesn't necessarily look like something positive for us."
Bergenheim missed most of Game 4 with a lower-body injury. He skated briefly without equipment before Game 6 on Wednesday but did not play.
Roloson still the man in net
It was no surprise, but Boucher did reconfirm that Dwayne Roloson would start in goal for Game 7. Roloson allowed four goals on 20 shots in Game 6, this after being given a rest in Game 5. Although Roloson, 41, might not have been as dominant as he has shown at times this postseason, Boucher pointed out that he did exactly what his team needed him to do Wednesday night: not let in another goal in the Lightning's 5-4 win that kept their season alive.
"You know, if you look at the last six minutes of the game, he was right there and holding the fort," Boucher said Thursday. "That's what he's done since he's been with us. So whether it's during the season or in the playoffs, he's held the fort in those times. I know him. He's a competitor, and tomorrow's a great day to compete."
Roloson is 7-0 in elimination games in his career, but he said he pays no attention to those stats.
"Because those numbers are not about me; it's about my teammates that I have played with and that I'm playing with now," Roloson said. "So, realistically, it has zero to do with me. It's about what they've done in front of me to allow our teams to win."
As for Wednesday's performance, the netminder said he cares only about the outcome.
"I don't really look at my performance. For me, it's about team. It's always been about team, and we won, and that's, for us, all that matters," he said.
Game 7
There was a lot of discussion around the Lightning camp about whether the home team or visiting team faces the most pressure in a Game 7 situation. In the first round, the Bruins beat Montreal at home in overtime in Game 7, while the Lightning went into Pittsburgh in Game 7 and shut them out 1-0.
"You just have to have that mindset, the ice is going to be the ice. The nets are going to be where the nets are, and you just go play," Tampa Bay forward Martin St. Louis said. "I don't know where the pressure's on. I'm not worried about it. We're just trying to bring in our best game."
Having played in a number of deciding games in his career, including one in which the Lightning won a Stanley Cup in 2004, St. Louis relishes the opportunity.
"I get fired up for them," he said.
Still, he acknowledged you have to be able to channel that emotion.
"You've got to. It's a fine line."
May, 24, 2011
5/24/11
2:03
AM ET
BOSTON -- We're not sure which was more puzzling, Tampa Bay coach Guy Boucher's decision to start Mike Smith in goal or his rationale for doing so.
Smith, making his first playoff start in place of veteran Dwayne Roloson, was not a factor in the Lightning's 3-1 loss in Game 5 on Monday, a loss that gave the Bruins a 3-2 series lead with Game 6 of the East finals set for Wednesday in Tampa.
He stopped 17 of 19 shots and could not be faulted on the two goals he allowed (the Bruins had an empty-netter to complete the scoring).
Roloson had been pulled in two of his previous three games, including Saturday, when he allowed three goals on nine shots. Smith had been solid in relief, stopping all 29 shots he faced in slightly more than three periods of action prior to Monday.
Despite a lot of pregame mumbo jumbo about Roloson preparing for Game 5, it is clear Boucher's confidence in Roloson was waning, or he wouldn't have made the switch.
Why else would you make the switch at such a critical juncture of the series?
And while it would be out of character for Boucher to publicly acknowledge any lack of confidence in any of his players, it was puzzling to hear him explain that Smith got the start in part because he likes to give everyone a chance.
"When people deserve things, whether they're a fourth-line or a third-line or seventh or eighth D, when they deserve [it] -- I'm one of those guys that I'll give people a chance," the coach said. "And I felt that Smitty had been terrific for us for a long, long time and he deserved to get a game."
Fair enough. But this is not recess dodgeball where everyone gets a turn because, well, it's dodgeball. This is the Stanley Cup playoffs with a Stanley Cup finals berth on the line. You start the players you think can get you to the finish line. This isn't about being fair; it's about trying to gain a competitive advantage.
Boucher, at least, did acknowledge the rest might be good for the 41-year-old Roloson.
"At the same time, I felt that giving a little breather to Roli -- a bit like Vancouver did with [Roberto] Luongo, and Luongo came back and they have been winning since -- it's a decision I don't regret at all," Boucher said. "I've done it in the past and it worked. I've had it done against me and it worked. And I think it's the same for Vancouver and it worked."
We'll find out Wednesday whether the same blueprint works for the Lightning.
The Lightning coach did not tell Smith he was starting until around lunchtime Monday, saying he didn't want him fretting about the start overnight.
Bergenheim hurt
Tampa Bay playoff scoring hero Sean Bergenheim, who leads all NHL players with nine postseason goals, played just 4:19 in Game 5 and was last seen hunched over in pain as he headed to the bench in the first period. It led to speculation he had suffered a charley horse or a groin pull.
Boucher said the Lightning didn't want to risk using him again in Game 5 and his status for Game 6 on Wednesday in Tampa is unknown.
"Obviously, that hurt us. He's one of those guys that's been terrific for us," Boucher said. "He's got a good chemistry with his line. I was trying to find chemistry after that for [Dominic] Moore and [Steve] Downie, and obviously missed him for two periods, more than two periods. So we'll have to see. Right now, we couldn't put him back on the ice, and we didn't want to take a chance it would get worse. We'll see tomorrow, and we'll see the next game if we're able to put him back on the ice."
Losing that scoring touch
The Lightning's power play has fallen on hard times in recent days, going 0-for-9 in the past three games and just 2-for-18 in the conference finals.
"We're definitely going to look at tapes. That's something we take a lot of pride in. We had a lot of success on that since the start of the playoffs," Tampa Bay forward Simon Gagne said. "We know that special teams could be the difference, especially in [this] series, and, for us now, we had a couple of chances to go out there and try to tie the game and we definitely were not able to create a lot. It's something we're definitely going to look at tapes and try to play better next game."
And finally ...
The Boston Bruins have been outshot in 11 of 16 postseason games this spring but still are 9-2 in those games. The Lightning have outshot their opponents in six straight playoff games; they are 3-3 in that span.
May, 23, 2011
5/23/11
4:21
PM ET
By
ESPN Stats & Information
| ESPN.com


Tampa Bay at Boston (series tied at 2), 8 p.m. ET
This is the first Eastern Conference finals that has been tied after four games since 2006, when the Buffalo Sabres and Carolina Hurricanes were tied at 2. The Hurricanes won the series in seven games and went on to win the Stanley Cup (also in seven against Edmonton).
Tampa Bay was in a similar situation in the 2004 conference finals against Philadelphia. With the series tied at 2, the Lightning won Game 5 and the series in seven.
The Lightning have scored five goals in four of their past five games. (They were shut out in the other game, Game 3 versus Boston.)
The Bruins are 4-for-31 (12.9 percent) on power play at home and 0-for-21 on the road.
Boston is 7-0 this postseason when forward Patrice Bergeron gets an assist.
In the 2011 playoffs, Boston goalie Tim Thomas is 2-0 in games after a performance in which he has allowed at least four goals.
Lightning goalie Mike Smith has stopped all 29 shots he has faced in two career playoff appearances, both coming in relief of Dwayne Roloson in the East finals.
Tampa Bay's Sean Bergenheim has nine goals this postseason, one shy of becoming the third Lightning player to reach 10 goals in a postseason. The other two players were Ruslan Fedotenko and Brad Richards, who each scored 12 goals in the 2004 playoffs.
Thomas and Roloson have been shaky after having strong second-round performances:
May, 23, 2011
5/23/11
1:43
PM ET
BOSTON -- Look for Dwayne Roloson to start in goal for the Tampa Bay Lightning in Monday night's Game 5 against Boston, even though no one would say for certain whether that was going to be the case.
Signals point to Roloson starting in his 16th straight postseason contest; he was the first Tampa Bay netminder off the ice after Monday's morning skate, a general indicator of who starts.
Roloson was pulled with 2:04 left in the first period of Saturday's Game 4 after giving up three goals on nine shots. Backup Mike Smith came on in relief and didn't allow a goal as the Lightning came back to beat the Bruins 5-3.
Roloson said he was preparing as though he would start, as he always does. Lightning coach Guy Boucher danced around the topic, saying Roloson was preparing for the game.
"We're preparing like usual," Boucher said. "He's preparing like he prepared for all the other games, so we're prepared."
Asked why he wouldn't just say Roloson is starting, Boucher responded with this:
"He's prepared. He got out. He's done his morning skate like usual," the coach said. "He prepared yesterday. We had a good talk, and he knows what's coming up."
Roloson also was pulled in Game 2 when the Bruins poured five goals past him in the second period en route to a 6-5 win, although those goals could hardly be blamed on the goaltending. Smith relieved him both times and has yet to allow a Bruins goal in a little more than three periods of action.
As for Steve Downie's Game 5 status, the rugged Tampa Bay winger skated Monday morning, but Boucher said he wouldn't know whether Downie would be available until after a medical assessment later Monday.
Downie was taken hard into the boards by Nathan Horton near the end of the second period of Game 4. It was announced as a boarding call, although the official game sheet now lists it as roughing. Downie was given a controversial diving penalty on the play but did not return to action.
"He was doing better this morning; that's the one update I can tell you," Boucher said. "But before he had gone on the ice, he had done better. But I need to see how he feels right now, and they said half an hour after he's gone off the ice, I need to go back to my therapist and see how he's doing."
The coach said "feeling better" doesn't necessarily mean Downie is ready to go. "But at least it's better, so there's something positive," Boucher said.
If Downie can't play, Blair Jones would be in the lineup.
Finally, Dana Tyrell, who returned to the Lightning's lineup in Game 4 after missing 10 games with an injury, played only 4:38 on Saturday because he was sick, Boucher said. He is feeling better and should be able to go Monday night.
Bruins' lineup update
Boston coach Claude Julien left the door open a crack for a potential lineup change.
"I think, right now, I'm going to dress 23 for the warm-up, and that's basically what it's going to stay at for now. And if there's changes, we'll make them after the warm-up," he said.
The only change that seems likely is if Julien believes he needs veteran Shawn Thornton's toughness back after the Lightning worked at crowding netminder Tim Thomas in Game 4's 5-3 comeback win. That likely would mean taking rookie Tyler Seguin out of the lineup, but given Seguin's dramatic performance in his last home game (he collected four points in the second period), we're guessing Julien will keep the status quo for Game 5 barring injury.
Woe is Kaberle, again
How quickly things have turned sour again for Boston defenseman Tomas Kaberle.
After a couple of decent outings in Games 2 and 3, Kaberle looked lost again in Game 4's collapse. He was minus-1 and played a paltry 11:35, his smallest allotment of ice time for the entire season, including the playoffs.
Regardless of the lack of confidence Julien clearly has in Kaberle, don't expect him to take the blueliner out of the lineup.
"Well, I think if you know the game well enough, you would understand that there's some experience back there," Julien said. "And you've got to also think: Is this guy coming in a better player than Kaberle? And the other thing we've done is, some people wanted certain players out of the lineup earlier on, and our patience has paid off. ...
"I think people are a little hard on this guy, and I'm one of those guys that's going to support him. I'm one of those guys that's going to keep him in the lineup, in case you want to know. He's going to be a good part of our hockey team. We got him because we believe in him, and until last game, he played two really good games."
Tim is tough
Although Roloson has been pulled twice in this series, his counterpart, Tim Thomas, has allowed the same number of goals (13) but has not been yanked. Julien said there's a reason he hasn't gone to backup Tuukka Rask, and that is Thomas' resiliency.
"I think the one thing we have to recognize from Tim is that when you look back at some of the games we played, whether it was in other series -- Montreal was a good example of that -- we're up 3-0 and two really weak goals go in on him," Julien said. "He stood on his head at the end of the game and helped us win those games.
"So, for me, I have a lot of confidence in Tim being able to bounce back from giving up bad goals. That's why we haven't pulled him yet, and there's certainly some reasoning behind that."
May, 18, 2011
5/18/11
7:30
PM ET
TAMPA, Fla. -- When you have two off days between the first two games of a playoff series, it can feel like the process is encased in mud.
But after Boston's wild 6-5 victory Tuesday that evened these Eastern Conference finals with the
Tampa Bay Lightning
at one game apiece, the rhythm is going to build nicely with games every other day.
With Game 3 looming Thursday night, here's a little tour around this series:
Rookie steals the show
Tyler Seguin
is the story of the series so far with the rookie producing an NHL record-tying four-point second period in Game 2 on two goals and two assists. That four-point effort added to a goal and an assist in Game 1 to make the 19-year-old the most dynamic player in the series, a role made all the more surprising by the fact these were his first two playoff games.
Coach Claude Julien said he didn't think he needed to worry about Seguin's expectations being out of whack moving forward.
"He's not the type to get that way," Julien said.
That said, the coach removed any doubt that Seguin would go back to the press box even if
Patrice Bergeron
returns to action, as might be the case in Game 3.
"You don't pull a guy like that out of your lineup," Julien said of Seguin.
The Bruins' handling of the teenage prospect this season reminds us of how the
Pittsburgh Penguins
handled
Jordan Staal
, who stayed with the Penguins as an 18-year-old rookie after being drafted second overall in 2006.
Then-coach Michel Therrien and GM Ray Shero mapped out a plan for the youngster and followed it through, gradually expanding his role. Staal was a nominee for rookie of the year, and while Seguin isn't at that level yet, Julien said the same kind of planning went into Seguin's season.
"Through it all, you could see him progressing," Julien said.
Still, don't expect Tampa netminder
Dwayne Roloson
to be staying up late Wednesday night poring over tape of the No. 2 pick from last June's entry draft.
"No, I won't do any extra film to look at him specifically. It's not about him, it's about us, what we've got to do to shut down him and also the rest of his teammates," Roloson said during a conference call Wednesday as the Lightning, like the Bruins, took the day off from skating.
Once you start worrying about one player, another steps up and picks up the slack, so it doesn't make any sense to do so, Roloson explained.
Veteran needs to bounce back
Was anyone surprised that coach Guy Boucher lifted Roloson on Tuesday after the Bruins rang five goals past him in the second period on nine shots? The weird part of a decidedly off-kilter Game 2 was that you could hardly fault the 41-year-old netminder on any of the goals. Still, it wasn't surprising to see Roloson get a break with the score 6-3 after the second period.
"Yeah, we actually had a discussion, Coach and I and our goalie coach, and we just talked about what was going on and what I thought, and obviously I didn't want to come out, but at the same time, if that's what he thought was going to give us a little spark to be able to come back, then to make the move," Roloson said.
"And he made the decision, and obviously it was the right decision when the guys came back and battled back."
Not that there's any question about Roloson's ability to bounce back after giving up more goals in the second period than he had given up in any one game this spring. In fact, the six goals Roloson gave up in Game 2 are equal to the most goals he's given up in any two back-to-back games this spring.
Roloson had won eight straight postseason games and entered the game with a .941 save percentage and 2.01 goals-against average, both tops in the league. He also had made more saves than any other netminder prior to Game 2.
"It really wasn't Rollie's fault. We kind of left him out to dry," captain
Vincent Lecavalier
said Wednesday.
Look for Roloson to come up with a big game in Game 3.
Seidenberg playing big minutes
We haven't really seen too much from
Zdeno Chara
in this series thus far, and the Boston captain has just four points in 12 games this spring. But Chara's defensive partner,
Dennis Seidenberg
, is more than picking up the slack.
Seidenberg has logged more ice time this spring than any other player. His average ice time per game, 28:36, ranks second overall and first of all players still playing. In Game 2, he had two assists, including an important assist on the Bruins' first power-play goal of the series. We initially thought Seidenberg's big bomb with one second left on a lengthy first-period power play had gone straight in, but the goal was credited to
Nathan Horton
.
Seidenberg, who is making his first postseason run with the Bruins after being injured last year, has really enjoyed this spring's run.
"It's a lot of fun. As you said, I watched last year and it was frustrating. Every time you sit up top, I've said it many times before, it always seems like you're the best player because everything seems so easy [from up there]. So sitting up there was frustrating, and to be able to be part of the team this year and being able to help out just playing a big part on the team is a lot of fun and I really enjoy it," Seidenberg said.
As far as resting up when you're logging the number of minutes Seidenberg is, he said the playoffs are a completely different beast than the regular season.
"During the regular season, life goes on, my regular life. You do stuff during the day and stuff, but in the playoffs, it seems like all you do is you play the game and off day you just relax all day," he said.
"On off days, you just try and eat as much as you can and replenish your food and fluids, so that's maybe a little different than the regular season."
Pretty good gig, no?
The father of two young children, ages 3 and 7 months, said his family has been very supportive and that's without showing them the game sheet with his minutes highlighted.
"It's been good. They've been really supporting me," he said. "My wife has done a great job. I hardly [do] anything anyways."
End of pond hockey?
The Bruins and the Lightning might have been the two last teams you'd expect to get into a river romp like Game 2's 6-5 affair. But Julien explained that once a team opens up, like Tampa did when it got down 4-2 and later 6-3, it creates more open ice for his own players, and it's hard for them to resist the temptation to take advantage. And when that happens, it becomes a seesaw effect with chances at both ends.
Neither Julien nor Boucher is expecting that kind of tilt Thursday night in Tampa.
"It's not our offense right now that's the problem; I think it's playing better defense. And we've given them things on the rush that we never give against anybody. So I think we have to tighten that up," Boucher said.

Aftermath of a streak
Teams don't generally go into the playoffs hoping to win eight games in a row. It just doesn't happen that way very often. But when you've won eight in a row, as the Lightning had until the Bruins stopped their streak in Game 2, you wonder how a team will respond to the sudden end to the good times.
"You know what, we've lived it, we lived it just before the playoffs, we won seven out of eight and we had our first series, obviously we lost and had to bounce back. So we've lived that this year. I think every team has," Boucher said.
"But the last time we lost, we bounced back and we won eight in a row. So there's absolutely no need to panic."
The Lightning's streak perhaps seemed longer than it was because they had to wait more than a week after sweeping Washington to start the conference finals series.
"Yeah, it's like you said, when you go on a streak like that and then we had those 10 days in between the series, and you haven't lost a game in probably -- felt like a month. So it was something that you have confidence and you get used to. But I think our team did a great job of not being content with it and always wanting more,"
Steven Stamkos
said Wednesday.
"But you have to be a realist, and you're not going to go from the second round of the Stanley Cup finals and win every single game. The teams in this league are unbelievable teams, and they're here for a reason. And we expected this to be a long series. And our expectations haven't changed now just because we've lost one game," he added.
"It's nice to win every game, but that's not realistic. We've got to realize what we did wrong and focus on tomorrow night's game, especially in front of our home fans."
May, 1, 2011
5/01/11
3:20
PM ET
WASHINGTON -- Lightning goalie Dwayne Roloson was giving us the gears because we used the term "ancient" in discussing his age.
So, we suggested "historic" might be a better term, and while the 41-year-old did flash a grin, Roloson insisted he doesn't get bugged by regular references to his age when it comes to the media.
"No, not at all, but it's probably the first I've had ancient thrown into an interview," Roloson said. "To me, it's a number; it's a number and it doesn't matter. People can say whatever they want. To me, it doesn't make a difference at all."
Still, he did admit he can't recall the last time his age hasn't come up in some fashion while talking with reporters. Regardless of the calendar, Roloson has been outstanding this spring.
Roloson enters Sunday's Game 2 coming off a fine 26-save performance in Game 1 of Tampa Bay's second-round series against Washington, a 4-2 Bolts victory. In eight playoff games this spring, he has a sparkling .947 save percentage. Throw in the fact that Roloson is in the postseason for the first time since leading Edmonton on an improbable run to the 2006 Stanley Cup finals, and you might think he is viewing this playoff experience with some sort of special fondness.
Not so.
"I don't think it's any different from training camp on ... you're looking to make the playoffs," he said. "That's your goal and your focus is to make the playoffs and to play in the playoffs. I don't think when you haven't played in them in a while it makes a difference. I think you still have the same enthusiasm, the same mental makeup, the same everything as you were doing it like Detroit does every year."
Regardless of how old a player is, he said he always appreciates the opportunity to play in the postseason.
"It's an opportunity to play in the playoffs, doesn't matter if I was 10 or 50 or 100, I think you still appreciate it the same way," he said.
Cause for concern?
Martin St. Louis has gone without a point in three straight games (all Tampa Bay victories, by the way) and has not scored in four contests. But Bolts coach Guy Boucher doesn't seem concerned.
"That's all good, that's what I said about [Steven] Stamkos the previous series. It's better that he doesn't score because that means it's coming," Boucher joked. "Marty is a tremendous leader; he knows right now it's all about the small details. Obviously, there's a lot of small defensive details we have to focus on against that team and I think he just wants to lead the way."
Hidden message
The message board in the Tampa Bay dressing room was covered in towels Sunday morning, but Boucher wasn't giving away any clues about what was written on it.
"That's because my drawings are not that pretty. I don't want anybody to get a hold of that," he said. "It's just part of the game plan."
March, 18, 2011
3/18/11
2:36
PM ET
Check out Tampa Bay goalie Dwayne Roloson's great stick save from Thursday night's 3-0 shootout loss against Montreal:
February, 2, 2011
2/02/11
3:29
PM ET
So far, Dwayne Roloson is proving his Lightning boss wasn't crazy for taking a chance on a 41-year-old goalie. The move to bring the netminder to Tampa Bay is also further bolstering the case for Steve Yzerman as GM of the year.
With his team leaking goals for the first half of the season, Yzerman dealt for Roloson on Jan. 1, hoping there was still enough hockey left in the battled-tested veteran to steady a shaky Lightning net and save what was a surprising season so far for the Bolts.
[+] Enlarge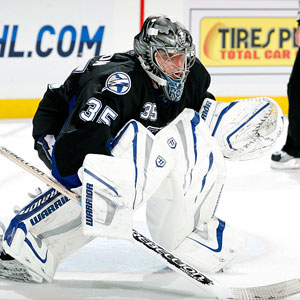 Scott Audette/NHLI/Getty ImagesIn 11 games since being traded to the Bolts, Dwayne Roloson has eight wins, four shutouts and a .932 save percentage.
If eight wins in 11 games, plus four shutouts and a .932 save percentage, doesn't define "answering the call," I don't know what does.
The Lightning have won six straight and are only two points behind Philadelphia for the Eastern Conference lead.
"When I first got here, it was a bit of a roller-coaster ride, but things settled down," Roloson told ESPN.com on Wednesday. "As a team, we've adjusted in terms of me getting to know guys and guys getting to know me. We've gone through the adjustment period and it's been great."
In late December, Yzerman was deciding between Roloson, who hasn't posted a save percentage under .900 in over a decade, or Russian exile free agent Evgeni Nabokov, a former Vezina Trophy nominee. Because the latter would have to clear NHL waivers, Yzerman feared it would be a major hurdle and chose Roloson. (The GM was right to be concerned; Detroit signed Nabokov only to lose him, ironically, to Roloson's former cellar-dwelling team, the New York Islanders.)
For Roloson, this is a special time. When you're 41, you don't get too many more chances to play for a Stanley Cup. The latest statement was a 38-save 4-0 shutout win over the powerhouse Flyers on Tuesday night. The adrenalin is pumping through Roloson's veins.
"No discredit to the Islanders' organization, I had a great time there," Roloson said. "It's a great organization, and I keep in contact with a couple of guys there. But I came down here to a team in a playoff spot and that rejuvenates you. It makes you excited again about hockey."
He doesn't have a Cup ring, and he hasn't come close to one since Edmonton's surprising run to the Stanley Cup finals in 2006.
"It's in the back of your mind, but at the same time, you try not to think about it too much," Roloson said of the chance at hand. "It's a long way away. And once playoff time comes, anything can happen. Case in point, the 2005-06 run with us in Edmonton. We were the eighth seed in the West and we ended up making it to the [Cup] final. Once you're in, it's a brand new season. You can't look at the big picture, you have to focus on each game."
Roloson has also had a first-row seat to the Steven Stamkos show. He actually played with the NHL's leading scorer at the 2009 IIHF World Championships, so he already had an inkling about the center's abilities.
"He's a great man," said Roloson. "He wants to learn, he wants to get better, he wants that role where the team is relying on him -- he wants to be that guy. Every day, he works on trying to get better. You can't say enough about him. Johnny Tavares in Long Island, same type of kid. It's fun to be around kids like that; all they want to do is succeed and get better every day. It's a cliché, but it's true. I enjoy being around those type of players."
Will Roloson be around Stamkos longer than this season? Throw out the birth certificate. He's not playing like a goalie that is nearing retirement.
"If the opportunity is there, I'd love to keep playing," said Roloson. "Physically, I feel great. As long as performance-wise I'm doing what I needed to do to help a team win, then I want to keep doing that. Hopefully I get an opportunity to play again next year."
January, 6, 2011
1/06/11
11:32
AM ET
Scott Burnside and Pierre LeBrun are back to debate your hot topics. Today, they debate Canada's shocking loss in the World Junior Championship and Dwayne Roloson's reversal of fortune against the Penguins:
Burnside: Good day, my friend. Are all the flags north of the border at half-mast today after the Canadian junior team meltdown in the gold-medal game of the World Junior Championship in Buffalo, N.Y.?
Up 3-0 heading into the third period, the young Canucks allowed five unanswered goals to a Russian team that showed, well, Canadian-like resilience throughout the tournament. I felt bad for the Canadians (OK, not really), but after the Americans folded in their title defense Russia's win does a world of good for the credibility of a tournament tilted in favor of Canada.
[+] Enlarge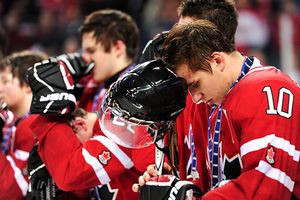 AP Photo/The Canadian Press/Nathan DenetteCanada allowed five unanswered goals from Russia in the third period to lose 5-3 in Wednesday's gold-medal game at the World Juniors.
LeBrun: In an e-mail exchange with several of my Team Canada-cheering buddies, I said the same thing. Russia's victory is the best thing for the tournament, which once again was made a home tournament by Canadian fans in Buffalo. No other country outside of Canada cares about this tournament. With the United States winning in 2010 and Russia taking the crown Wednesday, you can only hope the tournament begins to find new fans outside Canada's borders.
Our good friend David Shoalts of The Globe and Mail predictably didn't hold back, calling Canada's 5-3 loss "an all-time choke job." Damien Cox of The Toronto Star referred to it as the "greatest meltdown in the long, proud history of the Canadian national program." Ouch.
Burnside: Yes, it's easy to forget that we're talking about mostly teenage boys (unpaid players, for the most part), and to subject them to the incredible highs and soul-sucking lows may be a bit unfair, especially in Canada. Oh, well.
Speaking of collapses ... it's been an interesting 24 hours for Dwayne Roloson and the Tampa Bay Lightning. Everyone was lauding rookie GM Steve Yzerman for adding the veteran netminder over the weekend. Yzerman's stock, already high, went through the roof when Roloson was outstanding in shutting out Washington in his first game for the Bolts. But Yzerman understands this is a work-in-progress, and he wasn't planning the Cup parade route after one win. Good thing, since Roloson gave up five goals on 23 shots and was pulled twice in Pittsburgh's 8-1 win over Tampa on Wednesday night.
LeBrun: Well, I think we can let Roloson off the hook. Judging from coach Guy Boucher's comments after the game, his team never had it last night. They spent all their energy the night before in Washington before giving up a season-high 41 shots on goal versus Pittsburgh. I don't think there's much to read into there. On a night Pittsburgh's Evgeni Malkin scored seven seconds into the game and Tampa's superstar Steven Stamkos fell during a penalty shot (losing an edge on his skate) and didn't get a shot away, Boucher said it best -- you just move on and forget about it.
Burnside: It is only one game, but the juxtaposition of the two performances is a reminder that it's rarely just one piece that completes a puzzle. The Lightning are an interesting team, though. As you wrote yesterday, Yzerman also signed free-agent defenseman Marc-Andre Bergeron, hoping to add another "piece" to a Lightning team that has come more sharply into focus this season. Bergeron is a menace in his own end, so that will make things more challenging for Roloson and/or Dan Ellis and/or Mike Smith between the pipes. But Bergeron also gives the Lightning something they have been lacking -- a big bomb from the point on the power play. Look at the baby steps taken by other new GMs, and Yzerman doesn't seem content to make those kinds of minor moves.
LeBrun: Don Maloney deservedly won the inaugural GM of the year award last season for his work with the surprising Coyotes. As of today, I would argue Yzerman should win it this season. He's been aggressive from Day 1, and his lessons learned at Red Wings University are quickly bearing fruit. His next move will likely have to be shedding either Smith or Ellis. I don't think Yzerman likes carrying three netminders. The biggest move of all, however, is his attempt to re-sign Stamkos. Talk tomorrow, Scotty.
January, 3, 2011
1/03/11
11:54
AM ET

1. Roloson acquisition bad news for Smith
We're not sure that anything has really been settled in Tampa Bay with the acquisition of veteran netminder Dwayne Roloson this past weekend, but the move has a number of implications.
First, this is bad news for Mike Smith.
We must admit to having a soft spot for Smith, who was likable and wildly competitive when he arrived in Tampa from Dallas in the Brad Richards trade a couple of years ago. We thought he might emerge as a bona fide NHL starter, yet injury and inconsistency have combined to block that path. Smith has been injured of late, and Dan Ellis played pretty well in his place, having inherited the starting job by default. Minor leaguer Cedrick Desjardins got in a couple of starts and won both, but clearly GM Steve Yzerman did not like the looks of an Ellis-Desjardins or Ellis-Smith tandem moving forward, even though the Bolts continue to vie with Washington for the top spot in the Southeast Division and their goals-against average has improved in the past month or so.
With the acquisition of Roloson, look for Smith to be waived and sent to the minors, as Yzerman likely will want to avoid carrying three netminders.
Roloson remains a bit of a wild card.
Heck, even we were gushing over him a week or two ago, as he has delivered mostly superlative work playing in front of a ghastly New York Islanders team. But he is five seasons removed from his starring playoff role for the Edmonton Oilers when the eighth-seeded wonders came within a game of winning the 2006 Stanley Cup, dropping Game 7 in Raleigh to the Carolina Hurricanes. Roloson had been injured in Game 1 of that final, but his play down the stretch after coming over from Minnesota and through the first three rounds gave the Oilers their finest hockey moments since Mark Messier, Wayne Gretzky et al.
This Bolts team is a lot better than any team he's played on since, but to assume Roloson automatically reprises his Cinderella role instead of pumpkin is a bit premature.
Finally, this move is bad news for Evgeni Nabokov, who is currently unemployed, and Tomas Vokoun of Florida, who will be an unrestricted free agent come July and on the market before the Feb. 28 trade deadline. The Lightning were the NHL team most likely to look for goaltending help. As of now, they hope they've found it.
2. Moving the Winter Classic
ESPN colleague E.J. Hradek brought up the topic during a podcast in Pittsburgh leading up to the Winter Classic that next year, Jan. 1 will fall on a Sunday. The NHL has rightfully been pleased with the niche it has carved out on the crowded Jan. 1 sports calendar the past four years. But there is also little appetite to go head-to-head with the NFL on a late-season Sunday. It's a dynamic that will present itself periodically, and sources tell ESPN.com that there is already preliminary discussion about moving the game to a New Year's Eve time slot or pushing it to Jan. 2.
We assume that a Saturday slot, perhaps early to midafternoon, might work, as it shouldn't push into NBC's New Year's Eve programming. That's assuming, of course, that NBC renews its contract with the NHL at the end of this season and that it doesn't rain cats and dogs wherever the game ends up being played, throwing the whole thing into flux again.
3. Incidental contact rule
Twice during the Winter Classic, goals were waved off because there was incidental contact between a player and a goalie preceding the puck crossing the line. This reignited (at least in our minds) an ongoing debate over how the game's rules are interpreted. If part of the NHL's goal is to make the game more appealing to a broader American audience, it might do well to simplify one of the most ridiculous rules in the book: the cop-out rule that allows referees to wave off a goal after such contact but not necessarily call a penalty.
First, the Pens were denied a tying goal when Mike Rupp skated/was directed through the Washington crease. Replays showed that Rupp and the puck arrived in front of netminder Semyon Varlamov at exactly the same time. Isn't that the idea of a screen? Yes, there was some contact, and it likely prohibited Varlamov from stopping the puck.
Later, Alex Ovechkin was denied a late goal after "embracing" Pittsburgh netminder Marc-Andre Fleury behind the Pens' net. Replays seemed to show Fleury putting more of a grab on Ovechkin than vice versa.
I didn't like either call. It should be a simple thing.
If Rupp prohibited Varlamov from playing the puck of his own volition, wave off the goal and send Rupp to the box. If he was pushed by a defenseman or didn't bother Varlamov, ring up a Penguins goal. Same goes for the Ovechkin goal.
Having this wishy-washy "no harm, no foul" option for the officials simply muddies waters that should be crystal-clear.
4. Splitting fans' loyalty
A final word for the time being on the future of the Winter Classic. Regardless of whether it's being played on Jan. 1 (but especially if that's the case moving forward), why clutter the schedule with other NHL games, especially those involving American teams? If the theory is to open as many U.S. eyes as possible to the spectacle, don't have eight other American-based teams in action, as was the case on Saturday. We're not suggesting that the moratorium on competition should extend to Canada, but why force fans in New Jersey or Boston or Buffalo to choose between supporting their own teams and watching the Classic? In fact, à la the Super Bowl, if we were the NHL (and we rarely pretend to be), we would be promoting Winter Classic parties around the U.S. If they want to make this a special day for hockey, make it special. Just a thought.

5. Pietrangelo's award-worthy season
It's a bit of a shame that the NHL regulations are what they are and emerging young St. Louis defenseman Alex Pietrangelo isn't eligible for the Calder Trophy as rookie of the year.
Pietrangelo, who's just 20 years old, was the fourth overall pick in the 2008 draft. He played in eight games the season after he was drafted and nine games last season before being sent back to junior in both seasons. In both cases, he did not play enough games to start the clock ticking on his entry-level contract, but his appearance in NHL games in back-to-back seasons were enough to preclude him from consideration in this year's Calder Trophy race. Too bad, because the 6-foot-3, 206-pound Pietrangelo certainly would warrant discussion given his level of play.
Although he missed a couple of games thanks to injury, Pietrangelo has 18 points in 35 games and has become a mainstay on the Blues' power play. He is a plus-4 and is one of the reasons the Blues have persevered through a spate of injuries to key personnel up front to stay in the playoff hunt in the Western Conference. As of Monday, the Blues were sixth in the Western Conference tied with Los Angeles and Colorado with 45 points having won five of their past six games.
Were he eligible, Pietrangelo's point total would be one off the pace among rookie defensemen, and his 20:20 average ice time per night is third in the league.
"He has been a solid player right from the beginning of the season and looks to have a tremendous future ahead of him," Blues GM Doug Armstrong told ESPN.com on Monday.
December, 27, 2010
12/27/10
4:47
PM ET

1. Roloson an attractive option
Because most of the news from Long Island this season has been miserable, it's been easy to overlook what could be a compelling storyline as the weeks tick toward the Feb. 28 trade deadline. Although many have assumed that Florida netminder Tomas Vokoun will attract most of the attention from teams looking to shore up their goaltending down the stretch, we give you the indestructible Dwayne Roloson.
If Chris Chelios had been a goaltender, he'd have been Roloson. At age 41, Roloson has quietly turned in one of the most compelling netminding performances in recent memory. He is 5-13 (one of his losses was in a shootout) yet has managed to turn in a save percentage of .920, ranking 10th among goalies who have played at least 1,000 minutes, and a more-than-respectable 2.38 goals against average. The native of Simcoe, Ontario, has won three straight, allowing just one goal in each of those games and facing 109 shots total in the three wins for the lowly Isles. He was also named one of the NHL's three stars for the week ending Dec. 26.
No doubt NHL GMs are taking note of Roloson's renaissance campaign on Long Island.
Roloson makes $3 million this season, but his cap hit is just $2.5 million. Compare that to Vokoun, who, like Roloson, can become an unrestricted free agent in the summer. Vokoun makes $6.3 million this season with a cap hit of $5.7 million and is playing for a significantly better defensive team than the Islanders.
So, if you're Washington GM George McPhee and you're secretly wondering about bringing in a nice veteran presence for the playoffs, Roloson has to look pretty darned attractive. Stay tuned.

2. Spezza out after hit
We often talk about the NHL's "justice" as if there is such a thing. In the end, maybe it's a simple acknowledgment that sometimes there just isn't any justice. Take the grim case of Jason Spezza and the Ottawa Senators. Spezza chipped in two assists for the Senators as they beat the top team in the Eastern Conference, the Pittsburgh Penguins, on Sunday. But early in the second period, Spezza was drilled from behind by Pittsburgh defenseman Kris Letang. Spezza got up clutching his shoulder, and the team announced Monday that he is out indefinitely.
Letang, who has no history as a dirty or reckless player, got a two-minute boarding penalty while the Senators saw their modest playoff hopes take a swift kick in the shins.


Letang did not run at Spezza. He didn't leap into the air to check the Ottawa center. But he did give him a good, hard shot from behind, sending Spezza head-/shoulder-first into the boards. It is a play the NHL has been trying to weed out of the game.
Yes, Letang was penalized.
But did the penalty fit the crime? Until the NHL comes to grips with marrying the results of dangerous plays with the plays themselves, that question will never be fully answered.


As for justice, what happened on the ice in Ottawa on Sunday seems a long way from justice if you're a Senators fan.

3. Thrashers finally get stability
Good news, at least in theory, for the Atlanta Thrashers, as the never-ending legal infighting between members of the ownership group finally ended.
Not surprisingly, Bruce Levenson and Michael Gearon were announced as the two who will remain at the top of the group that owns the Thrashers, the NBA's Hawks and Philips Arena, with Steve Belkin gone from the scene for good. Sources close to the team believe this newfound stability should be attractive to potential investors and/or potential owners who would be interested in buying the hockey team and working with current ownership to keep the team in Atlanta.
The Thrashers continue to struggle with their attendance, ranking 28th in the league in spite of the team's on-ice success (it began the week in sixth in the Eastern Conference and was three points out of first place in the Southeast Division), so any ray of sunshine would be welcome at this stage.
It was interesting to see that Levenson told the team's broadcast partner after the lawsuit was settled that the ownership bickering had "zero impact" on the team and that it wasn't a distraction. If that's true, then ownership was even more incompetent than we had previously believed. But the fact of the matter is that the ownership squabbles did have ramifications on the team whether it was in terms of attracting quality free agents, hiring competent coaches (or being willing to pay competent coaches) or trying to properly market the franchise in a market rich in corporate potential.
The question now is whether someone will see value in this exciting young team and try to keep it in a market that has never been fully cultivated in part because of ownership's failures. Or, will the team continue to struggle and force NHL commissioner Gary Bettman to reward the patience of the good folks in Winnipeg by allowing the team to be sold and moved?
4. U.S.-Canada rivalry brewing in WJC?
We've never been huge fans of the world junior championships given that the odds are generally stacked heavily in favor of the Canadians, the only nation that really cares about the annual showcase of under-20 hockey players. In general, teams would have had better luck selling their equipment and taking on the house odds in Vegas than in trying to unseat Canada's entry because the tournament is held either in Canada or in border communities most of the time.
Hey, we get it. Television ratings are through the roof in Canada regardless of where the tournament is played. And tickets sell like hotcakes when it's in Saskatoon (as it was last year) or Ottawa (two years ago) or Buffalo (this year's host). But every game is a home game for the Canadian side, and that has, at least in part, contributed to Canada's perennial success at the WJC.
But a funny thing happened to the dynamics of this tournament a year ago when the brash Americans came into the Canadians' house (so to speak) and stole the gold medal in overtime to end a five-year run of championships for the Canucks.
If tournament organizers, even those in Canada, were being honest with themselves, they'd be rooting for a repeat for the host Americans this year. First, an American win would establish a perfect storm of a rivalry between the neighboring hockey nations and would suggest to other nations that it's not all Canada all the time when it comes to the WJC.
With the games being broadcast in the U.S. on the NHL Network (it was a pleasure to hear Gary Thorne's voice above the slash of skates on ice and the thwack of sticks on pucks again), it will be interesting to see whether the tournament generates a following south of the border, especially if it looks like a rematch of last year's gold-medal contest. The Americans eked out a 3-2 win in overtime over Finland on Sunday, while the Canadians beat Russia 6-3 to start this year's proceedings.

5. Injuries add up for Wings -- again
Can't help but feel a certain sense of déjà vu all over again watching the Detroit Red Wings lose piece after piece of their stellar squad. Pavel Datsyuk is already out for a month or so with a hand injury, and the Wings lost their top goal producer in Daniel Cleary when he suffered a fractured ankle courtesy of teammate Brad Stuart during Sunday's 4-1 win over Minnesota. The loss is disappointing for the team and for Cleary, who battled through injury last season to become one of the team's most complete players this season. He had scored his 16th goal of the season earlier in the game.
Last season, the Wings struggled without Cleary, Tomas Holmstrom, Johan Franzen and Niklas Kronwall, among others, and had little gas left when the playoffs began. They were beaten in the second round by San Jose after narrowly defeating Phoenix in seven games in the first round.
This season, head coach Mike Babcock was hoping to use a healthy, balanced lineup to keep his team fresh and ready for another long playoff run. Now, he'll be looking to some youngsters up front to try and keep the team afloat while Cleary and Datsyuk heal. With San Jose, Chicago and Vancouver building up steam, the Wings are going to be under fire while that happens.
October, 19, 2010
10/19/10
3:02
PM ET
The
New York Islanders
are among the early season's feel-good stories, having overcome long-term injuries to key players to jump out of the gates with a 3-1-2 record.
The obvious thing is that, long-term, the kids on this team have this franchise on the right track. Short term, however, and key to whether the Isles have any chance at the playoffs this season, are the netminders: the old guy and the oft-injured guy.
Dwayne Roloson
, 41, and
Rick DiPietro
, 29, will decide whether there's playoff hockey in Long Island this season. Roloson is off to a fantastic start with a .942 save percentage and 1.65 goals-against average to go with his 2-1-0 record. DiPietro, trying to ease his way back into regular duty after two injury-plagued years, hasn't lost in regulation at 1-0-2, but his numbers aren't great: 3.53 GAA and .869 SP.
Isles head coach Scott Gordon told ESPN.com Monday in Toronto that he's chatted with both goalies about his general plan for this season. He told Roloson that DiPietro is important to this franchise and that it's key to get him going again. But he also told the ultracompetitive Roloson that he will get his share of starts, too.
Gordon said he would also reserve the right to act on what he believed were good matchups. So Roloson got the past two starts because of his history at the Air Canada Centre. He backed up last season's heroic, 58-save performance with another gem Monday night, kicking away 29 shots in a 2-1 overtime win over the previously 4-0-0 Maple Leafs.
Score one for Coach Gordon.
How Gordon handles this goalie tandem will be a situation that bears watching all season long. Anyone who has been around Roloson, for example, knows that he wants the net every night. It's his makeup. Gordon will need dexterity in handling that.
"It's one of those things I can't control, I can't control who's playing and who's not playing," Roloson said Monday. "For me to focus on that and mentally worry about it, it's only going to affect my play. So I can't focus on that. Everyone wants to play, of course. You want to be in there. But it's one guy in net, and there's two guys on the team. You can't control that."
DiPietro played in 13 games over the past two seasons. He sounded Monday as though he was ready to roll with the punches no matter what Coach Gordon's decisions would be.
"Listen, man, 1 percent of the entire world gets to be a professional athlete, and I'm one of them," DiPietro said. "I feel truly blessed [and] lucky. As far as taking positives out of what's happened, I can't tell you how much of the little stuff you take for granted when you're here. When you're away from the game, you get a chance to see how truly lucky you are.
"Times I used to get mad when I got hit in the face with the puck, I"m just happy [now] that the puck's hitting me and I get a chance to stop the puck. You know what I mean?"
DiPietro is in the fifth year of a 15-year deal that pays him $4.5 million a year. It's in the franchise's obvious interests to rehabilitate him to the point where hopefully he's back to being a reliable and healthy No. 1. The team is being careful with him, giving him time to recuperate after games and tough practices.
"The previous year he never had the chance to train like an athlete, he had to train like a rehabbing athlete," Gordon said. "This is the first year in a while where he's been able to train to prepare for a season instead of training like he's coming off an injury. He hasn't had a day off because of his knee. It's all been something that we've done to make sure we don't put more wear and tear on him than we have to and allow him to really get up to speed with his own body. We want him to work his way back into it. Two years off is two years off. You can't pretend that you're going to pick it up where you left off."
DiPietro insisted he feels fortunate he's still in this position at all.
"It's been tough, I can't sit here and tell you it's been easy," he said. "A lot of dark days, a lot of times where you don't think you're going to make it. Luckily I have a strong support staff. The trainers have been great. I've got a phenomenal wife who I'm surprised hasn't killed me.
"You've just go to keep battling. I always just kept telling myself that the light at the end of the tunnel was coming and all the hard work was going to eventually pay off."
Roloson? He just turned 41 last week but looks and feels younger. He's earning $3 million this season ($2.5 million cap hit), and he'll be an unrestricted free agent July 1.
"I'm feeling real good. The body feels great. Just plugging away," he said Monday.
Roloson? DiPietro? That's the question for Coach Gordon in 2010-11, and every decision will have an impact on this season's win total.