June, 18, 2013
6/18/13
1:30
PM ET
By
ESPNChicago.com
| ESPN.com
The timing of
Marian Hossa
's injury remains uncertain, but
Ed Olczyk
doesn't believe the
Chicago Blackhawks
knew all day Monday that Hossa might not play in Game 3.
Olczyk said during Monday's broadcast that Hossa was hit by a puck in pregame warmups, but Hawks coach Joel Quenneville said nothing happened during warmups. Hawks captain
Jonathan Toews
added to the confusion after the game when he said the team wasn't surprised to learn just before game time that Hossa wouldn't play.
The Hawks turned to
Ben Smith
, who didn't warm up, to take Hossa's spot just minutes before game time.
"There's all this speculation, the quotes that guys knew there was a chance he wasn't going to play, but I've been around the block a few times, I don't know how you can buy into that with the aspect of knowing that if there was a chance that (Hossa) wasn't going to play you had
Sheldon Brookbank
and
Brandon Bollig
taking warmups and then neither one of those guys dresses for the game," Olczyk said Tuesday on "The Carmen & Jurko Show" on ESPN Chicago 1000.
"To me it was one of those 'OK, we've got to do something right now. We've got to figure this thing out now.' We're not going to find out a lot. Players on both teams right now are taped together just getting out there to play and with Hossa being out, taking warmup and then not playing the game ... to think that the Blackhawks had an idea that he might not play and then all of a sudden play a guy who didn't take warmups that just doesn't make a whole heck of a lot of sense."
Toews said playing without Hossa was "something we were prepared for all day, that he might not play."
"It happens sometimes. You're missing one of your best players and you've got to find a way to play without him. We always say it's an opportunity for the guys to step up. The guys that got more ice time (Monday night) played well. We've just got to find a way to win."
Quenneville said after the game that Hossa has an upper-body injury, and he is hopeful Hossa will be able to play in Game 4 on Wednesday.
Considering the circumstances, Olczyk believes Smith, who finished with a plus/minus rating of minus-1 and had just one shot, played well in Game 3.
"I thought the kid played a good game for a kid that worked his rear end off in practice in the morning, goes back to the hotel like he's done for every single playoff game and the next thing you know at about 7:55 local time he's tapped on the shoulder and told 'You're playing tonight' and he's had no warmup. I thought he played a good game. Did he make some mistakes? Absolutely, but I thought he was one of the top six forwards for the Blackhawks (Monday night)."
October, 15, 2012
10/15/12
9:39
PM ET
DALLAS -- Looking for an indication of the importance of this week's labor negotiations? NHL commissioner Gary Bettman, a regular attendee at the USA Hockey's annual U.S. Hockey Hall of Fame induction ceremonies, declined at the last minute to make the trip here for Monday's ceremony. Deputy commissioner Bill Daly had likewise planned to attend but likewise sent his regrets.
Both NHL leaders are strong supporters of USA Hockey, and the league has a long relationship with the sport's governing body in the U.S., so the two likely would not cancel their previously planned trip on a whim. Brian Jennings, executive vice president of marketing, was the ranking league official in Dallas where
Ed Olczyk
,
Mike Modano
and Lou Lamoriello were enshrined. NHLPA executive director Donald Fehr had also been invited to the ceremony but had earlier sent his regrets.
Small world
There's something perpetually endearing about just how small is the hockey world.
Although Mike Modano, Lou Lamoriello and Ed Olczyk never belonged to the same NHL organization at any point in their careers, their paths crisscross like a spider web.
Olczyk met Lamoriello in the summer of 1983 when Lamoriello, then running the hockey program at Providence College, was coaching a team from the East at a summer sports festival in Colorado Springs, Colo., that would act as a tryout for the 1984 U.S. Olympic team, which Olczyk would make as a 17-year-old.
Lamoriello would go on to act as the GM of the U.S. entry in the 1996 World Cup of Hockey, a seminal moment for hockey in America as the U.S. beat Canada in a thrilling best-of-three final. Modano was one of the stars of that series, playing on a line with
Keith Tkachuk
and
Bill Guerin
.
Pat Lafontaine, inducted in the U.S. and Hockey Halls of Fame in 2003, was part of that 1996 team as well. Lafontaine was on hand Monday night in Dallas in part to help celebrate Olczyk's induction. The two, along with David A. Jensen, who was also in Dallas Monday night, formed what was known as the Diaper Line at the 1984 Olympics.
"We could get 'er going pretty good," Olczyk said. "They had me on that line to just kind of keep the speed limit at what it was supposed to be. Because Patty and D.A., they could fly and I just pretty much just tried to keep up and get the puck to them. But it was no doubt one of the best lines that I ever played on because we played together for the whole season."
Olczyk also played with Modano at a number of World Championships.
Other honorees
Also honored Monday night were longtime
Washington Capitals
executive Dick Patrick and Bob Chase-Wallenstein, who will broadcast his 60th season with the Fort Wayne Komets this season. Both men were named winners of the Lester Patrick Trophy for outstanding service to hockey in the U.S.
Patrick is the grandson of Lester Patrick, for whom the trophy was named, and the son of former New York Ranger player and coach Muzz Patrick. He has been the Caps' president since 1982-83.
Canadian Murray Costello, inducted in the Hockey Hall of Fame in the builders' category in 2005, was named the winner of the Wayne Gretzky International Award.
July, 27, 2012
7/27/12
2:29
PM ET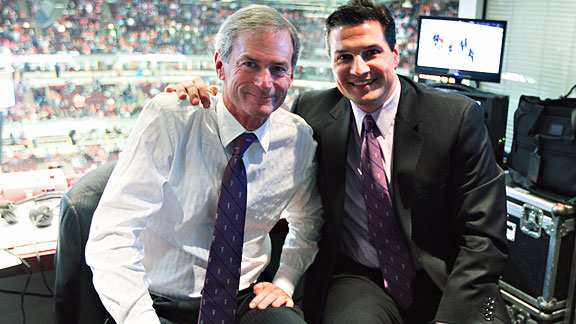 Chicago Blackhawks Eddie Olcyk, pictured on the right next to broadcast partner Pat Foley, will join the US Hockey Hall of Fame in the coming months.
Recently, it was announced that Eddie Olczyk, a former first-round pick of the Blackhawks and current television analyst for the team, will be inducted into the U.S. Hockey Hall of Fame. Olczyk scored 342 goals and produced 794 points in a 16-year career and was just one of seven players in a five year span ('87-'92) to score 30 or more goals in each season. At the recent Blackhawks fan convention-- at which he was master of ceremonies -- Olczyk sat down for a question and answer session about all things hockey including the team he played and now broadcasts for.
Jesse Rogers:
Do you think your inclusion into the US Hockey Hall of Fame is purely due to your playing days or a culmination of all the things you've done in your career on and off the ice including promoting U.S. Hockey.
Eddie Olczyk:
I'd like to think my numbers speak for themselves but I think the nine different times I represented our country as a player and then once as a coach, and the speaking engagements on behalf of US hockey, it's probably everything under the umbrella. I've been involved with hockey in the U.S. since I was 17 … I'd like to think a lot of is player wise, but Ill certainly take the other aspects with it.
Rogers:
Did the last Olympics finally show the world USA Hockey has reached a more than respectable level?
Olczyk:
I think everybody before that knew how far we've come and how good of a country we are as far as playing the game. I think our top 50 players can compete on that world stage, but when you start talking top 100 or 200 players and you talk about our greatest rival its Canada. I still believe Canada's greatest rival is the Russians. I believe that. As an alum that still bothers me but maybe it's changing.
Rogers:
Let's pivot right to Patrick Kane on this subject. While the World Championships were going on in early May a great player like him was kind of in the spotlight for other reasons. Would you have liked to seen him play in the championships?
Olczyk:
Oh, absolutely. I said it then and I'll say it now: I was disappointed that he didn't go. Now, I don't know why. Health and personal reasons come into it but I think that's where we, as USA hockey, we need all of our players to stop what they're doing when that phone rings and no hesitation, you go. That's the difference between Canada and the US, guys are stopping whatever they're doing and going. And it's been like this for a long time, we don't have full cooperation from our players. Now I'm talking at levels below the Olympics. I was disappointed that he didn't go and it obviously culminated with what happened on that May weekend. We need players like Kaner to go when they get called.
Read more »