May, 16, 2013
5/16/13
5:34
PM ET
PITTSBURGH --
Penguins
defensive coach
Todd Reirden
always has this message for the team's young defensive prospects who think they're ready for a taste of the National Hockey League: Go check out No. 44, and then you'll know if you're really ready.
That's
Brooks Orpik
, who has become a pillar in a locker room chock-a-block with high-end talent, a testament to his maturation into a thinking-man's defenseman who is far more than just that guy who can wreak havoc with thunderous open-ice hits.
"He doesn't know it, but they [the young prospects] watch him live his life, basically," Reirden told ESPN.com on Thursday.
"He's an intense competitor, but he's calm and under control," the coach added.
Earlier this season, when the Penguins were struggling with their defensive play, Orpik was one of the catalysts for changes in how the team played on that side of the puck.
"He was a large part of our meetings, and he said some things that challenged our team to get better," Reirden said.
"He was a large part of our turnaround this year," added Reirden.
In some ways, Orpik is the model player, the kind all teams covet and hope to have in their organization.
The Penguins drafted him 18th overall in the 2000 draft while Orpik was establishing himself as a hard-hitting defenseman at Boston College. He spent two years playing for the Penguins' American Hockey League affiliate in Wilkes-Barre and has been a fixture on the Pens' blue line since 2003-04. In that time, Orpik has gone from a player relying mostly on physical attributes to someone who has learned to think the game at a high level and assume more and more responsibility for a team with expectations as high as any in the league.
[+] Enlarge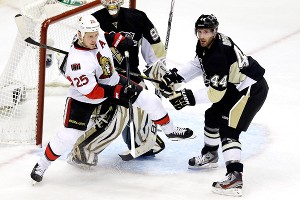 AP Photo/Gene J. PuskarBrooks Orpik makes his presence felt in front of the Penguins' net and in their dressing room.
Orpik played his best game of the playoffs in Game 1 of the Eastern Conference semifinal series against the
Ottawa Senators
. He left big Ottawa defenseman
Eric Gryba
woozy from a titanic open-ice collision and tangled with agitating rookie
Cory Conacher
, all without uttering a word of trash talk or taking a trip to the penalty box.
"Five or six years ago, I might have gotten mad," Orpik said Thursday. "It's such a fine line now, especially stuff after the whistle."
Those moments aren't lost on anyone watching the game, especially Orpik's teammates.
"Even off the ice, that's his demeanor. That's the way he is, you know, calm," said defense partner
Paul Martin
. "On the ice every once in a while he'll get the blood boiling or he'll get the eyes going and you definitely don't want to be around when that's going on. But he's very composed."
"He has that intensity, but he's smart. He doesn't let the emotions get the best of him. He keeps it well within his means," Martin added.
A team is a complex machine -- at least good teams are -- a series of moving, interconnected parts. For a team as deeply skilled as the Penguins, it is imperative that there be some ballast, a kind of counter to all that skill.
Orpik, who scored the overtime winner in Game 6 of the first round against the Islanders to propel the Penguins into the second round for the first time in three years, represents that element on this team.
"We always look to Orps for that boost and the way he plays physically," said Penguins captain
Sidney Crosby
after Game 1. "We've gotten used to him making those big hits and stepping up and making it tough on other guys. It's definitely a huge boost when he does that."
Before playing with Martin, Orpik helped talented defenseman
Kris Letang
grow into a top two-way player who this year is a finalist for the Norris Trophy as the league's best defenseman. Playing with Martin, Orpik helped the former New Jersey Devil rebound from a disappointing 2011-12 season, and the pair is regularly playing big minutes against opposing teams' top forward units.
"He has this presence about him that makes you not want to make a bad play," Reirden said.
Local Pens beat writer Rob Rossi has dubbed Orpik "The Conscience," and it is an apt description not only in how he plays but also in how he conducts himself off the ice. He is unfailingly thoughtful and refreshingly blunt.
"He's our most dependable guy," said
Matt Niskanen
. "He's just so consistent, always in the right position. Always brings a physical factor to the game. He's our leader on the back end.
"He's just that staple that's always there."
What impresses about Orpik is that, for such a physical presence, he rarely fights. According to Hockeyfights.com, he has had two fights since the start of the 2008-09 season -– and rarely talks smack to opposing players.
"He's not a rat," Niskanen said. "He just plays the game hard and tries to be effective and leave an effect on people. But he does it in an honorable way and just plays the game hard."
Longtime NHL player
Keith Jones
, now a national analyst, has seen a lot of Orpik over the years and notes that the Penguins are a much different -- read: lesser -- team when Orpik is out of the lineup, as he was when the playoffs began.
"I think of him as a difficult player to play against," Jones told ESPN.com this week. "I think as an opposing player you're happy when he's not in the lineup."
If the Penguins are going to make a run at another Stanley Cup, they will need Orpik to stay healthy, said Jones, who likens his importance to that of Daniel Girardi or
Ryan McDonagh
for the
New York Rangers
, or even to another famous Penguins defender of yore,
Ulf Samuelsson
.
"He reminds me a lot of [Samuelsson]," Jones said. "I think he's more than a glue guy."
Orpik, a member of the U.S. team that won a silver medal at the Vancouver Olympic Games in 2010, understands he has become a player from whom other players take their cues. It is not a role he sought out, but one he accepts willingly.
"I think you embrace it," he told ESPN.com. "I don't think I ever think about it too much or get caught up in it too much, but you just have to be aware of it all the time."
"Younger guys, when they come up, they just watch how you carry yourself on and off the ice, how you treat people, how you act in different situations," Orpik added. "Maybe when you're younger it goes unnoticed, but now you're older and you've got a lot of eyeballs on you."
The funny thing is it doesn't seem all that long ago to Orpik that he was a guy looking across the dressing room at a player like
Gary Roberts
, taking note of how he prepared, what he ate, how he interacted with people on and off the ice.
"You remember how you viewed those guys, and I think you're na´ve if you don't think people view you in the same light," Orpik said. "Hopefully people view me somewhat close to how I viewed Gary."
The 32-year-old has one year left on a six-year deal, and it's difficult to imagine him in any other jersey.
"When you're younger, you always hear older guys say that, 'Oh, it all goes by so quick,' and you just kind of laugh at that," Orpik said. "But it does go by quick. I think the biggest thing is just enjoying it as much as you can. I know it obviously helps when you're winning, and it helps with the kind of people we have around here. There's not a lot of bad days around here, that's for sure. Even when you're losing."
May, 6, 2013
5/06/13
10:54
AM ET
The road to
Brendan Shanahan
's door should be renamed The Path of Least Resistance.
Whatever is guaranteed to create the least amount of fuss, whatever allows the latest ugly on-ice mess to dissipate into the ether as quickly as possible, that's what will be brought forth by the office the league's Lord of Discipline.
As was the case a year ago when the first round of the playoffs erupted in a frenzy of cheap shots and dangerous hits, the NHL's opening round this spring has seen bloodshed and suspensions.
Looks like the message is really getting through.
But it's not really about the message, is it?
It's about smoothing things over.
[+] Enlarge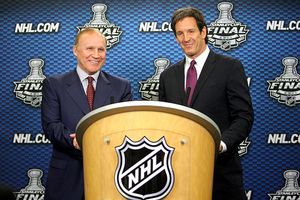 Dave Sandford/Getty ImagesBrendan Shanahan, right, and his predecessor, Colin Campbell, have created more confusion than clarity when it comes to NHL discipline.
That's why Shanahan suspended
Eric Gryba
for what most hockey observers, including coaches, players and general managers we've spoken to in recent days, believe was a perfectly legal hockey hit on Montreal's
Lars Eller
.
Listen to Shanahan's video announcing the two-game ban, and he might as well have been explaining cold fusion. So much gobbledygook and double-speak to mask what was in the end another missed mark.
Had Shanahan simply come out and said "this is a hit we don't want in our game, and we are going to take it out, and it's going to start now with a 10-game ban," then we could have lived with that. In fact, a number of executives we spoke to in the wake of Gryba's devastating hit on Eller believe the hit needs to be taken out of the game.
That doesn't change the fact that the suspension wasn't framed that way, and that by the letter of the law, that's how defenders are taught to play.
If you want to call something an apple, then call it an apple. But don't say apple and then explain oranges, which is what the Gryba suspension became.
What confuses the issue even further -- and if there is a word to describe the NHL's attempt to modify on-ice mayhem in recent years, both under Shanahan and his predecessor Colin Campbell, it's confusion –- is the subsequent suspension of Detroit's
Justin Abdelkader
for two games for launching himself at a vulnerable
Toni Lydman
of the
Anaheim Ducks
.
Same suspension, so it must be the same play, right?
Ha-ha. Just kidding. They're two completely different scenarios.
Abdelkader launched himself at Lydman, targeting the head with the shoulder, exploding up and into the unsuspecting player.
The Ducks revealed that Lydman has severe headaches and a sore neck, and he is bothered by bright lights, all of which points to Lydman having suffered a concussion. That's no shock given the dangerous nature of the hit. He also isn't expected to play in Game 4 of the Wings/Ducks series. Again, no surprise.
This is the kind of activity the NHL has been trying for a number of years to eradicate, but we continue to see those kinds of hits on a regular basis.
Whatever the league thinks it's doing in terms of education and/or supplemental discipline, it's not working. The
Minnesota Wild
are without top forward
Jason Pominville
as they try to keep pace with the
Chicago Blackhawks
after a sneaky dirty elbow to the head from
Dustin Brown
late in the regular season.
The Kings' captain received a nice two-game break at the end of the regular season, which allowed him to rest up for the playoffs while Pominville's absence could cost the Wild millions of dollars in playoff revenues.
The tendency in the playoffs has been to modify down the number of games a player is suspended for because the value of each game is greater, and so a five-game suspension in the regular season might be rationalized into a one-game ban in the postseason. Where's the logic in that?
What if Lydman cannot return to the series against Detroit? Yet Abdelkader, who has been playing on the Wings' top line with
Pavel Datsyuk
and
Henrik Zetterberg
, will be back for what could be deciding games?
How does that make sense? How is that justice?
Truth is, it has always been less about justice and making sense than simply making things go away when it comes to the NHL's peculiar efforts at controlling its on-ice mayhem.
May, 5, 2013
5/05/13
11:55
PM ET
OTTAWA -- The spotlight on this night should have been squarely on
Jean-Gabriel Pageau
, an unheralded product from just across the river, whose hat trick propelled the
Ottawa Senators
to a full-value cream job of the
Montreal Canadiens
.
Instead, a line brawl, 236 combined penalty minutes and stupidity in the third period dominated the discussion after the Senators took a 2-1 series lead over the Habs. The bad blood between the two rivals escalated yet again, especially between the two head coaches.
"We got beat by a good team tonight; they played very well," Montreal head coach Michel Therrien began in his postgame address. "I always believe you let the players dictate the game. Calling a timeout at 17 seconds in the game -- I never saw that before.
"You never want to humiliate another team as a coach, and this is exactly what happened tonight. As far as I'm concerned, it was classless."
Senators head coach Paul MacLean did indeed call a timeout late in the game with his team up 6-1, but he offered up an explanation for it. Just not sure the Habs will buy it.
"I didn't know what was going to happen next," MacLean said. "I feel bad for the referees, but they wouldn't let me bring my players back to the bench so I can tell them what I wanted them to do. So my only recourse was to take the timeout because I didn't want anyone to get hurt. It was already getting dumb enough as it was.
"So in order to protect my players under circumstances that were instigated by the Montreal Canadiens, I was forced to protect my players. And I will do that every time."
As far as Therrien's assertion that Maclean was trying to humiliate the Canadiens: "I thought they were doing a real good job of that themselves. They didn't need my help at all," MacLean fired back.
Did someone turn back the clock and drop this series into 1984, featuring the Nordiques and Canadiens?
Mercy.
All of this, of course, was a byproduct of the controversial hit that
Eric Gryba
laid on
Lars Eller
in Game 1, which netted the Senators defenseman a two-game suspension but also ignited a verbal barrage from each side.
"Michel talks about discipline and his team that really turned it around this year," Senators GM Bryan Murray told ESPN.com after the game Sunday night. "He took a shot at Paul, who was sticking up for his player recognizing that
[Raphael] Diaz
did make the pass that got Eller hurt. We don't like seeing players get hurt. We sure didn't want Eller [to] get hit the way he did, but that's the game. Gryba stood up. I told
Brendan Shanahan
it was the wrong decision on his part. I've watched it 100 times. I've talked to hockey people around the league, and most of them, like 90 percent, agree it was shoulder to shoulder and then it slid across. So we didn't think it was the right thing. And we heard all the commentary from
[Brandon] Prust
and from Michel. Prust had a chance with
[Chris] Neil
and
[Matt] Kassian
on the ice and didn't do anything about it. When they left the ice, he stepped in and took a couple of cheap penalties. People shot pucks at people. I really object at that."
Montreal defenseman
Josh Gorges
shot a puck toward Ottawa's
Kyle Turris
at the buzzer, which the Sens didn't like.
But on this night, there was plenty not to like from each side.
Neil celebrating like a wrestler in WWE after beating up
Travis Moen
in the line brawl wasn't terribly impressive, nor was
Ryan White
's two-handed slash at
Zack Smith
, which ignited the line brawl.
"[White] takes a two-handed chop at the back of the player's leg -- haven't seen that in a long time in the National Hockey League," MacLean said. "But that's hockey. Stuff happens. I thought we handled ourselves well under the circumstances in the duress we were put under. We defended ourselves."
It added salt to the wounds of the Canadiens, that's for sure. On a night when the Habs were beaten to loose pucks, beaten in the bodychecking department and beaten on the scoreboard, they were also beaten up by the Senators in that line brawl.
"It is what it is. Emotions are flying high out there," Neil said. "We stood our ground.
"We came out tonight, we came hard, we had some hits, everyone finishing checks and that's what it takes to win," Neil added.
Montreal winger
Max Pacioretty
says the third-period ugliness reflects the emotions of a playoff series both teams desperately want to win.
"We're not going to back down from anyone," he said. "We got a lot of guys that will stick up for their teammates, and it showed. But we have to find a way to compete to get more on the scoreboard in the next game. That's when guys like me have to look in the mirror."
And that's just it. Forget for a second the craziness of the third period and think about why the Senators have a series lead. That Canadiens forecheck of Game 2 was nonexistent Sunday night. Their ability in Game 2 to make
Craig Anderson
's life more difficult by crashing the goalie's crease never really happened, either.
The Senators dominated at both ends of the ice and the Habs are left to ponder just how their game disappeared from Friday night.
"We know we have a much better team in here than we showed," Pacioretty said. "We're hoping to show up in Game 4."
They have no choice if they want to have any chance to win this series.