November, 25, 2013
Nov 25
10:53
AM ET
By
ESPN Stats & Information
| ESPN.com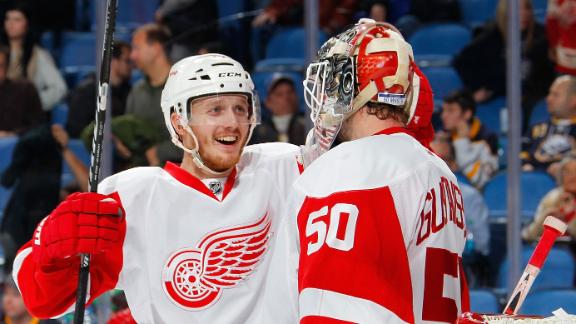 SUNDAY
Red Wings 3, Sabres 1
* Red Wings: 9-1-0 in last 10 meetings vs Sabres
*
Johan Franzen
(DET): PP goal (6); 4 of 6 goals this season have come in last 6 gams
* Sabres: lost 4 straight games
FROM ELIAS:
Henrik Zetterberg
reached the 700-point mark for his NHL career when he assisted on Johan Franzen's game-winning goal in Buffalo on Sunday. Zetterberg, who has played his entire career with the Red Wings, hit the 700-point plateau in his 739th game. The only players who needed fewer games to rack up 700 points for the Red Wings than Zetterberg are
Steve Yzerman
(519),
Sergei Fedorov
(638), Gordie Howe (673), and
Pavel Datsyuk
(706).
Hurricanes 4, Senators 1
*
Eric Staal
(CAR): goal (6-EN), 2 assists (1st 3-point game of season)
* Hurricanes: snap 4-game winless streak
* Senators; 2-5-0 in last 7 games
FROM ELIAS: Eric Staal extended his point streak to a season-long six games by recording one goal and two assists in the Hurricanes' 4–1 win over the Senators. It was only the second time in his 24 games this season that Staal registered more than one point. (He tallied two assists against the Islanders on Oct. 19.) Staal had nine multiple-point games through his first 24 games last season, at which juncture he ranked fifth in the NHL scoring race with 30 points.
SATURDAY
Blues 6, Stars 1
* Six different Blues score goals
* Only multi-point players for Blues:
T.J. Oshie
(goal & assist) and
Alex Pietrangelo
(2 assists)
* Blues: on 3-game winning streak overall; 6-0-1 in last 7 home games (won last 3)
* Stars: lost 2 straight games following a 3-game winning streak
Ducks 4, Coyotes 2
*
Dustin Penner
(ANA): 2 goals (6); 4th multi-point game of season
*
Jonas Hiller
(ANA): 40 saves
* Ducks: won last 2 games (were 0-3-2 in previous 5 games)
* Coyotes: 1st regulation loss in last 6 games (3-1-2)
FROM ELIAS: Dustin Penner scored two goals in a game for the first time this season to help lead the Ducks to a 4–2 win over the Coyotes. Penner is the sixth different player to record a multiple-goal game for Anaheim this season; the others are
Corey Perry
(3),
Jakob Silfverberg
,
Kyle Palmieri
,
Emerson Etem
and
Ryan Getzlaf
. The Ducks are tied with the Oilers, Coyotes and Jets for the NHL high in players with multi-goal games this season.
Rangers 2, Predators 0
*
Cam Talbot
(NYR): 17 saves - 2nd career shutout (6th career NHL start)
* Rangers: won 2 straight games (were 1-3-0 in previous 4 games)
* Predators: 3-game winning streak ends
FROM ELIAS: Rangers goaltender Cam Talbot recorded his second straight shutout with a 2–0 win at Nashville on Saturday. Talbot, who blanked the Canadiens 1–0 in Montreal seven days earlier, is only the second goaltender in the last 40 years to post consecutive shutouts in one season for the Rangers, both on the road.
Steve Valiquette
did that with a pair of wins at Philadelphia in the 2007–08 season (Jan. 31 and Feb. 9).
Senators 4, Red Wings 2
*
Bobby Ryan
(OTT): scores go-ahead PPG (11) 3:51 into 3rd period
*
Clarke MacArthur
(OTT): 2 goals (6) (1st multi-goal game since Jan. 24, 2012)
* Senators: snap 3-game losing streak
* Red Wings: 1-3-5 in last 9 games
FROM ELIAS: Clarke MacArthur scored the first and last goals for the Senators in their 4–2 win at Detroit. It was the ninth two-goal game of MacArthur's NHL career and his first since he signed with Ottawa as a free agent last summer. MacArthur's first two-goal game in the NHL was for the Sabres on home ice in November 2007, but his eight multiple-goal games since then have all come on the road (seven for the Maple Leafs and one for the Senators).
Maple Leafs 2, Capitals 1 (SO) (TOR wins shootout, 2-1)
*
James Reimer
(TOR): 49 saves (matches single-game career-high)
*
Alex Ovechkin
(WSH): game-tying goal (20) with 4:10 left in 3rd period (7 goals in last 6 games)
* Maple Leafs: 3-1-0 in last 4 games
* Capitals: 0-2-1 in last 3 games following a 3-game winning streak
FROM ELIAS: Alex Ovechkin became the first NHL player to reach the 20-goal plateau this season when he scored the Capitals' goal in their 2–1 shootout loss at Toronto. Ovechkin has scored 391 regular-season goals in his nine-seasons in the NHL, at least 82 more than than any other player has scored over that span, and he's won the Maurice Richard Trophy as the league's leading goal-scorer three times, yet this is the first season in which he's been the first NHL player to hit the 20- goal mark!
Steven Stamkos
was "first to 20" in the NHL in each of the past three seasons.
FROM ELIAS: James Reimer stopped 49 of the Capitals' 50 shots on goal in his shootout win on Saturday night in Toronto. It's the third time this month that an NHL goaltender has recorded a shootout victory after facing 50 or more shots on goal during the "real hockey" part of the game. The other netminders to do that were the Coyotes'
Mike Smith
(Nov. 2) and the Sabres'
Ryan Miller
(Nov. 5), both in games at San Jose. Before this month no NHL goaltender had pulled off that feat since the Oilers'
Devan Dubnyk
on April 10, 2010 at Los Angeles.
Canadiens 3, Penguins 2
*
Max Pacioretty
(MTL): 2 goals (7); 2 multi-goal game in last 3 games
*
James Neal
(PIT): 2 goals (4) - both in 3rd period
* Canadiens: 5-1-1 in last 7 games (won last 3)
* Penguins: 3-game winning streak ends
FROM ELIAS: Max Pacioretty scored two goals for the Canadiens in their 3–2 win against the Penguins at Bell Centre, after scoring three times in Montreal's previous home game, a 6–2 win over Minnesota on Tuesday. He's the first Montreal player to score two or more goals in each of two consecutive Canadiens home games in one season since
Alex Kovalev
did that in 2007 (March 24–27).
Flyers 5, Islanders 2
*
Matt Read
(PHI): 2 goals (8); has 4 goals in last 2 games
*
Wayne Simmonds
&
Claude Giroux
(PHI): goal & assist each
* Flyers: 6-0-1 in last 7 games (won last 3)
* Islanders: lost 3 straight games; 2-8-0 in last 10 games
FROM ELIAS: Claude Giroux scored the game-winning goal and also recorded an assist in the Flyers' win over the Islanders on Saturday. Giroux has registered 31 points against the Islanders over the last five seasons (7 goals and 24 assists), second-most of any NHL player, behind the man who scored the game-winning goal in the Islanders' loss at Pittsburgh on Thursday,
Sidney Crosby
(34 points). Giroux has tallied two or more points in 12 of his 24 games versus the Islanders since the start of the 2009–10 season.
Wild 3, Jets 2 (SO) (MIN wins shootout, 2-1)
*
Charlie Coyle
(MIN): scores deciding goal in 4th round of shootout (1st career shootout goal)
*
Zach Parise
(MIN): game-tying SHG (11) with 4:55 left in 3rd period (also had assist)
* Wild: 9-1-1 in last 11 games (won last 2)
* Jets: 0-2-2 in last 4 games following a 4-game winning streak
Bruins 3, Hurricanes 2 (OT)
*
David Krejci
(BOS): GW goal (4) at 1:28 of overtime (1st point in last 6 games)
* Bruins: 3-0-1 in last 4 games overall; 6-0-2 in last 8 home games
* Hurricanes: 0-3-1 in last 4 games (were 4-0-1 in previous 5 games)
FROM ELIAS: David Krejci's goal 1:28 into overtime gave the Bruins a 3–2 win over the Hurricanes on Saturday afternoon. Krejci has scored only 14 goals over the last two seasons but eight of them have been game-winning goals (5 of 10 in 2012–13, 3 of 4 this season). He scored 53 goals over the previous three seasons (2009–10 through 2011–12) but only seven of those goals were game-winners.
Avalanche 1, Kings 0 (F/OT)
* Avalanche: 1st shutout vs Kings since March 20, 2006
*
Jamie McGinn
(COL): OT goal (4); 1st goal since Oct. 12
*
Semyon Varlamov
(COL): Shutout (19 saves); 1st shutout since March 30 of last season
* Kings: back-to-back overtime losses following 4-game win streak
February, 27, 2013
Feb 27
10:01
AM ET
Jordan Staal
is a cool customer, but he's not going to pretend.
When the NHL schedule came out last month for the shortened season, he scrolled down to find out just when he would first be facing his former teammates from Pittsburgh.
"I definitely looked," Staal told ESPN.com this week. "There's a few games that you check out, whether that's against the Rangers [against brother
Marc Staal
] or against Pittsburgh. I was real excited about this game. It was certainly in the back of my mind."
Staal doesn't actually return to Pittsburgh for the first time until the regular-season finale April 27, but facing his former buddies Thursday night will be a special event nonetheless. These are the guys he grew up with after breaking into the NHL as an 18-year-old seven years ago. These are the guys he won a Stanley Cup with in 2009.
"It's going to be a lot of fun, I know that for sure," Staal said.
You always wonder what gets said on the ice in these situations. His longtime linemates in Pittsburgh,
Matt Cooke
and
Tyler Kennedy
, might have a word or two for him.
"That's a good question," Staal said when asked who he thought would do the most chirping at him on the ice. "I played with TK and Cookie for a long time. It's going to be interesting and a unique experience for myself. It's going to be a lot of fun. Hopefully, we can shut up their chirping by winning the game."
Let's be real here. Staal is going to want to have a big game for all kinds of reasons. He left Pittsburgh because he knew he could never be a front-line center behind
Evgeni Malkin
and
Sidney Crosby
. Now he has that opportunity in Carolina, riding shotgun with his brother
Eric Staal
as a one-two punch as center that teams not named the Penguins would only dream of.
While Staal might never say it quite in this fashion, you bet there's going to be a lot of pride on the line Thursday night as he gets to not only face off against his former team but also show it the new version of himself as an offensive center, not the third-line checker he was for most of his time in Pittsburgh.
"Obviously, my role is a little bigger in Carolina, more opportunity to play in different scenarios. It's a very exciting time," said Staal.
It's why Penguins GM Ray Shero understood what needed to be done once Staal turned down a 10-year, $60 million contract extension in June. Even though Staal still had one more year left on his deal this season and wasn't going to be an unrestricted free agent until this upcoming summer, Shero wasn't going to waste an entire season letting things play out. If a player is turning down $60 million over 10 years, it's clear this wasn't about money.
"We had lots of conversations with him and his agent at the end of the year," Shero told ESPN.com this week. "It was hard to appease him in terms of where he was wanting to go with his career. It had nothing to do with the organization or the city; he loved it in Pittsburgh. But assuming with a healthy Crosby and Malkin, he was wondering where he fit in with his role, and I think that's really what it came down to. He never asked for a trade. But after we made the offer, which he appreciated, he thought about it for a while and his role here."
Being in Carolina was what Jordan wanted.
"To be able to play alongside Eric was important," said Staal. "Pittsburgh offered that deal, but being able to play with Eric would have been slim and none [had he signed it]. It was a time in my career when I could make decisions for myself."
Once Staal turned down the offer, Shero didn't waste any time.
"It didn't make sense for me to wait," said the Pens GM. "I didn't want him going to the end of the contract. There were smoke signals about Carolina. I have no problem with what happened. Jordan handled it with class, and I have nothing but good things to say about him. He had six great years here."
Veteran Carolina GM Jim Rutherford had read this situation beforehand and approached Shero about his interest last spring. He had heard rumors in the past that the Staal brothers had always wanted to play together in the NHL, so he focused on his target. But Rutherford didn't think it was going to happen as quickly as it did.
"I was a little bit surprised to get the call," Rutherford told ESPN.com this week. "About three hours before the draft, Ray phoned me and said he was going forward and making the move. It all happened really quick. But we had had several [internal] conversations and meetings about the possibility of a trade, so we were ready to offer what we ultimately offered in order to acquire him."
Staal was dealt to Carolina on June 22 just before the first round in exchange for
Brandon Sutter
, Brian Dumoulin and Carolina's first-round choice in that night's draft. (Pittsburgh took Derrick Pouliot.)
"I basically told Jimmy what I thought was a fair deal, and we hammered it out pretty quickly," said Shero.
The Hurricanes gave up three assets to get their man. Given Jordan's desire to join his brother in Carolina, there was the opportunity for Rutherford to lowball Shero, given Pittsburgh's apparent lack of leverage. But Rutherford never once entertained that thought.
"There's several things that could have happened," said Rutherford. "First of all, he's got two brothers in this league. So there possibly could have been another team involved. Or with Jordan not having a no-trade clause, Ray could have traded him anywhere, potentially to a big market. Then perhaps that team tries to persuade Jordan over that year to stay there and sign. So this wasn't a situation that you want to play hardball with when there's other things that could have happened. We negotiated a deal a couple of hours before the draft. It was a fair and professional negotiation, and we paid what we had to pay to get a player we really wanted."
Sources confirmed at the time that the Rangers and Penguins did talk regarding Jordan Staal, but a deal between divisional rivals would have cost the Blueshirts undoubtedly more than what Carolina paid.
Talk about a day Staal will never forget. On his wedding day in his native Thunder Bay, Ontario, he gets dealt to brother Eric's team.
"A lot of emotion that day, for sure. It was a great night," said Staal.
"I'm very happy for him and for his family," said Shero. "It's a great place to play. It's a nice story and I wish him all the success."
In Carolina, Staal has cherished taking on a bigger role, and the Hurricanes have been impressed with his impact.
"The No. 1 thing is that [coach] Kirk [Muller] can roll out two big centers," said Rutherford. "But also, anytime you can get a center of Jordan's style that can skate and play in all situations, it's a real big addition to our team. But on that top of that, in a compressed season, and I really see it sometimes now, when we're playing three games in four nights or back-to-back nights, I've seen in the past when we would wear down a little bit; those are times when Jordan is going even stronger. He can play over 20 minutes a game in all situations, and he's strong enough to play in situations that are difficult for some players."
On Thursday night, Jordan Staal will line up against Crosby. It's one thing to have done it in practice over the years. Now it's the real deal. Front-line center versus front-line center.
Bring it on.
"He was a lot of fun to play with," Staal said of No. 87. "It's exciting to have watched him from the bench over the years. Now to try and defend him and keep him off the score sheet, that's a huge challenge but one that I'm looking forward to and our whole team is looking forward to."
January, 25, 2013
Jan 25
10:44
AM ET
By
ESPN Stats & Information
| ESPN.com
Hurricanes 6, Sabres 3
*
Eric Staal
(CAR): 13th career hat trick
*
Thomas Vanek
(BUF): 2 assists (2 goals 6 assists in 3 games this season)
* Hurricanes: most goals in a game since 12/6/2011 (lost 7-6 to Flames)
* FROM ELIAS: Eric Staal's 13th hat trick are the most in the NHL over the last eight seasons, three more than the players tied for 2nd:
Ilya Kovalchuk
,
Alex Ovechkin
(10)
Blues 3, Predators 0
* Blues: 6-2-1 in past 9 home games
*
Jaroslav Halak
(STL): 2nd shutout in last 3 games
*
Pekka Rinne
(NSH): winless in 3 starts this season
* FROM ELIAS: Halak needed to make only 14 saves in his 6–0 season-opening win against the Red Wings on Saturday and it took only 13 saves to get a clean sheet in his 3–0 victory against Nashville. Halak has faced 19 or fewer shots on goal in six of the 11 regular-season shutouts he's notched since January 2011 and more than 25 shots in just one of those games.
Blackhawks 3, Stars 2 OT
* Blackhawks: best start since 72-73; also started (4-0-0)
*
Patrick Kane
(CHI): (2G, 5A) has a PT in all 4 games
* Stars: 3-5 past 8 home games dating to last season
* FROM ELIAS:
Marian Hossa
scored the overtime game-winner for the Blackhawks, his fifth goal in four games this season. The only other Blackhawks player over the last 20 seasons to score five or more goals in the team's first four games of the season was
Martin Havlat
, who scored six goals in Chicago's first four games in 2006-07. It's also the most goals Hossa has ever scored in his first four games of a season. His previous high was four goals in 2006-07.
Flyers 2, Rangers 1
* Flyers: avoid 1st 0-4 start in franchise history with win
*
Wayne Simmonds
(PHI): Goal in 2nd (1); 1st goal in 11 career games vs Rangers
* Rangers: streaks of 8 straight wins vs Flyers and 4 in a row AT Philadelphia snapped
*
Taylor Pyatt
(NYR): PP Goal in 3rd (3); 3 straight games with a goal
Canadiens 4, Capitals 1
* Canadiens: 4 goals in 2nd period (6 of 9 goals scored this season have come in 2nd period)
*
Raphael Diaz
(MON): 2 assists in back-to-back games; Canadiens won both games
*
Andrei Markov
(MON): 1 goal, 1 assist (3rd goal of season)
* Capitals: 0-3 for 1st time since 1993-94 (started 0-6)
Islanders 7, Maple Leafs 4
* Islanders: scored 4 unanswered goals in a 12:50 span in the 2nd and 3rd periods
* Islanders: set a franchise record for most goals in a road opener (7)
* Islanders:
Matt Moulson
&
Michael Grabner
had two goals each
* Maple Leafs:
Nazem Kadri
netted his 3rd goal of the season and has at least one point in all four Leaf games this year
* FROM ELIAS: The Islanders won 7-4 at Toronto after trailing by two goals (3–1) in the middle of the second period. It was the first time that the Islanders scored as many as seven goals in a non-overtime road game since they won 7–4 against the Rangers at Madison Square Garden on Dec. 3, 2006. The Islanders' victory on Thursday marked the first time they won a road game by 2+ goals after trailing by two goals in that game since Feb. 13, 2004, when they spotted the Coyotes a 2–0 lead but won, 5–2.
January, 25, 2013
Jan 25
9:33
AM ET
--It was an absolutely huge win for the
Philadelphia Flyers
Thursday night -- their first of the season -- as they edged the
New York Rangers
2-1. The Flyers have been ravaged by injury and signed veteran
Mike Knuble
Thursday to plug a hole in their lineup, pending Knuble's passing a physical. But it was a gutsy effort from a team that needed to help stem some of the panic around Philly as they limited the Rangers to 19 shots on goal while
Wayne Simmonds
and
Jakub Voracek
scored their first goals of the season. Must admit it was a bit curious to see New York Ranger head coach John Tortorella go back to
Henrik Lundqvist
again in goal a night after a big win over Boston. Both teams are tied at the bottom of the Atlantic Division with 1-3-0 records.
--The
Washington Capitals
have taken over the "How deep is this hole I am digging for myself?" honors after being hammered at home 4-1 by the
Montreal Canadiens
. The Caps are 0-3-0 and have been outscored 14-6. Hard times for rookie head coach
Adam Oates
, who started
Michal Neuvirth
for the first time this season and got the same result. Another good night for the Habs'
Andrei Markov
, who had a goal and an assist. P.K. who?
--After scoring just twice in their first two games, the
Carolina Hurricanes
took advantage of Buffalo backup Jhonas Enroth's first start to break out offensively, beating the Sabres 6-3. The Sabres move to 2-1-0.
Eric Staal
scored the final three goals of the game for the goal-starved Canes, who moved to 1-2-0.
--Now that's more like the Leafs that we know and love. After taking a 3-1 first-period lead, the Leafs allowed the
New York Islanders
to outscore them 6-1 the rest of the way en route to a 7-4 Islanders win. The collapse came at home, just 24 hours after the Leafs had manhandled the Penguins in Pittsburgh 5-2. The Isles moved to 2-1-0 on the season while the Leafs took a step back to 2-2-0.
Michael Grabner
and
Matt Moulson
each had a pair for the Isles.
--Those folks waiting for the
Ottawa Senators
to take a step back after their surprise run to the playoffs last season are waiting a while longer as they moved to 3-0-0 with their second win over the
Florida Panthers
. The Sens were again solid defensively in a 3-1 win and have allowed just two goals on the season. The Panthers, meanwhile, have dropped three straight and have managed just two goals in those three losses.
--The
St. Louis Blues
got back on the winning track with in typical style, this one by a 3-0 count over visiting Nashville.
Jaroslav Halak
stopped 13 Predators shots en route to the shutout and super rookie
Vladimir Tarasenko
notched his fourth goal of the season for the Blues, who moved to 3-1-0. The Preds, in the middle of a seven-game road trip, have managed just eight goals, which explains their 1-1-2 record.
--Without the injured
Mike Smith
, the
Phoenix Coyotes
let one get away in San Jose, blowing a 3-1 lead and losing 5-3 to the unbeaten Sharks.
Patrick Marleau
scored twice for the third straight game and leads the league with six goals. Linemate
Joe Thornton
leads all players with nine points as the Sharks have jumped out to a 3-0 start.
--The good news is that the
Dallas Stars
got top forward
Jamie Benn
under contract Thursday after the restricted free agent signed a five-year deal. The bad news is that the Stars blew a 2-0 lead in Chicago and lost 3-2 in overtime to the unbeaten Hawks.
Patrick Sharp
had three assists, including a helper on Marian Hossa's overtime winner. It was Hossa's fifth goal for the 4-0-0 Blackhawks.
Kari Lehtonen
was outstanding for the 2-1-1 Stars, stopping 38 of 41 shots.
--The
Colorado Avalanche
got another night of strong goaltending from
Semyon Varlamov
, who stopped all 33 Columbus shots he faced en route to a 4-0 victory. The win was the second in a row for the 2-1 Avs while the Blue Jackets, who looked good in games against Detroit and Nashville, have been outscored 9-1 in back-to-back losses to Phoenix and Colorado. Columbus is 1-2-1.
--After being shelled by San Jose in his previous start,
Devan Dubnyk
rallied mightily Thursday against the defending Stanley Cup champion
Los Angeles Kings
, stopping 30 of 31 shots as the Oilers edged the Kings 2-1 in overtime. Rookie
Nail Yakupov
tied the game in dramatic fashion with 4.7 seconds left in regulation, setting the stage for Sam Gagner's overtime power-play winner. Rookie defenseman
Justin Schultz
had two assists for the Oilers to keep the 0-2-1 Kings winless. The Kings have scored four goals in three games.
March, 22, 2012
3/22/12
9:50
AM ET
By
Elias Sports Bureau
| ESPN.com
•
Ryan Callahan
is the first Ranger to score a game-winning overtime goal on his birthday. The last player to do it was
Dion Phaneuf
of the Maple Leafs on April 10, 2010 at Montreal.
•
Ryan Miller
made 34 saves for his sixth shutout of the season in the Sabres' 3-0 win over the Canadiens. Miller has earned five shutouts over his last 22 starts, dating back to Feb. 1, tying him with
Ilya Bryzgalov
for the NHL lead in that category since that date. Miller had only one shutout in his first 31 starts of the season.
•
Eric Staal
scored two goals for the Hurricanes in their win over the Panthers, three days after he scored twice in a game at Winnipeg. It's only the second time in his NHL career that Staal had back-to-back multiple-goal games. Staal had a two-goal game and a hat trick in consecutive games in April 2010.
•
Patrick Kane
of the Blackhawks is the fifth U.S.-born player to score at least 20 goals in each of his first five or more seasons in the NHL. The other Americans to do that are
Jimmy Carson
(first seven seasons),
Bob Carpenter
(five),
Mike Modano
(five) and
Chris Drury
(five).
• Nineteen-year-old
Jaden Schwartz
of the Blues has scored a goal in each of his first two NHL games. The last teenager to score a goal in each of his first two career NHL games was
Eric Lindros
, in October 1992.
October, 25, 2011
10/25/11
7:06
PM ET
Penguins forward Jordan Staal has been on both the giving and receiving ends of hard hits with his hockey-playing siblings plenty of times.
But rarely have the effects been as devastating as this past February, when oldest brother Eric dished out a thundering blow on Marc during a game between the Hurricanes and Rangers. The 24-year-old defenseman, 20 months Jordan's senior, has yet to play a game because of post-concussion headaches stemming from the hit.
"Obviously I feel bad for both my brothers," Jordan Staal said after the Penguins morning skate Tuesday at Nassau Coliseum. "It's not a great situation, but again, it happens in the games. Hopefully, it will be over soon enough."
The incident isn't exactly dinner-table conversation at the Staal homestead back in Thunder Bay, Ontario. It's a family that has already produced three NHL players -- youngest brother Jared, 21, plays for an AHL team in Charlotte -- and with that comes the knowledge of the risks inherent in a physical game.
"We haven't really talked about it a whole lot," Staal said. "It's unfortunate that it was Eric who ended up taking out Marc, but it's part of the game. I'm sure Marc will be back soon enough."
Staal, who first disclosed he was still battling post-workout headaches when camp opened in September, has yet to practice fully with the team.
It was a startling revelation for the team's top defenseman, who led the Rangers with 24:55 of ice time last season. He missed five games following the injury last season, but symptoms did not seem to worsen until his workouts resumed over the summer.
Staal is currently on injured reserve and has yet to resume skating, but Jordan is hopeful that he will return soon.
Jordan has witnessed the slow, steady and well-chronicled progress made by his Penguins teammate Sidney Crosby, who has been out with a concussion since last January, and has seen how difficult the road to recovery can be.
"There always is a light at the end of the tunnel. Sometime it's harder to see for most guys," Staal said. "Marc's still got a little bit of a road ahead, for sure. He's starting to feel better than he was before but it's a long road, obviously."
Regardless of the circumstances surrounding the hit, Marc has a strong support system, Staal said.
"It's not easy, but our family's going to help support him as much as we can."
March, 15, 2011
3/15/11
10:41
AM ET
The season won't end Tuesday night if Carolina loses in Buffalo, but it might feel like it for the Hurricanes.
[+] Enlarge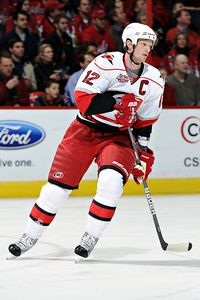 Greg Fiume/Getty ImagesEric Staal and the Hurricanes are winless in their past four games (0-3-1).
Must-win contest? Just about.
"Yeah, it's going to be huge," Hurricanes captain Eric Staal told ESPN.com on Monday.
The suddenly slumping Hurricanes have won only three of their past 10 games (3-5-2) and have dropped four points behind the Sabres and New York Rangers, holders of the last two playoff spots in the Eastern Conference. The head-to-head matchup with the Sabres is a golden opportunity for Carolina to get back on track.
"Our whole team knows where we're at as far as the standings," Staal said. "We're a few points behind them and we play them two more times [in Carolina on April 3], so these are games that we have to have. We're excited about that. You've got to be looking forward to the challenge and the opportunity. That's how we're going to take it Tuesday night."
Staal was upbeat on the phone, not a hint of frustration in his voice. His team is winless in four games (0-3-1), but the star center remains confident.
"You know what? It's been tough lately, but to be completely honest, the last three games that we've played, I thought we've played harder than we've played in a long time and we just haven't got the results," said Staal.
Certainly in a 2-1 loss to Washington on Friday night, I thought the Canes deserved a better fate. They played a heck of a game. That's why Staal doesn't think major adjustments are needed.
"This time of year, with 13 games left, we need to stick with what we're doing. We can't change anything," said Staal. "We need to continue to bring that worth ethic and the type of fight that we've had on the puck the last couple of games, because the wins are going to come. It's just a matter of staying with it."
Still, Carolina's 25th-ranked power play has been a major letdown. The Hurricanes have to connect on the man advantage from here on out or they're not going to make the playoffs.
"Obviously, our power play hasn't been phenomenal," said Staal. "But we've had some unbelievable looks. They just haven't hit the back of the net."
After Tuesday's game, Carolina hosts Toronto on Wednesday night, another big contest with the Maple Leafs also in the East playoff race. It's crunch time. This is when you find out who your leaders are. I asked Staal, 26, if he has recently felt the need to address the team.
"I think with where we're at right now, there isn't much that has to be said," said Staal. "Everyone in the locker room knows where we want to be and how we're going to have to get there -- that's by beating teams that we're facing right now, especially Tuesday night.
"Sometimes you can say too much. For me, it's about making sure we're prepared and performing on the ice, and I like I said, I think our fight has been there the last bunch of games. We just have to bring that again and hopefully, with the hockey gods, things will even out."
November, 17, 2010
11/17/10
11:52
PM ET
... Because three just wasn't enough.
There were plenty of games to pick from on Wednesday night, but Barry Melrose and Matthew Barnaby made their choices for the top performers. Melrose went with Boston's Tim Thomas and Detroit's Daniel Cleary, while Barnaby chose Carolina's Chad LaRose and Eric Staal.
November, 4, 2010
11/04/10
12:47
AM ET