March, 3, 2014
Mar 3
12:57
PM ET
You know I'm intrigued by bubble teams at this time of year -- it's my favorite thing to write about.
The
Dallas Stars
are another team on the bubble, hanging on to a playoff spot by the slimmest of margins.
But it's not posing any issues for Stars general manager Jim Nill. He's got a clear plan, regardless.
He's open to hockey deals, yes, but he's not going to trade for any pending UFAs.
"Correct, we're not going to be in the rental market," Nill told ESPN.com Monday. "But if there's a hockey deal that makes sense, we'll look at it."
He's got pending UFAs of his own, such as veteran winger
Ray Whitney
and center
Vernon Fiddler
.
Given where the team is right now, the sense is he trades those types of players only if the deal makes sense. He wouldn't do it for the sake of gaining a limited asset in return.
"We're open for business, I'm always looking at things, but I'm not rushing to do something just to move a body to get a pick," Nill said.
Veteran defenseman
Stephane Robidas
, out since late November with that horrific leg injury, could be on the mend and is an interesting trade target for a contender, something TSN colleague Darren Dreger brought up Sunday on air.
My sense is Nill likely will get a read off Robidas, both in terms of his health -- there's a thought he could return within two or three weeks -- and what his wishes are in terms of staying put or moving on. I think there's so much respect for what Robidas has done in Dallas that the GM would take the player's lead there.
But that's just my read on it.
Meanwhile, Nill is excited by his team, which has picked it up in the second half to try to get into the playoff race.
"We've had a lot of guys take a step in their game," Nill said. "You saw
Jamie Benn
in the Olympics,
Tyler Seguin
has become a big part of this team,
Erik Cole
has taken charge,
Jordie Benn
on the back end,
Trevor Daley
and
Alex Goligoski
are playing well, so guys have bought into it. A lot of credit goes to the coaching staff, they've done a good job. There's some real excitement in our room."
Blackhawks standing pat?
Things can always change with one phone call, but the feeling I get is that despite the
St. Louis Blues
' big blockbuster trade on Friday, the rival
Chicago Blackhawks
will stick with their group as is.
The Blackhawks picked up
Peter Regin
before the Olympic break and
Kris Versteeg
earlier in the season, and unless something falls in their lap -- which is still possible before Wednesday -- word on the street is that the defending champs like their team and don't feel compelled to act.
I don't blame them. What's not to like?
Wings chasing Ehrhoff?
The Red Wings are believed to be among the teams interested in defenseman
Christian Ehrhoff
, whom the Sabres are shopping. He's got seven more years on his deal after this season, at a $4 million cap hit. What's better, though, is that $22 million of that 10-year, $40 million deal will have been paid off by the end of this season because it was front-loaded.
I don't think the Wings would overpay to get him, but he would fill a need for a top-four, offensively minded defenseman.
Waiting for Phillips
Still no word as of Monday afternoon on
Chris Phillips
and a decision after being offered a one-year contract extension by the Senators.
It's believed Phillips wanted a two-year extension.
If he doesn't sign, Ottawa could trade him before Wednesday's deadline.
As reported last week, the
Boston Bruins
have interest in Phillips but it's not clear whether Ottawa would be willing to deal him to a divisional rival.
The Bruins also are interested in Islanders defenseman
Andrew MacDonald
, among others. MacDonald is a solid, two-way guy who's a pending UFA, and it's clear the Isles are going to move him.
October, 11, 2012
10/11/12
11:57
AM ET
Andy McDonald
was driving to the rink in St. Louis on Thursday morning, instead of heading to a pregame skate in Denver where his Blues would have been had the NHL lockout not wiped out his season opener.
"It's pretty disappointing," McDonald told ESPN.com Thursday, en route to a skate involving eight or nine players. "At first everyone thought the season would just be delayed. Now a lot of people think this thing might go all year. I mean, it's shocking, in a sense."
Erik Cole
's
Montreal Canadiens
were slated to open at home to the
Ottawa Senators
on Thursday. Flipping the calendar to Oct. 11 and seeing nothing but dark arenas certainly hits home.
"It makes it more somber, for sure," Cole told ESPN.com Wednesday night. "It's the same for the coaching staff and trainers, too. It's just miserable for everybody."
But he's hardly surprised.
"I told my guys here in Montreal in early July, 'We'll be lucky if we play before December,'" Cole said. "A lot of them didn't believe me until we started doing the NHLPA conference calls."
More games will soon be falling by the wayside unless bargaining talks produce traction. Blues captain
David Backes
was involved in the talks Wednesday in New York City and certainly didn't overlook the significance of Oct. 11.
"I should be at dinner in Denver right now instead of walking down a street in Times Square," Backes told ESPN.com Wednesday night.
"It's frustrating for everyone," Backes added. "But they're where they're at with the heels dug in, we're got our heels dug in; it's a patience game right now."
Backes, a member of the NHLPA's negotiating committee, still sees a chance to play hockey this season.
"I have not succumbed to the notion that there's not going to be a season," he said. "But at the same time, I was in the room all day today ... From where it sits right now, it's not looking like we need to be skating five days a week and getting ready for a camp anytime soon."
Right now, the rhetoric is loud on both sides. The NHL is urging the NHLPA to deliver a new proposal and is frustrated it hasn't happened yet, feeling the union is delaying negotiating. On the flip side, the players feel the NHL has offered them nothing in previous proposals that would make them want to negotiate.
"To me, it's difficult to see how a deal is going to get done when it doesn't appear that we have a negotiating partner," McDonald said. "Their first proposal was so offensive to the players that it's not even like they're willing to make concessions for the sake of the league. And that's the tough part; the players understand there's a revenue disparity among the teams and are willing to make some changes and make some concessions based on that fact. But the league doesn't seem to be willing to do that at this point. So I don't know how a deal happens. The players aren't going to keep giving back and giving back without concessions on their part."
In the meantime, regardless of whether the blame goes to the owners or the players, the fans are undoubtedly paying the price just eight years after an entire season was wiped out by a lockout.
"When you hear Gary Bettman say 'We've got the greatest fans,' yes, hockey fans love the game but at the same time people are only going to take so much," Cole said. "I understand why the last lockout happened in order to end up with the system we have now. But this one really irks me. And it's not so much the fact that we're locked out, but it's just the offers that have come through and what the owners are looking for in terms of concessions. That really irks me this time around."
Commissioner Gary Bettman also expressed frustrations.
"We are terribly disappointed that, at this point, the negotiation process still has not moved forward to enable us to reach agreement," Bettman told ESPN.com via e-mail through a spokesman. "We remain committed, for the good of the game and the fans, to making a long-term agreement on terms that are fair and reasonable for everyone."
McDonald said it's no surprise that the fans are possibly even more upset this time around.
"The owners got the cap and cost certainty last time around," McDonald said. "Since then, the revenues grew every year. Last year [had] record revenues. Fans probably wonder why there could be another season without hockey. And I'm sure they look at players and say, 'You guys make so much money, how can you not just take the deal, you'll be making a pile of money?' The players just feel that we want a fair deal. What's going to happen the next deal? We give back 20 percent this time and next time they'll want 20 percent again? We have to break this lockout pattern somehow. The players recognize there's a revenue disparity among teams. That's why we're willing to make concessions. But we expect some concessions on the owners' side to do the same thing."
The damage to the industry could be more profound this time around if a lockout wipes out the whole season. For starters, the KHL in Russia wasn't around eight years ago, scooping up players and paying them big salaries.
"If we go a whole year, I think there's a lot of truth behind what a couple of Russian guys have said about just staying over there," Cole said. "And I don't blame them. To be quite honest with you, I said this the other say, if we get into Year 2 of this thing, I might be looking to go to the KHL for a year and shut it down and walk away. It's just one of those things that if it continues to go down the path it's going, I'm not so sure everybody wants to be a part of it. That's my feeling, anyway."
As it is, more than 120 NHL players are across the pond playing right now.
Anaheim Ducks
winger
Bobby Ryan
said last week he wouldn't play overseas during the lockout, saying he thought players should stay home and fight the fight on the labor front.
"I don't agree with those comments at all," Cole said. "He's looking at it the wrong way. It's different for everybody. If a guy feels like he needs to go play and if that's going to help him deal with the fact we're not playing over here, you should be encouraging players to go play.
"Look, I don't have a problem with Bobby voicing his opinion. But I think he needs to broaden his view a little bit. The fact of the matter is, everyone's situation is different. Some guys need to play right now and want to be ready if the season starts. If it helps those guys cope, then go play. I've got no issue with it."
In the meantime, NHL markets that have been re-energized over the last few years will now lose momentum as the lockout drags on, starting with a place like St. Louis, where the improved Blues made hockey cool again last season.
"That hit home this week when I was listening to the radio and someone picked up [we were] first in the West," Backes said. "We do have a great team in St. Louis and momentum in a city that's had to go through a rebuild. And now we're ready to reap those fruits from the struggling times. We had a fan base that sold out a record number of games last year. To not be able to continue that momentum, with a new ownership group in St. Louis, for all the support we have from fans and corporate sponsors -- that's just killing everybody."
Nowhere does it hurt more than in Los Angeles, where the Kings, after years and years of frustration, won their first Stanley Cup and galvanized a crowded sports market.
"Absolutely," Backes said. "Or Florida, or Nashville, or Phoenix -- all those teams that were struggling, and suddenly they get some excitement around their franchise and all of a sudden they get a hard stop sign."
For now, it's a waiting game.
"I think if the season starts in November, that would be an extreme surprise for me," Cole said. "I don't see it ending quickly. I'm going to stick with my original presumption that the outdoor game will be the kickoff and we'll play a shortened season. That's the best-case scenario."
March, 24, 2012
3/24/12
9:48
AM ET
By
Elias Sports Bureau
| ESPN.com
•
Erik Cole
single-handedly gave the Canadiens a 3-0 lead in the first 5:41 of their game against the Senators. It was the fastest hat trick from the start of an NHL game since Jan. 14, 1990, when Calgary's Brian MacLellan had three goals by the 5:21 mark of the first period in a game at Chicago Stadium.
Cole's three goals gave him a total of 30 for the season and tied him with fellow American
Max Pacioretty
for the Canadiens' team lead. Montreal is the first NHL team to have two U.S.-born players each score 30 or more goals in the same season since 2005-06, when
Brian Gionta
(48) and
Scott Gomez
(33) did so for the Devils.
• The Jets overcame a 3-0 deficit to record a 4-3 overtime victory against the Capitals in Washington. It was the fifth time in Thrashers/Jets franchise history that they won a road game in which they trailed by three goals. The four previous instances came when the team was located in Atlanta, with the most recent of those comeback wins coming against the Flyers in Philadelphia on March 12, 2011.
•
Drew Stafford
scored two goals in the Sabres' 4-1 win over the Rangers in New York. Stafford has only two multiple-goal games this season and they've both come at Madison Square Garden. He scored both Buffalo goals in the Sabres' 3-2 loss at MSG on Feb. 25. Stafford is only the second player in Sabres history with two multi-goal games in one season at the "World's Most Famous Arena." Rick Martin had a pair of two-goal games at the Garden for Buffalo in 1974-75.
• The Maple Leafs scored on all three of their shootout attempts against
Martin Brodeur
, enabling them to leave Newark with a 4-3 win over the Devils after blowing a 3-1 lead in the third period. Brodeur has participated in 62 shootouts during the seven seasons that the NHL has used the tiebreaker. Friday's game marked only the fourth time that Brodeur allowed three or more goals in one shootout and it was the first time that a team scored on its first three attempts against him.
•
R.J. Umberger
scored three goals to lead the Blue Jackets to a 5-1 win over the Hurricanes. It was the third hat trick of Umberger's NHL career and his second for Columbus. (His first three-goal game was for the Flyers in 2007.) Umberger is one of only five players in Blue Jackets history with more than one hat trick. The others are
Rick Nash
(5),
Tyler Wright
(3),
Geoff Sanderson
(2) and
Jeff Carter
(2).
• Oilers goaltender
Devan Dubnyk
was unscored upon in a four-round shootout that earned him a 2-1 win against the Panthers. Dubnyk is 11-6-1 in 18 games since the All-Star break, after posting a 7-11-1 mark in 23 games this season before the break.
October, 6, 2011
10/06/11
2:42
PM ET
TORONTO -- When the
Montreal Canadiens
shelled out $18 million on a four-year contract for winger
Erik Cole
on July 1, we're guessing an opening-night assignment on the third line three months later was probably not the plan.
Don't know too many third-line wingers earning $6 million this season.
Yes, Habs fans, we know, the Canadiens are going with a "top nine" forward approach this season. It's not top six and bottom six like many teams. It's not a prototypical third line Cole finds himself on. They plan to have three lines that will score.
[+] Enlarge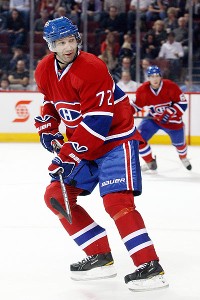 Richard Wolowicz/Getty ImagesErik Cole does not look at his third-line role as a demotion.
"We're trying to spread our offense," head coach Jacques Martin said Thursday after the morning skate. "We're trying to be better at five-on-five play. We're hoping to get more production that way out of our three lines.''
Hey, it could work. But we're still not sure when Cole signed on the dotted line that he ever thought he'd be starting the season with
David Desharnais
and
Mathieu Darche
. Not that Cole is complaining; far from it.
"Whatever [Martin] thinks is going to give us the best chance to win is fine by me,'' Cole said Thursday morning. "If it takes me playing in a third-line role as you guys like to say, that's completely fine with me."
And Cole looks at the assignment differently than we do.
"Sometimes people look at it from the wrong perspective," said Cole. "You're looking at it like, 'Oh no, he's playing on the third line.' If I'm playing on the third line, that means I'm playing against the 5-6 d-pair, right? I'm ok with that. So there's certain things that you guys don't see it the way players do. Maybe sometimes even players feel it's a slight. But I don't think so. I think that within our top nine, I don't feel like playing with David Desharnais is a bad thing. He's very crafty with the puck. He's highly skilled. He's tough on pucks and he's real effective.''
Desharnais is indeed a shifty center with great wheels. He's an underrated player.
Lars Eller
(shoulder) can also improve the line when he returns.
It's also a long season. More than ever, coaches in the NHL put their lines in the blender whenever there's a bump in the road or some injuries. At some point this season, Cole will have his turn with either centers
Tomas Plekanec
or
Scott Gomez
on the top two lines. It might even happen by the second period Thursday night if the Habs fall behind.
But because it's opening night, we tend to make more about the first version of the lineup. And seeing Cole on the third line just makes you take notice. What also may be happening here is that Martin needs to grow more trust in Cole before he elevates his role.
In other words, if Cole shows Martin he can play 200 feet on a consistent basis and show a commitment to both ends of the ice, that's going to improve his chances to move up in the lineup.
Cole couldn't care less Thursday. He was about to play his first career regulation-season game for the 24-time Stanley Cup champion Montreal Canadiens -- in Toronto, no less.
"It's my first experience with the rivalry; should be fun," he smiled.
June, 20, 2011
6/20/11
3:43
PM ET
There's no rest for the Stanley Cup champs, or at least for the architect of the NHL titleholders. Bruins GM Peter Chiarelli took a break from meetings Monday to update ESPN.com on some of the decisions he has to make.
Chiarelli confirmed what Tomas Kaberle's veteran agent, Rick Curran, told us earlier in the day: the two sides plan to meet in Minnesota to discuss whether there's a fit moving forward for the pending unrestricted free agent.
"We want to have further discussions," Chiarelli told ESPN.com. "We're still in the planning stages. We haven't ruled anything out. I told Tomas we're still throwing it around, planning-wise. He brought something that we needed, so we'll see where it goes moving forward."
Likewise, pending UFA Michael Ryder is on Chiarelli's radar.
"Like Kaberle, I said to Mike that we continue to plan right now," the Bruins GM said. "I told him, 'You're a player that came to play every game in the playoffs.' I told him I'd speak with his agent this week or next."
(As an aside: Chiarelli is not getting nearly enough credit for his role in the Bruins' Cup championship. He made difficult and correct moves to make this team a winner. Let's give this guy a little more love.)

Jagr update
Jaromir Jagr and his agent, Petr Svoboda, were scheduled to meet in their native Czech Republic on Monday to discuss the next plan of action.
Svoboda told ESPN.com before the meeting that Detroit and Pittsburgh remained in the mix, plus a few other NHL teams. The KHL, of course, also remains an option for Jagr.
Another source told ESPN.com on Monday that Detroit had coach Mike Babcock speak with Jagr over the weekend.
Jagr, 39, is an unrestricted free agent. He can make more money staying in the KHL, but told ESPN.com last Friday that a return to the NHL is very appealing to him.

The work ahead for Yzerman
Lightning GM Steve Yzerman is skipping the NHL awards in Las Vegas even though he is nominated for GM of the Year. Between the NHL's board of governors meeting in New York on Tuesday and the work that lies ahead at the draft this week in Minnesota, it didn't make any sense for him to try to squeeze that in.
His top priority is to get restricted free-agent center Steven Stamkos back under contract. Once July 1 rolls around, other NHL clubs can make him offers even though Tampa Bay would have the ability to match any proposals.
"We know that after July 1, he's open to offer sheets, we're fully aware of that," Yzerman told ESPN.com on Monday. "But we'd like to get a deal done, and we'd like to get a deal done before July 1. The deal, I understand, has to work for them, but it has to work for the team, too. We'll do everything we can to get a deal done."
In the meantime, another player of note is forward Sean Bergenheim, who revealed himself to be a clutch performer this past postseason. He earned $700,000 this past season and is obviously looking for a big raise.
"We've talked with Sean's agent a couple of times," Yzerman said. "He was pretty honest with me with what they're thinking. At this time, we see things differently."
Other UFAs for the Bolts include Eric Brewer, Dwayne Roloson, Adam Hall, Simon Gagne and Marc-Andre Bergeron.

The Flyers and Bryzgalov
Flyers GM Paul Holmgren continues in his bid to sign goalie Ilya Bryzgalov before he becomes an unrestricted free agent.
"Right now, we are going to talk again tomorrow," Holmgren said Monday on a media conference call. "Like I said on Friday, we know where they're at and what they want to accomplish. I think they know where we're at. Obviously, to make a deal, there is going to have to be some sort of a compromise. It might take some time and we are going to keep looking at it."
Holmgren also expressed his desire to re-sign forward Ville Leino, also UFA. Contrary to widespread belief around the league, the Flyers GM insisted Monday he didn't need to hold a fire sale in order to sign Bryzgalov or Leino.
"There are things that we want to accomplish as we get closer to training camp, but that's a long time from now," Holmgren said. "There is no fire sale going on here. We are going to continue to try and sign Ilya, obviously, and continue to try and sign Ville; then we will see. It's not like we are caught between a rock and a hard place right now."
Translation: Holmgren believes he can clear up his cap issues during the course of the summer and doesn't feel the need to make a bad trade now in order to sign Bryzgalov or Leino.

Hurricanes' UFAs
The Carolina Hurricanes have some big decisions to make between now and July 1. They have several UFAs on their roster, including top defenseman Joni Pitkanen, as well as forwards Erik Cole, Jussi Jokinen, Chad LaRose and Cory Stillman.
I spoke with Canes GM Jim Rutherford on Monday, specifically regarding Pitkanen and Jokinen. The GM said: "We've agreed that they should look into going into July 1, but we haven't closed the door on either guy. We'll see how it plays out."
Cole is a priority for the Canes.
"He's a guy that we want to bring back," Rutherford said. "He's a part of our team. He's a guy that's made his home here. But there really hasn't been any movement on his contract talks."
Rutherford said he also wants to bring LaRose back, but like Cole, there has been no movement in talks. The GM said Stillman was still considering his options, which possibly includes retirement.

Other notes
• The agent for pending UFA blueliner Christian Ehrhoff, Rick Curran, told ESPN.com Monday he has had a conversation with the Vancouver Canucks since the Cup finals ended and the two sides plan on meeting in Minnesota this week to continue that conversation. Maybe it's just me, but with the Detroit Red Wings openly flaunting their intention to be aggressive July 1 on the blue-line front, I'd be keeping all my options open if I were Ehrhoff, even though he does love playing in Vancouver.
• Speaking of Curran, the veteran agent also represents Chicago Blackhawks forward Patrick Sharp, who has one year remaining on his deal before becoming UFA next summer. The Hawks and Curran are slated to talk in Minnesota. "In casual conversations with different clubs, he's the one player that is most often talked about as far as his likely future," Curran told ESPN.com.
• A source told us that the four candidates for the head-coaching job in Winnipeg are Mike Haviland, Claude Noel, Craig MacTavish and Thrashers holdover Craig Ramsay.