Cross Checks:

Erik Ersberg
October, 23, 2010
10/23/10
9:27
PM ET
Ottawa star center Jason Spezza missed his second straight game with a groin injury Saturday night in a week where blog-fueled trade rumors concerning him picked up again.
"There's no way that's happening," Sens GM Bryan Murray told ESPN.com Saturday, quashing any notion of trading him.
Murray took a peek at the trade market for Spezza in the summer, but he says that's over with now. Spezza controls his fate with a no-trade clause.
"We have not had any discussion regarding any potential or possible trade of Jason," Spezza's veteran agent Rick Curran told ESPN.com Saturday. "In fact to the contrary, Bryan's been very supportive. I can assure you there is no [interest] from Jason in leaving."
But the Sens GM has worked the phones hard all week long, talking to "half the teams in the league," looking for a five- or six-type defenseman to no avail so far. While Murray refused to say, another industry source told ESPN.com that Anaheim is among the teams Ottawa has spoken to. The Ducks would like to add a puck-moving type on the back end; Ottawa would like to add a rugged, defensive blueliner type. I believe the Sens would like Anaheim to take Brian Lee off their hands, but the Ducks might have more interest in Chris Campoli. At this point there doesn't seem to be a fit between both teams.
The Ducks, by the way, have also been in talks with the Buffalo Sabres, another source said.
Bruins cap issues
The Bruins at some point will need to move bodies/salaries once injured forwards Marc Savard and Marco Sturm come off long-term injured reserve and put the Bruins over the salary cap. Both players are tentatively targeted for December returns.
"I'm going to have to do something, I'm not hiding away from the fact," Bruins GM Peter Chiarelli told ESPN.com Friday.
The GM was obviously mum on discussing any specifics otherwise. I'll do the educated guessing. For starters, just moving Michael Ryder ($4-million salary, UFA July 1), a popular guess, won't be enough of an option. They'll need at least two moves in total. Sturm ($3.5 million, UFA July 1) himself could be an option for a move if there's a taker, especially when you consider the impact of rookie Jordan Caron as a top-six forward.
Whatever the Bruins end up doing, I don't get the sense Tim Thomas is in play anymore. He was in the offseason, as most people know, but given how he's started the year, I think the Bruins now feel that 1-2 punch in goal is needed to win the Cup. And don't forget he's got a no-movement clause and Thomas told me Friday he's happy where he is.
Kings terminate Ersberg's contract
[+] Enlarge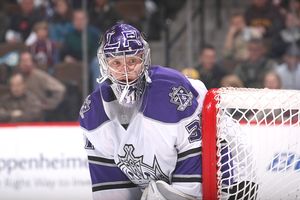 Michael Martin/Getty ImagesSwedish goalie Erik Ersberg lost a competition to Jonathan Bernier in training camp for the backup job behind Jonathan Quick.
Goalie Erik Ersberg cleared waivers Saturday and the Kings subsequently terminated his contract, making him an unrestricted free agent (his agent Kevin Epp says he's headed to UFA the KHL). Ersberg had one year remaining this season at $750,000. Now the Kings don't have to pay him, because he didn't report to AHL Manchester. Actually, he did initially report, but then he left the club Thursday. That's a breach of contract. So the Kings voided his deal.
Under this CBA, teams and players cannot "tear" up an existing contract like in the old CBA. But that's not what happened here.
From a league source: "Player has obligation to perform under his contract, including by reporting to any team his contract is validly assigned to. If a player goes AWOL on his club, he is in material breach of his contract and his Club has the right to terminate his contract for non-performance."
Examples during the new CBA: Ziggy Palffy/Pittsburgh, John LeClair/Pittsburgh, Petr Sykora/Minnesota, Brendan Shanahan/NJ Devils and Lucas Krajicek/Tampa Bay.
But the league watches these closely to make sure there aren't "pre-cooked deals" between clubs that would effectively constitute trades. If there were, the league would see it as a CBA circumvention.
All of which should be of interest to fans of the New York Rangers, a team paying Wade Redden $6.5 million to play in AHL Hartford this season. He's got three years and $16.5 million left on his deal after this season. Based on the Ersberg situation, the Rangers could therefore terminate Redden's deal if he ever decided he got tired of AHL hockey. Food for thought.
Coyotes' attendance
The ownership instability in Phoenix continues to have a massive effect on the turnstiles. You saw the crowd on Thursday night, 6,706. While the team does not disclose season-ticket information, I'm told via a source that the season-ticket base is only 4,000. Ouch.
Despite a terrific run last season with the coach and GM winning prestigious league awards, a lot of the problem, from what I'm told, is that fans are not committing to season tickets right now because they're still not sure if the team will be there next year. It's hard to blame them for that. If the sale of the team does indeed go through to Chicago investor Matthew Hulsizer, the feeling in and around the team is that fans may finally buy in.
On the positive side, I'm told there's a 12 percent increase in single-game ticket sales from this time last year. Of course, they had nowhere to go but up.
I also think October is tough on a lot of southern markets and ticket sales usually pick up for Phoenix later in the season, especially with the crush of hockey-loving snowbirds.
Still, not pretty right now.
Jimmy Howard
It may come as a surprise to some since he was a Calder Trophy nominee last season, but Jimmy Howard is eligible for unrestricted free agency July 1 because he'll turn 27 years old in March. Sources on both sides told ESPN.com that contract talks have not yet begun.
Smart of the Wings, I think, to wait a little longer just to make extra sure of what they have. Howard, meanwhile, can continue to build up his leverage by having another outstanding season.
This one will be interesting. The Wings have gone on the record many times as saying they don't like to overspend on goaltending. But they also value what Howard has brought since last season. So what's the magic number?
Howard also has to know he's not alone in terms of goalies that are UFA-bound. Ilya Bryzgalov, Antti Niemi, Craig Anderson, Jean-Sebastien Giguere, Marty Turco, Tomas Vokoun, Mike Smith and Pascal Leclaire are among the others. The UFA summer of 2011 is the Year of the Goalie. Which is a long way of saying: I don't think Howard can press his luck with the Wings. He loves where he's playing. The team in front of him, notably the blueline, ain't so bad. I think we'll see a deal done before the season is out and I don't think you'll see Howard break the bank.
Gretzky in Russia
A further conversation with Wayne Gretzky this week perhaps revealed the source of the erroneous reports out of Russia that he might take over as head coach for SKA St. Petersburg, Alexander Medvedev's team. Gretzky told ESPN.com that he's been asked again by Medvedev to take part in the KHL all-star game's festivities next February, and The Great One figures maybe that got confused with him coaching. Who knows, but something definitely got lost in translation. One thing's for sure, Gretzky is not coaching in Russia.
In the meantime, Gretzky said the family was both excited and relieved now that son Trevor has made his decision both in terms of sport and school. It was announced last week that he'd accepted a baseball scholarship at San Diego State.
"He was really torn between football and baseball but after getting injured in his first football game this year, he figured maybe it was a sign," Gretzky told ESPN.com Thursday. "He's really excited, we all are. It's a great program at San Diego State and it's not too far away. We're really happy."
Burish gets it
And finally, kudos to Stars winger Adam Burish for getting it. Check this out.
September, 20, 2010
9/20/10
9:33
PM ET
EL SEGUNDO, Calif. -- One of the compelling camp stories here at Kings camp is just who will win the backup job to starting goalie
Jonathan Quick
, a job that coach Terry Murray says is up for grabs between incumbent
Erik Ersberg
and challenger
Jonathan Bernier
.
Unless I'm completely misreading the tea leaves here, my money is overwhelmingly on the 22-year-old Bernier, a former first-round draft pick.
Nothing against Ersberg, the 28-year-old Swede who has done a solid job as Quick's backup, but Bernier is a rising star, one who led the AHL last season with a .936 save percentage and a second-best 2.03 goals-against average. Gaudy numbers, indeed.
"Bernier was outstanding in the AHL all year long and probably the best player in the game down there," Murray said Monday. "He's ready to make the step. This is a competitive opportunity for him."
But Murray is clear in saying it's an open battle between Bernier and Ersberg.
"I feel more than ready this year," Bernier told ESPN.com on Monday. "I just have to keep the same approach as I've been doing at all my camps, just focusing on myself and not worrying about the end result."
This season, the backup job will be a little more fulfilling than last season, when Quick played in 72 games. Murray wants to limit Quick a bit more in 2010-11.
"I would like to see the backup get a game a week, if at all possible," said Murray.
All of which makes me believe even more that Bernier will win the job. The Kings wouldn't want to waste him on the bench this season, so announcing ahead of time that Quick will play a bit less suggests to me they are getting ready to elevate Bernier.
It won't be an easy decision for the Kings. Ersberg, on a one-way deal paying him $750,000, would need to clear waivers to go down to the AHL, while Bernier is on a two-way deal that doesn't require him to clear waivers. Even if Ersberg clears waivers to go down to the AHL, he would be essentially buried there for the rest of the season because the Kings likely wouldn't want to expose him to re-entry waivers, where, if claimed by another NHL team, the Kings would be on the hook for half his salary.
That's where the system needs tweaking in my mind -- at least for goalies. The Kings shouldn't be penalized for having three NHL goalies they really like. Still, it's a nice problem to have when you consider the lack of goalie depth when Lombardi took over as GM.
"If this is a problem, it's a welcome problem," Lombardi said. "We'll just let it play out. The only thing that's safe to say is that I don't think we have to play Jonathan Quick 75 games. I don't think that's going to happen."
Ersberg, meanwhile, left the ice midway through a camp session Monday. Turns out he bruised his catching hand the day before.
"He's just feeling some pain, he's got a bruise and hopefully there's nothing else wrong," said Murray. "Hopefully he'll get back on the ice tomorrow."
Line pairings
Murray has these forward lines and defense pairings pretty much locked in until further notice:
Top line:
Ryan Smyth
-
Anze Kopitar
-
Dustin Brown
Second line:
Scott Parse
-
Jarret Stoll
-
Justin Williams
Third line:
Alexei Ponikarovsky
-
Michal Handzus
-
Wayne Simmonds
Top blueline pair:
Willie Mitchell
-
Drew Doughty
Second pair:
Rob Scuderi
-
Jack Johnson
The 26-year-old Parse gets the best shot of his NHL career, starting camp as a top-six forward.
"He was in and out of the lineup last year," said Murray. "He showed me a lot. I like some of the highlight-reel goals that he scored. He's a very high-skilled player and I think he needs that opportunity to be successful to fail. It's there. The line's got great potential. I hope he comes out on the right side, that he's successful."
Coach Stevens
A familiar face was on the ice Monday in assistant coach
John Stevens
. The former Flyers coach joined Murray's staff this summer after spending years working together in Philadelphia. In fact, Stevens also worked with Kings GM Dean Lombardi and assistant GM
Ron Hextall
in Philly, so he was a natural fit to follow them to L.A.
"Terry and I are good friends," Stevens told ESPN.com. "We believe in a lot of the same things when we coach. Dean and Hex were two other guys I was real familiar with, so I just felt it was a good opportunity to get back in, and with a team that's made great strides over the last couple of years."
Buzz in L.A.
From the Kings' PR staff and certainly noteworthy:
The Kings have already renewed 97 percent of their season seats from last season and are projecting a record-season seat base in Kings/Staples Center history and record ticket-sales numbers for the club in their 44th season.