Cross Checks:

Frans Nielsen
May, 12, 2013
5/12/13
1:46
PM ET
UNIONDALE, N.Y. -- What a fitting end to the Islanders' 2013 season, that they left the ice with the Nassau Coliseum crowd on its feet -- even after a
heartbreaking 4-3 overtime loss to the Penguins in Game 6
-- saluting the team's stellar effort in its first playoff appearance since 2007.
That should be the lasting image -- not
Brooks Orpik
's game winner -- that each player conjures up when looking back on the team's first-round series against the top-seeded Penguins.
[+] Enlarge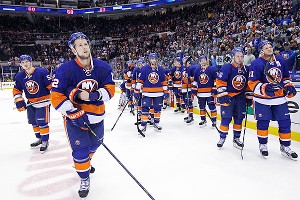 AP Photo/Kathy WillensThe Islanders should be proud of all they accomplished against the No. 1 seed Penguins.
Making it to the postseason was not enough for the Islanders, who surprised some doubters and captivated the league's attention with their plucky play, but it should be regarded as a monumental step forward for the organization.
The Islanders couldn't match Pittsburgh's depth or experience, but they had the grit, heart and desire in ample supply to push the Penguins in a six-game set.
For so many years, the Islanders have suffered the indignities of the down-trodden and the ridicule that comes with annual bottom-five finishes.
But that perception of the Islanders is bound to change after this.
"We've taken a lot of heat in the past three years since I've been here, a lot of criticism from the media, people looked at us as a laughingstock," said heart-and-soul grinder
Matt Martin
, who finished with a game-high 11 hits Saturday night. "Throughout this series, we showed we can play with anyone. We're excited about the future. We think we have something special here."
The Penguins acknowledged that, too.
After wrapping up their fourth win of the series -- a game that required them to erase three separate one-goal Islanders leads before Orpik's deciding goal 7:49 into overtime -- they had plenty of respect for the Islanders as they convened at center ice for the customary handshake line.
[+] Enlarge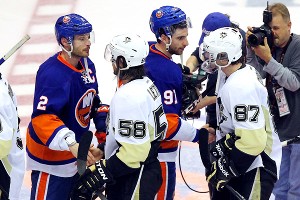 Brad Penner/USA TODAY SportsJohn Tavares said this experience will just serve to motivate the Islanders next season.
"Just walking through the line, they said so many good things, just that you guys have a really good team here. You know, I don't think this team has heard that in a long time," said rugged forward
Colin McDonald
, who gave the Isles a 2-1 lead with 37 seconds remaining in the first period. "That's one of the few positives you can talk about right now. I think as an organization, as players, maybe we gained some respect back, and I'm really glad the fans supported us the way they do. I hope this is just the start, a stepping stone looking ahead to next year."
The Islanders received the requisite secondary scoring Saturday from the likes of McDonald and
Michael Grabner
to build off
John Tavares
' wrist shot from the slot that gave the Isles a 1-0 lead 5:36 into play.
But the Pens showed resilience in a tough road test during which they were outshot 38-21 and superstar
Sidney Crosby
was held to one point. Each time the Isles gained momentum, the Penguins found a way to even the score. Less than six minutes from the Islanders forcing a winner-takes-all Game 7 in Pittsburgh, Pens defenseman
Paul Martin
unleashed a one-timer that deflected off
Frans Nielsen
to knot the score at 3 and send the game into overtime.
"I think we outshot them again today and created a lot of opportunities, but times that we could've gone up and taken a bigger lead, we just couldn't do it," said Tavares, who on Friday was named
one of three Hart Memorial Trophy finalists
for the league's annual MVP. "They stayed with it, and maybe that's why they're moving on."
"It was every bit of a battle in those six games," Penguins coach Dan Bylsma said after his team punched its ticket to a second-round matchup against the seventh-seeded
Ottawa Senators
.
Special teams hurt the Islanders and veteran goaltender
Evgeni Nabokov
failed to steal a game, but the Penguins were the team to come up with the big plays when it counted.
For that reason, the Islanders will pack up for the offseason, with the hunger to win even more intense now that they know what it takes and how it's done.
"It's what I'll be thinking about all summer," said Tavares, who finished the series with three goals and five points. "It's what pushes you every day, and you finally get to experience it. We got here and we weren't satisfied with getting here. I thought we competed real well, we played with them most of the series and dictated the play a lot of the series, too. They just took advantage of most of their opportunities."
The Penguins remained composed throughout the series, keeping doubt at bay even when the Islanders' Cinderella story seemed to be gaining traction. Bylsma made a bold but necessary goaltending change in replacing starter
Marc-Andre Fleury
with veteran backup
Tomas Vokoun
after a bafflingly bad performance in Game 4. That move paid dividends as the latter turned away 66 of 69 shots faced in his two starts to close out the series.
And in moving on, Pittsburgh managed to exorcise some demons from last spring's implosion when the team was upset in the first round by the
Philadelphia Flyers
.
"I think we fought it a little bit, that history, and we fought it in different ways," Bylsma said. "But again, we had to be excited to win and not thinking about the past."
The Islanders don't have that luxury, however. With their first taste of the playoffs also comes their first devastating sense of disappointment.
That won't abate any time soon.
"Right now, it's just tough, but in a couple of weeks when we look back at the season, I think we'll realize we took a big step in the right direction," Nielsen said. "But, we're definitely not satisfied with that. It's still a long way to go. It's not a success until we've got that Cup, but I think it's a step in the right direction."
December, 6, 2010
12/06/10
12:25
PM ET
1. Board of governors meetings
We are in West Palm Beach, Fla., for the NHL board of governors meetings Monday and Tuesday, and while you can't necessarily expect any hard news to break out at the posh resort where the governors are ensconced, there will be lots of discussion on the ownership front.
Of particular interest will be Matthew Hulsizer's first appearance before the board of governors' executive committee. The Chicago businessman is in the final stages of working up a new lease agreement with the City of Glendale, Ariz., and a final purchase price with the NHL to buy the long-troubled Phoenix Coyotes.
Sources continue to tell ESPN.com that everything is on track for both sides of the deal -- new lease and purchase price -- to be settled by Christmas, but the league will be in position after Dec. 31 to begin negotiations to relocate the team if a deal isn't in place, so there is some urgency to get everything squared away before the end of the calendar year. The time line on a final deal, along with how he plans to right the long-listing franchise, is sure to come up during Hulsizer's meeting with the executive committee on Monday.
As my colleague Pierre LeBrun reported over the weekend, commissioner Gary Bettman is expected to tell the owners that the salary cap will likely go up again next year, thanks in large part to the continued strength of the Canadian dollar, which has seen revenues continue to rise even though there are attendance problems in places such as Atlanta, Dallas, Long Island and Phoenix.
We are told the cap could go up about $3 million from the current $59.4 million.
USA Hockey officials are expected to discuss initiatives, and the governors will be brought up to speed on negotiations on national television contracts in the U.S., which come up at the end of this season.


2. Callahan's lack of suspension
Guess we really don't understand the NHL's blindside hits rule. We still don't understand how New York Rangers forward Ryan Callahan wasn't suspended for his elbow/forearm to the head of an unsuspecting New York Islanders forward, Frans Nielsen, on Friday night.
Callahan was whistled for an elbowing penalty, and Nielsen did not miss any time during the game between the Islanders and Rangers. But we thought the whole point of introducing sanctions against blows to the head against unsuspecting players was, well, to stop it. Nielsen did not see Callahan coming, and he sure didn't see the elbow/forearm as it connected with the side of his head, a hit that immediately dropped Nielsen to the ice.
Oh well, maybe next time. Or not. Funny how it was the Rangers, specifically Brandon Dubinsky, who accused Sidney Crosby of slew-footing Callahan during a recent game. Wonder what Dubinsky thought of Callahan's hit on Nielsen.

3. Flyers whirlwind year
A couple of anniversaries of note in the NHL this past week that illustrate positive change can be both swift and glacial.
In Philadelphia, Peter Laviolette celebrated his one-year anniversary as head coach of the Flyers. He took over a Flyers team that had underachieved early on for former head coach John Stevens. Although it took some time, Laviolette got the Flyers into the playoffs, after which they enjoyed one of the more remarkable playoff runs in franchise history, coming back from a 3-0 series deficit against Boston in the second round and advancing to the Stanley Cup finals for the first time since 1997, losing in six games to Chicago. The Flyers this year look even more formidable under Laviolette and are considered, along with Pittsburgh and Washington, to be among the top teams in the Eastern Conference.
The other anniversary was the arrival of Brian Burke in Toronto two years ago. Burke's tenure has been significantly rockier than that of fellow American Laviolette. Burke's Leafs have not made the playoffs since the lockout, and there is every indication they'll miss again this year. Burke acknowledged last week that the team isn't where he envisioned it would be when he took the job after overseeing a Stanley Cup win in Anaheim.
Although he continues to be flayed for trading what looks to be two lottery picks for Phil Kessel (the Boston Bruins picked Tyler Seguin second overall with the Leafs pick last June and own the Leafs first-round pick in the 2011 entry draft), Burke's biggest challenge may lie ahead of him. Burke has steadfastly refused, at least publicly, to consider replacing head coach Ron Wilson, who is a close friend. And while he may not do so before the end of the season, another year without playoff revenues and no appreciable improvement in key areas like penalty-killing and the power play and Burke may have no choice next summer but to look for a coach who can move his Leafs forward.

4. Jackets weaknesses showing
When the season started, there weren't many folks who considered the Columbus Blue Jackets to be a playoff-worthy team. But their play under rookie head coach Scott Arniel through much of the first quarter of the season was one of the surprise stories early on in this campaign.
Now it's crunch time for Arniel and the Blue Jackets, who have started to look a lot like the team that sputtered through most of last season. Columbus has lost five straight games and has been outscored 22-8 over that period, highlighting two significant problems Arniel must deal with. The squad's defense hasn't been good enough through this stretch, and the widely-held belief that the Blue Jackets' blue line isn't mobile enough has been born out through this skid. The team's balanced scoring, a big part of the team's success early on, has dried up, too. Derick Brassard, for instance, has one goal in his last 13 games and one assist through the team's five-game slide. Jakub Voracek, likewise, has one assist in his last five games. And so on.
As of Monday morning, the Blue Jackets were still in playoff position, tied for the eighth spot with Nashville but technically ahead of the Preds based on their number of wins. So it's not too late for Columbus to get back on track. But this is the time in the season when water reaches its own level and the Blue Jackets will have to work hard to ensure they don't end up where many believed they would reside -- under the surface.
5. East's defense shifts balance of power
It's generally accepted that the balance of power continues to lie in the Western Conference, but it's interesting to note that the top four defensive teams in the NHL all reside in the Eastern Conference. Boston, Montreal, Pittsburgh and Philadelphia, in that order, are allowing the fewest goals per game this season. Boston and Montreal are allowing fewer than two goals a game (Boston 1.88 per game and Montreal 1.96). Last year, those four teams finished second, 13th, 20th and 15th, respectively, which is a credit to the coaching staffs on all four of those teams. If it's true that defense wins championships, maybe observers shouldn't be so quick to dismiss the Eastern Conference, even if it is home to some of the worst teams in the NHL.