Cross Checks:

Free agency
June, 19, 2013
6/19/13
8:19
PM ET
By
Pierre LeBrun & Scott Burnside
| ESPN.com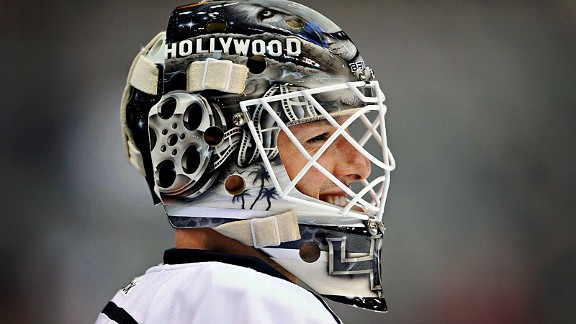 Jerome Miron/US PresswireHow much longer will Jonathan Bernier play near Hollywood? Several other teams have interest.
BOSTON -- These are anxious times for young goalie
Jonathan Bernier
, who waits by this phone to find out where he might continue his NHL career.
It's time for him to go elsewhere and become a No. 1 goalie, something he can't do with the
Los Angeles Kings
with star goalie
Jonathan Quick
in place.
"I'm still part of the L.A. Kings and it's been a great ride, but I feel really confident and I want to get to the next level to get a real chance to hopefully be a No. 1 somewhere," Bernier told ESPN.com over the phone Wednesday. "I'm sure the Kings will make the right decision. If I'm staying there, I'm staying there. If not, I'm ready for the challenge."
General manager Dean Lombardi indicated to Bernier that he would try to accommodate him if it's a deal that makes sense for the Kings. The whole trade talk scenario is a new experience for Bernier.
"It's actually exciting," Bernier said. "But I really can't control anything. It's up to Dean. If there's the right trade for him, I'm sure he'll make the right call.
"I spoke with Dean at the end of the season, and he told me he can keep me there but also feels he kind of owed me the chance to be somewhere else [as a starter]. So I guess we'll know in the next few weeks."
Sources indicate five teams are in the mix on Bernier, to varying degrees: the
Philadelphia Flyers
,
Toronto Maple Leafs
,
New York Islanders
,
Minnesota Wild
and
Florida Panthers
.
For the Wild, it really depends on what happens with pending unrestricted free agent netminder
Niklas Backtrom
. If they can sign him in short order, then they would bow out of the Bernier mix. But if it appears they can't re-sign Backstrom, they can go harder after Bernier or other possible netminders.
The Flyers, meanwhile, have shown interest in Bernier but obviously still have
Ilya Bryzgalov
on their books. As one source told ESPN.com Wednesday, they're only going to buy out Bryzgalov if they have a concrete Plan B in place in terms of a goalie coming their way, whether that's Bernier, Backstrom or any other goalie.
Stay tuned.
SPEAKING OF BACKSTROM ...
GM Chuck Fletcher said Backstrom, 35, has fully recovered from sports hernia surgery. Backstrom was injured minutes before the start of Game 1 of the opening round of the playoffs against the
Chicago Blackhawks
and did not play in the five-game series loss.
"We've had some conversations with his representation, and had a good meeting with Niklas before he went back to Finland," Fletcher told ESPN.com on Wednesday. "I think clearly he would like to come to back to Minnesota. We certainly would like to have him back. So the will is there from both parties. Now we just have to find a way, with respect to term and the cap and how do we manage all of that."
One of the issues for the Wild is durability, given Backstrom's injury and the health issues being confronted by backup
Josh Harding
, who was diagnosed with multiple sclerosis prior to the start of the season.
Fletcher said he thought the lockout-shortened season was an anomaly, and with Harding missing time, they rode Backstrom hard. That shouldn't be the case next season.
"I think it's a fair concern, but certainly we believe Nik will be fully healthy going into camp -- and we hope it's our camp," he said.
Although there has been some speculation the Wild might use a compliance buyout on a player like
Dany Heatley
, who has one year remaining on a contract with a $7.5 million cap hit (but only $5 million in actual dollars), Fletcher said the team wasn't thinking in general about using the compliance buyout option.
"It certainly isn't our first choice," Fletcher said.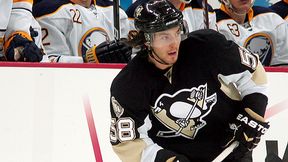 Charles LeClaire/US PresswireKris Letang and the Penguins have not reached an agreement on a new contract.
LETANG UPDATE
The agent for
Kris Letang
and
Pittsburgh Penguins
GM Ray Shero met Wednesday before the NHL's general managers' meeting, but a resolution is far from certain at this point.
"We've agreed to have further talks," agent Kent Hughes told ESPN.com after the meeting. "Not going to say more at this time."
"He's a very valuable player for our team, and ideally I'd like to sign him and get him extended," Shero told a media scrum after the meeting. "But we'll see where that goes over the next few days and weekend, so we'll see."
Again, as I stipulated
in Tuesday's blog
, I don't believe Letang will take a whole lot less than $7 million a year in a new deal, and I suspect that message was reaffirmed by Hughes in Wednesday's meeting.
My guess is the Penguins need that figure to be lower in order for Letang to fit into the cap puzzle moving forward.
The question now is: If Shero can't get Letang signed over the next week or two, does he trade him or let him play out his final year in Pittsburgh?
"I think there's a lot of speculation if we can't have a deal next week what might happen," Shero said. "But I can't go that far. He's under contract for another year. I think when we get into next week, we'll cross that bridge and see what happens. But my focus is going to be trying to sign him."
STARS COACHING UPDATE
Dallas Stars
GM Jim Nill, in a perfect world, will have his new coach in place by the June 30 draft. However, that's not set in stone.
"I don't want to have a set deadline, and all of a sudden it comes and goes," Nill said after the GMs meeting. "There's too many candidates out there. I want to make the right decision."
While Nill would not name his candidates, it's believed Lindy Ruff and John Tortorella are near the top at this point.
BOLTS PICK
In light of Joe Sakic's comments that the
Colorado Avalanche
might not pick Seth Jones with the first overall pick, one wonders what kind of impact that might have on other teams drafting behind the Avs.
The
Tampa Bay Lightning
, for example, are drafting third overall, and clearly their number one need is a defenseman. However, GM Steve Yzerman says he doesn't believe in drafting on need only.
"We believe in taking the best player available," Yzerman said after the GMs meeting. "That's been our philosophy. Your needs change from year to year. When these kids are available to play, your needs may be entirely different for various reasons. So that's a rule of thumb we've had."
Would he move his pick up or down?
"We're quite comfortable with the third pick, but we're open to any scenario which we think makes us a better organization," Yzerman said.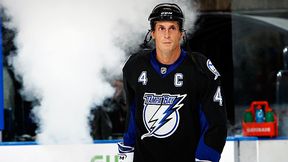 Scott Audette/NHLI/Getty ImagesCould Vincent Lecavalier be on the way out of Tampa?
Recently, local reports in Tampa suggested the possibility of a compliance buyout for
Vincent Lecavalier
.
Asked generally whether he would use his buyout options, Yzerman responded Wednesday: "It's something to consider. … Given that we finished in 28th place, we should be looking at every possibility of improving our team and what are options are. Other than that, I can't say much."
CLARKSON/DEVILS
New Jersey Devils
GM Lou Lamoriello remains committed to trying to re-sign power forward
David Clarkson
before he hits the UFA market July 5.
"We'll do everything we can to sign him," Lamoriello said Wednesday. "We're not looking to do anything else."
Contract talks have been ongoing. One thing Lamoriello has traditionally not done is trade a pending UFA's rights during this time period, like the Islanders recently did with
Mark Streit
.
"You never say you'll never do something, but we have not philosophically believed in that," Lamoriello said. "If a player said he didn't want to play [in New Jersey], that's another story. You never know, but that's never come across us."
BLUES' FUTURE
St. Louis Blues
GM Doug Armstrong has his hands full this summer, with key restricted free agents
Patrik Berglund
,
Chris Stewart
,
Alex Pietrangelo
and
Kevin Shattenkirk
to bring under contract.
"It's funny you can sign guys a year before you have to sign them, but when it's two weeks before it takes a long time," Armstrong said.
But he made it clear to other GMs: Don't bother trying to poach those players with an offer sheet.
"With the new ownership group we're financially solid," he said. "These are core players, and we want to pay them fairly. I'm not concerned at all about an offer sheet, because we're going to match anything on those guys because they're good enough players."
[+] Enlarge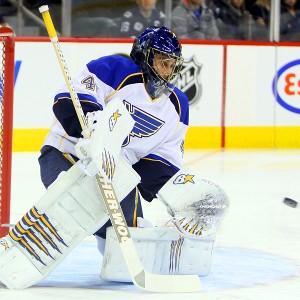 Travis Golby/NHLI/Getty ImagesWith Jaroslav Halak, Jake Allen and Brian Elliott, the Blues have plenty of talent in net.
One situation in St. Louis that is less than clear is how the goaltending will play out next season, with rookie
Jake Allen
playing well in relief of an injured
Jaroslav Halak
and a struggling
Brian Elliott
.
"We've called it cloudy, but I think it's a good cloudy," Armstrong said. "Jake doesn't need waivers next year, so he can go down, and a fourth year in the American league won't kill him. Last year Jaro, every time he got ready to get going, the groin went. Brian had such a terrific ending to the season with a less-than-memorable start. We might be best served to come back with all three and let the chips go where they are. But we're going to continue to debate that internally."
It's clear, though, that Allen's development is going to be important moving forward.
"The one thing is we need Jake to get ready, because both those guys (Halak and Elliott) are unrestricted after the year's over," Armstrong said.
FLAMES GOALIES
Speaking of goaltending, the
Calgary Flames
' goaltending situation remains in a state of flux. GM Jay Feaster said Wednesday he's still unsure whether veteran netminder
Miikka Kiprusoff
will retire.
"I don't think anything's changed from the where he was at the end of the season," Feaster said. "I think if we forced to make a decision right now he'd say that he's finished playing. We've said we're going to give him time, and that's what we're going to do."
To prepare for Kiprusoff's potential departure, the Flames signed
Joey McDonald
to a one-year extension after acquiring him from Detroit during last season. They traded for the rights to former Tampa Bay prospect
Karri Ramo
and will sign him in July, Feaster said. They also acquired the rights to Swiss netminder
Reto Berra
and signed him to a contract.
After missing the playoffs for the fourth straight year and being forced to trade captain
Jarome Iginla
at the trade deadline, the Flames are desperate to return to the postseason dance and respectability.
"We're looking at everything right now," Feaster said. "As I've said, we have three picks in the first round; we have cap space.
"I think it's unique in that we certainly have an ownership group that's willing to spend to the cap. We're looking at guys that might be compliance buyout victims or however you want to call that. Looking at free agency and looking at making trades, too."
The GM did say he wasn't contemplating any compliance buyouts at this point in time.
NEW PENALTY
NHL executive vice president and director of hockey operations Colin Campbell says GMs also agree to implement a two-minute penalty for fighters who remove their helmets before a fight. So it would be a five-minute penalty for fighting, plus two more minutes for the helmet violation. The new penalty is pending Board of Governors approval.
June, 18, 2013
6/18/13
7:05
PM ET
BOSTON --
Pittsburgh Penguins
GM Ray Shero and agent Kent Hughes, who reps star blue-liner
Kris Letang
, are slated to meet here in Boston on Wednesday, a source told ESPN.com.
It only makes sense because Hughes lives in Boston and Shero is in town for the NHL's general managers meeting.
It could potentially be a pivotal meeting in terms of what transpires on the Letang front. The blue-liner has one year left on his deal, but Shero's usual M.O. is not to wait it out. Just look at the
Jordan Staal
situation a year ago. After Staal, who had one year left on his deal, rejected a contract extension from the Penguins, Shero dealt him quickly thereafter.
It could be that Shero will get the ball rolling on trade talks if Letang rejects whatever offer might be coming from the Penguins' GM.
And know this, I don't think Letang signs for any less than $7 million a season.
Wednesday's meeting, therefore, will be a compelling discussion either way.
BRIERE BUYOUT
Daniel Briere
will be an unrestricted free agent soon, with the
Philadelphia Flyers
deciding to buy him out.
A source told ESPN.com that Briere and Paul Holmgren met last week, at which time the Flyers' GM informed the veteran center of the team's decision. No bitter feelings, though, as I'm told Briere feels Holmgren handled it with class.
The buyout will wipe out Briere's $6.5 million cap hit for the next two seasons.
What remains to be seen is whether the Flyers will buy out goalie
Ilya Bryzgalov
, a decision that has been met with mixed opinions within the Flyers front office.
The decision is whether to do it now or wait one more year, when they can still get a cap-friendly buyout.
Perhaps what might push the Flyers into buying out Bryzgalov now is the availability of young netminder
Jonathan Bernier
from the
Los Angeles Kings
.
My TSN colleague, Bob McKenzie, reported during our Insider Trading segment Tuesday night that the Flyers, Maple Leafs and Islanders were most interested in Bernier.
One source told ESPN.com Tuesday that five teams have serious interest in Bernier, the list cut down from the nearly dozen clubs that poked around about him.
COACHING CAROUSEL
Could the
New York Rangers
and
Vancouver Canucks
simply swap coaches this offseason?
It's possible.
We know Alain Vigneault will be the new Rangers bench boss, the official announcement imminent. But what about John Tortorella?
He has interviewed in Vancouver, and a source told ESPN.com that the Canucks were impressed with Torts. He is among the final four candidates for the Canucks' coach gig vacated by Vigneault. The others are John Stevens, Scott Arniel and Lindy Ruff.
The intensity that Torts brings and the accountability he would demand from players are elements that impressed Canucks brass.
Stevens would be a more cerebral coach, his defensive work on the 2012 Stanley Cup champion Kings not to be overlooked. Ruff is a stud candidate, of course, and Arniel is viewed by some in the industry as a guy who deserves another shot after what happened in Columbus.
Another potential candidate is
Dave Tippett
(whose deal is up), depending on what transpires with the
Phoenix Coyotes
' ownership front. If Tippett were to become available, my guess is both Vancouver and the
Dallas Stars
would want to talk to him.
TUUKKA'S FUTURE
Give agent Bill Zito a lot of credit. When he signed his client
Tuukka Rask
to just a one-year deal a year ago, some people criticized him. The gamble, though, was that Rask would excel in his first full season as
Boston Bruins
starter with
Tim Thomas
gone -- and boy, oh boy, has that been an incredible decision by Zito.
Cha-ching, cha-ching.
Zito and Bruins GM Peter Chiarelli talked about an extension back after the lockout-shortened season began in January, but then mutually decided it would be better to wait until after the season was over to pick it up again regarding the star netminder, a restricted free agent.
SIGNINGS
On the heals of the Penguins locking up star center
Evgeni Malkin
a year before he was due to become a free agent, the
Detroit Red Wings
and
Pavel Datsyuk
, while the Sharks have agreed to a five-year extension with
Logan Couture
worth $6 million a year.
A couple of thoughts on each deal: First in Detroit, where I wonder what the Datsyuk signing means for pending UFA center
Valtteri Filppula
. In a weak UFA class, Filppula can likely fetch north of $5 million on the open market, and I think that coin is too rich for Detroit. Expect the Wings and Zito, also Filppula's agent, to meet next week at the draft though.
As for Couture, the term (five years) is reflective of how San Jose has managed to keep its top players from signing those lifetime deals that other stars get around the league, which allows GM Doug Wilson to stay out of a payroll/cap jam. Other than Couture now, not a single player on the Sharks roster has a deal that extends past five years,
Joe Thornton
and
Patrick Marleau
both signing shorter-term deals a few years ago.
SENATORS UPDATE
Ottawa Senators
GM Bryan Murray held a brief discussion with Jack Adams Award winner
Paul MacLean
about a contract extension last weekend and is expected to sit down with his coach next week at the draft. MacLean has one year left on his deal.
Murray has chatted briefly with captain
Daniel Alfredsson
, who is an UFA and undecided on whether to keep playing or not. In a perfect world, Murray would get an answer before Alfredsson goes back to Sweden for the summer next week, which would give the Sens the ability to hit trade talks/free agency with the knowledge of whether or not he's back.
But if Alfredsson needs more time to think about it, Murray said it would be no problem at all. Meanwhile, other UFAs on the Ottawa roster include
Guillaume Latendresse
,
Peter Regin
and
Mike Lundin
, none of whom likely will get a contract offer from the Senators.
THIS AND THAT
Veteran agent Don Meehan expects to meet with Rangers GM Glen Sather in New York/New Jersey the week of the draft to talk extension for star goalie
Henrik Lundqvist
. That's going to be an expensive re-sign. …
The
Carolina Hurricanes
offered pending UFA
Dan Ellis
a new deal, but the veteran backup netminder informed them he was headed to market. …
Speaking of the Hurricanes, they've gotten calls about their No. 5 overall pick for the June 30 draft, but the intention right now is to keep the pick. …
Contract talks have been ongoing since the end of their season between the Kings and pending UFA blue-liner
Rob Scuderi
. The expectation is that veteran agent Steve Bartlett will meet in person with Kings GM Dean Lombardi on draft week. With
Slava Voynov
signing a six-year, $25 million deal Tuesday, Scuderi is now clearly the top priority. …
No surprise at all but the expectation is that pending UFA center
Derek Roy
, who was dealt by the Stars to the Canucks at the deadline, is headed to market. …
The NHL's 30 GMs meet here Wednesday before Game 4 of the Stanley Cup finals, and while Patrick Roy will be handling trade discussions for the
Colorado Avalanche
, Greg Sherman will represent the franchise at the meeting.
June, 20, 2011
6/20/11
3:43
PM ET
There's no rest for the Stanley Cup champs, or at least for the architect of the NHL titleholders. Bruins GM Peter Chiarelli took a break from meetings Monday to update ESPN.com on some of the decisions he has to make.
Chiarelli confirmed what Tomas Kaberle's veteran agent, Rick Curran, told us earlier in the day: the two sides plan to meet in Minnesota to discuss whether there's a fit moving forward for the pending unrestricted free agent.
"We want to have further discussions," Chiarelli told ESPN.com. "We're still in the planning stages. We haven't ruled anything out. I told Tomas we're still throwing it around, planning-wise. He brought something that we needed, so we'll see where it goes moving forward."
Likewise, pending UFA Michael Ryder is on Chiarelli's radar.
"Like Kaberle, I said to Mike that we continue to plan right now," the Bruins GM said. "I told him, 'You're a player that came to play every game in the playoffs.' I told him I'd speak with his agent this week or next."
(As an aside: Chiarelli is not getting nearly enough credit for his role in the Bruins' Cup championship. He made difficult and correct moves to make this team a winner. Let's give this guy a little more love.)

Jagr update
Jaromir Jagr and his agent, Petr Svoboda, were scheduled to meet in their native Czech Republic on Monday to discuss the next plan of action.
Svoboda told ESPN.com before the meeting that Detroit and Pittsburgh remained in the mix, plus a few other NHL teams. The KHL, of course, also remains an option for Jagr.
Another source told ESPN.com on Monday that Detroit had coach Mike Babcock speak with Jagr over the weekend.
Jagr, 39, is an unrestricted free agent. He can make more money staying in the KHL, but told ESPN.com last Friday that a return to the NHL is very appealing to him.

The work ahead for Yzerman
Lightning GM Steve Yzerman is skipping the NHL awards in Las Vegas even though he is nominated for GM of the Year. Between the NHL's board of governors meeting in New York on Tuesday and the work that lies ahead at the draft this week in Minnesota, it didn't make any sense for him to try to squeeze that in.
His top priority is to get restricted free-agent center Steven Stamkos back under contract. Once July 1 rolls around, other NHL clubs can make him offers even though Tampa Bay would have the ability to match any proposals.
"We know that after July 1, he's open to offer sheets, we're fully aware of that," Yzerman told ESPN.com on Monday. "But we'd like to get a deal done, and we'd like to get a deal done before July 1. The deal, I understand, has to work for them, but it has to work for the team, too. We'll do everything we can to get a deal done."
In the meantime, another player of note is forward Sean Bergenheim, who revealed himself to be a clutch performer this past postseason. He earned $700,000 this past season and is obviously looking for a big raise.
"We've talked with Sean's agent a couple of times," Yzerman said. "He was pretty honest with me with what they're thinking. At this time, we see things differently."
Other UFAs for the Bolts include Eric Brewer, Dwayne Roloson, Adam Hall, Simon Gagne and Marc-Andre Bergeron.

The Flyers and Bryzgalov
Flyers GM Paul Holmgren continues in his bid to sign goalie Ilya Bryzgalov before he becomes an unrestricted free agent.
"Right now, we are going to talk again tomorrow," Holmgren said Monday on a media conference call. "Like I said on Friday, we know where they're at and what they want to accomplish. I think they know where we're at. Obviously, to make a deal, there is going to have to be some sort of a compromise. It might take some time and we are going to keep looking at it."
Holmgren also expressed his desire to re-sign forward Ville Leino, also UFA. Contrary to widespread belief around the league, the Flyers GM insisted Monday he didn't need to hold a fire sale in order to sign Bryzgalov or Leino.
"There are things that we want to accomplish as we get closer to training camp, but that's a long time from now," Holmgren said. "There is no fire sale going on here. We are going to continue to try and sign Ilya, obviously, and continue to try and sign Ville; then we will see. It's not like we are caught between a rock and a hard place right now."
Translation: Holmgren believes he can clear up his cap issues during the course of the summer and doesn't feel the need to make a bad trade now in order to sign Bryzgalov or Leino.

Hurricanes' UFAs
The Carolina Hurricanes have some big decisions to make between now and July 1. They have several UFAs on their roster, including top defenseman Joni Pitkanen, as well as forwards Erik Cole, Jussi Jokinen, Chad LaRose and Cory Stillman.
I spoke with Canes GM Jim Rutherford on Monday, specifically regarding Pitkanen and Jokinen. The GM said: "We've agreed that they should look into going into July 1, but we haven't closed the door on either guy. We'll see how it plays out."
Cole is a priority for the Canes.
"He's a guy that we want to bring back," Rutherford said. "He's a part of our team. He's a guy that's made his home here. But there really hasn't been any movement on his contract talks."
Rutherford said he also wants to bring LaRose back, but like Cole, there has been no movement in talks. The GM said Stillman was still considering his options, which possibly includes retirement.

Other notes
• The agent for pending UFA blueliner Christian Ehrhoff, Rick Curran, told ESPN.com Monday he has had a conversation with the Vancouver Canucks since the Cup finals ended and the two sides plan on meeting in Minnesota this week to continue that conversation. Maybe it's just me, but with the Detroit Red Wings openly flaunting their intention to be aggressive July 1 on the blue-line front, I'd be keeping all my options open if I were Ehrhoff, even though he does love playing in Vancouver.
• Speaking of Curran, the veteran agent also represents Chicago Blackhawks forward Patrick Sharp, who has one year remaining on his deal before becoming UFA next summer. The Hawks and Curran are slated to talk in Minnesota. "In casual conversations with different clubs, he's the one player that is most often talked about as far as his likely future," Curran told ESPN.com.
• A source told us that the four candidates for the head-coaching job in Winnipeg are Mike Haviland, Claude Noel, Craig MacTavish and Thrashers holdover Craig Ramsay.