Cross Checks:

Game of the Week
November, 10, 2010
11/10/10
1:33
PM ET
Pittsburgh Penguins coach Dan Bylsma sounded pretty darned upbeat.
In fact, he sounded positively cheery as he discussed a team that has a No. 1 goalie in a funk, a top center on the shelf and a former scoring champ who won't shoot the puck.
[+] Enlarge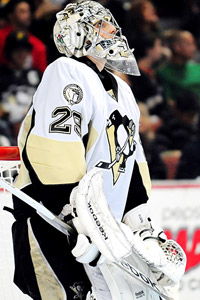 Gary A. Vasquez/US PresswirePenguins goalie Marc-Andre Fleury is 1-6-0 so far this season.
But that has always been one of Bylsma's most endearing qualities since he arrived out of nowhere (actually, Wilkes-Barre/Scranton, Pa.) in February 2009 to lead the Penguins to a Stanley Cup championship.
No obstacle is too daunting, no adversity too imposing not to be met with a smile and a healthy dose of optimism.
So with the Boston Bruins and their impeccable defense and top-notch goaltending headed to Pittsburgh on Wednesday night and the high-powered Tampa Bay Lightning next on Friday, Bylsma is looking forward to seeing how his squad measures up.
His logic: This is the perfect time for a team looking to get back into championship sync to figure out how to win when things look bleak.
"I'm eager for these games," Bylsma told ESPN.com on Tuesday. "We need to start building the identity of how we're going to play."
The Penguins got off to a roaring start last season, unusual for a team that was coming off a draining championship run. But as the season went on, the team's ability to close out opponents and find that killer instinct and extra gear seemed to evaporate. The Penguins never found that quality and were bounced in the second round of the playoffs after blowing a 3-2 series lead against eighth-seeded Montreal.
So far this season, the Penguins have done some good things. They have incorporated Zbynek Michalek and Paul Martin, key pieces to their blue line. The Pens give up very little, allowing the second-fewest shots per game (26.6) in the league. Kris Letang is putting up terrific numbers from the back end, ably filling the void created by the departure of Sergei Gonchar. Captain Sidney Crosby's 19 points were good enough for third in the NHL scoring race as of Wednesday morning.
But things aren't all roses and chilled champagne in the Steel City. The Penguins are a middle-of-the-pack 7-7-1. Their power play is shuffling along at a 13.3 percent efficiency (ranking 21st in the league). Frank J. Selke Trophy nominee Jordan Staal was ready to come back from a foot injury that had kept him out of action all season but then broke his hand, and he is out for another month or so. Evgeni Malkin, former scoring champ and playoff MVP, has managed just four goals in 14 games and is minus-5.
Malkin's play follows a curiously unproductive end to his playoff season in May, and that followed his curiously unproductive 2009-10 regular season, when he finished with 77 points, 36 fewer than the previous campaign.
But Bylsma has seen signs that Malkin can return to form. The big center scored in the Pens' come-from-behind win over Phoenix in the team's last outing, Malkin's first goal in six games. More important from Bylsma's perspective is that Malkin shot the puck.
In the game before, against Anaheim, Malkin passed up at least five good shooting chances, Bylsma said. In Phoenix, he took four shots on one power play.
"That's what he needs to be, a little bit more in his game," Bylsma said. "He needs to have more of a shooter's mentality."
It stands to reason that the Penguins' power play also will improve if Malkin can find a way to produce more offensively, taking the burden off Crosby.
But perhaps the Penguins' greatest challenge, and by extension the biggest challenge facing Bylsma, is what to do about the team's goaltending. Marc-Andre Fleury, often a lightning rod for discontent among Penguins fans, has proved he possesses a healthy dose of mental toughness with his play in the playoffs in 2008 and 2009. You don't win 30 postseason games over two seasons without having jam. You don't win two Game 7s on the road, as the Pens did en route to the Cup in 2009, without being made of stern stuff.
Unfortunately for Fleury and the Penguins, all that stuff seems to have been packed away in a trunk, and he is unable to find the key.
To be frank, Fleury has been brutal. The 26-year-old is 1-6-0 and boasts a bloated goals-against average (3.55) and an ugly save percentage (.853). He has told reporters in Pittsburgh that his confidence has taken a hit. If it weren't for the otherworldly performance of veteran backup Brent Johnson (6-1-1 with a 1.63 GAA and .943 save percentage), the Penguins might have found themselves in the dire straits of other past playoff teams like Buffalo and New Jersey, wondering whether they can salvage their season.
"Brent Johnson has put extremely good numbers up there," Bylsma said. "They're outrageous numbers."
And so the tough decision remains. The Penguins need to win hockey games, and right now, the 33-year-old Johnson is giving them the best chance to do so. The Penguins also need Fleury to return to form because he ultimately gives the Pens their best chance at returning to Cup-contender status. He needs to play and get some wins under his belt so he can locate the misplaced key to that trunk of good thoughts.
How to achieve those apparently divergent goals is a topic of considerable debate within and beyond the Penguins' locker room. "It's a balancing act," Bylsma said.
At the GMs meeting in Toronto on Tuesday, Pittsburgh GM Ray Shero told ESPN.com's Pierre LeBrun that there is plenty of time to get this right.
"He's going through a tough time. Maybe it's confidence," Shero said of Fleury. "With Marc, I reflect back, and I do believe he's mentally tough and that's why he'll bounce back from this. ... He came back [from bad losses in the playoffs], and that takes mental toughness to do that, and that's what he has. But he's going to have to battle through it.
"We're doing everything we can to help him like any other player that's going through a tough time. We're behind him 100 percent. You don't win a Cup without him. He's a young kid. It's early in the year. He's just got to work through it and we have to work with him and get him through this."
There was a bit of a kerfuffle the other day when it appeared Crosby had a different view than Bylsma on how to proceed. The coach said that he and Crosby met and that there is no disagreement about what to do with the team's goaltending issue.
"We've seen Marc be an outstanding goaltender," Bylsma said. "Right now, he hasn't done that. Fortunately, Brent Johnson has."
That said, the coach insisted he believes that Fleury will return to form.
Bylsma said Fleury has had his ups and downs and has been criticized in the past, but "Marc has always come back."
"It's going to work itself out. It's a challenge for Marc-Andre, and it's a challenge for our team," Bylsma said.
Somehow, we get the feeling the coach wouldn't have it any other way. At least right now.
November, 4, 2010
11/04/10
12:13
PM ET
It wasn't that long ago when former NHLer Keith Jones, now a national broadcast analyst, used to have to initiate discussion about promising young Philadelphia forward Claude Giroux.
Now, those conversations come to Jones.
Hey, did you see what Giroux did now?
[+] Enlarge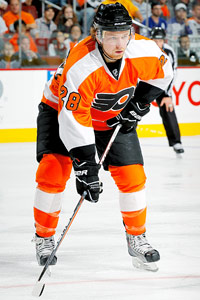 Paul Bereswill/Getty ImagesClaude Giroux has seven goals and five assists in 12 games so far this season for the Flyers.
"I'll give you one guess about who we're being asked about every night in the press box -- Claude Giroux," Jones told ESPN.com this week. "I'm not surprised. That's the player he's becoming."
Just a month into the NHL season, Giroux has proved to be more than worthy of such discussion with seven goals and 12 points in 12 games. He is tied for the league lead in game-winning goals (three) and leads the NHL in short-handed goals (three). If there were a stat for highlight-reel plays, he'd likely lead the league in that as well. All of which suggests the quiet 22-year-old from Hearst, Ontario, might be emerging as the most talented of a very talented crop of homegrown Flyers players.
Giroux will take a four-game points streak into Thursday's tilt against Atlantic Division foes the New York Rangers, a span during which he's scored four times and added three assists.
Giroux's evolution is interesting, yet not completely unexpected. Yes, there's the indelible image of then-GM Bob Clarke momentarily forgetting Giroux's name at the NHL draft in 2006, when the Flyers chose the forward with the 22nd overall pick. But that's a footnote to what Giroux has achieved in the past calendar year.
When Flyers coach Peter Laviolette arrived mid-last season after a tepid start cost John Stevens his job, Giroux was a complementary player, deep in the shadows cast by sniper Jeff Carter, young captain Mike Richards and top-line veterans Danny Briere, Chris Pronger and Kimmo Timonen.
"He was kind of a second wave of offense. A second wave of help," Laviolette told ESPN.com.
But when the playoffs began and top players Simon Gagne and Carter were out with injuries, it was Giroux who was among a clutch of Flyers who seized the moment. Giroux scored 10 postseason goals and added 11 assists as the Flyers made an unlikely charge to the Stanley Cup finals.
Instead of fading into the background as so often happens to young players who have a spasm of success, Giroux has become the Flyers' go-to guy when they need a big goal.
"He's picked up where he's left off. I just think he's going to become better and better," Laviolette said. "He's become one of those guys who won't really take a backseat to anyone now. He sees the ice as well as anyone on our team."
Here's an indication of how valuable Giroux is to a team that has all the tools to make another long playoff run in the spring. When they are healthy, the Flyers are loaded with talented centers, yet Laviolette generally leaves Giroux at center and moves someone like Carter to the wing. That's not to say Giroux cannot play the wing; he has, at times, moved up to play with Richards when Laviolette thinks the team needs a spark.
But Laviolette's trust in Giroux to win a key faceoff and play smart defensive hockey to get things done at the most important of forward positions is a reflection on the young man's growing maturity.
Jones recalled several Flyers goals this season that directly resulted from Giroux's work in the offensive-zone faceoff circle.
"It shows you that he's always thinking," Jones said. "He can make you look bad."
It was during the latter stages of last season when Jones said he saw Giroux's confidence increasing, saw him willing to take risks offensively without fear it would cost him ice time or positioning on the roster. Those risks were rewarded more often than not, and that confidence has resulted in a point-per-game pace through his past 35 games, including the playoffs.
With his size and deceptive strength, he is extremely difficult to knock off the puck. In fact -- and this is where it gets interesting -- Giroux's play this season reminds Jones of a former teammate, Peter Forsberg.
The idea that Giroux had that kind of potential isn't new. The comparisons came up back in 2008-09, when he had nine goals in 42 games as a rookie call-up from the AHL. But if those early comparisons were wildly premature, Jones said what he sees now suggests they may not be so far off base.
"It's not unrealistic that he could become that good," Jones said. "There are a lot of comparisons to be made. That's how far he's come in a short time."
Laviolette understands that such comparisons are a mug's game. Agree, and maybe the expectations of a player get out of whack; disagree, and maybe you hurt a player's confidence. When asked about Forsberg, the coach notes that, like the great Swede, Giroux is smart defensively and gets the call in all situations.
"Every coach wants a player like [Giroux] on his bench because he's so multifunctional," Laviolette said.
October, 13, 2010
10/13/10
12:00
AM ET
DETROIT -- The Colorado Avalanche stared at the schedule early this season and saw Stanley Cup finalists Chicago and Philadelphia followed by perennial powerhouse Detroit. Gulp.

Fear not, the young Avs said, they'll take two out of three and announce to the world they're not going away after stunning the NHL last season.

That's the big picture.

Hidden within that glossy snap shot are a few interesting storylines that have played out here over the past few days with the Avs, who dropped a 4-2 decision in Philadelphia on Monday before turning around and dropping the Red Wings 5-4 in a shootout Tuesday night, erasing three Detroit leads in the process.

The Avs relied way too much on goalie Craig Anderson last season, playing him in 71 games as he led the NHL in saves. That tired him out. This season, the plan is to give backup Peter Budaj more starts. But he's got to earn them. His teammates have to play with confidence in front of him. Monday night was a good start. Yes, Budaj gave up four goals on 28 shots, but the Wings were oh-so-dangerous as always. It's not quantity but quality with the Wings. The point is this: Colorado coach Joe Sacco gambled on Budaj in a tough rink, Joe Louis Arena, and it paid off.

"We have two very capable goaltenders," Sacco said. "Terrific win for Peter tonight. Happy for him. He's an extremely hard worker and the consummate professional. It was nice to see him get in there and play well."

Sacco knows he's got to get starts from Budaj this season. He needs Anderson to be a little fresher come the spring. Of course, if the Avs are life-and-death to make the playoffs, that's less of an easy decision.

"It's important going down the stretch, if you're a team that's worthy of being in the playoffs, the goalie would benefit from that [rest], for sure," said the coach. "I think the biggest thing is getting into the playoffs, getting into the dance. That's our goal."

Bring on the extra work, Budaj said.

"I think I played 11 games last year? I can definitely play more than that," Budaj said. "But this league is about winning. You win and you'll see more net. I have to be ready when I get called upon."

In the shootout, Budaj shut the door on all six Red Wings, including the likes of Henrik Zetterberg, Pavel Datsyuk and Johan Franzen. Budaj also kissed the crossbar for saving him twice.

"I just tried not to show them too much net and tried not to show the first move, have them make the first move and then react to it," Budaj said. "I was lucky a couple of times, had a couple of crossbars."

Sacco also jumbled his forward lines before Tuesday's game. Most noticeable was last season's Calder Trophy runner-up, Matt Duchene, starting on the third line. Message?

"Yes," Sacco said. "I wanted to see more consistency, and I thought he played well tonight."

On a normal NHL team, Game 3 of the season would be a little early for sending messages, but this is a very young Avs squad desperately hoping to avoid a letdown. I think Sacco was brilliant for doing it this early, and it worked.

David Jones' performance was also a good sign. He had two goals, one assist and a plus-3 rating in 19:54 minutes of ice time. That's top-six material and what Colorado wants to see from him this season. He had 10 goals in only 23 games last season before a torn ACL ended his campaign.

"That start showed me I could play at this level and be a big factor in games," Jones said. "I'm going to try to carry that all season."

What a bonus it would be for Colorado to get him back to that level. He's almost like a free-agent addition given the time he missed last season.

"He's not a pure goal scorer, but he's a big, strong guy who skates well," Sacco said. "He can release the puck quick, and when you get confidence, things start to go well for you. He was playing well last season before the injury. He was our leading goal scorer at that time. He's going to be a real good player for us."

On the downside, the Avs' power play is now 1-for-10 after an equally dreadful preseason. They've also given up short-handed goals in back-to-back games (Tuesday's shorty by Patrick Eaves gave Detroit a 4-3 lead at 7:52 of the third period).

"I thought we worked hard in the offensive zone tonight," Sacco said. "We tried to simplify, but at the end of the day, we can't give up another short-handed goal at that juncture of the game. We have to be better there. We'll continue to work on that area."

The Avs' blue-line corps again looked overmatched Tuesday night and it figures once again to be their Achilles' heel. The team gave up way too many shots last season; only four teams gave up more than its 32.1 shots per game.