Cross Checks:

George Parros
October, 1, 2013
10/01/13
11:57
PM ET
MONTREAL -- A thrill-a-minute hockey game, fueled by early season mistakes and opening night jitters, had the folks at the Bell Centre on the edge of their seats.
The NHL's most passionate theater to watch the sport had fans gasping for air, as the Original Six rival Toronto Maple Leafs and Montreal Canadiens exchanged chances like a game of shinny.
It was great stuff.
And then an unfortunate and scary scene absolutely sucked the life out of the building.
New Habs tough guy
George Parros
, in his second fight of the game with Leafs enforcer
Colton Orr
, fell awkwardly to the ice and smashed his face, immediately knocking himself out.
Out came the stretcher as fans held their breath, a riveting hockey game just not quite the same afterward, even with Montreal making things interesting with a late goal to make it 4-3 as Toronto still held on for the win.
The thoughts in both dressing rooms were channeled toward Parros, one of the game's most likeable characters.
[+] Enlarge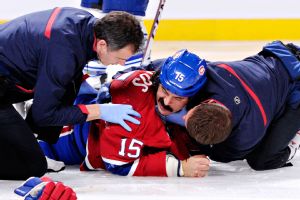 Richard Wolowicz/Getty ImagesGeorge Parros suffered a concussion after landing on his face in a fight with the Leafs' Colton Orr.
Toronto coach Randy Carlyle coached the tough guy in Anaheim for many years. "Great person, he was a great guy to coach," Carlyle said after his team's season-opening victory. "Just real unfortunate."
But what you were not going to get from either Carlyle or his counterpart Michel Therrien of the Canadiens was an attempt to conjure up the fighting debate in this league. Both are old-school coaches who believe in the importance of fighting in the game, and Tuesday night's incident certainly wasn't going to change their views.
"Just bad luck in that situation," said Therrien, who was relieved to hear the concussed Parros was alert after he got to the dressing room. He later went to hospital. "You don't see those situations a lot. He fell and hit his face on the ice."
The incident instantly spurred debate on social media, just as it always does.
I don't need to sit on my soap box again on this night. I said
my peace last season
when
Ottawa Senators
forward Dave Dziurzynski was knocked out by Leafs tough guy
Frazer McLaren
.
Everyone who reads me understands that I believe the game could survive without fighting. My belief is simply based on my fear that one day a player will die in a fight on the ice. Pure and simple. I say that because Don Sanderson did die in a Senior A Ontario game fight in 2009.
Am I concerned how the game would look if the "rats" in our game weren't policed? Yes, I am. And I don't have a good answer for that other than I'd hope the refs would police it as well as they could.
And you cannot discount the emotional lift that some fights do provide in games. The Habs seemed buoyed by Parros' first fight with Orr, as well as
Travis Moen
taking on
Mark Fraser
.
I totally understand that and do not argue that fights in games have an impact. No question, they do.
But I come back to my one and only concern, the only one I've ever held on the sensitive subject: I'm worried we'll have a tragic incident one day, because today's players are just stronger and bigger than ever.
When Parros does recover and speaks his first words with local Montreal media, I can guarantee he'll say it's part of the job and he understands the risks involved. He's a thoughtful and intelligent person who long ago accepted what went along with his trade.
But the debate will rage on every time we see something like Tuesday night's incident.
Other observations from Toronto's opening night win over the Habs:
March, 17, 2013
3/17/13
10:20
PM ET
By
Sarah Goldstein
| ESPN.com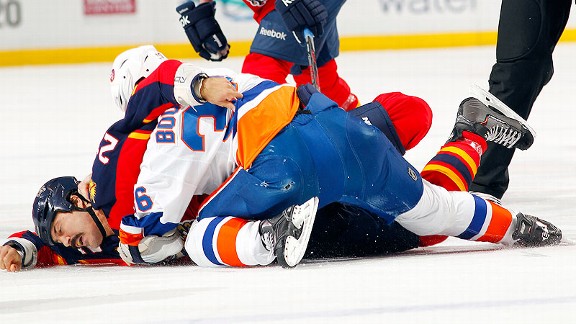 Eliot J. Schechter/NHLI/Getty ImagesThe Panthers' George Parros left the game with an upper body injury after getting slammed to the ice by the Isles' Eric Boulton.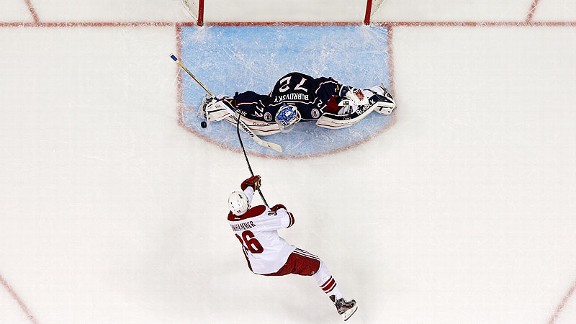 Kirk Irwin/Getty ImagesSergei Bobrovsky's 39 saves through overtime extended the Jackets' point streak to 10 games.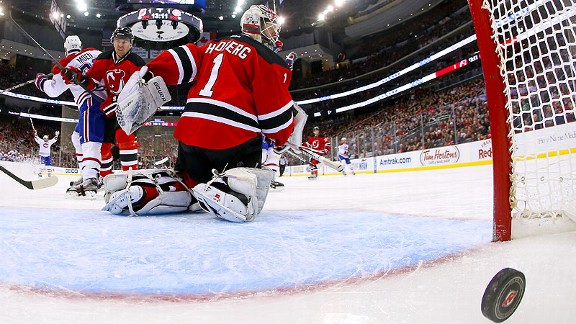 Bruce Bennett/Getty ImagesThe Devils' Johan Hedberg can't stop the game-winning goal by the Habs' Tomas Plekanec.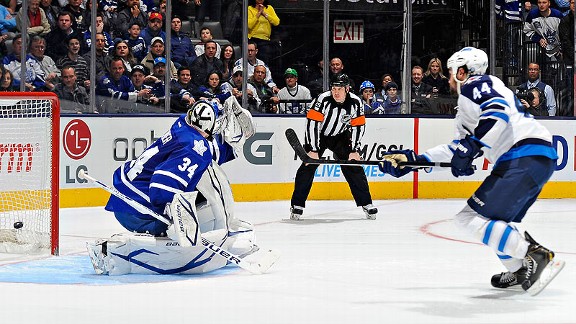 Graig Abel/Getty ImagesZach Bogosian beat James Reimer in the 10th round of the shootout. This was the 21st shootout to last 10 rounds, but he first since Feb. 15, 2011.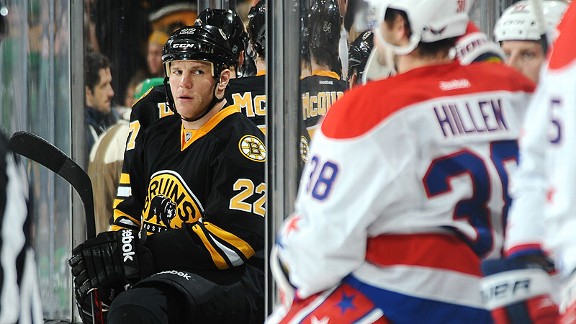 Brian Babineau/NHLI via Getty ImagesShawn Thornton and Boston's big guys took every opportunity to intimidate the Capitals.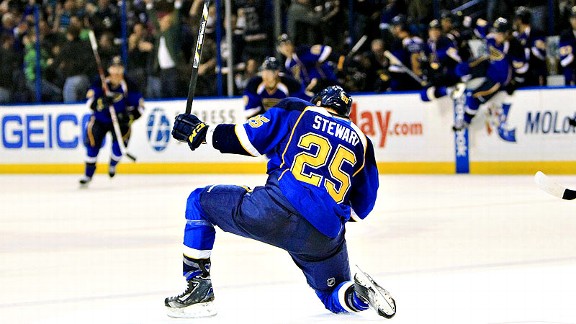 AP Photo/St. Louis Post-Dispatch, Chris LeeChris Stewart has scored five goals in his past three games to help the Blues top the Pacific-leading Ducks.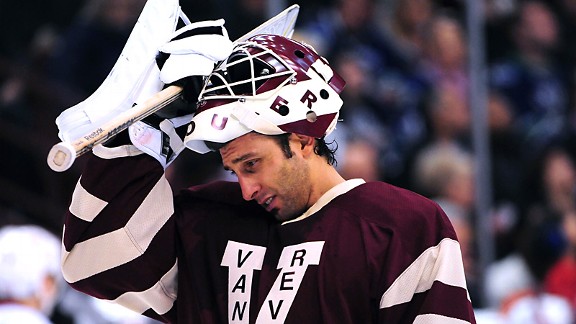 Anne-Marie Sorvin/USA TODAY SportsThe Red Wings handed Roberto Luongo his first loss at home in regulation this season.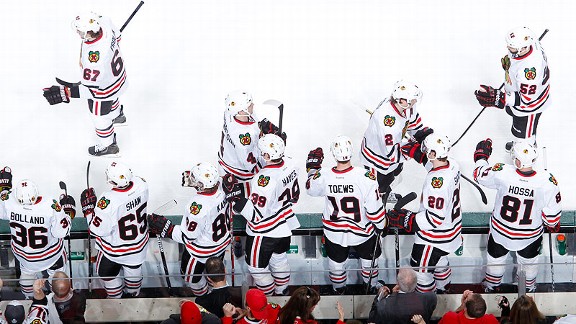 Glenn James/NHLI/Getty ImagesThe Hawks' eight goals against the Stars are the most in a regular-season game since Dec. 16, 2008.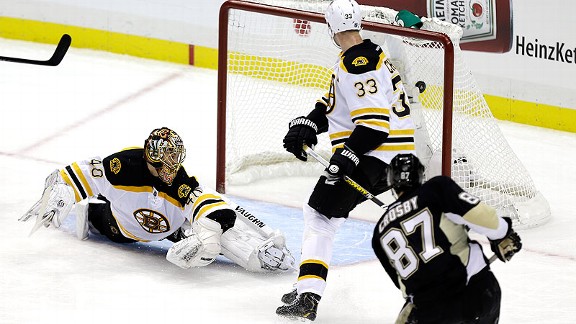 AP Photo/Gene J. PuskarThe Penguins got their ninth straight win on Sunday to move to the top of the East.
December, 1, 2010
12/01/10
6:44
PM ET
In honor of "Movember," many NHL players started growing moustaches to raise money and awareness for cancers affecting men.
Anaheim forward George Parros led the way by shaving off his moustache at the beginning of the month and growing it back.
Now that the month is over, it is time to see who grew the best stache.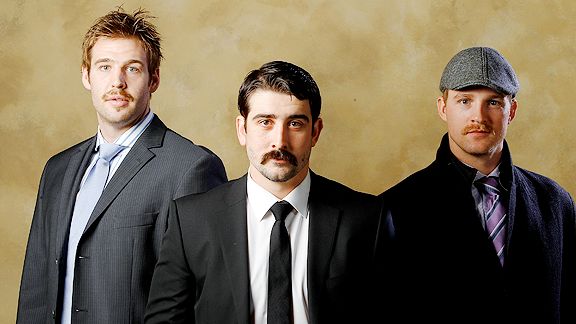 Bruce Kluckhohn/NHLI/Getty ImagesThe Wild's Clayton Stoner, Cal Clutterbuck and Kyle Brodziak show off their Movember moustaches.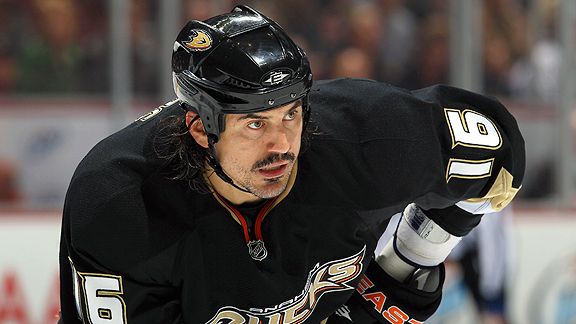 Jeff Gross/Getty ImagesParros has an apparel line, 'Stache Gear, using his moustache as the logo, that raises funds for cancer.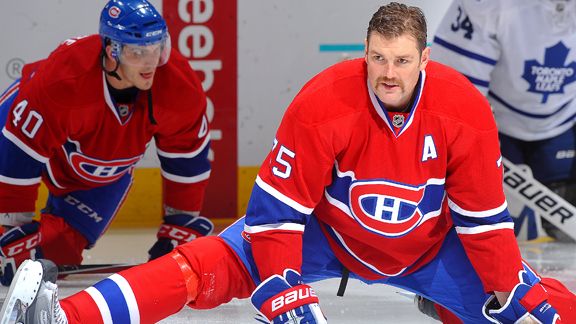 Francois Lacasse/NHLI/Getty ImagesCanadiens captain Hal Gill led his teammates in an effort to raise awareness.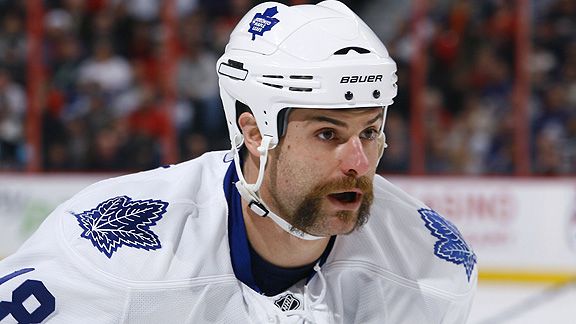 Phillip MacCallum/Getty ImagesGrowing a moustache was nothing new for the Maple Leafs' Mike Brown.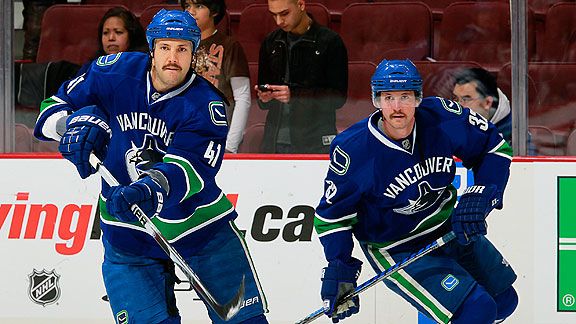 Jeff Vinnick/NHLI/Getty ImagesCanucks players Andrew Alberts and Joel Perrault joined in the fun.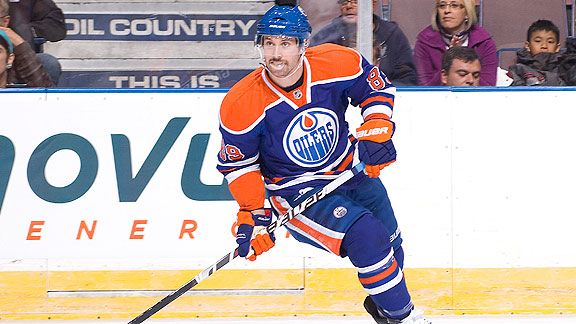 Andy Devlin/NHLI/Getty ImagesSam Gagner was one of 10 Oilers players to grow a moustache for Movember.
November, 3, 2010
11/03/10
3:24
PM ET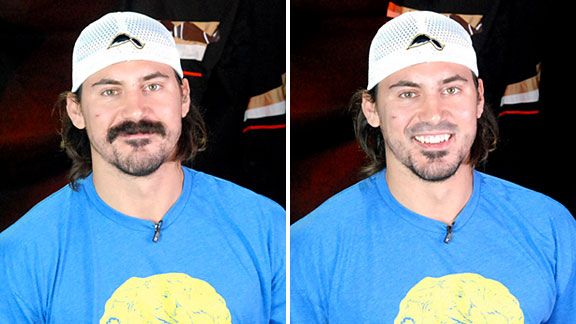 Anaheim DucksGeorge Parros shaved his signature 'stache to raise money and awareness for cancers affecting men.
Anaheim forward George Parros shaved off his signature moustache and has started growing a new one in an effort to raise money and awareness for cancers affecting men.
In honor of "Movember," Parros and 12 of his teammates will join the 30-day moustache-growing movement. Movember takes place every November and encourages men to grow a moustache as a vehicle to raise awareness for prostate cancer research.
"My teammates and I are excited to join this great cause," Parros said, according to the Ducks. "It's a fun way to bring awareness to cancers affecting men. I look forward to seeing what kind of 'staches our team can produce."
Ducks players participating in the cause include: Corey Perry, Ryan Getzlaf, Sheldon Brookbank, Curtis McElhinney, Ryan Carter, Kyle Chipchura, Danny Syvret, Cam Fowler, Troy Bodie, Todd Marchant, Teemu Selanne and Saku Koivu.
Also, Parros will judge a moustache-growing contest between NHL players and Gino Reda of "That's Hockey" on TSN.
Parros has an apparel line, 'Stache Gear, using his moustache as the logo, that raises funds for the Childhood Leukemia Foundation and Teammates for Kids.