Cross Checks:

Guy Boucher
March, 30, 2012
3/30/12
11:27
AM ET
With the nightly drama that is the stretch run in the NHL unfolding like an Agatha Christie whodunit, it's easy to overlook other hockey stories. But we were taken by the story of the Norfolk Admirals of the AHL for a number of reasons.

First, there is the no small matter of their current 21-game win streak, a streak that is put on the line Friday night when they play host to the St. John's IceCaps in Norfolk. The streak, the longest in North American pro hockey history according to AHL officials, deserves recognition for the obstacles that are inherent in putting together a run like that anywhere, but especially at the AHL level.

As the top feeder league for the NHL, the mandate for GM Julien BriseBois and head coach Jon Cooper are different than for their counterparts in the NHL. They are tasked with developing hockey players who could, on a moment's notice, be summoned to the parent club in Tampa Bay. Given the injuries the Lightning have sustained and the disappointing season they have endured, those calls come with regular frequency. That's life in the AHL.

Beyond that, BriseBois and Cooper are also charged with putting together an entertaining and winning product for the good fans in Norfolk. No problem there, as it turns out.

In a phone conversation Thursday, Cooper struggled to define what has happened to his team, likening it to a small snowball that begins rolling down a steep hill. At the beginning it hits some bumps "but by the time it gets to the bottom, it's out of control," Cooper said. "That's about the only way I can put it."

The sum total of wins is impressive enough, but how this squad of minor-pro players has managed to assemble a 21-game stretch without a loss in many ways defies logic.

The Admirals won their first six games in a nine-night span.

"I was exhausted," Cooper recalled with a laugh.

They won their next six in a 10-day span.

"I couldn't believe we were at 12," he said.

The next six came in another 10-day stretch.

Because of injuries and call-ups, only eight players have played in all 21 games.

They've done without their top goalie, without their second- and fifth-leading scorers, and without their captain, among others, during the run.

Six players in their current lineup started the season in the ECHL and another was playing college hockey; 29 players have appeared in at least one game during the streak.

The Admirals have a plus-51 goal differential during the carnival of wins, with rookies chipping in 44 of the 84 goals scored. They have allowed just 33 goals in those 21 games, and 15 different players have produced game-winning goals.

There have been plenty of jokes as the winning streak mounted. When it got to 16, folks remarked that the streak was old enough to drive. By the time it got to 21, the streak was old enough to vote.

Is old-age pension next? Cooper laughs.

A stretch like this takes on a life of its own. Opposing teams want to be the ones to bring it to an end, but the Admirals have a swagger, an imperviousness that is daunting to opposing teams.

"The thought of losing a game isn't even in anyone's head," Cooper said. "It's been a huge advantage to us. There's no Knute Rockne speech from me. I barely have to walk in the room."

The streak has generated attention far beyond the normal AHL experience, and Cooper hopes his squad is enjoying the attention. They've earned it, after all.

"To me, this is all fun and I want the guys to have fun doing it," he said.

The attention has spread beyond the players.

If the AHL is about molding players for a potential NHL career, the same is true for coaches and general managers.

The moment Montreal Canadiens GM Pierre Gauthier was fired Thursday morning, BriseBois' name came up as a possible replacement. BriseBois spent nine years in the Canadiens organization, then joined Steve Yzerman's management team in Tampa before the 2010-11 season. The success of the minor league team for which he is responsible will do little to quell the notion that he is a top candidate for the Montreal job.

Cooper is a less-known quantity, but he understands the streak will vault his name into the conversation as a potential up-and-comer with NHL potential. The same kind of dynamic led to Tampa Bay's current head coach, Guy Boucher, moving quickly from major junior to the AHL to the NHL, where he led the Lightning to the Eastern Conference finals last spring in his first season as an NHL coach.

Cooper, in his second season as the Admirals' bench boss, said he never thought about making such a jump until he started fielding questions about it during the streak.

"I'm always in the now with my team," said Cooper, who gave up a career as a criminal defense lawyer to pursue a coaching career in 2003.

Since he put the law career behind him, Cooper jokes that he hasn't once looked at a clock. If he keeps winning, though, he'll have to keep a closer eye on his phone because it won't be a surprise if the NHL comes calling sooner rather than later. That's what happens when you string together 21 straight wins, no matter where the games are being played.
October, 10, 2011
10/10/11
3:32
PM ET
WASHINGTON, D.C. -- So what does Guy Boucher do for an encore?
The NHL's youngest head coach led a non-playoff team to the Eastern Conference finals last season. Many believe the Tampa Bay Lightning overachieved and did so in large part because of a bright rookie coach who squeezed everything out of his lineup.
Boucher's evolution as a coach continues at age 40, but it all starts with his work ethic.
[+] Enlarge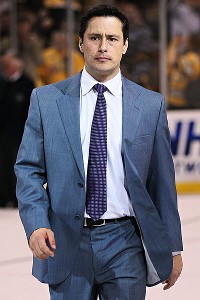 Elsa/Getty ImagesThe Lightning went from non-playoff team to Eastern Conference finalist during coach Guy Boucher's rookie season in 2010-11.
"He's really a hard worker," Tampa Bay GM Steve Yzerman told ESPN.com on Monday morning while watching Boucher run his players through the morning skate. "He really spends a lot of time thinking about every situation. Over the course of time, he's just going to get better and better. He's going to learn from the things that have worked well for him, and I know he's willing to look at things a different way and adjust accordingly."
This season, the challenge for Boucher is to make sure his message doesn't get stale. He has to keep a captive audience in the dressing room.
"I can teach the same thing, but I don't want to teach it the same way," Boucher said after Monday's skate at Verizon Center before the clash against the Washington Capitals. "I hate doing things twice the same way. I try to make it different in the approach."
Part of the message to his players early this season is they can't rest on last season's laurels. Last season is done with. They have to prove themselves all over again.
"Right now, we don't want to make the mistake that I've seen in the past, including myself doing it, thinking that we're the same team as we were at the end of last year. We're not," Boucher said. "That's the end of a process. ... We haven't done anything because of last year. We just know that we can believe, but now we have to do it. We have to start at zero again."
He delivered those words to a handful of reporters Monday morning with his trademark intensity and piercing eyes. As a player, it seems you wouldn't want to disappoint this coach. His competitive edge rubs off on you. It reminds us of a player in the Lightning dressing room whose ultra-competitive spirit is unmatched in most NHL circles. If Martin St. Louis were a coach, he'd be Guy Boucher, without the verbal arsenal.
"I think we're both extremely competitive," St. Louis told ESPN.com on Monday morning. "What I see of him is that he wants to win. He does everything he can to prepare us so that we're in the best position to win. He works extremely hard."
Boucher also communicates his plan well with players.
"He's very good with feedback. He likes to hear where guys are at with things," Tampa veteran blueliner Eric Brewer, a former captain in St. Louis, told ESPN.com. "But at the end of the day, he knows what he wants; he's a very thorough and educated guy. [He has] lots of energy and comes to the rink expecting the same [from players]. I think it's a good mix."
Boucher won't pull punches if he thinks a player didn't perform. The players know exactly where they stand.
"He's hard, but fair," St. Louis said.
"He's very honest, but very fair," Brewer agreed. "You had a good game, or you did not have a good game. He puts it out there. ... We may not always like it, but you respect it."
Tampa Bay's talented rookie
Brett Connolly isn't assured of sticking around the whole season (Tampa Bay will need to make a decision at the nine-game mark whether to send him back to Canadian junior), but so far, the 19-year-old rookie winger has impressed his coach.
"I figured his play might lower down a little bit [after preseason], but it hasn't," Boucher said. "He played a good game against Carolina and he was one of our top players against Boston, in a place that's extremely hard to play and against a team that's very physical. He was looking like a vet.
"Obviously, he's got to keep it up, but right now, he's showing me that he's not afraid to be first on the puck in this league against big boys. He's showed me that he's got the speed to do it. He's just making the small defensive mistakes that a young guy does, which is normal."
We like the way the Bolts have integrated Connolly into the lineup. He's playing on the third line to begin the season, which helps lower the offensive expectations for the sixth overall pick in the 2010 draft. If he were playing with Steven Stamkos and St. Louis out of the gates, he would feel the burden of putting up numbers. The other benefit of starting on a lower line is he isn't facing the top defense pairings from opposing clubs, which gives him a little more freedom out there.