March, 15, 2011
3/15/11
5:26
PM ET
BOCA RATON, Fla. -- Once again, the NHL is turning to its own rulebook to try to make the game safer for its players and more palatable for its fans.
Now it's a question of whether the league has the will to make it work as it has in the past.
The NHL GMs agreed that the standards for calling existing charging and boarding penalties need to be toughened and, along with more penalties called on the ice, there needs to be supplemental discipline if warranted.
More frequent calls on boarding and charging are another part of a multipronged effort by the league announced Tuesday at the NHL GMs meetings to reduce the number of concussions. There have been about 80 reported concussions this season.
[+] Enlarge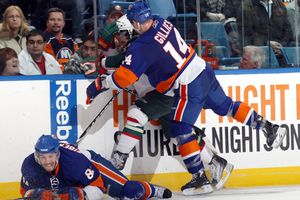 Bruce Bennett/Getty ImagesIslanders Trevor Gillies was suspended 10 games for his hit to the head of Wild forward Cal Clutterbuck.
A lot of the focus is on players who are vulnerable, Atlanta GM Rick Dudley said after the GMs broke for the second day of their three-day meetings.
"I think we're concerned about the charging and the boarding and not maybe changing rules but being strict on some of the hits," he said.
"Sometimes there's a legal hit made and sometimes there's a hit where the player is completely unaware of the player coming, and those are the ones you want to watch, especially when they're in the area of the boards," Dudley said.
Officials will be looking especially for these dangerous hits around and below the goal lines.
Many injuries take place at that part of the rink because forwards are back checking all the way into the defensive zone, sometimes arriving late and taking out unsuspecting players, Ottawa GM Bryan Murray explained.
Now players will have to learn that if they travel a great distance and at high velocity, referees will look to call a charge or boarding penalty.
"I think by tightening up some of the rules we have now, enforcing the rules we have now, especially the boarding and charging calls -- we hardly see charging called anymore -- the play below the goal line, things like that, we're going to help the safety of the players and also keep the fabric of the game intact," Pittsburgh GM Ray Shero said.
The idea harkens back to seminal changes to the game that took place coming out of the lockout. Although new rules were introduced to help enhance the speed of the game, arguably the most significant changes came with how league officials called hooking, holding and other obstruction fouls that had been laid out in the NHL's rulebook for years.
Players adapted to the new standards for calling those rules, and the game has never been faster.
Now players will have to learn a new set of guidelines for what will be acceptable when it comes to hitting other players.
It is more than a little ironic that one of the key players in those important changes that arrived post-lockout,
Brendan Shanahan
, now finds himself working with GMs
Joe Nieuwendyk
and
Steve Yzerman
and another newcomer to the league offices,
Rob Blake
, on a committee to help move recent safety recommendations forward.
"I remember coming out of the work stoppage. We said, these are the rules; we think they will unlock the game. But this isn't the finish line," Shanahan, now an executive with the league, said Tuesday.
"I don't think you ever say here are the rules for the next 100 years," he said.
Along with changing the boarding and charging standards, the NHL will introduce a new head shot rule, although the exact wording of that new rule is still a work in progress.
"There's not support on a widespread basis for a blanket head hit rule, but we are going to look to see if we can come up with a head hit rule in addition to Rule 48 [the rule that prohibits blindside hits] that focuses on dangerous hits, hits when a player is vulnerable or engaged with another player and a third player comes in or when there's excessive force," NHL commissioner Gary Bettman said Tuesday.
"So we're going to see if we can get something more precise than a blanket head hit rule," he said.
The competition committee must confirm changes to the rulebook before they are sent to the Board of Governors for final ratification.
The only reason the league was successful in changing the culture of obstruction coming out of the lockout was a commitment from the officials and league itself to call the game a certain way and the rapid education of the players.
The same dynamic must be in place again if the league is going to be successful in cutting down on the number of injuries in the game.
"I recall the first two years coming out of the lockout, people were calling the NHL the No Hit League. The solution for player safety is not to go backwards. Then we're just chasing our tails," Shanahan said.
The solution isn't to allow more obstruction to slow down players.
"In five years, we'll have another one of these meetings and talk about unlocking the game," Shanahan said.
"It's healthy. Every few years, we have to re-evaluate the game, make tweaks and adjustments. The coaches and players, the game will never stop evolving."
If anyone should know about evolution, it's Shanahan, even if evolving means simply going back to the same old rulebook for answers.
March, 15, 2011
3/15/11
5:20
PM ET
Toronto Maple Leafs
GM Brian Burke took exception to some of the public criticism of the league by NHL owners and raised the issue with Pittsburgh GM Ray Shero and Montreal GM Pierre Gauthier Tuesday.
Their respective owners,
Mario Lemieux
and Geoff Molson, have complained about the league's handling of controversial events involving their teams in recent weeks.
Burke didn't think it was appropriate that the owners took their concerns public, and he told reporters Tuesday a number of other GMs sided with him, including
New York Rangers
GM Glen Sather. In the end, though, Burke said the response to him was that the team owners could say what they wanted regardless of what Burke thought.
"It was typical Brian Burke. It had no impact but it was entertaining," he said.
The issue of owners speaking out became even more pointed Tuesday when
Ottawa Senators
owner Eugene Melnyk went on at length about the league's policy on blows to the head, insisting that he wants players banned forever for deliberate head shots.
"I'm talking about -- and I'm as far to the right wing on this issue as you can ever get -- you hit a guy in the head, you're gone and I mean gone," he told the Fan 590 in Toronto.
March, 14, 2011
3/14/11
7:32
PM ET
BOCA RATON, Fla. -- NHL commissioner Gary Bettman may have grabbed the early headlines here Monday, but the heavy lifting remains for the NHL general managers.
After watching clips of almost every one of the 80 or so concussions that have been sustained by players this season, the GMs must grapple with how to change a game that seems to have evolved beyond the current rules.
Perhaps the most shocking statistic to come out of Monday's concussion presentation was 44 percent of all concussions this season are the result of what are currently considered legal hits.
[+] Enlarge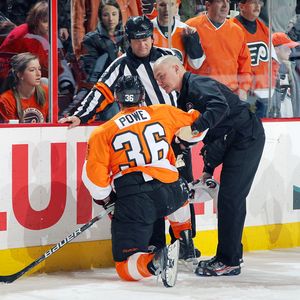 Len Redkoles/NHLI/Getty ImagesThe NHL plans to introduce new in-game concussion protocols, where a player will have to leave the bench and go to an area where a doctor will assess him before he can return to action.
With the game headed for another record number of hits this season, it is clear that if the league is going to reduce the number of concussions its players sustain, it will have to change the rules.
Over the next two days, GMs will debate a number of such changes, including whether all blows to the head should be outlawed.
The Pittsburgh Penguins, who have been without star center Sidney Crosby since Jan. 6 (concussion), support a total ban on hits to the head.
"My position is there should be no head hits. That's the position of the Penguins, that's mine, and I brought it up today in our group," Pittsburgh GM Ray Shero said. "Everybody has varying degrees of what is a head shot. You look at all these videos and there's a lot of different hits, but at the same time, there's over 50,000 hits in a year.
"If there's 10 or 20 questionable ones, is that going to take the fabric of our game away? We're still going to have 49,892 hits in our game and it's not going to change that much, I don't think."
Shero also suggested other existing rules may need to be either modified or called more regularly.
"We've got to look at charging as a call that's hardly ever made anymore," Shero said. "Maybe we have to redefine what charging is."
GMs will also consider at least a minor penalty for any contact with an opponent's head.
However, the breakdown on the concussion numbers revealed a complex problem that may not be solved even by adjusting the rules. For instance, the number of concussions that are the result of accidental events (concussions that result from players falling or running into teammates or opponents or being struck by the puck) has doubled from last season. The number of man games lost due to these concussions has also increased five-fold from a season ago.
"Those are going to be difficult to eliminate or reduce," Tampa GM Steve Yzerman noted. "Accidents happen in the game."
"A lot of what we saw weren't direct hits to the head. We saw body checks, a player's shoulder into a chest, a player falling down," Minnesota GM Chuck Fletcher added. "There were a lot of incidents of pucks to the head or two players colliding from the same team. You've got to be a little bit careful in interpreting the data and make sure you're looking at what's truly happening out there."
As for illegal hits, they account for only 17 percent of all concussions and the percentage of man games lost to them is down significantly (41 percent to 17 percent) from a season ago.
The numbers suggest something different from the public's impression that the league is awash in guys taking each other's heads off at every opportunity.
"This notion that the players have no respect for each other and the players are going around hitting each other in the head on a regular basis and that is what is causing concern just isn't accurate," Bettman said.
The league also said there has been no increase in the number of concussions caused by head shots this season.
"We're not looking to fundamentally change our game. We're looking to make it safer," Bettman said. "And so, you can't do that in a haphazard manner, and you just don't run off and do it in the middle of a season. What you want to do is make sure that you're identifying the issue you're trying to address and that what you do in response will address that issue without fundamentally changing the game in ways that were never intended.
"We're not going to hurtle through this just to get it done," Bettman added. "The key is to get it right."
Over the next couple of days, GMs will wrestle with just what "right" means.