Cross Checks:

Heritage Classic
August, 9, 2013
8/09/13
1:01
PM ET
By
Sarah Goldstein
| ESPN.com
NHL commissioner Gary Bettman brushed off criticism that the league is hurting its product by hosting six outdoor games this season,
according to The Globe and Mail
.
"For teams and markets that want to host this [event], for fans that want to attend, we can't do enough of them," Bettman said Thursday at Yankee Stadium, where the league was
formally announcing two of the games
.
"Fans love attending this event, the demand that we're hearing and feeling from our teams and markets and venues wanting to host this game is overwhelming," Bettman added, according to the report. "So if you're actually getting an opportunity to attend this game, you don't think we're doing too many of them."
The Winter Classic will be played at the Big House in Ann Arbour, Mich., between the
Toronto Maple Leafs
and
Detroit Red Wings
.
This will be followed by a four-game Stadium Series consisting of two games at Yankee Stadium, one game at Dodger Stadium and another at Soldier Field.
The final outdoor game will be the Heritage Classic between the
Ottawa Senators
and
Vancouver Canucks
at B.C. Place.
While some are already saying that six games is too many, it remains to be seen if the NHL will attempt more games in the future.
"We're obviously testing ourselves and our hockey operations department to make sure we can put on these six games. We're confident that we can," Bettman said, according to the paper. "But we'll take a deep breath when all six are over and evaluate what made sense, what we can do better and whether or not we can even do more."
February, 21, 2011
2/21/11
1:15
PM ET

1. No big moves in Chicago
We had a chance to chat with Chicago GM Stan Bowman before Sunday's big shootout win over Pittsburgh. He has little cap room to work with and won't be looking to make a big trade-deadline move that would involve bringing in salary or shipping salary out to bring salary back.
One area he'd like to address is acquiring a defensive forward to help the team's penalty killing. The Hawks' penalty kill hasn't been as strong as Bowman would like because his top players are doing a lot of that work, and it may be stretching them too thin.
Sounds like Bowman could use a guy like Andrew Ladd, the current captain of the Atlanta Thrashers who the GM had to trade in the offseason to deal with salary-cap issues.
Even with their win Sunday, the Hawks shockingly remain outside the playoff bubble in 11th place, although they're just two points behind the four teams tied with 68 points (Los Angeles, Dallas, Minnesota and Anaheim, respectively).
Bowman was also quick to defend defending Norris Trophy winner Duncan Keith, whose offense has dropped off, drawing criticism in some quarters. Bowman takes issue with the perception that Keith's game has dropped off. He pointed out that Keith was logging big minutes against opposing teams' top lines from the start of the season. Bowman said Keith remains the team's "rock-solid" anchor along the blue line.

2. None in Minnesota, either
Don't expect GM Chuck Fletcher and the Wild to be too active between now and the Feb. 28 trade deadline, even with Mikko Koivu's injury. When it comes to draft picks and prospects, Fletcher inherited a pretty bare cupboard, so trying to obtain the asset he needs (top-end scoring) would set the team back developmentally, so he will likely stand pat.
The good thing is, Fletcher has done a nice job of assembling what many teams want at the deadline: depth scoring, veteran experience and capable if not flashy defenders. This is a hard-working team that scores just enough (the Wild have eight players with 10 or more goals), plays terrific defense and gets good goaltending. They are 10-4-1 in their past 15 games and sit seventh in the West, but that's hardly security in the conference as three other teams also have 68 points.
Does Fletcher find himself scoreboard-watching? Yes.
"People say they don't, but I don't believe them," Fletcher said. "It's exhilarating but it's stressful."
The Wild's strong play is in stark contrast to the team's sluggish start to the season, one that prompted whispers that coach Todd Richards was on thin ice.
"I don't think we had any alternative but to be patient and stay the course," Fletcher said.
With only one successful playoff run in team history, a trip to the 2003 Western Conference finals, the Wild are desperate to return to the playoffs.
"It's been a process," Fletcher said. "I think that the character of these guys has been underrated. We're a good team."
3. Why are GMs immune to midseason dismissals?
Why don't more GMs get fired in the middle of a lousy season? Coaches getting the ax if their teams don't perform up to expectations is a given. Just ask Scott Gordon or John MacLean. And sometimes that's what it takes to turn a team around.
The New Jersey Devils are a completely different team under Jacques Lemaire and are flirting with one of the most dramatic turnarounds in recent memory. But it's been interesting to see the renaissance the Calgary Flames have enjoyed since the departure of GM Darryl Sutter. The dynamics were unique in Calgary since Darryl was the brother of coach Brent Sutter, and that relationship had gone south.
The Flames are the same, the coach is the same; but with Jay Feaster in as interim GM (surely that tag will be taken off in a hurry), Calgary is a playoff team. The Flames are 7-1-2 in their past 10 games and were tied for fifth in the conference with 70 points as of Monday.
Further, doesn't it seem counterintuitive to allow a GM of an underachieving team to make trade-deadline moves that have a direct impact on the future if he doesn't have a role with the team beyond the season?
We're not suggesting Bryan Murray should be fired, but Ottawa Senators owner Eugene Melnyk has said he will reassess the entire organization at the end of what has been a ghastly season. Yet it's Murray who has been steadily tearing apart the Sens' lineup and building for the future even if it's a future that may not include him. If Melnyk doesn't know now what he's going to do with team management, that's a pretty sad indictment of his business acumen. And if he is going to make a change, shouldn't he make that move by bringing in a GM he thinks will take the team forward?
We understand it is sometimes hard to hire a guy midseason if he's working with another team, but it still seems strange GMs are essentially immune to midseason replacements. One wonders if the Calgary situation will give owners pause in the future.
4. Don't dilute the great outdoors!
First, there was the Winter Classic in Buffalo, and no one knew what to expect. But it turned out to be the equivalent of a top-end steakhouse -- hip, distinctive, a success.
This season, the NHL decided to throw the CBC and Canadian fans a bone and added the Heritage Classic to the schedule. (The event's name borrowed from the near-disastrous outdoor game held in Edmonton before the lockout.)
And while the ice was terrible and it was bitterly cold (hey, who knew it was going to be chilly in Calgary in late February?), it turned out OK. Sponsors loved it. Fans bought up tickets. Highlights turned up on CNN on Monday morning. Think of it as a limited franchise trading on the good name the Winter Classic had built.
Our colleague Pierre LeBrun writes that the NHL is contemplating three or four of these events every season. You know what we instantly think? McDonald's. 7-Eleven. Not that there is anything wrong with McDonald's or 7-Eleven stores. Goodness knows if you need to find one you don't have to look too hard. But you hardly think "hip" or "distinctive" when you think of those establishments.
That is what the NHL is flirting with.
Yes, fans and sponsors and owners love the idea of these games and everyone wants to host one. Does that mean they should get one?
We have long insisted the Heritage Classic shouldn't even be a yearly event. Once every two or three years would be enough for us. If the NHL moves forward with this notion of flooding the marketplace with outdoor games, it will have done the nearly impossible -- sucking the pizzazz out of the Winter Classic and rendering it, dare we say, ordinary.
Because no matter how these other outdoor franchises might be marketed, no matter what kind of funky names they might be given, they will all have a certain sameness and they will all become regional events.
The Calgary/Montreal game Sunday, coming on the final day of Hockey Weekend Across America, barely registered as an event in the United States. There was no build-up like there was for the Winter Classic over the past three years. It was a regional game between two Canadian teams. Nothing wrong with that, but the league better be careful what it wishes for.
Put three or four of these games on the calendar every year and people will start to ask, "Where's the beef?"
5. OK, we've changed our minds about Minnesota
We have, in this space, regularly suggested the Winter Classic has to remain the crème de la crème of the NHL. Lots of Sidney Crosby, Alex Ovechkin, Detroit Red Wings, Chicago Blackhawks, Philadelphia Flyers on New Year's Day. And when fans from Minnesota complained to us that the State of Hockey should get some consideration, I think I suggested they might want to play in a playoff game first.
A bit harsh, perhaps, but after spending a couple of days talking to hockey folks at all levels of the game in Minnesota, I think maybe the Minnesotans have a point.
It's true the Wild have virtually no profile outside the state, and making the playoffs would improve that profile nationally and justify them hosting a Winter Classic. But there is something absolutely unique about the state's fascination and connection to the game. Whether it's high school or college, men's or women's hockey, it is a big deal and it matters, and a Winter Classic there would be a magical event.
The beauty of having an NHL outdoor game in Minnesota is the league, USA Hockey and the NCAA would be able to put on a grand show that transcends the game itself. It's what we saw in Boston, and it's what should be part of every Winter Classic event.
Even if the Wild aren't the sexiest team around, the NHL can get around that by inviting Detroit or Chicago or another higher-profile team to be the visitors. Assuming HBO will still be playing a role in this event, the Wild may also benefit from that kind of exposure.
February, 20, 2011
2/20/11
5:08
PM ET
It is game day in Calgary as Pierre LeBrun checked in from McMahon Stadium as the final preparations were made on the ice and fans began to fill the stadium.
The Canadiens and Flames are set to play at 6 p.m. ET.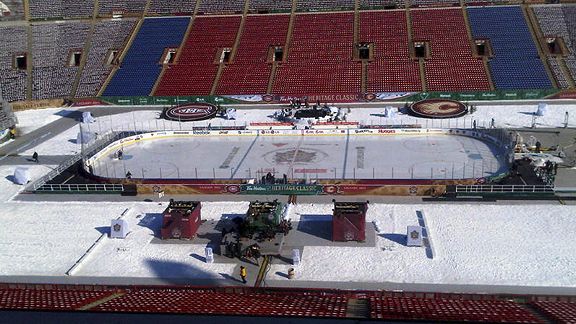 Pierre LeBrun for ESPN.comGame-time temperatures are expected to be around 8-10 degrees.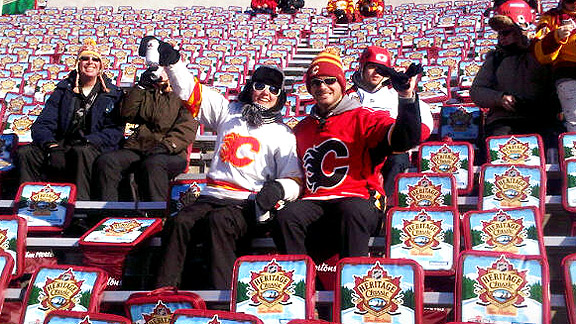 Pierre LeBrun for ESPN.com Fans dressed warm but were excited to watch the Habs face the Flames.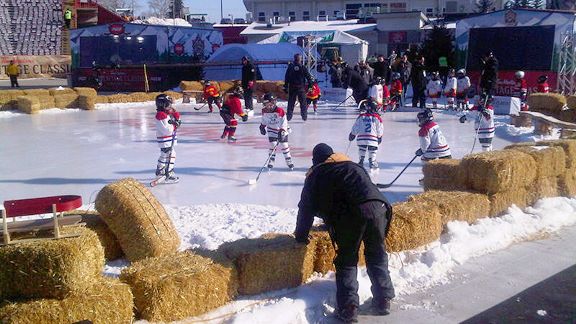 Pierre LeBrun for ESPN.comSome smaller hockey players get a chance to take part in the Heritage Classic.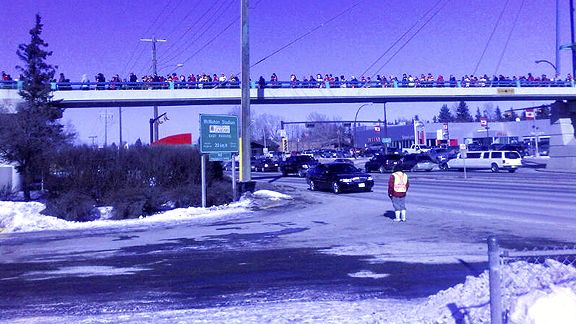 Pierre LeBrun for ESPN.comFans begin arriving at McMahon Stadium on Sunday afternoon.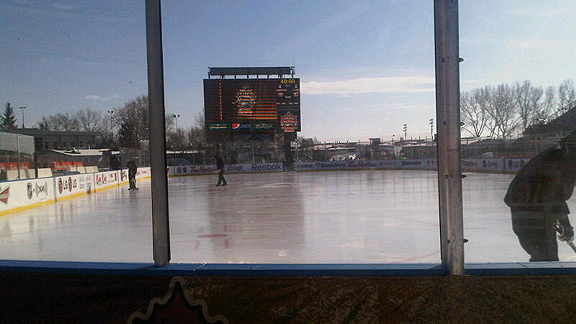 Pierre LeBrun for ESPN.comThe ice crew continues to work on the ice on Sunday afternoon.
February, 19, 2011
2/19/11
6:57
PM ET
ESPN.com's Pierre LeBrun checks in with Montreal Canadiens defenseman P.K. Subban after his practice session at McMahon Stadium in advance of Sunday's Heritage Classic.
(FYI that we had some microphone difficulties at the start of the interview; after that, P.K. talks about the quality of the ice, plus how many hits he may deliver against the Calgary Flames.)
February, 19, 2011
2/19/11
5:54
PM ET
Pierre LeBrun checked in from McMahon Stadium in Calgary with these shots from today's practices in advance of Sunday's Heritage Classic between the Canadiens and Flames.
Outside temperature during practice today: 5 degrees. Those are beer-freezing temps!
As Mr. LeBrun put it: "Cold, but nice."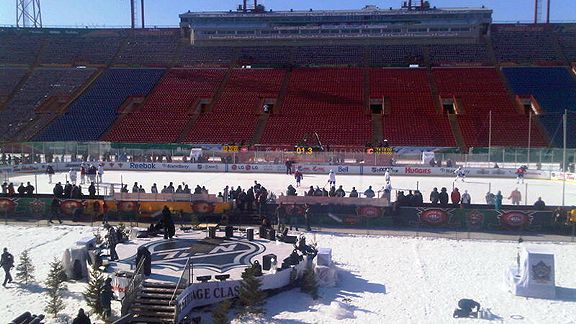 Pierre LeBrun for ESPN.comThe Montreal Canadiens come into the Classic riding a two-game losing streak.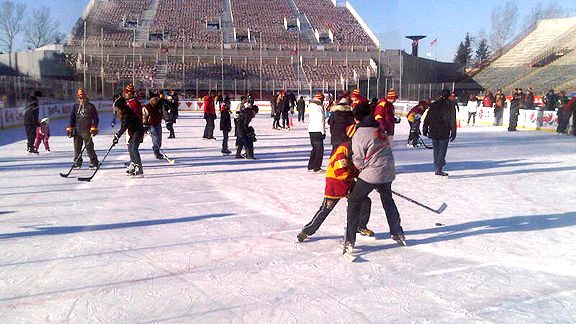 Pierre LeBrun for ESPN.comFamilies from both teams got to test the McMahon Stadium ice Saturday. Brrrr!
February, 17, 2011
2/17/11
5:54
PM ET
The Heritage Classic is almost here and the NHL crews are getting everything ready at McMahon Stadium in Calgary.
Here are some photos from the field as Sunday's game between the Montreal Canadiens and Calgary Flames approaches.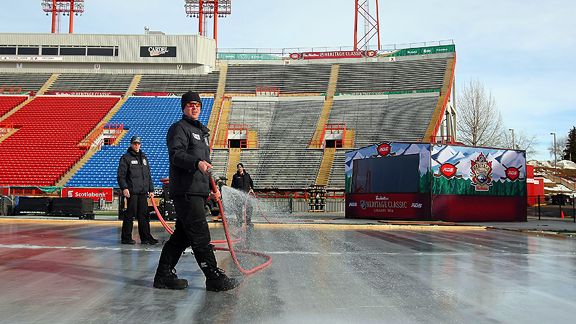 Dave Sandford/NHLI/Getty ImagesJust like the Winter Classic, there willl have a smaller 'pond' off to the side of the main rink for kids to skate at McMahon Stadium.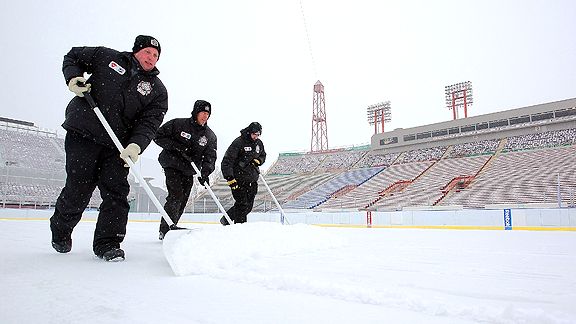 Dave Sandford/NHLI via Getty ImagesIt's a little colder at McMahon Stadium in Calgary than it was at Heinz Field in Pittsburgh on New Year's Day. Ice crews shoveled snow off the ice surface Wednesday in advance of Sunday's Heritage Classic.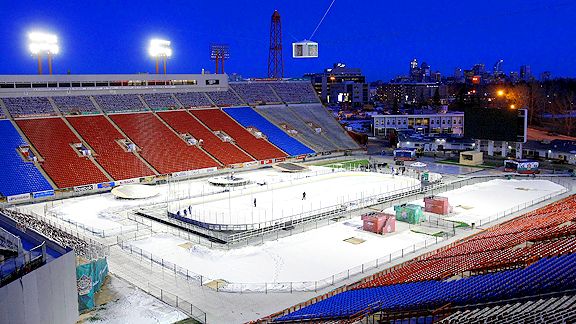 Dave Sandford/NHLI/Getty ImagesThe Heritage Classic stage is set: The Canadiens will face the Flames on Sunday at 6 p.m. ET.
February, 5, 2011
2/05/11
9:07
PM ET
Trade talk is finally on the uptick in the NHL, several GMs told ESPN.com Saturday, but there still is the sense most transactions will drag out until closer to the Feb. 28 deadline. As always.
"The chatter has picked up tremendously," a Western Conference GM told ESPN.com Saturday.
Ottawa is a good place to start. Sens GM Bryan Murray will be as busy as any of his peers as he attempts to bring change to a roster that has greatly disappointed this season.
Center
Mike Fisher
, signed through 2012-13 at a $4.2 million cap hit, is a popular name when other teams phone the Senators these days. His no-movement clause expired last summer, so the Sens are free to deal him. They aren't shopping him, but other teams sure are interested. It would take a pretty good offer to move him. But he's not an untouchable. I believe the
Nashville Predators
are among the many teams that covet Fisher.
The most obvious player to move is
Chris Phillips
, a UFA July 1. Phillips and Murray have recently chatted, the GM asking the veteran defenseman to get back to him by the end of next week on whether he'd waive his no-trade clause. Montreal and Boston are among several teams that have shown interest, league sources told ESPN.com. The Habs make sense for him because his family wouldn't even have to move for now with the Canadiens just 90 minutes down the highway. The Bruins have obvious connections with former Senators teammate
Zdeno Chara
and GM (and former Sens executive) Peter Chiarelli.
Emery's comeback
Expect to see
Ray Emery
sign a one-year, two-way deal Sunday or Monday with the
Anaheim Ducks
. Emery will begin his comeback in the AHL, but to do that, he will need to clear NHL waivers because he's a veteran. He could avoid waivers if the Ducks simply assign him to a two-week conditioning assignment, but everyone involved, most notably Emery, feels he'll need more time than that to get his game back.
Leafs' trade talk heating up
The action on
Francois Beauchemin
and
Kris Versteeg
has gone from kicking the tires to legitimately heating up. Beauchemin has a list of 12 teams he'd be willing to move to, although some teams that aren't on the list have called as well, in which case the Leafs would just run it by him if they decide to make one of those deals. Both players have one more year on their respective contracts.
On the
Tomas Kaberle
front, status quo as of Saturday. There has not been a list of teams handed to Toronto from the Kaberle camp (he's got a no-trade clause). My sense is that Toronto is just going to have to go to him and agent Rick Curran closer to the trade deadline with the best offer they've got and run it by him.
Again, I think Northeast Divisional rivals Boston and Montreal both have interest in Kaberle, as do the
New York Rangers
, but as one NHL executive told ESPN.com on Saturday, "Any team looking for a top D-man is interested in Kaberle."
Rangers interested in defensemen
The Rangers' power play has consistently struggled (23rd), so a veteran point man such as Kaberle,
Bryan McCabe
or
Sheldon Souray
would likely interest the Blueshirts. Each would also provide a veteran presence on a really young Rangers blue line.
McCabe, UFA on July 1, is still injured. He began off-ice workouts last week, and it's still not clear when he'll begin to skate.
Florida Panthers
GM Dale Tallon, by the way, had preliminary contract discussions with McCabe agent Ian Pulver at the Top Prospects Game last month. The price has to be right for the Panthers. McCabe told ESPN.com at the start of the season that he loves it in South Florida and doesn't want to leave.
Savard's future and Bruins' options
Marc Savard
was scheduled to meet with agent Larry Kelly on Saturday night to discuss his future. Kelly also met with Chiarelli before Saturday's game. In all likelihood, Savard is going to be shut down for the season. You have to feel for the guy with everything he's gone through.
So what now for the Bruins? They've got major cap savings to spend. I'm told they'll be on the lookout for both a defenseman and a forward.
As mentioned above, Phillips is of interest. Kaberle would interest them as well, as would Versteeg. But Boston is looking at many options at this point.
Oilers put high price on Penner, Hemsky
The Oilers are not desperate to deal
Dustin Penner
or
Ales Hemsky
(both of whom have one more year on their deals), but as one opposing GM told ESPN.com on Friday, "Believe me, those two guys are in play, but right now they're asking for too much."
My sense is that the Oil will only move them if they really like what's offered. No urgency to move them.
Red Wings' goalie situation
The Red Wings are 19th in goals against, strange territory for them, and given their failed pursuit of
Evgeni Nabokov
, the question many Detroit fans have asked in cyberspace is whether GM Ken Holland will try for another goalie given the struggles of
Jimmy Howard
and the injury to
Chris Osgood
.
"At this time, unless I get bad news on the rehab front between now and the deadline on Chris Osgood, I'm not looking to do anything in goal," Holland told ESPN.com Friday.
"Jimmy Howard was a Calder Trophy nominee last year. The last month we haven't played well defensively. We know we have to play better defense. We've also been able to score a lot of goals and maybe that's why we haven't always buckled down. But long-term, that's not a winning a formula."
As for the impression Detroit wanted to upgrade in goal with its pursuit of Nabokov?
"We took an opportunity with Nabokov for a variety of reasons," said Holland. "A major reason was that he was prepared to do a cap number ($570,000) that would allow us to carry three goalies after March 1. He was UFA, there were no assets I had to give up. He was a Vezina runner-up in 2008. Last year he took his team to the final four. It was a combination of things. It was a unique opportunity. The rest is history. He belongs to the
New York Islanders
."
Jagr would consider NHL return
Had a chance to catch up with Jaromir Jag after his team's 18-16 win in the KHL All-Star Game on Saturday, in which Jagr netted a hat trick.
I told him he's got lots of people back in North America who miss having him around.
"I miss you guys too," Jagr said with his trademark laugh. "It was a great run for me there."
He added that he's having a blast in the KHL, especially this season with Avangard Omk leading the standings.
It just so happens, however, that Jagr has options after this season.
"Yes, I'm a free agent after the season," Jagr told ESPN.com. "I want to finish season here and then think about what I'm doing next. But right now our team is doing really well, we're first overall in the league. We have a pretty good chance to do something good and that's why I'm really excited, although you never know what can happen in the playoffs."
But, I pressed on, what if an NHL team called next summer?
"If I had a chance to join a team that has a chance to win, maybe I'd think about it," Jagr said. "I'd like to go on a team that has a chance to win the Stanley Cup or at least get into the playoffs and go far. I'd like just to help a team like that on the second or third line."
Jagr turns 39 on Feb. 15. Are the legs getting heavy?
"I actually feel better now than I did my last year in the NHL," said Jagr. "More skating here on the big ice. I don't feel my age."
Heritage Classic to top Winter Classic?
With all due respect to my pal Scott Burnside who considers the Heritage Classic the ugly Canadian stepchild of the Winter Classic, here's something that might raise a few eyebrows.
"Sponsorship on this game is going to surpass even the Winter Classic to give you a sense of the size of this thing," NHL COO John Collins told ESPN.com Friday. "And the Winter Classic was a beast."
Iconic Canadian brands such as Tim Horton's and Canadian Tire have jumped on board with guns a blazing as have other companies for the Feb. 20 Montreal-Calgary game at McMahon Stadium. The gate revenue won't be as much because there aren't as many seats in the CFL stadium compared to Heinz Field. But the corporate base has really jumped on board.
"To really make the model work in these less than NFL or big-time baseball stadiums, sponsorships needs to really carry the day," said Collins, the mastermind behind the Winter Classic. "I think the size of the sponsorship market and also the activation by the sponsors is going to be even bigger than the Winter Classic."
From a business perspective, that's why it was no-brainer for the NHL to extend itself with two outdoor games. Still, the question remains whether or not having two games will dilute the product. Not to mention the fact there are only six Canadian NHL teams, so that means lots of repeat performances by the same six clubs in the Heritage Classic? Or maybe not ...
"I always resist the idea that the Winter Classic is a U.S.-only event, similarly now I'm going to resist the fact that the Heritage is just a Canadian event," Collins said. "At the end of the day, these events should appeal to all hockey fans."
To be clear, I asked Collins if he was talking about maybe putting Canadian teams in the odd Winter Classic and maybe an American team in the odd Heritage Classic?
"We're always kicking around everything," Collins said. "That's the fun part of this gig, to be creative. This is a league that's taking risks and pushing the envelope."
The fact is, the future of these outdoor games will depend greatly on the next U.S. TV deal. Once the U.S. TV deal is in place, it allows for a more concrete discussion of where these outdoor games are headed.