Cross Checks:

Hockey Hall of Fame
November, 18, 2014
11/18/14
2:49
PM ET
The path to the Hockey Hall of Fame got clearer for
Chris Pronger
on Tuesday.
The board of directors of the Hockey Hall of Fame clarified the three-year, waiting period eligibility bylaw. While it still needs ratification from the full membership at the annual general meeting in March, that is largely expected.
[+] Enlarge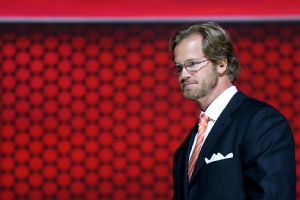 Bruce Bennett/Getty ImagesFlyers defenseman Chris Pronger last played an NHL game on Nov. 19, 2011.
"The new by-law imposes a more objective test for the three-year eligibility rule applicable to player candidates, in particular, resolving possible ambiguity as to the nomination of a player who has not played for more than three years due to injury, but who is still under contract and continues to receive compensation that counts for salary cap purposes or otherwise," Jeff Denomme, president and CEO of the Hockey Hall of Fame, told ESPN.com via email Tuesday following the conclusion of the board of directors meeting.
This means Pronger will be eligible for Hall of Fame induction should the selection committee choose to nominate him next April ahead of the June vote.
Denomme also stressed the fact that this isn't just about Pronger, but that there could be other players moving forward who are in a similar circumstance and the HHOF board doesn't feel it should be concerned with medical or contractual issues when it comes to determining induction eligibility, which is why the board chose to clear up the bylaw Tuesday.
Part of the current bylaw states that "a candidate for election in the player category must have concluded his or her career as an active player for a minimum of three playing seasons before his or her election."
The new bylaw, again subject to ratification, states that "a candidate is not eligible for election in the player category if he or she has played in a professional or international hockey game (which terms shall not be considered to include games played only or primarily for charitable or recreational purposes) during any of the three playing seasons immediately prior to his or her election."
Pronger, who remains under contract with the Flyers, hasn't played since November 2011, as his career was ended by injury. He remains on injured reserve instead of retiring so that his salary doesn't count against the Flyers' salary cap.
The new bylaw will ensure that he is eligible for Hall consideration next year. Whether or not the members of the selection committee choose to nominate him by the April 15 deadline remains to be seen. His résumé certainly screams no-brainer.
November, 11, 2013
11/11/13
11:10
PM ET
TORONTO -- The game's greatest Hall of Famer, Wayne Gretzky, was on hand Monday. He talked about the memories that came flooding back to him when he was inducted in 1999.
"To make the Hockey Hall of Fame is really hard. You've got to be a real special person because that's what makes it a special place," Gretzky told a gaggle of reporters.
"I was just telling some friends today, I was telling my boys, I still come here to visit the Hall of Fame. When I was a kid, I used to come here and just stare at all the equipment and the names. I got a chance this summer to bring my 13-year-old son here and just spend a couple of hours here."
Gretzky said coming into the Hall of Fame is a chance to share a tremendous honor with those who helped build the path to the NHL and a place in the Hall.
"The moms are the ones that don't get enough credit that they deserve because they're the ones that get up at 5 a.m. and take them to practices when you're a kid, take you to games because your father's working. It's a great honor not only for the players and the athletes but for the families," Gretzky said.
"It's extremely emotional. Once you get there. Listen, the NHL coaches and the management are so wonderful and they're so good. But it's the people who get you there. Your pee wee coach, your novice coach, your bantam coach, your high school teacher or principal that really believes in you and gives you that extra little push and nudge that says you can do it. And those are the people, when I stood up there, I was sort of thinking about when I made the Hall of Fame because without those people at 12, 13, 14, 15, I would never have made it."
Speech highlights
As always, a great night for those who love a little emotion with their ceremony.
Brendan Shanahan
dedicated his honor to his father, who died of Alzheimer's and never saw him play in the NHL. He talked lovingly about the influence of his mother, who, with his father ailing, drove to London, Ontario, to spend time with him while he was playing junior hockey. And he praised his older brothers, who never said no to him when he wanted to come and play lacrosse with them.
Scott Niedermayer
talked about the joy of being able to spend the final days of his career in Anaheim, where he got a chance to play and win a Stanley Cup with his brother Rob. The two had faced each other in the 2003 Stanley Cup finals, but in 2007, Scott Niedermayer took the Stanley Cup from NHL commissioner Gary Bettman and handed it to his brother, more than making up for the 2003 clash.
Perhaps the most eagerly anticipated speech of the night was
Chris Chelios
', because there was a sense he might take a shot at Bettman, with whom he warred over the years. Instead, the rugged defenseman noted that the labor disputes were the parts of his career he hated the most, and that nobody won. At the end of his speech, he brought his entire family onto the stage with him.
Canadian women's great Geraldine Heaney thanked her parents for never telling her that hockey wasn't for girls.
And then there was
Pittsburgh Penguins
general manager Ray Shero, who took to the podium to accept the Hall of Fame honor for his father, former
Philadelphia Flyers
coach Fred Shero. He asked the many former Flyers players and colleagues in attendance to stand so he could honor them as they had honored his father by attending. Very nice.
Harding keeps Wild in hunt
The
Minnesota Wild
are back in the hunt in the Central Division after a very up-and-down start to the season, and you don't have to look very far to see who one of the main catalysts has been: netminder
Josh Harding
.
GM Chuck Fletcher said it goes back to last season when Harding, who missed most of the regular season dealing with medication and protocols for treating multiple sclerosis, was forced into action in the first round of the playoffs against Chicago when
Niklas Backstrom
went down with an injury before Game 1.
This season, Harding has rolled up a 9-2-2 record, a .947 save percentage and 1.22 goals-against average -- the latter two of which are among the league leaders.
"He came into camp, he had a very good training camp and he's played well," Fletcher said. "He's always been a good goaltender and again the doctors are confident they can work with Josh to manage the situation. Life is full of uncertainty, you never know what will happen, but right now, he's just a good NHL goaltender. There doesn't need any asterisks next to what he's doing."
Someone asked the Minnesota exec if he'd seen any sign of Team Canada executive director
Steve Yzerman
scouting Harding, who would be a dark horse to make the Canadian team for the Sochi Olympics.
"Ha, ha, ha. I don't know about all [that] but we're happy to have him," Fletcher said.
Another element of the Wild's success has been the play of youngsters
Charlie Coyle
,
Mikael Granlund
and
Nino Niederreiter
, who was acquired in the offseason from the
New York Islanders
.
"We knew they'd be better, but we needed them to do more than just wear a jersey this year. We needed them to contribute and help our team win," Fletcher said. "But at lot of the credit goes to the veteran players."
Coyle has been playing with
Mikko Koivu
and
Zach Parise
, while
Jason Pominville
has been playing with Granlund and Niederreiter.
"Every time (Granlund) makes a great play Pominville puts it in the net, that in turn helps with both those guys' confidence," Fletcher said
Goalies coach Burke shares moment with Shanahan
Among those in attendance at Monday's ceremony was
Phoenix Coyotes
goaltending coach
Sean Burke
, who diverted from the Yotes' road trip to share a Hall of Fame moment with his old pal Shanahan, with whom he played as a young man in New Jersey.
"We both basically broke in together. He was with the team that year that I came from the Olympic club in '88 and joined the team," Burke told ESPN.com.
"Him and I moved in together the year after, two young players. We ended up playing in Hartford together as well and really just stayed friends over the years," Burke added. "He's a guy that is well deserving of this, as everybody knows. But when you play with a guy, you really appreciate even more because of how hard you see them work day in and day out. He definitely made himself into a heck of a player."
Speaking of Olympic goaltending and which direction Canada might turn, Burke is rooting for his charge in Arizona: Mike Smith.
"You come into the season, I definitely wanted it to be a factor for him. Something he thought about," Burke said. "That helps your preparation in the summer, it helps when the season starts getting a focus not only on your own team but something else as well.
"There's a lot of good goalies. I don't think Canada has anywhere near the problems in goal that everybody makes that out to be. But I do think Smitty's the type of guy that, if you have him in the three-hole or you have him as the guy playing, he can fill that role. He's definitely the type of player, when he gets hot he can carry you for a long time. In a tournament like the Olympics, you only need a guy to be good for two and a half, three weeks. He's the type of player that can raise his game to that level. So I really would like to see him be a part of that team, but like I said, there's a lot of good goalies."
Babcock's players
There were lot of connections on Hall of Fame night with Chelios and Shanahan having played together in Detroit. Red Wings head coach Mike Babcock coached both, and he also coached Scott Niedermayer in Vancouver at the 2010 Olympics and the 2004 World Championships, as well as losing to Niedermayer's
New Jersey Devils
in the 2003 Stanley Cup finals when he was head coach in Anaheim.
"I'm real fortunate. I got an opportunity obviously to coach Niedermayer two times and had an opportunity to coach Cheli and Shanny in Detroit, so you're proud of those guys," Babcock said.
"Not many guys are fortunate enough to have coached as many Hall of Famers that I've been lucky enough to coach, and you feel fortunate to have coached such great players."
Goalie fights debate
Among the topics expected to be discussed at Tuesday's meeting in Toronto of NHL general managers will be what to do about fighting goaltenders in the wake of an ugly incident recently involving
Ray Emery
of the
Philadelphia Flyers
and his unwilling dance partner,
Braden Holtby
of the
Washington Capitals
.
"No, it's not part of the game,"
Glenn Healy
, a longtime NHL netminder and now a national analyst, told ESPN.com.
"If you've got a goaltender who wants to actively pursue another goaltender or wants to defend a teammate, that's fine. Gloves off, Marquess of Queensberry rules. But in this case, you have one that didn't really want to, and I wouldn't either. So I think there's one rule that makes it nice and easy, nice and tidy -- and that is, if you instigate a fight with a goalie who doesn't want to combat, there's a suspension. Then you end the garbage."
Suspending a goaltender would make things complicated for teams, as they would have to call someone up to replace him for that period of time and, depending on the situation, could end up having to send another player down, possibly exposing one to the waiver wire.
"That then becomes a big issue. You initiate with a goalie, you're getting whacked, you're going to get suspended," Healy said. "Keep it simple. None of this over the blue line, behind the blue line if he goes over center. No, no. You initiate, you're done."
Larionov's charges
Hall of Famer
Igor Larionov
is enjoying a good turn as a player agent these days. He is headed later this week to Edmonton to get a better handle on what's happening with his young client,
Nail Yakupov
, who was selected first overall in the 2012 draft but has been a healthy scratch and seen his ice time ride up and down as the Oilers have stumbled through the first quarter of the season.
The Yakupov situation is in direct contrast to the experience of Larionov's other young client,
Alex Galchenyuk
of the
Montreal Canadiens
.
Playing mostly with other youngsters
Brendan Gallagher
and
Lars Eller
, Galchenyuk continues to impress, with three goals and 11 assists in 18 games thus far this season.
The key is obvious, according to Larionov: Confidence on the part of Canadiens head coach Michel Therrien and GM
Marc Bergevin
.
"That's the answer for that. That's the answer," Larionov said. "I talked to Michel, I talked to Marc Bergevin at the beginning of the season."
And while they knew there it wouldn't always be smooth sailing for Galchenyuk, they were prepared to live with that, Larionov said.
"He's going to make some mistakes, but you can see he's getting better every time he steps on the ice. They try him on the left wing, they try him in the middle, so they have a player that can play any position," Larionov said. "Obviously you don't want to put too much pressure on a 19-year-old guy, but when he's playing so well it's a shame not to let him go. He's going to make like 10 great plays and maybe three bad plays, but still, he's going to be good for the game."
November, 11, 2013
11/11/13
3:19
PM ET
Scott Niedermayer
and
Chris Chelios
were no-brainer, first-year Hockey Hall of Fame inductees as two of the greatest blueliners ever to play the game. And
Chris Pronger
will be the same, whenever his day comes.
The question is, when is Pronger's day?
Technically speaking, Pronger remains an active NHL roster player with the
Philadelphia Flyers
, and he still has three more years on his deal (with a $4.94 million cap hit).
If Pronger were to retire, the Flyers would be unable to put him on long-term injured reserve and recoup the cap space -- not to mention that Pronger would no longer get paid what he's owed, and God knows he's earned the rest of this contract after what he's put his body through during his All-Star career.
But when is he Hockey Hall of Fame-eligible?
Turns out, at least in theory, he's eligible just like any other player who has gone three years since playing his last game, which in Pronger's case was the 2011-12 season.
"He would be eligible in 2015 as far as the way the bylaw reads and as long, obviously, as he doesn't play again prior to his election," said Jeff Denomme, president and CEO of the Hockey Hall of Fame, to ESPN.com on Monday. "If there was any question on matters pertaining to any particular candidate's eligibility, I suspect that's something the board would raise at some point, though."
Reached by ESPN.com on Monday, it was certainly news to Pronger when apprised of Denomme's comments, no doubt believing that his active status in the NHL would delay his eligibility.
Surprised?
"Yeah, I guess. Although a lot of that stuff is really out of your hands," Pronger said. "That's why they have those bylaws and different things in place, I guess."
Plus, Pronger stressed, it's presumptuous for him to even be thinking of his potential Hockey Hall of Fame membership.
"Any time people talk about things like that, it's always an honor to be regarded in that light, but I think it would be a bit early to put myself in that esteemed group," he said. "I'm not too worried about it. I don't think anybody who has ever played the game, that was their goal, it's a by-product of the way you played the game. It's a great honor to be thought about in that regard, though."
Pronger's humility notwithstanding, it's clear he's a first-year automatic inductee whenever his times comes, and if it is indeed in 2015, that would be the same year as the great
Nicklas Lidstrom
, so that would be a perfect 1-2 punch to put in.
"That's good news for Chris, if he can get into the Hall of Fame when he's first eligible, he certainly deserves it after the career he's had, no question about it, that would be a great thing," Flyers GM Paul Holmgren told ESPN.com on Monday.
But as Denomme noted, it would ultimately depend on how the Hockey Hall of Fame's Board of Directors (and also the selection committee) feel about Pronger's candidacy, given his active status -- technically -- with the NHL.
"I'm not sure he would receive consideration until people know he's really done," said a source.
And certainly, the board would have to be 100 percent sure that Pronger isn't coming back to play again.
"Yeah, I don't foresee that happening," chuckled Pronger, still suffering post-concussion symptoms.
"I'm on record saying Chris will never play again," Holmgren said. "He's suffering with an injury. It's unfortunate."
So, is Pronger in or out come June 2015 when the selection committee votes in his first year of eligibility?
If there's any justice, he deserves to get in without any delay.
He's never going to play another game, he's paid a physical price for the way he played the game as one of the league's great warriors, and his résumé speaks for itself.
November, 5, 2013
11/05/13
1:26
AM ET
One of the endearing elements of the Hockey Hall of Fame inductions is that it is a reminder of the spiderweb nature of the game, the connections forged sometimes decades ago that beget other connections, only to see more connections spring forth.
Last year it was longtime Toronto captain
Mats Sundin
entering the Hall with his former teammate in Quebec
Joe Sakic
.
Sometimes the connections are less obvious, but no less meaningful.
For instance, the
Philadelphia Flyers
employed a man named Bud Poile as their general manager when they were granted an NHL expansion franchise in the 1960s.
Poile's first head coach was Keith Allen, who played for Poile when Poile was the player-coach of the old Edmonton Flyers (Detroit's farm team in the Western Hockey League). When Poile was relieved of his duties during the 1969-70 season, he moved on to manage another expansion franchise, the
Vancouver Canucks
.
Allen moved up to take Poile's job as GM and hired Fred Shero as head coach in the summer of 1971.
Poile, meanwhile, had a son named David who joined the Atlanta Flames as an administrative assistant in 1972, ultimately moving up to assistant general manager before becoming the general manager of the
Washington Capitals
.
"Did you know I hired Fred Shero to scout for us?" asked David Poile, now the GM of the
Nashville Predators
.
After Shero won two Stanley Cups in Philadelphia, he coached the
New York Rangers
for parts of three seasons before being replaced by Craig Patrick. David Poile took advantage of Shero's coaching acumen and knowledge of the Eastern Conference and hired him to provide assessment of the Capitals' strengths and weaknesses heading into the playoffs.
"I still have all his notes, all handwritten," David Poile said. "Which I will give to Ray someday."
Ray, as in Ray Shero, the general manager of the
Pittsburgh Penguins
, as in the younger of Fred Shero's two sons.
Long after his brief connection with Fred Shero, David Poile hired Ray Shero as an assistant general manager of the expansion Predators in July 1997.
The two worked together until Ray Shero took over the Penguins in the summer of 2006. Today their hockey lives continue to intersect as Ray Shero is the assistant GM to David Poile, who is the GM of the 2014 U.S. Olympic team.
There are other commonalities between the two men.
David Poile's father, Bud, is also an honored member of the Hall of Fame, having been inducted in 1990, the same year that Fred Shero succumbed to cancer. David Poile, who spoke on behalf of his ailing father at his induction ceremony, understands the emotions that will be brought to bear when Ray Shero speaks on behalf of his father Monday in Toronto.
"For someone like Ray, it will bring back a flood of memories," David Poile said.
There will be memories of being a child and having a father intimately involved in the game and how that passion for the game has been passed through the genes to another generation in the Shero family.
"It's a neat time. It's a very special time for you and your family," David Poile said.
June, 11, 2013
6/11/13
12:28
PM ET
From the official Hockey Hall of Fame release:
2013 HOCKEY HALL OF FAME NHL MEDIA
AWARD WINNERS ANNOUNCED
TORONTO (June 11, 2013) — Chuck Kaiton, President of the NHL Broadcasters' Association, and Kevin Allen, President of the Professional Hockey Writers' Association, announced today that HARRY NEALE will receive the Foster Hewitt Memorial Award for outstanding contributions as a hockey broadcaster, and JAY GREENBERG will receive the Elmer Ferguson Memorial Award for excellence in hockey journalism.
Harry Neale used the insights gathered over a 20-year coaching career to become one of North America's most popular hockey analysts. After coaching stints at Ohio State University, the World Hockey Association and with the NHL's
Vancouver Canucks
and
Detroit Red Wings
, Neale turned to broadcasting in 1986. Starting at CBC's Hockey Night in Canada, Neale combined a deep knowledge of the game with a unique and humourous approach that endeared him to hockey fans. While with Hockey Night the native of Sarnia, Ontario, covered three Olympic Games, two World Cups of Hockey and countless important NHL games. For the past six years Neale has served as a broadcast analyst with the
Buffalo Sabres
.
"Harry has entertained millions of hockey fans in the United States and Canada for close to thirty years," said Kaiton. "His unique brand of humour and insight has been memorable. He is extremely worthy of this honour and the NHL Broadcasters' Association applauds him for his great work in all aspects of hockey."
Jay Greenberg's first NHL writing experience was at the Kansas City Star, covering the city's NHL team during its inaugural season. The Johnstown, Pennsylvania native then covered the
Philadelphia Flyers
for 14 years. His renowned copy skills and in-depth analysis of the team produced an avid readership, and led to several non-fiction books focused on the Flyers. Full Spectrum, one of the most complete histories of a team ever done, was published in 1996. Gordie Howe's Son: A Hall of Fame Life in the Shadow of Mr. Hockey (co-authored with Honoured Member,
Mark Howe
) will be published in October, 2013. Greenberg's 40-year writing career has also included a high profile post at Sports Illustrated, a featured column in The Hockey News, and general sports columnist roles at both the Toronto Sun and New York Post.
"During the prime of Jay's career, he was probably the best NHL beat writer in America," said Allen. "He was both a gifted writer and a thorough reporter. It was a treat to read his NHL coverage."
Neale and Greenberg will receive their awards at a luncheon presentation in Toronto on Monday, November 11, and their award plaques will be displayed in the Esso Great Hall at the Hockey Hall of Fame alongside the 88 past award recipients.
____________________
Recipients of these awards, as selected by their respective associations, are recognized by the Hockey Hall of Fame as "Media Honourees" a separate distinction from individuals inducted as "Honoured Members" by the Hockey Hall of Fame Selection Committee.
Named in honour of the late Montreal newspaper reporter, the Elmer Ferguson Memorial Award was first presented in 1984 by the Professional Hockey Writers' Association in recognition of distinguished members of the hockey writing profession whose words have brought honour to journalism and to the game of hockey.
Named in honour of the late "Voice of Hockey" in Canada, the Foster Hewitt Memorial Award was first presented in 1984 by the NHL Broadcasters' Association in recognition of members of the radio and television industry who have made outstanding contributions to their profession and to the game of hockey.
July, 19, 2011
7/19/11
5:23
PM ET
Goodbye, Chris Osgood; hello, Hall of Fame debate.
The phone line hadn't gone dead on Tuesday's conference call announcing the veteran Detroit Red Wings netminder's retirement before the debate over whether Osgood is Hall of Fame material began in earnest.
What had been an interesting theoretical jousting match, most often played out in late-night hockey bars or during lulls in morning skates, is now very much in the here and now.
Three years from now, Osgood will be eligible to become an honored member of the Hockey Hall of Fame.
In our books, it is a slam dunk. Osgood should be a Hall of Famer.
His numbers make it so: a 401-216-29 record in 744 career NHL games and three Stanley Cup rings. His accomplishments with Detroit, a team as close to dynastic as any other, should make it so. Of course, we're not sure that's how it will pan out given the wackiness that is the Hall of Fame selection process.
And we will acknowledge this: Osgood just might be one of the most complex potential Hall of Fame honorees in recent memory.
The funny thing about the Hall of Fame is, everyone has his eye on some sort of benchmark, some sort of criterion that defines who gets in and who doesn't. It is why Osgood will no doubt spark impassioned debate on both sides of the issue.
To be sure, the native of Peace River, Alberta, has never had the personality of Patrick Roy, Martin Brodeur or even Dominik Hasek. (Roy is already in the Hall, and the other two are shoo-ins.) Those goalies are dynamic characters whose personae were larger than life. They possessed that singular ability to drag their teammates to places perhaps not even they thought they could reach. Osgood wasn't that type of goalie, but should he be penalized because he was something else, simply the kind of goalie who won when it counted?
In 129 postseason appearances, Osgood won 79 games, a wins-to-games ratio that rivals that of many current Hall of Famers.
His .916 playoff save percentage is better than Roy's and Brodeur's.
His 15 playoff shutouts rank fourth all time.
His 401 regular-season wins are 10th all-time.
Critics will suggest Osgood's numbers are inflated because he played behind a terrific Detroit team. And Ken Dryden's numbers weren't buoyed by playing behind one of the greatest teams of all time in Montreal? Does anyone dispute Dryden's place in the Hall of Fame? No. Yet he won just six more playoff games than Osgood, while Osgood won 143 more regular-season games than Dryden.
It was interesting listening to Detroit GM Ken Holland talk about Osgood on Tuesday. Yes, Holland has known the netminder since the two played ball hockey in Medicine Hat, Alberta, before the Wings drafted Osgood in the third round of the 1991 NHL draft. (Osgood likens Holland to a second father.) Yet Holland was also pragmatic enough to put Osgood on waivers when he acquired Dominik Hasek and also had Curtis Joseph in the fold. He also brought Osgood back to the Winged Wheel, and the goalie helped Detroit win the Stanley Cup in 2008 and came within a game of winning another in 2009.
[+] Enlarge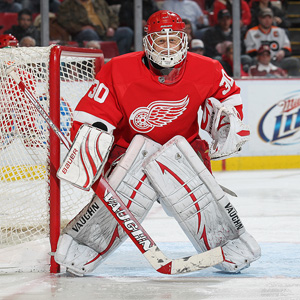 Claus Andersen/Getty ImagesChris Osgood had a 401-216-29 record over 744 career NHL games; he also won three Stanley Cups, all with Detroit.
Holland said some goalies can't win with good teams, but Osgood thrived in the environment in Detroit. He learned to put bad goals and bad games behind him, something a netminder like Grant Fuhr became a master at doing.
"I think that he's been an incredible competitor with tremendous mental toughness," Holland said Tuesday.
Osgood grew from being a petulant understudy to Mike Vernon in 1997, to a chippy Cup winner in 1998, to a mature and likable veteran who reflected the calm demeanor of the Wings' star-laden, veteran team. People forget it was Osgood who came on in relief of Hasek, who faltered in the first round in 2008 against Nashville and was stellar in guiding the Wings to the Cup. He led all playoff netminders with a 1.55 goals-against average and three shutouts that postseason. A year later, he took the Wings to within a goal of another Cup win, but the Penguins avenged the 2008 loss with a dramatic 2-1 road victory in Game 7. Osgood turned in a 2.01 GAA and two more shutouts.
Are there nights that stick out for all time as there were for guys like Brodeur and Roy? Maybe not. We don't think the Red Wings worry about that every time they see the Cup rings on their fingers.
Hall of Famer?
"In my opinion, it's a Hall of Fame career," Holland said.
Osgood wasn't the prototypical "out on the edge and maybe beyond" netminder whom Ed Belfour or Terry Sawchuk represent. Belfour, who won a Stanley Cup in Dallas and is a member of the Hall's 2011 class, won 83 more regular-season games and had 26 more shutouts but turned in an almost identical GAA and save percentage compared to Osgood.
In our books, Belfour is a bona fide Hall of Famer. But if Belfour, why not Osgood? The Red Wings netminder makes no bones about the fact that he thinks he deserves to be there. Good for him. When you win 401 regular-season games and own three Cup rings, the time for false humility is long past.
"It means a lot to me," Osgood said of the prospect of being elected into the Hall. "I know what I've had to do. I do think I do deserve to be there."
In discussions with members of the selection committee, this theoretical question has always been asked: Has a certain player ever been considered the best in the game or best at his position for a period of time? It is the argument used to suggest that players like Pavel Bure or Eric Lindros deserve to be enshrined. From our perspective, it is an argument used to prop up a player who otherwise has serious shortcomings.
In the case of Bure and Lindros, both were briefly dynamic, top-of-the-world players who were never able to deliver the ultimate in team success. Neither, in our books, is a Hall of Famer. It was the same argument we used a year ago when Dino Ciccarelli was inducted -- impressive numbers but, for us, not a Hall of Famer.
But Osgood, in perhaps the most understated of ways, has managed to collect Hall of Fame-worthy numbers while establishing perhaps the most important quality of any honoree -- he was a winner.
In that sense, he has a place in our Hall of Fame any day.
March, 31, 2011
3/31/11
10:05
PM ET
The Hockey Hall of Fame confirmed new appointments to its selection committee and board of directors on Tuesday.

Igor Larionov, a member of the Class of 2008, was appointed as a new member of the selection committee.

Colin Campbell, Jim Gregory, John Davidson, Pat Quinn and Serge Savard were re-appointed to the selection committee.

Donald Fehr, Bob Nickholson and Councillor Shelley Carroll were elected to the board of directors.

The selection committee will meet in the end of June to consider nominations for 2011 induction into the Hall of Fame. Appointments to the selection committee are three-year terms.

November, 8, 2010
11/08/10
2:11
PM ET
TORONTO -- Picture a Detroit Red Wings blue line with both Nicklas Lidstrom and Ray Bourque on it.
Jimmy Devellano certainly did.
[+] Enlarge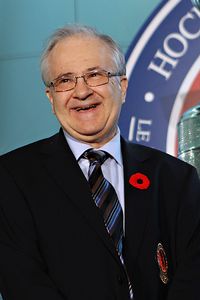 Bruce Bennett/Getty ImagesJim Devellano said he used to come to the Hockey Hall of Fame and spend hours reading the plaques of the inductees.
"One of the guys that I always tried to make a pitch for late in his career, I tried three or four times, was to acquire Raymond Bourque," Devellano said Monday morning during his Hockey Hall of Fame media availability. "He was getting a little older but I knew he could still play. He'd be terrific under Scotty Bowman for a few more years. I thought we could win a Cup with Raymond Bourque."
The former Detroit GM, set for induction into the Hockey Hall of Fame on Monday, said he kept trying but realized after a while that the Bruins would never trade him to Detroit.
"We had had some squabbles with Boston over the years, mainly because they thought we spent too much money," Devellano said.
Devellano was being polite. What he didn't want to mention, but which is pretty common knowledge elsewhere, is that Bruins owner Jeremy Jacobs and Red Wings owner Mike Ilitch had quite a feud running for a while, which boiled over in a heated argument at a Board of Governors meeting. Trade Bourque to Detroit? Over Jacobs' dead body.
"So what do they do? They trade him to Colorado and they win another Cup with Bourque," Devellano said, laughing. "So we kind of got screwed twice by guys going to Colorado. Patrick Roy first, and then Ray Bourque. But in between we were able to squeeze in a few Cups, so that was good."
Devellano did his fare share of winning with both the Red Wings and New York Islanders dynasties, winning four Stanley Cups with each franchise in various front-office roles.
Favorite trades?
"In the mid-80s I traded Kelly Kisio to the Rangers for Glen Hanlon," Devellano said. "That really worked out well for us. Glen gave us solid goaltending and we were able to go to the final four in back-to-back years."
But his best one was probably acquiring Brendan Shanahan from Hartford in October 1996.
"We were starting to look like a Stanley Cup team," he said. "Keith Primeau wanted out of Detroit badly, so [we] made quite a big trade. We traded Primeau, Paul Coffey and a first-round pick [Nikos Tselios] for Brendan Shanahan [and Brian Glynn]. And that turned out maybe to be as good as a deal as we ever made."
In 1993, Devellano also made a critical decision that helped crystallize Detroit's modern-day winning ways. The Wings needed a new coach.
"There was a lot of talk that Mike Keenan was headed our way and I went to ownership and really discouraged it," Devellano said. "I was asked by my owner, 'Well, what do you want me to do? I need a coach that can help us win in the playoffs.'
"My answer to Mike Ilitch was, 'Let's hire either Scotty Bowman or Al Arbour.'
"He looked at me and said, 'Go get one of them.'
"I said, 'Which one do you want?'
"He said, 'I don't care. Bring either one of them.' We got Scotty, and the rest is history."
Devellano was clearly humbled by Monday's events. The Toronto native said he used to come to the Hockey Hall of Fame and spend hours reading the plaques of the inductees. Now he's one of them.
His success in Long Island and Detroit made him a no-brainer decision for the Hall of Fame selection committee.
"People say, 'What makes you successful?,'" Devellano said. "I'll tell you what it is: good hockey players. With the Islanders it was Denis Potvin, Bryan Trottier, Mike Bossy, Billy Smith. With the Red Wings, it's been Steve Yzerman, Nick Lidstrom, Brendan Shanahan; I could go on and on ...
"It's been a lot of fun."
November, 6, 2010
11/06/10
10:24
PM ET
As a Hockey Hall of Fame official confided to ESPN.com on Friday, "It's been a tough year."
The Hall has taken it on the chin for electing only
Dino Ciccarelli
among the men in the players' category and not getting Pat Burns elected in the builders' category.
On the players' side of things, here's how I'm told it went down in that fateful meeting this past June:
Eight players were nominated before the first secret ballot among the 18 selection committee members. Four players were dropped after the first vote because they got less than 50 percent support in the balloting. Then a subsequent runoff vote left only Ciccarelli standing because he was the only one to meet the 75 percent election standard (14 of 18 ballots). I'm told two other players fell just short at 13 votes and another at 12 votes, and you can take to the bank that Joe Nieuwendyk was one of those players with 13.
But here's where it gets interesting. I am told some committee members were apparently confused and sought clarification on the voting process. Some members thought another runoff vote would follow that second vote, but they were told voting was over. (Per the voting rules, once you get to a runoff vote with four or fewer players, there are no more votes after that one.)
In the aftermath, one committee member later suggested to the Hall that maybe 12 or 13 votes should be enough for election because it still represents a majority. The Hall declined the idea, saying the current high standard must be maintained. So, after all the backlash and public outcry this year, the process remains the same for June 2011.
What now?
Next year will be a weak year for first-year eligibles (
Ed Belfour
is the only really strong case). So, there's a chance for the selection committee to play catch-up with Nieuwendyk and perhaps others such as
Doug Gilmour
,
Pavel Bure
or
Adam Oates
.
The committee had better play catch-up now because 2012 and 2013 will be doozies. First-year eligibles in 2012 include
Joe Sakic
,
Brendan Shanahan
,
Mats Sundin
,
Jeremy Roenick
and
Curtis Joseph
. In 2013, you have
Scott Niedermayer
,
Chris Chelios
and
Rob Blake
.