Cross Checks:

Jack Capuano
May, 9, 2013
5/09/13
12:57
PM ET
PITTSBURGH -- If there is a feeling of history surrounding the decision to bench
Pittsburgh Penguins
netminder
Marc-Andre Fleury
for the first time in the playoffs, that sense of history cuts deeper than just the ending of a personal streak.
True, Fleury has started every Penguins playoff game since he came into the NHL, a stretch of 79 postseason games that includes the team's runs to the Stanley Cup finals in 2008 and 2009.
But for veteran netminder
Tomas Vokoun
, there is also a sense of history in being the man who will start in Fleury's place in a pivotal fifth game against the
New York Islanders
on Thursday night.
Vokoun, 36, will step into the crease in a playoff game for the first time since 2007, and he conceded Thursday morning that he didn't think he'd ever have that experience again.
"For me, I'm going to enjoy it," he said. "I wasn't sure if I was ever going to get the chance to play again in the playoffs. It's nice to have the chance. Like I said, you play hockey to be in these moments; you don't play hockey to go for morning skate and take shots and do that."
Does he expect to have some nerves?
Sure.
"Everybody is nervous," Vokoun said. "You wouldn't be human if we weren't. But I play long enough and I've been through a lot, so hopefully that'll help carry me through it."
The native of Karlovy Vary in the Czech Republic was signed by the
Washington Capitals
before the 2011-12 season in the hopes he would provide veteran guidance for a team looking to get over the playoff hump. He was injured, however, and missed the postseason.
He signed with the Penguins in the offseason to act as an insurance policy against the possibility that Fleury found himself repeating last year's playoff disaster against the
Philadelphia Flyers
.
That possibility became reality in the past three games, as Fleury allowed 14 goals and the Islanders bounced back to tie the series 2-2.
The fact Vokoun won all three starts against the Islanders this season is moot.
"This is going to be a whole lot different game than Game 35 in regular season, so I'm focusing on myself," Vokoun said. "I don't even care who we play.
"If you play your game, you've got to believe it's good enough for you to be successful. That's more key for me than looking at who's our opponent and what they're doing."
Vokoun noted that he and Fleury are close and that sometimes things just don't go your way.
"He wasn't guessing, and it wasn't like he was getting beat on straight shots," Vokoun said. "I think he didn't look like he was nervous or anything like that. I told him I thought he looked good and the puck went in. Sometimes that is going to happen.
"Some of the games I went in, I feel the best and I ended up getting pulled, and some games you are in the warm-up and you are like, 'Oh my god! I'm not able to stop anything,' and you get a shutout. It's funny sometimes how things work out for goalies. The toughest thing is there is nobody to help you."
Still, Vokoun has a job to do. He said he and Fleury will deal with whatever happens after they get through this.
Fleury, naturally, took the news hard.
"Losing, that's what's hard," he said Thursday morning. "That's what sucks, you know?"
He said Vokoun has been terrific against the Islanders this season and that he is confident the veteran netminder will be fine.
"I'm sure he will be great tonight," Fleury said.
As for the decision to make the switch, Fleury said he understands.
"A lot of goals, you know?" he said. "My job's to stop the puck. It's frustrating. I wish I would have done better, but I guess it's in the past.
"Looking forward to another shot. But not tonight."
If this move does not prompt a lot of self-assessment throughout the Penguins' lineup, it's hard to imagine what would.
The Islanders have not just exploited Fleury. They have turned careless turnovers by Pittsburgh into quality scoring chances and goals. They have continued to show impressive push-back in the face of the highly skilled Penguins.
"He's played great for us every chance that he's gotten," Pittsburgh defenseman
Mark Eaton
said of Vokoun. "In the same sense it's a wake-up call for us as well, because by no means can you fault [Fleury]. It's us in front of him, so it energizes us to get playing better."
From the Islanders' perspective, the move is a reflection of how they have managed to dictate so much of what has happened in this most curious of series.
Just don't expect them to change what they've been doing just because the familiar No. 29 is not between the pipes for the Penguins.
"For us, we can't focus on one individual," Islanders coach Jack Capuano said. "For us, our mindset can't change."
May, 2, 2013
5/02/13
5:23
PM ET
PITTSBURGH -- If there is widespread belief in the hockey world that the rest of the opening-round series between the
Pittsburgh Penguins
and the
New York Islanders
is but a formality, someone forgot to send the memo to the Islanders.
In spite of the fact the Isles were whipped 5-0 in Game 1 on Wednesday night, there they were Thursday, yukking it up during a spirited early afternoon workout.
"You could see the emotion that they had today, the fun that they had today. That's what you have to do. You've got to enjoy this ride," coach Jack Capuano told reporters after the team's practice.
Yes, they are playing a very good Penguins team, the coach said, "but you want to make sure that the guys stay relaxed."
Although the score wasn't flattering -– when is a 5-0 loss ever particularly flattering? –- Capuano believes there are measures his team can take to close the gap on the high-flying Pens.
"If you look at the chances overall and you go through it, we have to play better, but it wasn't as bad as I originally thought it was," he said.
"We know they're going to play better," Capuano added. "They'll come out and they've got another level to their game, but we certainly have to have another level to our game. We have to make sure that we defend with a purpose and defend much stronger in front of our goaltender."
[+] Enlarge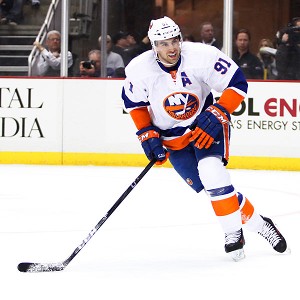 Justin K. Aller/Getty ImagesThe Islanders remain confident, but they'll need more from the likes of John Tavares.
Although there is little playoff experience on the Islanders' roster, the coach said he didn't want to use that as an excuse for a lackluster performance that saw the Penguins score twice in the first period and jump out to a 4-0 lead within the first two minutes of the second.
But the coach did say that the team that lost Game 1 so convincingly did not look like the team that battled adversity to finish the regular season strong and jump into a surprise playoff berth.
"At times last night, it just didn't seem like our team that played in the last month and a half of the season," said Capuano, who is coaching in his first NHL playoff series. "We've just got to recharge. It's Game 1; regroup and refocus and come back tomorrow night with a better effort all around."
There is a belief that the Islanders would like to be more physical and try to make the Penguins work harder for their space on the ice. But that is only part of how their game must improve if they are not to become the patsies most in the hockey world believe they are in this series.
Getting some offense will be key, specifically from the team's big guns.
Their best player,
John Tavares
, was held without a shot in Game 1, the first time that had happened all season.
"We have to realize we have to give more than what we gave last night," Tavares said. "Winning isn't easy. It's going to hurt a little bit. You're going to have to battle through a lot of things."
"There wasn't much room out there. It's part of the playoffs," the former No. 1 overall draft pick added. "There are times when you're getting a lot and times when you're not getting an awful lot and you're just trying to work through it, work with your linemates and find ways to be more productive.
"I'm not worried about that. I've just got to keep working hard, keep competing and find my ways to get shots and create opportunities for my linemates. At times we seemed to get a little bit of space, but we didn't take advantage of it. We have to create some more and capitalize when we get it."
Like many of the Islanders, Wednesday's game represented the first playoff game for Tavares. But if there is reason to believe the Penguins are not simply going to waltz their way into the second round, it's the Islanders' history of resiliency this season.
"I don't know exactly what it is, but for the most part we've had some good bounce-back times this season when we've had some struggles and we've come back and done well," said
Brad Boyes
, Tavares' regular linemate.
Whether there's been enough of an education for this young Islanders team to slow a Penguins team that has juggernaut written all over it will be revealed in Game 2 on Friday night.
But certainly there is no lack of optimism in the Isles' locker room, even if much of the hockey world has already written them off.
"Even myself coming to the rink today, I was like, I think we can win next game," Boyes said. "I really do. And I think that's part of our attitude too is we do believe that in here."
"With skepticism and everything from the outside from the beginning with us, it's not anything really new," he added.
April, 24, 2013
4/24/13
9:24
AM ET
For a host of playoff bubble teams facing dire situations, Tuesday was not a good night.
With the
Dallas Stars
,
New York Rangers
,
New York Islanders
and
Winnipeg Jets
all scrambling to secure tickets to the postseason dance, those four teams somehow managed to go a combined 0-3-1. Two of those teams, the Rangers and the Islanders, could not take advantage of weak opponents in the form of the
Florida Panthers
and
Carolina Hurricanes
, respectively.
The Isles did pick up the lone point among the four teams in a shootout loss to the Canes, and it was enough to propel them into the postseason for the first time since 2007. While his name rarely comes up in discussions as a possible Jack Adams Award winner as coach of the year, is it not time to at least give Jack Capuano a little love given how low the expectations were for the Isles this season? (And, as if you needed to check, the Isles were able to avoid a regulation loss Wednesday with 1:01 left in the third period on
John Tavares
' 27th goal of the season.)
Of the losses that were most painful among this gang of four, Dallas' 3-2 loss to the
San Jose Sharks
was a killer. The Stars gave up two goals in a 30-second span in the second half of the third period and couldn't get the equalizer to at least push the game to extra time.
The Stars are in 10th place in the Western Conference, three points out of eighth with two games to play. They must beat the eighth-place
Columbus Blue Jackets
on Thursday and then hope that Saturday's season finale against the ninth-place
Detroit Red Wings
has meaning.
Like Dallas, Columbus has two games remaining on its schedule, whereas Detroit has three. The Jets, meanwhile, saw any hopes of a Southeast title go up in smoke Tuesday when they were beaten 5-3 by the surging
Washington Capitals
, who secured the top spot in the division with the win. The injury-plagued Jets battled back from an early 2-0 deficit to make it 2-2 in the second period, only to give up two more goals in less than three minutes late in the middle frame.
The Jets are almost out of time as they trail the
Ottawa Senators
and the Rangers, who lost 3-2 to the Panthers on Tuesday, by one point. But the Jets have only one game remaining, while the Senators have three left and the Rangers two.