Cross Checks:

Jack Johnson
April, 25, 2013
4/25/13
9:39
AM ET
Jack Johnson
's calm belies the decidedly jittery situation in which the
Columbus Blue Jackets
find themselves.
Johnson was taking time before the Blue Jackets boarded their flight to Dallas, where they will play one of the most important games in the 13-year history of the franchise.
Did the defenseman stay up late the previous night to watch the
Stars
and
Sharks
play in San Jose?
Nope, Johnson said, explaining that because of the time change, he was in bed and waited until the morning to find out that the Stars had allowed two goals in a 30-second span in the third period en route to a 3-2 loss.
Surely the Blue Jackets were planning to gather en masse to root for the
Los Angeles Kings
on Wednesday night when they visited the
Detroit Red Wings
at Joe Louis Arena?
Well, Johnson said, he supposed if the game was on in the restaurant where they went for dinner, they'd keep an eye on the score. And of course guys would be keeping up to date on the game with their smartphones.
But as for gathering in one giant circle of nail-biting hockey players sticking pins in their Red Wings voodoo dolls ... uh, no.
That game, won impressively by the Red Wings 3-1, was beyond the control of the Blue Jackets.
Thursday's game in Dallas? That's something they can control.
"We're all very aware of what needs to happen for us and what's going on," Johnson said.
But, he added, "we have to win our last two games. At the end of the day, that's all we can control."
Detroit's win moved the Red Wings ahead of Columbus into the eighth and final playoff spot in the Western Conference with 52 points, one more than the Blue Jackets. The
Minnesota Wild
are still in the mix, one point ahead of Detroit, while Dallas (48 points) has the biggest challenge of those still in the hunt for a postseason berth.
All four teams have two games remaining, including Thursday's now-monster clash between Columbus and Dallas in Big D. The fact that both the Stars and Blue Jackets can still discuss the postseason at this late date is something of a minor miracle and adds an upbeat backdrop to the game.
The Stars have missed the playoffs in four straight seasons, and when general manager
Joe Nieuwendyk
dealt veterans
Derek Roy
,
Jaromir Jagr
and
Brenden Morrow
during the trade deadline period -- all of whom were set to become unrestricted free agents this summer -- it appeared the team was conceding that this would mark five in a row without a postseason game.
But role players such as
Vernon Fiddler
and
Cody Eakin
, who came to Dallas in the
Mike Ribeiro
trade last summer, have provided key production, while veteran
Ray Whitney
, back from injury, has rewarded the Stars' faith (they signed the soon-to-be 41-year-old to a two-year deal last summer) with much-needed leadership. Goalie
Kari Lehtonen
, also just back from an injury, has been solid as the Stars have kept a playoff drive alive far longer than expected.
Going 0-2-1 on their current road trip means the Stars' margin for error is zero, but they play at home Saturday night against the Red Wings, and if they can beat Columbus and get some help from the
Nashville Predators
, who play both Detroit and Columbus, perhaps it will mean something -- indeed, everything.
Columbus, on the other hand, was again trending toward a top draft pick in another desultory season that included the introduction of new team president John Davidson and the midseason firing of GM Scott Howson, who was replaced by Jarmo Kekalainen.
Suddenly the culture around the team shifted and coach Todd Richards began to receive consistent, hardworking performances from a hard-skating, forechecking team that might be short on flash but is long on grit. That, coupled with all-world goaltending from
Sergei Bobrovsky
, now a front-runner for the Vezina Trophy and a dark horse to win the Hart Trophy as league MVP, has seen the Blue Jackets go 17-5-4 since the beginning of March.
"We've got a lot of new faces here, and we really wanted to make sure the mindset and the goals of the team changed," said Johnson, who became a Blue Jacket at last year's trade deadline, when he was acquired from Los Angeles in a deal that saw
Jeff Carter
go to the Kings.
In the past, the goal seemed to be about getting into the playoffs, but that seemed shortsighted, Johnson said.
"Your goal should be to win the Stanley Cup because, truthfully, if you don't win the Cup, you haven't won anything," he said.
So the Blue Jackets, who have qualified for the playoffs just once in franchise history and were swept in that appearance, started thinking big, not letting a big deficit in the standings affect their level of play.
"I'm sure some teams didn't take us seriously that should have," Johnson said. "I wouldn't trade this group of guys in our room for anything."
After Thursday's game, the Blue Jackets close out their season Saturday at home against Nashville. If they don't beat Dallas, that game may become meaningless vis à vis the playoffs, but that's something to think about after Thursday.
For a team used to slinking out of regular seasons and trying to sell fans on the promise of something better down the road, there is a new excitement surrounding this late-season push.
"There's a buzz around the city," Johnson said. "It's been a long time since they've had these kinds of meaningful games."
October, 29, 2012
10/29/12
1:17
PM ET
By
Sarah Goldstein
| ESPN.com
We are a little late, but it's still morning somewhere.
March, 8, 2012
3/08/12
11:22
PM ET
COLUMBUS -- The
Columbus Blue Jackets
ran a promotion on Thursday night for the poor fans who sunk a bunch of money into a
Jeff Carter
Blue Jackets jersey. Bring it to the game and they'd swap out the nameplate with Jack Johnson's for free. It was an easy switch since the defenseman acquired in the Carter trade shared Carter's No. 7.
Avi Stein was one of the fans who took advantage, though his jersey was autographed by Carter. An autograph he was about to lose in the swap.
"That's fine," he said. "I don't want that autograph."
The fans in Columbus have moved on. Mostly. Carter was back in Columbus for the first time since being traded to the Kings two weeks ago and he was booed loudly every time he touched the puck. But the cheers for Johnson were much louder. Especially when he scored his 10th goal of the season in the second period, his second in the past two games for Columbus. He leapt high into the glass in celebration.
Thursday night's 3-1 win over the Kings clearly meant a little something extra to Johnson.
"He was jacked up to play tonight," said his defensive partner
James Wisniewski
. "He kept telling me, 'Let's win this one for me. Please.' I'm like, 'Yeah, let's do it.'"
"This one felt good," Johnson admitted. "It's the first time I've gone on the ice and looked over and saw where I know every single guy on the other team really well. It was a little weird."
The win was the fourth consecutive for the Blue Jackets, who are feeding off Johnson's playmaking ability along with his positive attitude. Carter, who was held without a point and was a minus-1, made it clear this past summer that he wasn't thrilled at the prospect of being traded to Columbus. Then at the trade deadline, we learned that captain
Rick Nash
wants out.
Johnson's attitude had been quite the opposite and it started with the first phone call he had with general manager Scott Howson. Howson wasn't sure what to expect from Johnson when he first let him know he was leaving a playoff race and coming to Columbus.
"His genuine excitement came over the phone. It was so nice to hear. It was so refreshing to hear," Howson told ESPN The Magazine. "It made me feel like, 'OK, this has a real chance to be successful. It starts right there with the attitude of wanting to be a part of this."
Johnson now has four points in his past three games and is a plus-6 during that stretch. The Blue Jackets improved to 4-2 since the trade.
In the win over the Kings, they got two goals from
Mark Letestu
and solid goaltending from the tandem of
Steve Mason
and Curtis Stanford, who combined to stop 29 of 30 Los Angeles shots. Mason left the game after teammate John Moore's skate accidentally cut Mason's hand, requiring 18-20 stitches. Mason said it's not an injury he expects to keep him out too long.
The wins in Columbus don't mean a thing in the big scheme of the NHL playoff race, but they mean something to interim coach Todd Richards who is trying to earn a permanent job behind the bench. They mean something to a guy like Letestu, still trying to establish his place in the NHL. They mean something to Johnson. Especially this one.
"You can't let yourself get wrapped up into it, let your emotions carry over," Johnson said. "For sure, I wanted to get this one."
February, 23, 2012
2/23/12
10:27
PM ET
It is safe to say that
Los Angeles Kings
general manager Dean Lombardi is now officially "all in."
He meticulously built the nucleus of a team that should be ready to challenge the perennial big boys of the Western Conference.
He fired his head coach when that group began shooting blanks offensively and slid down the standings.
He lured his old friend Darryl Sutter, who hadn't coached since the end of the 2006 season, away from the family farm in Alberta to bring some order to a team that seemed to lack, well, something.
And on Thursday night, Lombardi traded away a top, young puck-moving defenseman in
Jack Johnson
and a conditional first-round draft pick for a disgruntled, oft-injured forward in
Jeff Carter
. Lombardi is now counting on Carter to rediscover his golden scoring touch and lead the Kings not just into the postseason but deep into the playoffs.
Whatever else Lombardi does or doesn't do before Monday's 3 p.m. EST trade deadline -- whether he trades back-up netminder
Jonathan Bernier
or even captain
Dustin Brown
, as rumors suggested he was contemplating Thursday night -- the Carter deal is Lombardi's line in the stand.
From this point forward, it will be remembered as the deal that led to a renaissance for the Kings and a realization of the good times that have been hinted at but not delivered for the past three or four years. Or it will be Lombardi's Waterloo, the signaling of what many hockey observers predict will be a dramatic overhaul of a Kings team that has failed to achieve
simpatico
in spite of so much talent and promise.
We recall sitting in Lombardi's office at the Kings' practice facility near Los Angeles International Airport in December. The team was struggling offensively and he was within days of firing Terry Murray as head coach and replacing him with Sutter.
Lombardi talked about the need to assess his locker room before he made any moves, the need to make sure that there was enough there to warrant making significant roster moves.
On Thursday, he put the onus on those remaining players to prove they were worth it, giving them what should be the tools needed to salvage this season -- emphasis on "should."
There is more than a little skepticism in the hockey world that this is the move that saves the Kings and, by extension, Lombardi's job and likely Sutter's job as well.
Carter is a proven NHL scorer, having once scored 46 goals in a season. Two other times he topped the 30-goal mark. But his durability has been an issue, as has his attitude and his ability to elevate his game when it matters.
Numerous sources around the NHL expressed disappointment with Carter's response to being traded last June from Philadelphia to Columbus after signing an 11-year deal with the Flyers. The 27-year-old wasn't happy with the deal and never seemed to embrace his new hockey home. Beset by injuries, he produced 15 goals in 39 games, three of those coming in a win over San Jose this week.
The fact that Columbus GM Scott Howson moved so quickly to jettison what looked last summer to be such a key component of the Blue Jackets' long-term future speaks volumes about how unpleasant things were on so many fronts in Columbus this season.
[+] Enlarge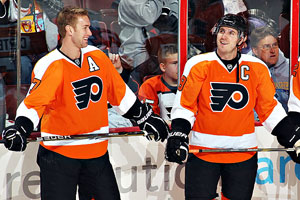 Len Redkoles/Getty ImagesJeff Carter and Mike Richards have a chance to change the reputations they created in Philadelphia.
Joining his third team in eight months, Carter is going to have to face questions about his maturity as he is reunited with former
Philadelphia Flyers
captain
Mike Richards
, another victim of the Flyers' offseason purge.
Philadelphia GM Paul Holmgren has his own worries what with the shaky psyche of netminder
Ilya Bryzgalov
who was signed to a nine-year deal after the Flyers cleared cap room in part by dealing Carter and Richards. But the bottom line for Holmgren was that he clearly felt he could not win long-term with Carter and Richards in the room.
In short, he believed those two top-six forwards, one his captain, were expendable.
Before trading Carter and Richards, the Flyers GM was candid at times about whether his team was prepared for games and the stories about the party boys from Philly were legion. Fair or not, Richards and Carter were inexorably tied to that perception of the team and then they were gone.
Richards has struggled this season, too, with just 14 goals in 53 games.
They were both part of a Flyers team that advanced to the Stanley Cup finals in 2010, although it was Richards who played a much more significant role in that memorable spring, so both have an understanding of what goes into a long run.
Maybe Richards and Carter can find some sort of mojo and those stories of sowing their wild oats will become a footnote to something greater both personally and for the Los Angeles Kings.
If they can't generate that chemistry and help pull the slumping Kings into the playoffs and further, then it won't be just their reputations that will take a beating when the dust clears in Los Angeles.
February, 23, 2012
2/23/12
8:50
PM ET
The
Columbus Blue Jackets
sent center
Jeff Carter
to the
Los Angeles Kings
on Thursday for defenseman
Jack Johnson
and a conditional first-round pick in the 2012 draft.
If Kings miss playoffs this year, the pick goes to 2013. If Kings make the playoffs this year, the Jackets can choose to make the pick for either the 2012 or 2013 draft.
Carter will be reunited with ex-Philadelphia teammate
Mike Richards
in Los Angeles. The Flyers traded Carter to Columbus and Richards to Los Angeles in June ahead of the NHL draft.
Carter is in the first year of an 11-year, $58-million contract. His no-trade clause does not kick in until July.
The center was shocked when he found out about being traded to Columbus and never lived up to the expectations the Blue Jackets had for him. Carter has 15 goals and 25 points through 39 games and has missed 20 games due to a broken foot and a separated shoulder. The Jackets have the worst record in the NHL.
Carter is expected to supply some offense for the goal-starved Kings, who started Thursday night holding the eighth and final playoff spot in the Western Conference.
Johnson, a 25-year-old former University of Michigan star, has eight goals and 16 assists this season -- his fifth in the NHL, all with the Kings.
February, 20, 2012
2/20/12
10:45
PM ET
The Rant Blog doesn't take a week off just because everyone is focused on trade talk. There are still people who need to blow off steam. Let's start with a couple of gems from Rangers fans:
dthenn:
What is Glen Sather thinking? This guy has a job now because he coached probably the greatest team ever drafted. A team, by the way, that could have coached itself and still won. The Rangers have a young team that has chemistry. Not knocking
Rick Nash
at all, I believe he is a true talent. For years the Rangers have been a joke because of the money Sather would spend that always amounted to nothing. If it wasn't for the salary cap, the Rangers never would have been as good as they are now. All this young talent we have now would have been spread throughout the league, with other teams in horrible trades made by Sather bringing in unproven talent or players who were past their prime. Nash is not the answer for the Rangers, and his cap hit would make it hard to re-sign players whose contracts expire over the next couple years. We have promising prospects and Chris Kreider is a 6-3, 225-pound power forward who plays physical and is just as fast as
Carl Hagelin
. To me that is the ideal power forward you could want. He can be brought up in a system and learn to buy into it just like the everyone on the team has now. The Rangers in interviews are quick to point out teammates as to why they are doing well but take the blame for themselves or as a team when they lose. Never blaming each other. They can say all what they want that the Rangers need a stud player to score goals, but it has been proven a hot goalie can get you further. Sather is the least popular person to the fan base and the owner needs to stick to messing around with the Knicks. This Rangers team shows everything we as fans have waited for. A coach who preaches
team
, players who are a close-knit group that bought into what John Tortorella has been saying and gives us their all. Like all teams, we have spots where we need to improve but it's not worth to trade away key pieces and our future for one player.
AND
away0921:
Good afternoon, Pierre, I will get right to the point. If the Rangers trade either
Michael Del Zotto
or
Ryan McDonagh
for Rick Nash, or anyone, really, then Glen Sather really screwed up. The team is successful because of its chemistry, great defense and goaltending, tough gritty attitude and everyone buying into Tortarella's system. That mix of attributes has has them near or at the top of the Eastern Conference the majority of the season. You don't trade away two of your most important cogs in that system in one of the league's plus/minus leaders and one of the league's shot-blocking leaders, especially for an aging and highly paid player.
My take:
I agree with you, away0921. While I do believe Rick Nash is a big-time difference-maker, you trade for him only as long as key personnel on the current NHL roster aren't touched. And to me that includes Del Zotto and McDonagh. But if you can convince the Jackets to take a package of your best prospects plus top it off with a
Brandon Dubinsky
-- who to me has become less crucial to the team dynamic this season -- you do it if you're the Rangers. It's all about what the price will be in the end. Nash is a worthy add-on, a clutch goal scorer who played incredible hockey under the most intense pressure at Vancouver 2010 -- but everything has its price and the Rangers must be careful here.
Scott78860:
While I wouldn't have a big issue with even a relocated American team such as the Coyotes around Metro Toronto, can the NHL come to its senses and not move the Coyotes to Quebec City? Maybe it would mean more money and a quick cash grab, like Atlanta to Winnipeg (average ticket price $98 there; thanks, NHL); however, it will slowly but surely carve the path to the oversized CFL that it was before 1991. I don't want to go back to that in America. Seattle, Portland, Houston and Kansas City, even though you might not have the passion that you do in QC, all would be an improvement over Phoenix. Wake up, NHL.
My take:
Believe me when I tell you the NHL has Seattle very much on its radar, especially after the recent arena/NBA announcement last week. If the Coyotes need to be relocated for next season, my money would be on Seattle over Quebec City. However, the league remains optimistic that the Coyotes situation can be salvaged in Glendale. It's not over yet there ...
IcemanSabre:
I know we somehow pulled out a win yesterday over the Penguinos, but I'm torn as to whether the Sabres should let the incompetent team of Darcy Regier and Lindy Ruff finish the season and ensure us a high draft pick, or clean house now so that Regier can't make short-sighted trades or hand out dumb contract extensions before he's canned in the summer. This GM/coach duo's biggest success was 13 years ago; isn't it time we moved on from the stale voice in the locker room who consistently employs the defensive shell when we have any kind of lead that is ultimately blown (Sunday being an oddity) and an underperforming GM? Knowing our luck, the Sabres will go on a win streak and win just enough that we miss out on the playoffs and a good draft pick, as usual.
My take:
Let's wait and see how this trade deadline plays out before we judge the GM. From what I'm being told by other team executives around the league, Regier has been quite busy on the phone over the past few weeks. The sense I get is that he's willing to shake up this team in an important way. Let's revisit this next week.
stavi14:
I'm an Islanders fan, so I have gotten accustomed to losing --- but enough is enough. This team has far too much talent to still be an Eastern Conference doormat. This team needs a new coach and I find it hard to believe that a reputable coach wouldn't like a shot to coach a team with a superstar in
John Tavares
, potential All-Stars in Moulson, Streit and Parenteau, and so much raw potential in Okposo, Niederreiter, Hamonic, Strome, Grabner, Nielsen, McDonald, Ness, Bailey and DeHaan, not to mention another lottery player coming this year. The team is going to be playing in a new building in 2 years, whether it's Nassau or Brooklyn, 1-2 solid free agents and good coach with a goaltender like Nabby and this team could be one of the best. Enough is enough!
AND
Shiggityshwa22:
I give up this year. The Islanders have ripped my heart out and thrown it in the gutter. Hockey gods, have mercy.
My take:
Honestly, and I've said this before, there is no fan I feel more empathy for than those of the Islanders. You talk about loyalty -- and heartbreak. I really thought they might get in the playoffs this season. I look at the young core, and I see a team that would be knocking at the playoff door. Isles GM
Garth Snow
told me a few weeks ago that he had no intention (at least at that point) to move
Evgeni Nabokov
. But I think now that it's clear the Isles won't make the playoffs after Monday afternoon's horrible loss at home to the Senators -- another lost chance at narrowing the gap. So, if I were Snow, I would see what he can get for Nabokov. A second-round pick is a solid return. You can't let Nabokov walk out the door July 1 and get nothing in return.
RepSD4Life:
I can't believe how terrible the Kings are, with how many goal scorers they have. I'm a huge Kings fan and I watch every game, and it's so disappointing. Their offense is so bad that they struggle just to get it out of their own zone. They have no speed entering the other team's zone and their puck and stick-handling skills are atrocious. They can't pass, so all the other team has to do is put on a good forecheck and the Kings will lose the puck before they even get it into the other team's zone. Doughty passes up wide-open shots and then ends up losing the puck before he can even get a pass off. Every single shot the Kings take is blocked. They have no accuracy on their shots. They don't do cross-ice passes to get the goalie out of position. I can go on and on with how terrible this offense is. I'd rather the Kings trade one of their defensemen (
Jack Johnson
) and try to get a goal scorer. I'd rather give up defense in order to get goals at this point. Hopefully, Lombardi will make the right decisions.
AND
ancientmariner909:
If we trade Johnson, then our offense better step it up. Lombardi's job is on the line this season. If L.A. misses the playoffs, then he's definitely out.
My take:
Is there a GM with more pressure to make a move before next Monday's 3 p.m. ET deadline than Dean Lombardi? Don't think so. Last in the NHL in offense, the Kings have held talks with Columbus both on Rick Nash and
Jeff Carter
-- they would rather have Nash but will settle for the latter if they strike out on the former. Another option for the Kings is
Ales Hemsky
, if the price is right. Having said all that, and I doubt anybody in his or her right mind would believe me, but I'm telling you this team isn't this bad offensively when these players on their normal game. Right now, this looks like more of a mental challenge than anything. It's like if they haven't scored 10 minutes into a game, their shoulders collectively slump and they think there's no way they're going to buy a goal. The battle between the ears, to me, is of greater concern right now than the actual talent on the ice.
ndg09:
Pierre, the time has come to ban goaltending in hockey. Just think about it, all we ever do is complain about how they cheat using equipment that is too big and how they're a little "out there" when compared to other players. Plus, I'm now convinced this is the only way my Flyers will ever win a Cup anytime in the near future. We can't find a goalie to play well in Philly, so we might as well just try to get rid of goaltending because I'm beginning to think it will be easier than actually fixing the problem. Seriously, though, should we hold out hope for Bryz or is he a lost cause?
My take:
This gave me a good chuckle so I had to include it. I certainly feel for Flyers fans and their two-decade-old goaltending issues. Still, I think it's way too early to write off Bryzgalov. His adjustment to big-market hockey (after earlier stops in Anaheim/Phoenix) has been longer than I anticipated but I still believe he can live up to his massive contract. Give this time to play out before you give up totally on him.
lebo0508:
Why
Paul Martin
?!?! Why do you do this to Pittsburgh every single game? The guy gets paid a huge (completely unearned) salary and looks about as intelligent on the ice as 10-year-olds in peewee leagues. On the attack, defense, with the puck and without it he ALWAYS looks lost out there on the ice, and in most cases is out there every time the Pens give up a goal. I love Ray Shero's past work (Neal, Dupuis, Kunitz et al) but the Martin contract was a HUGE bust! What can they do to finally rid us of this expensive liability to make room for players with talent? (I'm talking about you, Depres!)
My take:
Terrific rant. Boggles my mind how disappointing Martin has been this season. And you're right, Pens GM Ray Shero doesn't often miss his mark. But I'm not sure anybody could have predicted this one. Not after the kind of hockey Martin played in New Jersey.
February, 16, 2012
2/16/12
8:56
PM ET
If I had to wager, I'd say the
New York Rangers
and
Los Angeles Kings
are the most likely new homes for
Rick Nash
if there's a pre-deadline deal.
But there's certainly an Original Six team that would like Nash's services if this were June and not February -- the
Detroit Red Wings
.
I also believe Nash would love to play for the Wings, but the odds of him landing in Hockeytown before Feb. 27 are not great whatsoever.
The factors:
Nash's $7.8 million cap hit is too large for Detroit to absorb now unless the Red Wings give up roster players that they don't want to get rid of.
The optics of the Blue Jackets moving Nash to the hated Red Wings are brutal for fans in Columbus. At the very least, the Jackets would make the divisional rivals pay more than most other teams in the mix, not wanting to have Nash parade around in the Central for the next six years.
The Wings are loathe to mess with the chemistry and equilibrium they've established as the first-place team in the West and that's exactly what would happen given that the Jackets are seeking three to five assets in any Nash trade they make.
Nash enjoyed playing for Wings head coach Mike Babcock at the 2010 Olympics, and I can tell you Babcock was a huge fan of his at the Vancouver Games. Also, Detroit would not only represent a chance to win every year for Nash, it would be a short flight or a 4½-hour drive from his native Brampton, Ontario (north of Toronto).
Let's say Nash does survive this deadline and becomes a June transaction. Here's the question you have to ask yourself if you're Detroit: Do you spend assets to get Nash or do you wait until July 1 and take a run at Zach Parise, for whom you wouldn't have to give up assets? Tough call, especially since there's no guarantee that Parise won't re-sign with New Jersey or sign with another of the many suitors there will be July 1.
Bottom line? If Nash moves before the Feb. 27 deadline, it almost surely won't be to Detroit.
I like the Rangers and Kings as front-runners both in their desire to acquire Nash and their ability to deliver on the assets the Blue Jackets require.
I'd list Toronto, San Jose, Vancouver and Philadelphia as wild cards on the Nash front.
But an offseason trade? That might be a different story for a lot of teams, including Detroit.
Moore's move to San Jose
The Lightning are clearly in selling mode, announcing earlier Thursday that they are sitting
Pavel Kubina
until they move him and trading
Dominic Moore
to San Jose later in the day. Both are unrestricted free agents on July 1.
This is a terrific pickup by the Sharks. Moore gives the Sharks a versatile player who can play on either the second or third line, kill penalties and help the Sharks in the faceoff circle.
Moore has also raised his level of play the past two playoff years -- reaching the conference finals with Montreal in 2010 and with Tampa last spring and playing well during both runs. He's a gritty, smart player.
The Lightning and Moore's agent, Larry Kelly, held contract talks the past few weeks but never could bridge the gap.
In the end, however, GM
Steve Yzerman
is saying this season's roster wasn't nearly good enough to keep intact, as Kubina will soon be following Moore through the exit in Tampa. More changes are coming.
As for Kubina, he must deliver a list of five teams to Yzerman that he'd be willing to be traded according to the terms of his limited no-trade clause.
Kubina's agent Petr Svoboda told ESPN.com Thursday night that a list had not yet been determined and that they had seven days to provide it. It is not expected to take that long to deliver it to Tampa. Svoboda said he was planning to meet with Yzerman on Friday to continue the dialogue.
Grossman to Philadelphia
The Flyers got their defenseman when they picked up
Nicklas Grossman
from the
Dallas Stars
on Thursday in exchange for second- and third-round picks.
Philadelphia had long been looking for one since losing
Chris Pronger
for the season. And as I had
speculated a few weeks ago in a Rumblings blog
, Grossman is a blueliner that the Flyers had eyed.
"He's a No. 4 defenseman," former Stars head coach Marc Crawford, who coached Grossman in Dallas, told ESPN.com Thursday night. "He's one of the few guys that were available on the market that you look at and feel he can play against top guys."
Grossman is slated for unrestricted free agency on July 1. The Stars had talked about an extension with his camp but never came close.
Stars GM
Joe Nieuwendyk
told ESPN.com that he feels he has good depth at the blue line position throughout the organization and that the team couldn't pass up getting two good assets for Grossman.
Does this mean the Stars are sellers?
"No, it doesn't mean we're sellers," Nieuwendyk said. "It means we're active. We're trying to make this team better."
As for the Flyers, I wouldn't rule out the possibility of the team adding another defenseman on top of Grossman. I don't sense they're done yet.
Kings looking for offensive upgrade
Interesting that the more you talk to teams around the league, the more you hear the name of Kings blueliner
Jack Johnson
being available if it means L.A. can seriously upgrade its offense via a first-line forward.
Johnson is in the first season of a seven-year, $30.5 million contract.
Young backup goalie
Jonathan Bernier
is another name out there. No surprise there given the Vezina-worthy emergence of
Jonathan Quick
.
Both Johnson and Bernier, in my opinion, would be part of any deal involving Rick Nash.
One NHL team executive wondered to ESPN.com this week if the Kings struck out on Nash whether Jackets teammate
Jeff Carter
would be the consolation prize. Perhaps. I believe the Jackets and Kings talked about Carter way before the Nash situation ever came into play this week.
Capitals waiting on Backstrom
The
Washington Capitals
have taken a look at Jackets forward
Antoine Vermette
, among other players, but it's not yet clear if they'll be active or not before the deadline.
The key factor in all this is the health of star center
Nicklas Backstrom
, still out with a concussion. The Caps want to see how he is feeling closer to Feb. 27 before deciding whether or not they'll make a move.
Senators' prospects a no-go
The Senators have looked around the league and made calls regarding a forward, but the asking price is more often than not one of Ottawa's top prospects. And that's a no-go.
"I'm not doing that, I can tell you that," Sens GM Bryan Murray told ESPN.com Thursday. "I'm not looking for a short-term fix."
The Senators still have their eye on the big picture, which is to continue with their plan of developing a young and talented team. No shortcuts.
Still, if a top-six winger with an expiring contract is available without requiring the Sens to give up the farm, Murray will look at it.
"I'd be OK with a rental if it was the right price," said Murray.
No Premiere Games?
It's very possible that the Premiere Games will not get scheduled next season, from what I'm told, because of the labor uncertainty with the collective bargaining agreement expiring Sept. 15. No final decision has been taken in that regard, but at this point it doesn't look promising.
The NHL has had regular-season games every year across the pond since September 2007, when the
Anaheim Ducks
and Los Angeles Kings tangled in London. Since then, regular-season games have been played in Stockholm, Helsinki, Prague and Berlin.
But it appears very possible that there won't be NHL games in Europe next fall.
Temporary salary cap
In what has been a vastly under-the-radar story, a buzz item among NHL GMs these days is how they're going to approach this summer with what will be a higher but temporary salary cap number.
Confused?
The collective bargaining agreement doesn't expire until Sept. 15 at midnight ET.
But NHL teams have to conduct business under this current CBA until then. As per the current system, the salary cap is once again expected to rise as of June 30 from the current $64.3 million upper limit to as high as $68 million to $69 million, according to guesstimates from some team executives.
That new cap number will exist only from June 30 to whenever a new CBA comes into effect.
The obvious issue is that most teams believe the cap will go down in the new CBA as owners try to scale back the players' percentage of revenues (the players will have a mighty say in that, however).
So, you could have a situation where the cap is around $69 million for the summer and then much lower come the fall with a new CBA (again, the players will have a say in that).
This will force teams to come up with their own internal cap number based solely on guesswork this summer, because the last thing a team wants is to have a $69 million payroll on Aug. 30 and then be told it needs to shed a chunk of it come the new CBA in the fall.
Either way, just another wrinkle for this summer's free-agent market.
January, 10, 2012
1/10/12
11:34
AM ET
Craig Custance and Pierre LeBrun go toe-to-toe on everything from Jack Johnson pulling a Tebow to the death of the legendary Ron Caron.
Custance:
Hey, Pierre! Well, it was inevitable: Tim Tebow mania finally made its way to the NHL in the form of Jack Johnson Tebowing on Monday night after his second-period goal against the Capitals. He told Lisa Dillman of the Los Angeles Times that a few of his buddies from the University of Michigan were in town and asked him to strike the Tebow pose if he scored. Naturally, he did. "I thought, 'I've got to pay up,'" Johnson told Dillman. Although the Capitals weren't thrilled with the celebration, I don't fault Johnson for feeling good. It's been awhile since the Kings put up an offensive effort like they did Monday night. His goal was Los Angeles' third in a 5-2 win over Washington. It was the Kings' highest goal output since scoring five against the Ducks on Nov. 17 and three more than they'd scored in their previous three games combined.
Jonathan Bernier
, who has received very little offensive support all season, probably didn't know what to do with that kind of cushion. So are we seeing a breakout in Los Angeles? And do you have any issues with Johnson having some fun after scoring his goal?
LeBrun:
I've got no problem with Johnson having some fun after a goal. As long as you're not machine-gunning in the direction of the opposing goalie during a goal celebration, I'm all for players showing emotion and personality. Too often the NHL is criticized for having players with not enough personality. I guess had Johnson done it against the Penguins, it might have been a little much, given that Pittsburgh fans are still mourning Sunday's shocking overtime loss in Denver. But I think my favorite moment Monday night was actually the reaction of Kings play-by-play man Bob Miller after Jarret Stoll made it 4-1 in the second period. "The Kings have four goals!" Miller said, his voice genuinely surprised. The offensively challenged Kings finally gave their goalie some breathing room. I don't think this means the Kings are going to score at will moving forward, but I do see a confidence building in the Kings' game that wasn't there before Darryl Sutter came on board. I can't say the same about the Caps, who lost yet again on the road Monday night. They're not the same team away from Verizon Center, as underlined by their 14-5-1 record at home and 7-12-1 mark on the road. That's not going to cut it if the Caps want to be a playoff team.
Custance:
It doesn't help the cause that the Capitals sent
Mike Green
and
Nicklas Backstrom
home before the game. Green (groin) has played just 10 games this season, and the Capitals are a remarkable 9-1 with him in the lineup. He's that important to their success. Backstrom might be even more vital. I asked former Capitals coach Bruce Boudreau what it would mean to Washington's success if Backstrom continued to miss time after taking an elbow to the head against Calgary on Jan. 3, and he said the center is absolutely crucial to the Capitals' efforts to get back in the playoff hunt. "To me, he's the straw that stirs the drink on that team, as much as Alex [Ovechkin] is the focus," Boudreau said. "It would affect them. I think he missed one game in his career, or two games. I hated when he got hurt last year. It was the first time in his career he got injured." Boudreau knows Washington's franchise center well and knows it'll take a lot to keep him out of the lineup much longer. "Nicky is one tough guy," he said. "He plays through pain." Washington heads home now for an off day Tuesday before hosting the Penguins on Wednesday. That game has suddenly gone from a heated rivalry to a battle of attrition.
LeBrun:
I remember a conversation with Caps GM George McPhee earlier this season in which he pointed to Green's absence as one that really hurt his team. McPhee felt that more than any other player, the Caps really struggled without him in the lineup. His injury battles this season certainly underline the struggles the Caps have had all season long; it's hard not to see a link. They need him healthy and back in the lineup once and for all. It's hard to believe that Wednesday's game between the Caps and Penguins will be between two clubs fighting for their playoff lives. That's a storyline nobody saw coming in September.
Before we go, Craig, we certainly should touch on some sad news from Tuesday morning, when the
St. Louis Blues
confirmed that former GM Ron Caron died Monday night. I think we all can remember the clips of the Prof reacting wildly at a bad call from a referee up in his box during a Blues game in the 1980s. I traded text messages with Hockey Hall of Famer
Doug Gilmour
on Tuesday morning, and we both agreed Caron was one-of-a-kind. "He was intense and committed to his job and to his players," Gilmour said.
Custance:
In a game loaded with storytellers, he'll go down as one of the best. A few years ago, the great Eric Duhatschek of the Globe and Mail wrote a column that captured Caron's personality, including a story about how Caron once was so upset with John Ferguson Sr. that they wrestled in the press box of Winnipeg Arena. "They threw away the mold after they made Ron Caron. He was a unique individual, as intense competitor as I've ever seen," Cliff Fletcher said in the story. That really sums it up. I think he would have enjoyed Tuesday night's game between the Blues and the Canadiens, two franchises on which he left his impression. Ken Hitchcock is wisely giving
Jaroslav Halak
the start in goal against his former team, even though
Brian Elliott
is coming off a shutout. That's a coach who knows how to win over a room. I can't imagine a regular-season game Halak would want to win more than this one.
LeBrun:
Halak has played much better since Hitchcock took over, much like most of his teammates. Elliott's play hasn't tailed off one bit, so the Blues coach can't go wrong no matter whom he puts in goal. That's the kind of luxury that teams such as Boston and Vancouver also have in goal. It's one of the reasons the Blues are legitimate Cup contenders in my eyes. I'm sure that made Ron Caron smile during the past few months as he saw his beloved Blues climb back up the standings. Tonight, the Prof will be watching from the press box in hockey heaven. Rest in peace.
March, 10, 2011
3/10/11
6:01
PM ET
Zdeno Chara's controversial hit on Max Pacioretty this week was reminiscent for Ryan Smyth.
The veteran Los Angeles Kings winger was nailed into the turnbuckle by Jack Johnson (today they're teammates) in March 2008.
"I think it was really similar," Smyth told ESPN.com Thursday.
[+] Enlarge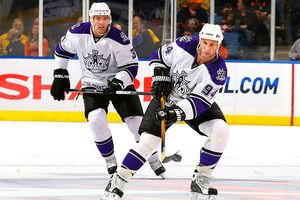 Mike Stobe/Getty ImagesRyan Smyth, right, and Jack Johnson became teammates on the Kings in 2009.
Smyth, then with Colorado, missed two weeks with a separated shoulder and a concussion. Johnson escaped NHL discipline, just like Chara did this week. Montreal fans were ultra upset with the league's decision, but Smyth has no issue with it.
"When I looked at it, I think it's just a clean check and an unfortunate situation where the stanchion is there and he hits it," Smyth said. "The same with me. Half a second earlier, there's no call. Half a second later, there's no call. In my opinion. If I was half a second later, I would have just rubbed out against the glass. Half a second earlier, I could have grabbed on a little bit. I could have leaned over and hit my whole body onto it and braced myself a bit more."
Smyth said he feels terrible for Pacioretty, knowing just how it feels to get pounded into the turnbuckle, but the Kings veteran can't find fault with Chara.
"I don't think Zdeno Chara has a mean bone in his body," said Smyth. "And if he did, he could probably kill some guys out there. Litterally, he's a giant. But it is unfortunate, I do feel for Max Pacioretty. It's awful. I feel for him and his career."
Smyth wonders if the league can't improve the area where the stanchions sit near the players' benches.
"I think they should round the plexiglass, curve it so there is no corner, no point," suggested Smyth. "I was looking at it again today in Columbus between the benches. They could go back a foot back and round it. I don't know, that's just my idea."
Part of the discussion next week at the GMs meeting is expected to touch on rink safety around the NHL.
January, 8, 2011
1/08/11
8:58
PM ET
Los Angeles Kings fans need some good news these days, so I'm here to deliver some.
I'm told the team is on the verge of signing blueliner Jack Johnson to a multiyear extension, a deal that could be announced as early as Sunday or Monday. Look for the deal to be six or seven years in length and worth between $4 million and $4.5 million per year.
[UPDATE: Later on Saturday night, the Kings announced they signed Johnson to a seven-year deal that will carry into the 2017-18 season. The team did not officially disclose financial terms.]
Meanwhile, Kings fans keep wondering what their team will do on the trade front. I mentioned before this season that Patrik Elias is a player they've coveted; but I'm told the veteran, skilled winger will not waive his no-movement clause at this point, so he appears to be off the list.
Calgary Flames interim GM Jay Feaster has also said he will not trade Jarome Iginla. Check another name off Los Angeles' list. Brad Richards? I can't see the Dallas Stars moving him (see more on him below); the acquisition of Jamie Langenbrunner sends a message they're going for it this season. Check another one off L.A.'s list.
But there is still time before the Feb. 28 trade deadline, and the key is to watch which teams believe they're no longer in the playoff race seven weeks from now and which players they're willing to introduce to the market. But it may just be that the big-name, top-line winger the Kings yearn for just isn't available before Feb. 28.

Panthers and Vokoun
It's been assumed for so long the Florida Panthers would auction off star goalie Tomas Vokoun by the trade deadline. While that is still a possibility, you might be surprised to know GM Dale Tallon has also reached out to the Czech native's agent to talk about a contract extension.
"It's preliminary at this point, just trying to get a feel for it. We'd like to sign him at the right number," Tallon told ESPN.com on Saturday.
"We've had some discussions with Florida, they're ongoing, and we'll see what happens," Vokoun's agent Michael Deutsch told us Saturday.
Vokoun is earning $6.3 million this season (a $5.7 million cap number), and I suspect the Panthers would like to get him at a cheaper price. If contract talks fail to produce an extension, he could be moved before Feb. 28.

Stars and Richards
So, what now for the Dallas Stars? Well, the Brad Richards situation looms large. The team has not yet made a contract offer to their leading scorer and pending unrestricted free agent, but I'm told they will approach his veteran agent, Pat Morris of Newport Sports, at some point in the near future and begin the feeling-out process.

Next to leave New Jersey?
Jason Arnott is the next big name to possibly move out of New Jersey because he's the only real UFA of note left on the roster (Andy Greene is the team's other UFA). Arnott is in total charge of his situation thanks to a no-movement clause. Arnott is a competitive player who wants to win badly, so a move to a contender will likely be welcomed on his part.

W-NHL?
The NHL has retained the services for former WNBA president Val Ackerman as a consultant. She's had a few meetings with the NHL so far as the league continues to explore the merits of possibly launching a women's pro league at some point. I love the idea. Girls hockey has exploded over the past decade, especially in Canada. Let's give girls something to aspire to in terms of a pro career. There are a couple of pro leagues out there, but a new league under the NHL umbrella would legitimize the women's game like never before. Will it happen? Too early to tell.

More updates ...
• Several teams have kicked the tires on Maple Leafs defenseman Francois Beauchemin, but Toronto has not received any concrete trade offers. Beauchemin's limited no-trade clause called for him to hand the Leafs a preseason list of 12 teams he'd be willing to go to, which he did.
• I had a rival team executive tell me Saturday he believed winger Mason Raymond might be on the market in order for Vancouver to alleviate its cap issues, but a Canucks source said that was totally false and Raymond wasn't going anywhere.
• Despite all the injuries in Detroit (top-four defenseman Brad Stuart being the latest, out 6-8 weeks with broken jaw), Wings GM Ken Holland told ESPN.com on Saturday that Detroit wasn't planning on shopping for help and hoped the answer would come from within.
• Contracts talks between the Tampa Bay Lightning and Steven Stamkos' agent Don Meehan are slated to resume at the end of the month.
• Defenseman Mike Commodore, who requested a trade and then cleared NHL waivers, left the Blue Jackets from their road trip Saturday and returned to Columbus to await his fate.
"We are trying to work out a trade for Mike over the next few days," Jackets GM Scott Howson told ESPN.com via text Saturday. "Failing that, he will be assigned to the AHL."
Commodore is signed through 2012-13 with a $3.75 million cap hit.