Cross Checks:

Jacob Markstrom
January, 27, 2015
Jan 27
5:26
PM ET
[+] Enlarge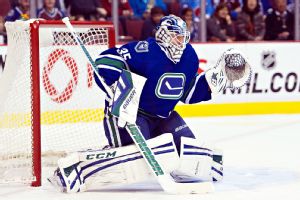 Rich Lam/Getty ImagesJacob Markstrom has a 1.92 goals-against average and a .934 save percentage in 18 games this season.
You may remember that goalie
Jacob Markstrom
passed through waivers before the season without a taker, allowing the
Vancouver Canucks
to sneak him down to their AHL farm club in Utica.
The Canucks were open to trading Markstrom earlier this season, but word is now they've decided to keep him given how impressive his development has been this season.
Markstrom, who turns 25 on Saturday, has a 1.92 goals-against average and a .934 save percentage in 18 games this season. There are some in the Canucks organization who believe he could be the next
Ben Bishop
in terms of being a late bloomer.
March, 4, 2014
3/04/14
6:43
PM ET
So much for it being hard to move goaltenders at the trade deadline.
Counting
Ryan Miller
's move to St. Louis late last week, no fewer than six NHL netminders have changed jerseys in the past few days. And who knows where that number will go by Wednesday's trade deadline?
Miller led the pack both in terms of his résumé and the timing of his move when he was dealt Friday night from the Sabres to the Blues in a deal that also included netminder
Jaroslav Halak
moving to Buffalo.
Tuesday the goalie carousel picked up speed in earnest with
Ilya Bryzgalov
moving from Edmonton to Minnesota, where the loquacious netminder will back up rookie
Darcy Kuemper
for a Wild team that has virtually locked up one of the wild-card spots in the West.
The Oilers, having signed
Ben Scrivens
to a new two-year deal Tuesday, then acquired
Viktor Fasth
from Anaheim to shore up their goaltending depth.
And finally the whopper of the day saw
Roberto Luongo
making his long-awaited departure from Vancouver in a trade back to Florida that also saw the former future heir to the Panthers' goaltending job,
Jacob Markstrom
, go to Vancouver.
One would imagine that the market for guys like
Martin Brodeur
, Halak and either
Justin Peters
or
Cam Ward
in Carolina (the Canes inked
Anton Khudobin
to a two-year extension) might have dried up with all the goings-on Tuesday. But then again, it was supposed to be difficult to move goaltenders in general at the trade deadline, so anything is possible.
March, 4, 2014
3/04/14
5:49
PM ET
During the 2006 draft in Vancouver, British Columbia, then Canucks GM Dave Nonis pulled the trigger on what was one of the biggest deals in the team's history by acquiring netminder
Roberto Luongo
from the
Florida Panthers
.
It was early in the evening and it was a shocker, one that seemed to portend great things for the Canucks.
Almost eight years later the circle was brought to a close. After two years of emotional to-ing and fro-ing, Luongo was dealt Tuesday afternoon to the Panthers for netminder
Jacob Markstrom
and forward
Shawn Matthias
.
The deal comes two days after Vancouver head coach John Tortorella benched Luongo in favor of rookie
Eddie Lack
for the Heritage Classic "outdoor" game at B.C. Place, a move that angered the veteran netminder, although the reasoning may have had more to do with the impending deal than Lack's strong play.
Of course Vancouver GM Mike Gillis spent most of last season trying to move Luongo and his massive contract -- he is locked up through 2021-22 with an annual cap hit of $5.33 million -- to no avail. He then switched gears and traded
Cory Schneider
, who had supplanted Luongo as the starter in Vancouver, to New Jersey at the 2013 draft.
But even though Luongo had reinherited his starting job with the Canucks, it was an uneasy repatriation, and with the Canucks looking to remake themselves by getting younger and shedding long-term deals, it really shouldn't come as a huge surprise that Luongo was finally on the move, even if many believed he would most likely be moved at the draft in June.
The move will give the Canucks a chance to find out if Lack, who leads all rookie netminders in save percentage and goals-against average, is ready to be an NHL starter. The move also suggests that the Canucks won't be satisfied with just this move, that center
Ryan Kesler
, who has been the subject of much trade discussion the past week, could well be on the move by Wednesday afternoon as the Canucks continue to try to remake themselves on the fly.
The Luongo deal brings to a close an often ugly period for the Canucks, whose goaltending drama consumed the team for long periods of time.
In a matter of months, Vancouver has dealt two starting netminders for a first-round pick (Bo Horvat was selected ninth overall at last year's draft), a goaltending prospect who has never measured up and a forward whose best NHL production was 14 goals.
But sometimes a deal like this can't be measured in what is returned but rather what options it opens up for the Canucks in closing the door firmly on the team's dysfunctional goaltending situation.
Of course, Florida has always been Luongo's preferred destination given his wife's family ties to South Florida. But this isn't just about finally making a veteran goalie happy. This is a move that may be the one that sets the Panthers on the track to redemption.
The Cats made the playoffs in 2012, winning the Southeast Division, but lost in the first round to New Jersey in a seven-game series; had the Panthers had even average goaltending from
Jose Theodore
and
Scott Clemmensen
they would have won that series.
The team took a step backward last season in missing the playoffs, and it was clear that Markstrom, the 31st overall pick in 2008, was never going to evolve into the franchise netminder the Panthers had hoped for.
Enter Luongo. Or rather, re-enter Luongo. For the first time in years, the Panthers will have stability between the pipes to go along with a solid core of young players like
Jonathan Huberdeau
,
Aleksander Barkov
,
Nick Bjugstad
,
Erik Gudbranson
and
Quinton Howden
.
The fact that the Panthers were able to get Vancouver to eat some of Luongo's salary as well as take on Markstrom, who was under contract next season for $1.4 million ($1.2 million cap hit), is a bonus to the cost-conscious Panthers.
Although Florida GM Dale Tallon has often said he would like to have veteran
Tim Thomas
back next season, it's hard to imagine that will happen now.
As for the dynamics, there is something richly circular about Luongo, who appeared to tweet a palm tree after the trade was announced, sharing space with Thomas at least for the time being.
The two faced each other in the 2011 Stanley Cup finals, with Thomas outplaying Luongo through the seven-game set, during which Luongo famously wondered aloud why Thomas wasn't giving him enough credit, to which Thomas, likewise famously, wondered if it was his job to pump Luongo's tires.
Fun in the sun to be sure.
Tallon said the deal "came out of nowhere" and escalated quickly from a tire kicking exploratory phone call on Monday to a deal by Tuesday afternoon.
As things got serious, Tallon said he talked to ownership in Florida about whether he should pursue the deal and got the green light to take on the salary.
"We're excited about it. I think it's great for our franchise," Tallon said during a conference call Tuesday night.
"We're getting a great goaltender. A proven commodity. We needed to make a statement. Luongo's numbers are terrific."
As for Luongo's reaction, "he's excited. He's just over the moon about coming back to Florida," Tallon said.
The Florida GM said he'll sit down and talk with
Tim Thomas
on Wednesday about how Thomas imagines his future with the team given the Luongo deal.
"We're going to do the best we can to make this work," Tallon said. "We'll see what direction it takes us," he said.