August, 20, 2014
Aug 20
12:04
PM ET
No one was happy in St. Louis when the highly touted Blues made a hasty exit from the 2014 NHL playoffs.
The Blues built a 2-0 series edge against the
Chicago Blackhawks
in the Western Conference quarterfinals only to surrender that lead to their hated division rival in a stunning six-game set.
That bitter defeat will be a sore subject when training camp begins next month, no doubt, but according to former Blues star
Keith Tkachuk
, it may serve as quite the learning experience as well.
[+] Enlarge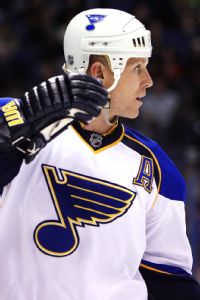 AP Photo/Jeff RobersonKeith Tkachuk likes how his former team is building for postseason success.
"I think everyone in the organization was disappointed, fans clearly were, when we were up two games to none [and lost]," Tkachuk told ESPN.com in a recent phone interview. "The young guys, I think it will be beneficial to them to be a little aggravated, to see them knocked off by Chicago, which is a good rivalry here in town.
"I think you'll see a lot of angry guys, pissed-off guys [in camp]."
Those young guys are the key to the Blues' future and remain a bright spot for a team that has gone into recent postseasons as one of the elite squads out West and then run into some of the most fearsome opponents.
Tkachuk, who recorded 1,065 points in 1,201 NHL games and spent nine seasons with the Blues, sees defenseman
Alex Pietrangelo
thriving this season with another year of experience under his belt. And he views
Jake Allen
as a strong competitor who will push Brian Elliott for the starting goaltending job.
Tkachuk says the 24-year-old Allen has done things "the proper way," paying his dues and rising up the ranks steadily after years in junior hockey and the American Hockey League. He also has good size, keen stickhandling skills and a growing sense of confidence. Tkachuk thinks his development, and the Blues' stability in net, will benefit from that.
"This is the perfect situation. Elliott is a little bit later [into his career] and Allen who needs more NHL seasoning," said Tkachuk. "If you have Elliott, who is a great pro, and they push each other in practice, Elliott's working habits in practice will have a big-time influence in Allen. Whoever's playing well is going to play."
That's not to say that Tkachuk did not support the Blues' bold move to trade for
Ryan Miller
in February last season. It was a bold decision from management, namely general manager Doug Armstrong, that indicated the club was ready to go all-in on the 2014 postseason.
But the acquisition did not go as planned. Miller posted a pedestrian 10-8-1 record with a 2.47 goals-against average and .903 save percentage for St. Louis, and the Blues chose not to re-sign the longtime
Buffalo Sabres
netminder, who subsequently signed a free-agent deal with the
Vancouver Canucks
in July.
"It was definitely worth a shot," said Tkachuk, who spends the majority of his time traveling to watch his two teenage sons play hockey and coaching his youngest in midget minor. "Last year, there were a lot of question marks with
Jaroslav Halak
, so [the Blues] made the move and I'd have done the same thing. It didn't work, but it's not all on him. As a team, sometimes you need a change. Jake Allen, as well as he did in Chicago, deserves to be here."
Tkachuk also said he loves the signing of center
Paul Stastny
, which adds depth down the middle and gives captain
David Backes
some help at the position.
"It brings some much-needed offensive help, not just 5-on-5 but on the power play, which is huge," Tkachuk said.
Heck, in a Central Division that keeps raising the caliber of competition, the Blues had no choice but to ante up.
"It's a challenge every night," Tkachuk said. "You've got the two-headed monster in
[Patrick Kane]
and
[Jonathan] Toews
, who really played well [in the playoffs]. You know Colorado is going to have another good year, especially adding
[Jarome] Iginla
. Dallas has gotten better with [trade acquisition
Jason] Spezza
.
"I think Stastny was a huge move shown by management and ownership that we want to take it to the next level, but it's definitely a tough division. We have to close out teams when we have them."
April, 10, 2013
4/10/13
1:52
PM ET
No one likes it when they're going through it, but the adversity the
St. Louis Blues
faced this season could easily be the best thing that ever happened to them.
Winners of five straight and suddenly just two points out of fourth in the Western Conference, the Blues are peaking at the right time, with just 10 games to go in their regular season.
Reminds me so much of the way the
Los Angeles Kings
played survival hockey in the second half of last season; by the time the puck dropped in the playoffs, they were a hardened group and a dangerous foe.
"I think that ideology makes sense where you learn some great lessons during the regular season when going on a (losing) skid and finding out your true identity," Blues captain
David Backes
told ESPN.com Wednesday. "It doesn't mean your season is over. Where if you wait until the playoffs to have those experiences, you might be watching on TV before you have a chance to right the ship."
It's taken 38 games but the Blues appear to have righted the ship.
"We're starting to manage the game the right way," coach Ken Hitchcock said. "We still have a whole other level offensively that we have to get to from a continuity standpoint. We still have to create more. But we're playing with a real spirit right now and a real energy. We just want to keep it up."
It certainly has been quite the journey for a team many picked to do great things this season.
A 6-1-0 start seemed to validate the preseason hype (yours truly picked the Blues to go the Cup final), but that was followed by a sobering five-game losing streak and a stretch of up-and-down hockey that left the team at 11-9-2 on the morning of March 6.
One month later, thanks to an 11-5 run, the Blues are coming out of the worst phase of that journey and look stronger for it.
"This is a really good lesson for anybody: Don't just assume, because you have the same players back, you're going to have the same chemistry, because things change," Hitchcock said. "We looked really good early, but it was on last year's energy. And I think the players recognize that they had to re-create new chemistry, they couldn't rely on the old chemistry.
[+] Enlarge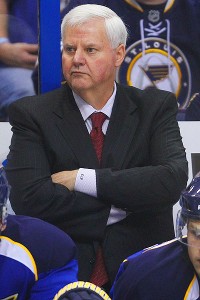 Dilip Vishwanat/Getty ImagesKen Hitchcock said the Blues "needed to re-connect with each other again. That's hard stuff."
"So there was a lot of stuff where they needed to re-connect with each other again. That's hard stuff. Creating new chemistry and creating new awareness is hard to do. I think our players had to dig in and do that. We had to grind both emotionally and physically, and it's helped us become a team again. We have ups and downs like everybody else, but now we have a foundation we can go back to."
Case in point: In watching Tuesday night's 1-0 win over the
Nashville Predators
, one thing you noticed was that even at 0-0 for almost two periods, the Blues looked poised with or without the puck, seemingly confident that good things would eventually come if they stuck to their game plan.
That's a confidence in their game that wasn't there a month ago.
"Yeah, I think with the goaltending we've had, especially as of late, we've been able to feel comfortable in a one-goal game, or a 0-0 game; we just stay with our game and we don't have to get crazy trying to score four goals to win," Backes said. "We know just a couple on most nights will be enough."
The goaltending. You can't write a Blues story this season without touching on that eventful issue.
Rookie
Jake Allen
has been called upon for 12 starts, an absolutely unforeseen turn of events. But between injuries and the inconsistent play of
Jaroslav Halak
and
Brian Elliott
, Hitchcock was desperate for a fix.
With Halak hurt now, however, a timely development has helped save the season: the return of the Elliott, circa 2011-12.
Elliott was a healthy scratch 11 times this season behind Halak and Allen -- that's how badly his game had gone. To his credit, Blues GM Doug Armstrong said, Elliott never allowed his struggles change his work habits.
"He continues to work hard during practice and after practice," Armstrong said. "That says a lot of about him."
To Elliott's credit, he accepted a two-game AHL stint late in March which, frankly, may have been the turnaround. He stopped some pucks under less pressure and got his mechanics back in order, and ever since he has looked like the Brian Elliott who led the NHL in save percentage last season.
Elliott has won four straight starts, including back-to-back shutouts this week.
"He swallowed hard, he went back to the minors to get some games in," Hitchcock said. "He deserves a lot of credit for being willing to look into the mirror and work to get his game back. He had to eat some humble pie, but in the end, it's paid off."
National TV analyst
Ed Olczyk
has caught two of the Blues' last five games, including the shutout win at Detroit on Sunday. He also says the turnaround starts in net.
"Up until this point, they've gotten below-average goaltending; that's just fact," Olczyk told ESPN.com Wednesday. "Now what has happened with that team as well is getting a top-2 defenseman in
Jay Bouwmeester
and a top-five guy in
Jordan Leopold
. You can argue now and say that St. Louis' defense corps one through six is top-five in the NHL. That's huge. The new guys, along with
(Kevin) Shattenkirk
and
(Alex) Pietrangelo
, can skate them out of trouble."
Olczyk said the third defense pair of
Roman Polak
and
Barret Jackman
also provides excellent toughness in a shutdown role, and he called Polak one of the most underrated blueliners in the league for what he does.
"But certainly it starts with the goaltending," Olczyk said. "Elliott played really well in Detroit in the game I worked. That's great for his confidence and for the team's confidence. They're a very good team. I'm not surprised to see them on a roll."
Certainly the additions of Bouwmeester and Leopold cannot be glossed over. They've had a major impact on the Blues' back end.
And while Bouwmeester has been as advertised -- a top minutes-eating star doing his thing -- Armstrong pointed as well to Leopold as being a bit under the radar for his impact, a comment that Backes echoed.
"Just the poise and the veteran know-how back there has been welcomed," Backes said of Leopold. "There's really no panic. He has the ability to jump in on the rush offensively but also recovers defensively, he helps us not getting hemmed into in our own end. Those things give our guys energy and confidence."
In no way is anyone in the organization relaxing. But the fact is, the Blues are only two points out of fourth place and five points ahead of the danger zone. It's OK to start setting new goals.
"For the first time all year, I told the players last night: 'At some point in time, we have to stop looking over our shoulders and start looking up,'" Hitchcock said. "I know this is hard to do with this season and how close the standings are, especially when you're not one of the top three seeds, but I told our players that sometime I really want our players to start looking up in the standings."
It's been a roller coaster of a season. But you get a sense the best is yet to come for the Blues.
"There's been some growing pains and some adversity faced, and through that I think you grow as a team and learn to have success," Backes said.
April, 8, 2013
4/08/13
9:35
AM ET
We're into the final 10 games of the regular season and the inevitable separation has occurred in both conferences, the inevitable eroding of faint playoff hopes for many teams juxtaposed against those teams now more concerned with gaining home-ice advantage or hitting the postseason in some sort of groove. Sometimes late-season grooves mean nothing, but if you're the
St. Louis Blues
, the recent play of netminder
Brian Elliott
has to be a good if not tremendous omen with the playoffs set to start in three weeks.
We happened to be traveling with the Blues earlier in the season when Elliott's game was at a low ebb. With veteran
Jaroslav Halak
injured, Elliott could not carry the load and the decision was made to bring up untested rookie
Jake Allen
, who may have saved the Blues' season with a three-game winning streak on the road. Elliott worked diligently with goaltending coach
Corey Hirsch
, even went back to an old set of pads in the hopes of finding the karma that saw he and Halak win the William M. Jennings Trophy for allowing the fewest goals last season. At the time, coach Ken Hitchcock pointed out that Elliott was not a veteran goalie working through a slump but a young netminder (he will turn 28 tomorrow).
Halak is again injured, but it's been Elliott who has answered the bell this time. He was outstanding Sunday as the Blues won their fourth straight game, edging the
Detroit Red Wings
at Joe Louis Arena by a 1-0 count. Elliott stopped 28 shots, including 13 in the second period. More importantly, the win was the third in a row for Elliott. All three have come against quality opponents -- Detroit, Chicago and Minnesota -- and he has allowed just four goals over that span.
Agreed, it's a small sample. But this is a netminder who had nine shutouts and a .940 save percentage last season. Can that player emerge again when the Blues need him most? And more to the point, is his recent play an indicator that such a renaissance is at hand?
Nothing's a given. The Blues are as close to earning home-ice advantage in the first round with the fourth seed as they are from falling out of the playoff bracket altogether: four points separates them from both. But for a team that many, including this reporter, thought was ready to take a giant step forward in its evolution, the play of Elliott has definitely proved to be a bright light at the end of the regular-season tunnel.
March, 7, 2013
3/07/13
7:38
PM ET
The debate on "staged fighting" carried on Thursday in the wake of the scary knockout from the previous night's game in Toronto.
Only 26 seconds into the latest installment of the Battle of Ontario, Toronto's
Frazer McLaren
decked
Dave Dziurzynski
when he caught the Ottawa forward flush with a right to the chin, sending him face down to the ice. Dziurzynski needed help getting off the ice and the Senators announced he has a concussion.
For now, though, I wouldn't expect a knee-jerk reaction from the NHL.
Colin Campbell, the NHL's senior vice president and director of hockey operations, told ESPN.com Thursday that, unless a general manager wants to add it as an agenda item, the subject is not currently scheduled to be discussed March 20 when the 30 GMs gather in Toronto.
That can change, however, if this topic once again heats up and gathers more momentum.
Let's remember that Campbell and the 30 GMs agreed to bring in a new rule after their March 2009 meetings that would see two players get 10-minute misconducts on top of their five-minute fighting majors for bouts right off a faceoff.
But the new penalty was blocked by the NHL Players' Association in June that year via the Competition Committee -- NHL tough guys voicing their displeasure with the rule.
Many hockey people don't like staged fights because they feel they don't have a meaningful place in a game. Fights that come from the heat of the moment, from teammates avenging another, etc. are considered part of the game by most hockey people. But the staged fights annoy many GMs, which is why they attempted to bring in that rule four years ago.
"They're just plain stupid," one NHL GM told ESPN.com Thursday, referring to staged fights. "But what are you going to do about it?"
Either way, Campbell said Thursday that the league has continued to monitor/discuss the topic of staged fights internally since 2009, but there's nothing in the works to do anything about them at this point.
According to research done by my other employer, TSN in Canada, 39 of 185 fights this season -- prior to Thursday's games -- were directly off faceoffs, aka staged fights.
That's more than 1 in 5 for those counting at home.
One league did take action this season. The Ontario Hockey League, which features some of the world's most talented junior-aged players, implemented a new rule that sees players suspended two games for each fighting major they receive once they've surpassed the 10-fight threshold for the year. The league was targeting serial fighters with the rule.
The result? Fighting is down 27 percent in the OHL this season.
"We feel that the new fighting standards, new fighting rules, have had a positive impact in terms of, first of all, reducing the one-dimensional player in terms of his frequency of fights -- which is what we initially set out to target -- and secondly, the overall decrease of 27 percent has certainly, in our view, been a very positive by-product of the new rule as well," OHL commissioner David Branch told ESPN.com Thursday. "Right now we're very pleased with the adjustment to our game.
"What we really look at, too, is attracting the best, young skilled players to our league. That's what we really want to be about. We're the No. 1 development league in the world for the National Hockey League. We want to make sure the Connor McDavid's of the world want to come and play in our league and we're mindful for their well-being."
It's a rule that the NHL has kept an eye on this season, but I don't suspect it's something that will see the light of day in the big league.
For starters, NHL teams could get around the rule by demoting/promoting tough guys once there's danger of a player getting close to the threshold. The NHL has a wider pool of players to choose from in that regard.
So the answer, if there is one at all, is not clear for the NHL.
But I suspect the debate will continue.
Pronger GM material?
Chris Pronger
hasn't retired yet, but it's a given at some point in time.
He's not going to play again, but for salary cap and CBA reasons he won't officially retire while there's still four more years after this season remaining on his seven-year, $34.55 million contract. Because the contract took affect after Pronger turned 35, the Flyers would still take that cap hit if he retired, but do not take the cap hit while he is on long-term injured reserve.
Once that's resolved, you wonder what's in store in his post-playing future?
How about NHL management?
People close to Pronger told ESPN.com Thursday that he's got GM material written all over him. As it is, he's already been helping Flyers GM Paul Holmgren this year, scouting players on video for Philadelphia and watching the odd junior game.
Just like
Steve Yzerman
went from Hall of Fame playing career to learning the management side for a few years under Ken Holland and Jim Nill in Detroit, there are some who feel Pronger would do the same with the Flyers, or elsewhere.
Blues' goalies
Jake Allen
got the start in goal Thursday night in Phoenix and, if he gets on a roll, it could be his job for a bit.
It's officially about the hot hand now in St. Louis. Whoever is making saves will stay in goal.
The Blues entered Thursday with the worst save percentage in the NHL (.870) after posting the No. 1 save percentage in the league last season (.929).
Jaroslav Halak
and
Brian Elliott
have struggled, and the defensive coverage in front of them hasn't been ideal, either.
For whatever reason, the Blues seemed to play some of their best hockey in front of Allen during his earlier call-up this season, so he gets another shot now with the team in desperate need of some saves and some wins.
Speaking of the Blues, sources around the league say GM Doug Armstrong is on the lookout for a left-handed, top-four type blueliner, a guy who can play with either
Alex Pietrangelo
or
Kevin Shattenkirk
on either of the top two pairings.
Easier said than done at midseason, and it might have to be something Armstrong waits until the summer to get.