Cross Checks:

Jakub Voracek
May, 1, 2014
May 1
1:18
AM ET
By
Mike Mazzeo
| ESPN.com
NEW YORK -- Two words said it all.
After his team was eliminated from the playoffs by the
New York Rangers
,
Philadelphia Flyers
winger
Jakub Voracek
was asked what the difference in the series was.
"One goal," he replied.
Two words. So simple. So accurate.
And so painful to swallow.
Philadelphia's season started with a stunning coaching change and a franchise-worst 1-7 start, and ended with a 2-1 loss to New York in Game 7 on Wednesday night at Madison Square Garden.
"Everyone feels lousy, obviously, but I'm proud of our players," said
Craig Berube
, who took over behind the bench after Peter Laviolette was fired just three games into the season.
"They went through a lot this year. We were stuck in a hole for awhile, and they battled out of it and stuck together. There's a lot of character in our locker room."
The difference in Wednesday night's game was one goal, and three words: the second period.
Following a scoreless opening frame, the Rangers tallied twice in the second, getting goals from
Daniel Carcillo
and
Benoit Pouliot
and outshooting the Flyers, 18-5.
[+] Enlarge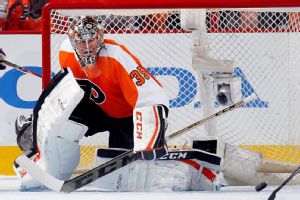 Bruce Bennett/Getty ImagesSteve Mason proved to be one of the key parts of a solid young core in Philadelphia.
Flyers captain
Claude Giroux
, who scored 28 goals during the regular season and two more in the playoffs, had a chance to get his team on the board with four minutes left in the middle frame. But with Rangers goalie
Henrik Lundqvist
down and the top half of the net open, Giroux fired high.
"I was trying to get away from their D, and I'm not sure if (
Anton Stralman
) got his stick on it," Giroux said. "I shot up high because the goalie was low."
The Flyers got within a goal in the third when rookie
Jason Akeson
tallied his second of the postseason, but that's as close as they would come.
"It's the worst feeling ever," Voracek said. "You come so close, do-or-die and lose that critical Game 7. That's hockey. We got to make sure and learn from it and use it in the future."
In the end, the power-play may have done the Flyers in: they went 5-for-8 in their three wins, 1-for-13 in their four losses.
"Special teams are important," said
Vincent Lecavalier
, whose team killed off 21 straight Rangers power plays to end the series but still lost. "They were aggressive and they played well on the PK tonight."
Throughout a Stanley Cup drought that has now reached 38 years, Philadelphia's Achilles heal has always been goaltending, but even in the loss
Steve Mason
proved he might be the one to change that. After missing the early part of the series due to a concussion, Mason started the final four games, compiling a 1.97 goals-against average and a .939 save percentage.
He made 31 saves in Game 7, several of them -- including his highway robbery of
Derek Stepan
at the doorstep in the second -- of the highlight reel variety.
If Mason were healthy throughout the series, who knows, maybe the Rangers would be the team going home.
"From the time he took over until now, he's really developed into a terrific goalie," Berube said of Mason.
With a young core in place that features Giroux (26 years old), Mason (25),
Wayne Simmonds
(25), Voracek (24), Akeson (23),
Sean Couturier
(21) and the Schenn brothers (Luke, 24 and Brayden, 22), the Flyers appear primed to be a playoff contender for years to come.
Still, they're going to have to solidify their defense. And when it comes down to it, their goal-scorers are going to have to score goals in the biggest games.
Historically, they have. This time they came up short.
One goal short.
"For a young team, I think it's great. This is only going to make it stronger," Giroux said.
April, 20, 2014
Apr 20
4:31
PM ET
NEW YORK -- And we have ourselves a series, folks.
Following a 4-1 win over the
Philadelphia Flyers
in Game 1, the
New York Rangers
had the chance to secure a two-game lead at Madison Square Garden, siphon all confidence from the Flyers and send them back to Philadelphia with doubts about whether they could knock off their divisional foe in the best-of-seven set.
They didn't.
[+] Enlarge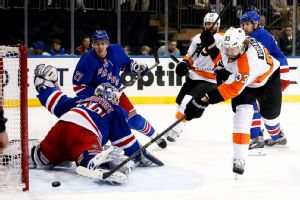 Paul Bereswill/Getty ImagesFour unanswered goals sunk the Rangers in Game 2.
Instead, the Rangers let a two-goal lead in the first period disappear as a resilient Flyers squad rattled off four unanswered goals to snap a nine-game losing streak at MSG with a 4-2 win Sunday afternoon. The two teams now head to Philly for Game 3 in what promises to be hostile territory for the Blueshirts at Wells Fargo Center on Tuesday.
"We knew they were going to come back and play a better game than last time. It's going to be a close race," said goaltender
Henrik Lundqvist
, who gave up three goals on 24 shots. "We didn't expect this to be easy."
And it won't be, if Sunday's matinee was any indication. Staring down a 2-0 hole after the Rangers exploited some wide-open passing lanes and took advantage of the Flyers' lack of discipline, Philadelphia surged back with the help of its first line.
Rendered ineffective for the most part on Thursday, the Flyers' top trio of
Scott Hartnell
,
Claude Giroux
and
Jakub Voracek
got the team on the board off the rush late in the first period and didn't look back. The Flyers' penalty kill was stellar, limiting the Rangers to just one man-up marker on six power-play attempts. Backup netminder
Ray Emery
, who was replacing injured starter
Steve Mason
, was solid in net, making 31 saves to record his first win of the 2014 Stanley Cup playoffs.
The Flyers raised their level of play, as the Rangers expected they would.
"This is a good team. By no means did we think this was going to be an easy series," said veteran forward
Martin St. Louis
, who scored his first playoff goal as a New York Ranger on a sharp-angle shot 4:08 into play. "We know we have to be better. We knew that they were going to be better after Game 1, and they were."
In recent years, the Rangers have shown difficulty in closing out a series quickly, even after taking Game 1. In the 2012 playoffs, the Eastern Conference-leading Rangers took the series opener of both their quarterfinal set against the
Ottawa Senators
and their semifinal matchup against the
Washington Capitals
. It took the Rangers seven games to win both series, raising the question of whether fatigue was a factor in the team's Eastern Conference finals loss to the
New Jersey Devils
that spring.
Last spring, the Rangers fell down 2-0 before edging the Capitals in seven games. They were then bounced in a matter of five in the second round, outclassed by the dominant
Boston Bruins
.
New York couldn't convert on the chances it had to close out Sunday's game, and the Flyers responded with that needed sense of opportunism.
How much did that hurt the team in the end?
"They were very big," alternate captain
Brad Richards
said of the team's missed opportunities. "We had some power plays tonight that we didn't get done. We had some point-blank chances that Emery made some big saves on. It could go either way in some of those situations. They seemed to be very opportunistic on their chances, and they won."
Buckle up. These teams may be in for a lengthy battle.
April, 20, 2014
Apr 20
3:02
PM ET
NEW YORK -- The
New York Rangers
squandered a 2-0 lead as the
Philadelphia Flyers
rallied from behind with four unanswered goals for a 4-2 win over the Blueshirts on Sunday that tied the series 1-1 and sends the two teams back to Philly for Game 3 at Wells Fargo Center.
An undisciplined and defensively porous Flyers team was exposed in the first period, but recovered in the second to become the aggressors in the latter half of the game.
Philly's penalty-killing effort was superb, limiting the Rangers to just one goal in six power-play opportunities for New York. Anchoring the Flyers in net, backup netminder
Ray Emery
delivered a fine 31-save performance to prove himself capable of handling the load with regular starter
Steve Mason
on the shelf with injury.
Mason, who has missed the first two games of the series, is hoping to make his return in Game 3, but Flyers coach Craig Berube may have a difficult decision on his hands once Mason returns to good health.
Redemption shot:
Flyers rookie forward
Jason Akeson
got a sweet taste of redemption Sunday afternoon, with his rebound goal on a gaping net to knot the score at 2 in the second period. Akeson had a rough night in his NHL playoff debut in Game 1 on Thursday, taking a double-minor high-sticking penalty on
Carl Hagelin
that resulted in a pair of power-play goals for the Rangers. Nonetheless, Flyers coach Craig Berube expressed faith in the youngster, going right back to him on Sunday. Akeson started the game with linemates
Matt Read
and center
Sean Couturier
and continued to receive power-play time as well. His power-play marker at 5:45 on Sunday was his second career goal in only his fourth NHL game.
Fast and loose:
The NHL's most penalized team through the regular season was, unsurprisingly, not very disciplined once again. The Flyers gave the Rangers' special teams plenty of work in the beginning of the game, putting them on the power play three times in the opening frame, twice on ill-advised offensive-zone penalties. The Blueshirts capitalized on only one of those man-up opportunities, when
Benoit Pouliot
's flubbed shot from the right circle beat Emery for a two-goal lead at 8:22. That goal highlighted another major problem area for the Flyers: They gave the Rangers entirely too much room on the ice to execute the type of cross-ice feeds that set up Pouliot and resulted in
Martin St. Louis
' first playoff goal of the series earlier in the period. The Flyers failed to clog up the passing lanes and paid for it dearly as the Blueshirts jumped out to a 2-0 lead.
There they are:
Largely ineffective in Game 1, the Flyers' first line came alive late in the first period with an expert rush that allowed them to cut the Rangers' lead in half at 2-1. Sprung by linemate
Scott Hartnell
, skilled winger
Jakub Voracek
blew past defenseman
Ryan McDonagh
(how rarely does that happen?) and beat Lundqvist for his third career playoff goal with 5:46 remaining in the first period. Voracek and first-line center
Claude Giroux
were both held without a shot in Game 1 on Thursday.
April, 19, 2014
Apr 19
4:44
PM ET
NEW YORK -- With the
Philadelphia Flyers
sorting out their goaltending situation -- starter
Steve Mason
declared himself out for Game 2 on Sunday (
click here for the full story
) -- the
New York Rangers
have paid little attention to what is happening on the other side of the series.
Regardless of which goaltender is in net each game -- Mason or
Ray Emery
, the Rangers feel no need to deviate from the plan that propelled them to a 4-1 win against the Flyers in Game 1 on Thursday night.
They have a blueprint moving forward, and they plan to stick with that as much as possible.
"We know our game plan works if we all buy into it," said top-line winger
Rick Nash
.
Nash helped spark that effort against Emery Thursday night with a team-high seven shots on goal against the Flyers backup. He picked up one assist by game's end and said he hopes to drive the net even harder in Game 2.
"We have the same game plan. To get traffic, try to shoot from all angles. No matter what goalie you're playing, you're going to have to out-work him to score," Nash said.
By comparison, the Flyers' top line struggled to create chances, with both captain
Claude Giroux
and
Jakub Voracek
failing to register a shot on goal.
The team had a decent start against the Rangers in hostile territory at Madison Square Garden, but the forecheck faltered and the Flyers ended up chasing play all night.
"In my mind, we didn't play Flyers hockey," said veteran defenseman
Kimmo Timonen
.
So what is that exactly?
"It's more skating and hitting," he said. "We've got to forecheck really hard."
Look for the Flyers to be more aggressive in that facet of their game on Sunday, when they aim to even the series 1-1 before the best-of-seven set shifts back to Philadelphia.
Meanwhile, the Rangers will look to make some small adjustments as well.
"Five-on-five there were a couple of areas as far as getting more situations in front of the net," Rangers coach Alain Vigneault said when asked where he'd like to see his team improve.
Indeed, if there was any area in which the Rangers struggled, it was the prolonged stretches in which they were kept to the perimeter.
That's not ideal for the type of pressure they'd like to create, obviously.
Instead, the Rangers aim to attack the middle of the ice and wreak havoc in front of Emery down low.
"If that's not where we are, that's where we need to get," said veteran center
Brad Richards
, who finished Thursday's game with a goal and two assists.
The Rangers sealed the game with a pair of power-play goals on Thursday, but Richards admitted it could've gone the other way had the team not killed off a huge penalty at the beginning of the third period.
Richards said the team expects much more from the Flyers on Sunday. And the Rangers will be ready.
"This is where we have to realize the level is going to go way higher and we can't get caught resting on Game 1," Richards said. "It's a whole new game. It's going to be a whole new speed, intensity level and we've got to rise to that."
February, 25, 2013
2/25/13
12:19
PM ET
From the official NHL release:
VORACEK, STAMKOS AND BISHOP NAMED NHL 'THREE STARS' OF THE WEEK
NEW YORK (Feb. 25, 2013) –
Philadelphia Flyers
right wing
Jakub Voracek
,
Tampa Bay Lightning
center
Steven Stamkos
and
Ottawa Senators
goaltender
Ben Bishop
have been named the NHL's 'Three Stars' for the week ending Feb. 24.
FIRST STAR – JAKUB VORACEK, RW, PHILADELPHIA FLYERS
Voracek led all skaters in points (4-7—11) and assists as the Flyers won three of four games. He opened the week with the first four-point game of his career (0-4—4) in a 7-0 win over the
New York Islanders
Feb. 18 and recorded his first career hat trick, including the game-winner with 1:31 remaining in regulation, in a 6-5 victory at Pittsburgh Feb. 20. Voracek scored his seventh goal of the season in a 5-2 loss to the
Florida Panthers
Feb. 21 and capped the week with three assists in a 5-3 triumph over the
Winnipeg Jets
Feb. 23. The Kladno, Czech Republic, native has points in five straight games (4-8—12) and leads the Flyers in goals (seven), assists
(15) and points (22) this season. Now in his fifth NHL campaign, the 23-year-old Voracek has 64-141—205 in 339 career games.
SECOND STAR – STEVEN STAMKOS, C, TAMPA BAY LIGHTNING
Stamkos scored once in each of his four outings and totaled 4-4—8. He netted one goal in a 4-2 win over the
Toronto Maple Leafs
Feb. 19 and posted 1-1—2 against both the
Boston Bruins
Feb. 21 and
Carolina Hurricanes
Feb. 23. The Markham, Ont., native then recorded one goal and two assists in a 5-3 loss to the
Pittsburgh Penguins
Feb. 24. Stamkos has scored goals in five straight games and has 6-6—12 during a six-game point streak. In 18 contests this season, he leads the League in both goals (13) and points (29). The 23-year-old Stamkos also has scored the most goals in the NHL since the start of the 2009-10 season (169), 41 more than the next-closest player (
Alex Ovechkin
, 128).
THIRD STAR – BEN BISHOP, G, OTTAWA SENATORS
Bishop went 3-0-0 with a 2.03 goals-against average and .931 save percentage as the Senators won all four of their games. He posted 30 saves and denied all three shooters in a 2-1 shootout victory over the
New Jersey Devils
Feb. 18. Bishop then relieved an injured
Craig Anderson
and made 11 stops, plus another six in the shootout, to pick up a 3-2 win against the
New York Rangers
Feb. 21. He closed the week with 26 saves in a 3-2 triumph over the Toronto Maple Leafs Feb. 23. The Denver, Colo., native has played in 28 career NHL games, posting a 10-10-3 record with a 2.63 goals-against average, .906 save percentage and one shutout.
October, 8, 2012
10/08/12
9:46
AM ET
By
Sarah Goldstein
| ESPN.com
September, 1, 2011
9/01/11
1:08
PM ET
The spotlight shines brightly even in the offseason around the NHL.
Christian Ehrhoff
,
James Wisniewski
and the entire
Florida Panthers
roster have all enjoyed some moments in the sun as they prepare to try to make the best of new environs. But what about the under-the-radar guys, the players who may have quietly assumed new addresses but who may be ready to make a significant impact? Here's a look at 10 such players:

OK, so the big former Leafs winger has scored just seven times in his past 77 regular-season games and was a bit of a bust in Pittsburgh and Los Angeles. But Ponikarovsky should find a comfort zone with head coach Paul Maurice, for whom he played for in Toronto. And Ponikarovsky has scored 20 or more goals (and once scored 19) three times in his career, so he has something to bring to a Carolina team that will take all the production it can get.

Given his injury history and uneven play the last couple of seasons, it's easy to forget that Giguere has collected at least 30 wins in four seasons since the lockout. He was, lest people forget, the goaltender of record when the
Anaheim Ducks
won the Stanley Cup in 2007. At age 34, there should still be lots left in the tank, and, given the lack of durability for young netminder
Semyon Varlamov
-- the man tabbed by the Avs as their goaltender of the future -- Giguere could be asked to do a whole lot more than just offer mentoring and open the gate at the end of the bench.

It's easy to overlook the arrival of the big (6-foot-2, 214 lbs.) winger, given all the other moves made by the Flyers this offseason. But if Paul Holmgren is right, people won't be overlooking the contributions of the former seventh overall pick in the 2007 entry draft. Yes, Voracek didn't become the player the
Columbus Blue Jackets
thought he would be -- has anyone in Columbus outside of
Rick Nash
become the player they hoped he would be? -- as he topped out at 16 goals in his three years as a Blue Jacket. But guess what? He's going to play with top-end talent in Philadelphia and get a chance to put that big body to use.

We must admit being a bit mystified that the
Winnipeg Jets
didn't bother to make a qualifying offer to keep the big winger in the fold, and we wonder whether they'll regret playing against him six times a year now that he's landed in Carolina. Admittedly, Stewart -- the 25th overall pick in 2003 -- has been slow to develop, but he did show some good net presence in Atlanta last season, scoring 14 times and finishing with 39 points. Five of those goals were on the power play and, like Ponikarovsky, the 26-year-old Stewart should get many opportunities to improve on those numbers in Carolina.

Another first-round draft pick that didn't show enough promise for the
Edmonton Oilers
, Cogliano may find Anaheim more to his liking. Right now, he's likely a third-line center behind
Ryan Getzlaf
and
Saku Koivu
but he can also play the wing. With a more talented cast around him, the 24-year-old may finally blossom after twice scoring 18 goals for the Oilers. He had just 11 goals a year ago but has never missed a game in four seasons in Edmonton, something the injury-plagued Ducks will be pleased about.

No one is suggesting that White will replace the retired
Brian Rafalski
in the Red Wings' lineup, but White has more tools than he's given credit for possessing; watch for head coach Mike Babcock to take full advantage of them. White had nine points in 17 postseason games for the Sharks last spring -- the Sharks dispatched Detroit in a thrilling seven-game set in the second round -- and will be a nice addition to a Red Wings team that still has plenty of game left.

Will Sidney Crosby be back? How hungry is
Evgeni Malkin
? What does
Steve Sullivan
have left? In a city hungering for a return to contender status after two disappointing playoff seasons, it's a little bit easy to overlook James Neal. The big winger was acquired before the trade deadline from Dallas for
Alex Goligoski
, but, with both Malkin and Crosby injured, Neal never really found a groove for the Pens. He scored just once in 20 regular-season games and then added one more in a seven-game first-round playoff loss to Tampa. Look for a lot more this season from the big winger, who will turn 24 over Labor Day weekend.

Every year, Nashville GM David Poile and head coach Barry Trotz conspire to pull a rabbit out of the proverbial scoring hat. Two years ago it was
Patric Hornqvist
; last year it was
Sergei Kostitsyn
. Could it be Bergfors this season? The former first-round pick (25th overall by New Jersey in 2005) went to Atlanta as part of the
Ilya Kovalchuk
trade and was shipped to Florida at the trade deadline last season before signing with the Preds as a free agent this summer. Bergfors had 21 goals between New Jersey and Atlanta in his first full NHL season in 2009-10, including nine power-play markers. Look for him to get lots of opportunity in Nashville to make good on his potential.

Although there were lots of goalies whose profiles might have been higher, Tampa GM Steve Yzerman went after journeyman Garon as his backup to
Dwayne Roloson
, who signed a one-year deal with the Lightning after a superlative effort in leading the Bolts to the seventh game of the Eastern Conference finals. Roloson will turn 42 before the regular season is a week old, and the Lightning will want to make sure he has plenty left in the tank for what most expect will be another playoff run next spring. That means Garon will have to shoulder the load for, what, 30, 35 games? The two netminders played together in Edmonton, and head coach Guy Boucher said in an interview that he expects them to form a strong tandem.

Talk to Washington GM George McPhee and he'll tell you that one of the main reasons the Caps folded against Tampa in the second round of the playoffs had more to do with the health along the blue line than it did players' efforts. With
Tom Poti
looking like he won't be able to play anytime soon and with
Scott Hannan
departed for Calgary, the Caps added some veteran insurance in the form of Roman Hamrlik. Although he is 37, Hamrlik can still log heavy minutes, as he averaged 22:16 a night during the regular season and then saw that number increase in the Canadiens' first-round loss to Boston. Hamrlik was particularly impressive the previous spring as the Canadiens advanced to the Eastern Conference finals in spite of a badly depleted defensive corps. As for a mentor for rising defensive stars
John Carlson
and
Karl Alzner
, you couldn't ask for a better guy than the classy Hamrlik.