Cross Checks:

James Wisniewski
December, 27, 2011
12/27/11
12:03
PM ET
The holidays have not dimmed your anger. Love your rants again this week. Let's take a look:
cbj_fan13k: Bluejackets fan, enough said! I have endured 10 frustrating seasons, but this one takes the cake. Not only is the team playing the worst/laziest hockey I've ever seen (Thursday's collapse vs. Nashville was icing on the cake), the management has pretty much given the finger to all the fans. I understand the season is lost but to at least a gesture of a coaching/player/GM move to just show a little bit of emotion that they cared. But, no, just pretty much, ehh, it is what it is, and you're going to deal with it because we already have your season ticket money, who cares about winning? I will always support the jackets but this year has really tested my love for the team. Usually I have Miami University Redhawks hockey to fall back on but even they are not having the best of seasons.
My take: It certainly has been an existence of mediocrity for this franchise since day one -- 10 seasons, one playoff berth in which it was swept out in the first round. Interestingly, the Blue Jackets have had two GMs during that span, despite that record. There was so much anticipation this season with the acquisitions of
Jeff Carter
and
James Wisniewski
, but I don't have to rehash what happened. Another dud of a season. Believe me when I say the GM and coach care. I've had lots of chats with Scott Howson this season, and this is absolutely killing him. It's not like anyone in that front office is sitting on his hands and enjoying this. The hiring of former Penguins GM Craig Patrick as an adviser to Howson should help, especially closer to the Feb. 27 trade deadline. Important decisions loom for this moribund franchise. Hang in there, my friend, it's going to take more patience, if you have any left.
Dintino1420: My rant is regarding the cost to attend NHL games. I am a Philadelphia-area resident who attends approx. 4-6 Flyers games a year. It is disgusting to me that the Flyers raised ticket prices almost $60 per seat from last season. Last season, it was $96 for a lower-level seat. This season, it is $155-$165 for a lower-level seat. This is outrageous! The only saving grace here is that I have a website where I can buy tickets from 3rd-party vendors, where the cost is usually lower than the face value.
My take: Count yourself lucky you don't live in Toronto! Tickets are insanely expensive where I live. I just spent $220 on a pair of upper-bowl seats as a Christmas gift for my sister and nephew. But the Leafs sell out every single game and have forever. Supply and demand. One thing's for sure -- the league talked about cheaper ticket prices during the 2004-05 lockout as one of the selling points for a salary cap. Needless to say, cheaper tickets have not materialized in the NHL's bigger markets.
mcbs92: Please tell me what is wrong with the
Washington Capitals
, I just do not understand. They have such talented individuals in Ovechkin, Semin, Backstrom, and Green (when healthy), to name a few home-grown stars. While the usual production of these players is below par, save Backstrom, that cannot solely explain why the team is doing so poorly. Could it be that
Alex Ovechkin
and the team is better off without him with the C? I know there have been flashes of the old Caps, who usually dominate the regular season, in periods of the
Dale Hunter
era, but seriously, what has to be done for the Capitals to turn it around?
My take: To me they just rarely look like a "team." The elite clubs in this league -- think Detroit over the past 20-odd years -- play as five-man units up and down the ice. They limit gaps for opposing teams to exploit. They control/manage the puck smartly as units. They avoid taking lazy/selfish penalties. That's what the elite teams in this league do. The Caps have not been that team this year. Alex Ovechkin has but 12 goals. He's not the same dominant force. The goaltending has been inconsistent. And the Caps are 20th out of 30 teams in 5-on-5 goals for/against ratio -- that's an important statistic in my mind in rating elite teams. Right now, Boston is tops in that statistic, followed by Detroit, San Jose, St. Louis, N.Y. Rangers, Vancouver, Philadelphia and Chicago. I think you see the picture that paints.
brossin2 Having no games this weekend is why hockey will always be my favorite sport. The players have families too, and should be given the privilege to spend time with them. But that is also possible because hockey fans understand that, and don't demand Christmas Day games. In return, any single hockey player gives back more to the fans than entire NFL and NBA teams on any given day. Sure, this isn't a rant per se, but Merry Christmas and Happy Boxing Day to everyone nonetheless!
My take: Agree -- whole-heartedly.
Daveyg8484: Hey, Pierre, Tons of Vezina Trophy talk and most of it has to do with goalies who get goal support. It's pretty amazing how
Jonathan Quick
gets very little talk, especially since he's the main reason LA isn't where Anaheim and Columbus are. If you put Quick on a team that actually score goals, like Vancouver, Detroit or Boston, he'd probably be the runaway winner.
My take: Well, let's not carried away with "runaway winner." I still think
Tim Thomas
is the best goalie the world right now. However, your point is well taken about Quick's lack of national attention. I made sure to include him in my Vezina candidate list on my quarter-pole NHL awards for ESPN.com. But overall, he still doesn't get that same kind of attention. As you know, the NHL's 30 GMs vote for the actual Vezina Trophy, one of the few trophies the Professional Writers' Hockey Association doesn't handle. I asked one GM last spring if he had Quick on his ballot and he said no, adding that Quick was one notch below who he believed were the elite netminders in this league. So you see, it's not the media you have to convince, it's the GMs!
Steve McKown: What would you do if you were Stevie Y in Tampa? There is zero doubt that the two Lightning goaltenders are not going to win us the Cup -- much less even allow us to make the playoffs this year. Granted the defensemen in front are not much better, however, a move in goal could certainly generate a chance like it did last year. Marty and Vinnnie are not getting any younger so what would you do?
My take: I'm pretty sure my shopping list would be similar to Steve Yzerman's: a starting goalie and a top-four blueliner -- neither of which are very easy to pick up at all. Yzerman has been monitoring the market for a top-four blueliner since October. Like pitching in baseball, NHL clubs don't give up top-four blueliners very easily. No question Yzerman will take a hard look between now and Feb. 27, but if he can't find the right fit before then, he has the offseason as well to shore up these holes. If I was Yzerman, I would inquire about
Cory Schneider
in Vancouver and
Jonathan Bernier
in Los Angeles; those types of deals might be easier to pull off in the offseason.
September, 26, 2011
9/26/11
8:35
PM ET
James Wisniewski was suspended for the remainder of the preseason and eight regular-season games (forfeiting $536,585.36 in salary) for an illegal check to the head of Minnesota's forward Cal Clutterbuck in a Sept. 23 contest.
NHL senior vice president of player safety Brendan Shanahan explained his ruling here (video courtesy of NHL.com):
November, 5, 2010
11/05/10
11:54
AM ET

Stock up
Justin Williams, Los Angeles Kings
It seems like it's taken a long time for Justin Williams to get his footing on the West Coast. Injuries have certainly played a key role in Williams' stop-and-start experience since arriving from Carolina during the 2008-09 season. After being a big part of the Hurricanes' Stanley Cup run in 2006, Williams hasn't managed to play more than 49 games in each of the past three campaigns and dressed for just three playoff games this past spring. But he has been on a tear this season, recording points in six straight games, including the only goal in the Kings' 1-0 victory over red-hot Tampa Bay on Thursday night. It was the Kings' fourth straight win, and Williams' six goals and 12 points leads Los Angeles in both departments.
Raffi Torres, Vancouver Canucks
Torres has had a difficult time finding a groove since he helped the Edmonton Oilers to an unexpected Stanley Cup finals berth in 2006. There were a couple of miserable seasons marred by injury in Edmonton before stops in Columbus and Buffalo, where Torres was a healthy scratch in the playoffs. But this season, Torres seems to have rediscovered his mojo in Vancouver, where he has seven points in his past five games. He scored his seventh of the season (a power-play goal) in the Canucks' 3-1 victory over the Avalanche on Thursday night.

Stock down
James Wisniewski, New York Islanders
The Isles have lost six straight games in regulation, so this isn't just about the Islanders defenseman who gained notoriety for his obscene gesture toward New York Rangers forward Sean Avery that netted him a two-game suspension. But after recording points in his first seven games this season, a key contribution given the absence of the injured Mark Streit, Wisniewski has become dormant and has gone without a point in four straight games. He is also minus-8 over that span.
Jason Demers, San Jose Sharks
One of the players expected to step forward after the retirement of veteran Rob Blake was talented young defenseman Jason Demers. But the Sharks have received little production from their back end -- Dan Boyle and Niclas Wallin are the only defensemen to have bulged the twine through 11 games -- and Demers has, at least offensively, been a big disappointment. The 22-year-old has two assists and has just one assist in his past nine games while averaging more than 18 minutes a night in ice time. He was minus-2 in Thursday's 2-0 loss to the St. Louis Blues, as the Sharks have lost two in a row and are a pedestrian 5-5-1 on the season.
October, 11, 2010
10/11/10
4:54
PM ET
By now hockey fans, and fans of strange sports activities around the world, will have seen the video of
New York Islanders
defenseman
James Wisniewski
making what appear to be profane gestures to
New York Rangers
forward
Sean Avery
during Monday's matinee contest on Long Island.
It's possible that Wisniewski was motioning to Avery that the microphone wasn't working in the press box at Nassau Veterans Memorial Coliseum.
Or he might have been trying to warn Avery that the truculent Rangers forward had some spinach stuck in his teeth from the pregame meal.
Or he might have been suggesting the two meet for some karaoke after the game.
Or ... well ... we can pretty much figure out what Wisniewski was suggesting to Avery with his gestures. It wasn't particularly PG, and certainly not the kind of thing the NHL is going to be very happy about being played out in front of thousands of fans in attendance and then viewed by literally hundreds of thousands of people on the Internet.
"When are these players going to figure it out? We do have cameras at games," a league source told ESPN.com.
Now, the one good thing is that the game was on Long Island, so the direct exposure to real, live fans was muted (announced attendance was 11,748), although it was probably bad luck for the Islanders that NHL commissioner Gary Bettman was among those in attendance.
"I didn't see [the gesture], but I heard about it, and my guess is hockey operations will do what they think needs to be done, if anything," Bettman was quoted as telling reporters via AOL FanHouse. "But from where I was sitting, I couldn't see it."
There's little doubt in our minds that the heavy hand of NHL law will come pounding down on Wisniewski for his performance art.
Before the season started, Chicago defenseman
Nick Boynton
was suspended for a regular-season game after making a throat-slashing gesture during a preseason game against Tampa. Players have been suspended for various gestures to other players and fans in the past, as well.
And then there's Avery himself. He set the bar for inappropriate two seasons ago, when he was suspended for six games after making a comment about the girlfriend of then-Calgary defenseman
Dion Phaneuf
. The suspension was actually the culmination of a series of transgressions that included a vile diatribe against a fan in Boston a month earlier.
Newsday's Steve Zipay quoted Avery after the game as saying he didn't think the league would act on the gestures. "Imagine if I did that? They'd send me to rehab," Zipay quoted Avery as saying.
That's a pretty good line given Avery had to go through anger-management counseling before he could return to the NHL, but we don't agree with Avery's assessment. Even though Wisniewski's actions were between two players, we're guessing that unless he can come up with a pretty inventive explanation for NHL lord of discipline Colin Campbell, Wisniewski will watch a couple of games from the press box.
October, 8, 2009
10/08/09
11:18
PM ET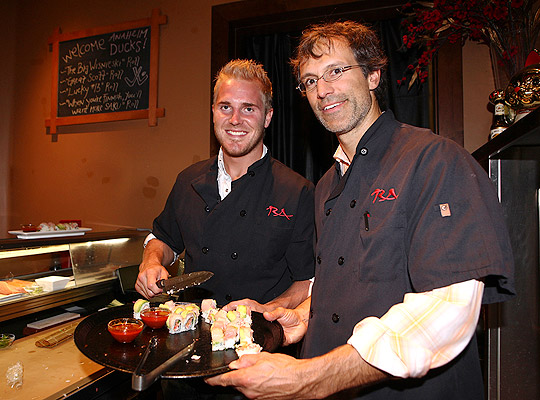 Courtesy of Anaheim Ducks
You know you've made it in the NHL when you get a sushi roll named after you.
Yes, Anaheim Ducks defenseman James Wisniewski will be added to a local restaurant's menu after his "The Big Wisniewski" sushi roll won out in a contest against teammates Scott Niedermayer (pictured above, right, with Wisniewski), Saku Koivu and Mike Brown.
If you want to try out "The Big Wisniewski" -- a combo of spicy yellowtail, crab mix, jalapeno and cilantro rolled and topped with sliced yellowtail, avocado and sriracha and served with chili ponzu sauce -- you have to live in SoCal. RA Sushi Bar locations in Tustin, Huntington Beach, Chino Hills and Corona will serve the special Oct. 9-Nov. 6, and $2 from each sale will benefit the Anaheim Ducks Foundation.