Cross Checks:

Jarret Stoll
June, 9, 2013
Jun 9
1:35
AM ET
CHICAGO -- Inside what is always a somber dressing room when the clock strikes midnight on a team's season, GM Dean Lombardi grabbed
Jarret Stoll
and hugged him tightly.
Not sure what he told him in his right ear, but I suspect it would be along the lines that Stoll, like the rest of his teammates, left it all on the ice Saturday night in a gutsy performance by the banged-up
Los Angeles Kings
.
After their 4-3 double-overtime loss to the Blackhawks, the champs are out, but they went down swinging.
"To be quite frank, this one hurt," said veteran Kings blueliner
Rob Scuderi
, one of those championship warriors. "I though we outplayed them tonight. They had an unbelievable start, nobody can deny that, but for the rest of the night we gave ourselves a chance to win even with, I'll call it adversity, that we kind of had to face tonight. But we're a strong group, we played hard, played for each other and gave ourselves a chance. In the end, it wasn't meant to be."
Lombardi was too emotional to size up his team's season when approached by ESPN.com, but he did mention that he felt even in this incredibly hard-to-digest defeat, his team might actually learn as much if not more from this year's playoffs than from winning it all last season.
Last year, the Kings skated swimmingly through the playoffs with a 16-4 record, holding 3-0 leads in each series. This year the injuries piled up, the road record stunk (1-8), some of the top players weren't as dynamic and the journey had a heartbreaking ending.
"Once you win a Stanley Cup, it means a lot more getting knocked out," said Kings captain
Dustin Brown
. "You don't really know what you play for until you do it. And tonight ... sucks."
Brown was one of several Kings who labored through pain, revealing when asked afterward that he tore the posterior cruciate ligament in the back of his left knee on his first shift of Game 6 against San Jose.
Justin Williams
said he played with a slightly separated shoulder after Sharks blueliner
Brad Stuart
rocked him with a big hit in Game 3 last round. Drew Dougthy (ankle) was also a little hobbled,
Mike Richards
, of course, recovered from a concussion in time to play Saturday night while Stoll told ESPN.com not only was he concussed last round after the hit from
Raffi Torres
but he also separated his shoulder on the play. And we're missing a few guys.
"Three, four guys that were game-time [decisions] after Game 6 in San Jose," said Kings head coach Darryl Sutter. "I think most teams are going to say that, the farther you go. Also tells you how tough it is to win, how you need that. I know it's something that gets talked lots about. You have to stay healthy. Have you to be close to 100 percent, especially with your top guys. I know we weren't."
Which tells you how this team gutted it out despite all that, especially Saturday night when the Blackhawks went up 2-0 and it looked as if they would run the Kings right out of the rink.
"There's not much you can do about giving up bad goals," said Sutter. "If you put your head between your legs, you're going to get your [butt] kicked. We don't do that. We respond in the right way all the time."
All playoffs when knocked down, the Kings have picked themselves off the mat. And they did again Saturday night, climbing from a 2-0 hole and also tying the game with 10 seconds left in regulation.
"We showed a lot of character tonight," Kings executive
Luc Robitaille
told ESPN.com outside his team's dressing room. "The game was over with 15 seconds left. If you want to have a great organization, you want your best players to be at their best in the big moments. They were there tonight."
What was the difference in the series?
"Turnovers, some rush chances and opportunities," said Stoll. "Again tonight, the 2-on-1 and the rush chance in overtime. We didn't really establish our forecheck like we wanted in some games, and it hurt us."
Indeed, Patrick Kane's overtime goal was a perfect microcosm of the series for the Kings, who simply turned the puck over and gave up too many odd-man breaks in the five games. That's not typical Kings hockey.
All the Kings felt Saturday night was heartbreak, but in time they will realize that they defended their Cup championship with honor, a conference finals berth nothing to sneeze at when you consider the struggles of past defending Cup champions in the salary-cap era. No team has won back-to-back titles since the 1997 and 1998 Red Wings, and there's a reason for that. It's mighty difficult, both from a physical and mental point of view.
The Kings had a terrific season.
"It's disappointing now, probably we'll look back in a few weeks now and think that," said Robitaille. "But right now when you're this close, you want to go all the way. Because we know how special that is. But the guys certainly showed a lot in these playoffs. It wasn't easy. Last year was abnormal that we [went up] 3-0 every [series]. But they showed a lot of character."
As far as Sutter is concerned, there's nothing to be disappointed about in terms of the team's effort this season.
"We got beat in the conference finals by the best team in the conference, at the end of the day," said Sutter. "...Once you set the bar up there, then that's your bar. So, obviously, we're disappointed to lose to Chicago, but we're certainly not disappointed in how we played. I mean, I think you look at our season, other than not getting home ice, we've done everything we've wanted."
Not quite everything because they know all too well what that feels like, but you have a feeling these guys will be back again.
June, 1, 2013
Jun 1
10:18
PM ET
CHICAGO -- The Kings got a key player back for Game 1 as
Jarret Stoll
returned after missing six games with a concussion.
"I felt fine," Stoll said after logging 15:14 of ice time.
Stoll was injured in Game 1 of the Western Conference semis after taking a thunderous hit from
Raffi Torres
of the Sharks, which resulted in Torres' suspension for the remainder of the series.
On Saturday, Stoll got hit early by
Dave Bolland
and that was fine with him.
"Well, you've got to get right into it," said Stoll. "You shouldn't have any doubt at all, otherwise you shouldn't be in the lineup. I didn't think about anything like that. That's why I played. Now we're moving forward, moving on."
Stoll is a key player, centering the third line. The Kings missed him.
"It's huge, to get him back," said Kings winger
Colin Fraser
. "He's a faceoff guy, he's our No. 1 penalty killer, he's always taking the big faceoffs, which is huge, especially in the NHL today.
"We missed him against San Jose, especially against a team that does so well on faceoffs. You want to have puck possession, if you're not winning, we need to chase them. He's a leader too, he's a veteran guy that's been around a long time. He's a vocal guy, an energy guy. He's good, so he's only going to get better. He missed six games, which is hard to miss, especially with a concussion because you can't really stay in shape and stuff."
May, 23, 2013
May 23
3:58
PM ET
LOS ANGELES -- The Kings' new forward lines were still a go at the pregame skate Thursday morning, meaning captain
Dustin Brown
and star center
Anze Kopitar
were on different units.
If the morning lines stand for Game 5 Thursday night, Kopitar will start with
Kyle Clifford
and
Justin Williams
, and Brown will be on the third line with
Trevor Lewis
and
Dwight King
.
"When you score two goals in 120 minutes, you got to mix it around," Brown said after the morning skate. "With Kinger and Lewis, they're both really hard-working guys with pretty good skill low. They have that two-man cycle game down pat. For us, it should be about simplifying our game, getting it into their zone and cycling. The important thing, and I mentioned this to Lewy and Kinger: it's one thing to cycle; we have to bring pucks to the net when we have the opportunity. Sometimes that's just bearing down, dropping your shoulder and going. With the size and skill we have on this line, that should be our goal."
For Clifford, it's a big promotion from the fourth line to Kopitar's line.
"It's definitely a big role, I just have to play my game, keep it simple and not change anything," Clifford said.
Dustin Penner
remained with
Mike Richards
and
Jeff Carter
, Penner having joined that duo midway through Game 4 in San Jose -- although Penner's promotion to that line doesn't mean Kings coach Darryl Sutter is completely satisfied with his play in this series.
"We need a bigger, heavier game from Dustin Penner. Very simple," Sutter said.
Stoll update
Jarret Stoll
is still not close to playing -- he hasn't even resumed skating -- but there was some news reported by Sutter on Thursday morning.
"He rode the bike yesterday for a few minutes," Sutter said. "He'll do that again today. It is protocol. Is it progress? It is if it's good today [how he feels on the bike ride]."
Sharks at Staples
The Kings have won 12 straight at home, where they're a comfortable bunch. What do the Sharks have to do to get traction here?
"I think we can build off of Game 2; we played a good enough game to win here," center
Logan Couture
said. "Obviously we took a couple of penalties at the end of that game that cost us. I think we played a really good road game that night. Hopefully we can build off that."
Veteran defenseman
Dan Boyle
agreed.
"It's important for us not to be complacent, not to be satisfied with what we've done so far," he said. "I've seen it in the past, I've been on teams where you come back a little bit in the series and then there's a letdown, you almost exhale for a second. I just think this team needs to keep going on what we've done over the past four games. We just need to keep going."
Better starts
The Sharks have had better starts three games in a row, and that's something the Kings were keying on heading into Game 5.
"I think it's based on your top guys," Sutter said. "I know we keep coming back to that, but if you look at how especially their top two lines early have been really good, we've had to sort of weed into that. That's the challenge for those groups."
The Sharks know the Kings were preparing for a big start and have also talked about that heading into Game 5.
"The first 5-7 minutes are going to be important for our team," San Jose coach Todd McLellan said. "We're going to have to get on our toes and make sure that we're aggressive and try to play those minutes in their end. I think they'll try to make the start a focal point on their behalf. We have to be prepared for it."
May, 16, 2013
May 16
9:09
PM ET
LOS ANGELES -- The
Raffi Torres
-
Jarret Stoll
hit seems to have had a bigger impact on the Sharks' lineup than the Kings in terms of line juggling.
While the Kings will insert center
Brad Richardson
straight up as a replacement for the injured Stoll on the third line, with no other parts changing in the lineup, the Sharks shuffled the deck Thursday in the wake of Torres' pending suspension:
•
Joe Pavelski
moved from his third-line center spot to the wing on
Logan Couture
's line with
Patrick Marleau
.
•
Scott Gomez
moves up from the fourth line to the third-line center spot.
• Left winger
Andrew Desjardins
moves down from the third line to the fourth line.
• Left winger
James Sheppard
moves up from the fourth line to the third line.
•
Tim Kennedy
, healthy scratch in Game 1, is inserted into the lineup as the fourth-line center.
Only
Joe Thornton
's line remains intact from Game 1. The forward lines at Thursday's morning skate:
Marleau-Couture-Pavelski
T.J. Galiardi
-Thornton-
Brent Burns
Sheppard-Gomez-
Tommy Wingels
Desjardins-Kennedy-
Bracken Kearns
The key move here is Pavelski moving up from No. 3 center to wing on the Couture line. While it improves San Jose's offensive punch in the top six, it also removes the luxury of having such a talented player on the third line.
"We discussed a lot of different options," Sharks head coach Todd McLellan said after the morning skate. "And I don't know if this is written in stone by any means. But we have to start somewhere and see where it goes. The majority of the scoring for the Kings in the playoffs have come from their top two lines. We like Pav there (on Couture's line), he's a responsible two-way guy and he has the ability to help out in the faceoff circle against a (
Anze) Kopitar
or a (
Mike) Richards
."
Few elite players in the NHL have bounced around from center to wing more than Pavelski over the years. But he says he's fine with it.
"That was a nice stretch playing center, no doubt," Pavelski said of anchoring the third line for a while. "But to be back up with those guys is exciting, it's fun to play with them. Wing, center, it doesn't matter; I'm going to get to take faceoffs and if I'm the first guy back (in the defensive zone) I'll take that center position."
Richardson is ready
As expected, Richardson replaced the injured Stoll in the Kings lineup, and on the same line. He skated between
Dustin Penner
and
Trevor Lewis
on the third line at the morning skate Thursday.
"I've been in this situation before so it's nothing new," Richardson said after the morning skate Thursday. "Stolly is a great player for us, I'm not trying to be him, I'm just going to play my game."
Richardson played the playoff opener in St. Louis but was replaced by
Colin Fraser
and hasn't played since. He appeared in 13 playoff games last spring, so he's a guy the Kings trust when they need him.
"He's played a good role for us, not always one that he's happy about because you're not using him all the time," Kings head coach Darryl Sutter said Thursday morning. "He prefers to play center. That's one thing him and I have talked about, he prefers to play center. He came into the NHL as a centerman."
The Kings' forward lines from the Thursday morning skate:
Dustin Brown
-Kopitar-
Justin Williams
Dwight King
-Richards-
Jeff Carter
Penner-Richardson-Lewis
Jordan Nolan
-
Colin Fraser
-
Tyler Toffoli
Kings dealing with injuries
A year ago, nearly as impressive as the manner in which the Kings steamrolled everyone to a Cup was the fact their lineup barely ever changed.
They were incredibly healthy, using the same six defensemen the entire playoffs, and all their key forwards were also healthy throughout.
Already this year it's different, with no
Willie Mitchell
for the entire season,
Matt Greene
barely playing, and Stoll now out. Not the same script at all.
"It's definitely different, but we're still happy with the team we have out here," star Kings blueliner
Drew Doughty
said Thursday morning. "The guys that have had to step in for those players have done a great job so far. Tonight, Richardson is coming in, he plays very similar to Stolly, he's a good two-way centerman, works hard and he's going to bang bodies. So we're happy with the team we got. I know we can overcome these things. The team that's still in here can do it."
Sutter pointed to the lockout-shortened season and compact schedule as a factor.
"The 48-game game schedule tested everybody's depth for sure," said Sutter. "Everybody that's still playing, (depth) is probably the reason. The schedule and the travel, you had to use everybody and put guys in situations. This just continues that."
The other difference is how rested the Kings were a year ago. They played short series and got lots of time between rounds to rest up. This year, they were physically tested and pushed to six games by a rugged
St. Louis Blues
squad, and the league is now trying to cram four playoff rounds into a shorter time frame.
That has an impact as well.
"You watch other series -- that Detroit-Chicago game last night, Detroit played a helluva game but in the end one team had a little more in the tank," said Sutter. "And Babs (Wings coach Mike Babcock) said, too, 'The day before we weren't very good in practice, either, we just went through a tough series and a lot of travel.' They're not machines, they're people, and we always forget about that."
May, 15, 2013
May 15
7:35
PM ET
LOS ANGELES -- It's not just one hit. It's a
Raffi Torres
hit.
And that's why it takes on a whole different meaning, for better or for worse.
Torres faces a disciplinary hearing in New York on Thursday after knocking
Los Angeles Kings
center
Jarret Stoll
out of Game 1 of the Western Conference semifinals with a hard hit, and is suspended pending the outcome.
If this had been
Joe Pavelski
leveling Stoll with the same hit, you wonder if there would even be a hearing.
But it wasn't Pavelski. It was Torres, a repeat offender with a reputation cemented once and for all last spring when he crushed
Chicago Blackhawks
star
Marian Hossa
in the first round of the playoffs.
"Questionable," Kings forward
Dustin Penner
said Wednesday when asked about the Torres hit on Stoll. "Tough position, I think everybody knows the player [Torres], when the player's not suspecting you to hit him. It's not the first time a hit like that's happened."
Kings head coach Darryl Sutter called the hit "careless."
"It's just frustrating to see that, that's all," he later added.
Predictably, both teams have vastly different views on the hit. The Sharks don't even think it merited the penalty Torres was assessed Tuesday night.
"We kind of questioned the call of a charging penalty, to be honest with you, so we were kind of shocked today to hear he has to fly to New York for the hearing, because we didn't see anything wrong on the play," Sharks captain
Joe Thornton
said Wednesday.
"It's unfortunate Jarret was hurt, but we just thought it was a clean hit," added Thornton. "We even saw it again today and we thought it was a clean hit."
The NHL obviously disagrees. For one, I think the league believes the head was the principal point of contact, and surely it also doesn't like the path Torres took to the hit.
More than anything though, this is about a player with a reputation.
Otherwise, I'm not sure this is even something the league looks at.
"I was on the ice, basically right beside it, and thought it was shoulder to shoulder, clean hit," said Sharks center
Logan Couture
. "Obviously, he was injured on the play so you hope the other guy is OK, but from what I saw, it was a clean hit.
"Right after the play happened, I was surprised there was even a penalty on the play because he didn't charge him. He was two feet away when he hit him. I think I looked back at the ref and was just shocked that there was a penalty."
Stoll was reaching for the puck and had his head down on the play, no question. But Rule 48 (illegal check to the head) protects a player whether he has his head up or not.
And that continues to be a debate in hockey circles.
"It almost seems like the player getting hit has no responsibility at all right now," said Thornton. "I think Jarret probably wasn't expecting to get hit, and it just looked like a clean hit. But it just seems the responsibility is on the hitter right now, not the receiver.
"The way I was brought up is to keep your head up," added Thornton. "When I was 6 years old, I was taught that."
Sound familiar? This was the same back-and-forth the
Montreal Canadiens
and
Ottawa Senators
had after Ottawa's
Eric Gryba
was suspended for leveling Montreal's
Lars Eller
, who had his head down on the play.
But Penner says that's not a fair comparison.
"I think that hit was fine," he said of the Gryba hit. "It's a split-second decision. You guys can slow it down to .001 milliseconds, but you gotta make that hit. And this one, you don't have to make that hit, that's probably the difference."
And whereas the Gryba hit was the catalyst for an emotion-filled series, culminating in a line brawl in Ottawa in Game 3, the Kings insist they're not going to get drawn into that.
"I think we're clearly a team that's not going to lower ourselves to retribution," said Sutter. "That's not going to come into play, that's zero. We talked about not taking retaliation or dumb penalties, that's not going to change."
"It's the playoffs, the best retribution is winning games right now," added Kings captain
Dustin Brown
.
These guys are the defending Stanley Cup champions for a reason.
"We're emotionally invested enough," said Penner. "We have a lot on the line. We want to defend our Stanley Cup, we're not going to go looking for bulletin-board material, we don't need that type of motivation."
Adding to the intrigue is that Torres and Stoll were good buddies during their time in Edmonton. Penner, who also played with Torres in Edmonton, wasn't 100 percent sure, but he thought Stoll might have been in Torres' wedding party.
It just goes to show there are no friends on the ice during the playoffs.
In the meantime, the Kings will miss Stoll. The dependable No. 3 center is a clutch veteran.
"He's a really good player for us, he was a big part of winning the Stanley Cup, really good center man, guy who plays minutes, plays special teams, so obviously our player is a little more important than theirs," Sutter said in a subtle jab at Torres.
Asked how long Stoll might be out, Sutter responded:
"How long's the series? He's day-to-day, but the series is seven games in 12 days. It's tough."
Center
Brad Richardson
figures to draw back into the lineup for the Kings.
"We have good options," said Sutter. "Brad's used to playing in our top nine, we'll figure that out."
The Stoll injury, however, further brings into focus how this season is different from last for the reigning Cup champions.
They were relatively injury-free last spring en route to the Cup, amazingly using the same six defensemen for every playoff game, and keeping their key forwards intact as well.
Already this year they lost blueliner
Willie Mitchell
for the season,
Matt Greene
hasn't come back after missing a couple of months recovering from back surgery, and now Stoll is gone.
"I've said a lot of times, that will never happen again to use the same six defensemen basically from trade deadline through the middle of June," said Sutter. "That'll never happen, it's impossible.
"But looking back on last year, we used different forwards, but we just mixed our top nine around -- they all played every game."
May, 15, 2013
May 15
7:34
PM ET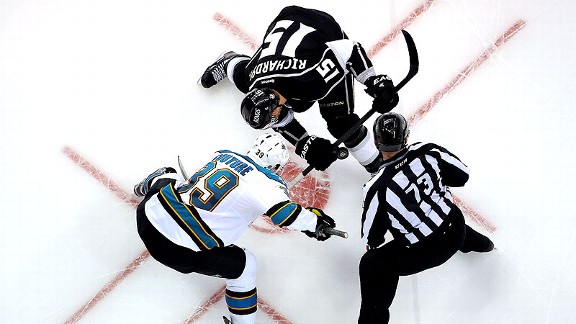 Noah Graham/Getty ImagesBrad Richardson, top, appears he will be facing off against the San Jose Sharks again.
LOS ANGELES -- Center
Brad Richardson
is the most likely player to be inserted into the
Los Angeles Kings'
lineup Thursday night for Game 2 to
replace the injured
Jarret Stoll
.
"If that's the case, I'm excited to get back in there," Richardson said Wednesday after practice. "Big shoes to fill, but I'm excited to do that.
"I've played in the playoffs before, got some experience last year, I can draw on those times, have fun and play hard."
For the
San Jose Sharks
, head coach
Todd McLellan
will need to find a replacement for second-line winger
Raffi Torres
, whose hit on Stoll led to his suspension pending a hearing at noon ET Thursday in New York (the 27-year-old
Tim Kennedy
is a good bet).
"If Raffi can't play, we've got other people that we can put in," McLellan said Wednesday. "We'll look at our lines. We'll look at how we can best use those people. There's been a number of players who have been skating and have been waiting for this opportunity. If it does come to that, we feel confident."
Injured winger
Martin Havlat
continues to skate but doesn't appear ready yet.
"I would venture to guess no," McLellan said.
KINGS' THIRD PERIOD
The Kings were outshot 16-4 in the third period Tuesday night. But Kings head coach
Darryl Sutter
wasn't overly concerned that the Kings seemed to be under siege, saying it's natural for San Jose to have pushed like it did given the score.
"It's playoff hockey. We take a 2-0 lead into the third period and it's basically even till then, power play, shots, really dead even game, and then you need your goalie to make some big saves," Sutter said. "If we were down 2-0, we'd be pushing too.
"You have to be able to manage that, and we always do."
BEATING QUICK
The Sharks found out in Game 1 what the Blues dealt with in the previous round.
Kings goalie
Jonathan Quick
is back to his Conn Smythe self.
"He's a world-class goalie," Sharks center
Joe Thornton
said. "He played well in Game 1. We'll just keep firing pucks in and hopefully a couple can sneak by him."
"We had some good looks," added Sharks forward
Joe Pavelski
. "We had some great chances. One or two of those can go in just as easy. We didn't give up much, but their chances, they capitalized on and they got the win. We have to play that same defensive style we had and compete, and there's a few areas of the game that we can be a little faster."
Sharks center
Logan Couture
said creating more traffic in front of Quick is paramount heading into Game 2.
"More traffic, more shots in succession," Couture said. "He's aggressive, he comes out of the blue and takes a lot of the lower net away, so shoot off him and (get) rebounds …
"He's in a zone right now. He's playing great. He's seeing everything. He's compact with the puck -- it's hitting him and it's not coming off him. But we have to find a way. In the St. Louis series, they were saying the same things that I'm saying right now. We've gotta find a way to score."
October, 28, 2011
10/28/11
1:20
PM ET
Chris Pronger's cell buzzed Tuesday morning with a text message from an old Edmonton teammate.
It was
Jarret Stoll
, who, like many, was worried about Pronger's condition after the Flyers captain left Monday night's game versus the Leafs with a scary eye injury.
"I wished him good luck. He was pretty scared about it," Stoll told ESPN.com.
Pronger's injury renewed intense debate in the hockey world about visors in the NHL.
"It's one of those things that's just going to keep happening in the game," Stoll said. "Pucks are going a million miles an hour. Sticks are flying. There's so many deflections in the game today. It's hard for that not to happen."
Stoll might just be the poster boy for change. After playing the first eight pro seasons of his career sans shield, the 29-year-old center for the
Los Angeles Kings
is wearing a visor this year.
"The last couple of summers I tried one on and had it on for a couple of weeks but didn't stick with it," Stoll said. "This summer I told myself, 'I'm going to put it on; I'm going to keep it on and I'm not going to think about it.' I told the trainers to not let me take it off and I've just kept going with it."
He had some close calls the last few years. His mother was on him, as was his girlfriend, as was his sister. And Manny Malhotra's scare last season made an impression, too.
"Yeah, all those things for sure," Stoll said. "Everybody in my life had been on me. It was about time. You got to be smart."
The biggest complaint from players who try it and ditch it is that the adjustment is too big. Some complain of depth perception issues, others that the visors fog up too much.
"It took me 2-3 weeks and then I wasn't even thinking about it," Stoll said. "Yeah, you're going to have to wipe it down with a towel. And you'll get nicks on the visor. But hey, we can get new visors in the NHL. That's not a big deal."
Just a few games into the preseason, Stoll was reminded why he made the right decision.
"I got a puck to the side of the visor," Stoll said. "It may not have hit my eye but it would have hit my face. It was pretty eye-opening."
As for the solution for the entire league? Stoll feels it's a no-brainer that players coming into the league should be forced to keep their visors on, and current players can be grandfathered.
"Change happens. Things evolve," Stoll said. "You have to realize it could be you. It might be too late before you realize that."
The NHLPA cannot mandate this over its players. It's clear in the union's constitution that players must approve that kind of change. All the NHLPA leadership can do is continue to educate its members on safety issues. The NHLPA says the use of visors is at an all-time high, 68 percent, but that its feedback from members continues to be that individual choice should remain. At least until the union does another survey, and maybe that will finally change. It if doesn't, maybe it's time for NHLPA executive director Don Fehr to be like the parent who puts sunscreen on his unwilling child. It's a pain in the butt, but it's for the child's own good. Don't just educate, but forcefully make your point to the players.
Should we go back and allow players to make an individual choice on wearing helmets?
Come on people, let's wake up.
Penguins Find A Way
[+] Enlarge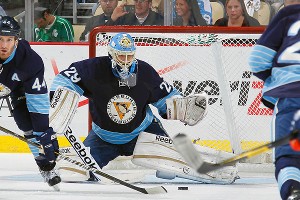 Gregory Shamus/NHLI/Getty ImagesWho needs Sid The Kid when Marc-Andre Fleury and his cohorts are playing at this level?
Just how the
Pittsburgh Penguins
entered this weekend first overall in the NHL standings with their injury-riddled lineup is nothing short of ultra-impressive.
OK, they've played more games than any other team in the league, but still, to be 8-2-2 entering Saturday's game at Toronto while missing key pieces is something to marvel at.
"We've had some good wins," Penguins GM Ray Shero told ESPN.com on Friday. "We're always playing games without that guy or this guy. Honestly, our expectation is to win; it doesn't matter who's in the lineup. We play a certain way; we're getting great goaltending, and our penalty killing has obviously been very good [tops in the NHL] to start the year, and it's added up to some wins for us."
Shero paused for a moment when we asked him if he remembers the last time he had most of his lineup together,
Sidney Crosby
included.
"Man oh man, I think maybe New Year's Day in the rain?" Shero said. "Or maybe Jan. 5 last season? It's certainly the last time we had the three centers."
The waiting game continues on No. 87.
"There's no rush on this thing; there's no timetable," Shero said. "Sid will let us know when he feels right, 100 percent and confident. And when he does, we'll put him in a game."
Remove The Trapezoid
Two years ago, Doug Wilson tabled an agenda item at the GMs meeting that garnered very little support: removing the trapezoid.
Turns out he may have been somewhat of a visionary.
Since then, more and more scary collisions are happening between defensemen and oncoming forecheckers, and Wilson remains adamant that removing the trapezoid and allowing goaltenders to freely play the puck in the corners would alleviate some of those collisions on icing and delayed offside situations.
"We feel really comfortable in maintaining that position," Wilson told ESPN.com this week.
He stopped short of saying he would table it again for the GMs meeting Nov. 15 but was confident it would likely be brought up in conversation.
We're with Wilson on this one. Let the goalies roam free, and let's minimize those needless collisions between defenseman and forechecker.
Jets Trades
The
Winnipeg Jets
are off to a so-so start, but regardless of how this season shapes up, any transaction the club pulls off will not -- in any way -- mortgage the future.
You might see a deal that helps both now and tomorrow, but not a trade that in any way sacrifices the long-term planning.
And we suspect later in the season, when the Jets do look at making a deal or two, they'll deal from their surplus on defense.
GMs on Twitter
We applaud GMs Scott Howson and Mike Gillis for being on Twitter. It made us wonder just how entertaining Brian Burke might be, especially unfiltered.
"Amazingly, people in the organization are pushing me to tweet," Burke told ESPN.com via email Friday. "Right now, I only tweet when I have beans for supper."
Hence, why we need this guy on Twitter.
Have a great weekend, folks.
September, 19, 2011
9/19/11
6:46
PM ET
Jarret Stoll
talks to Pierre LeBrun about training camp, offseason moves,
Drew Doughty
's holdout and the upcoming season
September, 19, 2011
9/19/11
6:04
PM ET
EL SEGUNDO, Calif. -- Kings head coach Terry Murray stressed Monday that
Jonathan Quick
is the No. 1 goalie on his team after a standout year last season. But he also opened the door a little in saying the emerging
Jonathan Bernier
has a chance to push.
We asked once again, just to be clear, whether the Kings coach was saying that he would go with the hot hand in goal.
"That is what I'm saying yes," Murray said. "Quick is our No. 1 guy and, every game he played last year, he was outstanding. You know how every point and every game is in this league, the ones in the first quarter are just as important point-wise as the second quarter. So I'm going to go with the guy that's playing really well. Quick will be the starting goaltender coming out of training camp and that's how we'll deal with it moving forward."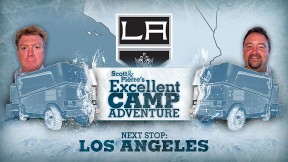 ESPN.com
Murray said last year at this time, he penciled in which goalie would start from the start of the season through Christmas. This time around, he's left it more open. Quick is already a proven No. 1 netminder; Bernier is franchise goalie material. This is a great problem to have if you're an NHL team, but it still warrants monitoring as the season goes on.
Still no Doughty
Day 4 of Kings' camp and still no
Drew Doughty
as the defenseman remained unsigned.
With each passing day, the concern intensifies in terms of planning for the Kings.
"I've been through it before with other players in the past," said Murray. "Some have turned out to be the right decision to miss training camp and get the deal done and come in in great shape and ready to go. And a couple of other guys I remember it's a concern coming back in after missing a lot of time with your teammates and practice and the extra work that we do with the skating.
"But the bottom line is, I have to get the team ready to play. I have players on the ice that are getting themselves in that position, they're hungry. We've got a bunch of young guys here that are looking for an opening and want to play. If Drew Doughty is not able to get signed right away, then I have to find that player that is going to take up some of those minutes."
Rumors in cyberspace over the weekend had the Kings in talks to trade Doughty. General manager Dean Lombardi laughed Monday when asked about that.
"I'm not trading Drew Doughty," Lombardi said. "He's going to be a franchise player."
Murray added that contract negotiations are all part of the business.
"Hey, I miss Drew Doughty, believe me," said the Kings coach. "He's a great player. He's going to be here one day. I miss him here in the locker room because he always has a smile on his face, he's a happy guy to be around. But this is the way the business is. And I understand it is a business, so I hold no animosity towards Drew Doughty whatsoever. When he comes in, I'm going to give him a big hug and say, 'Let's get ready to play hockey.'"
Stoll's visor
It was notieable on Monday that
Jarret Stoll
was wearing a visor. While he has never worn one in his pro career, Stoll said he would try to stick with it after the scary eye injury Canucks forward
Manny Malhotra
suffered last season.
"I'm already used to it," he said.
Stoll said he had a few close calls last season, which was another factor in his decision. Not to mention his mom bugging him to wear one, he said with a chuckle.
April, 15, 2011
4/15/11
2:30
AM ET
SAN JOSE, Calif. --
Jarret Stoll
's controversial hit on
Ian White
was a popular topic in the aftermath of San Jose's thrilling 3-2 overtime win over Los Angeles in their first-round opener Thursday night.
Stoll hit White from behind into the end boards in the second period, knocking the dazed Sharks blueliner out of the game. There was no penalty on the play, but replays showed there likely should have been a boarding call.
"I don't like it," Sharks defenseman
Dan Boyle
said of the hit. "I didn't like it the first time around, and I don't like it on the replay."
The NHL's head office in Toronto was reviewing the play.
"They should," Boyle said. "I don't know that Stoll is that kind of a guy but that's exactly what we're talking about and trying to eliminate [from the game]. The guy's head is this far from the boards, and you drive your forearm and elbow in there? That's what they're trying to get rid of. I didn't like it."
Stoll said he didn't expect a suspension since there wasn't a penalty on the play.
"He was a little low there," Stoll said of White. "I don't know what he was doing, if he was reaching for a puck or what. He was right against the boards, too, and he was a little low. I just finished my check on him, and it ended up pretty bad for him. I hope he's all right. You hate to see a guy get hurt, regular season or playoffs. I definitely wasn't trying to hurt him."
Sharks coach Todd McLellan was especially upset there was no penalty on the play.
"We saw a really good angle," he said. "The good news for us is that the league is looking at these type of things; they take it very seriously. And it will be dealt with. The bad news is we lost a very good defenseman that we count on. The rest of it is unfortunate because Jarret Stoll is a hell of a player. He ended up taking 20-25 faceoffs tonight and played 23 minutes. And we had to play with five defensemen. It's disappointing that it was missed on the ice, but it's in somebody else's hands, and we know it's a serious thing the league is looking at."
Stoll isn't a dirty player but that's the kind of play involving a head shot that the NHL is trying to weed out, so he faces at least a fine if not a suspension.
White, meanwhile, is obviously questionable for Game 2.
"We'll see how he is in the morning. He's not feeling real good," McLellan said.
April, 1, 2011
4/01/11
5:02
PM ET

Stock Up
Ryan Getzlaf, Anaheim Ducks: Most of the attention in Anaheim lately has gone to Corey Perry (13 goals in his past 10 games and firmly in the thick of Hart Trophy discussion) or netminder Ray Emery, who has resurrected his career. But let's not overlook the play of Perry's longtime linemate, center Ryan Getzlaf. It's no coincidence Getzlaf is adding assists the way Perry is collecting goals -- he has two goals and 14 helpers in his past 10 games. The Ducks, meanwhile, look like a sure bet to qualify for the postseason with 12 wins in their past 15 contests.
Zdeno Chara, Boston Bruins: Zdeno Chara's play of late has been overshadowed by the controversy surrounding the big defenseman's hit on Montreal's Max Pacioretty. Yet, in the absence of a clear-cut Norris Trophy favorite, the former winner has put himself back in the conversation with terrific play down the stretch. Only Anaheim's Lubomir Visnovsky, another dark horse Norris candidate, has more than Chara's nine points in the past three weeks. The Bruins captain continues to average 25:31 a night in ice time (sixth in the NHL), and Boston remains the top defensive club in the Eastern Conference and second only to Vancouver overall.

Stock Down
Miikka Kiprusoff, Calgary Flames: Always dangerous to blame a goaltender when a team hits the wall as the Calgary Flames have. Still, Kiprusoff's 2-4-0 record over the past couple of weeks of must-win games for the Flames just doesn't cut it. Over that span, he has turned in an .864 save percentage and 3.74 goals-against average. Those kinds of numbers spell an early tee time once again for the Flames.
Jarret Stoll, Los Angeles Kings: With Justin Williams and Anze Kopitar on the shelf with serious injuries, the Kings are going to be looking for some of their veteran players to pick up the slack if they're going to first hold on to a playoff spot and make a move in the postseason. That would mean guys like Stoll, who has 19 goals this season but has managed to dent the twine just once in his past 13 games. That's not going to get it done come playoff time, that's for sure.