Cross Checks:

Jason Akeson
May, 1, 2014
May 1
1:18
AM ET
By
Mike Mazzeo
| ESPN.com
NEW YORK -- Two words said it all.
After his team was eliminated from the playoffs by the
New York Rangers
,
Philadelphia Flyers
winger
Jakub Voracek
was asked what the difference in the series was.
"One goal," he replied.
Two words. So simple. So accurate.
And so painful to swallow.
Philadelphia's season started with a stunning coaching change and a franchise-worst 1-7 start, and ended with a 2-1 loss to New York in Game 7 on Wednesday night at Madison Square Garden.
"Everyone feels lousy, obviously, but I'm proud of our players," said
Craig Berube
, who took over behind the bench after Peter Laviolette was fired just three games into the season.
"They went through a lot this year. We were stuck in a hole for awhile, and they battled out of it and stuck together. There's a lot of character in our locker room."
The difference in Wednesday night's game was one goal, and three words: the second period.
Following a scoreless opening frame, the Rangers tallied twice in the second, getting goals from
Daniel Carcillo
and
Benoit Pouliot
and outshooting the Flyers, 18-5.
[+] Enlarge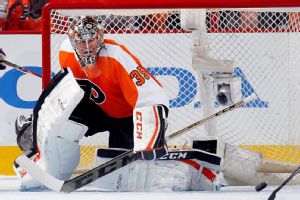 Bruce Bennett/Getty ImagesSteve Mason proved to be one of the key parts of a solid young core in Philadelphia.
Flyers captain
Claude Giroux
, who scored 28 goals during the regular season and two more in the playoffs, had a chance to get his team on the board with four minutes left in the middle frame. But with Rangers goalie
Henrik Lundqvist
down and the top half of the net open, Giroux fired high.
"I was trying to get away from their D, and I'm not sure if (
Anton Stralman
) got his stick on it," Giroux said. "I shot up high because the goalie was low."
The Flyers got within a goal in the third when rookie
Jason Akeson
tallied his second of the postseason, but that's as close as they would come.
"It's the worst feeling ever," Voracek said. "You come so close, do-or-die and lose that critical Game 7. That's hockey. We got to make sure and learn from it and use it in the future."
In the end, the power-play may have done the Flyers in: they went 5-for-8 in their three wins, 1-for-13 in their four losses.
"Special teams are important," said
Vincent Lecavalier
, whose team killed off 21 straight Rangers power plays to end the series but still lost. "They were aggressive and they played well on the PK tonight."
Throughout a Stanley Cup drought that has now reached 38 years, Philadelphia's Achilles heal has always been goaltending, but even in the loss
Steve Mason
proved he might be the one to change that. After missing the early part of the series due to a concussion, Mason started the final four games, compiling a 1.97 goals-against average and a .939 save percentage.
He made 31 saves in Game 7, several of them -- including his highway robbery of
Derek Stepan
at the doorstep in the second -- of the highlight reel variety.
If Mason were healthy throughout the series, who knows, maybe the Rangers would be the team going home.
"From the time he took over until now, he's really developed into a terrific goalie," Berube said of Mason.
With a young core in place that features Giroux (26 years old), Mason (25),
Wayne Simmonds
(25), Voracek (24), Akeson (23),
Sean Couturier
(21) and the Schenn brothers (Luke, 24 and Brayden, 22), the Flyers appear primed to be a playoff contender for years to come.
Still, they're going to have to solidify their defense. And when it comes down to it, their goal-scorers are going to have to score goals in the biggest games.
Historically, they have. This time they came up short.
One goal short.
"For a young team, I think it's great. This is only going to make it stronger," Giroux said.
April, 20, 2014
Apr 20
5:05
PM ET
NEW YORK --
Philadelphia Flyers
rookie
Jason Akeson
has the sort of skill, spunk and confidence that can make him a dangerous player in the playoffs, even with his utter lack of experience.
He possesses another important attribute, one that has already helped him in the series, and one that will certainly aid him throughout what could be a long NHL career ahead.
[+] Enlarge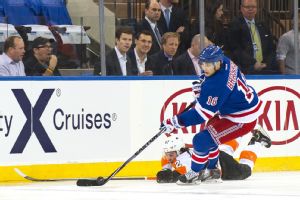 Cal Sport Media/AP ImagesJason Akeson fell short against Derick Brassard and the Rangers in Game 1 but made up for it on Sunday.
"He's got a short memory," said Flyers winger
Jakub Voracek
. "That's what you have to have to be successful in this league."
That much was abundantly clear when Akeson delivered the Flyers' game-tying goal in the second period, ripping a rebound into an open net at the left post in what was a terrific come-from-behind effort that allowed the Flyers to top the
New York Rangers
4-2 on Sunday and send the series back to Philadelphia tied at one game each.
Akeson, of course, had the dubious honor of being the Game 1 goat after taking a costly double-minor high-sticking penalty on forward
Carl Hagelin
on Thursday that resulted in a pair of power-play goals for the Rangers. The crushing mistake came in his NHL playoff debut. Previously, he had played in two NHL games in his career.
And what was worse? He had otherwise played a really good game, providing the team with the type of energy and jump that was largely lacking in their opening game against their Metropolitan Division rivals.
"I think he was the best player on the ice in our first game, to be honest," said Voracek, who was held without a shot in the loss. "That happens and it's unfortunate, but he's a very good player and he has a good mindset."
Indeed, the 23-year-old didn't hide from the media after his game-changing gaffe. He didn't sulk, even when coach Craig Berube was candid in his blunt assessment of the mistake.
"He's got to be better with his stick," he said after Thursday's game. As such, Berube showed no hesitation going back to the young forward, inserting him in Sunday's starting lineup with linemates
Matt Read
and
Sean Couturier
and using him again on the power play.
"Should I sit out everybody that takes a penalty?" Berube said, joking, Sunday. "I understand he took a four-minute penalty, but he played well and it was a mistake. He's a good player. He's played well for us."
Akeson, who spent 70 games playing with the AHL's Adirondack Phantoms this season, admitted he got a boost knowing that Berube "had his back." His teammates also told him to shake it off and move on to the next game. Judging by his performance, he did that expertly.
"It's obviously not a fun thing to go through, but you don't dwell on it," Akeson said. "You move on and focus on Game 2."
Akeson said he went into Sunday's action with a little something to prove, wanting to atone for Thursday's slip-up. But that didn't temper his intensity or the edge he played with on the ice.
"This time of year, you have to think about the next shift, the next time you're out there," said Couturier. "You can't think about what happened in the past, because it's going to haunt you down. I think he responded really well tonight."
April, 20, 2014
Apr 20
3:02
PM ET
NEW YORK -- The
New York Rangers
squandered a 2-0 lead as the
Philadelphia Flyers
rallied from behind with four unanswered goals for a 4-2 win over the Blueshirts on Sunday that tied the series 1-1 and sends the two teams back to Philly for Game 3 at Wells Fargo Center.
An undisciplined and defensively porous Flyers team was exposed in the first period, but recovered in the second to become the aggressors in the latter half of the game.
Philly's penalty-killing effort was superb, limiting the Rangers to just one goal in six power-play opportunities for New York. Anchoring the Flyers in net, backup netminder
Ray Emery
delivered a fine 31-save performance to prove himself capable of handling the load with regular starter
Steve Mason
on the shelf with injury.
Mason, who has missed the first two games of the series, is hoping to make his return in Game 3, but Flyers coach Craig Berube may have a difficult decision on his hands once Mason returns to good health.
Redemption shot:
Flyers rookie forward
Jason Akeson
got a sweet taste of redemption Sunday afternoon, with his rebound goal on a gaping net to knot the score at 2 in the second period. Akeson had a rough night in his NHL playoff debut in Game 1 on Thursday, taking a double-minor high-sticking penalty on
Carl Hagelin
that resulted in a pair of power-play goals for the Rangers. Nonetheless, Flyers coach Craig Berube expressed faith in the youngster, going right back to him on Sunday. Akeson started the game with linemates
Matt Read
and center
Sean Couturier
and continued to receive power-play time as well. His power-play marker at 5:45 on Sunday was his second career goal in only his fourth NHL game.
Fast and loose:
The NHL's most penalized team through the regular season was, unsurprisingly, not very disciplined once again. The Flyers gave the Rangers' special teams plenty of work in the beginning of the game, putting them on the power play three times in the opening frame, twice on ill-advised offensive-zone penalties. The Blueshirts capitalized on only one of those man-up opportunities, when
Benoit Pouliot
's flubbed shot from the right circle beat Emery for a two-goal lead at 8:22. That goal highlighted another major problem area for the Flyers: They gave the Rangers entirely too much room on the ice to execute the type of cross-ice feeds that set up Pouliot and resulted in
Martin St. Louis
' first playoff goal of the series earlier in the period. The Flyers failed to clog up the passing lanes and paid for it dearly as the Blueshirts jumped out to a 2-0 lead.
There they are:
Largely ineffective in Game 1, the Flyers' first line came alive late in the first period with an expert rush that allowed them to cut the Rangers' lead in half at 2-1. Sprung by linemate
Scott Hartnell
, skilled winger
Jakub Voracek
blew past defenseman
Ryan McDonagh
(how rarely does that happen?) and beat Lundqvist for his third career playoff goal with 5:46 remaining in the first period. Voracek and first-line center
Claude Giroux
were both held without a shot in Game 1 on Thursday.