Cross Checks:

Jason Arnott
November, 5, 2013
11/05/13
2:13
PM ET
From the official NHLPA release:
JASON ARNOTT RETIRES FROM NHL AFTER 18 SEASONS
…Stanley Cup-winning goal scorer played in 1,244 NHL Games
TORONTO (November 5, 2013) –
Jason Arnott
, a veteran of 18 National Hockey League (NHL) seasons, a Stanley Cup champion, and a 12-time 20-goal scorer – including three seasons when he scored over 30 goals – officially announced his retirement from the NHL today.
Arnott played for six teams – Edmonton, New Jersey, Dallas, Nashville, Washington and St. Louis – in his NHL career. He played in 1,244 NHL games, while scoring 417 goals, 521 assists and 938 points, and recording a plus-minus of +81 and 1,242 penalty minutes. Arnott's career was highlighted by his Stanley Cup-winning goal for the
New Jersey Devils
in double-overtime in game six of the 2000 Stanley Cup Final against the
Dallas Stars
.
"I would like to thank everyone who helped me throughout my NHL career, including my family, friends, teammates and fans. Playing in the NHL was my dream, and I am very proud and appreciative of the fact I was able to play at the highest level for 19 years, with the best players in the world," said Arnott. "Each of the teams I played for provided me with great experiences and memories, and our Stanley Cup team in New Jersey certainly stands out among all of them."
A native of Collingwood, ON, Arnott was selected 7th overall in the 1993 NHL Entry Draft by the
Edmonton Oilers
following his junior hockey career with the Oshawa Generals.
In 1993-94, Arnott achieved immediate results in his NHL rookie season, scoring 33 goals (a career-high total he would later match in the 2008-09 season) and 68 points while recording 104 penalty minutes that earned him NHL All-Rookie Team honours. He scored his first career NHL goal on October 6, 1993 against the
San Jose Sharks
in his first NHL game. Arnott reached the playoffs for the first time with the Oilers in 1996-97 when he played in 12 playoff games and recorded nine points. After playing four-plus seasons in Edmonton, he was traded to the New Jersey Devils on January 4, 1998.
While with the New Jersey Devils, he had great postseason success. Following the Stanley Cup championship in 1999-00, he helped the Devils reach the Stanley Cup Final again in 2000-01. Over those two postseasons, Arnott played in 46 games and scored 16 goals and 35 points.
Following four years in New Jersey, he was traded to the Dallas Stars on March 19, 2002. Arnott was a key offensive contributor in Dallas, averaging 52 points in 73 games in his first two full seasons with the club before breaking out for a career-high 76 points in the 2005-06 season. He played four seasons in Nashville after signing with the Predators in 2006. During that time span he averaged 57 points, more than 26 goals and over 68 games played each season.
On June 19, 2010 he was traded back to the Devils from the Predators. After splitting the 2010-11 season between the Devils and the
Washington Capitals
, where he was traded on February 28, 2011, Arnott played the 2011-12 season with the
St. Louis Blues
. In his final NHL season, he played 72 games, scored 17 goals and 34 points, and helped the Blues reach the playoffs.
Throughout his career, Arnott was one of the top power forwards in the game. Listed at 6'5" and 220 lbs., he used his size to play a physical game that was complemented with a consistent scoring touch as evidenced by his career average of scoring 23 goals each season, along with 145 career power play goals. A two-time NHL All-Star (1997, 2008), he also was a key contributor to successful teams in his career, illustrated by his 64 game-winning goals and the 13 playoff teams he was a part of – including one Stanley Cup winner and one Stanley Cup finalist. Over the course of his career, he played in 122 NHL playoff games, scoring 32 goals and 73 points.
Internationally, Arnott helped Canada win the gold medal at the 1994 World Championship.
August, 3, 2012
8/03/12
10:50
AM ET
October, 26, 2011
10/26/11
2:09
PM ET

1. Visor controversy: Why aren't players stepping up?
Anyone who's spent any time around National Hockey League rinks understands that hockey players are for the most part considerate, thoughtful people. There are many forward-thinking, articulate players who can expound on any number of topics. Which makes it all the more mystifying when we see something as ghastly as
Philadelphia Flyers
captain
Chris Pronger
taking a stick to the eye and learn that he will miss two to three weeks with an injury that could have been significantly worse, and those same players continue to debate such an important issue.
Worse, how could a group of professional athletes go back and forth on this same health and safety issue for so long? Players have resisted efforts to impose a mandatory introduction of visors. Remember
Bryan Berard
? The first overall pick in the 1995 draft and former rookie of the year was clipped by Marian Hossa's stick on March 11, 2000, in a game between Berard's
Toronto Maple Leafs
and Ottawa. Berard returned to action but with only partial vision in one eye. Who knows what his career might have amounted to had he been wearing a visor?
More than a decade later, the most important person to the Flyers' dreams of a Stanley Cup was involved in an eerily similar play. The NHL has been clear in its position that it wants all players to wear visors. That position has been articulated for many years. But the league has been rebuffed at every turn. Isn't it time new NHLPA executive director Donald Fehr and his right-hand man,
Mathieu Schneider
, drag the union's membership out of the dark by insisting that language be written into the new collective bargaining agreement next summer to introduce mandatory use of visors?
Isn't it time that the players, who benefit from all hockey-related revenues, take a proactive role in protecting not only their membership but their livelihood as well? We would go so far as to suggest that the new language be all-encompassing and not allow for grandfathering, as was the case when players were forced to start wearing helmets in the late 1970s. Some in the league chose not to don a hat and could continue to do so, à la Craig MacTavish. It's only common sense. Sadly, it was just common sense more than a decade ago.

2. Khabibulin's netminding making all the noise
A tip of the old blocker to veteran netminder
Nikolai Khabibulin
, whose career looked to be in shambles both physically and emotionally after last season. The veteran netminder was hampered by ongoing back issues, then was arrested for extreme drunken driving in the Phoenix area while rehabbing in February 2010.
Khabibulin ultimately was sentenced to 30 days in Arizona's famous "Tent City" jail. (He was released after spending two weeks there.) At the time, we suggested the league should have stepped in and added its own penalty to Khabibulin for having endangered the lives of not just himself but also anyone who happened to be on the streets at the time he was driving with a blood-alcohol level twice the legal maximum in Arizona. The league chose not to go that route, and those close to Khabibulin told us we had been unfair in our criticism; he paid his penance, and the worst penalty was the shame of having his teenage daughter read about the incident and the fallout. Khabibulin said as much to reporters when he reported for training camp in Edmonton.
Was there a better way for Khabibulin to show he is rehabilitated than by producing the kind of goaltending he had showed in Tampa Bay, where he became the first Russian-trained netminder to win a Stanley Cup in 2004, or in Chicago, where he helped a young Hawks team to a surprise berth in the Western Conference finals in 2009? So far, so good for Khabibulin and the youthful Oilers, who are trying to accelerate a painful rebuild process.
The Bulin Wall was on display again Tuesday, as the Oilers chased
Roberto Luongo
with three early goals, then hung on for a 3-2 victory over Vancouver with Khabibulin making 35 saves. He is now 3-0-2 with a .963 save percentage and a minuscule 0.97 goals-against average. At age 38, Khabibulin has given himself and the Oilers a new, unexpected boost early on this season.

3. Old-man Arnott still has game
I have to admit that of the many offseason shufflings, we expected the addition of veteran forward
Jason Arnott
by the
St. Louis Blues
to have little impact. Arnott, who recently turned 37, has bounced from Nashville, where he was captain, to New Jersey to Washington and now to St. Louis -- all since the 2009-10 season.
Although he had moments in Washington this past spring when his veteran savvy was expected to help the Caps get over the playoff hump, his brief tenure there was ultimately unsatisfying, as the Caps were swept in the second round of the 2011 playoffs. Still, the man who scored the Cup-winning goal with the Devils back in 2000 has fit in nicely with a young St. Louis team that entered this season with high expectations.
Playing mostly with versatile forward Alex Steen, Arnott leads the 4-4 Blues with three goals and four assists. Those numbers have been a pleasant surprise for GM Doug Armstrong. But what hasn't been a surprise has been the calming influence that Arnott and other veteran additions
Jamie Langenbrunner
and
Kent Huskins
have represented for the Blues.
Those veterans "have really stabilized the start of the season that's had some turbulence to it," Armstrong told ESPN.com on Wednesday in advance of a big game in Vancouver against the defending Western Conference champs.
Langenbrunner and Arnott weren't brought in to necessarily take on pivotal offensive roles, Armstrong said, but to augment a top-nine group of forwards whose success is based on scoring by committee. It's working out nicely for the Blues, who have won two in a row and now embark on a three-game western Canadian road trip.

4. Johnson living up to his billing
It's not unusual to see the pros and cons of big trades shift and evolve over time. For instance, with
Phil Kessel
scoring goals like a maniac and the Toronto Maple Leafs at the top of the Northeast Division as the regular season heads toward the one-month mark, the deal with Boston that cost the Leafs two first-round picks and a second-rounder looks at least a little less dubious.
Last season, at least early on, it looked as though the Blues had skinned Colorado in the blockbuster deal that saw former No. 1 overall pick defenseman
Erik Johnson
and two-way forward
Jay McClement
dealt to Colorado in exchange for big winger
Chris Stewart
and defenseman
Kevin Shattenkirk
.
The Avs also received a first-round pick while sending a second-round pick back to the Blues. But with Stewart tearing it up as a Blue, scoring 15 times in 26 games for his second straight 28-goal campaign while the Avs were sinking like a stone to the bottom of the NHL standings, this deal looked pretty lopsided.
Early this season, though, you'd be hard-pressed to find any regrets on either side of the deal.
Stewart has only two goals thus far, but Armstrong said the winger is being asked to turn in a more complete game, and that may mean a slight downturn in goal production, a decline that will be worth it if the Blues become a better overall team. Shattenkirk, who led all rookie defensemen with 43 points last season, has three points this season and has terrific upside.
The big righting of the scales on this deal has been in Colorado, where Johnson has been a key component of an Avs team that has surprised most observers by getting off to a 6-2 start. Johnson is leading all Avs with an average of 23:26 in ice time every night, playing mostly with veteran shutdown defender
Jan Hejda
. Johnson has five assists in eight games, and although he is minus-6, he seems more comfortable in his role as the Avs' go-to guy on the blue line, where he is called on in all key situations of the game.
"That's how we imagined him when we acquired him," GM Greg Sherman told ESPN.com this week.
We spoke to a leaner Johnson before training camp, and he said he was dedicated to being quicker this season. Sherman said the 6-foot-4 defenseman's preparation has been "outstanding."
Now all we need is a Blues-Avs playoff series to really bring this debate into focus.

5. Risk and reward of trades
Another trade that will get more than a few good, hard looks as the season goes on -- and beyond -- will be the Florida Panthers' dealing of onetime 31-goal man
David Booth
to Vancouver for veteran forwards
Marco Sturm
and
Mikael Samuelsson
. As with most trades, there's a significant amount of risk for both teams and similarly significant potential upside. In the end, though, the old chestnut is that the team that ends up with the best player is ultimately the team that wins.
The trade is a lot more difficult to discern in this situation: First of all, there seems to be little debate that the Booth acquired by the Canucks is a vastly different player than the one who scored 31 times in 2008-09. That, of course, was before Booth was decimated by a blindside hit courtesy of
Mike Richards
, then with Philadelphia.
Last season, his first full season after the hit that cost Booth a certain spot on the 2010 U.S. Olympic team, Booth's goal production dropped to 23, and he was a minus-31. He was without a goal and was minus-6 in six games this season with the Panthers. Booth had three shots and no points in his debut with Vancouver on Tuesday a 3-2 loss to Edmonton.
Florida GM Dale Tallon, in the midst of a monster makeover of the moribund Panthers, didn't think he had enough NHL talent on his lineup and so decided Booth was expendable. Booth is owed an annual salary of $4.25 million for three more years after this season, and that's where it gets dicey for the Canucks.
If Booth gets back to the 30-goal level -- and playing with talent like
Ryan Kesler
, etc., who's to say he won't? -- the risk will have been worth it to the Cup-hopeful Canucks. But if he can't -- and recent history suggests it will be a major coup if he does get back to that level -- the Canucks will find themselves with yet another burdensome contract courtesy of the Panthers for the foreseeable future.
The issue with Booth is that he is a goal scorer. He doesn't kill penalties, and he's not likely to evolve into a top setup man. If he can't score, he'll join defenseman
Keith Ballard
, who was in and out of the Canucks' lineup last season, as players who could stifle the team's evolution. Ballard also has three more years after this season at a $4.2 million cap hit. That's a lot of money committed to two guys whose long-term usefulness is in question.
As for the Panthers, Sturm and Samuelsson can add some offense and, in Sturm's case, play a variety of roles up front. But their chief value is that they'll disappear from the Panthers' books as unrestricted free agents at the end of the season. With a handful of key prospects like
Jonathan Huberdeau
, Nick Bjugstad, among others who are expected to challenge for roster spots, that's not a bad thing.
March, 26, 2011
3/26/11
8:56
PM ET
And then there were four.
The NHL's original plan to have six of its teams open the regular season overseas next season has been downsized to four, sources told ESPN.com Saturday.
The Edmonton Oilers and Washington Capitals, part of the original six teams asked to go over, are no longer in the mix. The New York Rangers, Los Angeles Kings, Anaheim Ducks and Buffalo Sabres remain slated to open next season in Europe.
But certainly not in Russia. As reportedly earlier this week, talks between the KHL and NHL have fallen through and there won't be any Premiere Games in Russia as originally hoped. That's why Alex Ovechkin and the Caps are no longer in the Premiere Games mix. They were only a fit if Ovechkin could play a game in his home country.
And here's where it gets interesting. While KHL president Alexander Medvedev said this week in Russia that the NHL had asked for too much money and that's why the games are a no-go, two sources told ESPN.com Saturday that another reason for the collapse in talks was that Medvedev was "resistant" to the notion of two NHL teams playing each other in Russia. Instead, the KHL president wanted the two NHL teams to face off against KHL clubs. A total no-go -- the point of the Premiere Games is to feature regular-season NHL games between NHL teams.
Look for Stockholm, Helsinki and possibly Berlin to be in the Premiere Games mix as host cities next fall.
Bruins' concussion issues
Wish I had better news to forward on the
Marc Savard
front, but it's quite the opposite. A source told ESPN.com Saturday that the concussed Bruins center is having "real memory problems and he's quite worried about it."
Just another reminder how serious the concussion issue is around the NHL. Savard's career is in serious doubt and that's just not right.
I bring this up because I'm uncomfortable with the way Mark Recchi got off the hook pretty lightly this past week for his comments doubting the severity of Max Pacioretty's concussion in Montreal. Yes, Recchi later explained it was a move to take the heat off teammate Zdeno Chara ahead of his much anticipated rematch with the Canadiens.
And Recchi, a player who is tremendously respected around the league by players and media alike, has always treated the game with respect. But he still crossed the line in this instance. Concussions are a critical issue in this league; Recchi knows that first-hand from Savard's trauma, and publicly questioning the degree of an opposing player's head injury just isn't right. Period.
Let's put it this way: Had Sean Avery made those comments instead of Recchi, what would the fallout have been?
Murray's future in Ottawa
The
Ottawa Senators
are winding down a disappointing season, although they've played much better of late. Soon the club will need to decide on its direction at GM. Will Bryan Murray stay or go?
"Nothing's been decided," Murray told ESPN.com Saturday. "But there will be further discussion near the end of the season with ownership."
Murray still has to decide if he wants the job moving forward, a decision he continues to weigh every day. My guess? I think he wants to come back. Having this kind of season isn't the way the veteran GM wants to go out. Of course, owner Eugene Melnyk has to want him back and that's not clear at this point.
Helping Murray's case of late is the trade, and signing, of Craig Anderson. The netminder has been outstanding since arriving in Ottawa and it appears Murray has made a shrewd move on that front.
Sakic in Avs' front office
So, what does
Joe Sakic
's front-office appointment mean exactly? Look at it as a
Steve Yzerman
-type scenario, a source told ESPN.com Saturday. Yzerman soaked in three years of front-office life in Detroit before deciding whether or not a GM job was something he really wanted to pursue. The idea is that Sakic will also try to be a sponge and soak in as much as he can over the next few years. From a PR point of view, a brilliant move by the struggling Avs, very much akin to John Elway joining the Broncos' front office.
Both are mega-brands in Denver.
This and that
There haven't been any contract talks yet on the Zach Parise front and there won't be until the offseason, a source told ESPN.com Saturday.
The Caps expect both Ovechkin and Jason Arnott back sometime this week.
The Canadiens and Andrei Markov's agent Don Meehan have agreed to wait until after the season to talk contract.
The Isles will wait until after the season to figure out Jack Capuano's future as coach, but I'd be shocked if he wasn't back next season. The Isles have had a terrific second half, and he's a big reason. Islanders fans should be excited about next season.
Shea Weber and the Predators will also wait until after the playoffs to continue their contract talks. They had serious talks last month but will now delay things so the Preds captain can focus on the task at hand.
March, 1, 2011
3/01/11
8:01
PM ET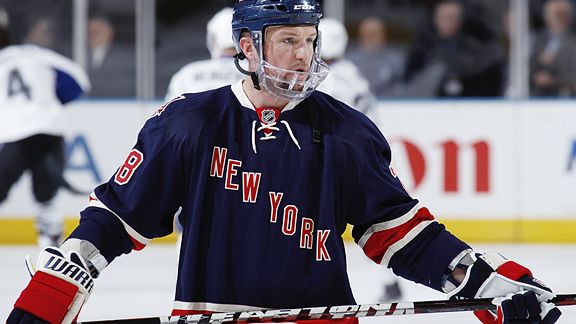 Scott Levy/Getty ImagesNo longer wearing the 'C' for the Panthers, Bryan McCabe may get a chance to play his first playoff game since 2004.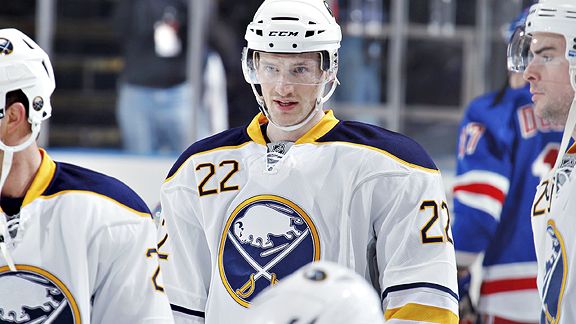 Scott Levy/Getty ImagesBrad Boyes gets to know his new Sabres teammates after getting traded by the Blues.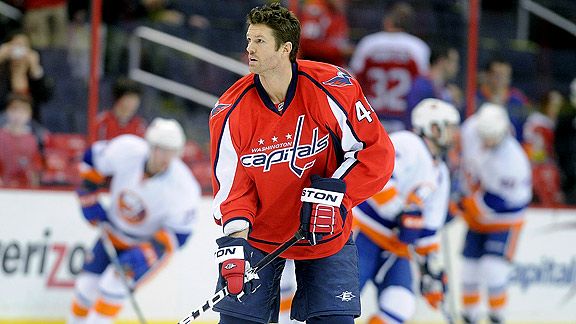 Greg Fiume/Getty ImagesJason Arnott waived his no-trade clause in order to be traded to the Capitals.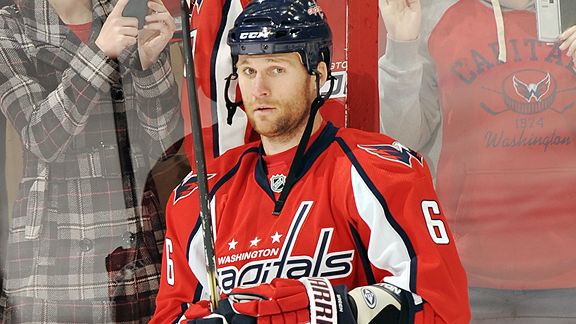 Mitchell Layton/Getty ImagesDennis Wideman gets his first look at the Washington crowd as a member of the Capitals.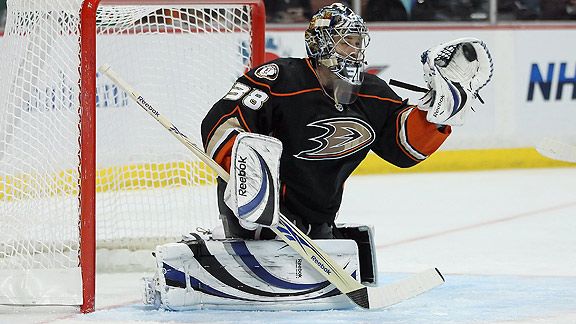 Jeff Gross/Getty ImagesStill wearing his pads in Tampa Bay colors, Dan Ellis took his place in net for the Ducks.
January, 8, 2011
1/08/11
8:58
PM ET
Los Angeles Kings fans need some good news these days, so I'm here to deliver some.
I'm told the team is on the verge of signing blueliner Jack Johnson to a multiyear extension, a deal that could be announced as early as Sunday or Monday. Look for the deal to be six or seven years in length and worth between $4 million and $4.5 million per year.
[UPDATE: Later on Saturday night, the Kings announced they signed Johnson to a seven-year deal that will carry into the 2017-18 season. The team did not officially disclose financial terms.]
Meanwhile, Kings fans keep wondering what their team will do on the trade front. I mentioned before this season that Patrik Elias is a player they've coveted; but I'm told the veteran, skilled winger will not waive his no-movement clause at this point, so he appears to be off the list.
Calgary Flames interim GM Jay Feaster has also said he will not trade Jarome Iginla. Check another name off Los Angeles' list. Brad Richards? I can't see the Dallas Stars moving him (see more on him below); the acquisition of Jamie Langenbrunner sends a message they're going for it this season. Check another one off L.A.'s list.
But there is still time before the Feb. 28 trade deadline, and the key is to watch which teams believe they're no longer in the playoff race seven weeks from now and which players they're willing to introduce to the market. But it may just be that the big-name, top-line winger the Kings yearn for just isn't available before Feb. 28.

Panthers and Vokoun
It's been assumed for so long the Florida Panthers would auction off star goalie Tomas Vokoun by the trade deadline. While that is still a possibility, you might be surprised to know GM Dale Tallon has also reached out to the Czech native's agent to talk about a contract extension.
"It's preliminary at this point, just trying to get a feel for it. We'd like to sign him at the right number," Tallon told ESPN.com on Saturday.
"We've had some discussions with Florida, they're ongoing, and we'll see what happens," Vokoun's agent Michael Deutsch told us Saturday.
Vokoun is earning $6.3 million this season (a $5.7 million cap number), and I suspect the Panthers would like to get him at a cheaper price. If contract talks fail to produce an extension, he could be moved before Feb. 28.

Stars and Richards
So, what now for the Dallas Stars? Well, the Brad Richards situation looms large. The team has not yet made a contract offer to their leading scorer and pending unrestricted free agent, but I'm told they will approach his veteran agent, Pat Morris of Newport Sports, at some point in the near future and begin the feeling-out process.

Next to leave New Jersey?
Jason Arnott is the next big name to possibly move out of New Jersey because he's the only real UFA of note left on the roster (Andy Greene is the team's other UFA). Arnott is in total charge of his situation thanks to a no-movement clause. Arnott is a competitive player who wants to win badly, so a move to a contender will likely be welcomed on his part.

W-NHL?
The NHL has retained the services for former WNBA president Val Ackerman as a consultant. She's had a few meetings with the NHL so far as the league continues to explore the merits of possibly launching a women's pro league at some point. I love the idea. Girls hockey has exploded over the past decade, especially in Canada. Let's give girls something to aspire to in terms of a pro career. There are a couple of pro leagues out there, but a new league under the NHL umbrella would legitimize the women's game like never before. Will it happen? Too early to tell.

More updates ...
• Several teams have kicked the tires on Maple Leafs defenseman Francois Beauchemin, but Toronto has not received any concrete trade offers. Beauchemin's limited no-trade clause called for him to hand the Leafs a preseason list of 12 teams he'd be willing to go to, which he did.
• I had a rival team executive tell me Saturday he believed winger Mason Raymond might be on the market in order for Vancouver to alleviate its cap issues, but a Canucks source said that was totally false and Raymond wasn't going anywhere.
• Despite all the injuries in Detroit (top-four defenseman Brad Stuart being the latest, out 6-8 weeks with broken jaw), Wings GM Ken Holland told ESPN.com on Saturday that Detroit wasn't planning on shopping for help and hoped the answer would come from within.
• Contracts talks between the Tampa Bay Lightning and Steven Stamkos' agent Don Meehan are slated to resume at the end of the month.
• Defenseman Mike Commodore, who requested a trade and then cleared NHL waivers, left the Blue Jackets from their road trip Saturday and returned to Columbus to await his fate.
"We are trying to work out a trade for Mike over the next few days," Jackets GM Scott Howson told ESPN.com via text Saturday. "Failing that, he will be assigned to the AHL."
Commodore is signed through 2012-13 with a $3.75 million cap hit.
December, 16, 2010
12/16/10
3:06
PM ET
The Feb. 28 trade deadline is creeping up on us, isn't it?
Colorado and Boston have made a few trades since the start of the season, and the Avalanche are the big winners so far (Tomas Fleischmann is on fire for them).
But otherwise, it's been predictably quiet. The salary cap and parity in the standings are forcing teams to wait until closer to the deadline to make their moves. Keep in mind there's also a holiday NHL trade freeze from Dec. 19-27 (starts Sunday).
Let's take a look at 10 players who could possibly move before Feb. 28. Repeat could; this doesn't mean they will move.

The Stars' leading scorer has been dynamite so far this season and is an unrestricted free agent July 1. Tough call for Stars GM Joe Nieuwendyk. His team sat third in the Western Conference as of Thursday morning, although only three points clear of ninth. Where he sits in the days leading up to Feb. 28 will have some bearing on his decision.
Nieuwendyk wants to re-sign Richards and remove that tough trade decision come Feb. 28. The young GM is hoping to sit down with Tony Tavares at some point after he's named Dallas' new team president to convince him to keep Richards past this season. Keep in mind Richards has a no-movement clause, so he controls his fate.

It's about saving money now in Florida, and there's little chance the rebuilding Panthers will be re-signing the veteran goalie. He has a $5.7 million cap hit this season, which is an easier pill to swallow come Feb. 28 because most of the salary has been paid. Look for GM Dale Tallon to see what's out there, but keep in mind Vokoun has a no-movement clause. He would be a big-time addition to a playoff-bound team looking for an upgrade in goal.

Kaberle's agent, Rick Curran, told ESPN.com last week that his client wasn't looking to go anywhere this season. Kaberle has a no-trade clause. He's also UFA on July 1 and clearly doesn't seem to fit in Toronto's future plans. Unless Kaberle and Curran have a change of heart (which is possible closer to the deadline), the Leafs may their asset for nothing after the season. Best chance for Toronto is a big-time contender calls just before Feb. 28 and entices Kaberle into a Cup run.

Lupul has looked good since his return from a long-term injury. That's good news for the Ducks, who could possibly try to move him in exchange for help on defense. The Ducks have nice depth up front and can afford to lose a solid forward like Lupul. But he's not UFA and he has two more seasons left on his deal that pays him $4.25 million per season, so teams may shy away.

Set to become UFA on July 1, the veteran, mercurial winger will be 38 years old once the trade deadline rolls around. His days in Ottawa won't extend past this season, that's almost for sure. GM Bryan Murray insists he's not shopping Kovalev, despite the player's public feud with coach Cory Clouston. But if the Sens are out of it come February, Kovalev (earning $5 million) might be moved, although he's in control with a no-movement clause.

Again, this depends greatly on whether the Sabres will have worked themselves back into the playoff bubble come the last week of February. Connolly, earning $4.5 million, is UFA on July 1, and given his inconsistent performance this season (13 points in 23 games) the Sabres likely aren't interested in bringing him back. He could be a nice addition for a playoff-bound team needing a power-play boost.

The 36-year-old center, earning $4.5 million, has a no-movement clause, but given how things are going in Newark these days we can't imagine that being much of an issue. UFA on July 1, Arnott has Stanley Cup-winning experience and could be a valuable commodity for teams looking for another key ingredient.

The 35-year-old Devils captain is earning $2.8 million this season and will be UFA on July 1. Does he want to go down with the sinking ship or re-energize with a playoff-bound team? Up to him. The Team USA captain would be a big-time addition in the grit and character department for a playoff-bound team. I love him as a fit on teams such as Los Angeles, Montreal or Vancouver. He could help any playoff team. But would Devils GM Lou Lamoriello move one of his favorite players?

Two years removed from a career-high 31 goals, the 23-year-old winger has disappointed and frustrated the coaching staff in San Jose. He has two goals in 22 games this season, having also missed time with injury. He's earning $1.8 million this season and is a restricted free agent come July 1. The Sharks could target a top-four blueliner before the deadline. Could they move Setoguchi to make room for such a move? They don't have to trade him, since they have all their 2011 draft picks in hand and some terrific prospects in the minors. But we know other teams covet Setoguchi.

There has been a lot of attention on Kaberle, but here's a top-four blueliner who had 46 points last season. Earning $4 million this season, he's UFA on July 1. He's the type of puck-moving, power-play blueliner that's always in demand. Of course, he'd only be available if the Hurricanes aren't close to a playoff spot come Feb. 28. Erik Cole, Jussi Jokinen and Chad LaRose are among other UFAs the Hurricanes have on their roster. If they fall out of playoff contention, some of them may move.