Cross Checks:

Jean-sebastien Giguere
October, 23, 2013
10/23/13
11:09
AM ET
Not again, Tim Thomas:
You could almost hear the groan from the Florida Panthers' management suite late in Tuesday night's entertaining tilt against the
Chicago Blackhawks
when Tim Thomas got up from the crease, limping. The veteran netminder left the game and did not return. When he's been between the pipes, Thomas has been very good, giving the rebuilding Panthers a chance to win pretty much every outing. It was so Tuesday, as Florida fell behind the defending Stanley Cup champs 2-0, but Thomas held the fort even though the Panthers were outshot 22-14 through the first two periods. The Panthers took advantage of Thomas' strong play and scored twice in succession in the third period to secure a point. Thomas ended up stopping 27 of 29 shots before leaving the game late in the third. No word yet on the extent of Thomas' injury, but it's the second time this early season he's had to leave games with an injury (head coach
Kevin Dineen
told reporters Tuesday's injury was not a repeat of an earlier groin issue), and it in some ways answers the question of what happens when a 39-year-old netminder stays away from the game for an entire season. When Thomas attended training camp on a tryout basis and then signed a one-year deal, the expectation was that he would perhaps help in the maturation of youngster Jacob Markstrom and then yield an asset at the trade deadline. And while his play suggests he still has the tools to be attractive to teams, such as the
Pittsburgh Penguins
, that might be looking to add veteran goaltending depth, the problem early on is that those tools come with significant rust. In the end, that might be enough to scare off potential suitors.
Someone has to win:
Really looking forward to the
New York Rangers
' visit to Philadelphia Thursday night in what might be called the Dung Beetle Cup. The teams, both considered to be playoff teams, have combined to go 3-12 and boast a minus-31 goal differential. The Rangers are banged up and netminder
Henrik Lundqvist
is off the rails. The Flyers can't score and fired their coach in what now seems to have been an ill-advised panic move. Flyers captain
Claude Giroux
, off to a woeful start with just three assists, insisted the Flyers can still make the playoffs. Hey, Washington looked like roadkill through the first quarter of last season and ended up winning the Southeast Division, so it's possible. If the Flyers still have a shot, so do the Rangers. But when you stink this badly, the clock starts ticking that much more quickly on kissing the season goodbye. So who takes that first shambling step forward?
This discipline thing is hard:
The supplemental discipline merry-go-round continues with what seems to be an inexhaustible lineup of miscreants looking to pay their debt to hockey society. Good thing the league's message is getting through. Or not. But as we watch
Michael Grabner
deliver a blind-side shot to the head of Carolina's
Nathan Gerbe
and get away with a two-game ban and
Cody McLeod
of Colorado go to the
Brendan Shanahan
Reform School for five games for crunching Detroit's
Niklas Kronwall
in a play that Kronwall acknowledged he was partially responsible for by turning back into harm's way, let's be honest about how the system works: the outcome of the hit is every bit as important as the hit itself. We have no problem with that.
Ryan Garbutt
was immediately offered an in-person hearing after he cracked
Dustin Penner
in the head area with a shoulder that left Penner out of it on the ice and unable to continue. Penner remains out of action. Kronwall hasn't returned since the McLeod hit while
Dan Boyle
is still out for the Max Lapierre hit that earned Lapierre a five-game ban as well, which means Garbutt is looking at about five games. Gerbe? He continued to play even though we would argue the recklessness of the Grabner hit was every bit as onerous as the others, maybe worse, given that he clearly sees Gerbe is vulnerable and in our view purposefully delivers the shot to the head anyway. Don't have a problem with punishing the outcome of the crime as much as the crime itself but let's not pretend we're doing anything else.
What would the NHLPA do?
Loved that
Matt Cooke
told our Pierre LeBrun that he would willingly help
Patrick Kaleta
change his game, even though the two have no real connection. People get tired of hearing about Cooke's reformation but the proof is in his play. We chuckled at Kaleta insisting that he's tried to change his game. Ha. Ha. Oh, you were serious. People are watching Kaleta's appeal of his 10-game suspension with great interest. Assuming that commissioner Gary Bettman, the first step in the appeals process, doesn't knock down the league-imposed 10-game penalty for yet another cowardly, dangerous hit on Columbus defenseman
Jack Johnson
(that decision was expected sometime Wednesday), the player, with the support of the NHLPA, can go to an independent third party for a final assessment -- a new wrinkle to supplemental discipline that came out of the new collective bargaining agreement. Wonder what a jury of Kaleta's peers would say? Our guess is that 10 games would just be a starting point.
A Giguere revival:
We spent some time around the
Colorado Avalanche
early this season and to say
Jean-Sebastien Giguere
was a bit of an afterthought would be an understatement. But credit to Giguere and to rookie head coach
Patrick Roy
for not falling into the pattern of simply accepting that Giguere was only going to play when starter
Semyon Varlamov
got tired or hurt. Roy told us last week the goaltending plan was initially for Varlamov to continue to draw most of the assignments through October. But Roy deviated from his original plan and ended up using Giguere in back-to-back games against Buffalo and then Monday's highly anticipated showdown with Pittsburgh. Giguere, of course, was sensational, turning aside all 34 shots in a 1-0 victory that was heavily lopsided in Pittsburgh's favor in terms of scoring chances. The veteran netminder is now 3-0 with two shutouts and suddenly a position that at the start of the season looked like it might be one of the team's weak points has turned into a much more balanced strength and key factor in the team's surprising 8-1-0 start.
That's no dud:
Interesting to see some refer to the showdown between Cole Harbour, Nova Scotia, boys
Sidney Crosby
and 2013 first-overall draft pick
Nathan MacKinnon
as a dud. True, the two small-town boys turned hockey icons didn't trade hat tricks but that was a compelling game if only for the wave after wave of pressure the Penguins brought -- led most often by the league's top point-getter, Crosby -- only to see the Avs, including MacKinnon, turn the attacks aside. While it might have lacked in scoring, this game hardly lacked for drama.
What's Hall's deal?
Whenever we talk about a player's durability or lack thereof, there's always a moment of hesitation as though by raising the issue we are somehow blaming a player for getting hurt. Now, if a player is chronically out of shape and suffers an injury as a result that's one thing, but if a player goes down as a function of playing the game the way it's supposed to be played, it does seem a bit unfair to question his value. Still, it remains a puzzler that a promising young star such as
Taylor Hall
of the
Edmonton Oilers
simply can't stay on the ice. The Oilers announced Tuesday that Hall would miss a month or so with a knee injury. The former first overall pick, who won't turn 22 until November, has already amassed a long and varied injury list that includes ankle, shoulder and concussion issues. The bottom line is that no matter Hall's potential -- and it is significant -- if he's not on the ice, that potential is worthless. As for the Canadian Olympic team, we see no way he misses this much time and makes the squad that will go to Sochi.
Not yet Miller time:
Speaking of the Oilers, it's amazing what a couple of strong outings by your goaltender -- and a couple of wins -- will do to douse a raging inferno.
Devan Dubnyk
stopped 29 of 32 shots to earn his and the Oilers' second straight win Tuesday night. The Oilers are home to a Washington team that can light it up with anyone and then are on the road Saturday and Sunday against Pacific Division foes Phoenix and Los Angeles. Let's see whether this two-game win streak is the start of something meaningful or whether we start to hear the "Bring us
Ryan Miller
" chants once again.
October, 14, 2013
10/14/13
12:11
PM ET
By
Courtesy of the NHL
| ESPN.com
San Jose Sharks
center
Tomas Hertl
, the duo of
Colorado Avalanche
goaltenders
Semyon Varlamov
and
Jean-Sebastien Giguere
, and
Pittsburgh Penguins
center
Sidney Crosby
have been named the NHL's "Three Stars" for the week ending Oct. 13.
FIRST STAR – TOMAS HERTL, C, SAN JOSE SHARKS
Hertl led the NHL with five goals in three games to help the Sharks (5-0-0) remain undefeated. He began the week by scoring four goals, capped by a highlight-reel, between-the-legs shot, in a 9-2 victory over the
New York Rangers
Oct. 8. At 19 years, 330 days, Hertl became the fourth-youngest player all-time to score four goals in an NHL game and youngest to do so since March 20, 1988, when Los Angeles'
Jimmy Carson
(19 years, 254 days) tallied four times in a 9-7 triumph over the
Calgary Flames
. The Praha, Czech Republic, native then logged 16:37 of ice-time and three shots on goal in a 4-1 win over the
Vancouver Canucks
Oct. 10 and closed the week by scoring his League-leading seventh goal of the season in a 3-2 victory over the
Ottawa Senators
Oct. 12. Hertl, the 17th overall pick by San Jose in the 2012 NHL Draft, leads all rookies and is tied for second in the League with 7-1—8 through five games this season.
SECOND STAR – SEMYON VARLAMOV/J-S GIGUERE, G, COLORADO AVALANCHE
The duo of Varlamov and Giguere combined for three wins as the Avalanche improved to 5-0-0, matching the franchise's best start to a season since the Quebec Nordiques won their opening five games in 1994-95.
Varlamov posted two victories, a 1.00 goals-against average and a .971 save percentage in recording a 2-1 win over the
Toronto Maple Leafs
Oct. 8 (27 saves) and a 5-1 triumph over his former team, the
Washington Capitals
, Oct. 12 (40 saves). The 25-year-old native of Samara, Russia, has allowed only one goal in each of his first four starts this season, turning away 128-of-132 shots for a .970 save percentage. Giguere was perfect in his first start of 2013-14, recording 39 saves in a 2-0 victory over the
Boston Bruins
Oct. 10. The shutout was the 37th of Giguere's career, which ranks seventh among active goaltenders and tied for 39th all-time.
THIRD STAR – SIDNEY CROSBY, C, PITTSBURGH PENGUINS
Crosby led the League with seven points (3-4—7) in three games as the Penguins won two out of three contests. He began the week by collecting two assists in a 5-2 victory over the
Carolina Hurricanes
Oct. 8 and another helper in a 6-3 loss to the
Florida Panthers
Oct. 11. Crosby then recorded his eighth career hat trick – and first in the regular season since Dec. 2, 2010 – and assisted on the game-winning goal in the final minute of regulation in a 5-4 triumph over the
Tampa Bay Lightning
Oct. 12. The 26-year-old Cole Harbour, N.S., native has posted at least one point in each of Pittsburgh's first five games (5-4—9), his longest point streak to begin a season since his rookie year, and leads the League with nine points.
April, 12, 2013
4/12/13
9:22
AM ET
It's that time of year when the standings finally begin to shake out, stratifying the bracket into three distinct groups: the postseason locks, the middle-of-the-pack teams still fighting for spots or jockeying for position, and the remaining clubs whose playoff hopes are all but extinguished.
Even before their embarrassing 5-1 loss to the
Montreal Canadiens
on Thursday night, the
Buffalo Sabres
were among the latter.
A spirit-sapping 4-1 road loss to the
Winnipeg Jets
on Tuesday pretty much sealed their fate, leaving the Sabres -- now six points back -- with little to play for in the remaining seven games of their season.
And it showed Thursday in a flat and uninspired effort against the Northeast Division-leading Canadiens, who became the second Eastern Conference team (joining the
Pittsburgh Penguins
) to clinch a postseason berth.
All that remains on the line for the Sabres is pride, and against Montreal they showed very little. Outshot 42-15, Buffalo players sounded both ashamed and awed at just how little effort they exhibited -- in front of a home crowd, no less.
Consider these damning statements uttered from within the bowels of the Sabres' dressing room after the game:
"It was the worst effort the Buffalo Sabres have put on the ice since I've been a part of it," 23-year-old defenseman
Tyler Myers
said, according to the Buffalo News. Myers is in his fourth season with the Sabres.
And this from goaltender
Ryan Miller
, who is never shy about sharing his opinions: "We got our butts kicked."
According to several reports, the Sabres were all stapled to their stalls when the dressing room was opened following a closed-door meeting, showing an accountability they lacked on the ice.
Even in a lockout-shortened season, when parity provides pretty much every team a chance to rise from the dead and make a viable playoff push (Exhibit A: the
Washington Capitals
), there comes a time when reality sinks in and false hope disappears.
It's a depressing time for those teams, obviously, but it provides an interesting glimpse into the character of the club. Do players hustle and compete for jobs, trying to salvage some pride? Do they relish the opportunity to play spoiler in the last weeks of the season? Or do they go through the motions, entertaining thoughts of early-May tee times?
We already saw this frustration manifested this week, when
Colorado Avalanche
goaltender
Jean-Sebastien Giguere
blasted his teammates for packing it in and looking ahead to their upcoming Vegas vacation instead of their next game.
The Avs responded to Giguere's pointed rant with a 4-1 win over the
Anaheim Ducks
two nights later (incidentally, that rant could end up costing the Avs the No. 1 pick in the draft!), showing that their fight had not been completely snuffed out.
The Sabres will have a chance to rally from Thursday's debacle and prove they are not going to simply watch the sand pass through the hourglass. And to their credit, it seemed that to a man they were humiliated by the loss and took full responsibility.
Perhaps that is because it's implicitly understood that everyone is being evaluated now -- from interim coach Ron Rolston to Miller to the rest of the team's veteran leaders and on down the lineup.
The Sabres' next game, Saturday at home against the
Philadelphia Flyers
, will be telling. Will a listless squad show up, or one that is up for the fight?
February, 23, 2012
2/23/12
10:28
AM ET
Brian Burke has shown time and time again in his GM career that he's not afraid to act, and the man who runs the
Toronto Maple Leafs
has decided to add more drama before Monday's 3 p.m. ET trade deadline.
Burke broke the news on TSN 1050 Radio in Toronto on Wednesday evening -- later confirming it with ESPN.com during a phone call -- that the club has decided to explore what's out there on the goalie market in the wake of recent netminding struggles of
Jonas Gustavsson
and
James Reimer
.
It doesn't mean for sure they'll get a goalie, but they are going to see what's out there and judge the price tags. Burke said the front office discussed it for the first time Wednesday. It had not looked at outside goaltending until this point, just a few days removed from the trade deadline.
That doesn't allow for much time to get something done, and the prices are usually high at this time of year, but let's look at the possibilities for the Leafs:
Evgeni Nabokov, New York Islanders:
At 36, Nabokov has had a bounce-back season as proved by his .925 save percentage. He's slated for unrestricted free agency July 1, so he's the ideal rental player. My understanding is that he would gladly waive his no-trade clause for a move to Toronto. And don't forget he played for Leafs coach Ron Wilson during their San Jose days. Here's the catch, however: The Isles are in negotiations with Nabokov agent Don Meehan regarding an extension. And even if Nabokov doesn't sign, Isles GM
Garth Snow
has shown in the past he doesn't just give away rental players, so it's no sure thing he will move him, even if he can't sign him over the next few days. Still, this would be the most obvious target for Toronto.
Josh Harding, Minnesota Wild:
Like Nabokov, Harding is a UFA July 1, so he's a rental. Thing is, like the Isles, the Wild haven't quite decided what to do ahead of Monday's trade deadline. It's really going to depend, I think, on the quality of the trade offers and where Minnesota sits in the standings. But the club is certainly open to listening.
Anders Lindback, Nashville Predators:
I believe there's interest here on the part of the Leafs, but there's also the realization that the Predators aren't about to give away a 23-year-old goalie who holds lots of promise. It's not that he's unavailable; the Preds would move him, but only in the right deal. Translation: high price.
Curtis Sanford, Columbus Blue Jackets:
Sanford is another rental, and frankly he's played reasonably well for the league's doormats this season. The question you have to ask yourself if you're Toronto is, how much of an upgrade is he on what you have?
J.S. Giguere, Colorado Avalanche:
The former Leafs netminder is healthier now than he was last season in Toronto but he's not a rental player, having another year left on his contract, at $1.25 million. He's played well for Colorado this season, he's been a good tonic for
Semyon Varlamov
, and I'm not sure how interested the Avs would be to change that.
Antero Niittymaki, San Jose Sharks:
You can bet your bottom dollar that Sharks GM Doug Wilson would love to dump his discarded No. 3 netminder on the Leafs. Niittymaki has an .891 save percentage in nine AHL games this season. He's fully recovered from a surgically repaired hip, but teams are obviously wary. He's been a very effective netminder in the past, but I doubt the Leafs would go here unless it was a last resort.
Scott Clemmensen, Florida Panthers:
He's a UFA July 1 and a former Leafs farmhand, in 2007-08. He's played decently in Florida this season, with a .908 save percentage, but I think the Panthers would move him if a team called. Two questions here: 1) Would Florida move him to a team it is battling with in the East playoff race? and 2) Is this really an upgrade for Toronto?
Ben Bishop, St. Louis Blues:
Total wild-card entry. It would be a big-time gamble for the Leafs to hand the keys to another young and inexperienced netminder, one with only 13 NHL games under his belt -- none this season. But some people around the league are high on the 25-year-old's abilities.
September, 1, 2011
9/01/11
1:08
PM ET
The spotlight shines brightly even in the offseason around the NHL.
Christian Ehrhoff
,
James Wisniewski
and the entire
Florida Panthers
roster have all enjoyed some moments in the sun as they prepare to try to make the best of new environs. But what about the under-the-radar guys, the players who may have quietly assumed new addresses but who may be ready to make a significant impact? Here's a look at 10 such players:

OK, so the big former Leafs winger has scored just seven times in his past 77 regular-season games and was a bit of a bust in Pittsburgh and Los Angeles. But Ponikarovsky should find a comfort zone with head coach Paul Maurice, for whom he played for in Toronto. And Ponikarovsky has scored 20 or more goals (and once scored 19) three times in his career, so he has something to bring to a Carolina team that will take all the production it can get.

Given his injury history and uneven play the last couple of seasons, it's easy to forget that Giguere has collected at least 30 wins in four seasons since the lockout. He was, lest people forget, the goaltender of record when the
Anaheim Ducks
won the Stanley Cup in 2007. At age 34, there should still be lots left in the tank, and, given the lack of durability for young netminder
Semyon Varlamov
-- the man tabbed by the Avs as their goaltender of the future -- Giguere could be asked to do a whole lot more than just offer mentoring and open the gate at the end of the bench.

It's easy to overlook the arrival of the big (6-foot-2, 214 lbs.) winger, given all the other moves made by the Flyers this offseason. But if Paul Holmgren is right, people won't be overlooking the contributions of the former seventh overall pick in the 2007 entry draft. Yes, Voracek didn't become the player the
Columbus Blue Jackets
thought he would be -- has anyone in Columbus outside of
Rick Nash
become the player they hoped he would be? -- as he topped out at 16 goals in his three years as a Blue Jacket. But guess what? He's going to play with top-end talent in Philadelphia and get a chance to put that big body to use.

We must admit being a bit mystified that the
Winnipeg Jets
didn't bother to make a qualifying offer to keep the big winger in the fold, and we wonder whether they'll regret playing against him six times a year now that he's landed in Carolina. Admittedly, Stewart -- the 25th overall pick in 2003 -- has been slow to develop, but he did show some good net presence in Atlanta last season, scoring 14 times and finishing with 39 points. Five of those goals were on the power play and, like Ponikarovsky, the 26-year-old Stewart should get many opportunities to improve on those numbers in Carolina.

Another first-round draft pick that didn't show enough promise for the
Edmonton Oilers
, Cogliano may find Anaheim more to his liking. Right now, he's likely a third-line center behind
Ryan Getzlaf
and
Saku Koivu
but he can also play the wing. With a more talented cast around him, the 24-year-old may finally blossom after twice scoring 18 goals for the Oilers. He had just 11 goals a year ago but has never missed a game in four seasons in Edmonton, something the injury-plagued Ducks will be pleased about.

No one is suggesting that White will replace the retired
Brian Rafalski
in the Red Wings' lineup, but White has more tools than he's given credit for possessing; watch for head coach Mike Babcock to take full advantage of them. White had nine points in 17 postseason games for the Sharks last spring -- the Sharks dispatched Detroit in a thrilling seven-game set in the second round -- and will be a nice addition to a Red Wings team that still has plenty of game left.

Will Sidney Crosby be back? How hungry is
Evgeni Malkin
? What does
Steve Sullivan
have left? In a city hungering for a return to contender status after two disappointing playoff seasons, it's a little bit easy to overlook James Neal. The big winger was acquired before the trade deadline from Dallas for
Alex Goligoski
, but, with both Malkin and Crosby injured, Neal never really found a groove for the Pens. He scored just once in 20 regular-season games and then added one more in a seven-game first-round playoff loss to Tampa. Look for a lot more this season from the big winger, who will turn 24 over Labor Day weekend.

Every year, Nashville GM David Poile and head coach Barry Trotz conspire to pull a rabbit out of the proverbial scoring hat. Two years ago it was
Patric Hornqvist
; last year it was
Sergei Kostitsyn
. Could it be Bergfors this season? The former first-round pick (25th overall by New Jersey in 2005) went to Atlanta as part of the
Ilya Kovalchuk
trade and was shipped to Florida at the trade deadline last season before signing with the Preds as a free agent this summer. Bergfors had 21 goals between New Jersey and Atlanta in his first full NHL season in 2009-10, including nine power-play markers. Look for him to get lots of opportunity in Nashville to make good on his potential.

Although there were lots of goalies whose profiles might have been higher, Tampa GM Steve Yzerman went after journeyman Garon as his backup to
Dwayne Roloson
, who signed a one-year deal with the Lightning after a superlative effort in leading the Bolts to the seventh game of the Eastern Conference finals. Roloson will turn 42 before the regular season is a week old, and the Lightning will want to make sure he has plenty left in the tank for what most expect will be another playoff run next spring. That means Garon will have to shoulder the load for, what, 30, 35 games? The two netminders played together in Edmonton, and head coach Guy Boucher said in an interview that he expects them to form a strong tandem.

Talk to Washington GM George McPhee and he'll tell you that one of the main reasons the Caps folded against Tampa in the second round of the playoffs had more to do with the health along the blue line than it did players' efforts. With
Tom Poti
looking like he won't be able to play anytime soon and with
Scott Hannan
departed for Calgary, the Caps added some veteran insurance in the form of Roman Hamrlik. Although he is 37, Hamrlik can still log heavy minutes, as he averaged 22:16 a night during the regular season and then saw that number increase in the Canadiens' first-round loss to Boston. Hamrlik was particularly impressive the previous spring as the Canadiens advanced to the Eastern Conference finals in spite of a badly depleted defensive corps. As for a mentor for rising defensive stars
John Carlson
and
Karl Alzner
, you couldn't ask for a better guy than the classy Hamrlik.
October, 8, 2010
10/08/10
12:16
AM ET
TORONTO -- With two gigantic pad saves on shots by
Brian Gionta
and the game on the line in the dying seconds Thursday night,
Jean-Sebastien Giguere
gave the
Toronto Maple Leafs
something they rarely got last season: clutch goaltending.
"This is probably a game that last year we get tied against in the last minute, but because of a couple of his great saves, we ended up preserving the win," Leafs coach Ron Wilson said after a nervy 3-2 win over the rival
Montreal Canadiens
on opening night.
This is the same Wilson that had the media corps in stitches in February at the 2010 Winter Olympics, when he threw his Leafs goaltending -- namely
Vesa Toskala
-- under the bus nearly on a daily basis with snide remarks about how nice it was to finally have a goaltender (namely
Ryan Miller
).
Joking aside, it was clear how frustrating it was for Wilson and the Leafs' front office not to get any saves last season, as underlined by their 29th ranking in the goals-against department.
"I think if you asked [Montreal coach] Jacques Martin how he got to the conference finals last year, it was probably a save here or there," Wilson said. "If you get decent goaltending, it can often solve a lot of problems, and tonight Giggy was outstanding."
For as much as GM Brian Burke's makeover continues here in Toronto, with a deep blue line and new faces on a forward group that still needs work, it's in goal where it will be decided as to whether the Leafs can knock on the playoff door.
Enter Giguere. Yes, he's being pushed by
Jonas Gustavsson
in what is being billed as an open battle for starts, but I'd be shocked if Giguere doesn't play at least 50 games. Wilson knows that's his best bet for this season.
And for Giguere, it's a chance to prove he's still got the goods to be an elite netminder in this league. When he was dealt here on Jan. 31, his acquisition was mostly seen as a chance to give Gustavsson a proper mentor. It was also seen as deep-pocketed Toronto taking a big contract off Anaheim's hands. Somehow, most people around the league had begun to see Giguere as a goalie playing out the twilight years of his career.
I've talked with Giguere about this a few times since he arrived in Toronto. It annoys him. He's 33, not 38, he's often told me.
"I'm not that old, people," he reiterated Thursday night after his 26-save performance. "You know, I do want to show everybody that I can play. I feel good and I have energy. These young guys give me energy every day. So it's fun to come to the rink. It's a new challenge for me."
He also wants to prove that his old GM buddy from the 2007 Cup-winning team in Anaheim was right in trading for him.
"I feel like I owe Burkie," Giguere said in French. "He took what you might see as a gamble trading for me. I really want to pay him back. He did me a favor, and I want to do right by him."
Giguere can also do right by himself this season. He's in a contract year. He's not going to match his current salary of $7 million (a $6 million cap hit), but a solid season, especially one in which he's seen as the No. 1 reason for Toronto surprisingly making the playoffs, would go a long way toward getting another nice contract.
But he'll be quick to tell you, this season is just about showing people he can still stop the puck. After all, he's only three and half years removed from leading the Ducks to a Stanley Cup. There's still gas in the tank, he says, and Thursday night was an important start for him.
Opening statement
A year ago, with the same two teams on the ice for opening night, the Canadiens took an overtime decision here at Air Canada Centre, one Burke believed set the Leafs back mentally.
Well, they only won once in their opening 13 games, so something was definitely wrong. So, yes, it's only one game, but it's a win that matters on many levels for this club. There's pressure to get off to a better start and avoid the deep hole that ruined their 2009-10 season.
But as Wilson reminded everyone after Thursday night's opener, this isn't the same team. "We have better people, better personnel," he said.
Still, Wilson doesn't want his players to get too excited.
"I'm going to ban all newspapers from the room tomorrow and make sure the TV's not on, because I'm sure you've already planned a Stanley Cup parade," the coach said.
Phaneuf OK
Leafs captain
Dion Phaneuf
missed a few shifts early in the third period after it appeared an opponent's skate cut through his sock.
"He got a skate cut on his leg," Wilson said. "He went in and got it stitched up and came back. It's nothing serious. It was just to stop the bleeding."
Beating the Habs
Giguere is a Montreal native, but he took tremendous delight in beating his hometown team. "I grew up cheering for the Nordiques,'' he said with a smile.
The atmosphere for Thursday's opener was electric and Giguere fed off that.
"It doesn't get any better than a Leafs-Montreal game, so that was a great experience."
January, 31, 2010
1/31/10
5:34
PM ET
TORONTO -- People in these parts still remember where they were that day, 18 Januarys ago, when the Toronto Maple Leafs acquired Doug Gilmour from the Calgary Flames.
It was a franchise-altering blockbuster by former GM Cliff Fletcher that will go down as one of the greatest deals by the Leafs, a move that would pave the way for a pair of spring runs no one here will ever forget, either.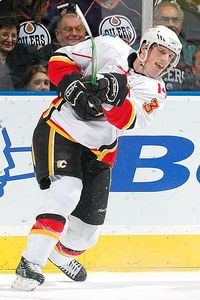 Andy Devlin/NHLI/Getty ImagesLeafs GM Brian Burke on Dion Phaneuf: "This is a guy that likes it crude and likes it black and blue, and that's how we want him to play."
On Sunday, it was current Leafs GM Brian Burke who pulled off the jaw-dropping trade, a seven-player deal with Calgary that has the potential to finally put this franchise back on the right track. Toronto acquired Dion Phaneuf, right winger Fredrik Sjostrom and defenseman Keith Aulie in exchange for defenseman Ian White, center Matt Stajan, left winger Niklas Hagman and right winger Jamal Mayers.
"Putting a seven-player deal together today is unbelievably difficult," Fletcher, now a senior adviser with the Leafs, told ESPN.com on Sunday. "Back when I did that deal with Calgary, there were no financial considerations at all. It was just players for players. This was so much difficult. But we think today we got a player we can really build around in Dion Phaneuf."
The Leafs' shakeup Sunday also included a deal with the Ducks, in which Toronto acquired goalie Jean-Sebastien Giguere for Jason Blake and Vesa Toskala.
But forget all the other players that changed teams in Calgary, Toronto and Anaheim -- this trade is really all about one player, Phaneuf.
"Phaneuf is a gamble, but if he hits, they will win this deal huge," a GM who requested anonymity told ESPN.com on Sunday.
"It's about getting an A-lister, and Burkie did that today," added another unnamed GM.
Now he's got two.
"In the last four months, we've added Phil Kessel, who is an elite player, and Dion Phaneuf, who I view as an elite player," Burke told a packed news conference at Air Canada Centre. "So I think it's a very important day for us."
Listen, Phaneuf doesn't arrive without question marks. He has yet to match the 20 goals from his rookie season in 2005-06 and his exit couldn't come fast enough for members of the Calgary media, who thought he was overrated. But a pair of 17-goal campaigns is a reminder that his potential hasn't gone away -- he's a bona fide offensive blueliner with a physical game that had Burke drooling from the first day he thought he might have a shot at him.
"This is a guy that likes it crude and likes it black and blue, and that's how we want him to play," said Burke.
At first, Burke's advances to Flames GM Darryl Sutter got the cold shoulder. Sutter, as he told me earlier this month, had no desire to move Phaneuf. But an ensuing nine-game winless streak changed all that. The pressure was on for Sutter to make a move, and Burke made sure to exploit that.
This is why Burke was brought in to run this sad-sack franchise -- because he had the reputation and acumen of a GM who could pull off these types of moves. Kessel was also a big acquisition, but a move that right now looks decidedly tilted in favor of the Bruins thanks to a pair of first-round picks going Boston's way, and the June 2010 pick looking like a top-three overall selection.
But there isn't a sense that Burke overpaid this time around. No offense to Stajan, Hagman, Mayers and White, but they are complementary players.
The kicker in all this is some people believe the prospect Toronto got in the deal, the 6-foot-6, 20-year-old defenseman Aulie, is headed for a good NHL career. "He's going to play 15 years in the NHL," said one NHL executive Sunday.
But again, this trade is about Phaneuf, and about Burke showing once again he loves stud blueliners. He added Mike Komisarek and Francois Beauchemin this past summer via free agency. Throw in incumbent Tomas Kaberle, and you've got an impressive top four. Remember Burke's blue line on the Cup-champion Anaheim squad from 2007: Scott Niedermayer, Chris Pronger and Beauchemin.
"My philosophy is building from the net out," said Burke. "It's like pitching in baseball. If you don't have good defensemen, you're not going to win, it doesn't matter how good your forwards are. And it's been a hallmark of all my teams. I try to build up the defense, and that's exactly what happened here today. We added an elite defenseman and a guy that plays our kind of hockey."
The second trade Sunday is of lesser importance, but it does shore up Toronto's goaltending for the next year and a half. Giguere, in my mind, remains a top-level netminder; he's 32, not 38. But his $7 million price tag for next season scared off everyone else in the NHL ever since the Ducks first made him available in June.
Give Ducks GM Bob Murray a ton of credit here; from what I'm told, he stayed on Toronto's tail all season long, urging them to give this some thought. The hook all along was Giguere would be reunited with goalie coach Francois Allaire here in Toronto and could provide Jonas Gustavsson excellent mentorship. After all, it worked in Anaheim with Jonas Hiller.
As I first speculated back in November, the plan was sound, but the Leafs balked at the $7 million salary for next season. Once Anaheim was willing to take back money, things changed. Toronto would have preferred to send Jeff Finger back in the deal along with Toskala, but the Ducks asked for Blake instead. Fair enough. Done deal.
Here's why the Giguere deal is also possibly a good thing for Toronto: The Leafs have no desire to be 29th in the standings again next season. They want Giguere to win games for them. The Bruins, after all, also have Toronto's first-round pick next season. Hence, Giguere has a useful short-term role here.
So, six players emptied their dressing room stalls at the Air Canada Centre on Sunday, and Burke is still working the phones.
"We're still open for business. We're not done," Burke said.
Suddenly hot winger Alexei Ponikarovsky is garnering more and more attention, and he's an unrestricted free agent July 1. He's a goner. So are a few more Leafs. Those deals, however, won't have the impact of Sunday's acquisition of Phaneuf.
This is a franchise that last hosted an NHL playoff game in April 2004. The playoff drought will be at least six seasons and counting. The Cup drought will be 43 years and counting.
On Sunday, what the die-hard members of Leaf Nation finally got for the first time in a long, long time, was hope.