Cross Checks:

Jeff Skinner
January, 6, 2014
1/06/14
12:12
PM ET
From the official NHL release:
SKINNER, ELLIOTT AND SUTER NAMED NHL 'THREE STARS' OF THE WEEK
NEW YORK (Jan. 6, 2014) –
Carolina Hurricanes
left wing
Jeff Skinner
,
St. Louis Blues
goaltender
Brian Elliott
and
Minnesota Wild
defenseman
Ryan Suter
have been named the NHL's "Three Stars" for the week ending Jan. 5.
FIRST STAR – JEFF SKINNER, LW, CAROLINA HURRICANES
Skinner led all skaters with six goals and nine points to help the Hurricanes (18-16-9, 45 points) record a season-high four consecutive victories and move into fourth place in the Metropolitan Division. He opened the week with 2-1—3 in a 5-4 overtime victory against the
Montreal Canadiens
Dec. 31. Skinner followed that up with his second career hat trick (and second of the season), including the overtime winner, in a 4-3 triumph over the
Washington Capitals
Jan. 2. He added an assist in a 3-2 win over the
New York Islanders
Jan. 4 before capping the week with 1-1—2, including the game-winning goal, in a 2-1 victory against the
Nashville Predators
Jan. 5. The 21-year-old Toronto native has 20-13—33 in 32 games this season, including a League-high 16 goals since Dec. 3 and 6-4—10 during a five-game point streak, matching a career long set during his rookie season (Jan. 7-15, 2011: 5-3—8).
SECOND STAR – BRIAN ELLIOTT, G, ST. LOUIS BLUES
Elliott posted a 3-0-0 record with a 1.00 goals-against average, .962 save percentage and one shutout to backstop the Blues to a trio of victories, establishing a franchise record for the best 41-game start in team history (29-7-5, 63 points). He made 24 saves in a 2-1 triumph over the Minnesota Wild Dec. 31. Elliott then recorded 30 saves for his 24th career shutout – and 15th with the Blues, one shy of tying Glenn Hall for the second-most in club history – in a 5-0 win over the
Los Angeles Kings
Jan. 2. He closed the week by making 22 saves in 6-2 victory over the
Columbus Blue Jackets
Jan. 4, extending his franchise-record home winning streak to 13 games (dating to April 16, 2013). The 28-year-old Newmarket, Ont., native has appeared in 18 games this season, compiling a 12-1-2 record with a 1.85 goals-against average, .928 save percentage and three shutouts.
THIRD STAR – RYAN SUTER, D, MINNESOTA WILD
Suter led all defensemen with four goals and tied for first among blueliners with six points as the Wild (22-17-5, 49 points) won two of three games to move into fourth place in the Central Division. He scored his second goal of the season in a 2-1 loss to the St. Louis Blues Dec. 31.
Suter followed that up with two assists, his third multi-assist/point game of the season, in a 4-1 victory over the
Buffalo Sabres
Jan. 2. He capped the week by recording his first career hat trick (on three shots on goal) in a 5-3 win over the Washington Capitals Jan. 4, becoming the first defenseman in Wild history to tally three goals in a game and first blueliner on any team to do so since March 20, 2011 (
P.K. Subban
). The 28-year-old Madison, Wis., native has 5-24—29 in 44 games this season and leads all skaters in time on ice (1,305:45) and time on ice per game (29:40).
December, 9, 2013
12/09/13
12:50
PM ET
From the official NHL release:
FOR IMMEDIATE RELEASE / DECEMBER 9, 2013
SKINNER, HALL AND LUONGO NAMED NHL 'THREE STARS' OF THE WEEK
NEW YORK (December 9, 2013) –
Carolina Hurricanes
forward
Jeff Skinner
,
Edmonton Oilers
forward
Taylor Hall
and
Vancouver Canucks
goaltender
Roberto Luongo
have been named the NHL's 'Three Stars' for the period ending Dec. 8.
FIRST STAR -- JEFF SKINNER, CAROLINA HURRICANES
Skinner tallied six points last week, including a League-leading five goals, as the Hurricanes (13-12-5) recorded three victories and climbed to third place in the Metropolitan Division. Skinner recorded two goals, including the game-winner, and one assist in a 4-1 win over the
Washington Capitals
on Dec. 3 and notched his first career NHL hat trick in a 5-2 victory over the
Nashville Predators
Dec. 5. The 21-year old Markham, Ontario native is in his fourth NHL season, all with Carolina. He has recorded 17 points (9-8--17) in 19 games this season.
SECOND STAR -- TAYLOR HALL, EDMONTON OILERS
Hall notched six points (4-2--6) in three games as the Oilers
(10-18-3) earned three of a possible six points. Hall recorded one assist in a 6-2 loss to the
Phoenix Coyotes
Dec. 3 before tallying his fourth career hat trick plus an assist in an 8-2 victory over the
Colorado Avalanche
Dec. 5. Hall closed the week by scoring the game-tying goal with
10.1 seconds remaining in regulation time in a 2-1 overtime loss to the
Calgary Flames
Dec. 7. The first overall selection in the 2010 NHL Draft has recorded 25 points (11-14--25) in 24 games this season.
THIRD STAR -- ROBERTO LUONGO, VANCOUVER CANUCKS
Luongo posted a 3-0-0 record, 1.30 goals-against average and .960 save percentage to help the Canucks (17-10-5) move into fourth place in the Pacific Division. Luongo made 30 stops in a 3-1 victory over the Nashville Predators Dec. 3, posted 37 saves in a 3-2 overtime win over the Phoenix Coyotes Dec. 6 and concluded the week with 28 saves in a 3-1 victory over the Colorado Avalanche Dec. 8. The 34-year-old Montreal native improved to
14-8-5 on the season with a 2.28 goals-against average and .918 save percentage. He holds the Canucks' franchise record for career wins (247) and ranks 16th on the NHL's all-time list (362).
August, 8, 2012
8/08/12
9:11
AM ET
December, 16, 2011
12/16/11
11:17
AM ET
The concussion saga has taken over all the talk this past week. What can we do with high-profile player after high-profile player dropping like flies?
But despite the bad optics, there was no league memo sent to teams and no new measures discussed, because the league feels it's already doing as much as it can in terms of prevention and treatment.
"The only way you're going to totally eliminate concussions from the game is to stop playing the game," Bill Daly, the NHL's deputy commissioner, told ESPN.com on Thursday. "We're not inclined to stop playing the game, and players aren't, either. There's a certain level of risk that everyone accepts in any profession. If I'm a construction worker, I'm more likely to have health issues than if I'm an office worker. It's just the nature of the job."
[+] Enlarge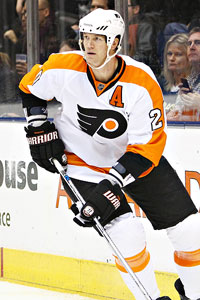 Tom Szczerbowski/US PresswireChris Pronger is the latest player to be sidelined for an extended time because of a concussion.
There are no more concussions this season than last season at this time, but I think because of the big names involved it has given the story more juice, and that's understandable. What could possibly be worse than having
Sidney Crosby
,
Claude Giroux
,
Milan Michalek
,
Mike Richards
,
Chris Pronger
and
Jeff Skinner
sidelined at the same time?
"I'd say that we've been on this regardless of which players are hurt,"
Brendan Shanahan
, director of the Player Safety Department at the NHL, told ESPN.com via email Thursday. "The nature of these latest injuries shows that there's no 'magic pill' that prevents ALL concussions. I'd also say that players and teams are more cautionary now in the identification and treatment than ever before -- which is the right thing to do. Because of the leadership of groups like the Concussion Working Group and the protocols in place, we're catching more of these injuries before a player is placed in the MORE dangerous position of a secondary concussion on top of another.''
Hurricanes GM Jim Rutherford, who has been a leading voice among his colleagues on the elimination of head shots, says the speed of the game has become more than ever a big factor.
"We have a game that's very, very fast now," Rutherford told ESPN.com on Thursday. "Really at the level of speed that it appears that players don't have time to react at times to an opponent coming or a teammate coming. These concussions are happening from good hits, from accidental hits, from accidental hits from teammates, to periodically bad hits. The league has taken this very, very seriously going back a few years and probably ahead of any other league, and the key is to continue to do studies and have conversations about what we're dealing with and what we can possibly do, if anything, to prevent or lessen some of the injuries that are taking place now.''
One theory out there is whether the red line should be put back in for two-line passes to slow down the forecheckers and therefore the impact of their hits. Some even wonder if the league should allow the return of a little more interference in certain areas of the ice to slow down the players. I doubt either idea ever sees the light of day. The game has never been more fun to watch; who wants to regress from there?
"We have to keep this a really good game, which we have now, and we have to think of the safety of the players. Those are the two things we deal with," Rutherford said. "We don't want to go back to the old game because the new game now is much more accepted by fans, media, players -- everybody. But is there something in the game that can be changed a little bit to give players a little more reaction time? I don't have an answer for it. But I know the league continues to talk about it. Everybody continues to talk about it. And hopefully somebody comes up with an idea or two that can help try to prevent as many injuries as we're getting.''
There is no cure-all answer. That's the truth, no matter how hard it is to digest when some of the game's top players aren't on the ice.
All-Star Game Captains
It's as close to a done deal as it gets: Daniel Alfredsson of the host
Ottawa Senators
will be one of the All-Star Game captains. That's a no-brainer.
But what about the other?
If it were me, I'd select
Teemu Selanne
of the
Anaheim Ducks
. The classy winger is more than likely in his final NHL season, and he's been nothing but a tremendous ambassador for the game throughout his career. And I'm told internally that the league has indeed brought up his name as a candidate, although at this point nothing is decided. Let's do the right thing and honor the Finnish Flash.
Conference Games
I can't tell you how many readers or Twitter followers have asked me about the names for the new conferences next season under realignment.
Many fans would love to see Wayne Gretzky,
Mario Lemieux
, Gordie Howe and Bobby Orr honored with the four conferences named after them.
But unless there's a change of heart at the league head office, my sense is that the conference names will remain geographically themed, similar to the current division names.
I think the concern at the league level is the potential political backlash. How would the Flyers and their fans react to putting up a Mario Lemieux Conference pennant in their rafters? Or the Habs celebrating a Bobby Orr Conference title? That's the basic concern.
The league could still be swayed. Nothing is written in stone, but right now the general feeling is to stick with geography.
Sharks Coach
Well, given the two coaching firings in Southern California already this season, I suppose we can't be shocked the San Jose Mercury News
pondered the fate of a certain coach in Northern California
.
What I'm hearing is that
San Jose Sharks
coach Todd McLellan is in absolutely no danger at this point. And frankly, that's the way it should be. San Jose's recent struggles are not on him. They're on the top players on his team who haven't performed up to their level, beginning with
Martin Havlat
and his one goal so far this season. (But I will say I thought Havlat may have played his best game of the season Thursday night versus Colorado.)
Either way, my sense is that Sharks GM Doug Wilson is solidly behind McLellan at this point.
NHLPA/Realignment
The league and NHL Players' Association have gone back and forth on realignment over the past week or so, the league providing materials to the union, which had specific questions about the proposed new format for next season.
The two sides are expected to speak again next week. The league wants to get the union's blessing so it can get to work on next season's schedule. I'll be curious to see whether the NHLPA plays hard ball with this. The NHLPA says it's within its collective bargaining agreement rights to have a say in realignment.
August, 18, 2011
8/18/11
12:07
PM ET
For two weeks, we asked for your opinion on everything ranging from which team will win the Stanley Cup to where the next NHL franchise should go. Now, Scott Burnside weighs in with his thoughts on your votes.
Interesting that in this category, fans were unequivocal about who they think will win the scoring title, and it was No. 87 from Pittsburgh,
Sidney Crosby
.
You'll see below that fans were a little more mixed in their thinking when it came to separating Crosby from longtime nemesis
Alex Ovechkin
for the coming season, but 46 percent of voters believe that Crosby will best Ovechkin as well as other former Art Ross winners Henrik and
Daniel Sedin
and
Steven Stamkos
to win his second scoring title. It's an interesting voting trend given that there remains so much uncertainty surrounding Crosby's health. And it was a bit shocking that the talented Sedin twins from Vancouver, the past two scoring champions, managed to garner just 7 percent of the votes combined. It is hard to bet against Crosby if he's healthy, but so much is unknown about his ability to return from a concussion that it wouldn't surprise us if we saw Ovechkin bounce back with a strong season to grab another Art Ross.
I love this poll, and it's clear that fans have a long memory, as they picked
Tim Thomas
in a landslide (69 percent) over fellow Vezina nominee and Stanley Cup finals foil
Roberto Luongo
. Maybe fans recall Luongo's erratic play in the finals and his strange comments about Thomas. Our question is whether Thomas can be as good as he was a year ago, when he ran away with the Vezina Trophy voting, then was the runaway winner of the Conn Smythe Trophy as playoff MVP.
Fans were likewise united (67 percent) that of the two former Philadelphia stars dealt before the draft, former captain
Mike Richards
and sniper
Jeff Carter
, Richards who would have more success in his new home in Los Angeles. We agree.
One of our favorite polling matchups involved current and former Florida netminders
Jose Theodore
and
Tomas Vokoun
. Fans left no doubt that they felt Vokoun, now in Washington, would have the better season (82 percent to 18 percent for Theodore). We're not as sold on that proposition being a lock, but Vokoun will sure have a lot more offense going for him than he ever did in Florida. But we also think Theodore has a lot more game left than many give him credit for.
A couple of other players who swapped places,
Martin Havlat
and
Dany Heatley
, gave fans more pause. Voting sided with Heatley, now in Minnesota, by a 57-43 percent edge, but we're not so sure. If Havlat can stay healthy (we know, a big if), he'll have an opportunity to put up big numbers, say, 80 points or more. Heatley's numbers have been declining, and Minnesota isn't exactly an offensive juggernaut even with the arrival of the former 50-goal man and his former teammate
Devin Setoguchi
.
Finally, the age-old question of who will have a better year, Alex Ovechkin or Sidney Crosby, also had fans wondering, as Crosby edged Ovechkin with 53 percent of the vote. Still, the uncertainty over Crosby's health as he tries to recover from a concussion that cost him the last half of last season and a curiously down season for Ovechkin make this a toss-up.
Lots of options here, although fans picked the
Buffalo Sabres
just ahead of the
New York Rangers
as the team they believe made the biggest strides in the offseason. (Twenty-nine percent picked the Sabres, and 22 percent selected the Rangers.) Both are worthy choices with the Sabres spending like crazy under new owner Terry Pegula. They added free agents
Christian Ehrhoff
and
Ville Leino
after acquiring
Robyn Regehr
and
Brad Boyes
, who came over at the trade deadline in March. And it's hard not to like the Rangers' chances of stepping up with the addition of top free-agent center
Brad Richards
.
But for us, the team that underwent the biggest makeover and took the biggest steps toward improvement is the
Florida Panthers
. Assuming good health, the Panthers will be looking to incorporate as many as a dozen new faces into their everyday lineup, including smooth-skating defenseman
Brian Campbell
, onetime Panthers hero
Ed Jovanovski
, former Hart and Vezina Trophy winner Jose Theodore in goal and a clutch of forwards with good scoring potential (
Tomas Fleischmann
,
Kris Versteeg
and Tampa's playoff scoring machine
Sean Bergenheim
). Throw in rookie head coach Kevin Dineen, and you've got a lot of moving parts to get in sync, but we like the Panthers to make it work and join the playoff crowd in the Eastern Conference.
Most fans -- 33 percent, in fact -- believe that the
Phoenix Coyotes
are poised to take the biggest step backward this coming season. We tend to agree, although it's never wise to bet against one of the best coaches in the NHL. Former Jack Adams Trophy winner Dave Tippett is a crucial asset to the Coyotes. Still, Tippett will see his coaching acumen put to an extreme test this season, as the Coyotes remain mired in ownership limbo and, as a result, have struggled to keep core pieces of the team in the fold. Even though the Yotes qualified for the postseason for the second straight season this past spring, they never really filled the void created by the departure of defenseman
Zbynek Michalek
, who signed with Pittsburgh in July 2010. This summer saw the departure of veteran Ed Jovanovski and former Vezina Trophy nominee
Ilya Bryzgalov
. The team still looks to struggle offensively unless
Mikkel Boedker
and
Kyle Turris
really step forward.
Fans also seemed to think the
New York Islanders
would slide, but we disagree. With a healthy
Mark Streit
and
Kyle Okposo
ready from the get-go in training camp, we think the Isles are ready to jump back into playoff contention in the very tough Atlantic Division.
There doesn't seem to be much debate among voters about where the NHL will land next if there's movement afoot: Quebec City. More than half of voters (51 percent) believe the former home of the Nordiques will follow Winnipeg's footsteps in returning a team to the NHL. Us? Not so sure. Given that building a new NHL-style arena remains a political hot potato in Canada, specifically in the province of Quebec, we will be shocked if the NHL moves to Quebec City in the near future. And given the uncertainty surrounding the situation in Phoenix, the league may be forced to make such a decision before a new arena is assured in Quebec. There is no chance the league agrees to return to Quebec City until the shovels are firmly in the ground to build a new barn.
Given that, we're going to suggest that Kansas City will be the next stop for the NHL franchise carousel. Yes, only 8 percent of voters agree, but given there is an NHL-ready building simply awaiting a new owner, that might be the most logical of moves if the NHL gets pushed into the relocation corner again in the near future. Our second choice? Seattle. Yes, there are arena issues there, but having lost a big American market in Atlanta this past offseason, the NHL would rather see nothing other than a move to a big U.S. market, and Seattle has lots going for it.
It's not uncommon for players to light it up in their rookie seasons only to fall back the next season. (See
Steve Mason
of Columbus and
Tyler Myers
of Buffalo as recent examples.) Some of that is mental, expecting things to come easily. Some of that is opposing teams' knowing how to handle the youngsters. Voters feel that won't be a problem for the defending rookie of the year,
Jeff Skinner
, and Calder Trophy nominee
Logan Couture
, who led the polling with 26 percent of the votes apiece. Given that Couture is older (Skinner was the youngest player in the NHL last season), we're expecting he may have an easier time in his sophomore season. We also like another Calder nominee,
Michael Grabner
, to continue his ascension given that he will play under the radar on Long Island and the Isles should be an improved squad. As for Skinner, he is wise beyond his years, but it will be a tall order for him to repeat his success from last season.
Almost half our readers, 42 percent, believe that Capitals head coach Bruce Boudreau is on the hottest of hot seats. We don't. Given that general manager George McPhee added significant character in
Joel Ward
,
Jeff Halpern
and
Troy Brouwer
up front while bringing in veteran Tomas Vokoun to backstop the Caps, we figure this team is finally ready to make a deep run into the postseason. Boudreau showed his coaching chops last season, arresting what could have been a disastrous midseason slide and taking a much better defensive squad to the top of the Southeast Division standings.
In our mind, other coaches will find themselves in much more precarious positions this season, and you can start with Ron Wilson in Toronto. The Leafs have failed to make the postseason tournament since the lockout, and perhaps more telling is that the team has failed to make strides in the crucial special-teams area. Only so much of those shortcomings can be attributed to personnel. At some point, the coach has to take the fall for not coming up with the proper systems for success on the power play and penalty kill. A slow start in Toronto will almost certainly spell the end for Wilson. Another coach to keep an eye on is Terry Murray in Los Angeles, where the stakes are high for a young Kings team that needs to step forward.
For the record, 17 percent of voters think Boudreau will have the most successful season, but the runaway winner in this category is Penguins coach Dan Bylsma, the defending Jack Adams Trophy winner who garnered 34 percent of voters' support. It is hard to argue with that pick assuming Sidney Crosby returns to full health in the coming months. We already know that
Evgeni Malkin
is champing at the bit after knee surgery and
James Neal
will be fully integrated into the Pens' lineup. If
Steve Sullivan
can stay healthy, the Pens should return to being one of the most deadly offensive teams in the NHL, which will balance nicely with the defensive mindset that Bylsma has imposed in Pittsburgh, making them one of the most difficult to play (and score) against in the league. For the record, though, if we had to go to a Plan B, we'd go with Boudreau.
August, 9, 2011
8/09/11
3:51
PM ET
Jeff Skinner, the Hurricanes' 19-year-old sensation, won the NHL rookie of the year award, beating out the Sharks' Logan Couture and the Islanders' Michael Grabner.
But a career isn't made with one good season. Can the stars of the 2010-11 rookie class follow up their first NHL season with another successful bid? Or will they fall prey to the sophomore slump?
You make the call ...
Previous results: Better player? » Art Ross Trophy? » Stanley Cup winner? »
Conference champions? » East divisions? » West divisions? »
Sophomore slump?
---
At 19 years old, Jeff Skinner won the Calder Trophy, but will he follow that up with another successful season?
June, 22, 2011
6/22/11
9:54
PM ET
By
The Associated Press
| ESPN.com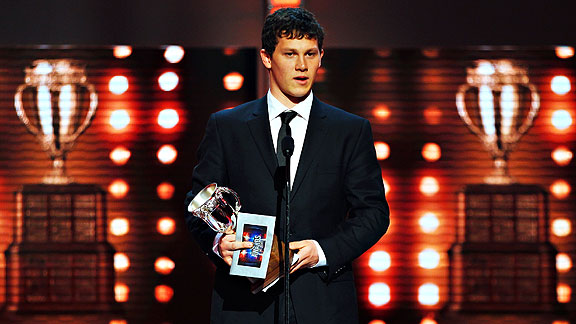 Jeff Vinnick/Getty ImagesJeff Skinner edged Logan Couture for the Calder Trophy by a 1,055 to 908 vote.
LAS VEGAS -- Carolina Hurricanes 19-year-old sensation Jeff Skinner is the NHL rookie of the year.
The Hurricanes forward won the Calder Trophy on Wednesday, beating out San Jose's Logan Couture and Michael Grabner of the New York Islanders.
Skinner, an NHL All-Star in his first season, finished first in Calder voting by members of the Professional Hockey Writers' Association. He led rookies with 63 points.
Grabner scored 34 goals to top his team and fellow rookies. Couture had eight game-winning goals -- including seven on the road.
June, 21, 2011
6/21/11
11:50
PM ET
LAS VEGAS -- Is this the year someone breaks Pavel Datsyuk's death grip on the Frank J. Selke Trophy? The top Detroit center, long considered the best two-way forward in the game, has won the award the past three years and is again nominated.
The argument against Datsyuk is he was injured and played only 56 games, but he could become the first player to win the award four straight times since Bob Gainey (1978-81).
Datsyuk's competition: Vancouver's Ryan Kesler and Chicago's Jonathan Toews.
Look for Kesler, a finalist the past three years, to finally pry the hardware away from Datsyuk.
Kesler was a key component of a Vancouver Canucks team that was the best defensive squad in the NHL. He blocked more shots than any other NHL forward and took key faceoffs and delivered 124 hits. Kesler was just 33 points behind Datsyuk in last season's voting.
This is the first Selke nomination for Toews. The Blackhawks captain acknowledged he would like to best Kesler, who he has battled against in three straight postseasons now.
"I think at the end of the day, whatever happens tomorrow, if Ryan walks away with the trophy, you got to respect him for that," Toews said. "He's earned his right to be there with the season he's had this year. He's a big part of that team that went to the final. But again, you always want to just give yourself credit and kind of appreciate the moment, knowing what it takes to get here.
"Sometimes outsiders, the media, the people watching, always kind of measure what you do in a series based on goals and assists, shots on net, all those types of stats," he added. "But half the time, basically, what it comes down to is what you're doing against the player you're matched up against every shift."
[+] Enlarge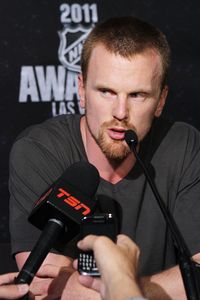 Bruce Bennett/Getty ImagesCanucks forward Daniel Sedin led all players with 104 points this past season.
The MVP race, times two
It is always interesting to see how the Hart Trophy voting (conducted by the Professional Hockey Writers' Association) varies from the players' MVP voting reflected in the Ted Lindsay Award.
A year ago, Henrik Sedin won the Hart Trophy, while Washington captain Alex Ovechkin captured his third straight players' MVP honor.
This year, Daniel Sedin and Corey Perry are nominated for both awards, while Lightning teammates Martin St. Louis (Hart) and Steven Stamkos (Lindsay) split nods.
Daniel's prime challenge for the Hart looks to come from Perry, who surged through the last third of the regular season to win the Rocket Richard Trophy for most goals (50). The Anaheim sniper scored 19 times in his final 16 games to help the Ducks qualify for the playoffs after a dreadful start to the regular season.
"I think it was one of those things where you get on a roll and things just go your way," Perry said of his torrid finish. "You can't go out and plan on doing that. You just go out and do your thing, and it was a quite a good roll that happened in the last month and a half. It was fun."
The same player has won both the Hart and Lindsay five times in the past 10 years.
Can't escape Jagr talk in Vegas
Pittsburgh coach Dan Bylsma is the favorite to win the Jack Adams Award given his stellar work in guiding the Penguins to the playoffs despite the long-term absences of Sidney Crosby and Evgeni Malkin.
He is chomping at the bit to get a healthy lineup back in the fold next season and take another run at a Stanley Cup. One piece he may have in his puzzle is five-time scoring champ Jaromir Jagr, who has targeted a small number of teams for a potential return to the NHL after spending time in the Kontinental Hockey League.
Pittsburgh, Detroit and another team appear to be interested in the Czech star's services.
"Hypothetically, you're talking about a guy who in his last year in the National Hockey League had 75 points, that's leading our team last year," Bylsma said. "That's an intriguing thing to think about -- a power-play guy, what you saw him do in the World Championship against NHL-caliber players was nothing short of outstanding.
"Those are intriguing things to think about hypothetically and it's tough not to think about adding 75 points to your roster if that's something you're capable of doing," he said.
There are reports Detroit coach Mike Babcock has spoken to Jagr. Has Bylsma?
"I've talked to Mike, not to Jaromir," Bylsma said with a laugh.
Wonder twins
Regardless of how Daniel and Henrik Sedin finished out the playoffs (they were a combined minus-20 in the postseason for Vancouver), they remain two of the league's stand-up guys, accepting much of the blame for the team's disappointing turn in the Cup finals against Boston.
In Vegas, the twin brothers can make history if Daniel follows in Henrik's footsteps and wins the Hart Trophy as regular season MVP. He already matched his brother's scoring title from last season by leading all NHLers with 104 points this season. No brothers have ever each won the Hart, let alone in back-to-back years.
Daniel wasn't on hand last year for his brother's big moment in the Vegas sun, and Henrik was nowhere to be seen Tuesday (he was vacationing in Whistler, B.C.)
The youngsters
One of the great stories of the awards is the emergence of Calder Trophy candidate Michael Grabner of the New York Islanders. The 23-year-old was waived by the Florida Panthers on the eve of the regular season and claimed by the Islanders. Grabner went on to lead the Islanders and all rookies with 34 goals. He also had his first child this season.
Although he doesn't have the profile of his fellow nominees, Logan Couture of San Jose and Jeff Skinner from Carolina, Grabner's story is nonetheless compelling. He signed a contract extension during the past season and is part of a dynamic young Islanders team that has people thinking playoffs in 2011-12.
As far as the Calder race goes, if Skinner earns the hardware, he would become the youngest player to win it at age 19. Dale Hawerchuk and Bobby Orr were both 19 years, two months old when they were awarded the Calder in 1982 and 1967, respectively.
"It's been fun," Skinner said. "Just going through everything as a kid, just last year looking up to them and watching them on TV and the next year your sort of around them and talk to them. I think that's really cool to meet some of the guys you grew up idolizing and sort of talk to them as normal guys."
No Sid, no Ovi
These awards mark the first time since the lockout that neither Sidney Crosby nor Ovechkin have been in attendance.
The pair was nominated for rookie of the year in 2006. Since then, at least one of them has been nominated and/or won the Hart Trophy and/or the Ted Lindsay Award.
April, 19, 2011
4/19/11
1:26
PM ET
As the NHL unveils the awards finalists this week, we will look back at our experts' picks for each award.
Today, it's the Calder Trophy finalists for rookie of the year. San Jose's Logan Couture, Carolina's Jeff Skinner and the New York Islanders' Michael Grabner are the finalists. Scott Burnside and Pierre LeBrun made their picks:

Burnside: Although Logan Couture may end the season behind Carolina's Jeff Skinner in points and may get edged by the Isles' terrific first-year sniper Michael Grabner in goals, our vote goes to the young San Jose center. When the Sharks were floundering earlier this season, it was Couture who provided clutch performances in spite of his youthfulness. Whatever coach Todd McLellan has asked, Couture has delivered.
Winner: Couture.
LeBrun: A sizable and impressive group of 2010-11 rookies, which included Couture, Skinner, Corey Crawford, P.K. Subban, John Carlson, Cam Fowler, Grabner, Tyler Ennis, Sergei Bobrovsky, Michal Neuvirth and James Reimer. I think Subban's 14 goals deserve more attention, but this will end up being a 1-2 battle between Skinner and Couture when the Professional Hockey Writers' Association votes come in. It's totally a toss-up and both kids deserve the award, but I'll go with the player who added defensive responsibilities to his game on top of the offense he provided.
Winner: Couture.
April, 4, 2011
4/04/11
3:18
PM ET

1. The age-old Calder debate
My colleague and good friend Pierre LeBrun and I have often debated last season's Calder Trophy race, which was won by Buffalo defenseman Tyler Myers. I have no problem with Myers' selection (he won by a veritable landslide, collecting 94 of 133 first-place votes). Myers was terrific as a 19-year-old blueliner.
But where Mr. LeBrun and I often disagree is that part of Myers' appeal was he was a teenager, compared to Detroit goalie Jimmy Howard, who was 25 going on 26 during his rookie season. Howard was second to Myers in voting. I voted for Howard because I believed his performance for the injury-riddled Red Wings (especially in the second half of the season) was exemplary, regardless of whether he was an "old" rookie.
This season, the age issue has again crept into the Calder discussion.
Jeff Skinner, who won't turn 19 until May, is in a dogfight with San Jose's Logan Couture. Couture, who turned 22 at the end of March, has done it all for a Sharks team that is likely the second-best team in the NHL behind Vancouver. At the time of this writing, Skinner had opened up a four-point lead on Couture, although Couture was tied with the Isles' Michael Grabner for the rookie goal-scoring lead (31), two more than Skinner.
Both are centers, and there is no doubt Skinner's performance is wildly impressive. But I have seen others refer to Skinner's performance as it relates to being a "young" rookie and, presumably, his worthiness as a Calder candidate. There's a reason the award's parameters are in place. It seems unjust to penalize Couture, who is marginally more deserving of the award given his overall impact with the Sharks, just because of the calendar.

2. A not-so-grand finale
Check out the last Saturday of the regular season: 11 contests, 22 teams, each tilt a divisional matchup ... all but one.
Yes, Buffalo fans will be storming down the highway to Ohio to get tickets to the Sabres' final regular-season matchup against the Columbus Blue Jackets. Huh? So, play 81 games and the best the schedule-makers can come up with is a meaningless, emotionless contest against a sad-sack team from the other conference?
Hey, we understand the schedule is a monster to manipulate with six divisional games and 15 teams in each conference. But how on earth the Sabres could end up playing their finale against a team that isn't even in their own conference is incomprehensible.
You can bet Toronto, Carolina, the New York Rangers and Montreal -- teams whose own playoff standing could be affected by the Sabres' final game -- were wishing the game had a little more meaning or at least have it be against an Eastern Conference foe.
Boo!

3. Enough already, Georges
Has there been a player in recent memory who accomplished so little on the ice but talked so much off it than Georges Laraque?
It created hardly a ripple when the Canadiens bought out Laraque's contract, which then-GM Bob Gainey foolishly bestowed given Laraque's negligible on-ice impact; but disappearing gracefully has hardly been Laraque's style.
The ubiquitous "expert" has weighed in on various topics in recent days and months, including the Zdeno Chara hit on Max Pacioretty and whether Montreal coach Jacques Martin has lost the Habs' room. We had to snicker when Laraque suggested that had he been on the ice, Pacioretty would not have been ridden into the stanchion at the Bell Centre. Were that true, hundreds of players who played alongside Laraque (well, that's a stretch since Laraque spent many nights stapled to the bench in many NHL cities) owe him a debt of gratitude for having saved them from similar injury. If they only knew how lucky they were.
Then, to suggest in recent days that Martin has lost touch with his players is just more waste material. The coach guided the underdog Habs to a shocking Eastern Conference finals appearance last season and has them pointed toward the playoffs again this spring despite injuries.
Not sure what's more shocking, that Laraque continues to offer up such misguided opinions or that he finds a forum for them.

4. The access debate
What a schmozzle the annual awards voting process has become, thanks to the smallness of the New York Islanders and the failure of the NHL to do the right thing.
You may recall when Islanders GM Garth Snow revoked the credential of writer and Professional Hockey Writers' Association member Chris Botta earlier this season. Botta was a former Islanders PR man who had gone on to write his own blog, first sponsored by the Isles, then independent of the team. The NHL tried through various means to get Snow to back off, but the Isles insisted they had the right to control access by bloggers. Botta now writes a blog for The New York Times, but is still banned from the Islanders' locker room.
What should have been clear-cut from the league's perspective is that Botta is a member of the PHWA, the group that votes on many of the league's top awards, All-Star and All-Rookie teams, and should have been protected by the league.
Instead of telling the Isles the PHWA trumps individual teams' arbitration on access, the NHL allowed the Isles' decision to stand. As small as Snow's decision was, the NHL's response was sadly weak-kneed.
Fast-forward to this past week. This year's awards ballots were issued to members of the PHWA and the three New York-area chapters decided to boycott the voting process this year in protest. The majority of PHWA members will continue to vote on the awards in the next week or so, but those New York-area writers should never have been put in this position to begin with.
It was illuminating to see Snow's response to the boycott, as he suggested it would only hurt the chances of Islanders or Rangers players of being honored. As if local writers would only vote for local players.

5. Scouting ahead of the game
In the days leading up to Ottawa's signing of top college free agent Stephane Da Costa, we were talking to agent Wade Arnott about the pressure on NHL teams to turn over every stone to find talent.
Since the lockout, ferreting out those collegiate or European free agents who fall through the cracks or mature later has been crucial to teams managing the salary cap. Finding these players can save money and help preserve other assets, as they aren't as expensive as traditional free agents and don't use up a draft pick. Consequently, adding these pieces to a roster gives teams more flexibility when it comes to making other roster moves.
"It's a burgeoning part of our industry," Arnott said.
Take the Anaheim Ducks, who turned the good work of assistant GM David McNab into a number of undrafted collegiate players like Dustin Penner, Andy McDonald and Chris Kunitz en route to a Cup win in 2007. Would the Ducks have been able to sign and/or acquire Scott Niedermayer and Chris Pronger without those players in the lineup? Not likely.
Arnott said more than half the teams in the NHL inquired about Da Costa, but he was weighing a number of factors in making his decision.
The time put in by Senators scout Lew Mongelluzzo likely had something to do with the decision and the potential for Da Costa to step into a full-time role next season.
"They all feel that he can play," Arnott said. "It's not a matter of if, it's a matter of when."
Our good friends at the Elias Sports Bureau tell us that so far this year 134 undrafted players have appeared in NHL lineups, down slightly from 144 last season and 149 in 2008-09. But the really telling numbers: There were just 110 in 2003-04, the season before the lockout, and 102 in 2000-01.
January, 29, 2011
1/29/11
11:48
PM ET
RALEIGH, N.C. -- Zdeno Chara once again proved his domination, setting a record with the hardest slap shot (105.9 mph) at Saturday's SuperSkills competition. It was the fourth straight time Chara has won the event.
Pittsburgh defenseman Kris Letang just shook his head at the feat.
"Scary," he said. "Scary because I'm going to play against him a few more games this year."
The highlight for Letang, who ended up shooting on teammate Marc-Andre Fleury?
"Just being here," he said. "It's fun, it's an experience. Obviously, it's not a competition anyone wants to get hurt here, so just to be here having fun with the guys."
[+] Enlarge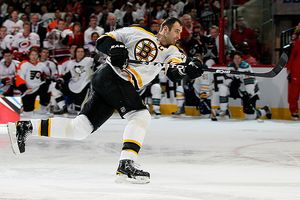 Kevin C. Cox/Getty ImagesZdeno Chara set a SuperSkills record in the hardest shot competition, clocking in at 105.9 mph.
Was he disappointed at the lopsided Skills competition score?
"Honestly, I just want to have fun," said Letang, whose Team Staal squad pounded Team Lidstrom 33-22.
Shea Weber wasn't able to dethrone Chara, finishing second with a good showing nonetheless.
"We were having a blast," said Weber. "We're both competitors out there and he's got a great shot. He holds the record for a reason; he's a big man and he can really let it rip."
Weber hit triple digits and the crowd loved it.
"You surprise yourself," said Weber, who shot a puck through the net at the 2010 Olympics. "A couple of years ago in Montreal [at the 2009 All-Star Game] was the first time I timed my shot since I was a little kid. Just to see it go up there and see how hard it is was pretty crazy."
Weber hadn't checked his cell phone yet after the event, but he knew what would be waiting for him.
"I'm sure my teammates will be ripping me," said Weber. "There will be a few positives after the first round, but they were probably ripping me after the final."
No All-Star texts for Alex
Although Washington Capitals star Alex Ovechkin won the breakaway challenge, he admitted he liked Montreal defenseman P.K. Subban's effort, but would have voted for Anaheim's Corey Perry if he had a chance to vote.
When it was suggested the players should have been given phones, so they could text their votes, Ovechkin explained he could have since he never parts with his cell.
Said Ovechkin: "Well I have my cell phone all the time with me, but I don't want to spend the 50 cents, you know what I mean?"
Subban's jersey swap
It's been interesting to watch just how big a deal Carolina rookie Jeff Skinner is in Raleigh. Subban wore a Skinner jersey in the breakaway competition, much to the crowd's delight.
Subban said the idea for his jersey switch came from San Jose defenseman Dan Boyle.
"Dan Boyle was just like, 'Hey man, you need an idea,"' said Subban. "I was just like, 'That's a pretty good idea. I think the crowd would like that.' So I threw it on and they liked it -- that's what it's all about."
Skinner wasn't sure what to make of the old switcheroo.
"I didn't know [what he was doing]," Skinner said. "Five seconds before he shot, he just came up to me and said 'I need your jersey.' I just took it off. He put on a good show."
Fans in Montreal might have taken a dim view of Subban's move, but he's not in any hurry to trade in the fabled Montreal colors.
"To be honest with you, I'm more comfortable in my jersey," said Subban. "That jersey was snug and there was a little too much black in it. I prefer the bleu, blanc et rouge, you know what I mean?"
Among Skinner's Team Staal teammates was San Jose's Logan Couture, who looks to be in a neck-and-neck race with the Carolina rookie for this season's Calder Trophy.
"If this was in San Jose, I'm sure it would be the same for me, but I love how they support him. He's a great player, very gifted," Couture said. "Eighteen years old to be doing what he's doing this year is spectacular. He's a great kid, too. This is my first time of really getting to know him and be around him. He doesn't say much, but he's a great kid. He's always got a big smile on his face."
Couture said a number of players complimented him on his strong first NHL season.
"A lot of these guys have come up to me and said. 'You're having a great year, you're playing really well,' and it means a lot to me to hear it from these guys. These guys do it year in and year out," Couture said. "A couple of coaches tonight said that to me as well, so it's a great honor to hear that, it definitely means a lot to me."
Fleury on fire
Fleury was dynamite in the shootout event. We asked him if he was swearing at his shooters like he did with his teammates during shootout drills in HBO's "24/7".
"I'm not as comfortable with the guys here like I am back home in Pittsburgh,'' said Fleury. "I gave it a bit to Tanger [Letang] when I stopped him, but I was mad against myself for Perry on the last goal. I moved too fast. I said a few bad words after that."
Why the success in the shootout?
"I have some good teammates shooting on me at home," said Fleury. "I guess practicing against them helped me out."
Stammer versus Marty
Lightning linemates Steven Stamkos and Martin St. Louis faced off in the fastest skater competition and the kid beat the veteran.
"I didn't even know what I was doing when I got to the dressing room today, so we didn't have time to have a side bet," said Stamkos. "He let me know that I beat him and that I have 15 years on him and that he said he had a bad start. We might have to have a rematch back home."
Stamkos also took honors for hardest shot among forwards.
"I'll take pride in that," said Stamkos, the NHL goals leader. "I was a little nervous after the first one, only 95 [mph], but I beared down. It was nice getting over 100."
October, 11, 2010
10/11/10
2:52
PM ET
Here are 5 things to ponder to start your hockey week:



1. Goalie questions
Less than a week into the NHL season, interesting goaltending issues are already cropping up around the league. The
Atlanta Thrashers
insist they aren't in the market for another goaltender after
Ondrej Pavelec
collapsed from what the team said Monday was a "neurocardiogenic syncope episode" and subsequent mild concussion in the Thrashers' first game of the season. A battery of tests indicated there are no long-term medical issues, and the team expects him back at some point, negating the need to find another experienced netminder. The Thrashers called up
Drew MacIntyre
to back up
Chris Mason
and will take
Peter Mannino
, another minor league netminder, on their West Coast trip this week.
Meanwhile, the Nashville Predators don't expect netminder Pekka Rinne to miss much, if any, time after being replaced in their season-opening win over Anaheim. Rookie Anders Lindback, 22, will get his first NHL start if Rinne isn't ready to go, but things don't look that serious, which is good for Predators fans.
Flyers coach Peter Laviolette has a nice dilemma in Philadelphia with both rookie Sergei Bobrovsky and veteran Brian Boucher turning in solid outings in the team's 1-0-1 start to the season. Bobrovsky got the win on the night the Penguins opened their new building, but kudos to Laviolette for going back to Boucher, who was a bit miffed at not getting the opening night start. Who goes next? Who knows. But with Michael Leighton needing back surgery, the Flyers couldn't have hoped for a better start in net.

2. Ah, the kids
Somehow, we think we'll be revisiting this issue throughout the season, but it is interesting to see the immediate impact of fresh-faced youngsters around the NHL.
Carolina's Jeff Skinner was terrific in the Canes' twin wins in Helsinki last week. (He scored the shootout winner in the second game and added an assist.) Barring a major change in the team's mindset, Skinner will remain with the big club for the entire season instead of returning to junior before he plays his 10th game (the demarcation point for using up a year of a player's entry-level contract and starting the clock ticking toward free agency).
In Edmonton, Taylor Hall and Jordan Eberle have combined for a goal and two assists in the Oilers' opening two wins, while fellow rookie also Magnus Paajarvi impressed. Meanwhile, the Rangers got a boost from center Derek Stepan in his first NHL game as the rookie notched three goals in a 6-3 win over Buffalo. The Rangers' depth down the middle has been a talking point throughout training camp, and Stepan's performance bodes well for New York going forward.
Finally, the Chicago Blackhawks will be looking to youngsters to fill the void after jettisoning a significant number of regulars from last season's Cup-winning roster. So far, rookie Bryan Bickell (two goals) is doing his part to help the Hawks' attack, even if Chicago is off to an 0-1-1 start.

3. Khabibulin's uncertain future
Got to hand it to Edmonton netminder
Nikolai Khabibulin
, who has somehow managed to put aside the thought of potentially spending time in an Arizona jail to deliver back-to-back virtuoso performances and turning aside 63 of 65 shots for the 2-0-0 Oilers.
But Khabibulin's uncertain future is likely unsettling to both the goalie and the Oilers. When Khabibulin's appeal of his sentence for drunken-driving charges in the Phoenix area is finally heard (the process could take months), the 37-year-old could spend some time in jail (up to 30 days). Following his conviction on a number of alcohol-related charges, the initial sentence was 30 days. Khabibulin immediately appealed, a strategy that seemed to catch the Oilers off guard in the offseason. Now, he's back playing the way he did at the start of last season before a back injury shelved him for most of the campaign.
There may also be a supplementary suspension handed down by the league once the legal proceedings are settled. Given the level of drunkenness involved -- Khabibulin's blood-alcohol content was more than twice the legal limit -- it wouldn't be surprising if the league tacked on a game or two after the netminder's legal penalty is completed.

4. Staal-ed?
No doubt Pittsburgh fans are pining for a return to crumbling Mellon Arena after the Penguins dropped two straight in their brand-new barn, Consol Energy Center. But the wins will come. The team is too good for them not to. Still, the double 3-2 losses to Philadelphia and Montreal highlight one basic truth about the Penguins: With
Jordan Staal
in the lineup, they are a legitimate Stanley Cup contender; without him, they are, well, something less.
Staal is continuing to rehab a severed tendon in his foot, an injury he suffered early in the Penguins' second-round playoff series against Montreal during the spring. There is essentially no timetable for his return, which means the Penguins will be looking for someone to step into the breach when it comes to things like penalty killing. But the bottom line is, when Staal, Evgeni Malkin and Sidney Crosby are healthy, regardless of how coach Bylsma lines them up, the three big centers represent a unique and formidable cast of characters who are difficult, if not impossible, to shut down entirely.
In the 2009 Stanley Cup finals, Staal was the best player on the ice as the series wound down. The Pens floundered when he was not at the top of his game against Montreal this past spring. Coincidence? Not when you consider how the Pens have started this season without the big man from Thunder Bay, Ontario.

5. Stars' start
Last season, we consistently hammered the
Dallas Stars
for their, well, lack of consistency. At no point during their 82 regular-season games did they win three straight times, which contributed mightily to the team missing the playoffs for the second straight season. This season, however, with veterans
Mike Modano
in Detroit and
Marty Turco
in Chicago and
Jere Lehtinen
in limbo, the Stars are off to a 2-0-0 start and could hit that magic "three in a row" mark Thursday, when they entertain Detroit for their home opener.
Now, the wins over New Jersey and the New York Islanders weren't necessarily pretty, but goalie Kari Lehtonen shook off a couple of soft goals against the Devils to help the Stars overcome some sloppy play and keep the ship pointed in the right direction.