Cross Checks:

Jim Rutherford
June, 6, 2014
Jun 6
4:26
PM ET
Scott Burnside and Craig Custance weigh in on the Penguins' hiring of Jim Rutherford as GM and the firing of coach Dan Bylsma.
BURNSIDE:
Craig, big news out of Pittsburgh on Friday with the announcement that Jim Rutherford, the classy former GM of the
Carolina Hurricanes
, is taking over the post left vacant when the Penguins fired Ray Shero last month. The Pens also announced that they've fired coach Dan Bylsma. First, let me say I can't think of a more shameful way to do business than how the Penguins have handled the makeover of their front office/coaching positions. I'm still not exactly sure what Shero did that warranted being fired, but fair enough. This is a team built for success and it has underachieved, losing to a lower seed in the last five playoff years following the Pens' Stanley Cup win in 2009. But what was the point of not firing Bylsma when Shero was fired? Didn't ownership know then that it didn't feel Bylsma was the man to get the team back to the promised land? Did they just figure it out? Why not do the decent thing and fire Bylsma right from the get-go? The whole thing smacks of a disconnect at the highest levels with a team that for many years has epitomized class and doing things the right way. For instance, had they acted quickly, they could have had a shot at Barry Trotz, arguably the best coach on the open market; he landed the
Washington Capitals
job. I have no doubt that Bylsma will find a job quickly. For my money, he's the best coaching prospect available. As for Rutherford, he built a Cup winner in Carolina in 2006, but the Hurricanes haven't made the playoffs since '09. He has lots to work with in Pittsburgh, starting with the world's best player,
Sidney Crosby
, yet there is also lots of work to do -- and that will start with finding a new head coach.
CUSTANCE:
The whole process was bizarre, from pinning the lack of success on one of the game's most respected general managers to retaining Bylsma when the expectation from everyone in the hockey world was that he was done in Pittsburgh. The way this was handled doesn't reflect particularly well on the Penguins' organization. On the bright side for Bylsma, he didn't miss out on too many openings and should immediately become the No. 1 candidate for the
Florida Panthers
, Carolina Hurricanes and
Vancouver Canucks
. If I'm him, I might wait it out and see if a better job opens. He'll have his choice when he's ready. Rutherford knows what he's doing, is a veteran executive with decades of experience, and has a Stanley Cup ring. The interesting thing is the promotion of
Jason Botterill
to associate GM. To me, that suggests the Penguins liked him as much as some of the other younger candidates on the list, such as the
Tampa Bay Lightning
's Julien BriseBois, but weren't ready to hand over the reins just yet. Now, Botterill can gain even more experience under Rutherford, and if things go well, you have to assume he's the GM-in-waiting for the Penguins. It's not ideal for Botterill, but it could have been worse. So who does Rutherford call first to replace Bylsma?
BURNSIDE:
Well, it depends on whether you think Rutherford will need to hire an experienced coach as opposed to going to the minors and hiring someone such as a Willie Desjardins or even the Baby Penguins' coach, John Hynes, who's done a terrific job with the Penguins' American Hockey League affiliate. My gut tells me that the Penguins, who promoted Bylsma from their farm system in February 2009, will look for someone who has NHL experience. Why not Ron Wilson, whose name has surfaced for the opening in Florida? He's had lots of time to decompress from his last outing in Toronto, and he has coached top-end players in the past and is a sharp, analytical coach. Rutherford hired Paul Maurice for a second time in Carolina, after Maurice had been fired in Toronto, saying coaching the Leafs for a couple of years was like having a Harvard education in hockey. Well, Wilson would have a veritable MBA given his time in Toronto. The guy I still think is destined for a head-coaching job is
John Stevens
, who's part of the superlative
Los Angeles Kings
coaching staff. He should have gotten the Vancouver job last summer (and could yet get it) but he would also be the kind of guy who could have an impact in Pittsburgh. To answer this question, you also have to ask the question: What kind of coach do you need to get the maximum out of captain Sidney Crosby? It's clear Crosby wasn't himself in the playoffs this year as the Penguins blew a 3-1 series lead against the
New York Rangers
. Do you think that's fair, and if so, who fits that bill?
CUSTANCE:
I wrote about it in my Insider blog, but I agree with the guys you mentioned. Wilson deserves another shot at some point; time has been kind to his tenure in Toronto, considering the goaltending he had to deal with. He was masterful in guiding Team USA to the silver medal in the 2010 Winter Olympics. I'd also add Rangers assistant
Ulf Samuelsson
to the mix. I had a conversation with a few Rangers about Samuelsson during their series against the Penguins and they raved about him. "He's a smart coach," defenseman
Marc Staal
said then. "He's a good communicator. He wants to know what you're feeling ... that's a big part of him, being able to talk to him, knowing what they expect of you." Said
Brian Boyle
: "He's been awesome. ... He's a competitive guy. He brings a lot of enjoyment to the rink. He loves being here. He's a funny guy, very smart. Loves the game." There's a lot on Rutherford's plate and we haven't even talked about roster changes. Where would you start there?
BURNSIDE:
Lots of work on that end as the Penguins have a lot of guys locked up and need to make pretty significant lineup moves. We're assuming free-agent defenseman
Brooks Orpik
will be on the move. Can Rutherford find enough money/term to keep
Matt Niskanen
on board? He's the best defenseman ready to hit free agency and we know he wants to stay in Pittsburgh, and he's an important part of that dressing room. Up front, the team lacked scoring depth on the wings, and while
Pascal Dupuis
will be back from his knee injury, the team might need to move money in the form of
James Neal
to gain flexibility. Neal can be moved and should be attractive, given his goal-scoring ability. But he has proved to be a liability for the Penguins when he's not scoring, often taking bad penalties and not contributing in other ways. And what to do about
Marc-Andre Fleury
? Is he really the goalie for the Penguins? He was good but not good enough in the playoffs. Does this team need to make a change? Did we mention there's lots of work to do for Mr. Rutherford?
CUSTANCE:
I don't think he needs to do anything dramatic. I agree, they need to bring Matt Niskanen back, and I believe he might take less to stay with the Penguins. If I'm Rutherford, my priority is building depth up front. If you have to trade Neal to bring in good, young forwards, that option should be on the table. Rutherford should also consider moving one of the young defensemen that Shero did well to collect for more help up front. But let's not forget, this team was one win away from beating the Eastern Conference champ. There have already been massive changes made in the front office and behind the bench; it might be prudent to see how those play out before doing anything too crazy to the roster.
April, 25, 2014
Apr 25
11:03
PM ET
It is likely that Jim Rutherford will step down as general manager of the
Carolina Hurricanes
early next week.
It is likely that he will stay on in an executive role.
Rutherford, 65, is also president and part-owner of the team and has been with the franchise since 1994, when they were still the Hartford Whalers.
The Raleigh News & Observer reported last month that former Hurricanes standout and current vice president of hockey operations
Ron Francis
would take over as GM.
Carolina finished the season near the bottom of the Metropolitan Division with a 36-35-11 record. The Hurricanes have not made the playoffs since 2009 when they were swept by the Penguins in the Eastern Conference finals.
November, 4, 2011
11/04/11
1:49
PM ET
It took about 35 seconds after Pekka Rinne's seven-year, $49 million contract extension was announced by the
Nashville Predators
for
Montreal Canadiens
fans to flood Twitter with
Carey Price
comparisons.
And yes, there's no question that Price's leverage just went up even more, if it wasn't high enough to begin with.
They are not exact comparisons: Rinne was unrestricted free agent-bound, while Price will be a restricted free agent July 1. UFA-bound players always have a bit more leverage.
Still, they're both MVPs for their respective teams and top-five goalies in the world.
Contract talks haven't begun yet between the Habs and Price's camp, but the plan is for those discussions to begin before the offseason.
"We're expecting to have a conversation with Montreal sometime this season," Price's agent, Gerry Johansson, told ESPN.com on Thursday.
Price is earning $2.75 million this season, and that salary will easily double.
And What About the Preds?
Speaking of the story shifting quickly, it didn't take long for the Predators angle to move from Rinne's deal to the remaining two big free agents on the team.
[+] Enlarge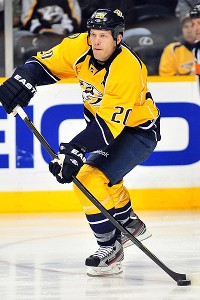 Don McPeak/US PresswireThe future of Ryan Suter in Nashville largely depends on the team's success this season.
Ryan Suter
is eligible to be an unrestricted free agent July 1 and captain
Shea Weber
will be a restricted free agent. We chatted with a half-dozen NHL team executives Thursday in the wake of Rinne's signing, and none of them believe the Preds can sign both. The betting money in the industry is that one signs, and the other one goes.
"I think it's going to be awfully hard to them to get both defensemen done," one NHL GM said.
What those executives may not know is what Preds GM David Poile shared with ESPN.com on Thursday evening: Ownership gave him the financial green light last week to sign all three of his impending free agents to "fair market value" deals. Which means if the Preds pull it off, their payroll will go from the third-lowest in the NHL this season to possibly top 10 next year.
Now, it's one thing for the Preds to have the green light to spend on Suter and Weber, but it's another for both players to agree on what fair market value is, or to want to say in Nashville. How the team performs this season will certainly also play a factor in both players' decisions.
First up for Poile will be Suter since his pending UFA status makes his situation a little more pressing than Weber's. Technically, Weber can't sign a new deal until January anyway, per the CBA rule for players on one-year deals.
As we reported Tuesday, Suter's agent, Neil Sheehy, plans to be in Nashville in mid-November to sit down with Poile and resume contract talks. Suter is earning $3.5 million this season. We'd be shocked if he wasn't looking to make at least $6.5 million, if not $7 million, in his new deal.
If the Preds don't have Suter locked up as the Feb. 27 trade deadline approaches, Poile will have a mighty difficult decision to make. He didn't move pending UFA
Dan Hamhuis
a few years back and saw him walk away to Vancouver in the summer. If the Preds aren't in a playoff spot Feb 27, it's a no-brainer: You move Suter and maximize his asset value. But if Nashville is once again in a playoff spot, it's white-knuckle time. The Preds likely would have to keep him for the playoff drive and swallow hard if he walks away July 1.
Did we mention the
Detroit Red Wings
have more than $20 million of cap room next summer?
Hurricanes Trade Talk
Much has been made of the surplus on defense in Toronto and the eventual and likely trade the Maple Leafs will make using that surplus sometime this season.
But another team that's willing to move a defenseman is the
Carolina Hurricanes
, a source told ESPN.com this week.
The idea is to give more ice time eventually to the likes of
Justin Faulk
or
Derek Joslin
, both promising young blueliners. The Hurricanes need to open up that ice time by moving a defenseman.
It's not clear whom the Hurricanes would be willing to move, but
Bryan Allen
is eligible for unrestricted free agency July 1.
Hurricanes' Ownership
Veteran GM Jim Rutherford added minority owner to his title Thursday when the Hurricanes announced he is among 10 new minority partners joining principal owner Peter Karmanos.
"I feel very good about my longtime relationship with my boss and friend, Pete Karmanos," Rutherford told ESPN.com. "When this opportunity was laid out to local people, I was part [of] it and listening to it and realized it was something I wanted to do and was worthwhile to do."
Rutherford was already a mainstay at board of governors meetings for the Hurricanes, but now he'll attend those meetings with an ownership stake. We asked him, given the specter of a new collective bargaining agreement next year, whether that changed the way he viewed the industry now that he isn't just a GM.
"No, it doesn't change how I look at things," Rutherford said. "Really, over the last number of years I have really been excited about where the on-ice game has gone and where it's going. Also, as franchises get stronger, we see more growth in Carolina. So I'll look at things the same way that I have. I just think the league has done a good job."
Team USA 2014
We wrote a few weeks ago that if Steve Yzerman wants to run Team Canada's 2014 Olympic team, it's his job again.
But what about Team USA?
USA Hockey has not approached 2010 GM Brian Burke about it at this point. It's still early, obviously. We'd be surprised if Burke was not the GM again -- or at least was part of the operation in some capacity along with the committee of NHL GMs that USA Hockey will likely lean on again.
It's behind the bench that it might get interesting. Ron Wilson did a terrific job in Vancouver with a surprise silver medal. But it wasn't gold, so we're guessing that opens up the job.
The betting money from this perspective is on
Pittsburgh Penguins
coach
Dan Bylsma
. Again, a lot can change between now and USA Hockey's decision-making time, but we believe Bylsma is the early front-runner.
Howard Solid
Perhaps lost somewhat in Detroit's recent struggles -- the Red Wings entered the weekend on a six-game slide (0-5-1) -- has been the excellent play nonetheless of netminder
Jimmy Howard
.
"I hate to waste goaltending performances," coach Mike Babcock told ESPN.com this week.
Babcock made the comparison to a pitcher in baseball always throwing gems but still losing.
"If you're Jimmy Howard, you've got to be suing for no run support," Babcock said.
The Red Wings, as of Friday morning, were 25th in the NHL in goals per game. Nothing short of stunning.
Howard, meanwhile, entered the weekend with a 1.99 goals-against average and .921 save percentage.