Cross Checks:

Joe Nieuwendyk
September, 5, 2014
Sep 5
1:44
PM ET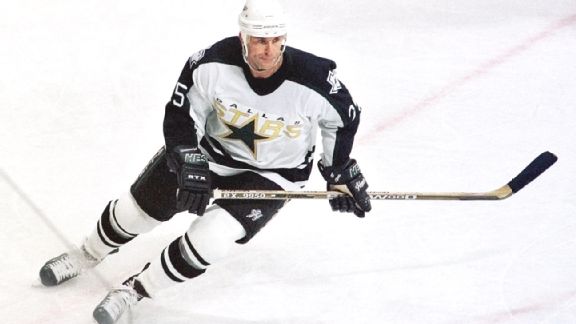 AP Photo/Bill JanschaFormer Stars player and GM Joe Nieuwendyk is back in the NHL after a year away from the league.
Hall of Famer
Joe Nieuwendyk
took a full season away from the NHL, although he never stopped watching hockey.
But Nieuwendyk needed a year away to recalibrate after being fired as general manager of the
Dallas Stars
following the 2012-13 season, spending some time with his family, before taking on his next challenge.
His next gig will allow him to stay in Dallas with his family while at the same time reconnecting with the NHL.
"I enjoyed my year with helping my son's hockey team, and now I can continue to do that," Nieuwendyk told ESPN.com this week after being named pro scout/adviser to
Carolina Hurricanes
GM
Ron Francis
.
"I had breakfast with Ronnie in the spring and we continued to talk during the summer. I have a lot of respect for Ron,'' Nieuwendyk said. "I played with him on the Leafs in '04, and we have mutual friends who work for him in Carolina. It just feels like something I wanted to do and hopefully I can help him any which way I can.''
When Jay Feaster was fired as GM in Calgary last season, rumors -- well-founded ones -- spread that Flames president of hockey operations Brian Burke had great interest in bringing former Flames star Nieuwendyk in as Feaser's replacement.
While Nieuwendyk has never talked publicly about that specific possibility, it is clear he's not ready yet to jump back into that demanding lifestyle of running an NHL team.
His new job with the Hurricanes will provide the best of both worlds: a link to NHL management and the chance to continue to help coach his 12-year-old's hockey team and spend time with his three kids in Dallas.
"This gives me an opportunity to stay involved in the game, being part of upper management conversations with Ronnie,'' Nieuwendyk said. "I think that's a good role for me at this point. I love helping my son's team out; that's been a lot of fun.
"I'll be based in Dallas, I'll see games here and keep an eye on the Western Conference a little bit for Ronnie,'' Nieuwendyk added. ``A big part of this, though, will be just to have to some real good conversations with Ron. I know he doesn't have a deep staff. So any time I can be a sounding board for him, he's probably going to go through a lot of the same things I went through as a (rookie) GM. We just have a good relationship. He's a sharp guy and a classy guy, I think he's going to be fine.''
The Bruins' cap challenges
The Bruins remain cap-challenged on the eve of training camp and it's likely they'll move a body or two over the next month or so to give themselves some breathing room.
That's a must when you consider that restricted free agents
Reilly Smith
and
Torey Krug
remain unsigned. Plus there's the fact Boston's getting dinged $4.7 million in cap carryover bonus overages from last season.
It's a good bet a trade happens here at some point sooner rather than later. From chatting to sources around the league this week, the names we keep hearing that the Bruins are listening on are defensemen
Johnny Boychuk
($3.36 million cap hit),
Adam McQuaid
($1.56 million) and
Matt Bartkowski
($1.25 million). All three are unrestricted free agents a year from now.
The Bruins likely have a pretty good idea from chatting to teams all summer long what deals they can make for either of those players. The question now is which one or two they can live without, leaving them with the best possible group intact.
The end for Whitney?
Is the Wizard nearing retirement? Tough to tell at this point but it's possible
Ray Whitney
has played his last NHL game.
"I'm not sure yet, and I'm not really tipping my hand one way or the other,'' Whitney told ESPN.com on Thursday. "I'm in shape, I'm skating, but I'm not too worried. There's obviously limitations to where I would go, but I'm not out there searching for anything, either.''
The sense at this point is that if a team calls, he'll listen, but he's not ordering his agent J.P. Barry to drop everything, either.
"I won't continue to skate for much longer," Whitney said quite candidly. "My interest in playing drops with each week that I don't get something, so I won't be pressing too much.''
The 42-year-old had 32 points (9-23) in 69 games with the Dallas Stars last season, although it was clear he wasn't a fit there anymore. He did put up nearly a point a game in the lockout season just the year before and had 77 points (24-53) in 82 games with the
Arizona Coyotes
in 2011-12. He can surely help somebody's power play.
Just a guess here, but given that Whitney and his wife and kids live in Scottsdale, Arizona, the Coyotes are probably one of the teams he'd be open to signing with. However, a source told ESPN.com that Arizona does not have any interest.
Hopefully Whitney catches on with another club, but if this is the end, what a career it's been. He won a Stanley Cup with the Hurricanes in 2006 and totaled 1,064 points (385-679) in 1,330 career regular-season games with San Jose, Edmonton, Florida, Columbus, Detroit, Carolina, Arizona and Dallas.
Bertuzzi's focus back on ice
Now that Todd Bertuzzi's settlement with
Steve Moore
is signed, sealed and delivered, his camp can focus on hockey matters.
With the possibility of a trial this fall keeping Bertuzzi occupied in recent months, there really wasn't any point in trying to talk to NHL teams about the UFA winger this summer.
But now that a trial has been avoided, Bertuzzi's agent, Pat Morris of Newport Sports, told ESPN.com Friday that his client hopes to catch on with an NHL team.
"Todd wants to continue playing," Morris said. "He's skating and is in great shape. A lawsuit is no longer an issue. We'll see what transpires in the coming weeks."
Easier said than done, of course. The 39-year-old was limited to 16 points (9-7) in 59 games last season in Detroit and that comes after the lockout year in which he played only seven games because of injury.
But Morris says Bertuzzi is skating and is ready to go. It won't be back in Detroit, though, where the Wings have a plethora of forwards and are still waiting to hear on whether
Daniel Alfredsson
.
October, 11, 2013
10/11/13
3:41
PM ET
Former Stars GM
Joe Nieuwendyk
has kept a low profile since his dismissal last spring.
Wonder what he has been up to? Well, he's still in Dallas.
"I'm just laying low, you know?," the Hockey Hall of Famer told ESPN.com Friday on the phone from Dallas.
"I'm helping out with my son's hockey team, keeping a close eye on what's going on in hockey, but I'm just settling in here right now. The break has been nice."
Nieuwendyk never really did take time for himself, jumping right into the
Florida Panthers
front office following his All-Star playing career. His firing as Stars GM is behind him now.
"I don't really have any regrets. I enjoyed the job," Nieuwendyk said. "I was involved with pro hockey for 27 years and now I'm taking a little time off, which is not entirely bad. I'm re-connecting with my kids and that part has really been fun."
The Nieuwendyk clan counts a 12-year-old girl, an 11-year-old boy and an 8-year-old girl.
"These are important years," Nieuwendyk said of his young family.
Would he go back to an NHL job?
"Under the right circumstances, certainly I'd look at it for sure," Nieuwendyk said.
But his family will obviously be an important factor in whatever he decides to do.
November, 14, 2011
11/14/11
10:26
PM ET
Here are some news and notes from Monday's Hockey Hall of Fame induction ceremony in Toronto:
Howe's moment
Mark Howe had some powerful words at the beginning of his Hockey Hall of Fame induction speech Monday night, when he implored those in power to ensure that the families left behind from September's KHL plane crash are taken care of monetarily.
Howe lost good friend and former blue-line partner Brad McCrimmon, who was in his first season as coach of the Lokomotiv team.
Howe ended his speech by pulling on a No. 9 Gordie Howe Red Wings jersey. What a special moment.
Of course, Howe shared the spotlight with his famous father, Mr. Hockey, all weekend long. Hey, he's used to it.
"As you see, we're doing interviews and he has a much bigger crowd than I," Mark Howe said Monday morning, gesturing at the larger scrum of media around his dad about six feet away. "The first day in the hotel, 50 people came up and asked for autographs. They all asked for Gordie while Marty and I just sat there.
"That comes with the territory, that's so much of what my mother helped her four children to deal with. ... He's aware of what goes on, he wants me to deserve all the credit and get all the credit and be honored for this weekend. He doesn't want to distract from that. It means far more to me having him around than anything else."
CuJo in the house
Former star goalie Curtis Joseph attended the Hall induction gala Monday night after getting a ticket from none other than Doug Gilmour.
"I never played with him, but I did help him get to the Hall of Fame," Joseph said with a laugh. "So I thought I should be here."
Joseph, of course, was referring to the dramatic overtime goal Gilmour scored on Joseph in the Toronto-St. Louis playoff series in 1993.
Belfour's call
Hockey Hall officials couldn't get a hold of Belfour in June to tell him of the great news. He was napping. He plays defense in a men's hockey league in Dallas and still naps on game days.
"I usually still take a pregame nap even though it's just men's league," he said with a laugh Monday. "I was taking a nap that day and no one could get a hold of me. Somehow they got a hold of my brother-in-law. He had a key for the house and came in and woke me up. It was pretty neat."
Much was made about Belfour's leather jacket/no suit approach to the pregame ceremony Saturday night at Air Canada Centre. Well, obviously someone got to him because he was wearing a suit Monday. He admitted he had to buy a shirt and tie for the ceremony while in Toronto. He says he doesn't wear suits any more.
"Nope, not anymore, just for special occasions," said Belfour. "I still have some old suits, but they don't fit."
Gilmour, the prankster
Doug Gilmour was a Jekyll-and-Hyde character during his playing days -- fierce as anyone on the ice, and a total jokester off of it. His fellow inductee Joe Nieuwendyk talked about showing up to the rink when they were teammates in Calgary and Gilmour had put shoe polish on the toilet seats in the dressing room.
For Gilmour, he needed that comical side as a release because of how intense he was during games.
"And I'm glad I'm not playing now because I know I wouldn't get by with some of the things I did on the ice," Gilmour said. "Yes, there's a lot of things I did wrong out there, but that's how I had to play. But I'd come to the rink at 4 p.m. for a 7:30 p.m. game and I'd just think of what I needed to do to get everybody [practical jokes]. I was easy-going until warm-up. Once warm-up started, it was game on."
Ringing endorsement
Nieuwendyk was asked about his Dallas Stars and their surprising start during his media availability Monday. The Stars GM said it starts behind the bench with rookie coach Glen Gulutzan.
"I truly believe the coach we have now is going to be a like a Barry Trotz, a 10-year guy that we're going to be talking about," said Nieuwendyk.
High praise, indeed.
Gretzky's special message
Our good friend and colleague Terry Jones of The Edmonton Sun was inducted into the Hall on Monday as the winner of the Elmer Ferguson Award. At the end of the media luncheon honoring Jones and Detroit Red Wings color man Mickey Redmond (Foster Hewitt Award winner this year), host Gord Stellick read an email Wayne Gretzky sent earlier in the day in honor of Jones.
Over the years, the game of hockey has had the good fortune to have great players go into the Hall (Gordie Howe, Bobby Orr, Rocket Richard), and some of the best coaches ever (Toe Blake, Glen Sather and Scotty Bowman)," Gretzky wrote. "But it has been just as important for the game to have people be able to talk about the game to the average hockey fan who loves the game as much as anyone.

People like Foster Hewitt, Danny Gallivan, Red Fisher brought the game to life each and every day. That is exactly what Terry Jones has done each and every day for the hockey fans of Edmonton. He lived and died every playoff win and loss, gloating after big wins and reassuring Oiler fans after a tough loss the next game would be better. An honor well deserved; congratulations on being elected to the Hockey Hall of Fame. Welcome, it's a wonderful place to hang your hat.

Your friend,
Wayne Gretzky
November, 14, 2011
11/14/11
5:23
PM ET
TORONTO -- Ed Belfour went undrafted by the NHL.
Doug Gilmour went undrafted one year before going in the seventh round the next year.
Joe Nieuwendyk didn't think he was good enough for major junior hockey in Canada, so he went to Cornell.
Mark Howe played the first six years of his pro career with the now-defunct World Hockey Association.
Yet all four made their way to the Hockey Hall of Fame, as their long and prosperous journeys were made official with Monday's inductions.
[+] Enlarge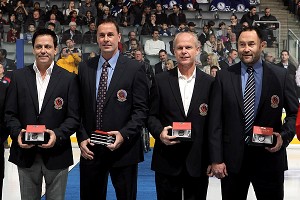 Bruce Bennett/Getty ImagesThis year's Hall class (from left): Doug Gilmour, Joe Nieuwendyk, Mark Howe and Ed Belfour.
This year's class is the ultimate example of perseverance.
"I think it shows a lot of character and determination, love for the game and passion for sure," Belfour said Monday, referring to all four inductees, after slipping on his Hockey Hall of Fame induction ring and jacket. "When you have that, I don't think it matters where you play; people are going to recognize that you love the game and you're a winner. People recognize that and want to help you get to the next level."
It just goes to show the Hall isn't just for first-round picks and can't-miss hot shots.
"It's what makes it such a special place," Nieuwendyk said. "It doesn't discriminate. I think the common bond with a lot of these faces that I see on the walls, especially the recent ones that I have some history with, is a real genuine passion and a love for the game and high competitive spirit in all of us."
Gilmour gained entry into the NHL by accepting a checking role in St. Louis. He thinks back to that moment, and never in a million years did he think it would lead to his enshrinement into Hockey Hall.
"I [was] 5-10 and maybe a buck-55 [155 pounds] at the time," Gilmour said Monday. "[Former Blues coach] Jacques Demers said, 'Can you check?' I said, 'OK,' because all I wanted to do was stay there. I didn't want to go to the minors. To say at that very point where I'd be today? No, I would have never expected that."
While Gilmour was unsure of his NHL job early on, Nieuwendyk was even less confident, which is why he laughed when asked what his reaction would have been in his Cornell days had someone predicted his HHOF induction.
"I wouldn't have believed it," the Dallas Stars' GM said. "It's funny, I always had a little bit of self-doubt. I think that was maybe a healthy thing; it kept me humble and kept me focused, but I wasn't big enough probably to go the Ontario Hockey League. I know that sounds crazy, but I didn't have many options. I thought maybe I'd be a junior varsity player at Cornell, and when I got drafted by the Flames and was leaving school my first thought was, 'Where's the farm team?' I went through a lot of that [self-doubting], but once you have a taste of success and you get confident in your own abilities, the sky was the limit."
Howe remembers his father Gordie's HHOF induction in 1972, and he surely didn't think at that moment he'd be joining him 39 years later.
"I think every kid growing up who loves the game of hockey wants to be a player," Mark Howe said Monday. "You play in the driveway, you dream of winning Stanley Cups, you dream of winning Conn Smythe trophies, you dream of everything. The only thing you never dream of is making the Hall of Fame, so this is beyond any dream that I've ever had."
Mr. Hockey was plenty proud Monday, saying Mark's induction meant more to him than his very own.
"It's a tremendous honor," Gordie Howe said Monday. "To heck with Gordie Howe, it's Mark Howe."
And to heck with all of those who didn't believe in these four players decades ago. They were proved wrong, and then some.
[Editor's note: Pierre LeBrun and ESPN Insider Craig Custance will be back with more from the Hockey Hall inductions tonight in Toronto.]
June, 29, 2011
6/29/11
12:44
PM ET
Joe Nieuwendyk talks with ESPNDallas.com on his selection into the Hockey Hall of Fame.
June, 27, 2011
6/27/11
2:59
PM ET
TORONTO -- It is time for some repair work at the Hockey Hall of Fame.
That is the theme for the class of 2011 if all goes well here Tuesday, when the Hall's 18-member selection committee meets to debate and ultimately select November's new members.
"Repair" as in make things right for a few players who have been passed over in recent years, because this is the committee's last chance for a while to get some of these players in before a new wave of slam-dunk candidates come. (Joe Sakic, Rob Blake, Scott Niedermayer and Brendan Shanahan are a few of the players who will become eligible in the next two years.)
Ed Belfour is the most notable first-year eligible player in 2011. Third all-time in goalie wins, if Belfour doesn't make it Tuesday, he should eventually get in.
[+] Enlarge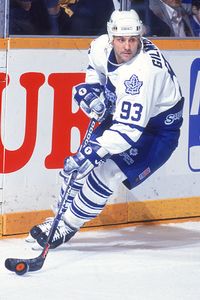 Claus Andersen/Getty ImagesDoug Gilmour led the Maple Leafs to back-to-back West finals appearances in 1993 and 1994.
The selection committee can elect up to four male players. Here's hoping they maximize this window by taking four players who should have been inducted before this year. It's worth noting that Hall of Famer Igor Larionov is a new member on the committee this year.
For starters, Joe Nieuwendyk should have been an automatic entry in 2010, his first year of eligibility. Surely he'll get in Tuesday, one hopes. And why not get Doug Gilmour in with his former teammate? The two players were instrumental in bringing the one and only Stanley Cup to Calgary in 1989.
"They both had great careers," Hall of Famer Cliff Fletcher, GM of that '89 Flames squad, told ESPN.com Monday. "Nieu has won three Stanley Cups with three different teams, and he had a great run when we were together with the Flames. Doug was a key player when we won the Cup in '89 in Calgary. And the first two and a half years he was here in Toronto from January 1992 onwards, he carried the team on his back and almost by himself. All I can say is that I hope they both get serious consideration."
Nieuwendyk scored 564 goals among his 1,126 points, but those statistics tell only part of the story of a clutch player who raised his game come playoff time and won Cups with Calgary, Dallas and New Jersey.
Gilmour somehow isn't in the Hall despite 1,414 career points. What really nails the argument for us is Gilmour's 188 career playoff points, tied with Sakic for seventh all-time in NHL history. How is this guy not in the Hall?
Adam Oates also deserves serious consideration; his 1,420 career points are the highest of any eligible player not yet in the Hall. And what of Dave Andreychuk's 640 career goals, 13th all-time in NHL history?
Others who also deserve a look include Steve Larmer, Pavel Bure, Pierre Turgeon, Alexander Mogilny, Kevin Lowe, Mark Howe and Eric Lindros. (I made my case for Big E last year.)
Bure was the most electrifying goal scorer on the planet in his heyday. Yes, a serious of knee injuries limited the duration of his greatness, but you can't tell us there was a more dynamic goal scorer in the NHL than the Russian Rocket, especially when he put together back-to-back 60-goal seasons in 1992-93 and 1993-94 with the Vancouver Canucks.
Last year, the Hall inducted the first women in the player's category (Cammi Granato and Angela James); up to two women can be elected every year, and not at the expense of the four maximum male players who also can be selected.
Having said that, it's not a guarantee that more women will be inducted Tuesday; it's not expected to be an annual rite. If we had our way, however, former Canadian superstar blueliner Geraldine Heaney would be selected this year. The Olympic gold medalist and six-time world champion was known as the Bobby Orr of female hockey during her heyday. In 2008, Heaney joined Granato and James as the first female players inducted into the International Ice Hockey Federation's Hall of Fame.