Cross Checks:

Joe Pavelski
June, 29, 2013
Jun 29
5:30
PM ET
NEW YORK -- Of the many memorable hours leading up to the epic gold-medal game at the Vancouver Olympics in 2010 between Canada and the United States, this is one that has stayed with us.
It was a conversation with then-U.S. associate GM David Poile the day before that game.
He had spoken earlier in the process about the importance of the Olympics, specifically the impact a strong showing might have on future generations of U.S. players. About how the 1980 Miracle on Ice team became a beacon for a generation or more of American players as well as -- to a lesser degree -- the U.S. team that defeated Canada in the 1996 World Cup of Hockey championship.
As the gold-medal game approached, it was hard not to be swept up in the emotion of what lay ahead.
"I don't think anybody knew how good we'd be. We didn't know how good we'd be," Poile said that Saturday. "Let's call it like it is."
The Americans would be denied a shot at Olympic immortality by the slimmest of margins, a
Sidney Crosby
goal in overtime, from a bad angle at that.
We were reminded of the legacy -- or at least the potential legacy -- of that team Saturday, when we were swept up once again in the quest for Olympic glory as Poile was formally announced as GM of the U.S. team for the 2014 Olympics in Sochi, Russia.
Part of the charm of the Vancouver team was the fact it was the youngest team in the tournament. As GM, Brian Burke was fond of repeating that no one gave the Americans a spit of a chance to earn a medal, let alone battle for gold.
No question the dynamics will be dramatically different in Sochi on a host of fronts.
"In Vancouver, we were turning the page," Poile told ESPN.com on Saturday.
That team was the first that didn't hearken to the glory days of
Brian Leetch
,
Chris Chelios
and
Keith Tkachuk
et al. The idea was that if the team had any success at all, it would provide a good base on which to build for 2014.
The Americans' run to the silver (going 5-1 in the tournament) means they will not sneak up on anyone in Sochi. Not with the past two Conn Smythe Trophy winners on the roster in
Patrick Kane
and
Jonathan Quick
. Throw in top-end talent like
Ryan Suter
, who in our book was the hands-down best defenseman in the NHL this season (finished second to
P.K. Subban
in Norris Trophy voting),
Minnesota Wild
teammate
Zach Parise
,
David Backes
,
Joe Pavelski
,
Phil Kessel
and
Dustin Brown
and there will be a strong core returning from the Vancouver squad.
Still, trying to handicap Olympic contenders based on results from a tournament four years in the past is a mug's game. Yes, some continuity is important. Understanding the routines of an Olympic tournament, the media, the schedule and the ebbs and flows of a short, high-drama competition is critical to how a team comes together.
But each tournament represents a different world, and that is where the management structure and coaching staff are so critical to a team's success.
USA Hockey neatly sidestepped a potential public relations problem early on by structuring its management team in the manner it did. Poile moved up the ladder and will be joined by
Pittsburgh Penguins
GM Ray Shero, who will act as associate. The two worked together for the
Nashville Predators
and were part of the U.S. management committee that helped put together the 2010 team.
But Burke, the architect of that team, has been kept in the fold as director of player personnel. He will accompany the team to Sochi.
It was Burke who came up with the idea of opening the process of selecting teams for international competition to American GMs. He invited colleagues like Paul Holmgren (
Philadelphia Flyers
), Dean Lombardi (
Los Angeles Kings
), Stan Bowman (
Chicago Blackhawks
), Dale Tallon (
Florida Panthers
) and former Atlanta Thrashers GM Don Waddell to join in the process.
The openness and inclusiveness established by Burke was universally praised by those involved, and as Poile pointed out Saturday, the validation of the process was in the result -- a silver medal.
That Burke, dismissed from his post as GM and president of the
Toronto Maple Leafs
on the eve of the lockout-shortened regular season in January, continues to have a strong voice in the building of the 2014 team is an important nod to what he's accomplished. To have marginalized him would have sent a disappointing message.
"He will have a big part in the formation of this team in 2014," Poile said.
But a nod to the past is also being balanced by a nod to the future, which is critical given that neither Canada nor the U.S. medaled in the two Olympics held away from North American soil since the NHL began participation in 1998 in Nagano. (2006 in Torino was the other.)
A bigger ice surface, time issues and different cultures will conspire to make life in Sochi exponentially more difficult than it was in Vancouver and, before that, Salt Lake City in 2002, when Canada defeated the U.S. for the gold medal.
The committee, which represents 150 years of NHL GM experience and six Stanley Cup championships, will have to keep all those things in mind, Poile said, when making selections, just as it did in choosing the Pens'
Dan Bylsma
as head coach.
Burke built a team that could play an NHL-style game with a blend of hard-nosed forechecking, strong defense and goaltending mixed with opportunistic scoring, but the style of play in Sochi may make some of those qualities less important.
Clearly, skating and puck movement will be at a premium on the big ice surface, which suggests players like
Keith Yandle
,
Kevin Shattenkirk
and perhaps
Matt Carle
or
John Carlson
may be more attractive than other, more physical defensemen.
What about a speedy, skilled forward like
Alex Galchenyuk
, who had a strong rookie campaign for the
Montreal Canadiens
?
"Our philosophy is going to be a little bit different because this is in Europe," Poile said. "We have to tune up our thinking a little bit."
One thing Poile made clear is that, while a résumé of strong play has historically been a factor in inclusion on the final roster handed in late in December, getting off to a good start next fall will be key in the committee's final decisions.
In introducing the management team Saturday in New York, president of USA Hockey Ron DeGregorio suggested that an American team is no longer the stuff of miracles but rather the stuff of expectations.
A fine sentiment, and after Vancouver, it would seem it is true. Now it's up to Poile and the rest to meet those heady expectations.
"This is the ultimate honor and challenge," Poile said.
June, 20, 2013
Jun 20
1:01
PM ET
The
San Jose Sharks
run a tidy little ship, don't they?
A few days after agreeing to
a five-year, $30 million contract extension
with star center
Logan Couture
, Sharks GM Doug Wilson inked pending UFA winger
Raffi Torres
to
a three-year, $6 million deal
.
In both cases, I would argue Couture and Torres bent a little to give the team flexible deals. As one agent told ESPN.com in the wake of Couture's deal, most players of his stature could be getting the maximum eight-year deals and likely more than $6 million per year. And Torres, no matter what you think of his suspension history, played well for San Jose after arriving from the
Phoenix Coyotes
and was noticeably warmly welcomed by his new teammates.
When he's on his game, Torres is a bargain at $2 million. But this speaks to the Sharks' culture the past few years of players giving a little in order to ice the most competitive team possible.
San Jose doesn't have a contract that has more than five years left on it, giving the team flexibility moving forward. Up next: key center
Joe Pavelski
, who has one year left on his deal. Contract talks already began with his camp and will continue in earnest.
Also, you can expect the Sharks to make the extension of coach Todd McLellan's contract official next week.
What will be intriguing as the Sharks' offseason progresses is what Wilson decides on the
Joe Thornton
and
Patrick Marleau
fronts. Both veteran stars have one year left on their deals. I know Thornton loved the way his teammates responded late in the season after all the trades, the new energy the Sharks had and the way they played more like a team than in years past. So my sense is Jumbo wants to stick around.
May, 29, 2013
May 29
1:34
AM ET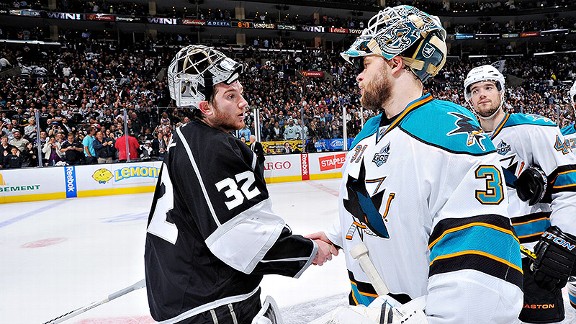 Andrew D. Bernstein/Getty ImagesAntti Niemi and the Sharks aren't happy about their season's end, but they still stood tall in 2013.
LOS ANGELES -- You were in the wrong dressing room here Tuesday night if you were looking for anyone to acknowledge what the
San Jose Sharks
achieved this season.
No, in the visitors' room at Staples Center, there were only looks of despair and heartbreak after a hard-fought series with the
Los Angeles Kings
ended with a Game 7 loss.
Logan Couture
sat dejectedly in his stall, looking into space as if hoping to wake up from a nightmare.
"It's heartbreaking. It's tough," Couture said. "It's been a long year. We battled hard to get to where we were. We made some changes and played a good first round, then forced, I think, the best team in the league to seven games and almost beat them in their building. It's tough to take."
"We played our hearts out, and that's all you can ask of each other," added captain Joe Thornton.
This was a team that was headed absolutely nowhere in February. The Sharks couldn't score, they couldn't skate and they didn't look like a team worthy of a playoff berth, which is why GM Doug Wilson took honest stock back then of what he had and decided it was time to "reset" his roster, planting the seeds for the eventual trades of veterans
Douglas Murray
,
Ryane Clowe
and
Michal Handzus
.
They were all pending unrestricted free agents after the season, and Wilson had seen enough of his team midway through the season to know he had to get younger and faster. Years of contending had had its impact. It was time to remold the group, a process which will continue in the offseason.
But at that time, about the last thing anybody in San Jose truly believed was that they'd end up just one win away from the Western Conference finals.
"Definitely credit to the guys for turning this thing around because it was looking pretty dark and ugly for a while," veteran blueliner
Dan Boyle
said.
A strange thing happened in early April after Murray, Handzus and Clowe were dealt away: The team came together and started winning games.
Feeding off a sense that nobody believed in them, the Sharks molded into a tight-knit group that felt it could prove people wrong. The team did so by upsetting Vancouver in the opening round -- in four straight games no less -- and impressed in the manner in which they took the Kings to the very end.
The loss of
Raffi Torres
to suspension after Game 1 against the Kings was a factor, Boyle said.
"We had to shift our lines a little bit after losing Raffi, and I think that hurt us a little bit," Boyle said. "We had
[Joe] Pavelski
on the third line in the first round and that gave us a balanced scoring attack. With Raffi out, Pavs went up [to Couture's line]. It's not the way we were playing in the last month and a half."
Couture acknowledged afterward that he had been playing on an injured ankle he suffered in Game 3 -- a game in which he returned to score in OT -- which required an injection every game just to play. But he refused to use that as an excuse.
"I was able to play 100 percent," Couture said, his face buried in his hands.
Top blueliner
Marc-Edouard Vlasic
also gutted it out, confirming to me after Game 7 that he'd been playing with a hairline fracture in his right foot since Game 4, which required freezing the nerves in his foot before playing.
"But lots of guys in this room were playing hurt, just like the Kings," Vlasic said. "It's no excuse."
So what now? Thornton and Boyle both have one year left on their contracts. Are they part of Wilson's roster reset, which will continue this summer? Or do both vets, or only one of them, stay on?
"It's tough to look at the future right now," Boyle said. "We'll see what happens this summer, but obviously we have something going well with this team."
Thornton and Boyle were both terrific in these playoffs, and you wonder just how badly they wanted this given where they see the team heading.
"It's disappointing right now," Thornton said. "We were just having so much fun. It's disappointing that it has to end, because we were really enjoying this. It's a tough way to finish."
The Sharks know they've got special players in Couture, Pavelski,
Antti Niemi
and Vlasic, plus up-and-comers in
Justin Braun
and
Matt Irwin
. They should remain a competitive team.
But it's a team that needs more depth, too. They didn't get a single goal from any of their bottom-six forwards -- not counting Pavelski, who moved up a line -- in two playoff rounds. Tough to win when you're counting so hard on your top players all the time.
All in all, though, considering how the season looked in February and March, it's hard not to feel somewhat satisfied if you're a Sharks fan in the end. This isn't a team that folded under expectations. It's a team that achieved more than was expected from them this time around.
May, 16, 2013
May 16
9:09
PM ET
LOS ANGELES -- The
Raffi Torres
-
Jarret Stoll
hit seems to have had a bigger impact on the Sharks' lineup than the Kings in terms of line juggling.
While the Kings will insert center
Brad Richardson
straight up as a replacement for the injured Stoll on the third line, with no other parts changing in the lineup, the Sharks shuffled the deck Thursday in the wake of Torres' pending suspension:
•
Joe Pavelski
moved from his third-line center spot to the wing on
Logan Couture
's line with
Patrick Marleau
.
•
Scott Gomez
moves up from the fourth line to the third-line center spot.
• Left winger
Andrew Desjardins
moves down from the third line to the fourth line.
• Left winger
James Sheppard
moves up from the fourth line to the third line.
•
Tim Kennedy
, healthy scratch in Game 1, is inserted into the lineup as the fourth-line center.
Only
Joe Thornton
's line remains intact from Game 1. The forward lines at Thursday's morning skate:
Marleau-Couture-Pavelski
T.J. Galiardi
-Thornton-
Brent Burns
Sheppard-Gomez-
Tommy Wingels
Desjardins-Kennedy-
Bracken Kearns
The key move here is Pavelski moving up from No. 3 center to wing on the Couture line. While it improves San Jose's offensive punch in the top six, it also removes the luxury of having such a talented player on the third line.
"We discussed a lot of different options," Sharks head coach Todd McLellan said after the morning skate. "And I don't know if this is written in stone by any means. But we have to start somewhere and see where it goes. The majority of the scoring for the Kings in the playoffs have come from their top two lines. We like Pav there (on Couture's line), he's a responsible two-way guy and he has the ability to help out in the faceoff circle against a (
Anze) Kopitar
or a (
Mike) Richards
."
Few elite players in the NHL have bounced around from center to wing more than Pavelski over the years. But he says he's fine with it.
"That was a nice stretch playing center, no doubt," Pavelski said of anchoring the third line for a while. "But to be back up with those guys is exciting, it's fun to play with them. Wing, center, it doesn't matter; I'm going to get to take faceoffs and if I'm the first guy back (in the defensive zone) I'll take that center position."
Richardson is ready
As expected, Richardson replaced the injured Stoll in the Kings lineup, and on the same line. He skated between
Dustin Penner
and
Trevor Lewis
on the third line at the morning skate Thursday.
"I've been in this situation before so it's nothing new," Richardson said after the morning skate Thursday. "Stolly is a great player for us, I'm not trying to be him, I'm just going to play my game."
Richardson played the playoff opener in St. Louis but was replaced by
Colin Fraser
and hasn't played since. He appeared in 13 playoff games last spring, so he's a guy the Kings trust when they need him.
"He's played a good role for us, not always one that he's happy about because you're not using him all the time," Kings head coach Darryl Sutter said Thursday morning. "He prefers to play center. That's one thing him and I have talked about, he prefers to play center. He came into the NHL as a centerman."
The Kings' forward lines from the Thursday morning skate:
Dustin Brown
-Kopitar-
Justin Williams
Dwight King
-Richards-
Jeff Carter
Penner-Richardson-Lewis
Jordan Nolan
-
Colin Fraser
-
Tyler Toffoli
Kings dealing with injuries
A year ago, nearly as impressive as the manner in which the Kings steamrolled everyone to a Cup was the fact their lineup barely ever changed.
They were incredibly healthy, using the same six defensemen the entire playoffs, and all their key forwards were also healthy throughout.
Already this year it's different, with no
Willie Mitchell
for the entire season,
Matt Greene
barely playing, and Stoll now out. Not the same script at all.
"It's definitely different, but we're still happy with the team we have out here," star Kings blueliner
Drew Doughty
said Thursday morning. "The guys that have had to step in for those players have done a great job so far. Tonight, Richardson is coming in, he plays very similar to Stolly, he's a good two-way centerman, works hard and he's going to bang bodies. So we're happy with the team we got. I know we can overcome these things. The team that's still in here can do it."
Sutter pointed to the lockout-shortened season and compact schedule as a factor.
"The 48-game game schedule tested everybody's depth for sure," said Sutter. "Everybody that's still playing, (depth) is probably the reason. The schedule and the travel, you had to use everybody and put guys in situations. This just continues that."
The other difference is how rested the Kings were a year ago. They played short series and got lots of time between rounds to rest up. This year, they were physically tested and pushed to six games by a rugged
St. Louis Blues
squad, and the league is now trying to cram four playoff rounds into a shorter time frame.
That has an impact as well.
"You watch other series -- that Detroit-Chicago game last night, Detroit played a helluva game but in the end one team had a little more in the tank," said Sutter. "And Babs (Wings coach Mike Babcock) said, too, 'The day before we weren't very good in practice, either, we just went through a tough series and a lot of travel.' They're not machines, they're people, and we always forget about that."
April, 24, 2013
Apr 24
11:34
AM ET
Three NHL teams clinched playoff berths on Tuesday, leaving four spots to be claimed in the season's final five days. San Jose clinched its ninth straight playoff berth, the second-longest active streak. The Islanders ended a five-year playoff drought, and the Blues made the postseason for the second straight year.
Sharks 3, Stars 2
* Sharks: clinch 9th straight playoff berth, 2nd-longest active streak (Red Wings have 21 straight entering this season)
* Stars: winless in last 3 games (0-2-1); remain 3 points out of final playoff spot in Western Conference with 2 games left on their schedule
*
Joe Pavelski
&
Logan Couture
(SJ): score tying and game-winning goals 30 seconds apart in 3rd period (Couture's game-winning goal is scored with 5:07 left)
* Sharks: 4-1-0 in last 5 games
Longest Active Postseason Streaks
Last Missed
Red Wings 21 1989-90
Sharks 9<< 2002-03
Penguins 7<< 2005-06
Bruins 6<< 2006-07
Capitals 6<< 2006-07
>>Includes this season
Hurricanes 4, Islanders 3 (SO) (CAR wins shootout, 2-0)
* Islanders: clinch playoff berth with overtime point and Jets regulation loss at Capitals (1st playoff berth since 2006-07 season)
* Islanders: have earned at least 1 point in 11 straight games (8 wins, 3 OT/SO losses)
* Islanders: 2-0-1 so far on season-ending 5-game road trip; 14-5-3 on road this season
* Hurricanes: only 2nd win in last 11 HOME games (2-9-0)
Blues 3, Avalanche 1
* Blues: clinch playoff berth for second consecutive season
* Blues: 4-1-0 in last 5 games
*
Patrik Berglund
(STL): Goal (16), 1st goal in last 10 games
* Avalanche: 1-12-4 in last 17 road games
Panthers 3, Rangers 2
* Rangers: remain tied with Senators at 52 points, currently hold final playoff spot in Eastern Conference (1 point ahead of Jets)
*
Jacob Markstrom
(FLA): 36 saves
* Panthers: snap 6-game losing streak
* Rangers: 3-game win streak ends
Flyers 5, Bruins 2
* Bruins: remain tied with Canadiens for lead in Northeast Division (Bruins own tiebreaker)
* Bruins: 2-5-0 in last 7 ROAD games
* Flyers: score 2 goals 7 seconds apart in 2nd period (ties franchise record for fastest 2 goals)
* Flyers: 4-1-0 in last 5 games
Devils 3, Canadiens 2
* Canadiens: fail to gain ground, remain tied with Bruins atop Northeast Division (Bruins own tiebreaker)
* Canadiens: 1-5-0 in last 6 games, outscored 28-14 in those games
* Patrick Elias (NJ): 375th career goal, extends lead as Devils franchise leader
Capitals 5, Jets 3
* Capitals: clinch Southeast Division title and 3 seed in Eastern Conference with win (5th division title in last 6 seasons); 10-1-0 in last 11 games
*
Alex Ovechkin
(WSH): empty-net goal in 3rd period; 31st goal of season (leads NHL), also has assist
*
Jason Chimera
(shih-MAIR-uh) &
Mathieu Perreault
(pari-OH) (WSH): goal & assist each
* Jets: 1-5-0 in last 6 ROAD games; remain 1 point out of final playoff spot in East with 1 game left to play (vs Canadiens Thursday)
FROM ELIAS: Alex Ovechkin set an NHL record for April goals in one season with 13. Besides being a new league record, Ovechkin's 13 goals in April this year (in 11 games) are the most he's recorded in one calendar month since October 2009 (14 goals in 13 games).
Wild 2, Kings 1
* Wild: now 7th in Western Conference with 53 points (2 points ahead of 8th-place Blue Jackets)
* Wild: 1st win in last 6 HOME games (1-4-1)
*
Charlie Coyle
&
Cal Clutterbuck
(MIN): score goals 16 seconds apart in 1st period
* Kings: 1st regulation loss in last 6 games (4-1-1)
Sabres 4, Penguins 2
* Penguins: remain 3 points behind Blackhawks for best record in NHL (Penguins have 2 games left to play)
* Sabres: snap 2-game losing streak
* Penguins: 7-game winning streak ends
November, 20, 2012
11/20/12
10:12
AM ET
I catch up with
Joe Pavelski
on Monday just after he's had another nice dinner in Minsk.
"The food's good here," the
San Jose Sharks
center told ESPN.com over a crackling phone line. "There are five restaurants that we go to, pretty much. We rotate among them, and it's quite good."
Life in Belarus has been a learning experience for the Wisconsin native, but he has kept an open mind.
"It hasn't been bad; it's been fun in a lot of ways," said the Team USA Olympian. "It's been really nice having
Pekka Rinne
and
Tim Stapleton
here, gotten along good with them. There's enough English-speaking players on the team to get by, joke around enough and feel comfortable."
It's not perfect, of course. He's had to leave behind in San Jose his wife and 2-year-old son.
"That was a big decision that we had to make," Pavelski said, but one that he felt necessary to stay in game shape. "With the 11-hour time [difference from San Jose], you usually do some FaceTime with them in the morning and before you go to bed. It's definitely tough now to miss the holidays coming up…"
Last month, Pavelski's son, Nathan, turned 2, the age when the personality of a child really starts to blossom. It's hard not being around for that.
"I'm missing a lot, I can see that just over the computer," Pavelski said. "I can see that over the computer. But hopefully things end soon and I'll be able to see them."
Either way, he should be with his family. He said that if the NHL season gets canned entirely, his wife, Sarah, and Nathan might go to Belarus for the rest of the season. Of course, he hopes it's the other option, that he's back home to play a shortened NHL season.
"Obviously, Pekka and I talk about it, the NHL is where we want to be," Pavelski said. "But it's been pretty good being able to play hockey here, and the fans here in Minsk are great. It's a great atmosphere."
Pavelski has kept close tabs on the lockout: He said that the NHLPA has kept him well-informed and that he has even jumped on a few players' calls from overseas.
His read on things?
"A lot of players, and I think a lot of owners, have a gut feeling that we'll play this year," Pavelski said. "Are we really going to waste a season over the issues that separate us right now?
"To be honest, I don't know how there isn't a season," he added. "Maybe I'm kind of naive to say that. You see how players are speaking out, and [have] their frustrations and choice words for certain people. … Every player has all those feelings. Hopefully, these negotiations keep happening and we can get a deal done."
On the ice, Pavelski is a little banged-up, but it's not serious.
"I've got a lower-body injury," Pavelski chuckled, in fine NHL lingo form. "It's just a minor one. Hopefully I'll be back Thursday and, if not Thursday, then within a game or two of that."
Pavelski was playing mostly with
Winnipeg Jets
winger
Evander Kane
before the latter parted ways with Minsk and headed home this past week.
"I wish Evander the best," Pavelski said. "It just didn't work out for him. He's a good player. He just never felt comfortable here."
Adjusting to KHL hockey, especially for a North American player, is not easy, but Pavelski makes no excuses for having one assist in seven games with Dinamo Minsk.
"It's disappointing, and I've had more chances than what I'm showing [statswise], and next thing you know, you get a little banged-up," he said. "It's a pretty slow start. There's an adjustment, for sure. I'll be excited to get back to play some games."
November, 18, 2011
11/18/11
2:42
PM ET
The
Boston Bruins
woke up Sunday morning, Oct. 30, dead last in the Eastern Conference at 3-7-0, having just been swept in a home-and-home by the rival
Montreal Canadiens
.
And yet, it's in that moment of despair that Bruins GM Peter Chiarelli believes the defending Stanley Cup champions found their "on" button.
"Those two games were so public; it's such a huge rivalry that I think it just woke the guys up," Chiarelli told ESPN.com on Friday.
Fast-forward three weeks and seven consecutive wins later, and the heart of a champion very much beats loudly in Beantown.
"We have a really strong group. These guys went through the trenches together last year," Chiarelli said. "You turn the page [on last season] and you face new battles and new challenges. It wasn't a pretty one [2-1 shootout win over lowly Columbus on Friday], but we found a way to win and to me that shows the strength of the group I think when you win a game like that."
One of my favorite statistics is five-on-five goals-against ratio: The Bruins were tops in the NHL last season at 1.40 en route to their Stanley Cup championship (Vancouver was second). And lo and behold, the Bruins were tops again entering the weekend with a 1.63 mark.
"We're a deep team and we pride ourselves on five on five," Chiarelli said. "It speaks to how we have scoring from top to bottom. That helped us last year in the playoffs when our power play was struggling and our even strength was so good. It helped us get through."
Leading the way up front with 20 points (11-9) and a plus-15 rating has been sophomore forward
Tyler Seguin
, who has gone from little-used rookie to go-to player in his second year under head coach Claude Julien. His ice time is up five minutes per game from last season in doing so.
"The biggest thing is that he's stronger, and he's engaging more," Chiarelli said. "The rest of his game has just come along once that happens. I really feel that's the foundation of a young guy's confidence when he's able to win his battles and engage all the time. That's when the player's game blossoms."
Little Joe is hot
Joe Pavelski
leads the
San Jose Sharks
with 18 points (10-8) in 16 games entering the weekend, and he's on pace so far to easily eclipse his career high of 66 points set last season.
[+] Enlarge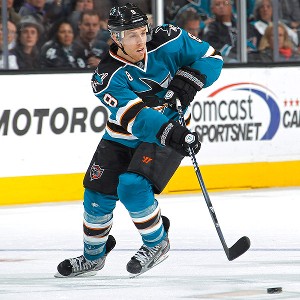 Rocky Widner/Getty ImagesJoe Pavelski is one of the key reasons the Sharks are playing so well this season.
He's benefited from moving up from a third-line role last season to a top-six role this year after the Sharks moved both
Dany Heatley
and
Devin Setoguchi
.
"I spent more time this summer shooting and doing all the little things getting prepared for this season," Pavelski told ESPN.com on Friday after practice. "I really focused on improving my shot. I also focused on skating so that you're in the right position to get to rebounds. But obviously I'm playing with great players and getting more ice time."
Pavelski has spent the past four games playing on a line with
Joe Thornton
and
Logan Couture
. But there's never a bad match when the rest of the top six includes
Ryane Clowe
,
Martin Havlat
and
Patrick Marleau
.
Two springs ago was a coming-out party of sorts for Pavelski, when he was oh-so-clutch en route to 17 playoff points (9-8) in 15 games. But last spring he dipped to 10 points (5-5) in 18 games.
He was playing hurt but doesn't like to hang it on that.
"Yes but it doesn't matter, not enough for an excuse," Pavelski said. "There were guys that were more banged up than me. I had chances to score but didn't get the job done. It's unacceptable at that time of year. A goal here and there can really change a game around at that time of year."
Pavelski is plus-7 on the season, and there are lots of players on his team on the plus-side. That's a key component to his team's start this season, Pavelski said.
"It starts in your end, if you defend better things will come for you," he said.
Trade talk
My colleague, Jim Matheson of the Edmonton Journal, has an
interesting piece
talking about the Oilers' need to help their banged-up blue line.
Cody Franson
of the
Toronto Maple Leafs
is available, and we'd be shocked if the Oilers haven't yet inquired about him. The
Carolina Hurricanes
also have some defensemen available. We're hearing the names of
Tomas Kaberle
and
Bryan Allen
. The Canes are working hard to make a trade to shake up their slumping team, and they'd like to move a defenseman in return for a forward.
The struggling
Anaheim Ducks
are also working the phones. They entered the weekend last in the NHL in goals per game. The top dogs --
Corey Perry
,
Ryan Getzlaf
,
Bobby Ryan
-- aren't getting it done, although you know that will come around just based on past practice. But one of the other issues has been the lack of offense from their bottom-six forward group, and really, the overall play of their third and fourth lines. The Ducks did pick up
Niklas Hagman
to help in that regard, but that won't be enough.
Jeff Carter
has not officially asked for a trade,
Columbus Blue Jackets
GM Scott Howson announced. But you can bank on this: If and when Howson got a trade that made sense, Carter would likely welcome it.
New on Friday that goalie
James Reimer
would not be ready to play at least for another seven to 10 days, which will only intensify the Leafs' attempts to trade for a goalie.
March, 25, 2011
3/25/11
6:15
PM ET

Stock up
Joe Pavelski, San Jose Sharks: The Sharks appear to be peaking at just the right time, having lost just twice in regulation in their past 18 contests. Up front, Patrick Marleau is scoring in bunches, but what about Pavelski, who has collected an incredible 17 points in his past six games? If depth down the middle is an indicator of Cup worthiness, the Sharks have it. And if Pavelski keeps up this pace, the Sharks may finally be ready to extend that spring run into June, a run Sharks fans have been waiting for since the lockout.
Mike Knuble, Washington Capitals: Speaking of teams ramping it up for the playoffs, how about the Washington Capitals? They have won 11 of 12 games, are running away with the Southeast Division and now have an outside shot at the top seed in the Eastern Conference for the second straight season. With captain Alex Ovechkin resting an injury for a week or so, heart-and-soul veteran Knuble has stepped up with five goals and three assists in his past five games. Knuble has now hit the 20-goal plateau for the eighth straight season, only the fifth active player to do so.

Stock down
Scott Gomez, Montreal Canadiens: We know Gomez is more of a playmaking center than a sniper, but still, it might be nice if he scored once in awhile. Gomez has gone 22 straight games without a goal; that's just not cutting it, especially given that the offensively challenged Habs have now been shut out twice in a row, including Thursday's embarrassing 7-0 loss in Boston. Gomez has chipped in just eight assists over that 22-game span and has not had a multipoint game since Jan. 21. It'll be one and done for the Canadiens unless they can get some depth scoring, and that means Gomez will have to step it up.
Martin Havlat, Minnesota Wild: Another disappointing finish to the season for the Minnesota Wild, who will miss the playoffs for the third season in a row. That's what happens when you lose seven straight in late March and manage to score just nine times over that period. There is a lot of blame to go around in the State of Hockey, but Havlat's drop-off in production was certainly a big factor. Havlat, the team's leading scorer, has gone seven straight without a goal and has just one in his past 11 games.