Cross Checks:

Johan Hedberg
March, 17, 2013
3/17/13
10:20
PM ET
By
Sarah Goldstein
| ESPN.com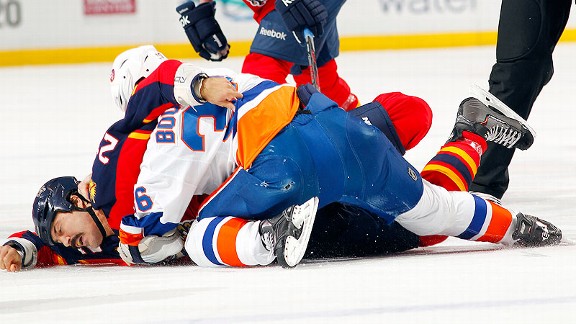 Eliot J. Schechter/NHLI/Getty ImagesThe Panthers' George Parros left the game with an upper body injury after getting slammed to the ice by the Isles' Eric Boulton.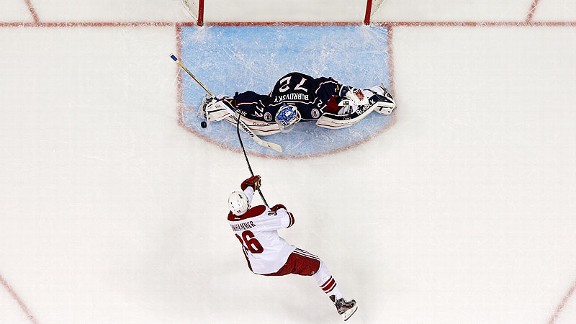 Kirk Irwin/Getty ImagesSergei Bobrovsky's 39 saves through overtime extended the Jackets' point streak to 10 games.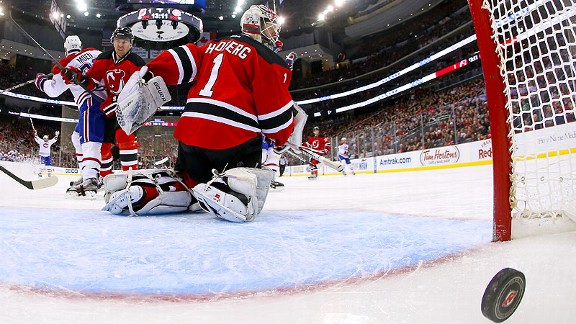 Bruce Bennett/Getty ImagesThe Devils' Johan Hedberg can't stop the game-winning goal by the Habs' Tomas Plekanec.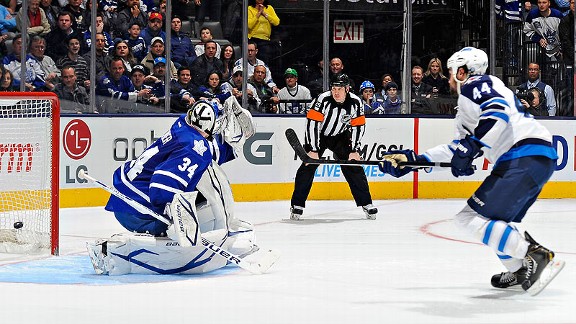 Graig Abel/Getty ImagesZach Bogosian beat James Reimer in the 10th round of the shootout. This was the 21st shootout to last 10 rounds, but he first since Feb. 15, 2011.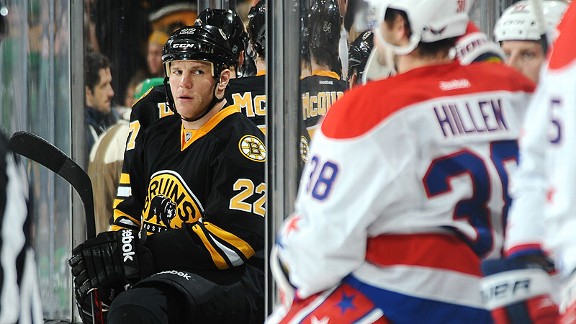 Brian Babineau/NHLI via Getty ImagesShawn Thornton and Boston's big guys took every opportunity to intimidate the Capitals.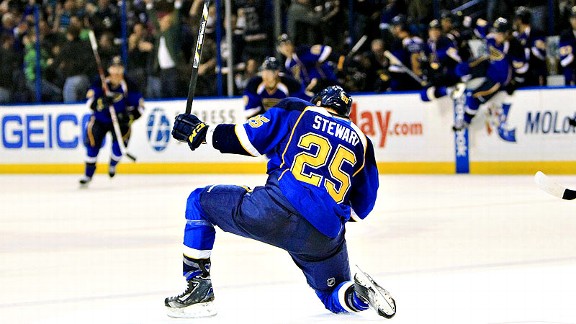 AP Photo/St. Louis Post-Dispatch, Chris LeeChris Stewart has scored five goals in his past three games to help the Blues top the Pacific-leading Ducks.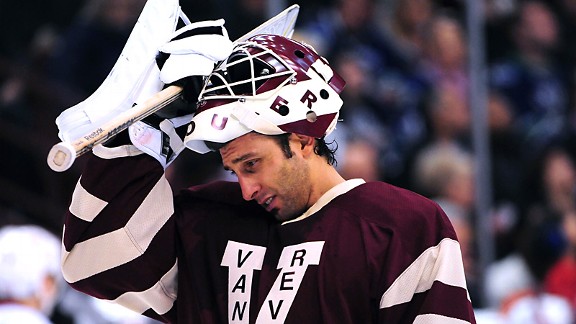 Anne-Marie Sorvin/USA TODAY SportsThe Red Wings handed Roberto Luongo his first loss at home in regulation this season.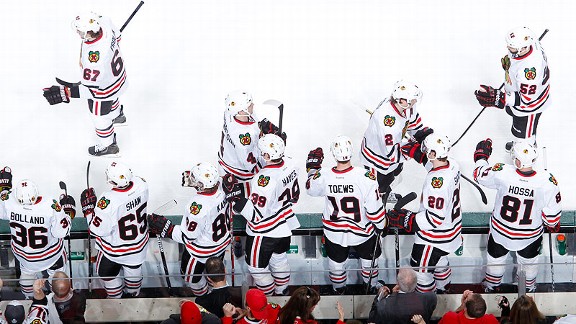 Glenn James/NHLI/Getty ImagesThe Hawks' eight goals against the Stars are the most in a regular-season game since Dec. 16, 2008.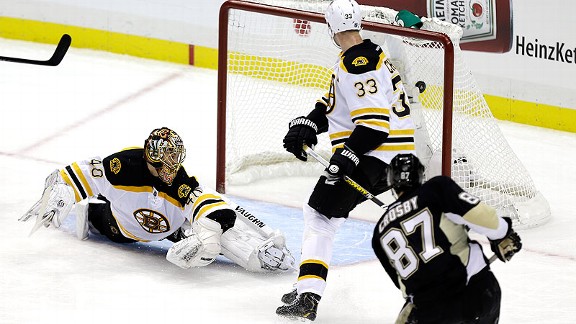 AP Photo/Gene J. PuskarThe Penguins got their ninth straight win on Sunday to move to the top of the East.
March, 5, 2013
3/05/13
9:57
AM ET
Promising starts for two Eastern Conference teams have been rendered moot by goaltending issues ranging from poor play to a lack of durability.
That theme was on display Monday night in both cases. The New Jersey Devils extended their winless streak to five games (0-4-1) in a 4-2 loss to the
Toronto Maple Leafs
, and the
Tampa Bay Lightning
were edged 4-3 in Pittsburgh by the Penguins.
Johan Hedberg
has been in goal for all five games during the Devils' current slide as the winningest goaltender of all time,
Martin Brodeur
, recuperates from a back injury. This isn't all on Hedberg, a stand-up guy if there ever was one, but the numbers speak for themselves. The Devils have been outscored 19-9 (not counting shootout goals) during the five-game stretch. And while the goaltending hasn't been strong, the power play has gone dry, going 0-for-17 in the past five games, putting even more pressure on the defense and goaltending. At one point the Devils led the Atlantic Division and were in the hunt for the top spot in the conference. As of Tuesday morning, New Jersey had sunk to seventh place in the conference and is now looking over its shoulders at division rivals Philadelphia and the
New York Rangers
. Brodeur did not accompany the team to Toronto, and there is no definite timetable for his return, which can't come soon enough for a team that advanced to the Stanley Cup finals last June.
Meanwhile, the Lightning began the season 6-1-0 and since then have gone 3-11-1, including Monday's loss, their fifth in a row. The defeat was further marred by the loss of netminder
Mathieu Garon
, who left the game early in the second period. Garon was expected to be the backup to
Anders Lindback
, who was obtained by the Lightning in the offseason from Nashville, but has actually been the steadier of the two and had recently assumed the starting role. Now it will be up to Lindback, who allowed two goals on 18 shots to take the loss Monday, to try to turn the tide. Lindback has an unhealthy 3.27 GAA and .890 save percentage for the Lightning, who rank 27th in the NHL in goals allowed per game. (They also called up netminder Cedrick Desjardins from their AHL affiliate to serve as backup.) The Lightning began Tuesday in 13th place in the Eastern Conference but just four points out of eighth and six points out of first in the weak Southeast Division. Oddly enough, they play Tuesday night in Newark against the Devils.
October, 25, 2012
10/25/12
10:45
AM ET
By
Sarah Goldstein
| ESPN.com
October, 26, 2011
10/26/11
12:32
PM ET
Scott Burnside and Pierre LeBrun look at a few of the surprising goaltending performances early on this season:
Burnside: Well, my friend, it was another interesting night between the pipes Tuesday in the NHL. When Mathieu Garon was signed by GM Steve Yzerman in Tampa Bay, how many people thought he would be the goalie to get the Eastern Conference finalists back on track after an ugly start to the season?
Garon was terrific again in the Lightning's 4-3 win over the Sabres and improved to a 3-1-1 record. Garon now has a 1.78 goals-against average and .942 save percentage after relieving the struggling Dwayne Roloson early on. Garon's play is mindful of Brent Johnson last season for the Penguins when starter Marc-Andre Fleury began the campaign playing like a bag of hammers. Fleury got back on track and finished with impressive numbers over the final two-thirds of the season. Do you expect the same of Roloson? What other goaltending surprises have caught your eye in the first month?
LeBrun: I do think Roloson will settle down, but given his age, 41, Yzerman was wise to bring in some veteran insurance in Garon. It's easy to forget, but Garon outplayed Steve Mason last season in Columbus and was a big reason the Jackets threatened to make the playoffs. The Lightning GM made it a priority to find a quality backup that could play some games behind Roloson. So far, that decision is proving fruitful. Garon is also a good character guy, and Yzerman was mindful of that, as well.
"He's been very good and has given us a chance to win [in] each game he's played," Yzerman told me via email Wednesday. "We did not play well in Buffalo, Mathieu had to make several difficult saves in the first period; if not, we could have been down 5-0. Somehow we got back in the game and we're fortunate to come out with a victory."
Another surprise has to be Nikolai Khabibulin in Edmonton. The veteran netminder looked to be on his way out of the league with his play last season, not to mention his legal troubles off the ice. But he is sporting a 0.97 GAA and .963 save percentage, stopping 35 shots in a 3-2 win over Vancouver on Tuesday night. Simply mind-boggling to me.
Burnside: No question Khabibulin, 38, looks like he's found the fountain of youth, at least early on. Speaking of another old-timer, how about the work of Johan Hedberg in New Jersey? With Martin Brodeur sidelined early with a shoulder injury, the Devils could have gone sideways like they did a year ago when confronted by injuries to key personnel (including Brodeur). But Hedberg, also 38, has been a rock. He stopped all 31 shots Tuesday night in a 3-0 win against red-hot Los Angeles. Hedberg is now 4-1-1 with a .937 save percentage and a 1.86 GAA.
I must admit, I didn't quite understand president and GM Lou Lamoriello's decision to bring back Hedberg since there doesn't appear to be an apparent plan of succession for the Hall of Fame-bound Brodeur; but Lamoriello has proved doubters wrong, at least early on, as has Hedberg, who is one of the most easy-going players in the league.
[+] Enlarge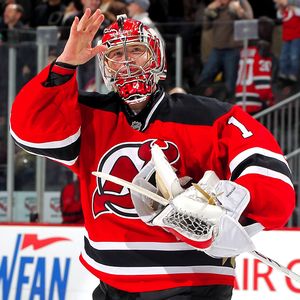 Paul Bereswill/Getty ImagesJohan Hedberg is 4-1-1 with a .937 save percentage and a 1.86 GAA through six starts.
LeBrun: The Devils look like a playoff team right now, just as they did in the second half last season. What about St. Louis? Who could have foreseen Brian Elliott challenging Jaroslav Halak in the Blues' net early this season? Elliott wasn't even assured of a job in camp, as he had to battle Ben Bishop for the backup job before finally winning it. Elliott has been in the pipes of late, and the Blues have turned things around after a slow start. This is the same Elliott who was discarded by Ottawa and Colorado. What gives?
"Coming into training camp, there was competition for a roster spot," Blues GM Doug Armstrong told ESPN.com on Wednesday morning. "He and Bishop both played well, probably to a draw, but we decided to go with experience. When Brian has got a chance here to play, he's been very strong for us. One thing that's impressed his teammates is his mental approach and work ethic. Right now, he's on a roll and it's benefited us."
The question is, how is Halak taking it?
"Jaro understands that we need to win games," said Armstrong. "He's preparing and working real hard in practice. One of the things that we talked about to our team in camp is that we want to have great depth at all positions. We have that in goal, too. Jaro knows he's going to be a big part of things here."
Burnside: Well, in my books, no goalie has been more surprising than Dallas' Kari Lehtonen, who won again Tuesday. Lehtonen is a perfect 7-0-0 with a .955 save percentage and 1.54 GAA, and has made more stops than any netminder in the league. Having watched Lehtonen struggle early in his career in Atlanta, the jury is still out for me on whether he's a true No. 1 goalie, someone who turns in 65-70 starts a season and maintains the consistency that separates the average from the good and the good from the great. But early on, the Stars have been one of the surprise teams in the league, and Lehtonen's play has put them in a great position to secure an unexpected playoff berth. Wonder what we'll be saying about Lehtonen and the Stars at midseason?
LeBrun: Not sure I agree with you that Lehtonen is the biggest surprise. He was the Stars' No. 1 goalie last season and turned in what was for the most part a solid performance. He struggled at times, yes, but he was their No. 1 goalie from wire to wire; so, apart from the fact that he's on fire right now, I don't qualify that as a big surprise. To me, there is no greater surprise than Elliott challenging Halak. An interesting decision awaits Blues coach Davis Payne tonight in Vancouver. My guess is Elliott will get the start because he's on a roll, but how long do you let Halak sit out? Until tomorrow, my friend.