Cross Checks:

John Stevens
June, 19, 2014
Jun 19
1:14
PM ET
John Stevens
knew he had a decent shot at being a head coach again, and most of the rest of the hockey world did, too.
It's believed the
Vancouver Canucks
,
Carolina Hurricanes
and
Pittsburgh Penguins
, for example, would have wanted to chat with him as part of their coaching searches.
But the grass isn't always greener on the other side. Sticking with a Stanley Cup champion isn't such a bad thing, and the
Los Angeles Kings
made sure staying was a really good thing by promoting Stevens on Wednesday from assistant coach to associate head coach (read: pay raise).
[+] Enlarge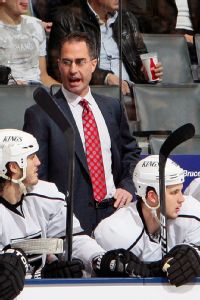 Abelimages/Getty ImagesJohn Stevens stayed with the Kings because he's happy, not because of a succession plan.
And with that, a fairly hot name was taken off the coaching market.
"I think the promotion, the confidence the organization has shown in me, they pulled me off the scrap heap and brought me out here four years ago, I feel indebted for that," Stevens told ESPN.com Wednesday night.
"But I love being part of this group. I've never been in a hurry to move on to something else. I was more than willing to put my time in the minors because I loved what I was doing. And to me it's not about the next step always, it's about being with good people and doing what you love to do. That's certainly my situation right now and that's why I chose to stay."
He'll be a head coach again one day in the NHL, just not now.
"I think I'll get those opportunities one day, but it's not something I wake up thinking about," Stevens said. "I love to coach, and I love being in a position where we have a chance to win, and we certainly have that here."
We talk a lot about championship teams trying to keep their players together, but it's just as important to keep the front office and coaching staff together.
On May 9, Kings general manager Dean Lombardi promoted Mike Futa to vice president of hockey operations and director of player personnel, a step up from co-director of amateur scouting. The
Buffalo Sabres
earlier in the season (before they hired Tim Murray as GM) and the Canucks this spring (before they hired Jim Benning as GM) had sought permission to talk with Futa. The Canucks never got to. Lombardi made sure of it with the promotion.
Now he's done the same with Stevens.
It tells you a lot, too, about coach Darryl Sutter. Stevens had been brought to L.A. four years ago to work alongside coach Terry Murray.
"And that was terrific working with Terry again," said Stevens, who worked with Murray in Philadelphia.
When Murray was fired midway though the 2011-12 season, Sutter inherited Stevens. That's not always a great situation, but the two veteran coaches formed a solid relationship, evidenced by Stevens' decision to stay put.
"You get to know Darryl, he's just an honest man, right?" Stevens said. "There's no B.S. with Darryl. If you're committed to winning and committed to doing everything for the team to help them win, I think you'll get along fine with Darryl."
One of the popular theories out there is that Stevens stayed put because there's some sort of succession plan for him to eventually replace Sutter as coach. Not so, Stevens said.
"I stayed because I wanted to stay with this group in my current role -- period," he said.
A Kings front office source also said that no such plan exists, that this was simply Sutter and the Kings wanting to keep Stevens -- and the feeling was very much mutual.
Elsewhere ...
-- Talks between
Paul Stastny
's camp and the
Colorado Avalanche
are expected to continue next week in Las Vegas at the annual NHL awards. Stastny is a pending unrestricted free agent and easily would be the top center available on the July 1 market. The Avs also have the
Ryan O'Reilly
contract situation on their hands (he's a restricted free agent and the team elected club arbitration on him), so there's a few hot potatoes the Avs are juggling right now.
-- The
Florida Panthers
continue to entertain inquiries for their first overall pick for next week's draft.
"We've had one, maybe two, concrete offers," Panthers GM Dale Tallon told ESPN.com. "About 8-10 teams have showed interest but at this point nothing I would do. We'll see what happens next week."
Tallon also said he hoped to have a new coach in place by Monday. Gerard Gallant, Tom Renney, Dan Bylsma and Marc Crawford are among the candidates.
May, 8, 2014
May 8
10:00
AM ET
Here's the standard pattern when NHL coaches are hired: The new coach sits at a table or stands at a podium and describes how he wants to correct the mistakes of his predecessor, or outlines his philosophies and how he sees good things ahead for Team A or B or J. And then the first question the fan or the radio host wants to know is: Is he a good fit?
It's a great throwaway question and it's likewise prompts a great throwaway answer. But it's at the heart of whether the hire is a good one or not, and there is no way to know when the man is standing at the podium or sitting at the table whether or not it will be a fit. After doing all their due diligence about work ethic, planning and other tangible things, ultimately general managers make a decision based on their gut as to whether the new man will take his new charges places his predecessor couldn't go.
Peter Laviolette
Well, we can do that too: Use our gut to look at the tumbleweed of coaching stories rolling across the NHL prairie. And for what it's worth, we agree with David Poile's gut feeling that Peter Laviolette, a veteran of the hockey wars at many levels, was the right guy for the Predators. Now, some of those wars Laviolette's won spectacularly, and in some he's been vanquished. We have watched him excel in Carolina, where he taught them the "forever" value of a Stanley Cup championship in 2006, and we've watched him in tough places such as Philadelphia, where he somehow managed to guide an odd collection of the aging and the punkish to the Stanley Cup finals in 2010 -- a run that included a historic comeback from a 3-0 series deficit against Boston. Those are the kinds of experiences that will put Laviolette in good stead in Nashville. It will not shock us at all if the Preds are back in the postseason next spring, provided
Pekka Rinne
stays healthy in goal. We're pretty sure Poile's gut told him the same thing.
John Stevens
By a show of hands, who doesn't think
John Stevens
will be behind an NHL bench as head coach somewhere next season? Right now, the question is whether the current
Los Angeles Kings
assistant has another Stanley Cup ring to box up when he makes the move. Last summer, Stevens' name was mentioned as a possible successor to Alain Vigneault in Vancouver, but we know how that turned out. Now that John Tortorella has been dispatched by new hockey boss
Trevor Linden
, many think Stevens is a natural to fill that void. We do too, but it was ownership that steered former GM Mike Gillis away from Stevens and in Tortorella's direction, so through no fault of his own, is Stevens too close to the former regime? Just asking. What might make all this super simple is if Laurence Gillman, the assistant GM to Gillis, gets the job as GM, as he would have been privy to the thought process heading into last offseason and would presumably be a good fit with Stevens (see, there's that term again).
Barry Trotz
Lots of people have linked Barry Trotz to the Vancouver job, although it appears Trotz would like a smaller-market franchise. Hard to imagine a place where Trotz wouldn't be a good fit, but let's say that Vancouver doesn't work out, wouldn't it be interesting to see how the longtime
Nashville Predators
bench boss looked behind the
Florida Panthers
bench? Lots of good young talent there and Trotz is both demanding and a natural teacher. This is a team that needs to move forward and, with
Roberto Luongo
in theory providing the Panthers stability in goal for the first time in a number of seasons, the expectations should be high for this team next season. Trotz has been through those kinds of situations many times over the years in Nashville, and we think he has the perfect personality for that job and the tools that GM Dale Tallon has assembled in Florida.
Kirk Muller, Kevin Dineen, Adam Oates
It's not much of a surprise that new Carolina GM
Ron Francis
cut ties with
Kirk Muller
after the Canes missed the playoffs again. They haven't been to the dance since their surprise run to the Eastern Conference finals in 2009. Muller was the "it" guy a few years back after he was considered a key piece of the
Montreal Canadiens
' coaching staff when they shocked Washington and Pittsburgh en route to the 2010 Eastern Conference finals. Muller, who spent five years as an assistant coach with the Habs, had 17 games of head-coaching experience (with Milwaukee of the American Hockey League) before the Hurricanes swooped him up to replace Paul Maurice. But the Canes were never really a factor in the playoff hunt in the parts of three seasons Muller coached there. Now, Francis must find a coach who can get more from
Eric
and
Jordan Staal
and
Alexander Semin
, and figure out how to improve a team that went from 25th to 19th in goals allowed per game last season but still has miles to go defensively to be a playoff team.
Kevin Dineen
, who did wonders in getting Florida to the playoffs in 2012, is an obvious candidate, but what about a cerebral guy such as
Adam Oates
? Sure, things didn't end up the way anyone wanted in Washington, but you can't argue against the production that Oates got out of
Alex Ovechkin
, at least offensively. Carolina had the 28th-ranked power play this season, and that's right up Oates' alley too, as the Caps were second overall with the man advantage.
Wayne Gretzky?
Speaking of Washington, no real traction to the idea that Wayne Gretzky might end up in Washington in a president of hockey operations kind of role, especially given that it's not entirely clear whether owner Ted Leonsis is even considering such a position (Leonsis did not return an email seeking comment). But let's imagine for a minute that's the route he goes; why wouldn't it make sense to have a guy like Gretzky at the top of your hockey food chain? This isn't about gimmickry or glad-handing or publicity appearances, but making use of one of the greatest hockey minds of all time. Not sure we see Gretzky in a GM role, which is also open in Washington, but in terms of assessing the value of players and the elements that go into making a successful organization, you can't imagine Gretzky wouldn't be a wealth of information for any team. And of course, who wouldn't want to see the dynamic between the greatest player of all time and one of the greatest yet most polarizing players of this generation in Ovechkin? There's nothing to suggest that it'll actually happen, but it doesn't stop us from pining for such a hockey meeting of the minds.
Randy Carlyle
And, finally, we keep hearing that perhaps the
Toronto Maple Leafs
are nearing a decision on whether to bring back Randy Carlyle as head coach. We understand new president
Brendan Shanahan
needs to do his due diligence but, as we noted, won't it all come down to gut for Shanahan and presumably GM Dave Nonis? Does it not come down to the basic question of whether management believes that Carlyle can return to the Leafs dressing room next fall after their precipitous fall from grace down the stretch and command the respect needed to return to the playoffs next spring? Yes, the Leafs are a young team that's still learning. Was this collapse just another part of the learning process? And is Carlyle the man who can help them learn from it, just as he was supposed to help them learn from their collapse in Game 7 against Boston in the first round of the 2013 playoffs? From our perspective, it's hard to imagine that there would be enough confidence in that room to move the team forward if Carlyle returns. And the quality of people available would be the tipping point for us. Regardless of what happens, Shanahan and the rest of the management team owe Carlyle an answer one way or the other, and sooner rather than later.
June, 21, 2013
6/21/13
5:01
PM ET
And when the music stopped, all the coaching chairs were taken.
A whirlwind Friday in the NHL coaching world saw all the vacancies filled up, pretty much anyway.
The
Vancouver Canucks
still haven't officially named their new head coach, but all signs point to John Tortorella being their man.
Across the continent, former Canucks coach Alain Vigneault was officially introduced as the
New York Rangers
' new boss, meaning the Blueshirts and Canucks will end up simply swapping coaches if the Tortorella deal goes through in Vancouver.
Nobody said the hockey world was boring, right?
I like the Vigneault hire a lot. Having coached in Montreal and Vancouver, there's nothing Vigneault hasn't seen. New York is a bigger town but a smaller hockey market than those two previous stops. He's a terrific coach and a great communicator, and I think the Rangers struck gold with that hiring.
Not so sure I feel the same way about Tortorella in Vancouver. I've always gotten along with the man called "Torts," but I feel that a year away from the game to decompress and recalibrate would have served him better. And there aren't many more demanding markets than Vancouver, where the media spotlight will be even more intense than it was in New York.
I understand what the Canucks are doing. Their brass loves Tortorella's fiery disposition and believe he will demand more accountability from the players. This hire isn't about whether he's going to play nice with the media but rather is focused on what the Vancouver players need from their coach.
Still, this is a gamble from GM Mike Gillis in what is his first coaching hire.
Meanwhile, Lindy Ruff landed in Dallas while Dave Tippett re-upped with the
Phoenix Coyotes
.
It is not a coincidence that Vancouver and Dallas zeroed in on their guys just as Tippett announced he was staying put.
I believe the Stars and Canucks were keeping tabs on the Phoenix situation before moving on with their coaching hires, because both teams would have wanted to speak with Tippett had he been available.
Instead, Tippett waited as long as he could to see what would transpire with the Coyotes ownership situation and finally re-signed Friday. It's still not a guarantee that the Coyotes will stay put -- much of that is still being decided as the city of Glendale and the prospective Coyotes owners negotiate a lease agreement that would cement the team's future there -- but the rumors of Seattle being a solid Plan B if the team relocates were enough for Tippett to sign anyway.
In other words, Tippett certainly hopes the team doesn't move, but Seattle wouldn't be a terrible place for him. He has a daughter who lives there.
With Tippett unavailable, Dallas and Vancouver certainly hired some accomplished men, Tortorella winning a Stanley Cup with Tampa Bay in 2004 and Ruff having a successful track record with an underdog Sabres team in Buffalo, including a trip to the 1999 Stanley Cup finals.
The Stars are going through a rebuild of sorts with new GM Jim Nill -- one of the game's top talent evaluators -- and I think the patient Ruff is a good fit for a team that might need some seasoning before it is ready to win.
I feel bad for John Stevens, who appears to be the runner-up in Vancouver. The Canucks informed him over the past day that he was out of the running, a source confirmed Friday. Stevens is ready to be a head coach again, and it's disappointing he didn't get that chance this offseason.
His work with the Kings as an assistant coach is reflected in the team's sparkling defensive game. Stevens is a cerebral coach who thinks the game extremely well. He deserves another shot in a top job, and he'll just have to wait his turn. Other openings will undoubtedly beckon a year from now.