Cross Checks:

Johnny Boychuk
October, 21, 2014
Oct 21
4:25
PM ET
[+] Enlarge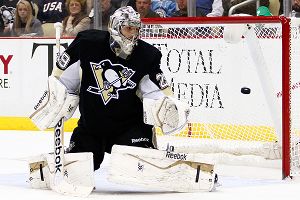 Justin K. Aller/Getty ImagesMarc-Andre Fleury's contract expires at the end of the current season.
There's been much speculation about the future of
Marc-Andre Fleury
in Pittsburgh, if for no other reason than the goaltender is playing the final year of his contract and wasn't extended this past summer.
But people shouldn't read into that,
Pittsburgh Penguins
general manager Jim Rutherford said Tuesday. He doesn't believe Fleury is going anywhere.
"As long as I'm GM here, he's my goalie," Rutherford told ESPN.com. "My plan is to re-sign him when the time is right. When that is, I don't know, if it's during the year or after the year, but I do want to re-sign him. I believe in him."
BOYCHUCK FITTING IN LONG ISLAND
Newly acquired blueliner
Johnny Boychuk
has looked dynamite in a
New York Islanders
uniform and he's been a big hit in the room, too, a source saying Tuesday he's already become a big leader for the team.
That won't surprise anybody who knew him with the
Boston Bruins
, where he was a very popular player in the room but became a salary-cap victim on the eve of the NHL season.
He's eligible to become an unrestricted free agent on July 1, but you can expect the Isles to put on a full-court press to try and re-sign him. Talks haven't begun yet, as the Isles want Boychuk to settle into his new digs on Long Island, but at some point this season and probably in the not-too-distant future, the Isles will approach Boychuk's camp with, my guess is, a pretty serious offer.
Speaking of those two second-round picks the Bruins got for Boychuk, those could come in handy before the March trade deadline if Boston makes a move or two.
The Bruins most likely will try to add a top-six winger and it's believed that among the wingers of interest to Boston is
Chris Stewart
of the
Buffalo Sabres
, a pending UFA whom Buffalo will most likely move. Now, whether or not the Sabres would move him to a rival within the division remains to be seen. Although, the Sabres have had discussions over the past few months with divisional foe Detroit regarding defenseman
Tyler Myers
. So who knows, maybe the Sabres don't care.
WORLD CUP UPDATE
The NHL and NHL Players' Association met again last week to further the agenda on the World Cup of Hockey.
It's still not exactly clear just when both sides will be ready to finalize plans and make an announcement.
However, one decision seems to have been made. A source told ESPN.com that while the
Montreal Canadiens
were pushing hard to host some games along with main host Toronto, it sounds like the Maple Leafs will host the entire tournament.
That's really been the vision from the beginning from NHL executive John Collins, who wants to make the return of the World Cup a huge, one-city event to create more buzz.
One of the reasons that the two sides have delayed any kind of announcement is that there is a desire to be able to commit to more than one year for this tournament and to detail the long-term commitment for the event, which hasn't been played since 2004.
TEAM CANADA BOSS
There was much debate during the Steve Yzerman-
Martin St. Louis
controversy last season whether it was smart for an Olympic team GM to also hold the same job with an NHL club.
There were some who wondered if it wasn't a more prudent road to go down moving forward, at least in Canada where the roster choices are the most difficult, to have someone run the team who wasn't an NHL GM so as to avoid the awkward, emotional situation where St. Louis reacted with such disappointment and anger at Yzerman not selecting him the first time around for the Sochi roster. (St. Louis eventually made the team as the injury replacement for
Steven Stamkos
, but the damage was done as he asked for a trade out of Tampa.)
But new Hockey Canada president Tom Renney doesn't believe a change is needed in that regard.
If NHL players return for another Olympics, a decision that remains undecided, Renney told ESPN.com on Tuesday that he most likely will lean on an NHL GM once again.
"Yes, I think that would be the case," said Renney, who replaced Bob Nicholson as Hockey Canada president over the past summer.
Renney will need to find a new man for the job, Yzerman stepping down after leading Canada to back-to-back Olympic gold medals.
What's not clear is whether Mike Babcock would return for a third straight Olympics as head coach. Renney, who was Babcock's associate coach in Detroit the past few years before leaving for the Hockey Canada job, said the new Team Canada GM would have a big say in the coaching staff.
As for Babcock, reached via text about a third straight Olympics, the Red Wings coach responded: "You have to earn the right."
Which wasn't a yes or a no, but then again, he's got a lot on his plate these days when it comes to future career decisions.
STRUGGLING JETS
The bloom is off the rose in Winnipeg, where fans aren't thrilled with a slow start to the season.
The novelty is gone for Winnipeg fans in their fourth season back in the NHL. The passionate fans of Winnipeg want playoff hockey.
It's way too early to overreact to losing four of their opening five games, but then again, playing in the NHL's toughest division, the Central, there isn't too much rope there in terms of digging an early hole.
But ever since moving to Winnipeg, it's been about the long game for Jets management and ownership, embracing a patient draft-and-develop model that is going to take time to bear fruit.
GM Kevin Cheveldayoff has a long-term deal and I believe he's got full backing from ownership to stick with the plan.
There are only so many options at his disposal when you consider how bare the cupboard was when he inherited the Atlanta Thrashers roster, so restocking that fully takes time; plus throw in the Jets having the 25th-ranked payroll right now and it's a reminder that, unlike some of their Canadian cousins, they're not going to easily speed up the process by throwing money at it.
To be fair, the Jets did try to get in on the
Paul Stastny
UFA sweepstakes in late June, but it was clear early on that it would be St. Louis or Colorado for the center, who ended up signing with the Blues.
And sure, I'm guessing the Jets would have taken a stab at trading for
Jason Spezza
had he not indicated a desire to leave his home country.
The point being, the Jets' current course is their only realistic option: drafting and developing homegrown talent. It's just not happening as fast as the fans want.
September, 5, 2014
Sep 5
1:44
PM ET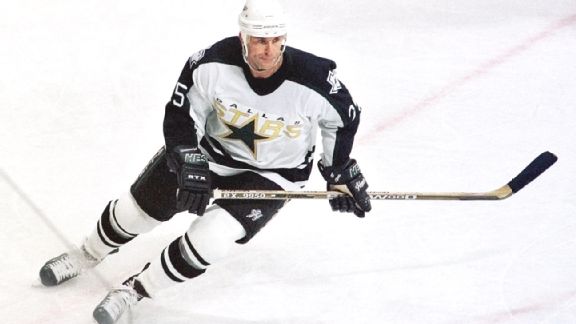 AP Photo/Bill JanschaFormer Stars player and GM Joe Nieuwendyk is back in the NHL after a year away from the league.
Hall of Famer
Joe Nieuwendyk
took a full season away from the NHL, although he never stopped watching hockey.
But Nieuwendyk needed a year away to recalibrate after being fired as general manager of the
Dallas Stars
following the 2012-13 season, spending some time with his family, before taking on his next challenge.
His next gig will allow him to stay in Dallas with his family while at the same time reconnecting with the NHL.
"I enjoyed my year with helping my son's hockey team, and now I can continue to do that," Nieuwendyk told ESPN.com this week after being named pro scout/adviser to
Carolina Hurricanes
GM
Ron Francis
.
"I had breakfast with Ronnie in the spring and we continued to talk during the summer. I have a lot of respect for Ron,'' Nieuwendyk said. "I played with him on the Leafs in '04, and we have mutual friends who work for him in Carolina. It just feels like something I wanted to do and hopefully I can help him any which way I can.''
When Jay Feaster was fired as GM in Calgary last season, rumors -- well-founded ones -- spread that Flames president of hockey operations Brian Burke had great interest in bringing former Flames star Nieuwendyk in as Feaser's replacement.
While Nieuwendyk has never talked publicly about that specific possibility, it is clear he's not ready yet to jump back into that demanding lifestyle of running an NHL team.
His new job with the Hurricanes will provide the best of both worlds: a link to NHL management and the chance to continue to help coach his 12-year-old's hockey team and spend time with his three kids in Dallas.
"This gives me an opportunity to stay involved in the game, being part of upper management conversations with Ronnie,'' Nieuwendyk said. "I think that's a good role for me at this point. I love helping my son's team out; that's been a lot of fun.
"I'll be based in Dallas, I'll see games here and keep an eye on the Western Conference a little bit for Ronnie,'' Nieuwendyk added. ``A big part of this, though, will be just to have to some real good conversations with Ron. I know he doesn't have a deep staff. So any time I can be a sounding board for him, he's probably going to go through a lot of the same things I went through as a (rookie) GM. We just have a good relationship. He's a sharp guy and a classy guy, I think he's going to be fine.''
The Bruins' cap challenges
The Bruins remain cap-challenged on the eve of training camp and it's likely they'll move a body or two over the next month or so to give themselves some breathing room.
That's a must when you consider that restricted free agents
Reilly Smith
and
Torey Krug
remain unsigned. Plus there's the fact Boston's getting dinged $4.7 million in cap carryover bonus overages from last season.
It's a good bet a trade happens here at some point sooner rather than later. From chatting to sources around the league this week, the names we keep hearing that the Bruins are listening on are defensemen
Johnny Boychuk
($3.36 million cap hit),
Adam McQuaid
($1.56 million) and
Matt Bartkowski
($1.25 million). All three are unrestricted free agents a year from now.
The Bruins likely have a pretty good idea from chatting to teams all summer long what deals they can make for either of those players. The question now is which one or two they can live without, leaving them with the best possible group intact.
The end for Whitney?
Is the Wizard nearing retirement? Tough to tell at this point but it's possible
Ray Whitney
has played his last NHL game.
"I'm not sure yet, and I'm not really tipping my hand one way or the other,'' Whitney told ESPN.com on Thursday. "I'm in shape, I'm skating, but I'm not too worried. There's obviously limitations to where I would go, but I'm not out there searching for anything, either.''
The sense at this point is that if a team calls, he'll listen, but he's not ordering his agent J.P. Barry to drop everything, either.
"I won't continue to skate for much longer," Whitney said quite candidly. "My interest in playing drops with each week that I don't get something, so I won't be pressing too much.''
The 42-year-old had 32 points (9-23) in 69 games with the Dallas Stars last season, although it was clear he wasn't a fit there anymore. He did put up nearly a point a game in the lockout season just the year before and had 77 points (24-53) in 82 games with the
Arizona Coyotes
in 2011-12. He can surely help somebody's power play.
Just a guess here, but given that Whitney and his wife and kids live in Scottsdale, Arizona, the Coyotes are probably one of the teams he'd be open to signing with. However, a source told ESPN.com that Arizona does not have any interest.
Hopefully Whitney catches on with another club, but if this is the end, what a career it's been. He won a Stanley Cup with the Hurricanes in 2006 and totaled 1,064 points (385-679) in 1,330 career regular-season games with San Jose, Edmonton, Florida, Columbus, Detroit, Carolina, Arizona and Dallas.
Bertuzzi's focus back on ice
Now that Todd Bertuzzi's settlement with
Steve Moore
is signed, sealed and delivered, his camp can focus on hockey matters.
With the possibility of a trial this fall keeping Bertuzzi occupied in recent months, there really wasn't any point in trying to talk to NHL teams about the UFA winger this summer.
But now that a trial has been avoided, Bertuzzi's agent, Pat Morris of Newport Sports, told ESPN.com Friday that his client hopes to catch on with an NHL team.
"Todd wants to continue playing," Morris said. "He's skating and is in great shape. A lawsuit is no longer an issue. We'll see what transpires in the coming weeks."
Easier said than done, of course. The 39-year-old was limited to 16 points (9-7) in 59 games last season in Detroit and that comes after the lockout year in which he played only seven games because of injury.
But Morris says Bertuzzi is skating and is ready to go. It won't be back in Detroit, though, where the Wings have a plethora of forwards and are still waiting to hear on whether
Daniel Alfredsson
.
May, 22, 2013
5/22/13
10:52
AM ET
By
ESPN Stats & Information
| ESPN.com
The Bruins became the first team to beat the Rangers this season (regular season or playoffs) when trailing after two periods. Down 1-0 entering the 3rd period, the Bruins scored twice for a 2-1 win and a commanding 3-0 series lead in the Eastern Conference Semifinals. Before Tuesday, the Rangers were 18-0-0 (16-0-0 in regular season and 2-0 in playoffs) when leading after the second period.
Eastern Conference Semifinals
Bruins 2, Rangers 1 (Bruins lead series, 3-0)
* Bruins: 17-1 all-time in playoff series when leading 3-0 (lost 2010 Eastern Conference Semifinals vs Flyers)
*
Daniel Paille
(BOS): Game-winning with 3:31 left in 3rd period
*
Johnny Boychuk
(BOS): 4th goal this postseason (he had 1 goal in 44 regular-season games)
* Rangers: 1st loss all season when leading after 2nd period (16-0-0 in regular season and 2-0 in playoffs before Game 3)
* Rangers: 1st loss on home ice since March 24 vs Capitals (had won 9 straight at MSG, including postseason)
* Rangers: 2-38 (5.3 percent) on power play this postseason (0-10 in this series)
* Rangers: 0-10 all-time in playoff series when trailing 3-0
Western Conference Semifinals
Sharks 2, Kings 1 (Series Tied, 2-2)
* Sharks: 7th straight home win vs Kings (regular-season and playoff games)
* Sharks: Scored first, had 2-0 lead … 5-0 when scoring first in 2013 Stanley Cup Playoffs
* Sharks: 4-0 at home in the 2013 Stanley Cup Playoffs
*
Logan Couture
(SJ): 5th goal of the playoffs, all five have been power play goals
* Kings: 1-4 on the road in the playoffs
* Kings: 9 of their 10 playoff games have been decided by 1 goal (5-4 in those games)
* Kings: All 4 postseason games they've lost have been by the final score of 2-1
* FROM ELIAS: Kings have not allowed more than three goals in any of their last 30 playoff games dating to last season. That's the longest such streak in NHL playoff history. The previous record was 27 by the Red Wings from 2002-06
* FROM ELIAS: Couture is the first player whose first five goals in one playoff year were all power play goals since
Mike Modano
for Dallas in 2008 (five)
June, 14, 2011
6/14/11
10:36
PM ET
VANCOUVER, British Columbia -- Let's start with this: The broken vertebra suffered by Mason Raymond 20 seconds into Game 6 is a horrific injury.
Vancouver GM Mike Gillis told reporters Tuesday that the Canucks will be lucky to have the skilled forward back in their lineup by November and that Raymond faces a long, difficult journey to recover from the "vertebrae compression fracture."
"We're hopeful there won't be surgery at this point," Gillis told reporters at Rogers Arena on Tuesday. "Like I said, it's a severe injury, and we'll know more over the next week when he gets back here. At this point, they're hopeful that it won't require surgery, that it has the opportunity to heal on its own. He's going to face a long, hard recovery. We've been told it's going to be very challenging for him and he's going to be in a difficult position for some time."
One can only imagine the despair the winger must feel at remaining in a Boston hospital, waiting to be fitted with a corset that will allow him to travel, while his teammates head home for Game 7 of the Stanley Cup finals Wednesday night.
[+] Enlarge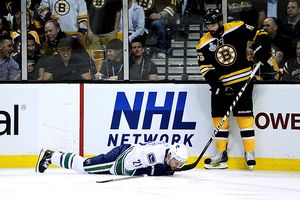 Harry How/Getty ImagesMason Raymond is expected to miss 3-4 months with a fractured vertebra.
But let's also be clear about another thing. To draw a line from the Raymond injury, which occurred when he was awkwardly taken into the boards by Boston defenseman Johnny Boychuk, to the four-game suspension of Vancouver defenseman Aaron Rome after a vicious hit on Nathan Horton early in Game 2 of the series is to try to connect dots that shouldn't be connected.
The series supervisor, NHL executive Mike Murphy, told ESPN.com on Tuesday that the league believes the Game 6 play, which did not result in a penalty to Boychuk, was called correctly on the ice. As a result, there will be no supplemental discipline to Boychuk.
We have watched the Boychuk/Raymond play over and over. The puck was in the area when the two players engaged between the Boston net and the corner. Raymond ended up bent over facing Boychuk, and their shared momentum carried Raymond backward into the boards. We have looked for the telltale end-of-play shove that sometimes turns routine checks into dangerous checks, but we don't see it.
The league believes the play was a standard defensive-zone coverage maneuver, and the officials' view afforded them a good look at the play and it was called correctly.
Gillis referred to the play as a can opener, a pre-lockout play that was a favorite of defensemen such as Toronto's Bryan McCabe, in which the defender positions the stick between an oncoming forward's legs and spins him with his body weight into the boards.
"I didn't see the puck around him," Gillis said. "I thought the Boston player used a can opener and drove him into the boards with enough force to break his back. That's what I saw. I don't have much more to say about that other than that observation."
The Vancouver GM did not come out and say he thought Boychuk should have been suspended, although he implied as much when asked about the incident as it related to the Rome suspension that followed news Horton would not return for the balance of the playoffs because of a concussion.
"I'm not in charge of supplementary discipline, so I'm not the right person to ask about that," Gillis said. "I think when you see the severity of that injury, the way our doctors described it to me, [it's] very, very dangerous, and you know, I'm always disappointed when you see any player get injured.
"But it wasn't a chipped vertebrae or cracked vertebrae. It's broken through the belly of his vertebrae, so it's a very serious injury. You never want to see any player on any team have an injury like that."
Perhaps the only connection between the two serious injuries in this series was in how Rome described his hit on Horton: a hockey play gone bad.
We don't agree with his assessment of his hit on Horton; it came well after Horton had passed the puck and he targeted the Boston winger's head. But the assessment is the perfect description of what happened to Rome's teammate Raymond.
As for Gillis, he made headlines between Games 6 and 7 in the first round against Chicago when he suggested the officiating wasn't balanced. The Canucks went on to defeat Chicago in overtime in that deciding game.
Gillis was much more circumspect Tuesday. Well, sort of. When asked whether he was frustrated by the way the calls had gone in the finals series, he replied, "That's a question I don't think I can answer without getting myself into trouble under any circumstances, so I'm not going to answer that. It isn't right for me to speculate or to comment on officiating."
June, 17, 2010
6/17/10
12:17
PM ET
Thought I'd pass on some updates on a few potential unrestricted free agents who might be a little under the radar:
Keep an eye on Johnny Boychuk. He's only 26 years old, but he qualifies as a Group 6 unrestricted free agent. He broke through last season with a solid second half and a very nice playoffs. He led all Bruins players with 39 blocked shots in 13 postseason games (Zdeno Chara was second with 24) and was second only to Chara in ice time per game in the playoffs (26:10) and shorthanded ice time per game (3:18).
Nice ręsumę to have as a potential UFA, but the blueliner wants to stay in Boston, and talks with the Bruins have gone well so far.
"We're hopeful. I think it's positive where we're at," said Boychuk's agent, Gerry Johansson, to ESPN.com on Wednesday. "You never know how it's going to end up, but our priority is to keep Johnny in Boston. It's a nice option to [being UFA], but it's certainly our intention to make it work with Boston. We've had good conversations."
• I can't tell you how many Penguins fans ask me about Matt Cooke. The veteran winger is UFA July 1, and at this point, it doesn't appear his re-signing is close.
"Currently, we're far apart," said his agent, Pat Morris, on Wednesday. "Matt would like to stay in Pittsburgh; both sides would like to get something done, but nothing is imminent."
• Morris also represents UFAs Andy Sutton and Matt Cullen, two current Senators who may hit the market. Sutton is an intriguing option: a traditional shut-down blueliner who was second among NHL defensemen this past season in blocked shots and eighth in hits.
"He'd like to stay in Ottawa, but talks with them have been slow as they try to sign [Anton] Volchenkov first," Morris said.
Cullen might stay in Ottawa, but he's also on the back burner as the Sens focus on Volchenkov.
"He can play the point on the power play and can play wing if need be on a deep team," Morris said. "Ottawa has a great deal of interest in him."
• Center Olli Jokinen, UFA July 1, appears to be headed to market and not staying with the Rangers.
"They have not talked to us. I do not expect them to at this point," said Jokinen's agent, Mark Gandler, to ESPN.com. "I thought he played well in New York. I think he has a lot of value in the league. I think a lot of teams could use him. He has a few good years ahead of him. He's healthy, he's got skill and ability."
The KHL isn't an option at this point. "He wants to play in the NHL," Gandler said.
• Pavol Demitra, 35, is almost surely leaving Vancouver, which isn't surprising given his constant place in coach Alain Vigneault's doghouse over the past few seasons. He didn't produce a whole lot with the Canucks; but on the flip side, he was named to the Olympic All-Star team after a standout performance with Slovakia in February. He will likely sign a lower-base salary with bonuses since he's over 35 years old, which makes him easier to take under the cap.
"He could be a very good value to a team that needs depth in the top six," said his agent Matt Keator to ESPN.com.