Cross Checks:

Jonathan Drouin
October, 20, 2014
10/20/14
2:30
PM ET
By
Sarah Goldstein
| ESPN.com
Top prospect
Jonathan Drouin
joined the
Tampa Bay Lightning
on their current road trip after being recalled from the AHL on Sunday.
Drouin missed training camp because of a fractured right thumb, but he returned to action this past weekend with the Syracuse Crunch, recording one goal and two assists in two games.
[+] Enlarge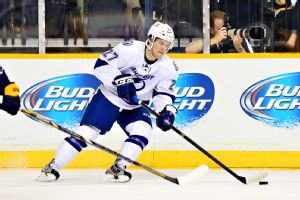 Don McPeak/USA TODAY SportsIt's clear that 19-year-old Jonathan Drouin has a bright future.
Lighting coach Jon Cooper told reporters Monday that the 19-year-old forward would not play Monday night against the
Edmonton Oilers
after playing back-to-back games on Friday and Saturday and then traveling on Sunday. But the coach added that Drouin would play soon.
"We think he'll make us a better team," Tampa general manager
Steve Yzerman
said, according to the Tampa Bay Times. "He's ready."
The Lightning are preparing for their second game of a five-game trip against Western Conference opponents.
Drouin, the No. 3 overall selection in the 2013 draft, scored 108 points in 46 games last season with the Halifax Mooseheads of the Quebec Major Junior Hockey League.
September, 24, 2014
9/24/14
12:27
PM ET
While this training camp and preseason was to have been quite important for prized prospect Jonathan Drouin, his injury doesn't really change the plan the
Tampa Bay Lightning
have for the talented forward.
"It just delays things a little bit is all," Lightning GM
Steve Yzerman
told ESPN.com.
Drouin is out three to four weeks with a right thumb fracture, shelving the 19-year-old for what would have been a busy preseason.
[+] Enlarge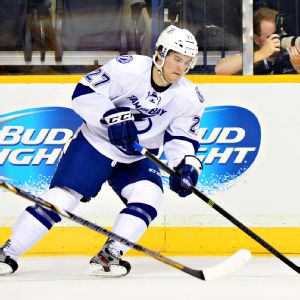 Don McPeak/USA TODAY SportsThe injury to highly touted Lightning prospect Jonathan Drouin won't hold back his development.
"Obviously, we want him to play. We have six preseason games, and our hope had been to see him in at least five of them, to give him as much time as possible to get acclimated," said Yzerman. "And regardless of how the preseason games went, [the plan was to] let him start the regular season and see how he does then really let his play dictate with who and how much he plays.
"We're going to stick to that. It's not a major injury. It doesn't require surgery. It just needs time to heal. He'll be able to skate and workout and train. He'll get plenty of opportunity once the season starts."
At the very least, Drouin will get that nine-game window the collective bargaining agreement allows before teams must decide whether to send players back to junior. Honestly, I would be really surprised if Drouin doesn't make the team and play all season in Tampa.
After all, even his demotion a year ago caught some people off guard, especially in the context of seeing his 2013 first-round peers such as
Nathan MacKinnon
,
Aleksander Barkov
,
Seth Jones
,
Sean Monahan
and
Valeri Nichushkin
all have impact rookie seasons while he was sent back to junior for another year.
While Drouin struggled at first after going back to Halifax in terms of accepting his situation, he lit it up, as one would expect, to the tune of 108 points (29-79) in 46 games.
"I think they made the right choice last year. He came back and dominated," said a Quebec-based NHL scout from another organization who watched Drouin play many games last season. "It helped his development. Sometimes in today's game, you've got teams trying to make men out of teenagers before they're ready. You can't always do it. Drouin found out at Tampa's camp last year what he needed to work on at the NHL level. He went back to junior and worked on those specific areas. He's a more mature player now, and he's confident he can do it at the NHL level. It was a good decision, I think, by Tampa to send him back.
"Honestly, he's not that far from Nathan MacKinnon in terms of skill and finesse," added the scout. "Everyone thinks he's way behind because of what happened last year, but Drouin is going to be a heck of a player for them. Like MacKinnon, they're both going to have great careers."
MacKinnon, his former linemate in Halifax, won the Calder Trophy as NHL rookie of the year last season with Colorado while Drouin stayed in junior.
But now Drouin will get his chance in the big leagues, even if delayed by the injury for now.
"He's one year older, he had an excellent season, he went through a lot at first being sent back to junior," said Yzerman. "It's tough with these high draft picks with so much attention on them. Every team's situation is unique to them. A year ago, we had a bunch of young kids including
Ondrej Palat
,
Alex Killorn
,
Nikita Kucherov
,
Tyler Johnson
; we were moving a bunch of young guys into the lineup, and we wanted them to play."
In that regard, Drouin was a victim of a numbers game in Tampa Bay with all these kids making their way in, young players with more experience. Palat and Johnson were both nominated for the Calder Trophy last season, as if to underline the point.
Drouin, meanwhile, grew last season, despite not being where he wanted to be -- in the NHL.
"Being a captain of a team and taking on even more responsibility was an adjustment which he handled well," said Yzerman. "Being the captain of the Canadian national junior team was a great experience for him. Even going down the stretch, we watched him play; he was used in more situations.
"What we really loved was his commitment to the effort at both ends of the rink. He was on the penalty kill, taking faceoffs, playing center -- so, just greater responsibility. We saw him come into camp this year, and his fitness numbers were outstanding. He's obviously put in a lot of work. He's a year more mature physically and mentally. He's very well prepared to come in here. He had a tremendous last 12 months. Everything he's gone through on and off the ice, he's been awesome."
Aside from the glut of young players who were breaking into Tampa Bay's lineup a year ago, there was also the fact that Drouin a year ago was basically just a season and a half out of midget hockey. The kid had rocketed up the ranks. It was another reason Tampa Bay felt it could hold him back a year.
"He came a long way fast," said Yzerman. "Looking back, had we kept him, as the year went on I'm sure he would have been fine. But we would have taken one of these other kids out of the lineup. We just didn't have the spots for it. We had to make a decision at that time, and I didn't want to drag it out. Again, I don't think it hurt Jonathan a bit going back for a year. Everything he experienced last year was beneficial for him."
October, 3, 2013
10/03/13
6:23
PM ET
The loss of
Tomas Vokoun
for 3 to 6 months leaves the Penguins having to turn to
Jeff Zatkoff
as their backup goalie behind
Marc-Andre Fleury
.
Zatkoff, who has never played an NHL game, is a 26-year-old former Kings draft pick who has played in the AHL the past four full seasons.
The Penguins signed him as a free agent on July 1, 2012.
"We're going to go with the goaltenders that we have, we're going to go with Marc-Andre and Zatkoff, going to give Jeff an opportunity at the NHL level," Penguins GM Ray Shero told ESPN.com Thursday. "He's been a good goaltender at the AHL level for four years. He played behind
[Jonathan] Quick
and
[Jonathan] Bernier
in L.A., pretty tough to crack that lineup there. He had an outstanding year for us last season in Wilkes-Barre. He deserves an opportunity. You got to find out about these guys. We'll see where it goes."
It wouldn't surprise me if Shero adds a veteran No. 3 to the organization as insurance.
But really, this is less about Zatkoff and more about Fleury when it comes to addressing the real crux of the concern in Pittsburgh. If Fleury doesn't have a bounceback season, there's trouble.
In the meantime, my sense is Shero will ride this out with the Fleury-Zatkoff tandem and circle back 20 to 25 games into the season to take stock of their performance before deciding whether or not he needs to act.
Lundqvist talks
Henrik Lundqvist
told reporters Wednesday that he's withdrawing himself from contract talks, leaving it in the hands of his agent, Don Meehan, not wanting any further distraction.
The lines of communication remain open between Meehan and the Rangers' front office, so talks will continue into the season.
The Rangers know Lundqvist will be the highest-paid goalie in the NHL and the highest-paid Ranger when all is said and done. That's a guarantee. So I don't think salary, in the end, will be the last hurdle in a deal.
The biggest issue is term. Lundqvist is 31, still with lots of great hockey in front of him, no question. But a maximum term deal of eight years makes the Rangers uncomfortable, I'm guessing, given that he'd be 40 when that deal expired.
So the trick here is to find something term-wise that works for both sides. Six years? Seven years?
Lundqvist is in the last year of a deal that carries a $6.875-million cap hit.
Pekka Rinne
and
Tuukka Rask
have the highest cap hit in the league for goalies right now at $7 million. My guess is Lundqvist will make north of $8 million in his new deal.
Drouin demoted
I think it's safe to say that the most surprising cut of training camp was
Jonathan Drouin
.
Unless you talk to scouts who saw him play in preseason. They'll tell you that he wasn't terribly impressive; the chief issue being he didn't play with enough pace and tried to beat too many players standing still.
Now, let's not get confused here. Drouin will still be a stud forward in the NHL, a franchise player; it's just that another year in junior will benefit him greatly. The
Tampa Bay Lightning
are deep up front. I don't think they needed to force the issue with him just because he was the third overall pick in June.
Just two years ago, another Florida team sent back its third overall pick to junior in
Jonathan Huberdeau
. He came back the next season and won the Calder Trophy.
I believe the Bolts made the right call here with Drouin. If he's not ready, he's not ready.
Ducks' D-man search
Word is the Ducks are looking for blue-line help with
Luca Sbisa
and
Sheldon Souray
out.
My sense is Anaheim would be looking for a young defenseman and would be willing to move a forward in return.
Pittsburgh, Philadelphia and Toronto are among the clubs with depth on defense, something to keep an eye on.
Thornton's future
Phil Kessel
imposed a deadline on talks with the Maple Leafs regarding his extension, saying it had to get done before puck drop for the season and it got done just under the wire.
But there is no such deadline in San Jose from captain
Joe Thornton
, who enters the final year of a contract paying him $7 million.
Word is the Thornton camp will reach out to the Sharks shortly to get talks going, but there are really no time constraints here. It'll get done when it gets one. The sense is Thornton doesn't believe it will be a distraction this season, regardless.
At 34, term will be the issue both sides stick-handle around, not the salary. Thornton remains a real productive player, putting up 40 points (7-33) in 48 games last season and having another strong playoff with 10 points (2-8) in 11 games. He also remains durable, missing only five regular-season games since coming over to San Jose in November 2005.
Thornton's situation is tied in some ways to what happens with
Patrick Marleau
and
Dan Boyle
, also UFAs after the season. The Sharks want all three back but it has to fit with what they're doing cap-wise as well as make sense term-wise.
Sedin twins
Staying with potential UFAs, the Sedin twins enter the season without extensions signed. There was hope that deals might get done before the season started, but nothing yet on that front. It's a priority for the Canucks to get this done as soon as possible.
Having said that, the twins' camp and the Canucks negotiated throughout the season five years ago and it didn't affect their performance on the ice. So the sense is that it shouldn't be too much of a distraction.
I'd say I agree with that premise as long as the good ship Canucks doesn't get off to a slow start and the circus starts in Van City. Then suddenly their lack of an extension would warrant more media spotlight.
September, 30, 2013
9/30/13
3:54
PM ET
DENVER -- You've no doubt read my colleague Pierre LeBrun's popular "rumblings" blog. Well, this is more a rambling than a rumbling. To whit:
Cheat deals:
Like most people, we're fascinated to see how the
Daniel Alfredsson
experiment turns out in Detroit. But the one thing we still can't get over is that the NHL decided not to act on Alfredsson's blunt acknowledgment that his previous contract with the
Ottawa Senators
was, in fact, a blatant attempt to circumvent the salary cap under the previous collective bargaining agreement. Alfredsson told reporters before training camp that when the four-year deal was signed, neither side expected Alfredsson would play in the contract's final year -- worth only $1 million in real money even though the cap hit was $4.875 million annually. It was exactly that kind of wink, wink, nudge, nudge deal that the league had been warning teams about for years -- Alfredsson made $7 million in each of the first two years of the pact -- and which ultimately cost the
New Jersey Devils
mightily in their first attempt at a contract for the erstwhile
Ilya Kovalchuk
. The so-called cheat deals were, in theory, eliminated by new parameters put on contracts in the new collective bargaining agreement, and the league's position is that they are going to look forward instead of back. Good news for the Senators, but maybe in the spirit of CBA détente, the league should forgive the Devils the first round draft pick they must forfeit next spring for having done no worse than what Alfredsson admitted the Senators did in his case.
Captain Ference:
I love the idea of
Andrew Ference
wearing the captain's 'C' in Edmonton. Head coach
Dallas Eakins
has many options, but Ference has the right temperament for what promises to be a demanding job. Yes,
Taylor Hall
may yet be the Oilers' captain of the future, but Ference comes from a culture of winning in Boston, and in Calgary before that when winning was something the Flames actually did. He's won a Cup and been to two Stanley Cup finals. He's smart, thinks through the game well and interacts well with the public and the media. When we spoke to Eakins during training camp, he talked about the variety of skill sets that Ference brings to an Oilers' table that has not seen a taste of the playoffs since 2006, and he was speaking as much about the off-ice skill set as the on-ice toughness and ability to move the puck.
Not so fast, rookie:
I must admit I was surprised to see the
Tampa Bay Lightning
ship No. 3 overall draft pick
Jonathan Drouin
back to junior where the folks in Halifax will be happy to see the skilled winger. His junior teammate and No. 1 overall pick
Nathan MacKinnon
has long been penciled into the
Colorado Avalanche
's opening lineup. Likewise, No. 2 pick
Aleksander Barkov
will start in Florida, and
Seth Jones
, No. 4 in one of the greatest top-heavy draft classes in recent memory, will stick in Nashville. But GM
Steve Yzerman
and the Lightning staff obviously didn't feel Drouin was ready. As desperate as the Bolts are to return to the playoffs after missing since their surprise berth in the 2011 Eastern Conference finals, the team decided it was best for Drouin's overall development to return to junior, where he will play significant minutes as well as be a part of Canada's effort at the World Junior Championship. Given that Yzerman spent his entire career playing in Detroit, a franchise whose trademark for the past two decades has been one of patience and never (or rarely, anyway) rushing a player to the NHL, maybe the move isn't all that surprising. As he explained to reporters in Tampa, Yzerman wants his young players playing all the time, not relegated to fourth-line minutes in the NHL or sitting in the press box. In that same vein, the Lightning also sent former No. 6 overall draft pick
Brett Connolly
back to the Bolts' American Hockey League affiliate in Syracuse.
The young and the discarded in South Beach:
Is it just us or does this year's version of the
Florida Panthers
bear a striking resemblance to the one that two years ago went from a rag-tag bunch of summer signings to an unexpected Southeast Division title? We didn't have the gumption to pick the Panthers to be that kind of team this season, but with new ownership taking control last week, GM Dale Tallon has locked up former Vezina Trophy winner and playoff MVP
Tim Thomas
to a one-year deal, while adding useful players
Brad Boyes
and
Tom Gilbert
-- both of whom were on tryouts -- to one-year deals. Boyes played top-line minutes with the
New York Islanders
last year, and Gilbert will add some depth to a blue line that is still very much in transition with
Erik Gudbranson
hoping to evolve into a franchise blueliner. Now, a lot can go wrong, but it's interesting that two summers ago when Tallon brought in a bevy of newcomers, including
Brian Campbell
,
Kris Versteeg
,
Ed Jovanovski
,
Tomas Fleischmann
and
Sean Bergenheim
, few people gave head coach
Kevin Dineen
a chance to make it work then. With an emerging Gudbranson, defending rookie of the year
Jonathan Huberdeau
and Barkov, there is an intriguing blend of the young and the discarded.
Vokoun's health:
We were pleased to read agent Allan Walsh's comments to Pittsburgh writer Rob Rossi regarding the health and potential recovery of netminder
Tomas Vokoun
, who required surgery during training camp to deal with a blood clot issue. It's not the first time Vokoun has dealt with the medical issue, but Walsh told Rossi that reports out of the Czech Republic that Vokoun's career is over and he nearly died as a result of the illness were not true. Not a knock on reporters in other countries, but a reminder that sometimes stuff gets lost in translation. Walsh told Rossi that Vokoun is looking forward to resuming his NHL career, although an exact timetable remains unknown. Vokoun's story is inspirational, as he's overcome many hurdles to carve out a solid NHL career. He was nothing but a gentleman as he took over for
Marc-Andre Fleury
in the first round of the playoffs for the Penguins last spring and guided the Pens to the Eastern Conference finals. Here's hoping he makes a speedy return to the game.
Kings of depth:
One of the reasons to like (or fear, if you're a Western Conference opponent) the
Los Angeles Kings
is the kind of depth GM Dean Lombardi has assembled in LA. The team sent
Tyler Toffoli
to the minors over the weekend after the youngster made a strong impression last season. He was especially impressive in the playoffs, collecting six points in 12 postseason games and earning time on the Kings' power play. Toffoli will start the season in Manchester along with talented linemates
Linden Vey
and
Tanner Pearson
-- a group Lombardi has likened on a number of occasions to famed LA Dodgers Ron Cey, Bill Russell, Steve Garvey and Davey Lopes, who all blossomed together in the Dodgers' farm system before becoming star major leaguers. In short, you may not see them in a Kings jersey in October, but it won't be a surprise when, at some point this season, you see not just Toffoli, but perhaps all three making their case for a permanent stay in Hollywood.
Goalie buzz:
And finally, of all the goaltending drama unfolding around the NHL -- Tim Thomas in Florida, the
Jonathan Bernier
/
James Reimer
duel in Toronto, Roberto Luongo's return as the erstwhile starter for the
Vancouver Canucks
-- perhaps none has been as curious as the decision to find the heir apparent to
Miikka Kiprusoff
in Calgary. Now, expectations are low for the Flames (OK, that's a bit of an understatement, especially with Mike Cammalleri's availability for the start of the season now in jeopardy thanks to injury) but with journeyman
Joey MacDonald
, Swiss sensation
Reto Berra
and former Lightning prospect
Karri Ramo
jostling for the right to start on opening night, it has created at least a little buzz around the team. If we had to guess, we would go with Ramo, who got rave reviews for his play in the Kontinental Hockey League and is now trying to prove he's NHL-ready. Our guess is he's about to find out.
June, 27, 2013
6/27/13
9:04
PM ET
By
Greg Newman
| ESPN.com
NEW YORK -- Born in a family of football stars, Darnell Nurse ended up playing hockey.
"I tried [to persuade my parents to let me play football] couple of years in a row to get them to budge, but they wouldn't," said Nurse, whose uncle is former NFL quarterback
Donovan McNabb
. "They said, 'Just stick to hockey.' I look at it now and I'm real thankful for that decision."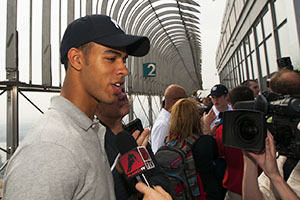 Jeff Skopin/ESPN New YorkDarnell Nurse, an admitted Blue Jays fan, wore a Yankees hat in New York.
Nurse went on to say that his father, a college and former CFL player, was the most adamant about Nurse staying on the ice.
But even in a different sport, Nurse got plenty of help and advice from "Uncle Donovan."
"I started working out with him when I was in grade eight," Nurse told reporters at a pre-draft meeting at the observation deck of the Empire State Building. "The way he took me in and showed me the ropes, it doesn't get much better. ... His basic advice was enjoy it all. This is the fun part."
Nurse shared the stage with Jonathan Drouin, Nathan MacKinnon and Seth Jones, son of former NBA player and
Brooklyn Nets
assistant coach Ronald "Popeye" Jones.
In the
latest mock draft
, Grant Sonier predicts MacKinnon will be picked by the
Colorado Avalanche
with the overall No. 1 pick. He has Drouin going second to the
Florida Panthers
, Jones falling to No. 4 to the
Nashville Predators
and Nurse at No. 11 to the
Philadelphia Flyers
.
Jones, a potential top pick, said he would not begrudge the Avalanche if they did not select him with the No. 1 pick.
"I didn't have it in my mind that I was for sure going No. 1. I'm not going to take it personal," Jones said. "I'll be happy wherever I go."
How did the prospects enjoy New York?
"I have never been to New York City, so it's obviously a pretty new experience for me here, seeing all the people, constant traffic, the taxis everywhere," Jones said. "It's just like the movies."
Added Nurse: "This is an unbelievable experience, something we all dream about as kids. This is the fun part, all the media stuff. But it comes down to putting in the work; the real work starts July 1. It really sunk in today, even just coming up in the elevator -- I'm in New York now."
June, 20, 2013
6/20/13
8:26
PM ET
Joe Sakic
didn't change his tune Thursday when interviewed by ESPN.com, the
Colorado Avalanche
executive confirming he meant what he said when telling the Denver Post that the club's intention is to select one of the top three forwards available with the first-overall pick in the June 30 draft.
Which means passing on blueliner Seth Jones, a Denver native.
"He's a great player, he's going to be good," Sakic said over the phone from Denver. "But after we had our internal meetings we came up with these three forwards, (Nathan) McKinnon, (Jonathan) Drouin and (Alexander) Barkov. We're really leaning towards one of those three forwards."
So to be clear, you'll pick one of those three players? Sakic was asked.
"If we're picking first overall, yes," he said firmly.
To which some people are responding, "Why tell the world?"
"It was more really for our fans here, to let our fans know what we're thinking going into the draft," said Sakic, the Avs' vice president of hockey operations. "That's really what the purpose was, let them know where we're leaning. What I said is that we're picking first overall and this is what we're doing."
Sakic has been a straight shooter all his life. He's not the kind of guy to say something and mean the opposite. Still, the impact of his comments could be construed to help the teams with the second and third picks, the
Florida Panthers
and
Tampa Bay Lightning
, feel more anxious now to perhaps pick up the phone and offer a package to Colorado to move up.
"Honestly, I don't know what to expect," Sakic said of possible offers for the first pick. "We'll see when we get there. We're going to do what we feel is best for our organization. If somebody calls, we'll obviously listen. We'll do what's right."
Sakic and old pal
Patrick Roy
are now running the front office, in charge of trades, etc. So far it's been a blast, Sakic said.
"It's exciting," he said. "It's a challenge. It's been great and it's something I'm really looking forward to."