Cross Checks:

Jordan Eberle
November, 26, 2014
Nov 26
12:34
PM ET
The
Edmonton Oilers
woke up Wednesday morning in 30th place in the NHL standings.
They are tied with Buffalo in points, yes, but classified officially dead last because they've played one more game than those all-in-for-Connor-McDavid Sabres.
Will the nightmare ever end in Edmonton?
[+] Enlarge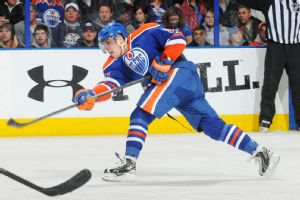 Andy Devlin/NHLI via Getty ImagesDavid Perron has a history with Columbus' GM Jarmo Kekalainen and president John Davidson from their days in St. Louis.
The once-proud franchise hasn't played a postseason game since losing Game 7 of the 2006 Stanley Cup finals in Carolina.
The rebuild has lasted what feels like forever.
The blue line is still mediocre. The goaltending again isn't good enough. And the team is razor thin at center.
General manager Craig MacTavish is working the phones, no question about it, sources around the league confirmed to ESPN.com, and specifically one source confirmed that Edmonton has talked to the
Columbus Blue Jackets
about a potential deal.
TSN colleague
Aaron Ward
reported Tuesday night that the Oilers and Blue Jackets were in talks concerning
David Perron
and
Artem Anisimov
, among other names -- both Jackets GM
Jarmo Kekalainen
and president John Davidson have a history with Perron from their St. Louis days. Add in the fact that former Jackets GM Scott Howson is now with the Oilers as senior VP of hockey operations and there are lots of reasons the Jackets and Oilers have familiarity to work with.
Kekalainen told Columbus beat writer Aaron Portzline on Wednesday morning that although he's having regular trade talks with other GMs, he was not close to a trade.
We shall see if there's a trade between Edmonton and Columbus, but the real question is how much of a difference would it make for the Oilers? Guess it depends on what other potential pieces would be in it.
No question Perron's name has also come up in talks with other teams, sources say. He seems destined to be moved.
But in conversations with other team executives around the league about the Oilers this week, the resounding comment that echoed throughout was that Edmonton wouldn't be able to make a tangible difference to the look of their roster until the day they're willing to put one of the big boys in the fray, and the name
Jordan Eberle
is the one they most often mentioned.
Now, Eberle hasn't actually played that well this season, but he still carries some weight around the league in terms of name value.
Taylor Hall
would seem to be the most untouchable asset, but at this point the Oilers can't afford to make anybody untouchable. At the very least, you have to listen.
In the meantime, I would also venture a guess that the Oilers will look to address their goaltending via another trade sometime this season. They have to. It makes you wonder whether they should have accepted Vancouver's offer two years ago when
Cory Schneider
was put on the table apparently in return for Edmonton's first- and second-round picks at that draft, plus defenseman
Martin Marincin
.
But are trades the answer right now? As another rival executive suggested, is the smartest thing at this point not just to take a knee and get in the lottery chase given this year's draft class?
On the surface, it's probably what makes the most sense. But eight years of hockey hell has also eroded some of the good will (loyalty?) of the fan base in Edmonton. Can you afford to take a knee and not risk further brand alienation? Or would fans in Edmonton, a pretty savvy hockey community, understand that it would be worth it given the draft class?
Tough questions, no easy answers.
What does seem evident is that the Oilers appear destined to make a trade or two at some point here, perhaps sooner rather than later.
September, 9, 2013
9/09/13
7:32
PM ET
It tells you a lot about the progression of
Andrew Ladd
's career that he was invited to Canada's Olympic camp last month.
The
Winnipeg Jets
' captain continues to push his game to new heights and really turned heads with his game last season.
"It was another step in my career and hopefully I can keep elevating and get to be one of the top guys in the league," said Ladd.
He was among the Blackhawks' salary-cap discards after helping the team win the Cup in 2010. Now he's a Team Canada camp invite. That tells you where his game has gone in just a few years.
"It's something that maybe earlier on my career I thought was a pipe dream," Ladd said of making Team Canada. "But the last couple of years, I've made it a goal of mine to put myself in contention for that team."
He's a wild card to make Team Canada given all the big names that are in play. But it's the kind of game he plays that makes him an interesting choice.
"I don't think I'm a guy that his whole game is surrounded by scoring and offense; I think there's more to my game," said Ladd. "That's where it started, playing a strong, 200-foot game and being detailed. That's how I would make that team. I'll just focus on that."
Eberle's Olympic dream
Oilers star forward
Jordan Eberle
wants to make Team Canada badly, but he's not going to give himself added pressure every night in thinking Olympic management is watching.
"It's tough to go into a game and say, 'If I play well tonight, maybe they're watching.' You have to put that in the back of your mind. The way I look at it, if Edmonton gets off to a good start and you're making a strong contribution, that gives myself a chance," said Eberle. "The biggest thing is that they'll be looking at guys that can play 200 feet. Everyone knows I can score and I'm an offensive player, but if you can add the other dimension to your game, that's how teams win and that's the type of player they're looking for."
Of interest during his interview with ESPN.com last week in New York: Eberle referred several times to wanting to play better defensively, not just individually, but as a team. He said the Oilers as a whole had to buy into that concept, and he underlined that Chicago's star-studded team won the Cup only because the Hawks played a 200-foot game.
Are the young Oilers finally getting it?
Bob the goalie
Reigning Vezina Trophy winner
Sergei Bobrovsky
isn't hiding his Olympic-motivated goals for the season.
It's on his mind, big time, as his country gets set to host the Sochi Games in February.
"Yes, that would be an unbelievable experience to play in front of our fans at home," said Bobrovsky. "That chance comes once in a lifetime; not every sports men can have this chance."
Just like when Canada hosted the Games in 2010, Bobrovsky spoke of a hockey-mad nation dreaming of gold.
"They're getting more and more excited. There is really big emotion right now in Russia."
ESPN.com's Scott Burnside contributed to this report.
August, 30, 2012
8/30/12
9:21
AM ET
By
Sarah Goldstein
| ESPN.com
April, 23, 2012
4/23/12
11:33
AM ET
From the official NHL release:
CAMPBELL, EBERLE AND MOULSON VOTED LADY BYNG TROPHY FINALISTS
NEW YORK (April 23, 2012) -- Defenseman
Brian Campbell
of the
Florida Panthers
, right wing
Jordan Eberle
of the
Edmonton Oilers
and left wing
Matt Moulson
of the
New York Islanders
are the three finalists for the
2011-12 Lady Byng Memorial Trophy, awarded "to the player adjudged to have exhibited the best type of sportsmanship and gentlemanly conduct combined with a high standard of playing ability," the National Hockey League announced today.
Members of the Professional Hockey Writers' Association submitted ballots for the Lady Byng Trophy at the conclusion of the regular season, with the top three vote-getters designated as finalists. The winner will be announced Wednesday, June 20, during the 2012 NHL Awards from Encore Theater at Wynn Las Vegas. The 2012 NHL Awards will be broadcast by NBC Sports Network in the United States and CBC in Canada.
Following are the finalists for the Lady Byng Trophy, in alphabetical
order:
Brian Campbell, Florida Panthers
Campbell anchored the defense corps on a Florida club that posted a 22-point increase over 2010-11 and captured its first division title in franchise history. He took on a heavy workload by appearing in all 82 games and leading the NHL in total ice time (2,205:31), yet was whistled for just six penalty minutes -- the fewest among the 65 NHL defensemen who appeared in at least 77 games. He ranked second among League defensemen in scoring with 53 points (four goals, 49 assists), tying the single-season franchise record for assists by a defenseman, and ranked second in the NHL in power-play assists (30).
Jordan Eberle, Edmonton Oilers
In his second NHL season, Eberle led the Oilers in goals (34), assists (42) and points (76), posting a 33-point increase over his rookie campaign. He received only five minor penalties for 10 total minutes in
1,372:35 of playing time. Turning 22 on May 15, Eberle is the youngest Lady Byng Trophy finalist since
Anaheim Ducks
star
Paul Kariya
captured the award at 21 years, eight months in 1996 after his sophomore NHL season.
Eberle is vying to become the third player in Oilers history to win the trophy, joining Wayne Gretzky (1980) and
Jari Kurri
(1985).
Matt Moulson, New York Islanders
Moulson posted career highs in goals (36), assists (33) and points (69), becoming the first Islanders player to post three consecutive 30-goal seasons since
Zigmund Palffy
from 1995-96 through 1997-98. He also set a career high, led his club and tied for third in the NHL in power-play goals (14). The first-time NHL Trophy finalist played all 82 games for the third time in as many seasons with the Islanders and was assessed just six penalty minutes, tied with fellow Lady Byng finalist Brian Campbell for the fewest among the League's top 75 scorers.
History
Lady Byng, wife of Canada's Governor-General at the time, presented the Lady Byng Trophy during the 1924-25 season. After Frank Boucher of the
New York Rangers
won the award seven times in eight seasons, he was given the trophy to keep and Lady Byng donated another trophy in 1936. After Lady Byng's death in 1949, the National Hockey League presented a new trophy, changing the name to the Lady Byng Memorial Trophy.
October, 11, 2010
10/11/10
2:52
PM ET
Here are 5 things to ponder to start your hockey week:



1. Goalie questions
Less than a week into the NHL season, interesting goaltending issues are already cropping up around the league. The
Atlanta Thrashers
insist they aren't in the market for another goaltender after
Ondrej Pavelec
collapsed from what the team said Monday was a "neurocardiogenic syncope episode" and subsequent mild concussion in the Thrashers' first game of the season. A battery of tests indicated there are no long-term medical issues, and the team expects him back at some point, negating the need to find another experienced netminder. The Thrashers called up
Drew MacIntyre
to back up
Chris Mason
and will take
Peter Mannino
, another minor league netminder, on their West Coast trip this week.
Meanwhile, the Nashville Predators don't expect netminder Pekka Rinne to miss much, if any, time after being replaced in their season-opening win over Anaheim. Rookie Anders Lindback, 22, will get his first NHL start if Rinne isn't ready to go, but things don't look that serious, which is good for Predators fans.
Flyers coach Peter Laviolette has a nice dilemma in Philadelphia with both rookie Sergei Bobrovsky and veteran Brian Boucher turning in solid outings in the team's 1-0-1 start to the season. Bobrovsky got the win on the night the Penguins opened their new building, but kudos to Laviolette for going back to Boucher, who was a bit miffed at not getting the opening night start. Who goes next? Who knows. But with Michael Leighton needing back surgery, the Flyers couldn't have hoped for a better start in net.

2. Ah, the kids
Somehow, we think we'll be revisiting this issue throughout the season, but it is interesting to see the immediate impact of fresh-faced youngsters around the NHL.
Carolina's Jeff Skinner was terrific in the Canes' twin wins in Helsinki last week. (He scored the shootout winner in the second game and added an assist.) Barring a major change in the team's mindset, Skinner will remain with the big club for the entire season instead of returning to junior before he plays his 10th game (the demarcation point for using up a year of a player's entry-level contract and starting the clock ticking toward free agency).
In Edmonton, Taylor Hall and Jordan Eberle have combined for a goal and two assists in the Oilers' opening two wins, while fellow rookie also Magnus Paajarvi impressed. Meanwhile, the Rangers got a boost from center Derek Stepan in his first NHL game as the rookie notched three goals in a 6-3 win over Buffalo. The Rangers' depth down the middle has been a talking point throughout training camp, and Stepan's performance bodes well for New York going forward.
Finally, the Chicago Blackhawks will be looking to youngsters to fill the void after jettisoning a significant number of regulars from last season's Cup-winning roster. So far, rookie Bryan Bickell (two goals) is doing his part to help the Hawks' attack, even if Chicago is off to an 0-1-1 start.

3. Khabibulin's uncertain future
Got to hand it to Edmonton netminder
Nikolai Khabibulin
, who has somehow managed to put aside the thought of potentially spending time in an Arizona jail to deliver back-to-back virtuoso performances and turning aside 63 of 65 shots for the 2-0-0 Oilers.
But Khabibulin's uncertain future is likely unsettling to both the goalie and the Oilers. When Khabibulin's appeal of his sentence for drunken-driving charges in the Phoenix area is finally heard (the process could take months), the 37-year-old could spend some time in jail (up to 30 days). Following his conviction on a number of alcohol-related charges, the initial sentence was 30 days. Khabibulin immediately appealed, a strategy that seemed to catch the Oilers off guard in the offseason. Now, he's back playing the way he did at the start of last season before a back injury shelved him for most of the campaign.
There may also be a supplementary suspension handed down by the league once the legal proceedings are settled. Given the level of drunkenness involved -- Khabibulin's blood-alcohol content was more than twice the legal limit -- it wouldn't be surprising if the league tacked on a game or two after the netminder's legal penalty is completed.

4. Staal-ed?
No doubt Pittsburgh fans are pining for a return to crumbling Mellon Arena after the Penguins dropped two straight in their brand-new barn, Consol Energy Center. But the wins will come. The team is too good for them not to. Still, the double 3-2 losses to Philadelphia and Montreal highlight one basic truth about the Penguins: With
Jordan Staal
in the lineup, they are a legitimate Stanley Cup contender; without him, they are, well, something less.
Staal is continuing to rehab a severed tendon in his foot, an injury he suffered early in the Penguins' second-round playoff series against Montreal during the spring. There is essentially no timetable for his return, which means the Penguins will be looking for someone to step into the breach when it comes to things like penalty killing. But the bottom line is, when Staal, Evgeni Malkin and Sidney Crosby are healthy, regardless of how coach Bylsma lines them up, the three big centers represent a unique and formidable cast of characters who are difficult, if not impossible, to shut down entirely.
In the 2009 Stanley Cup finals, Staal was the best player on the ice as the series wound down. The Pens floundered when he was not at the top of his game against Montreal this past spring. Coincidence? Not when you consider how the Pens have started this season without the big man from Thunder Bay, Ontario.

5. Stars' start
Last season, we consistently hammered the
Dallas Stars
for their, well, lack of consistency. At no point during their 82 regular-season games did they win three straight times, which contributed mightily to the team missing the playoffs for the second straight season. This season, however, with veterans
Mike Modano
in Detroit and
Marty Turco
in Chicago and
Jere Lehtinen
in limbo, the Stars are off to a 2-0-0 start and could hit that magic "three in a row" mark Thursday, when they entertain Detroit for their home opener.
Now, the wins over New Jersey and the New York Islanders weren't necessarily pretty, but goalie Kari Lehtonen shook off a couple of soft goals against the Devils to help the Stars overcome some sloppy play and keep the ship pointed in the right direction.