Cross Checks:

Jordan Leopold
April, 10, 2013
4/10/13
1:52
PM ET
No one likes it when they're going through it, but the adversity the
St. Louis Blues
faced this season could easily be the best thing that ever happened to them.
Winners of five straight and suddenly just two points out of fourth in the Western Conference, the Blues are peaking at the right time, with just 10 games to go in their regular season.
Reminds me so much of the way the
Los Angeles Kings
played survival hockey in the second half of last season; by the time the puck dropped in the playoffs, they were a hardened group and a dangerous foe.
"I think that ideology makes sense where you learn some great lessons during the regular season when going on a (losing) skid and finding out your true identity," Blues captain
David Backes
told ESPN.com Wednesday. "It doesn't mean your season is over. Where if you wait until the playoffs to have those experiences, you might be watching on TV before you have a chance to right the ship."
It's taken 38 games but the Blues appear to have righted the ship.
"We're starting to manage the game the right way," coach Ken Hitchcock said. "We still have a whole other level offensively that we have to get to from a continuity standpoint. We still have to create more. But we're playing with a real spirit right now and a real energy. We just want to keep it up."
It certainly has been quite the journey for a team many picked to do great things this season.
A 6-1-0 start seemed to validate the preseason hype (yours truly picked the Blues to go the Cup final), but that was followed by a sobering five-game losing streak and a stretch of up-and-down hockey that left the team at 11-9-2 on the morning of March 6.
One month later, thanks to an 11-5 run, the Blues are coming out of the worst phase of that journey and look stronger for it.
"This is a really good lesson for anybody: Don't just assume, because you have the same players back, you're going to have the same chemistry, because things change," Hitchcock said. "We looked really good early, but it was on last year's energy. And I think the players recognize that they had to re-create new chemistry, they couldn't rely on the old chemistry.
[+] Enlarge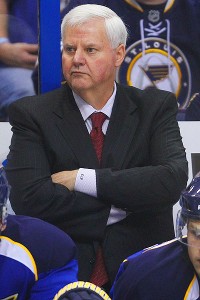 Dilip Vishwanat/Getty ImagesKen Hitchcock said the Blues "needed to re-connect with each other again. That's hard stuff."
"So there was a lot of stuff where they needed to re-connect with each other again. That's hard stuff. Creating new chemistry and creating new awareness is hard to do. I think our players had to dig in and do that. We had to grind both emotionally and physically, and it's helped us become a team again. We have ups and downs like everybody else, but now we have a foundation we can go back to."
Case in point: In watching Tuesday night's 1-0 win over the
Nashville Predators
, one thing you noticed was that even at 0-0 for almost two periods, the Blues looked poised with or without the puck, seemingly confident that good things would eventually come if they stuck to their game plan.
That's a confidence in their game that wasn't there a month ago.
"Yeah, I think with the goaltending we've had, especially as of late, we've been able to feel comfortable in a one-goal game, or a 0-0 game; we just stay with our game and we don't have to get crazy trying to score four goals to win," Backes said. "We know just a couple on most nights will be enough."
The goaltending. You can't write a Blues story this season without touching on that eventful issue.
Rookie
Jake Allen
has been called upon for 12 starts, an absolutely unforeseen turn of events. But between injuries and the inconsistent play of
Jaroslav Halak
and
Brian Elliott
, Hitchcock was desperate for a fix.
With Halak hurt now, however, a timely development has helped save the season: the return of the Elliott, circa 2011-12.
Elliott was a healthy scratch 11 times this season behind Halak and Allen -- that's how badly his game had gone. To his credit, Blues GM Doug Armstrong said, Elliott never allowed his struggles change his work habits.
"He continues to work hard during practice and after practice," Armstrong said. "That says a lot of about him."
To Elliott's credit, he accepted a two-game AHL stint late in March which, frankly, may have been the turnaround. He stopped some pucks under less pressure and got his mechanics back in order, and ever since he has looked like the Brian Elliott who led the NHL in save percentage last season.
Elliott has won four straight starts, including back-to-back shutouts this week.
"He swallowed hard, he went back to the minors to get some games in," Hitchcock said. "He deserves a lot of credit for being willing to look into the mirror and work to get his game back. He had to eat some humble pie, but in the end, it's paid off."
National TV analyst
Ed Olczyk
has caught two of the Blues' last five games, including the shutout win at Detroit on Sunday. He also says the turnaround starts in net.
"Up until this point, they've gotten below-average goaltending; that's just fact," Olczyk told ESPN.com Wednesday. "Now what has happened with that team as well is getting a top-2 defenseman in
Jay Bouwmeester
and a top-five guy in
Jordan Leopold
. You can argue now and say that St. Louis' defense corps one through six is top-five in the NHL. That's huge. The new guys, along with
(Kevin) Shattenkirk
and
(Alex) Pietrangelo
, can skate them out of trouble."
Olczyk said the third defense pair of
Roman Polak
and
Barret Jackman
also provides excellent toughness in a shutdown role, and he called Polak one of the most underrated blueliners in the league for what he does.
"But certainly it starts with the goaltending," Olczyk said. "Elliott played really well in Detroit in the game I worked. That's great for his confidence and for the team's confidence. They're a very good team. I'm not surprised to see them on a roll."
Certainly the additions of Bouwmeester and Leopold cannot be glossed over. They've had a major impact on the Blues' back end.
And while Bouwmeester has been as advertised -- a top minutes-eating star doing his thing -- Armstrong pointed as well to Leopold as being a bit under the radar for his impact, a comment that Backes echoed.
"Just the poise and the veteran know-how back there has been welcomed," Backes said of Leopold. "There's really no panic. He has the ability to jump in on the rush offensively but also recovers defensively, he helps us not getting hemmed into in our own end. Those things give our guys energy and confidence."
In no way is anyone in the organization relaxing. But the fact is, the Blues are only two points out of fourth place and five points ahead of the danger zone. It's OK to start setting new goals.
"For the first time all year, I told the players last night: 'At some point in time, we have to stop looking over our shoulders and start looking up,'" Hitchcock said. "I know this is hard to do with this season and how close the standings are, especially when you're not one of the top three seeds, but I told our players that sometime I really want our players to start looking up in the standings."
It's been a roller coaster of a season. But you get a sense the best is yet to come for the Blues.
"There's been some growing pains and some adversity faced, and through that I think you grow as a team and learn to have success," Backes said.
April, 2, 2013
4/02/13
11:58
AM ET
The
St. Louis Blues
are a much better team on the back end after the acquisitions of
Jay Bouwmeester
and
Jordan Leopold
.
But they're a little heavy in the numbers back there, as well, with nine defensemen on the roster. So you can expect the Blues to draw interest from teams looking to add a blueliner between now and Wednesday's 3 p.m. ET trade deadline.
The two obvious candidates who no doubt will draw the most interest are
Kris Russell
and
Ian Cole
, since both have been pushed down the totem pole given the acquisition of Leopold and Bouwmeester.
Cole, 24, was a first-round draft pick in 2007. He can't be sent down without clearing waivers first, so the Blues would never want to attempt that. Either they're going to keep him on the big club as a depth player, or they'll deal him before Wednesday's deadline if the offer is right.
Russell, 26, is a serviceable puck-moving type. He's a restricted free agent after the season, as is Cole.
Blues veteran
Wade Redden
is the other blueliner pushed out of the top six with these additions, so he's another possibility in terms of a move. He's done what's been asked of him, but I'm not sure there would be as much interest in him.
The plan now is for the top pair to be Bouwmeester with
Alex Pietrangelo
and the second pair to be Leopold with
Kevin Shattenkirk
, followed by
Barret Jackman
with
Roman Polak
as a very solid third pairing.
A final note on the Bouwmeester deal: Kudos to Blues GM Doug Armstrong. Aside from the first-round pick, he didn't give up a whole lot to Calgary (defenseman Mark Cundari and goaltender Reto Berra).
One Eastern Conference team source thought it was shocking that the Flames didn't get an A-level or even a B-level prospect in the deal.
Obviously, what mattered most to Calgary, as with the
Jarome Iginla
deal, was the first-round pick.
The Blues, meanwhile, may not be done. If they can find what they're looking for, I think a bottom-six forward with grit would turn the trick as their final addition.
And Detroit?
The Red Wings were in on Bouwmeester, but in the end they didn't get him because they didn't include a first-round pick, a source told ESPN.com.
Which, quite frankly, is a smart, smart, smart decision by Wings GM Ken Holland.
Yes, Bouwmeester is the top-four D-man the Wings have been craving all year, but Detroit is not in a position organizationally to be trading first-round picks. They moved a first-round pick last year for
Kyle Quincey
when they still had
Nicklas Lidstrom
and
Brad Stuart
on the team and felt they had a shot to really contend.
But now? Of course, they still like their team if they get healthy and make the playoffs, but this is an organization that needs to restock and use its own first-round picks to actually draft players.
They've been near the top of the standings for 20 years. It's time to draft and develop again.
There is no way Holland could have ever justified moving a first-rounder to Calgary. What if the Wings miss the playoffs? Even if they had structured the deal as St. Louis did by deferring the first-rounder to 2014, who's to say what Detroit is going to look like next season if they miss the playoffs this season? That pick could be even more dangerous to give to Calgary.
My belief is that Detroit's final offer on Bouwmeester was a second-round pick and two prospects. And frankly, that's as far as the Wings could have gone.
Coyotes available?
The Coyotes are taking calls on players, and two in particular who are generating interest are veterans
Derek Morris
and
Raffi Torres
.
Morris is a reliable, veteran defenseman who would help most contenders. He has another year left on his deal at a $2.75 million cap hit, so he's not a rental, however.
He also has a limited no-trade clause; his camp submitted a list of eight teams before the season that he would allow a trade to.
I believe Detroit is among the eight teams on that list, and that could be intriguing after the Red Wings lost out on Bouwmeester.
Torres, a pending UFA, is the type of physical, gritty winger some playoff teams like to add at this time of year.
A third Coyotes name to throw in the mix is that of center
Boyd Gordon
. He's another pending UFA -- the Coyotes have eight in total -- and an underrated player, in my estimation. He's a perfect fit on the third or fourth line for a playoff team.